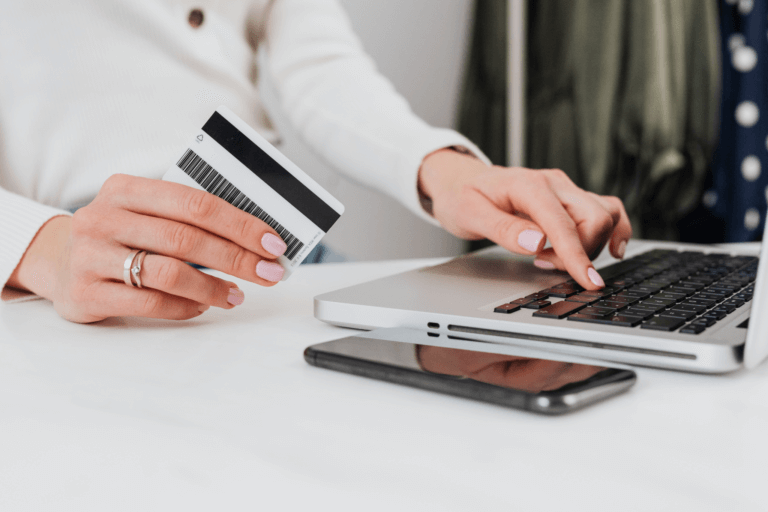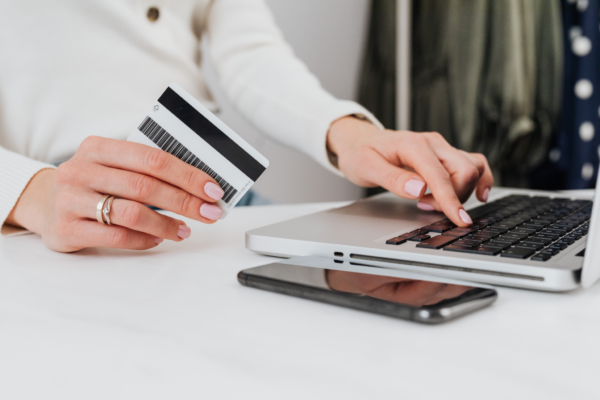 Conversion Rate Optimization
7 Proven Strategies to Win Subscribers (Instead of One-time Purchasers)
Our 7 ecommerce subscription strategies can help your company overcome market challenges and achieve long-term success amidst economic uncertainty.
After soaring by over 20% during the first two years of the pandemic, membership revenue growth percentages have now fallen into single digits.
The competition for consumers' attention and limited budgets extends beyond traditional retail rivalry with the rise of delivery apps, quick-service restaurants, and media platforms.
As a result, many consumers are experiencing subscription fatigue, causing them to reconsider their spending habits and prioritize where their hard-earned dollars go.
To thrive in this competitive environment and counteract subscription fatigue, businesses must employ innovative strategies that captivate consumers and compel them to subscribe.
Our article presents 7 strategies to help your business increase subscriptions and reignite AOV (average order value).
Understanding subscription-based business models
To address various subscription-based models, we're going to first explore and clarify how companies use subscription models across diverse industries.
What are subscriptions?
Subscriptions are recurring agreements or payments made by customers to access and receive products, services, or content. Many industries use subscription-based business models, each catering to different customer needs.
What is subscription-based ecommerce?
Subscription-based ecommerce uses recurring subscriptions to provide a seamless shopping experience.
Companies like Stitch Fix, an online personal styling service, deliver curated clothing and accessories to their subscribers.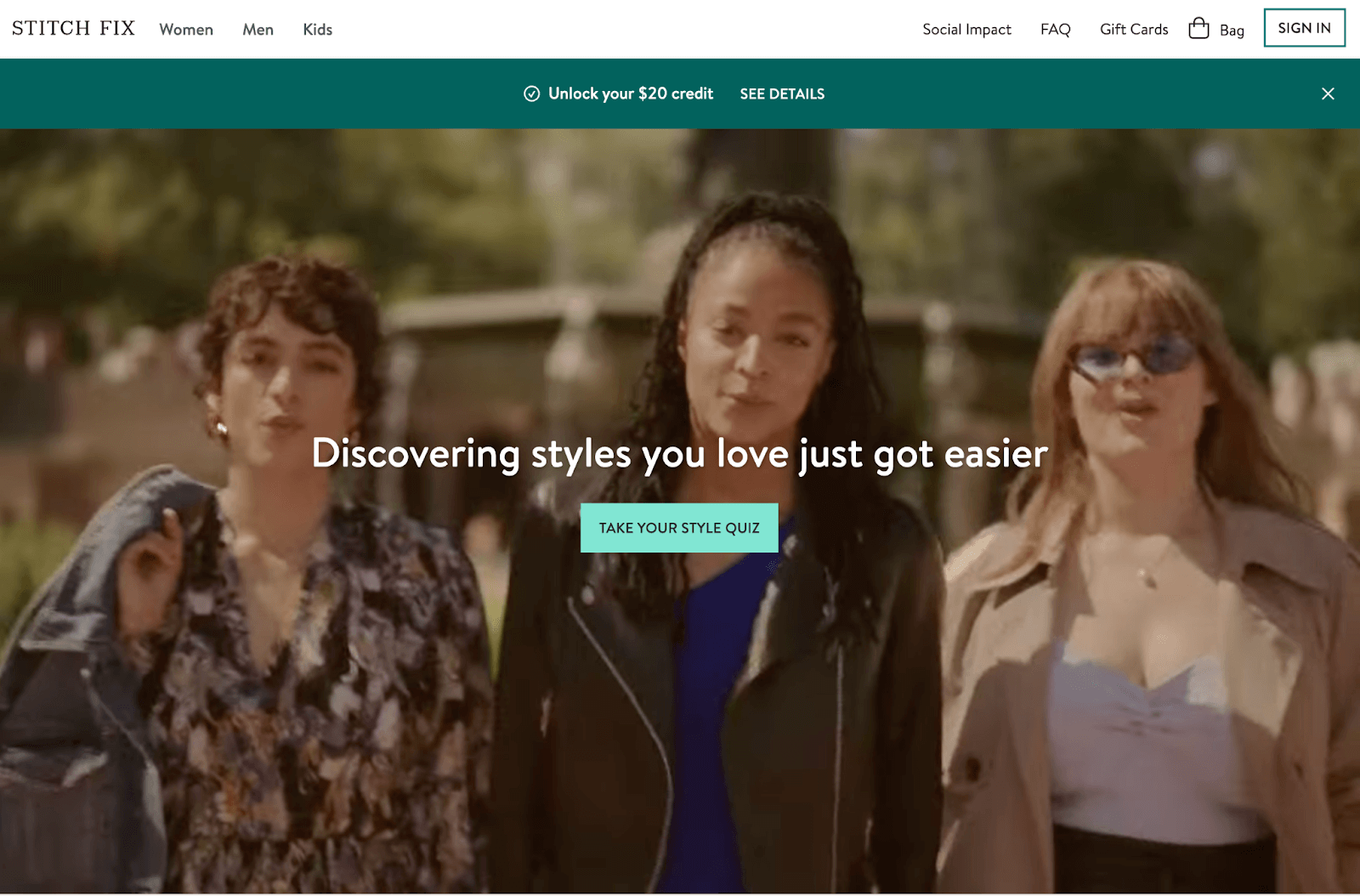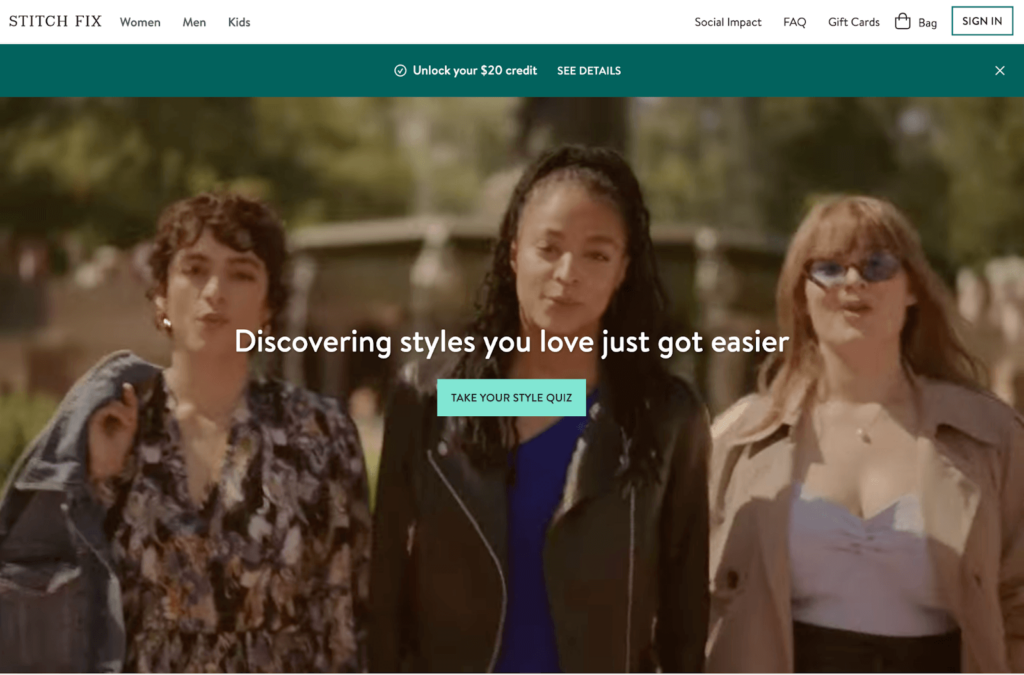 Customers take a style quiz, and based on this information, professional stylists handpick a personalized wardrobe which is shipped to the subscriber's doorstep either monthly or quarterly.
Digital subscription-based businesses
Along with ecommerce subscription models, subscriptions are also popular in the digital and SaaS (software-as-a-service) sectors, where companies provide ongoing access to digital tools, software, or platforms for a regular fee.
We're surrounded by digital subscription-based models through streaming services like Netflix, Hulu, Amazon Prime, and others which offer access to a vast library of content for a monthly or annual subscription fee.
Benefits of selling subscriptions online
A subscription business model offers a personalized experience for customers while providing businesses with predictable revenue streams and an opportunity to foster long-term relationships.
Let's review some benefits that businesses see when they sell subscriptions.
Enhanced customer loyalty and satisfaction
Subscription services can gather customer insights and data, enabling companies to understand and address customer preferences.
And this matters because research from Epsilon indicates that 80% of consumers are more likely to purchase when brands offer personalized experiences.
Knowing your customers can help you tailor your offerings proactively, provide relevant recommendations, and exceed customer expectations, reducing the likelihood of that dreaded customer churn.
Increased customer lifetime value (CLTV)
CLTV is one of the most important subscription metrics because it helps companies determine and measure the lifetime value of their customers (how much your company can expect from a single customer throughout the business relationship).
Depending on various studies, acquiring a new customer is anywhere from five to 25 times more expensive than retaining an existing one.
Subscriptions increase CLV through recurring revenue over an extended period throughout a relationship with a customer. The longer a customer continues to purchase or subscribe, the larger the lifetime value is.
Improved customer retention
The overall churn rate for subscription services is only 5.57% compared to 6.77% for one-time purchases, indicating that loyal subscribers are more likely to stay engaged and continue their subscriptions.
Subscriptions encourage long-term customer relationships through recurring engagement and continuous value delivery.
Types of subscription services (with examples)
From subscription boxes, service access, subscribe and save services, recurring donations, and digital product subscriptions, here are some types of subscription services and examples of brands that have perfected the subscription model.
Subscription boxes
A great example of an ecommerce subscription service, subscription boxes are curated packages of products or samples that are delivered to subscribers on a recurring basis, typically monthly.
These boxes often cater to a particular customer's need, personalizing the experience. Packages can be themed (like snack items) or different types of the same product (like dresses).
TryTheWorld offers a subscription-based gourmet food box service. The company curates boxes filled with authentic food products from different countries worldwide every month.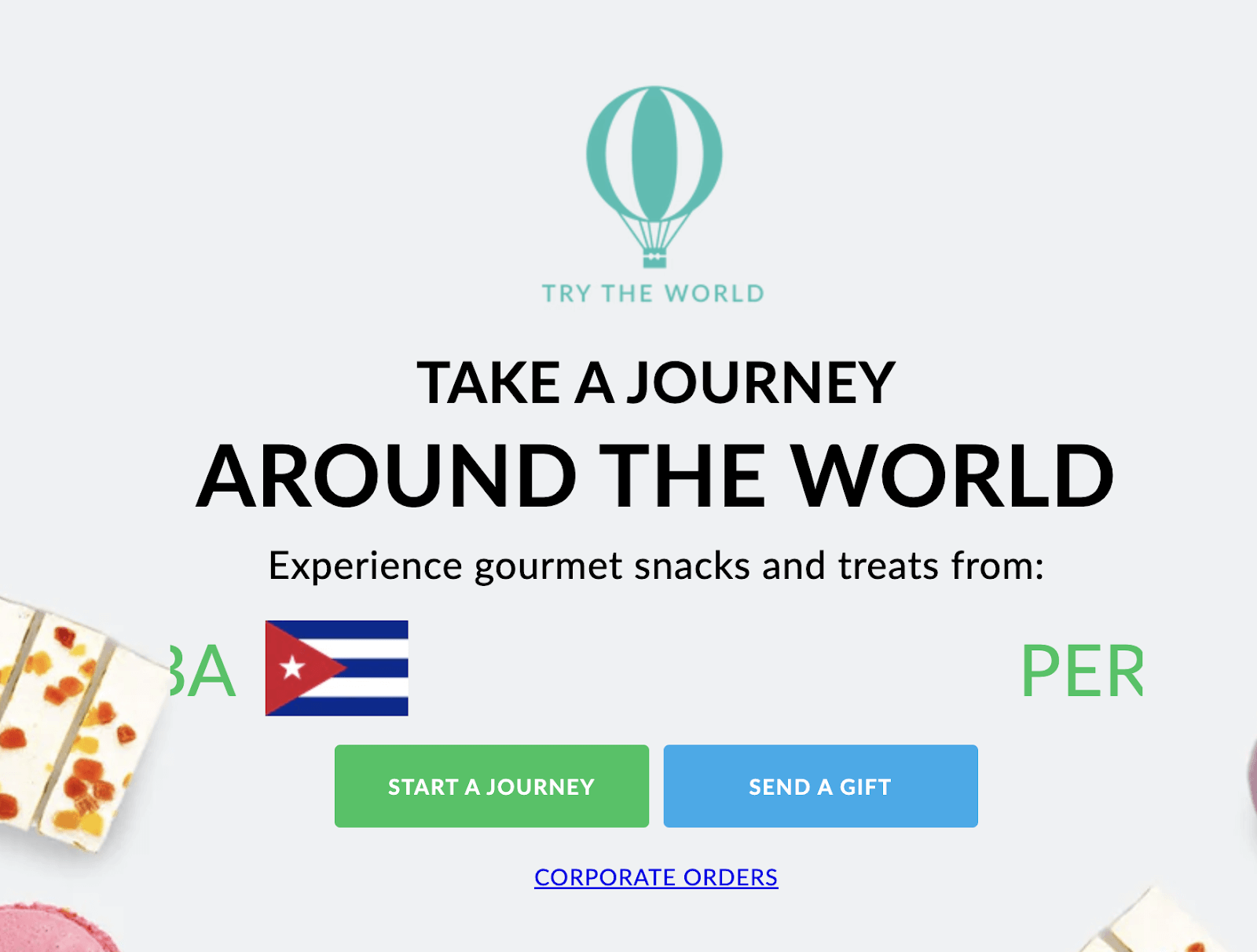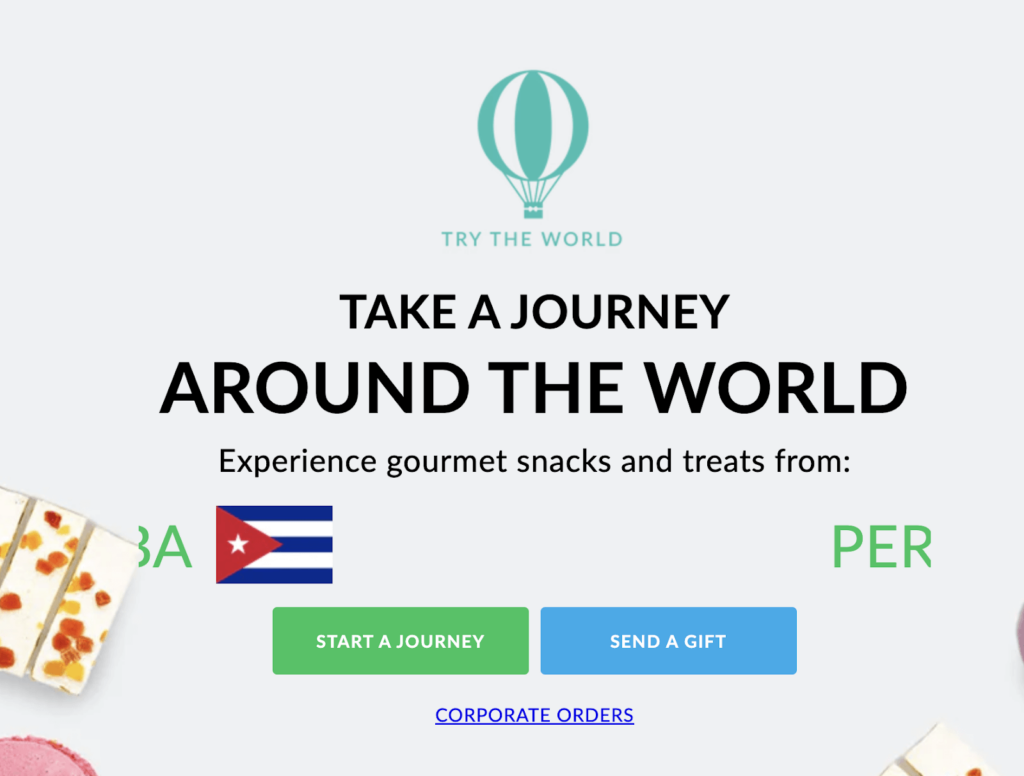 Subscribers can explore the tastes of different cultures without leaving their homes.
Membership and digital subscription services
For membership and digital subscription services, customers pay a recurring fee to gain ongoing access to online or offline products, services, or exclusive benefits.
Some membership services offer exclusive access to a company's blog or resources page. Others offer video courses or lessons to subscription members.
Amazon is a prime example of this. Amazon Prime offers customers a paid membership program with various benefits and exclusive services.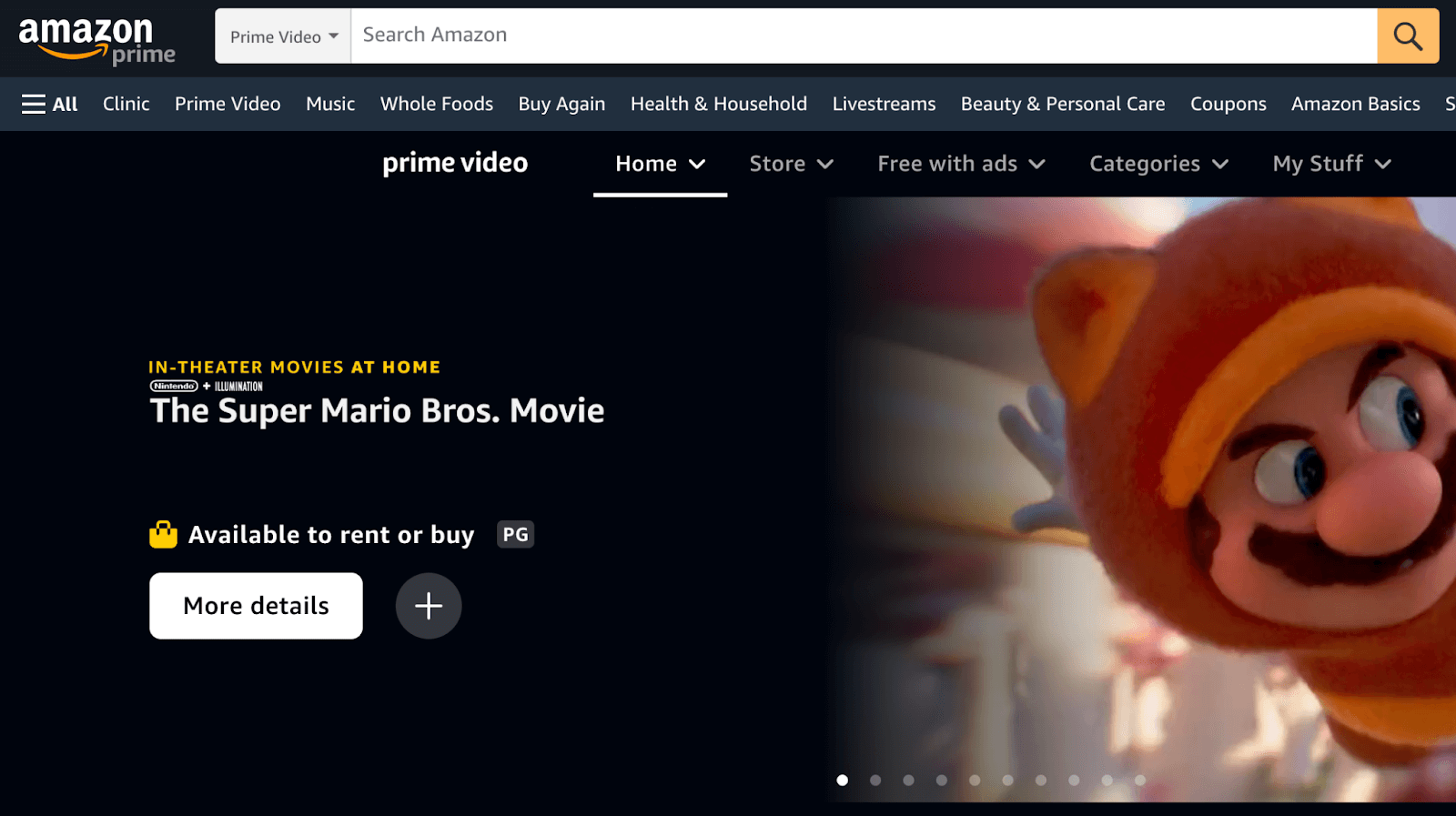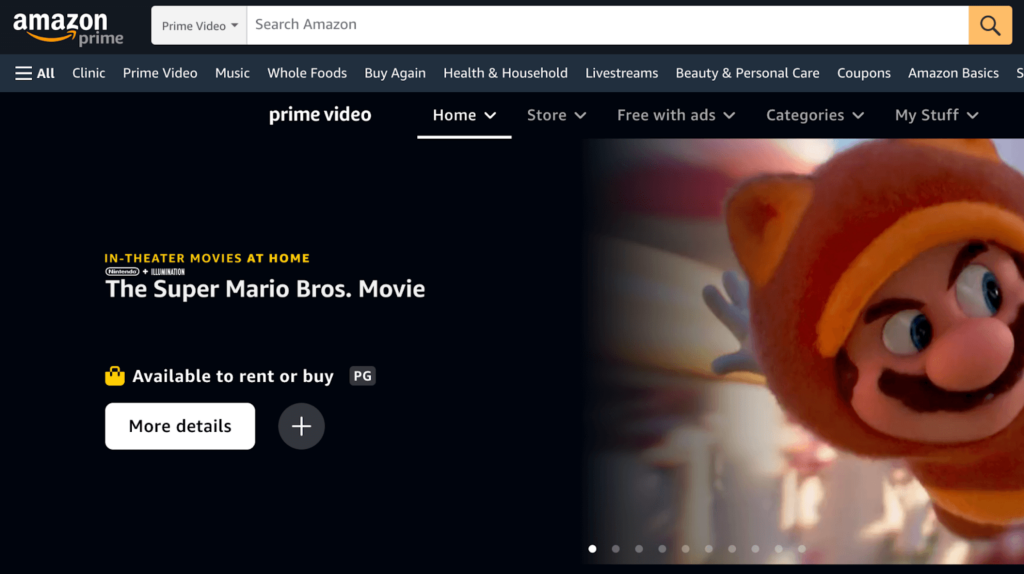 Subscribers pay a monthly or yearly fee to access tons of key features like free and fast shipping on eligible items, unlimited streaming of movies and TV shows through Prime Video, access to Prime Music, Prime Reading with a selection of ebooks and magazines, and exclusive deals and discounts during events like Prime Day.
Subscribe and save subscriptions
"Subscribe and Save" is a program offered by various online retailers and allows customers to set up recurring deliveries of certain products at discounted prices.
With Subscribe and Save, customers can choose from eligible items and select their desired delivery frequency, such as monthly subscriptions.
This gives your customers the convenience of automatic deliveries without the need to reorder every time. It also provides the brand with more predictable revenue.
Customers often receive a discounted price on the items (like 5% off for subscribing), making it an attractive option for regularly consumed or replenished products such as household essentials, personal care items, pet supplies, and more.
Chewy offers an Autoship program where customers set up pet supplies to be delivered monthly.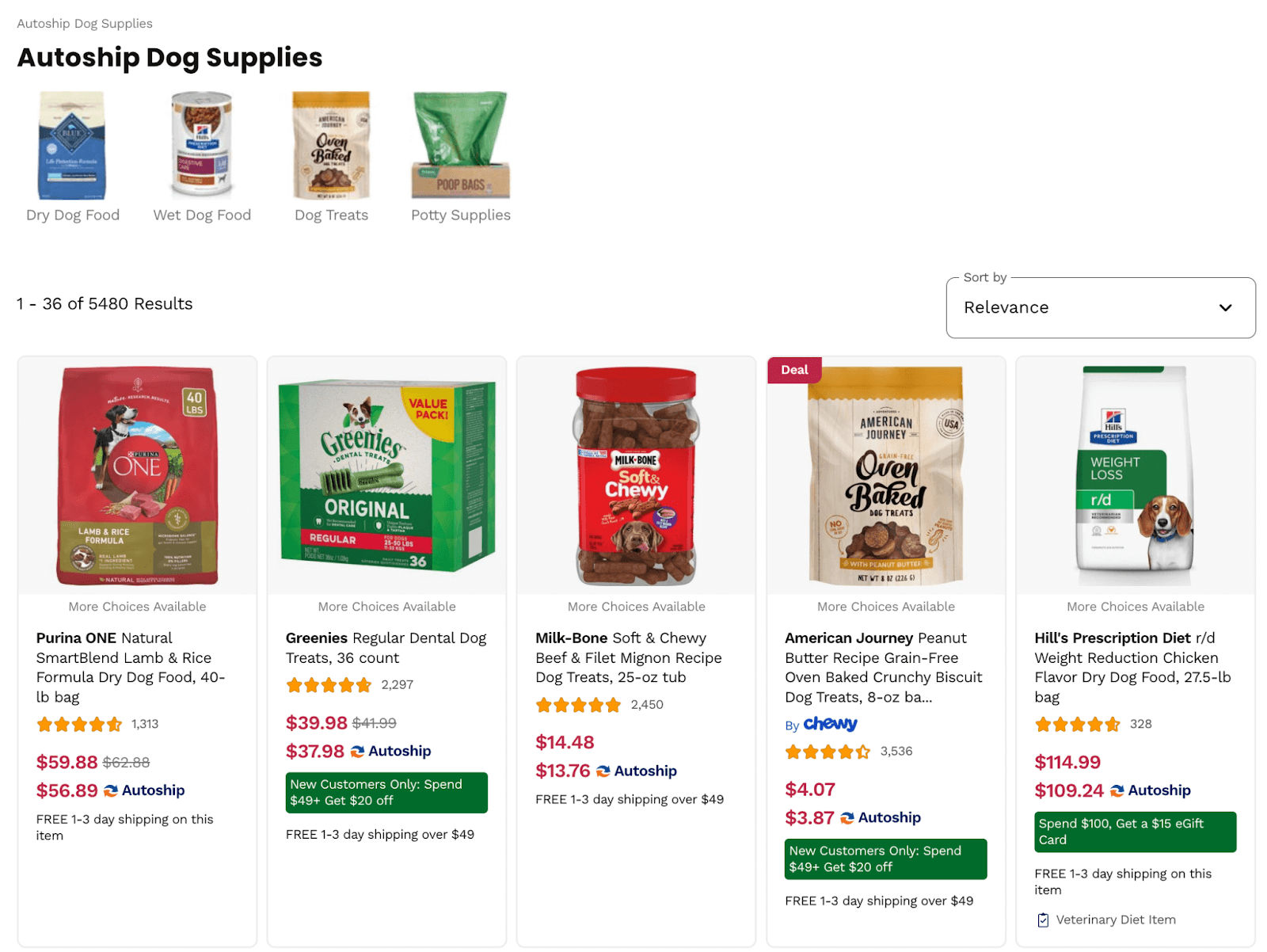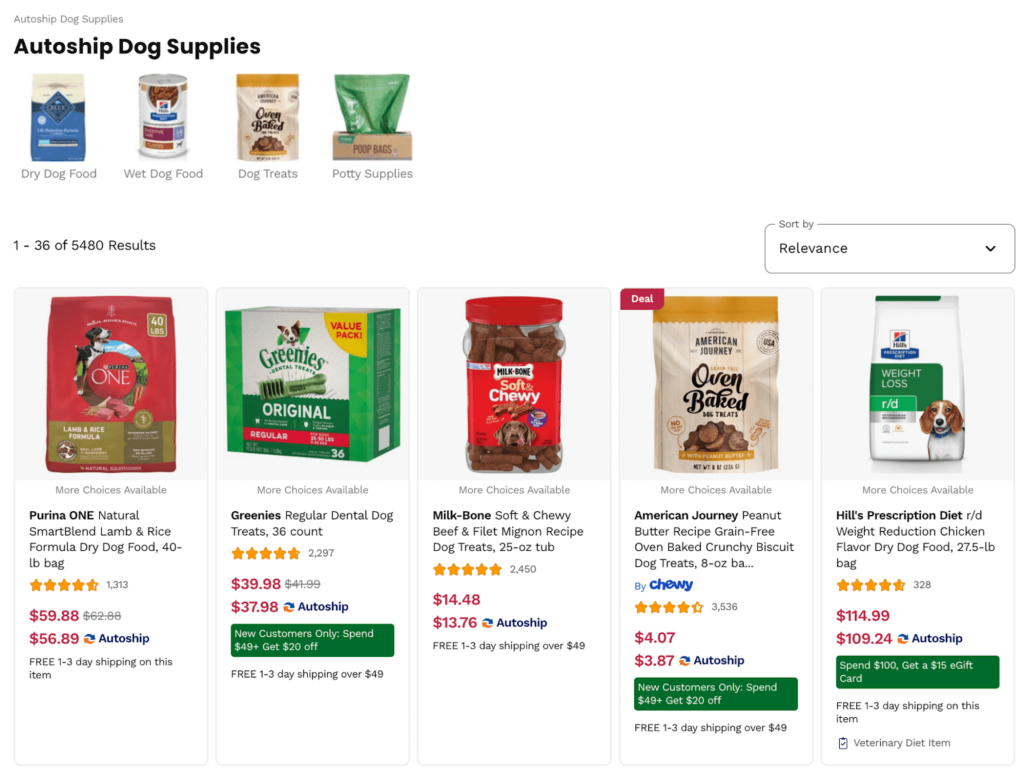 Recurring donation subscriptions
Nonprofits or charities can set up a recurring donation option for their customers.
A recurring donation subscription is where individual customers or organizations commit to regular, ongoing donations to a specific cause or organization.
Recurring donation subscriptions provide stability and predictability for nonprofits.
Donorbox is specifically designed for nonprofit organizations to accept online donations. It offers features that allow nonprofits to set up recurring donation options.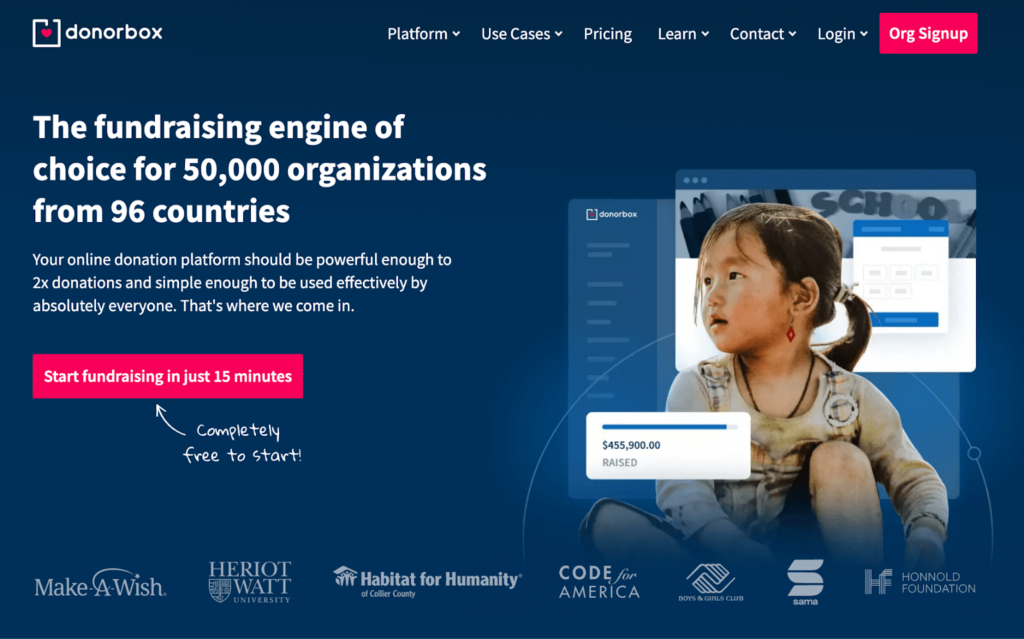 Subscribe to our newsletter to get more just like it, sent straight to your inbox every week.
7 Strategies to increase subscriptions
No matter your subscription service model, there are always ways to attract potential customers and onboard new ones.
With the competition for consumers' attention, you'll need to clarify your value to your audience with these expert strategies.
Strategy 1: Upsell your annual plan or cross-sell bundles
While pushing price increases on your services might scare away customers, you can do it without jeopardizing customer loyalty. Instead, offer incentives like annual plan subscriptions, advanced features, additional products, or one-time products.
Longer plan options provide the company with stable and predictable revenue over an extended period. Additionally, they also offer subscribers the advantage of reduced costs in exchange for a longer commitment.
The strategy: Point to upgrade opportunities
Remind subscribers why they should upgrade to a longer-term plan or add more products to their subscription boxes.
Offer discounts like 10% off the annual plan by clearly calling it out on your pricing page. You can also email monthly subscribers encouraging them to upgrade and save immediately or try to cross-sell complementary products.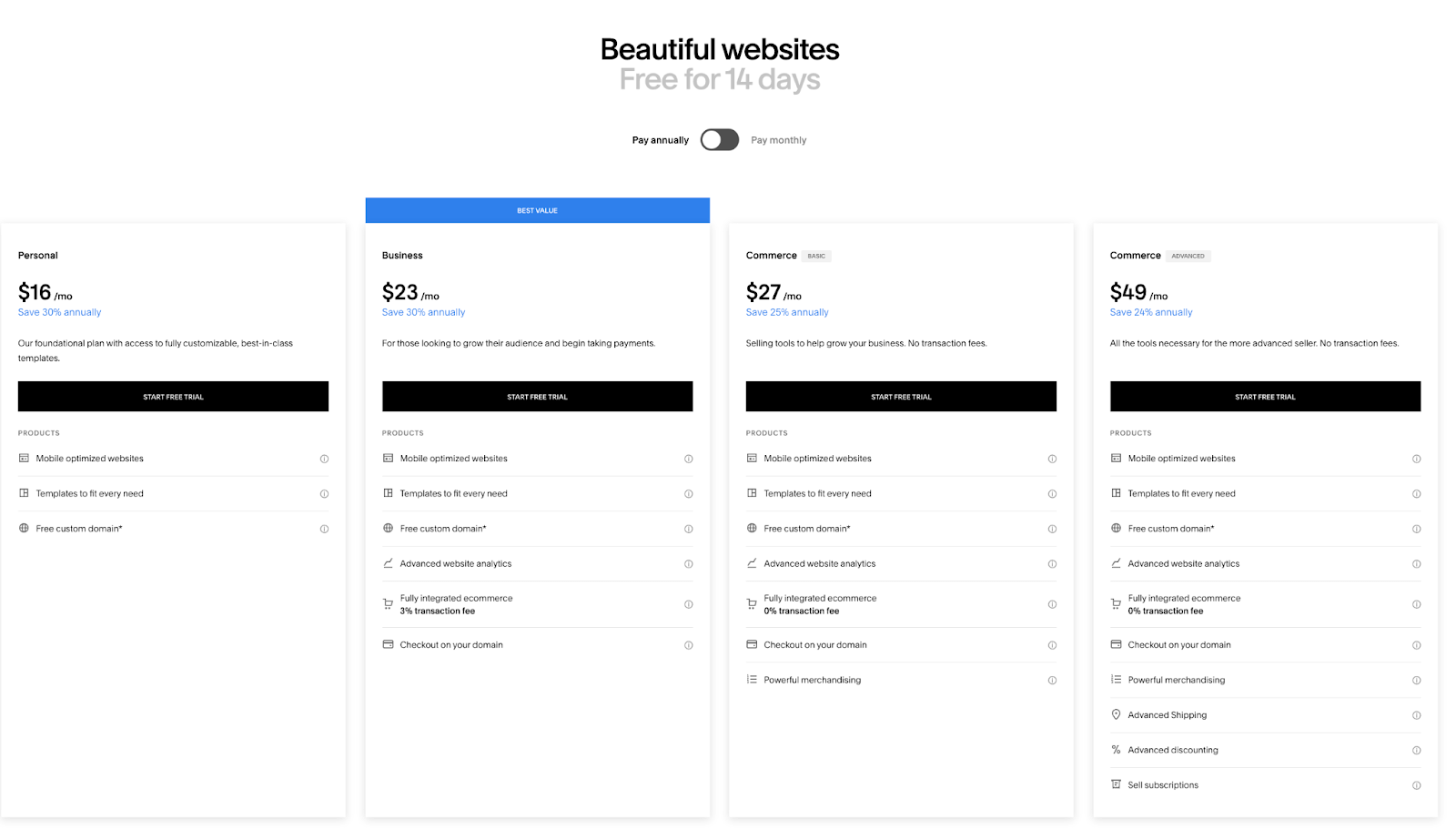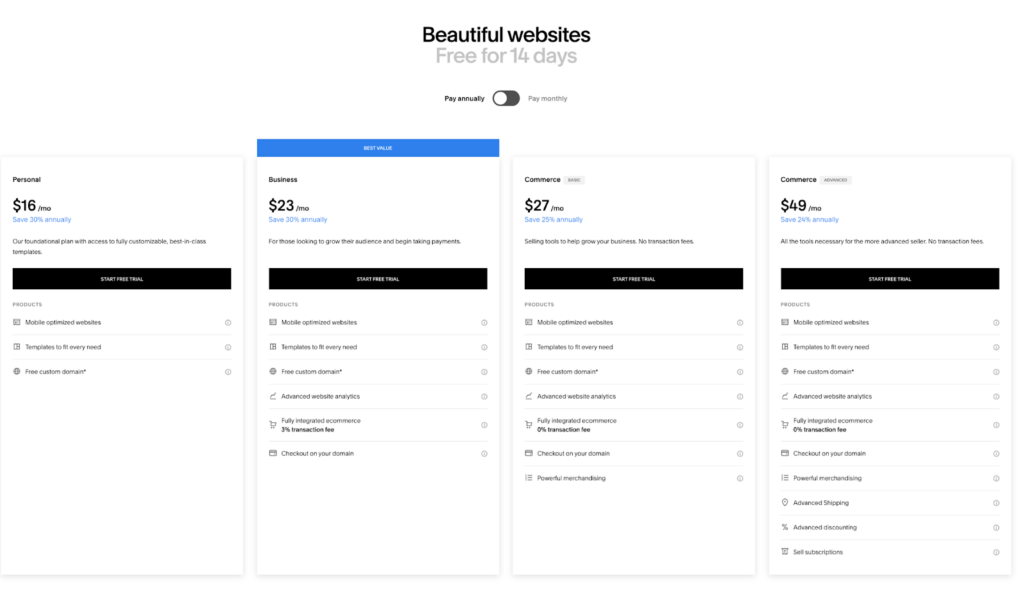 Squarespace offers an annual/monthly toggle so customers can see the price difference. They also show how much customers save on each plan by highlighting percentages.
Strategy 2: Identify where customers churn
Net revenue retention (NRR) measures the overall revenue generated from existing customers over a specific period, accounting for any revenue lost due to churn (customer attrition) and any revenue gained from upsells or expansions.
By improving NRR, subscription-based ecommerce companies can mitigate the negative impact of churn on their revenue and uncover new avenues for growth.
The strategy: Map the buying process
Identify patterns in where customers drop off and voluntary or involuntary churn. You can do this by mapping your average customer lifetime from when they hit subscribe to where they churn.
This way, you can find opportunities to win them back before they churn by sending discounts through email or in-app pop-ups.
Strategy 3: Offer more than one subscription product or service
Recurly, a subscription management platform, found that 70.4% of businesses offer more than one subscription or service. For example, a subscription pet box service might offer boxes for both dogs and cats.
Offering additional subscriptions can grow your revenue and provide additional value to your customer base.
The strategy: Curate additional options
Total Payment Volume (TPV) is the total value of transactions processed or payments made within a period.
Recurly also found that ecommerce subscription businesses selling physical products benefit from curated goods that boost their TPV, like a Box of the Month.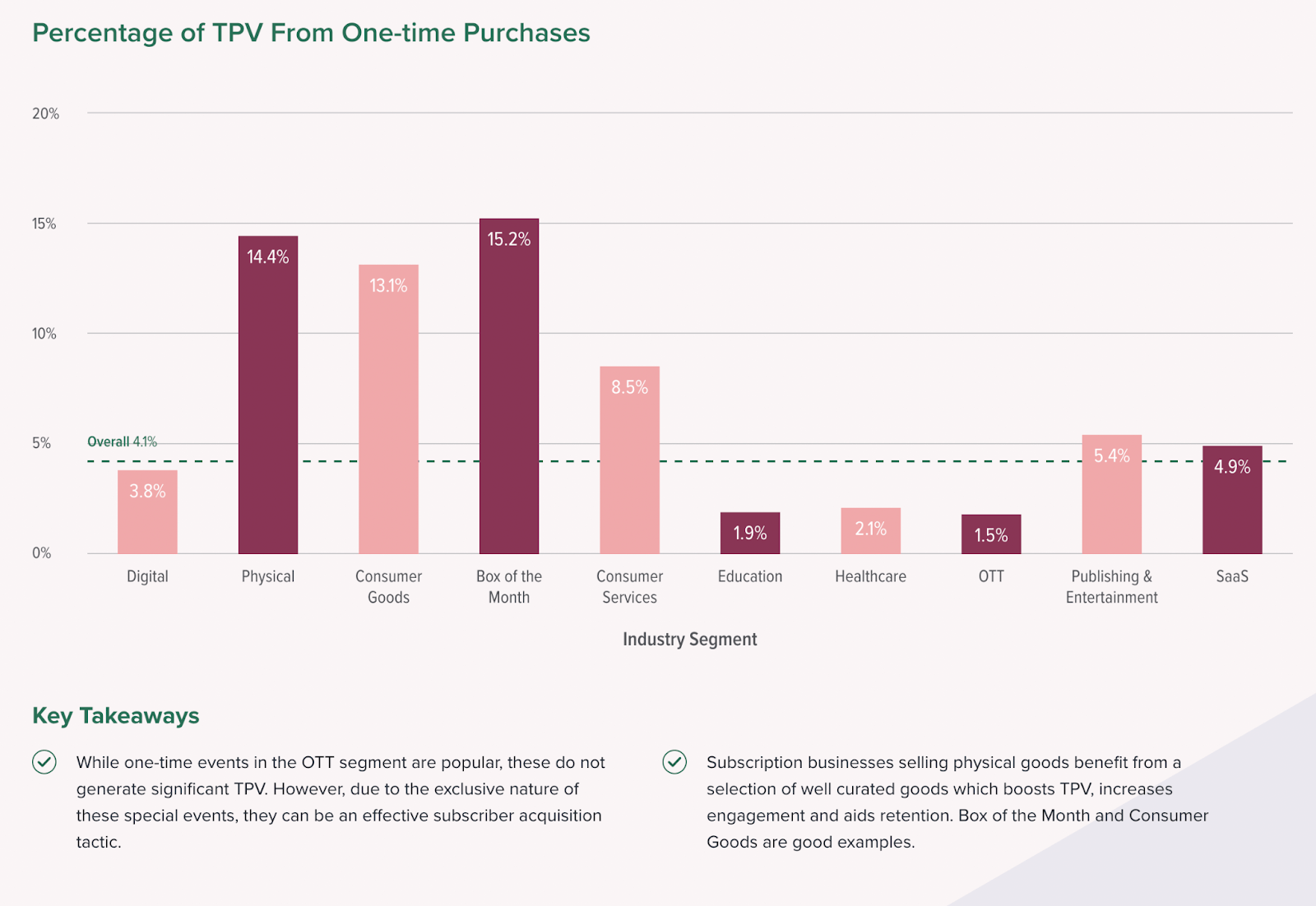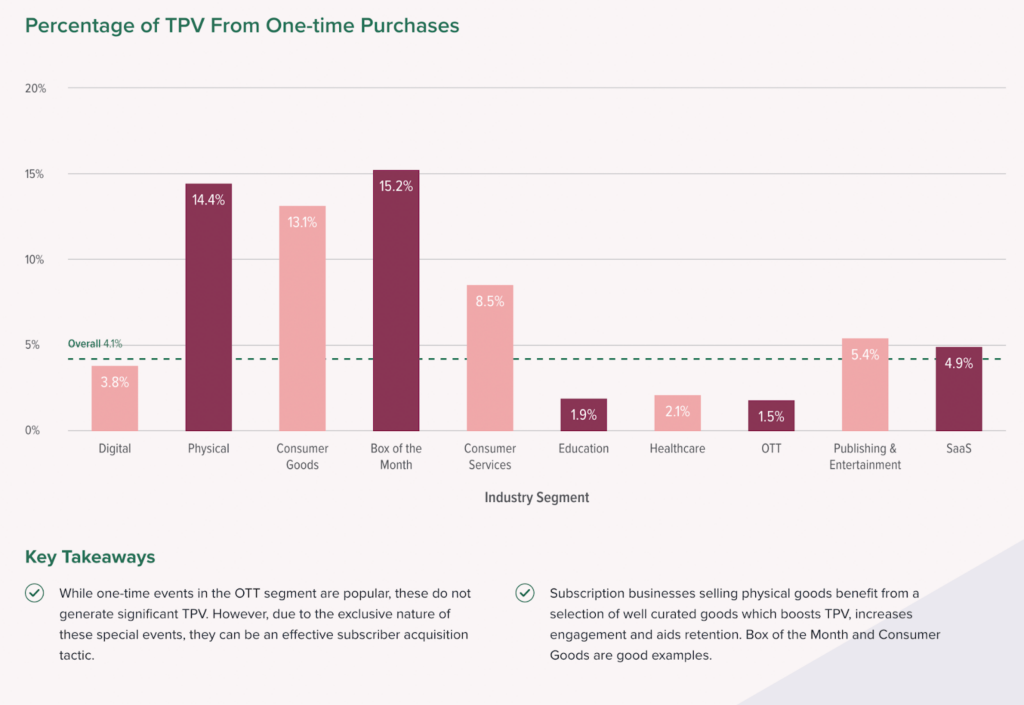 Caption: Box of the Month subscriptions have very high TPV.
If you offer physical goods with your subscription, consider curating additional subscription options like exclusive collaborations with popular brands or limited-edition product releases.
This increases the perceived value of your subscription and creates a sense of excitement and exclusivity among your subscribers, driving them to make additional purchases and contributing to a higher TPV.
Strategy 4: Discourage downgrades
Downgrades occur when customers switch from higher-tier subscription plans to lower-tier plans, resulting in reduced revenue and potentially impacting profitability.
The strategy: Offer subscription pauses
Subscription pauses allow customers to temporarily suspend their subscriptions without canceling them completely. This option is particularly beneficial for customers who may be facing temporary financial constraints, lifestyle changes, or other circumstances that make it difficult for them to utilize the subscription benefits at the moment fully.
Clearly communicate the process, duration, and any associated fees or limitations to customers, ensuring transparency and managing expectations.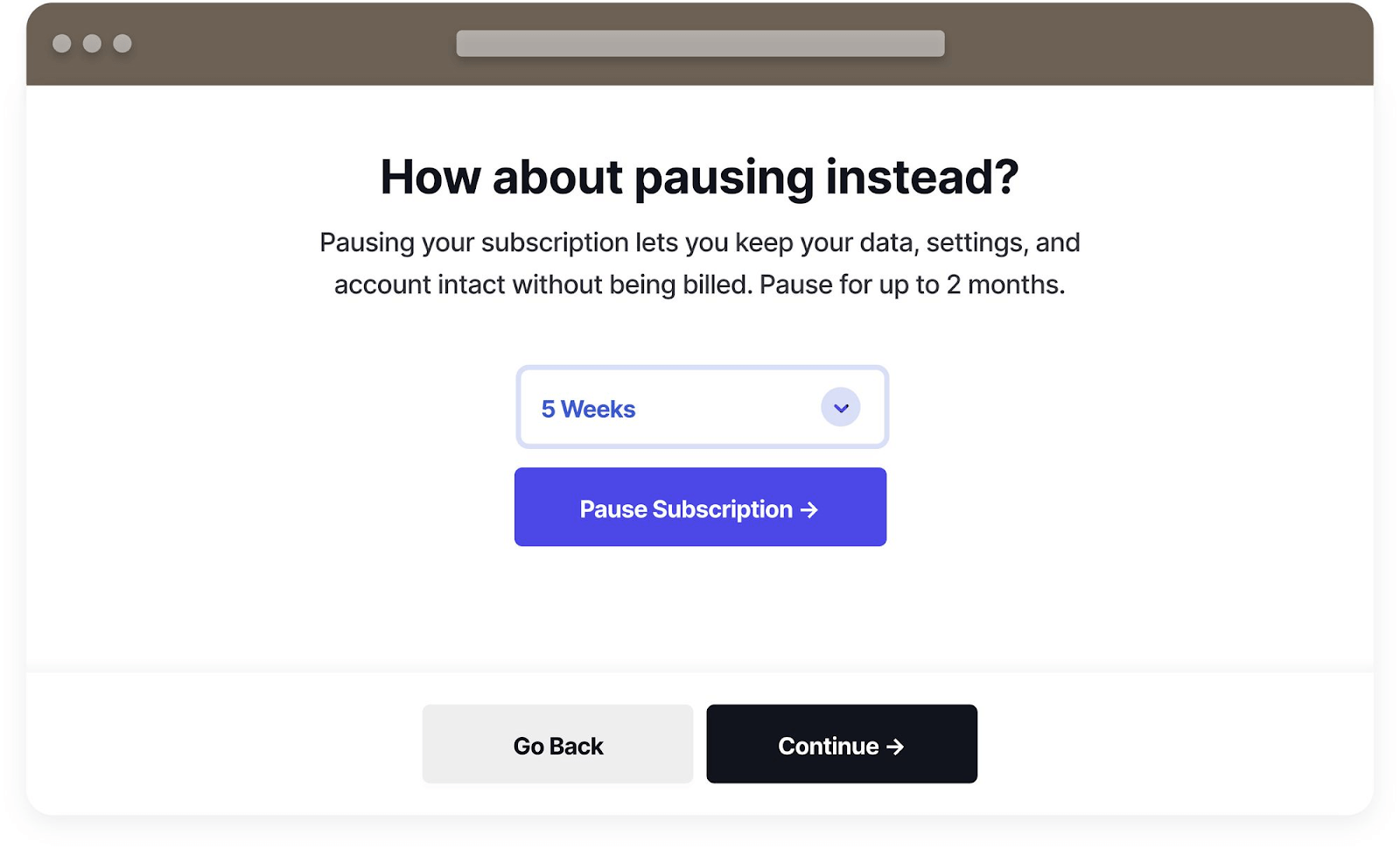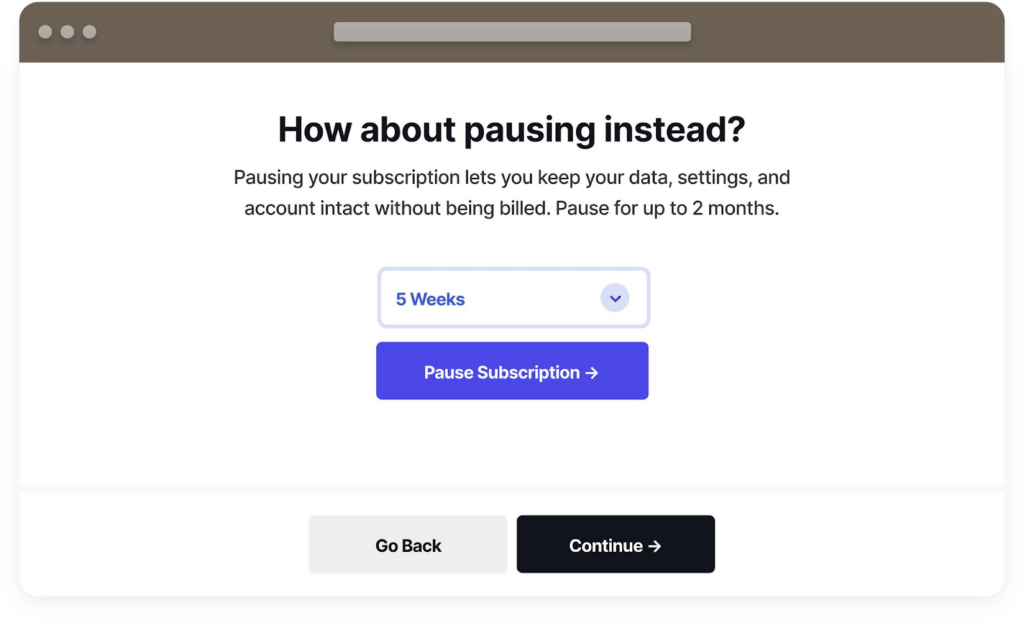 Allowing your customers to pause accommodates their needs. This can improve retention by building loyalty and reducing the likelihood of customer attrition.
Strategy 5: Enhance the product page user experience
When users land on a product page, the add-to-cart button should be easily identifiable and distinct from other elements, such as flavor options or additional CTAs. Then, users know exactly what primary action they need to take to proceed with their purchase.
The strategy: Refine the UI of the buy box area
This involves making the add-to-cart process more intuitive and removing any potential confusion. For example, the add-to-cart button should be clearly distinguishable from other elements.
For example, LyfeFuel shows a flavor pre-selected when the user arrives on the product page. Subscribe & save is shown as a toggle, limiting the amount of vertical space above the add to cart button.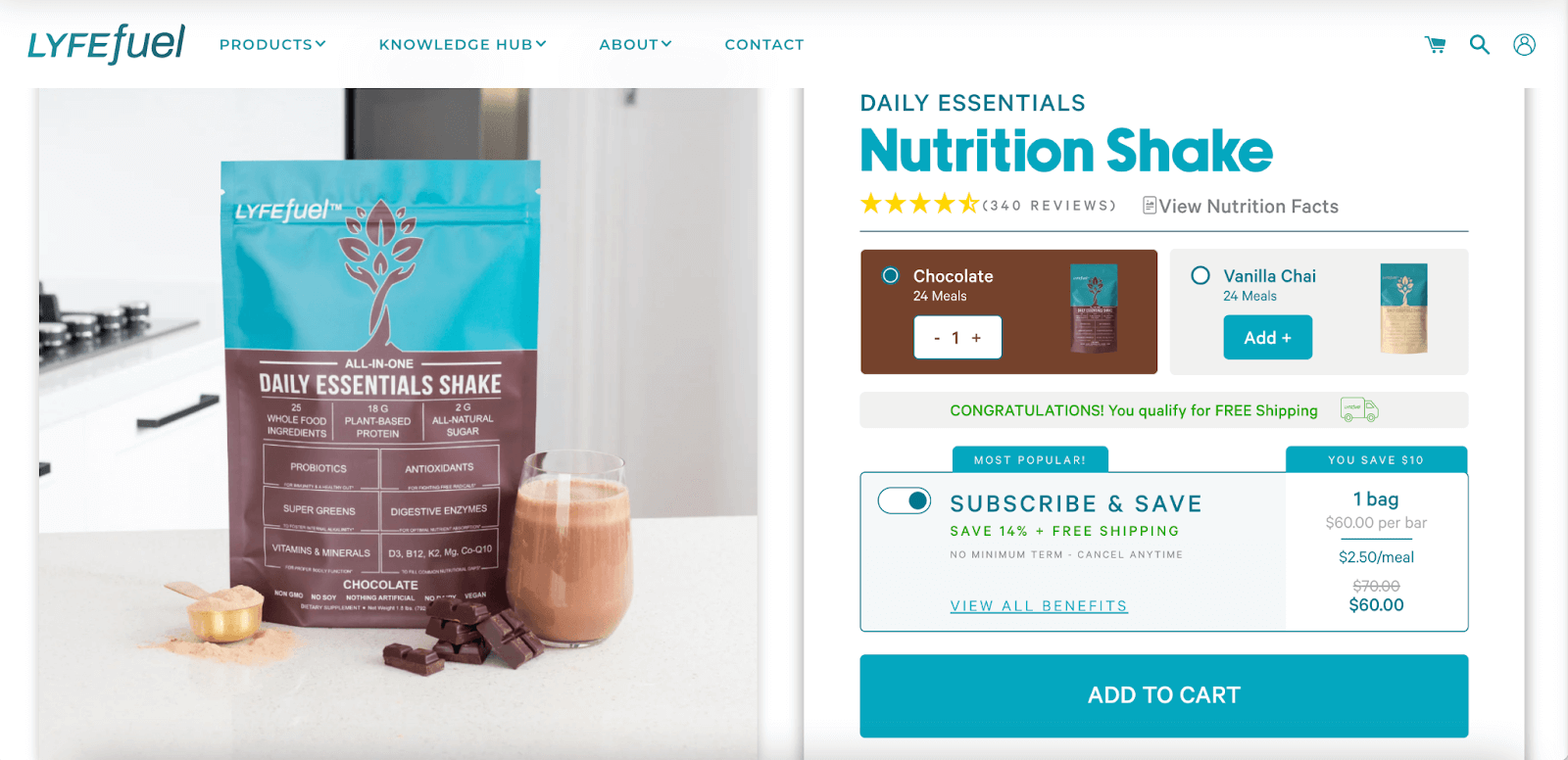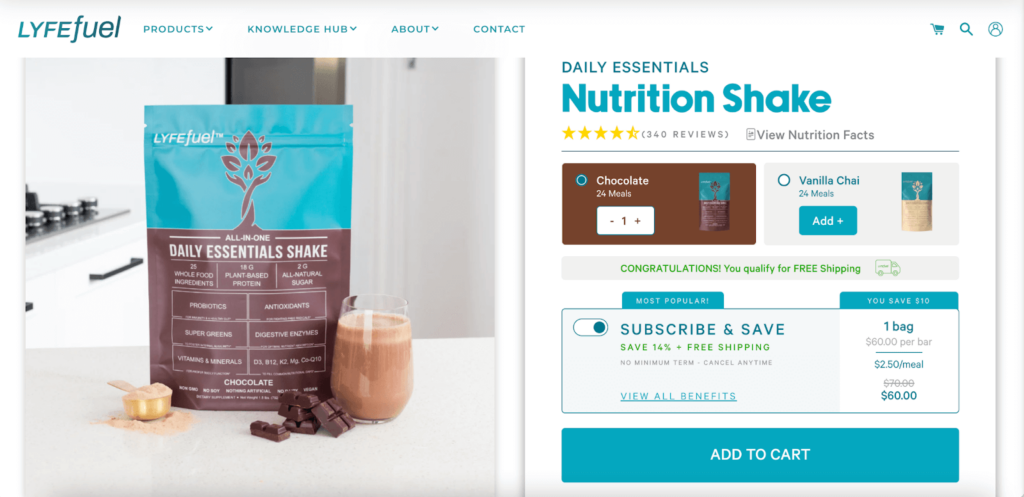 Test this buy box area, analyzing user behavior through heatmaps and additional customer feedback to identify any hangups in the purchase process.
Strategy 6: Provide clearer visibility on subscription benefits
You can add layers to your add-to-cart experience by providing clearer feedback on the benefits of subscribing to your products or services.
The strategy: Offer incentives and detailed information
When users switch from a one-time purchase to a subscription mode or vice versa, consider adding details of the benefits of upgrading.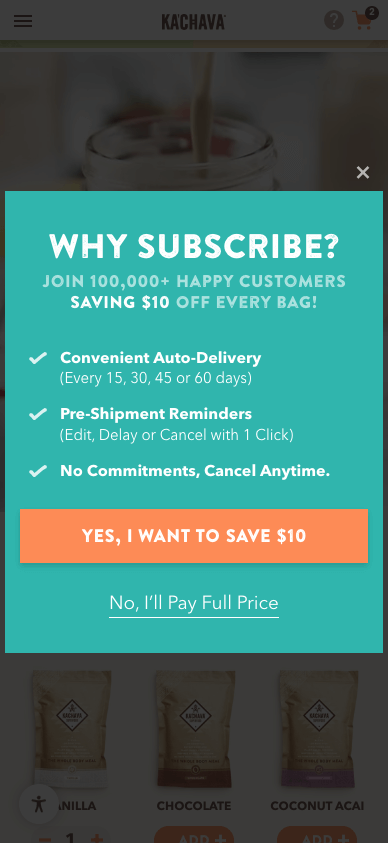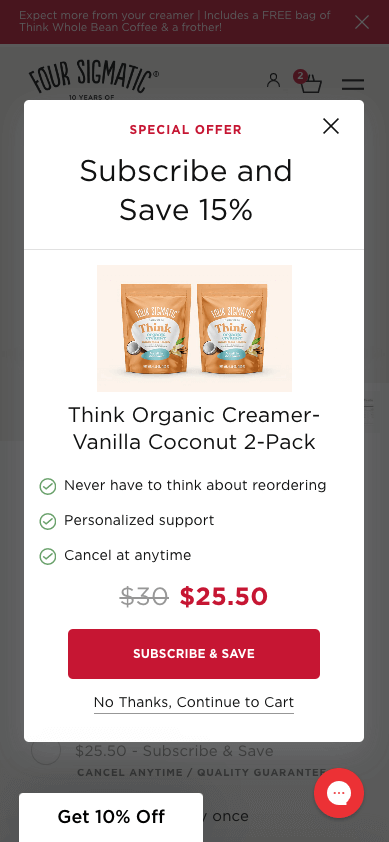 Since the user chose to subscribe, this provides additional benefits on why they made a good choice. Or, if they chose a one-time purchase, this shows why they need to take advantage of all the benefits.
Strategy 7: Improve the visibility of product details
When users land on a product page, they expect detailed information about the product without scrolling down the page.
The strategy: Update the above-the-fold-content on product pages
Above-the-fold designs often fail to match users' expectations, creating frustration when locating product details.
For example, some businesses use thumbnail images and short descriptions above the fold to introduce the product. However, they only provide detailed information about the product further down the page.
Businesses can follow Oats Over Night, which uses elements such as product names and reviews to present each product page as an individual page.


While the page may also focus on getting users to subscribe to multiple products, the above-the-fold content still presents each product as a standalone item.
Test different layouts and content above the fold on your product pages to determine what works best for your users.
How to attract and retain subscribers
What business doesn't want to attract and retain new customers? Here are some creative strategies to help fuel your company's subscription growth:
Content marketing: Create informative and engaging content to attract and educate potential customers. Provide tips and industry knowledge through blog posts, articles, and videos. This will establish your brand as an authority and capture leads. Check out resources like Content Marketing by Kaleigh Moore for expert advice on using content marketing effectively.
Post-purchase offers: Maximize customer engagement and retention by providing post-purchase offers. This encourages customers to return for repeat purchases and increases their lifetime value. Explore our insights on post-purchase offers to learn more about how to implement this.
Customer loyalty program: Foster long-term relationships with your customers by implementing a loyalty program. Rewarding loyal customers with exclusive discounts, personalized offers, and VIP benefits encourages repeat purchases. To help you optimize your program, read our additional insights on off-season loyalty program strategies.
First-purchase anniversary gift: Show appreciation to your customers and celebrate their loyalty by offering a special gift on their first purchase anniversary. This creates a memorable experience and strengthens the bond with your customers. Learn more about discounting tactics.
Special offers for specific groups: Tailor your offerings to specific customer segments such as teachers, students, or the military. Providing pro deals or exclusive discounts for these groups demonstrates your support and appreciation and helps you tap into other markets and expand your customer base.
The keys to subscription growth
The strategies we provide offer innovative approaches to captivate consumers and incentivize subscription adoption.
At The Good, we understand the importance of data-driven strategies to enhance subscription conversion rates. Our team of experts specializes in conversion optimization and can help you implement these strategies.
Whether you need assistance refining your user interface, implementing personalized offers, or fine-tuning your post-purchase strategies, our team supports your subscription growth goals, no matter what they are. Contact us today to see how we can help you.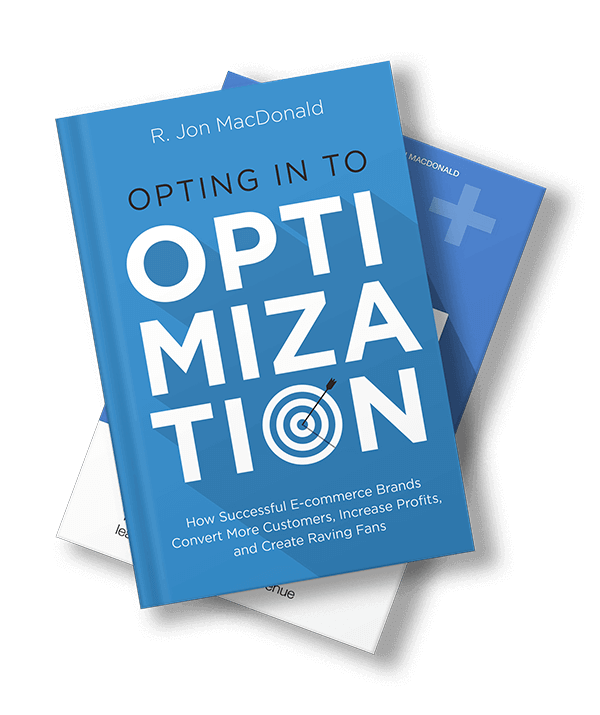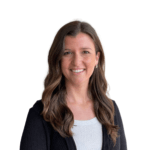 About the Author
Caroline Appert
Caroline Appert is the Director of Marketing at The Good. She has proven success in crafting marketing strategies and executing revenue-boosting campaigns for companies in a diverse set of industries.