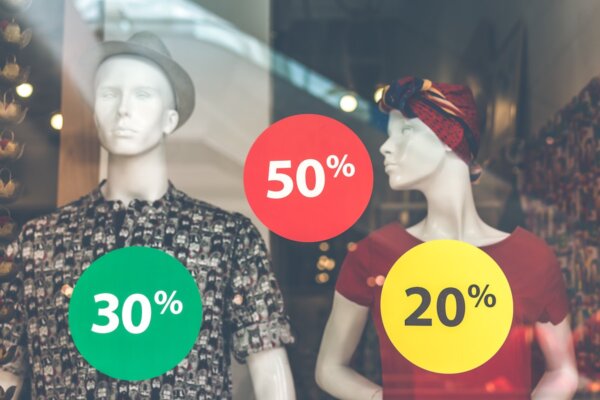 Customer Acquisition
The Top Ecommerce Sales Strategies (Including How To Increase Sales Without Discounting)
We share the best ecommerce sales strategies that we've found to get more conversions without lowering your prices.
Ask any group of marketers for their top ecommerce sale strategies and the first suggestion you'll hear is "hold a sale." In fact, no matter where you look for information on how to increase ecommerce sales, discounting strategies are the most common promotional ideas.
Shoppers love sales. Any reason you can come up with to hold one – be it Black Friday, Memorial Day, or your ecommerce birthday – is sure to get more orders.
There's just one problem with the idea. "On Sale" means a discounted price, and a discounted price means less profit. Yes, a properly orchestrated sales strategy can make up for the slimmer margin by pumping up the volume, but what if you could increase ecommerce sales without discounting prices?
In this article, we're going to share the best ecommerce sales strategies that we've found to get more conversions without lowering your prices.
What's Wrong with Discounting in Ecommerce?
On the surface, offering discounts seems like a perfectly fine idea. Many successful online companies have been using discounting strategies for decades, and it appears to be working for them, right? There's an entire economy built around helping customers find the lowest prices. A discount-finding tool, was recently purchased by PayPal for a staggering $4 billion.
So why are they such a problem? Three reasons.
1. Discounting leads customers to think that you're a discount brand.
Instead of being known for quality products or outstanding service, customers associate your company with the lowest price. You become the ecommerce version of Dollar General, attracting those searching for bargains. When a customer receives a discount on their first purchase, you can be pretty confident that they're going to try to get the same discount with every subsequent purchase.
Do you really want to join other discount brands in a race to the bottom? Probably not.
2. You can't build a business by targeting deal-hunters
If you want to turn a profit, shoppers with a "no discount, no purchase" mentality are likely not your ideal customers. Discounts cannibalize your profits, leaving you with razor thin margins. If you want a healthy bottom line, you probably don't want your primary customers to be bargain hunters.
3. Discounting is a short-term solution to a larger problem
Ultimately, you need to figure out why your sales are slumping, or why they aren't increasing organically. In other words, where are the holes in your sales funnel? Is your website confusing? Are your landing pages or Google Ads ineffective?
Leaning on discounting to help your business make it through a tough time is like putting a bucket under a leaky pipe instead of taking the time to repair the pipe. Clearly, you need strategies for increasing ecommerce sales without discounting.
23 Promotional Ideas for Your Brand (That Aren't Discounting)
If you want to know how to increase ecommerce sales without discounting, you'll need to use one or a variety of tactics. The following ecommerce sales strategies will enable you to boost sales without eroding your profits.
1. Buy one/get one
If you have excess inventory, BOGO (free or half-off) is an effective way to increase customer engagement and generate sales. You can even stack the offer so that they get more when they buy more, like Beloved Shirts does: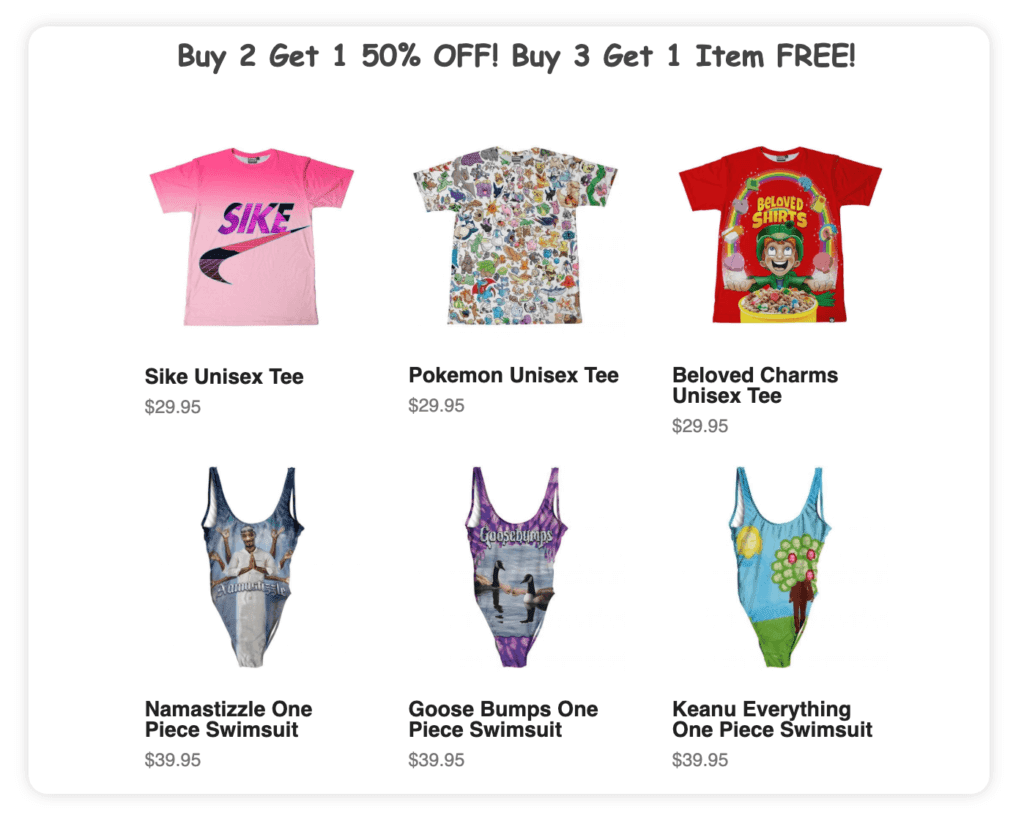 2. Buy one/give one
A buy one/give one promotion is when you give something away each time a customer places an order (or for each product purchased).
This promotional idea has been around for a long time, but it was popularized when shoe brand Toms launched in 2006 and pledged to give away a free pair of shoes for every pair sold. Other brands like Warby Parker and State Bags are built on this model as well.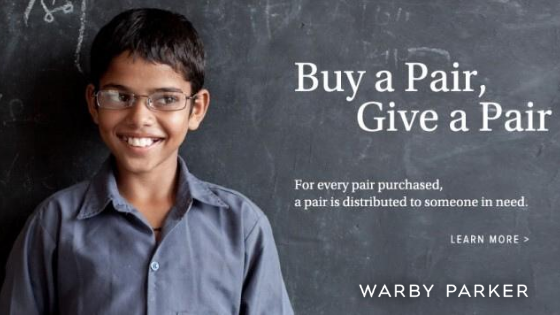 3. Free gift with purchase
Offering a free gift with purchase can be a powerful incentive, giving customers the nudge they need to buy. And if the gift is a sample of one of your products, it gives customers yet another reason to buy from you in the future. Sephora knows this and often includes product samples for free with orders: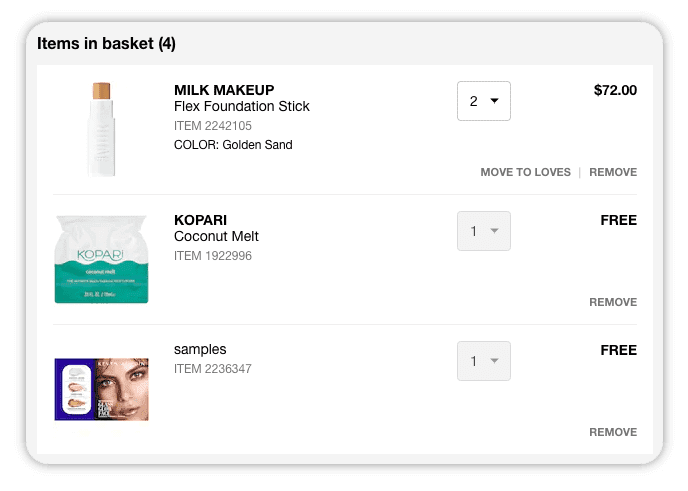 4. Free shipping
Free shipping belongs on every list of ecommerce sales strategies. Customers demand it.
Ecommerce conversion rates are always higher when free shipping is included. No surprise there. There's a reason it's the cornerstone of the Amazon Prime program. If you want to see your ecommerce sales increase, give free shipping to customers, just like Bonobos does for customers in the United States: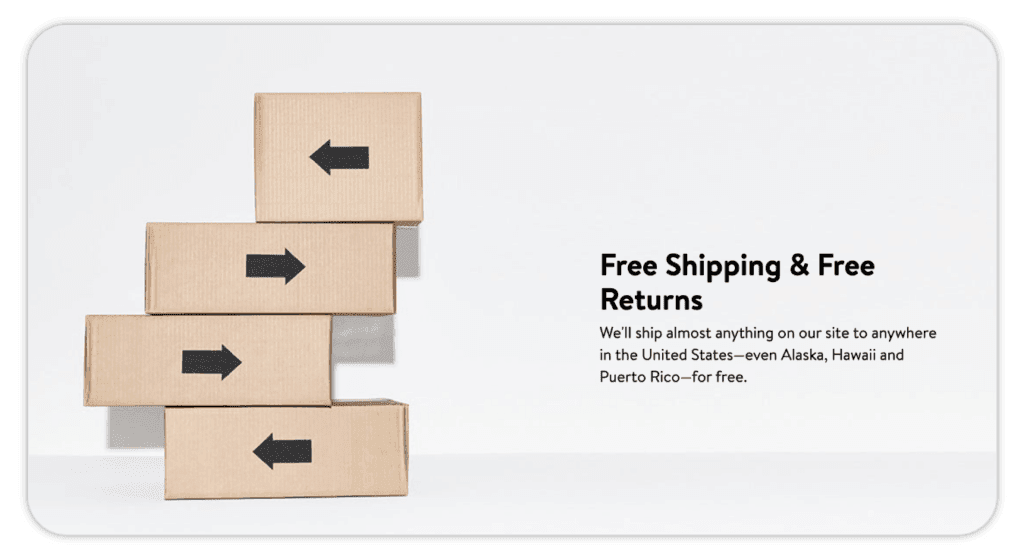 5. Free returns
Offering free returns sets customers minds at ease and incentivises them to purchase. They know that they can easily return products if they have any issues. Yes, it will probably increase your return rate, but it will also increase customer loyalty.
Zappos is known for their generous return policy, which is important to shoe buyers who might not get the right size on the first order.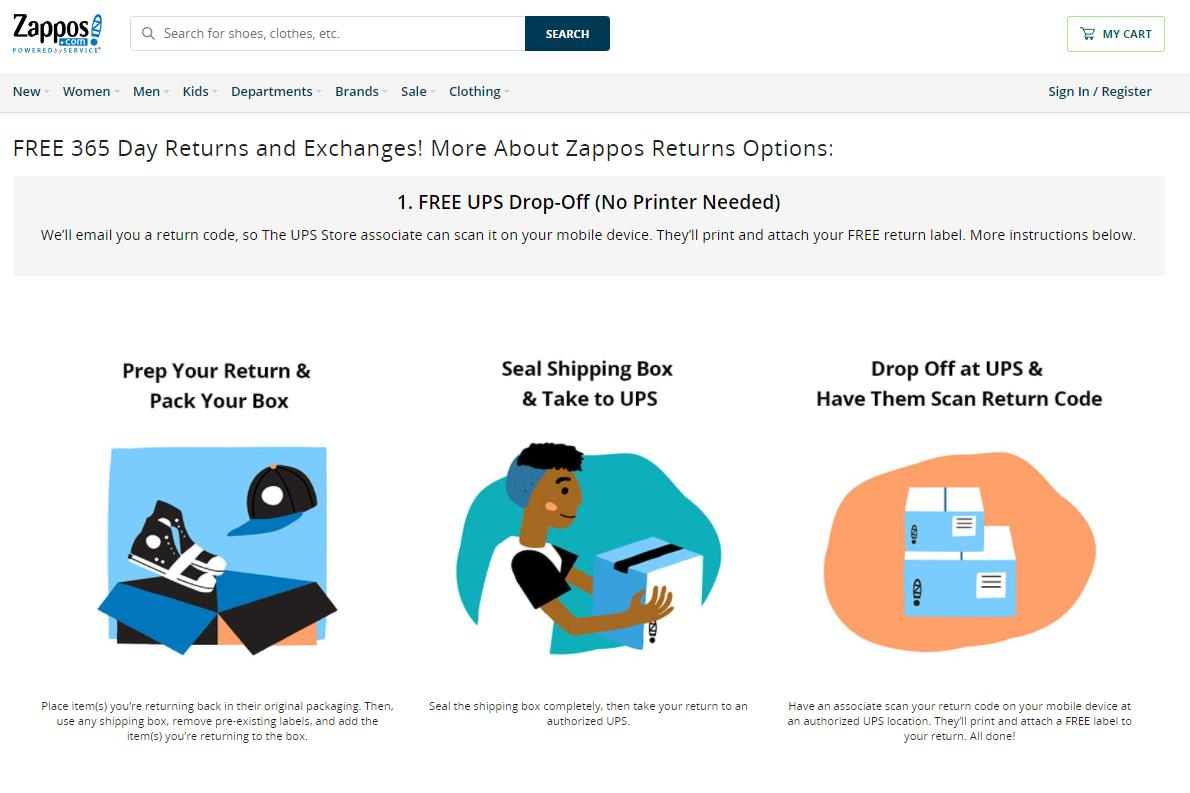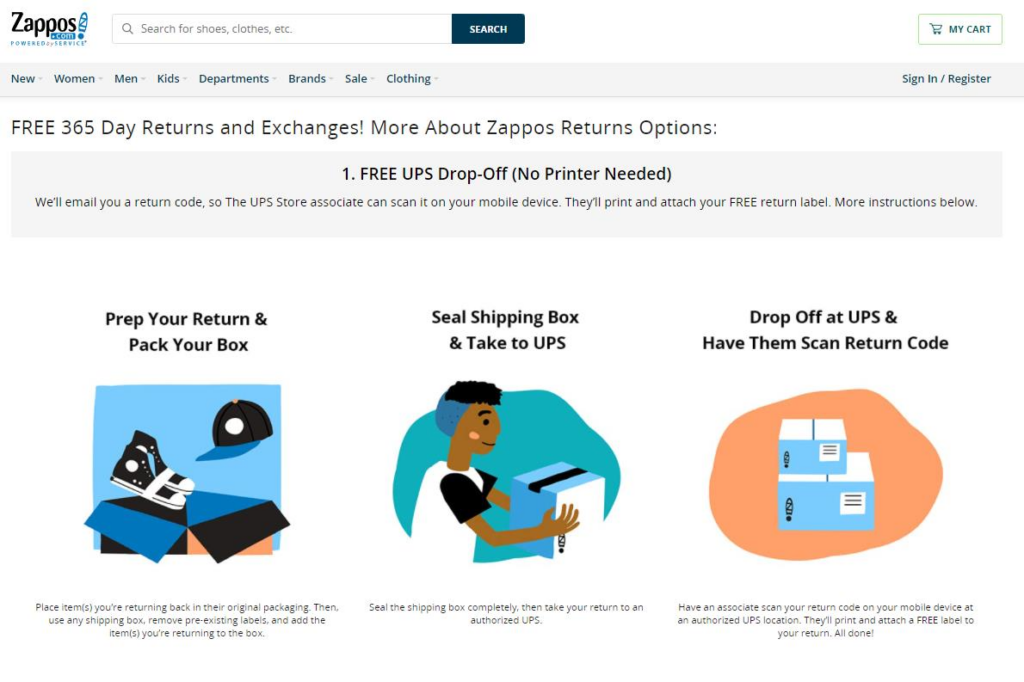 6. Threshold free shipping / free gift
Offering some form of benefit for orders over a threshold amount can motivate shoppers to add more items to their cart, increasing key metrics like Average Order Value (AOV) and Customer Lifetime Value (LTV). Athleta offers free shipping on all orders over $50:

7. Loyalty programs
A loyalty program allows you to reward customers who are particularly faithful to your brand. Whether through special discounts on high-demand items or exclusive access to particular products, loyalty programs keep customers coming back again and again. Keenly aware of this reality, Amazon offers all sorts of perks to Prime members: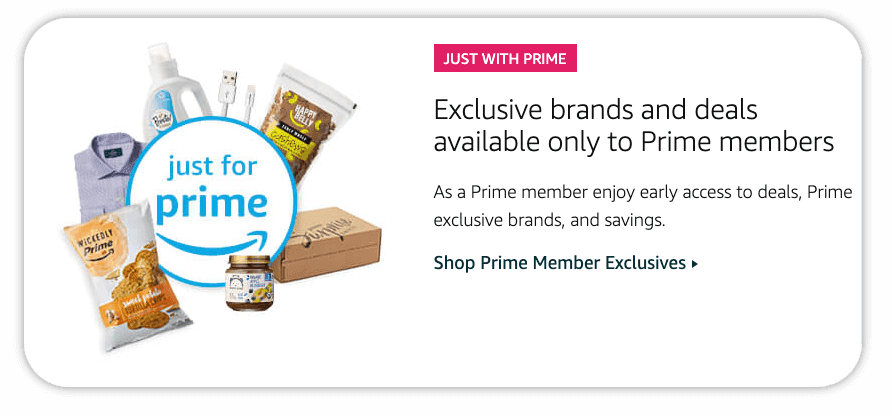 8. Display "limited quantity" messaging
Showing that you have a limited number of something in stock can create a sense of urgency in customers. They don't want to miss out on the opportunity to buy. Etsy does a great job of increasing urgency on their product pages by showing how many items are in stock, as well as alerting customers if an item is already in someone's cart.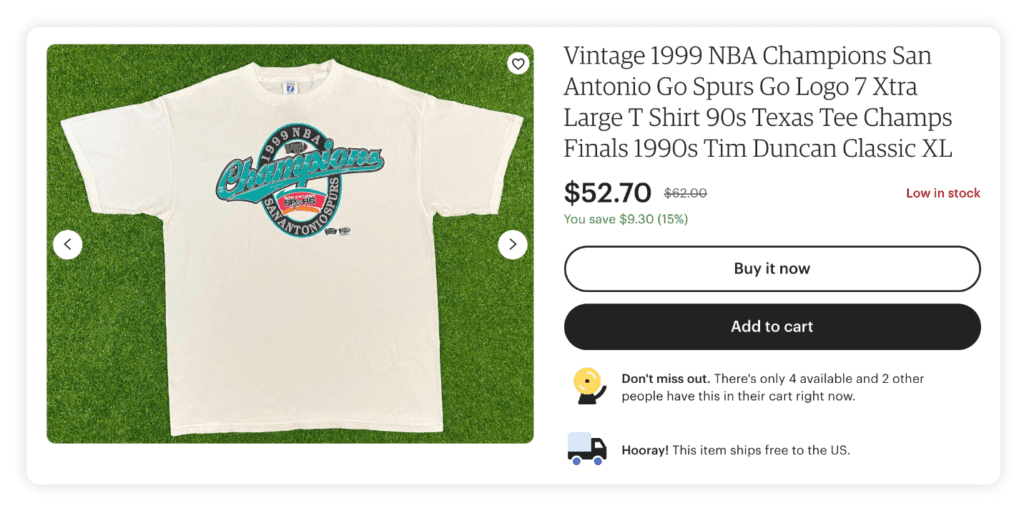 9. Show sold out items
Highlighting sold out items shows how popular they are, which can cause even more people to want them. Just be sure to give customers the option of being notified when the product is back in stock. Otherwise they may forget about it. Snow Peak uses this technique with out of stock items and has stellar results: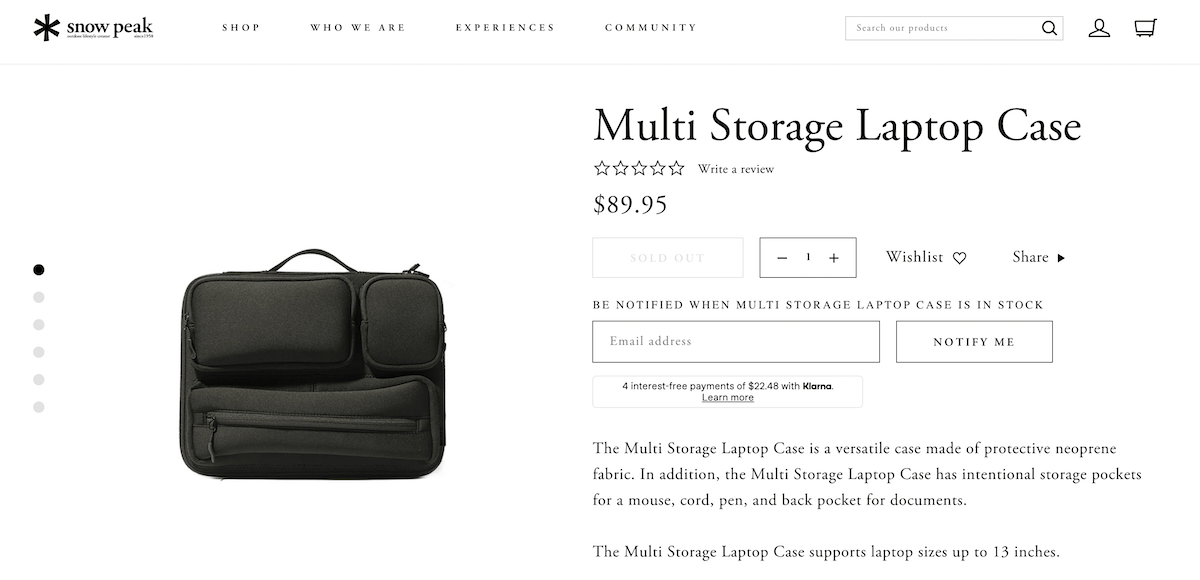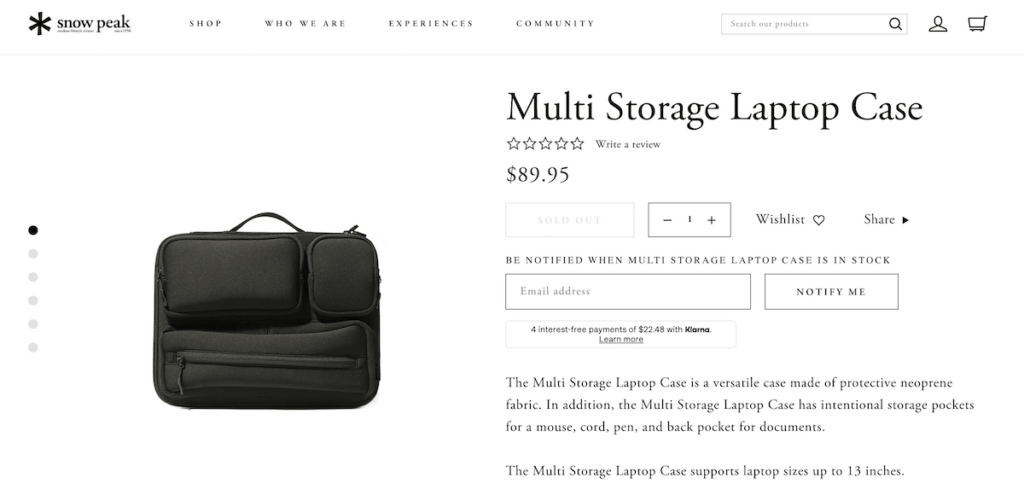 10. Money back guarantees
The greatest fear of most online shoppers is buying something, not liking it, and not being able to easily get a refund. Offering a rock-solid money-back guarantee can ease this fear and compel the customer to purchase. Fly-fishing company Orvis offers what they call a "Great Catch Guarantee":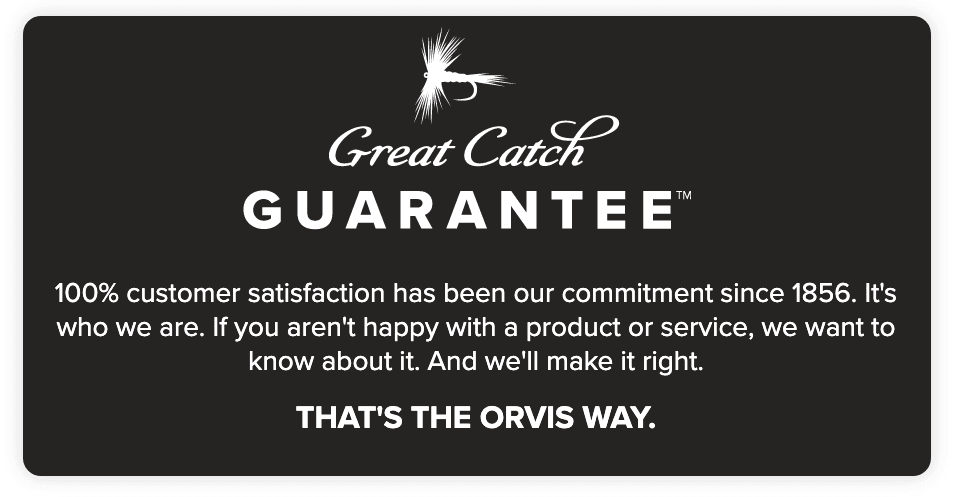 11. Service guarantee
Even broader than a money-back guarantee, a service guarantee assures your customers that you will do whatever is necessary to assure their satisfaction. Companies who offer outstanding customer service create customers for life, reducing churn rate and increasing Customer Lifetime Value. Bombas offers a happiness guarantee that gives customers every reason to purchase from them: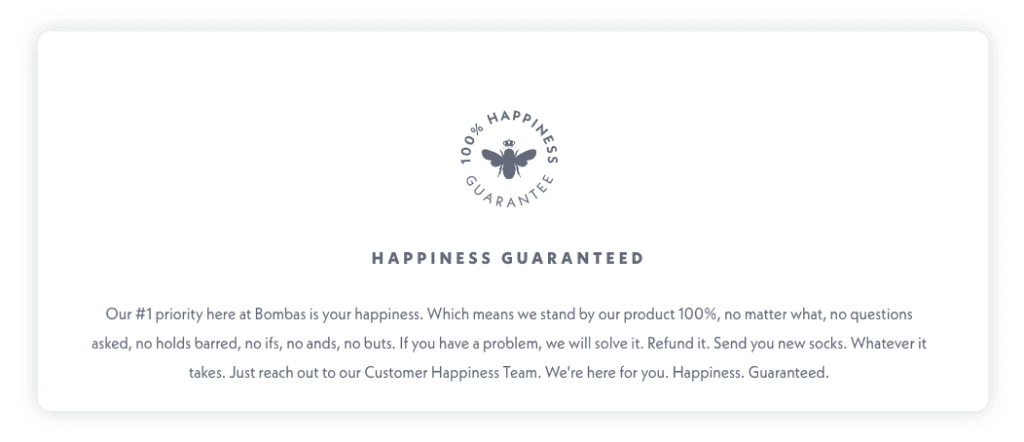 12. Product bundling
Product bundling is the practice of grouping two or more items together and selling them as a single unit, usually at a lower price than if they were sold individually. While this is technically a discount, it also increases the customers' order value, so you're still bringing in more money.
Subscribe to our newsletter, Good Question, to get insights like this sent straight to your inbox every week.
Notice how Kylie Cosmetics smartly create bundles. They group multiple products together and present them as a bundle even though the customer would be spending more.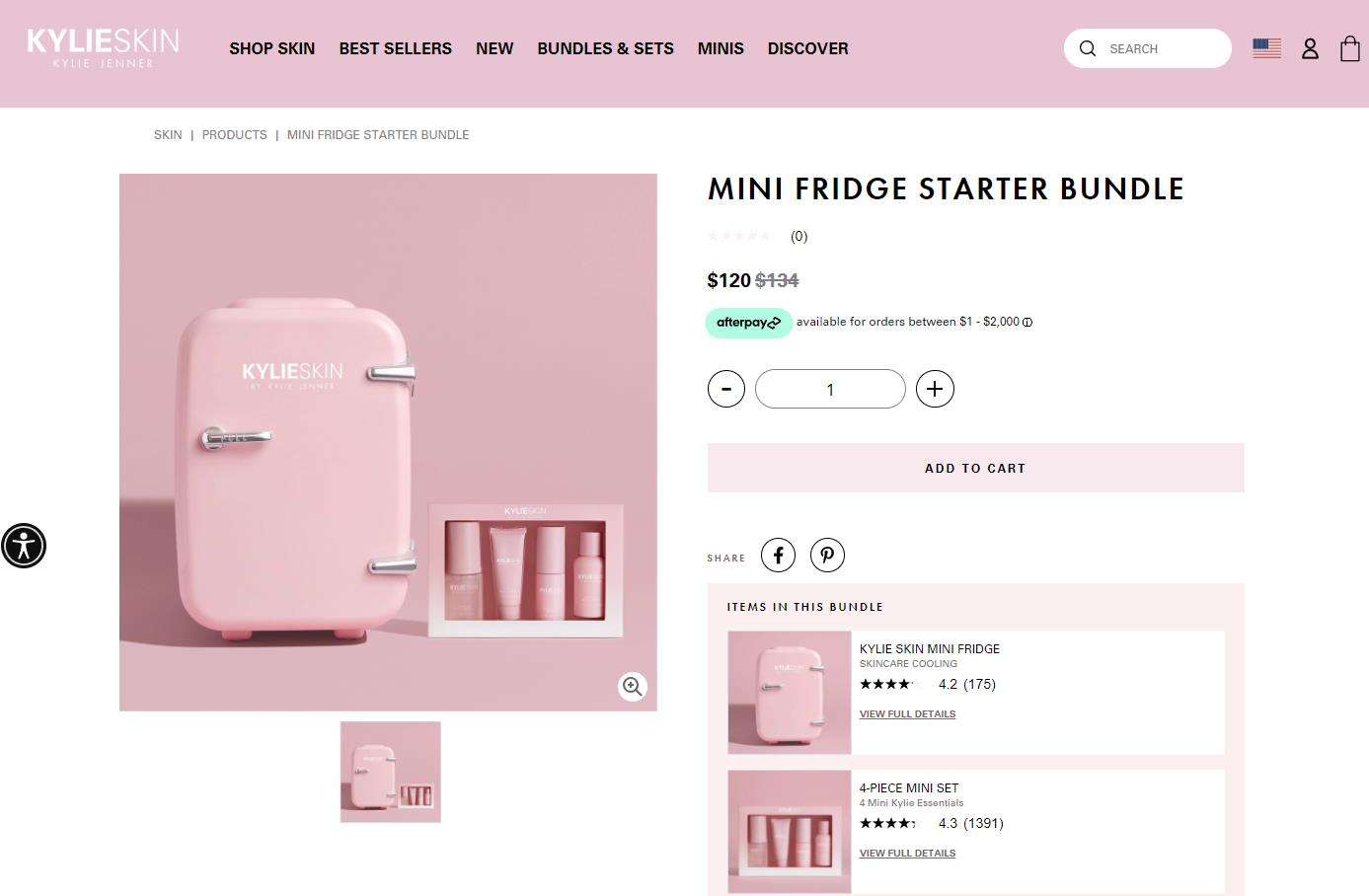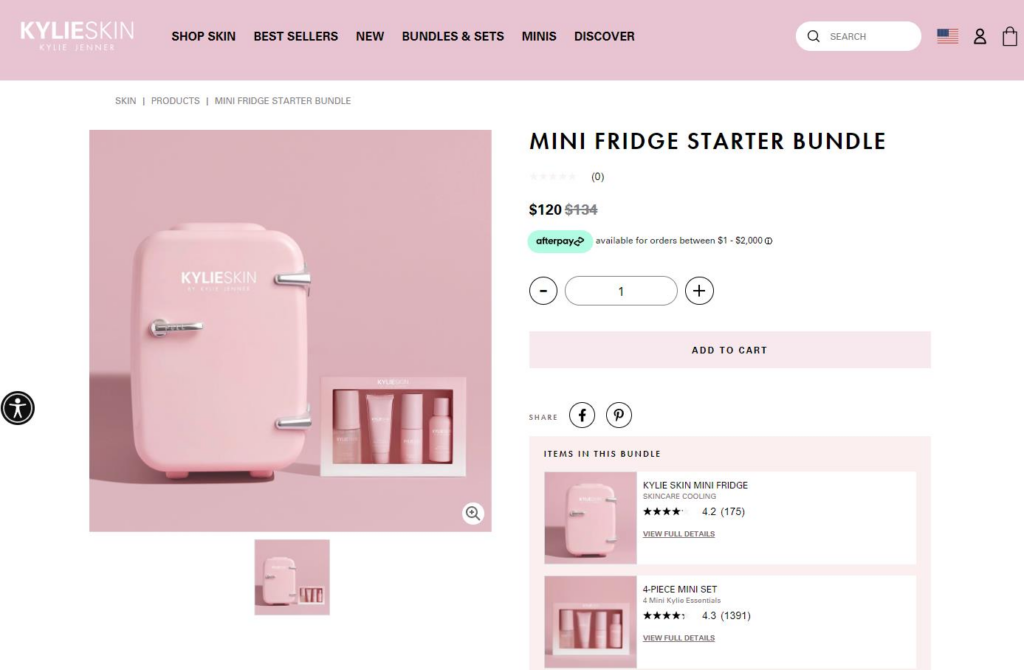 13. Special edition/seasonal items
A special edition item (or a season edition item) is a product that will only be produced for a certain period of time. There isn't a limit to the number you'll sell, but there's a limit for the duration that you'll sell it.
Special edition items work well because they build hype, create scarcity, and build on seasonal excitement. The best example of this are seasonal fashion items. Whether you sell 10 winter jackets or 10 million, you'll still only sell them during the winter.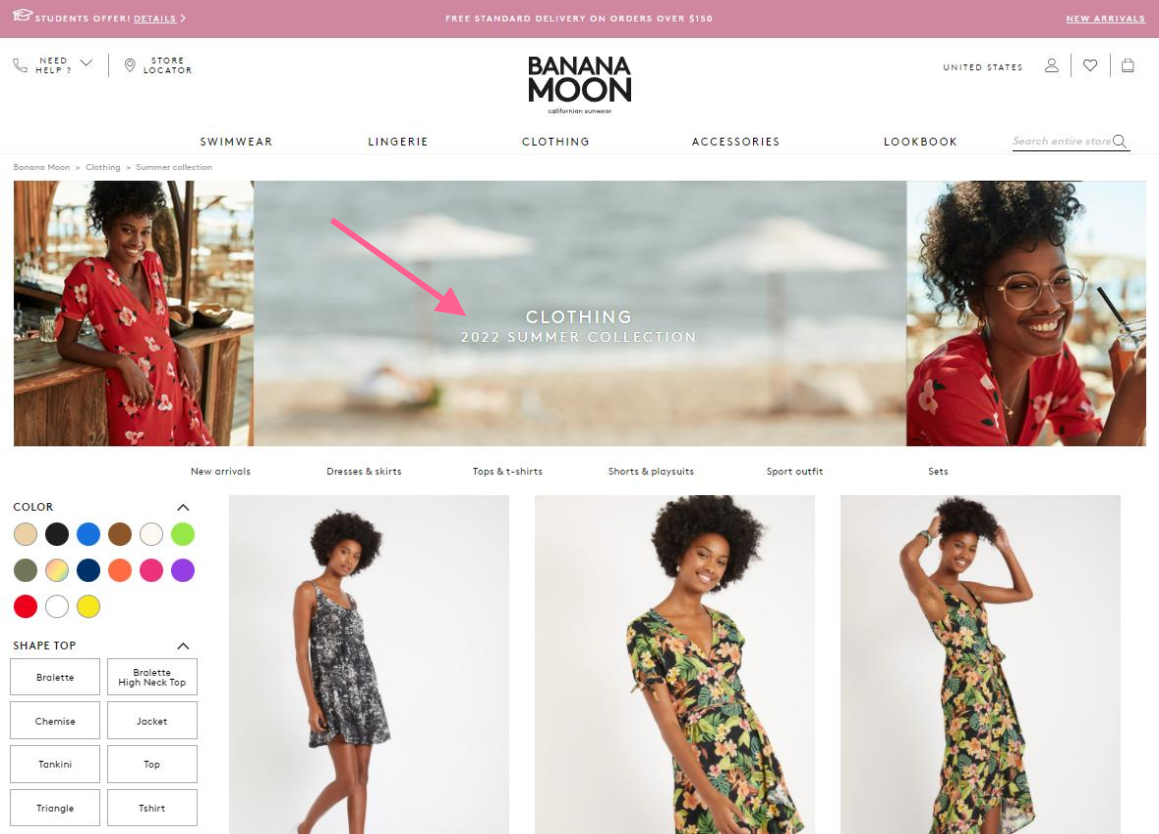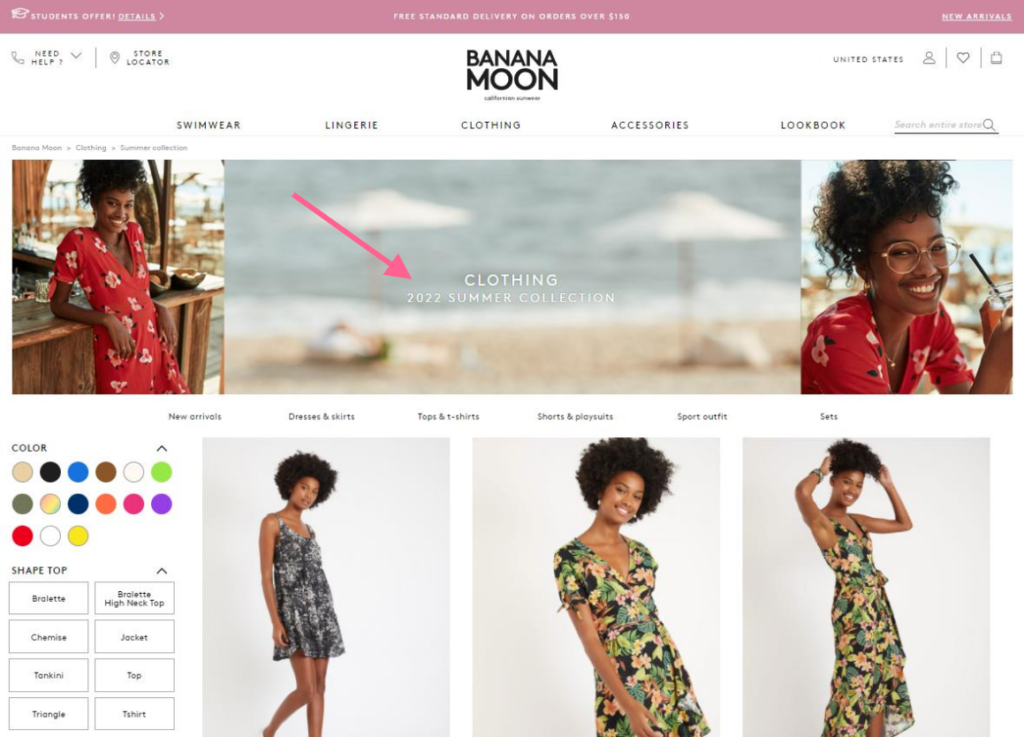 14. Pro deals (special offers for teachers, students, etc.)
Offering deals for specific groups of people is a great way to show your support for those causes and drive traffic to your business. You might offer promotions like buy one get one for students, first responders, military/veterans, healthcare workers, teachers, or other deserving groups. Many people will support your business because of your offers even if they don't qualify for the deal themselves.
Keep in mind, however, that verifying eligibility will be a challenge here. You'll need shoppers to submit proof of their membership in order to accept the deal, otherwise everyone will claim to be eligible. For example, Under Armour requires you to verify your military or first responder ID before claiming their deal.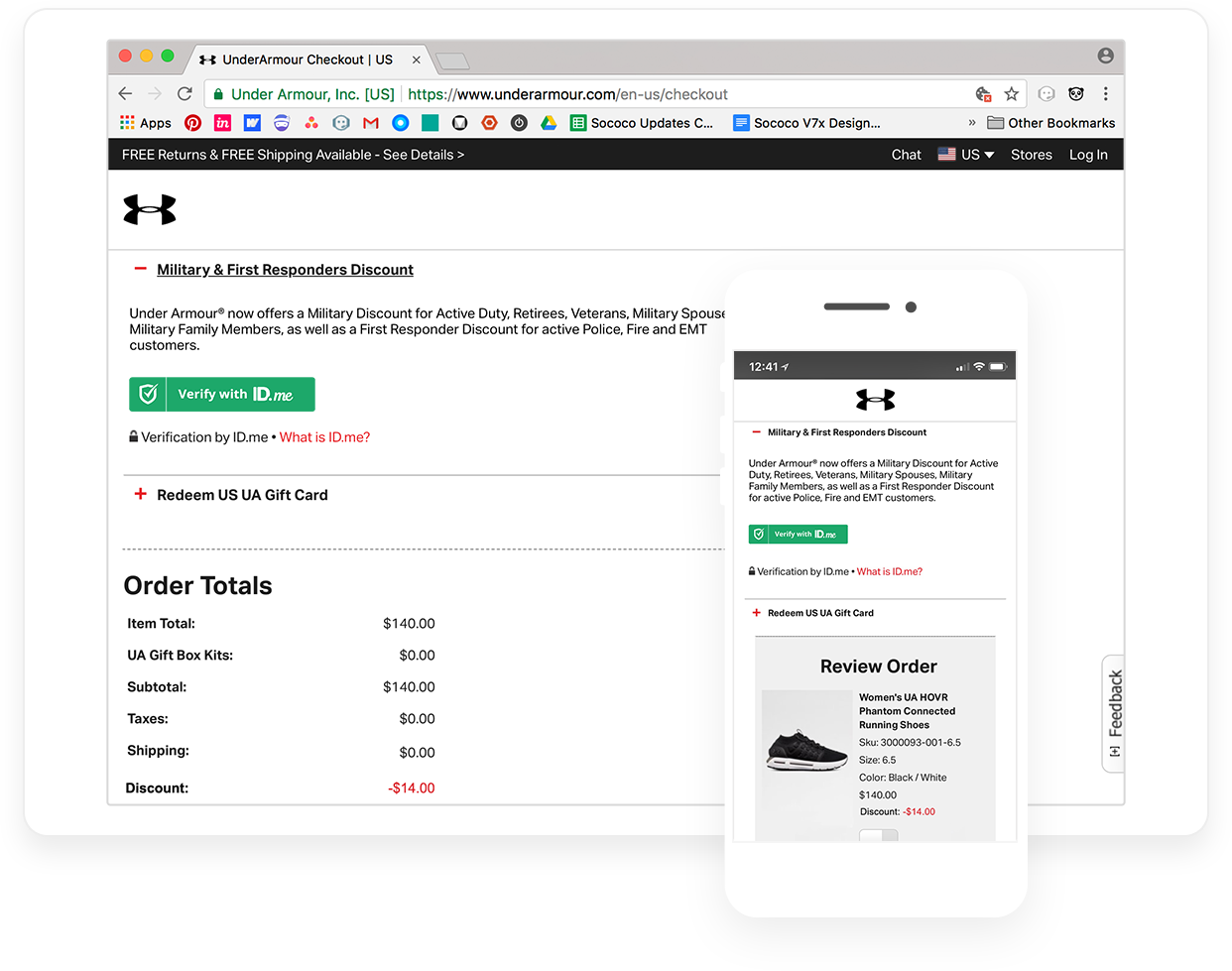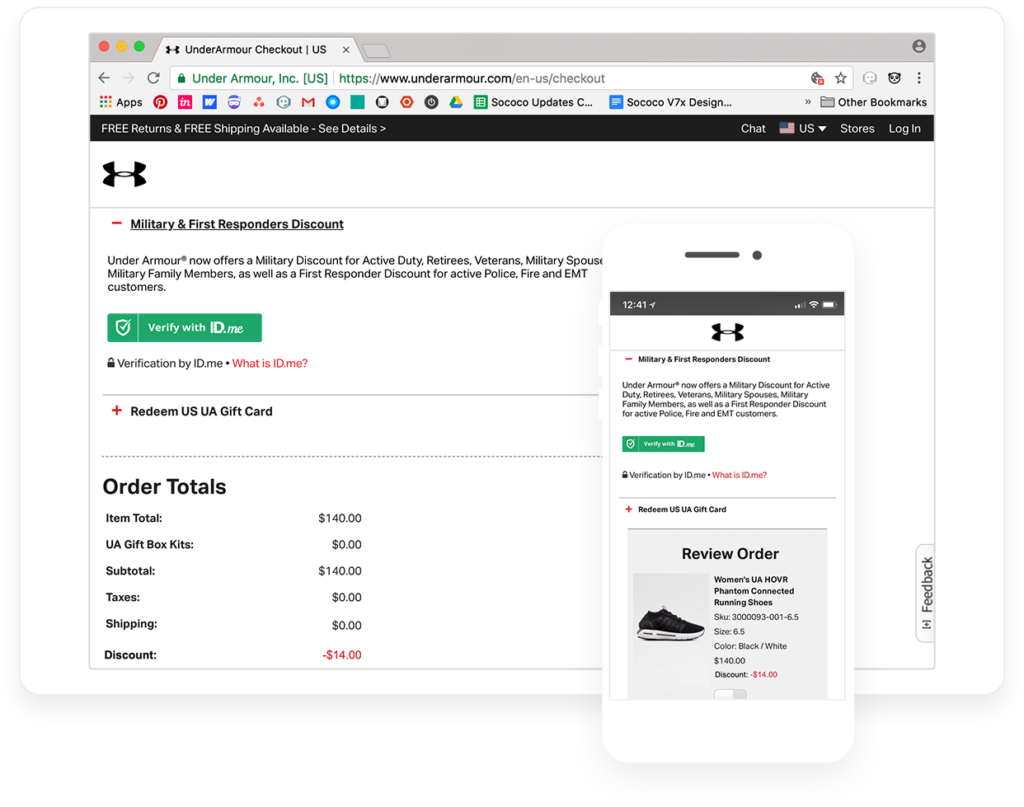 A word of advice: Make sure the group you choose to honor is deserving. No one will appreciate "Free gift for stockbrokers."
15. Sponsorships
Sponsoring an event, charity, award, conference, or other cause is a great way to build good will with your audience and get prime exposure to potential buyers. Sponsorship could be as simple as paying a few bucks to have your logo displayed. Or you may decide to take a more active role in the process, perhaps by giving a talk, supplying the cause with products, or hosting your own events.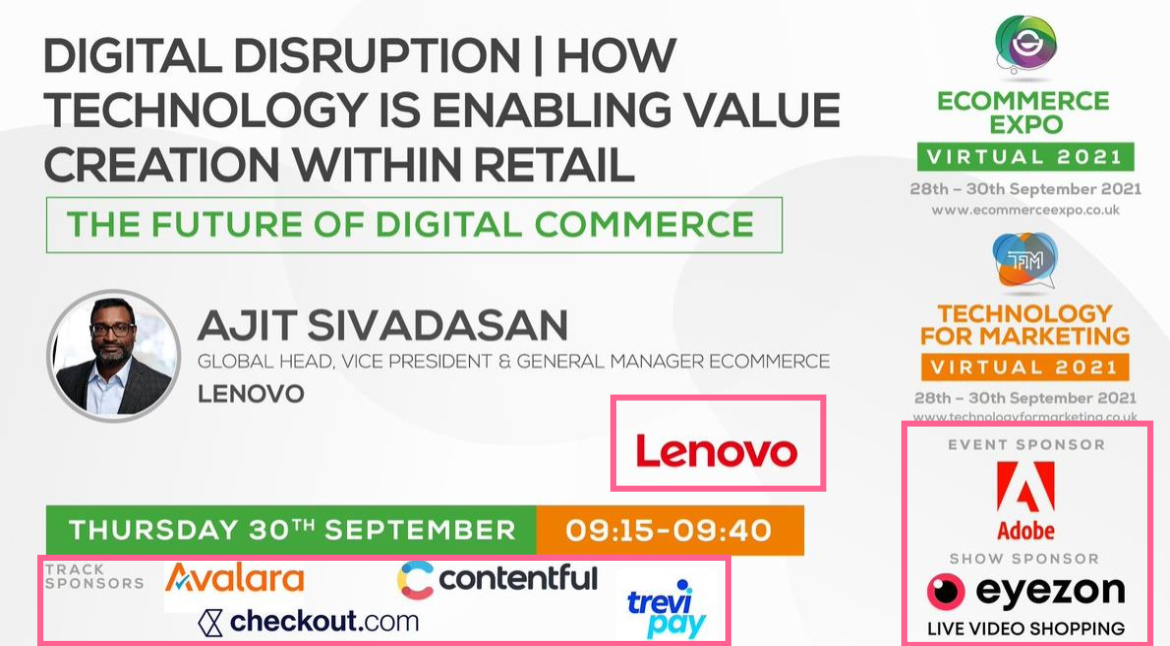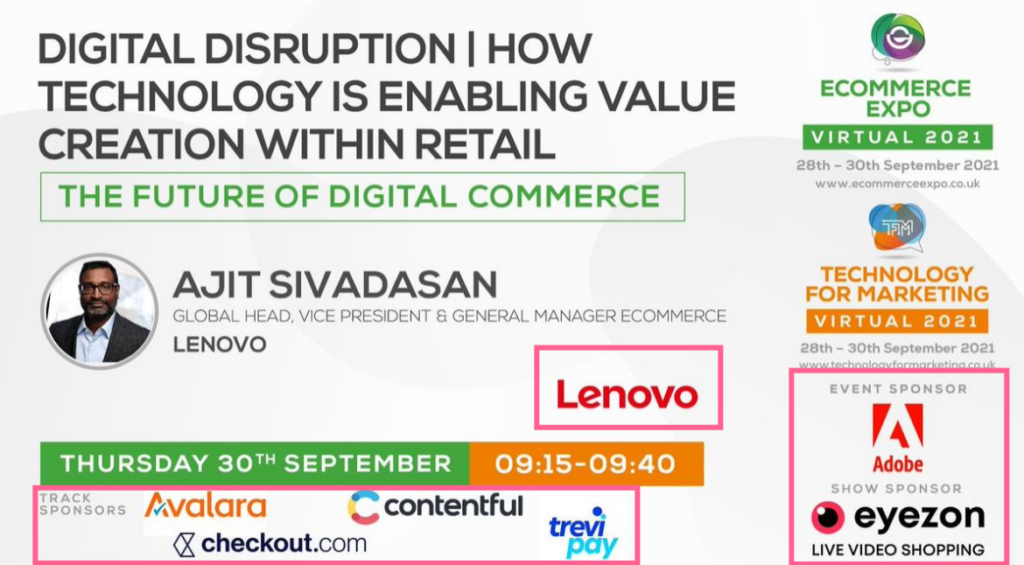 16. First purchase anniversary gift
This isn't one of the most popular ecommerce sales strategies, but it's surprisingly effective.
A gift that celebrates the anniversary of a customer's first purchase is a great way to commemorate a positive relationship. It tells the customers that you care about them and their support. Most importantly, a free gift raises the perceived value of your products, rather than lowering the perceived value as a discount would.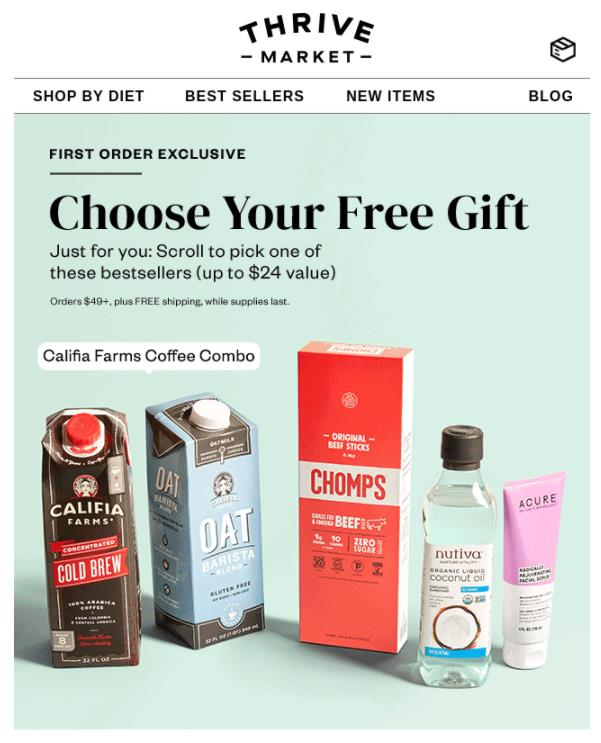 17. Co-marketing deals
Co-marketing is when you work closely with another ecommerce brand to promote each other. It gives you access to another audience of potential buyers. It's also quite cost effective, which is why it's one of the most popular e-commerce sales strategies for brands that already have established audiences.
In 2020, sophisticated footwear line Thursday Boot Company worked together with Cobbler's Choice, a brand that sells footwear care products, such as cleaners, brushes, waterproofing sprays. These brands complement each other nicely without competing.
Thursday Boot Company posted on Instagram showing off the Cobbler's Choice Suede Cleaning Kit.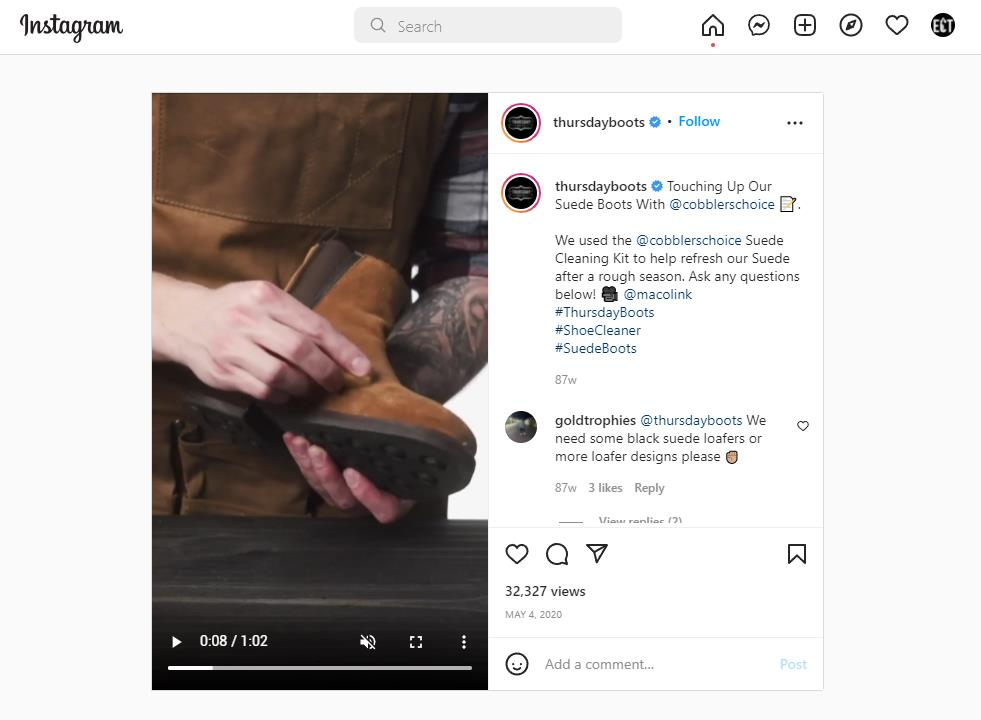 On the other end, Cobbler's Choice also posted on Instagram, showing off a pair of shoes from Thursday Boot Company.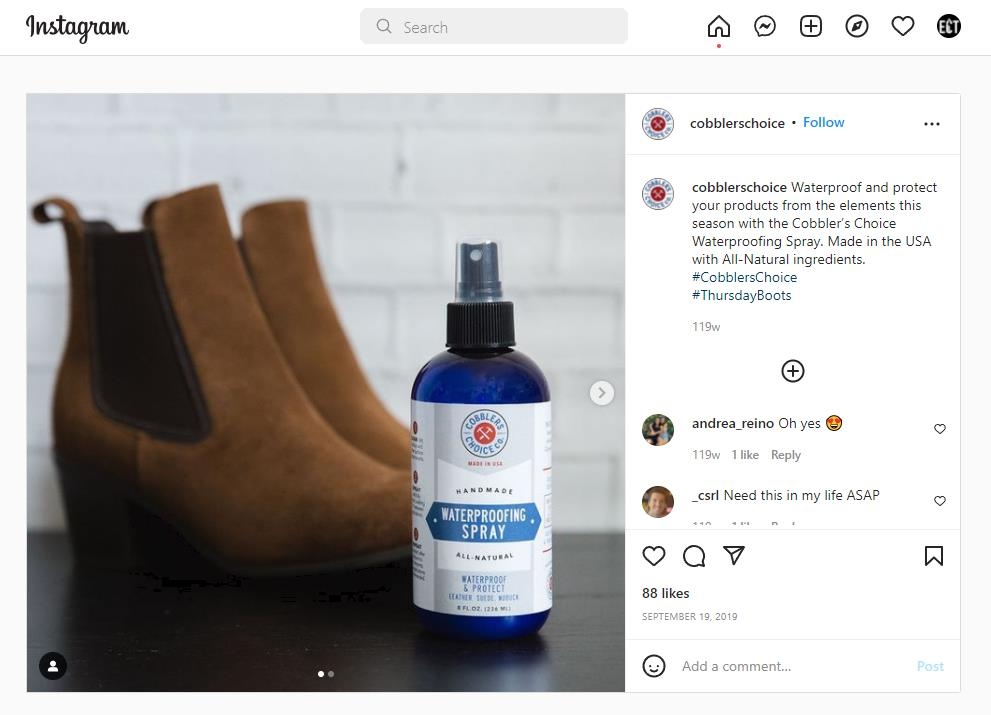 18. Subscriptions or memberships
A membership or subscription program is a powerful way to bring your customers into an exclusive club and generate some guaranteed revenue. If your membership is structured well, you can actually get your customers to spend more than they would otherwise.
Check out this membership program from Italic. For $60 a month, members get access to $120 in credit, referral bonuses, credit for product reviews, and other benefits. Isn't that a 50% discount? Technically yes, but the subscription nature could end up bringing in more revenue from a single customer than that customer would normally spend on their own.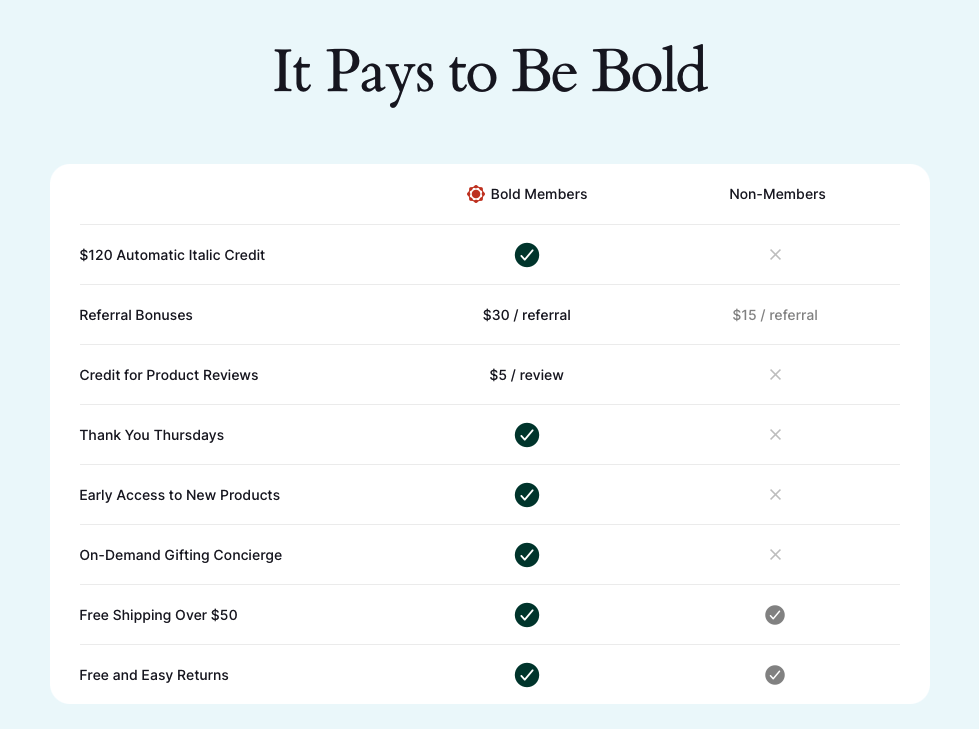 19. Limited editions
People love exclusivity. We love having things that others can't get. It's a component of the scarcity principle: We overvalue things that are hard to obtain. You can make some of your products seem more valuable by only selling a limited number of them.
Streetwear brand Supreme takes this to a whole new level. When a product runs out, they almost never produce more of them. Customers have become conditioned to checking the site every Thursday for new products before they sell out.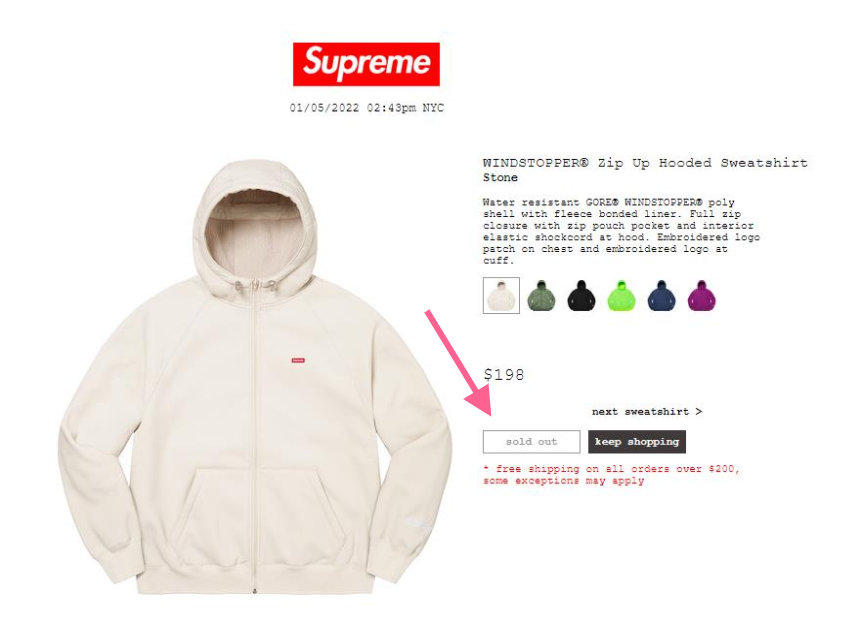 20. Store credit/amount for your next purchase
If you give your customers 20% off, then you simply lose 20% of the sale. It's a total giveaway. But if you offer store credit, customers only get the discount on future purchases. This means you make a little extra for the same deal.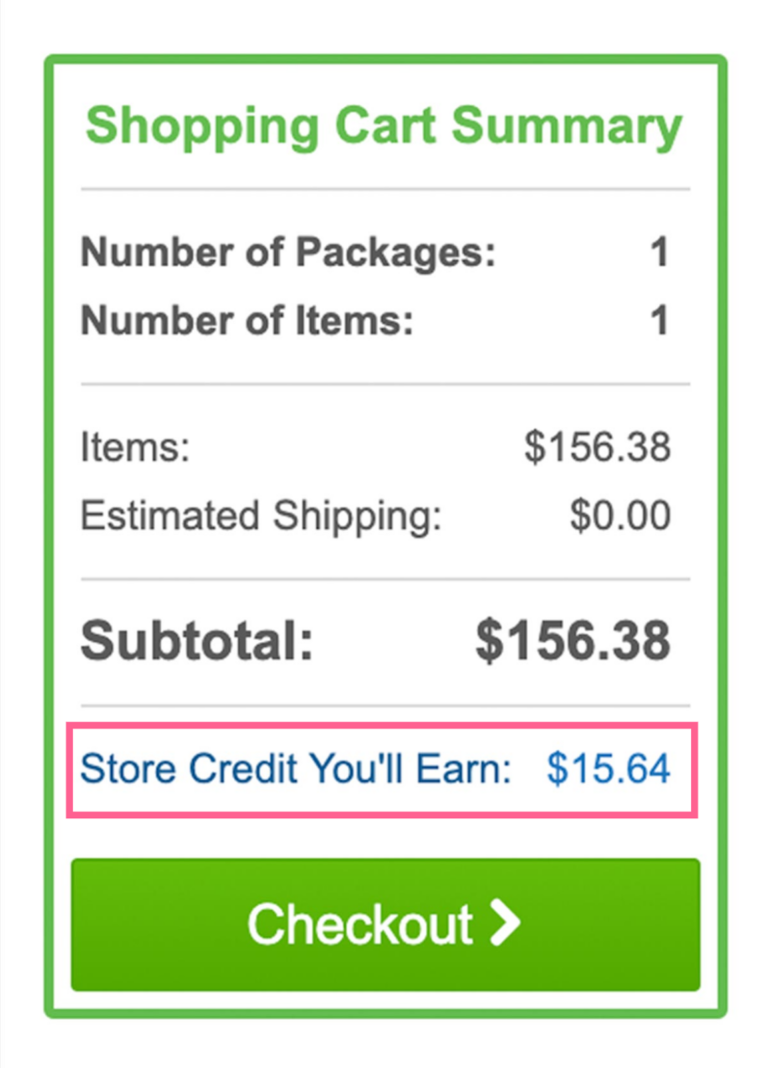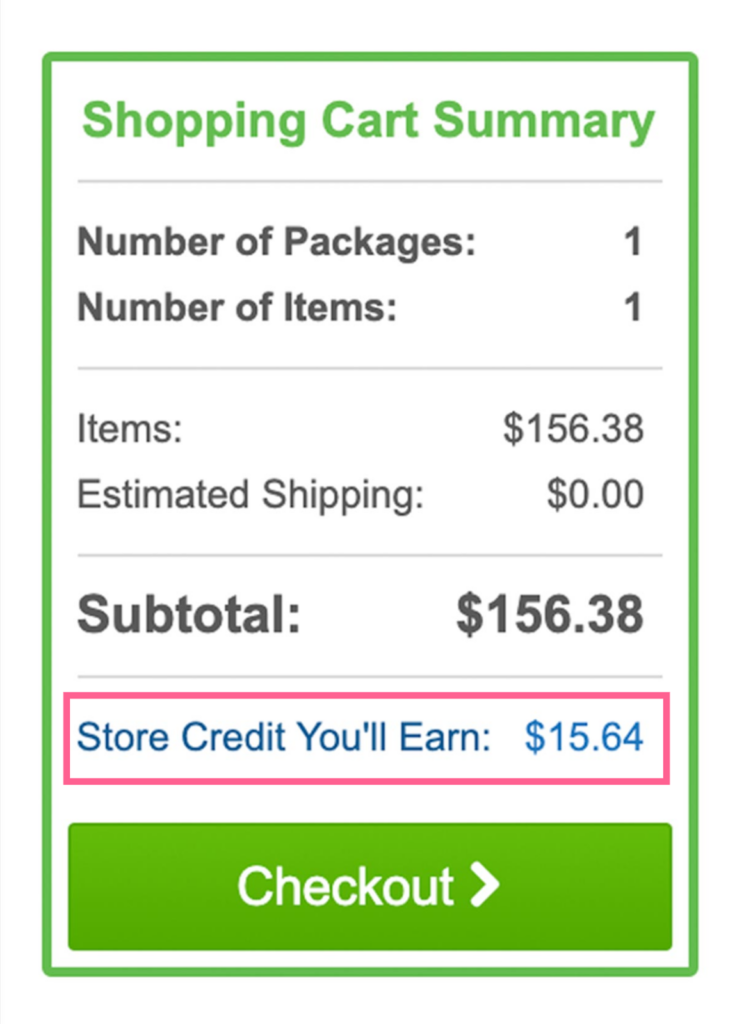 21. Upsell/complementary item at checkout
The checkout page is one of the best opportunities to upsell a customer. You know they like your brand and you have a pretty good idea of the kinds of products they want to buy. Don't be afraid to use this as a last-minute attempt to increase their order value.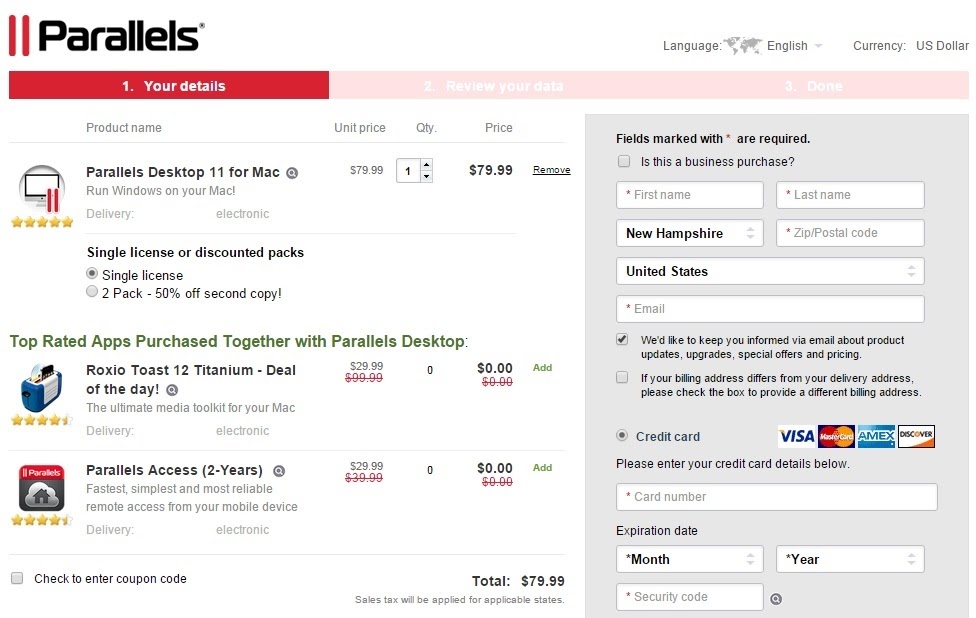 22. Each purchase gives back
Customers love knowing that their purchase is helping make the world a better place, even in just a small way. This is especially useful for commodity products where prices are the same and customers can buy anywhere.
This doesn't mean you have to build an activism arm of your company. There are charities that facilitate this for you. One Tree Planted will plant a tree for $1. You could simply donate a dollar for every order and honestly say, "We plant a tree with every order." And that's exactly what Amour Vert does.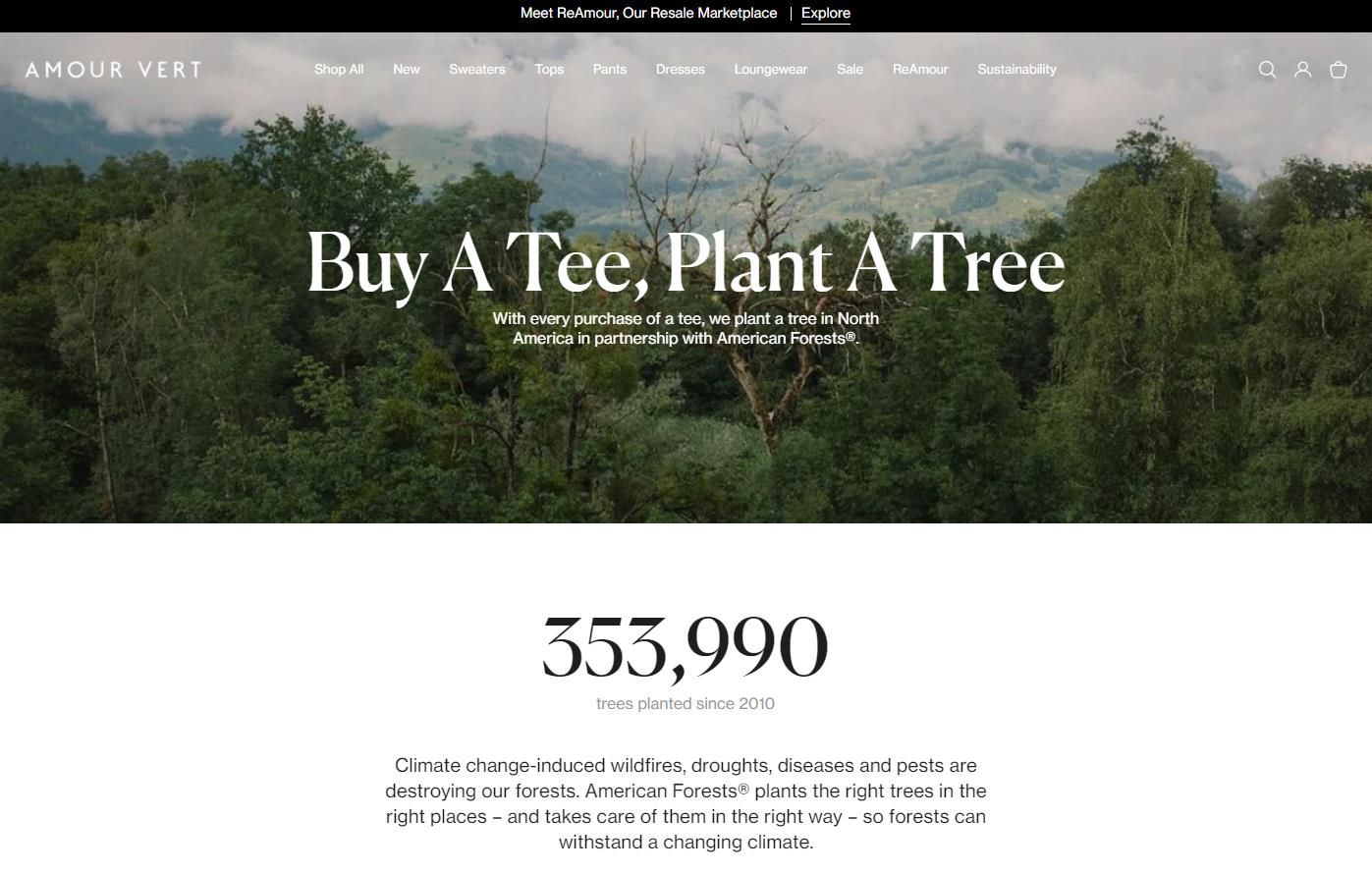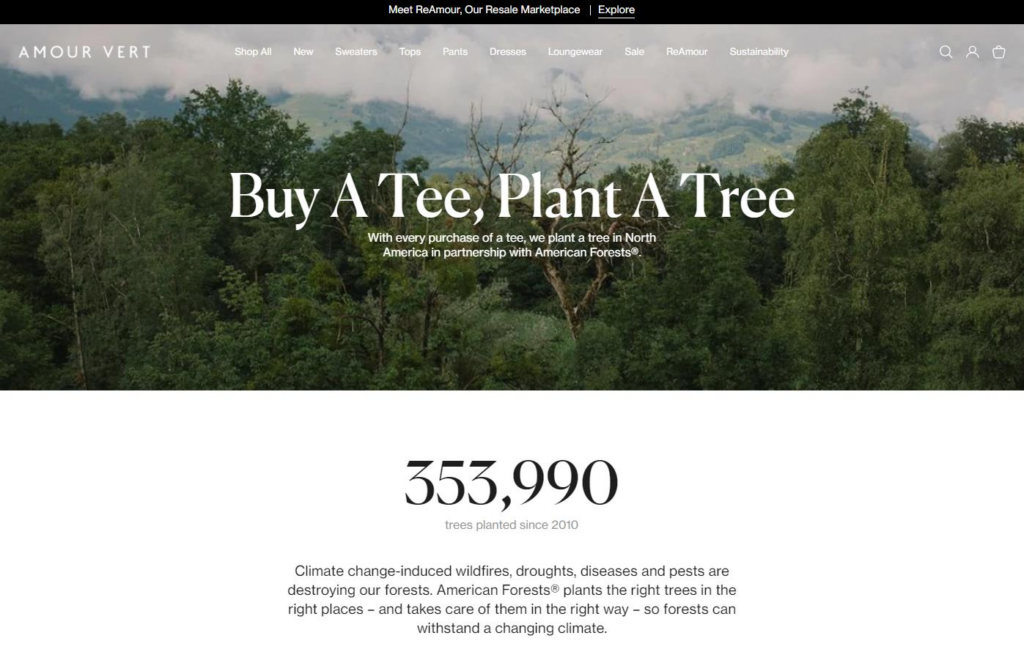 23. Wish lists
A wish list is simply a saved list of items that you'd like to own at some point. They use it to a) make finding those items easier in the future, and b) to give their loved ones ideas for gifts. If you ask someone what they'd like for their birthday, and they say, "Check out my wish list on HomeDepot.com," that's an easy decision for you and a quick sale for Home Depot.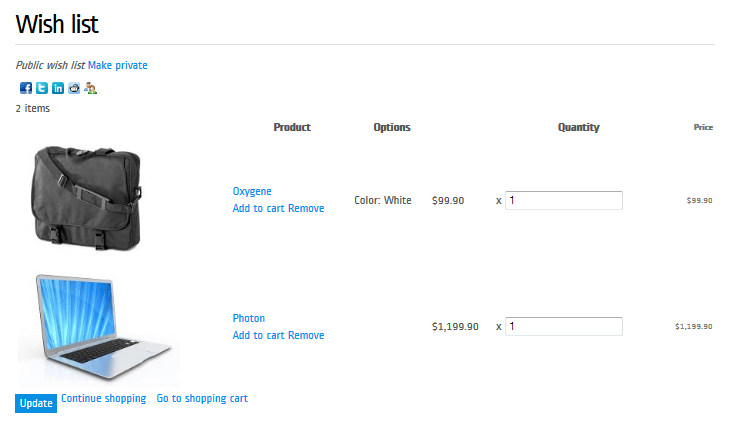 Other Ways to Increase Sales Fast Without Discounting
The previous list of ecommerce sales strategies is comprehensive, but depending on your needs, you may not want to implement them all. If we could only use seven conversion rate optimization tactics from the CRO tool bag, the ones we're listing here would be among the top choices. We've seen these ideas breathe new life into ecommerce conversion rates again and again. They work.
Split testing (A/B testing)
Split testing (which also includes A/B testing and multivariate testing) is a direct route to more revenue. It's a Kaizen-type approach to continuous improvement that – done correctly – guarantees results.
The process is simple: You send portions of traffic at different versions of your website. The version that gets the highest conversion rate is the winner.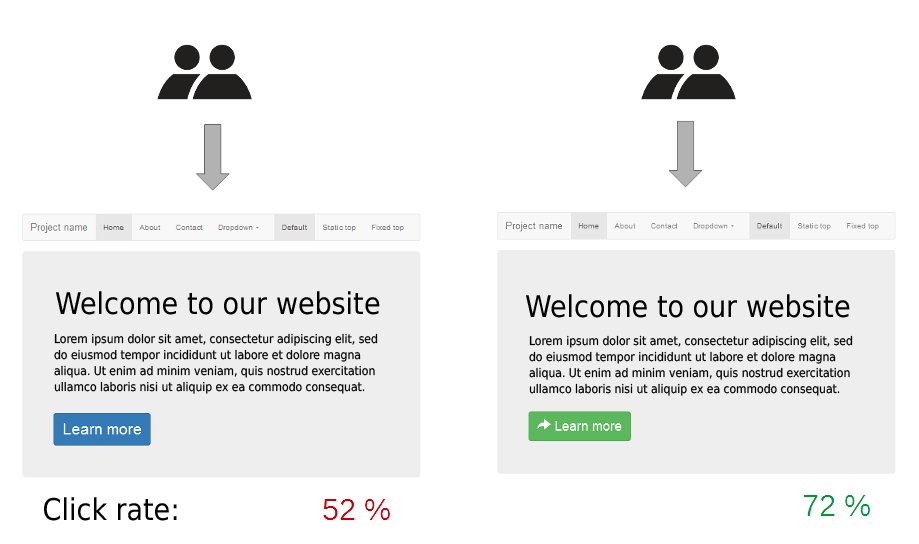 The problem, however, is that most agencies or ecommerce development shops don't test deeply enough, try to test too many things at once, or fail to test altogether. Don't do that. Learn this lesson and shut out the competition.
In fact, we recommend taking advantage of A/B testing for any of the ecommerce sales strategies you end up using. You should always be testing.
Identify and highlight your USP
This is a key way to separate yourself from the competition. Your unique selling proposition (or unique selling points) answers the question, "Why should I buy from you, rather than from someone else?"
Not only should your business have an identified and proudly proclaimed USP, every product or service needs its own USP. What, you say? There's nothing really unique about the products you sell?
Have you heard of Grey Poupon mustard? Check the grocery shelves. It is definitely NOT the cheapest mustard you'll find there. Customers wouldn't dream of paying less for Grey Poupon. After all, it's marketed as the brand the super-wealthy can't do without. It's not "common" mustard.
Fix your checkout procedure
You rarely see someone at a local store get almost to checkout, then decide to walk away and leave the shopping cart sitting there, but it happens online all the time.
Digital marketing managers sometimes tell us "That's the nature of ecommerce. Cart abandonment is unavoidable." That's not the case, in our experience. We've seen dramatic improvements when conversion rate optimization principles are applied to the checkout procedure.
Provide plenty of social proof
Online shoppers want to know ordering from you is a smart thing to do. The best way to show them is by letting other happy customers shout your praises. Prospects are much more likely to believe it when someone else gives you kudos than when you brag about yourself.
Use ratings, reviews, comments, endorsements – get your customers involved in the promotion of your products, services, and brand. Every sales page on your ecommerce site should include social proof. If you're afraid of getting 'bad reviews,' get over it. Not having customer comments at all is a whole lot more damaging than risking a few complaints.
Smart companies turn problems into solutions. When someone does gripe about something, they go to work to take care of the problem – in plain sight of other shoppers. They don't try to hide mistakes. They fix them.


Cut down on friction
The path to purchase is a journey, not a one-stop event. Prospects must find your ecommerce store, access it via the internet, browse your inventory, select the product or products best for them, add items to a shopping cart, enter the checkout procedure, and complete the purchase.
Prospects don't become buyers in an instant; they move along a path that leads to the final decision. Conversion rate optimization tactics remove barriers (friction) from that path and make it EASY for prospects to become paying customers.
Create a sense of urgency
Ecommerce shoppers are apt to do considerable research before making a decision. Your job is to give them plenty of information (so they don't have to go elsewhere to answer their questions) and a reason to buy from you now.
There are plenty of creative ways to do that: exclusive limited-time bundles, showing remaining stock left, including a gift with purchase during a specific time frame, or appealing to shipping deadlines (especially around the holidays).
When you give prospects a good reason to complete the transaction while they're on your website, your sales will increase. And that is the purpose of conversion rate optimization.
Leverage FOMO and exclusivity
Fear of missing out (FOMO) is a big consumer purchase motivator, and you can take advantage of it by utilizing both exclusivity and scarcity. With exclusivity, you offer bonuses to customers that they can't get anywhere else, while scarcity highlights the limited availability of particular products.
Hide the coupon field during checkout
If a customer sees a coupon field displayed prominently on your checkout page, do you know what they think? "Oh, but I don't have a coupon…" The customer starts to feel like they're paying more than they ought to for their order. That's a terrible way to start a relationship!
You can reduce this effect by simply minimizing the coupon field. Shoppers with a coupon will look for the link, but shoppers without a coupon will skip right past it without much of a thought.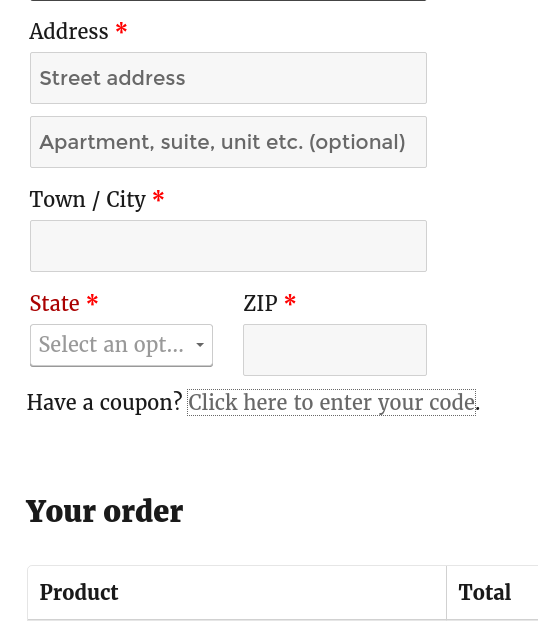 How to Grow Your Brand Without Discounting: Invest in CRO
It's simple math: you're twice better off selling 10,000 widgets at a profit of one dollar per widget ($10K net profit) than you are if you sell 1,000 widgets at a profit of five dollars per item ($5K net profit).
That's the dilemma every marketer runs up against when pricing goods. "Shall I go with the higher price, but fewer sales? Or am I better off lowering the price to get more buyers?" (Of course, the starting place for pricing is always to survey the current market and competition.)
The danger is in getting fixated on the prices your competitors are selling those widgets at, then basing your sales strategy on undercutting the price. In common terms, that's called "getting in a race to the bottom of the barrel." It's not the recommended practice.
At The Good, we invest much of our time educating smart digital marketing managers in the principles of conversion rate optimization. And a good conversion rate optimization strategy does not include discounting.
Let's go back to the widget sale and consider a new set of numbers:
Scenario #1: Your rock-bottom pricing draws 100K visitors to your ecommerce website. The deep discount pulls a hefty five percent conversion rate on an average order value of $50. That means you made 5,000 sales and generated $250K.
Scenario #2: You keep your prices up and refuse to discount. Even if you manage to get the same amount of traffic (100K) and the AOV jumps from $50 to $75, if your conversion rate falls to 1%, your revenue will drop to $75K.
Scenario #3: You read this article and decide to put some of the tips below into action. By applying the principles of conversion rate optimization, you're able to keep the conversion rate at five percent and drive the AOV up to $95 per order. Your revenue moves to $475K – almost double that of your steep discount strategy – but without discounting prices.
"Impossible," you say? In fact, we see numbers like that – and even better – on a regular basis. Conversion rate optimization (CRO) is the missing link between your website traffic and your sales volume. We've elsewhere covered CRO in detail (see the resources listed below).
CRO is the missing link between your website traffic and your sales volume.
We've even developed an online tool (free) you can use to draw up your own scenarios and see how changes in your conversion rate and AOV can bring about startling changes in sales revenue. Here's that link: CRO Calculator.
Constantly relying on discounts to boost sales is a losing game in the long run. Yes, revenue increases, but profits take a hit. What's more, you label yourself as a discount brand in the eyes of many customers, and once you're on that path it's hard to escape.
There are effective ways to increase ecommerce sales without discounting. By strategically leveraging these ecommerce sales strategies, you can compel customers to purchase while still maintaining healthy profit margins. 
The strategies listed above are just part of the conversion rate optimization process. If you would like help optimizing your website for maximum ecommerce sales, we recommend you reach out or sign up for our ecommerce Insights newsletter.
Subscribe to our newsletter, Good Question, to get insights like this sent straight to your inbox every week.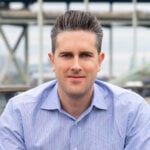 About the Author
Jon MacDonald is founder and President of The Good, a conversion rate optimization firm that has achieved results for some of the largest online brands including Adobe, Nike, Xerox, Verizon, Intel and more. Jon regularly contributes content on conversion optimization to publications like Entrepreneur and Inc. He knows how to get visitors to take action.