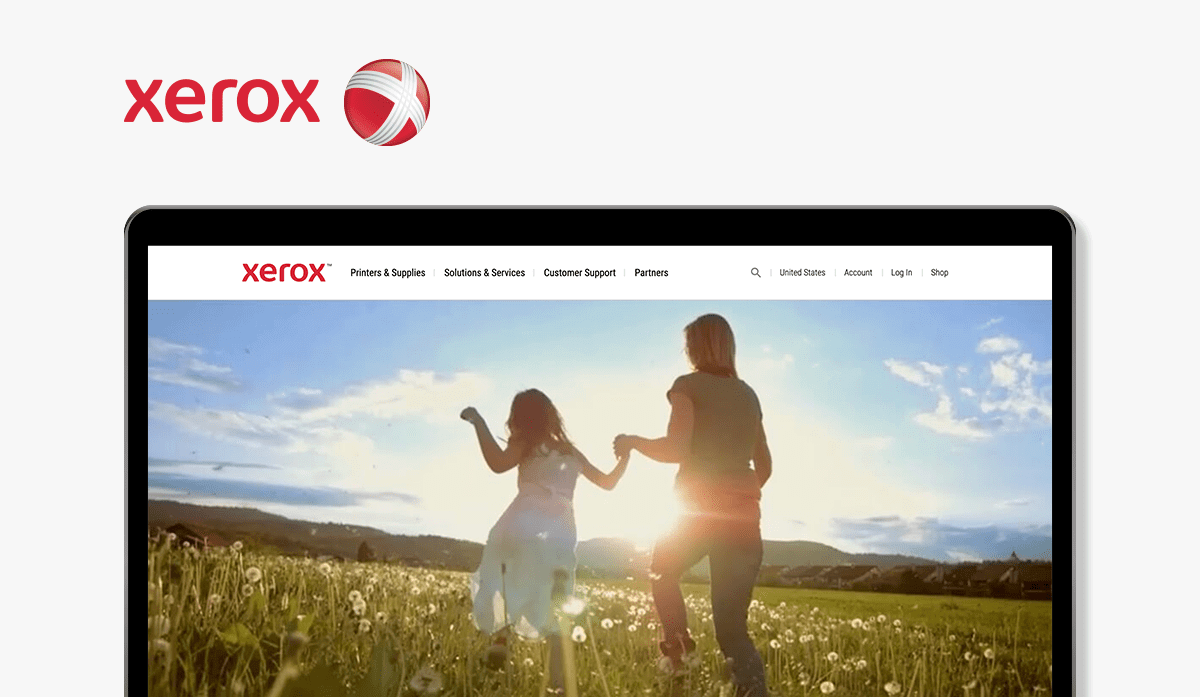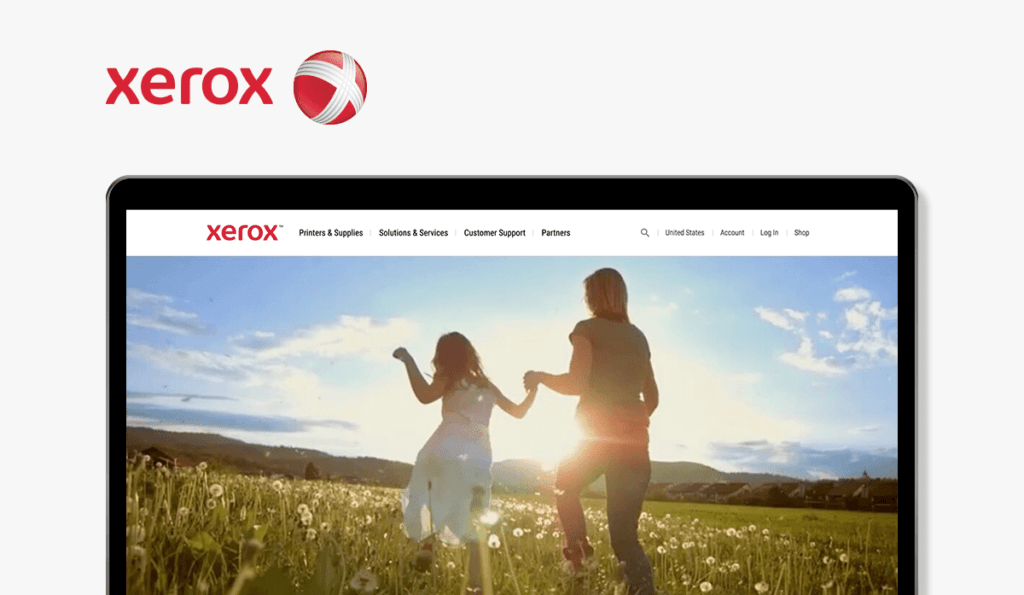 Xerox sees an 86.7% Increase in Return Visitor Conversions
See how Xerox increased return visitor conversions 86.7% with The Good's Conversion Advisory, A/B & Multivariate Testing, and Conversion Growth Program™.


"Multivariate testing resulted in a 86.7% growth in conversions for returning visitors, a 18.9% growth in revenue from add to cart conversions, and increased engagement by 15.2%."
86.7%
growth in returning conversions
18.9%
growth in revenue from add-to-cart conversions
15.2%
increased engagement
The Overview
Xerox is an iconic company, known for their rich history and deep experience with document technology products and services. Their digital printers and other products are used by businesses worldwide.
The Challenge
Xerox approached The Good, hoping to boost conversions on their B2B online printer and supplies ecommerce site (shop.xerox.com). Visitors were getting stuck on the path to purchase and abandoning their carts. The result was low conversion rates and a poor ROI on traffic generation spend.
The Process
After listening to the challenges Xerox was experiencing, The Good recommended our Conversion Advisory and A/B & Multivariate Testing. Those tools help us identify key problem areas.
The process began with our complimentary Stuck Score™ assessment and our in-depth conversion audit. Those proprietary tools readily revealed the pertinent issues. The conversion and site abandonment problems Xerox was facing were primarily due to a series of usability challenges across the site.
From there, we developed a testing roadmap that would allow us to optimize around the most challenging areas. We then set up and launched A/B and multivariate testing through our ongoing Conversion Growth Program™.
The Solution
Based on the Stuck Report audit, we identified a number of areas of opportunity. They included, but weren't limited to:
Site navigation and on-site search results were causing visitors to get stuck while trying to determine which Xerox printer was the best for their specific needs.
The site was performing poorly on mobile devices.
Visitors were experiencing a disjointed visual design and branding experience between xerox.com and shop.xerox.com, causing those visitors to desert the page because they thought they were no longer on the correct site. The path to purchase had too many extraneous steps and fields (user testing made that apparent).
Based on these areas, our hypothesis was that streamlining the path to purchase and expediting the checkout process would provide the biggest impact.
This involved defining the shop.xerox.com customer journey. To do that, we set up a visitor categorization system. We identified three types of prospects: existing customers, new printer shoppers, and new ink/supplies shoppers.
To prove these hypotheses, we designed a number of tests, including:
We removed extra fields to simplify checkout
We adjusted the content strategy of key pages along the path to purchase
We revised or redesigned various visual elements to improve clarity on select pages
The results from the initial multivariate tests led us to run additional tests on the homepage, product detail pages, and other primary pages.
On the homepage, we tested a broad redesign. Our hypothesis was centered around improving the conversion rate of returning visitors – since they displayed a 60% higher likelihood of purchasing than first-time visitors. This single page redesign resulted in an 86.7% growth in conversions for returning visitors.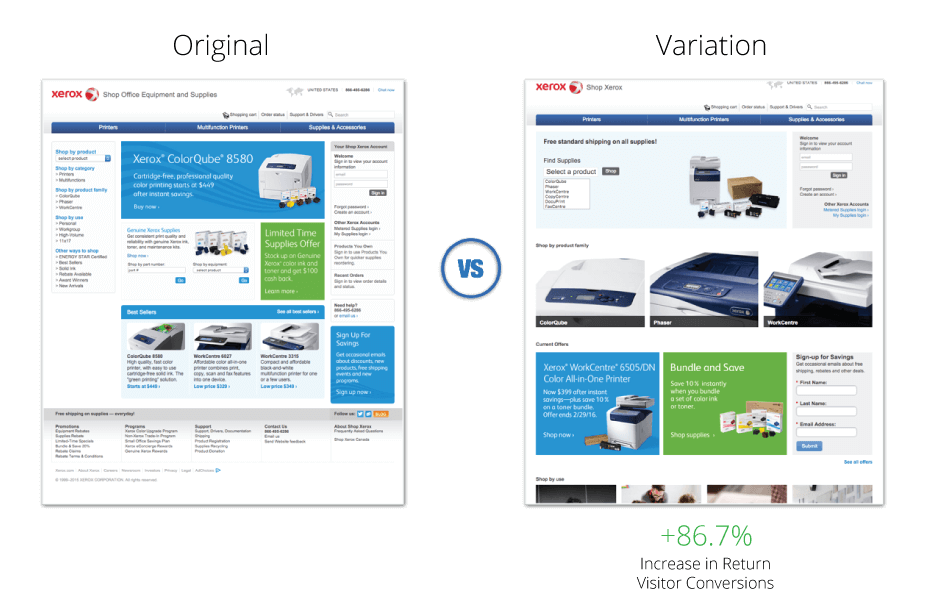 Next, on the product detail pages, we formed a hypothesis that reducing distracting content would increase conversion. We tested a cleaner page presentation and clarified the process for comparing pricing against local and online retailers. That test showed an 18.9% growth in revenue from add to cart conversions.
We also tested changes to the call to action. The test increased engagement by 15.2% and drove a 3.4% increase in those adding to cart.
Because of our rigorous testing protocol, it ultimately became clear that we should prioritize site visual design and user experience (UX) updates. That would also allow Xerox to re-platform to a more flexible ecommerce experience, incorporate a new mobile-friendly responsive design, and utilize the testing insights from the homepage, product pages, and other pages to inform a data-validated redesign of the user experience.
The Results
Today, as a result of the Conversion Advisory, coupled with A/B & Multivariate Testing, Xerox has incorporated our data-driven insights to provide a better user experience, turning many more browsers into buyers.
How They Got There
The results we unlocked for Xerox are the direct result of the following services: