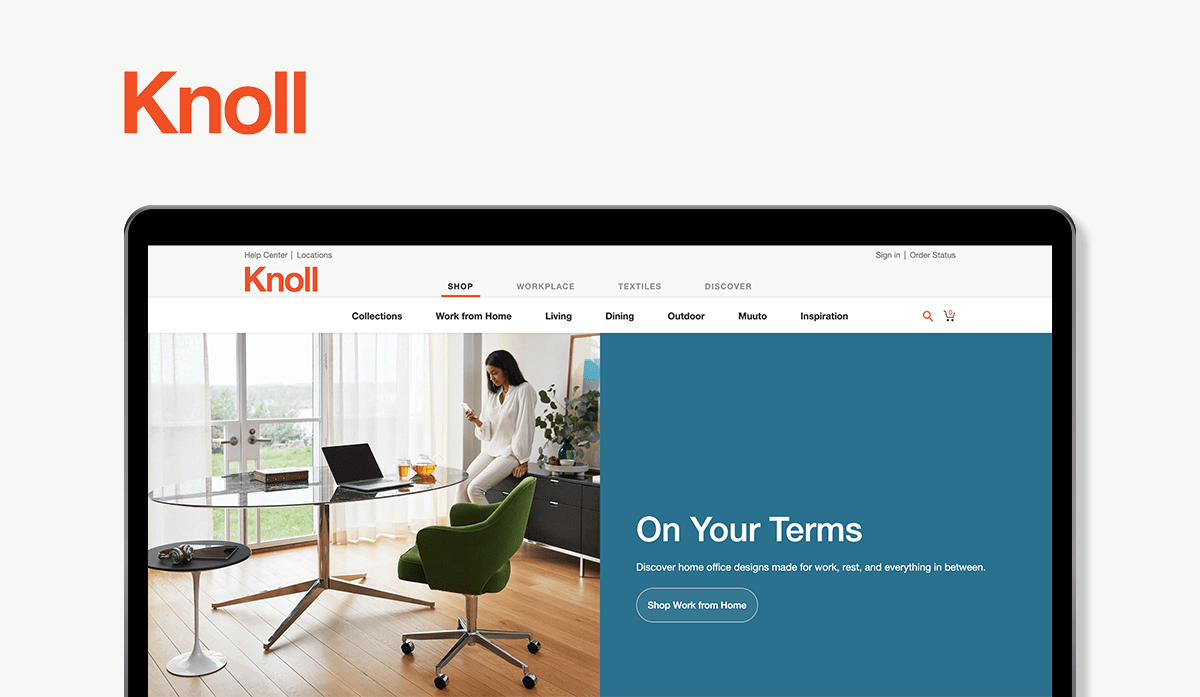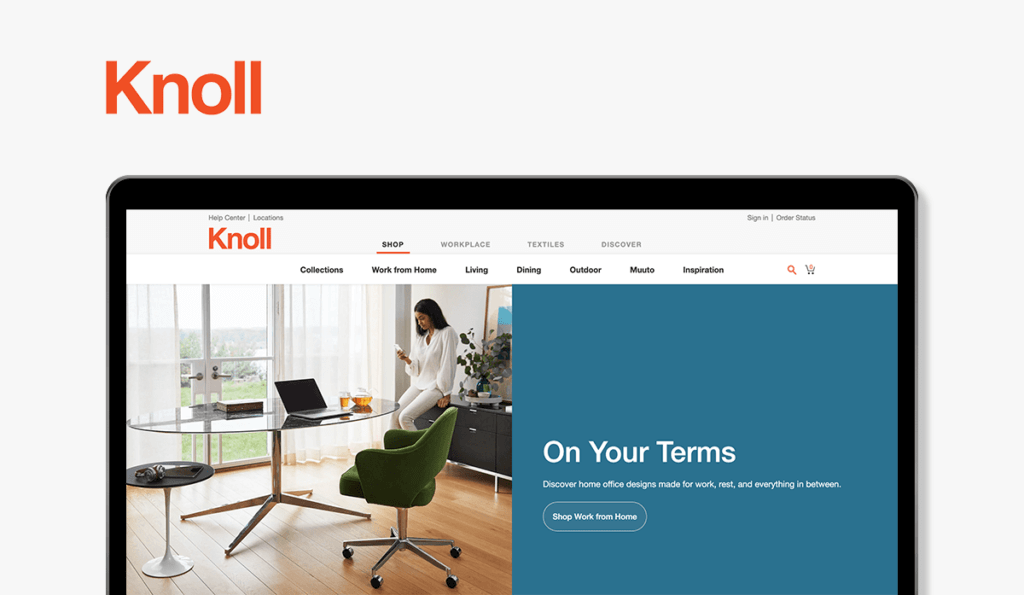 Knoll Grows Revenue By 20x With A Comprehensive Conversion Audit
Learn how Knoll Furniture took advantage of a surge in demand to increase their conversion rate by 5x and revenue by 20x.


"It felt like a real partnership. The data showed that they were the right recommendations and that they were having an impact. So that was a very cool moment for us."
– Pete Fallon, Director of Digital Design, Knoll
500%
lift in conversion rate
The Overview
For more than 80 years, Knoll has been designing workplace and residential furnishings that connect people to their work, their lives, their world. Today, they offer a comprehensive portfolio of thoughtfully-designed products that can adapt to changing environments both at home and in the office.
The Challenge
When you've been in business for almost a century, it's natural to have a few areas where you're just a step or two behind the latest technology and trends.
As the calendar flipped to 2020, the biggest digital design challenge Knoll had was an aging website – one that wasn't originally built to optimize for online sales.
When Knoll first launched their website in 2012, the goal was to use it as a customer research platform. After viewing the products online, customers would contact a dealer or visit a retail store to complete the purchase. But over time consumers behaviors evolved and customers showed an increased interest in purchasing pieces directly from Knoll through an online storefront.
"We were dealing with an aging website that was designed for a very different time in the furniture market, especially the ecommerce furniture market. There wasn't a lot of assumption that people would make the scale of purchase online that we're seeing today."
– Pete Fallon, Director of Digital Design, Knoll
In 2020, Knoll knew it was time to improve their online shopping experience. Their goal was to make small improvements to their existing site, while simultaneously building a new one that would better reflect their current brand and offerings.
As a company that understands the value of well-researched, high quality design, they decided to look for an outside perspective from an expert in conversion-focused website optimization. This was when Pete and his team at Knoll were introduced to The Good.
The Process & Solution
After an initial conversation and brief overview, The Good suggested their Comprehensive Conversion Audit™ to Knoll. This service is for companies looking to get a full, end-to-end audit of their website, diving into strengths, weaknesses, and opportunities for improving your on-site conversions.
While Pete's team expected to see issues they were already aware of in the audit, there were plenty of findings that still surprised him.
"They identified some other issues that we didn't really think were issues or things that we didn't believe would have a large impact… It was surprising how many small areas of improvement can lead to some serious gains in terms of conversion," said Pete.
These findings were presented to Pete and his team in a 60-page report, which discussed Knoll's opportunities for updating their navigation menu, improving product imagery, and reducing mobile cart abandonment.
But the extensive report isn't the only perk included in the Comprehensive Conversion Audit™. Knoll had dedicated Q&A time with The Good to review the audit results. The Good also shared a full roadmap, which included an A/B and multivariate testing program and a conversion improvement action plan.
"There was a lot of data, and I appreciate the way they present it upfront. We look at the data all the time, so it wasn't that they added the data, but they added context and the visibility that makes the data have some more humanity to it, which was compelling for us to know what to fix."
– Pete Fallon, Director of Digital Design, Knoll
Among many improvements on the checkout page, The Good worked with Knoll on three main enhancements over the past year: the navigation menu, configuration, and mobile experience.
1. Improved Navigation Menu
"They made a lot of recommendations around our navigation that were very insightful and totally refreshed site navigation. A lot of it had to do with using the nav to give context to our site and our offering because it is very diverse."
– Pete Fallon, Director of Digital Design, Knoll
One of the biggest improvements for Knoll's site was around the navigation menu. Knoll has a diverse product catalog, ranging from home furniture, to drapery and also workplace products. However, these categories weren't well shown, so customers didn't understand how much Knoll truly has to offer in the furniture space.
The Good's suggestion was simple: information scent.
The concept of information scent is about understanding how users decide where to go next. For Knoll, this meant contextualizing their navigation menu.
By identifying the product categories and describing what can be found in each with a dropdown, customers now understand the solutions Knoll provides and where to locate certain items.
2. Reducing Mobile Cart Abandonment
Historically, Knoll saw a lot of mobile activity with customers browsing through products. Using their social and email channels, they'd drive customers to visit the mobile site, customize their products, and add products to their cart, but many of these shoppers weren't completing their purchase.
There are a number of reasons for this behavior, but one of the observations The Good noted was that many products had comprehensive customization options for features like material, color, finishings, and more. This extended the checkout process, which can test the patience of consumers and ultimately result in a higher abandoned cart rate due to decision fatigue.
At the same time, customers tend to be more discerning when it comes to buying high-ticket products like home furnishings. It's not uncommon for users to fully customize their order, but get "sticker shock" when they see the total cost and abandon their order on the spot.
Does this mean they'll never buy? Absolutely not.
Here are just a few reasons a mobile user might abandon a high-ticket purchase:

They can't see the fine details of the images or description on a small screen
They want to talk to their spouse or another decision-maker
They need to figure out their preferred payment option
They aren't ready to set up a delivery appointment yet
They want to compare alternative products for feature/price parity
That's where The Good saw an opportunity: make it seamless for customers who initiate, but abandon a purchase on mobile to access their in-progress order on desktop at a later time.
The idea was to better align the business goal (recapture abandoned carts) with the consumer's goal (buy time to consider the purchase without losing progress).
To achieve this goal, The Good suggested that they add a button to their checkout flow that reads "Email This Cart." When clicked, this button lets the customer send a copy of their in-progress order to themselves or a friend. This allows them to continue their in-progress order on any other device without having to create a user account or initiate another checkout process.
3. Adding Configuration Numbers
A small, yet impactful, change for Knoll was to simply add numbers in front of their configuration options.
When customizing furniture, customers have to start with their fabric choice first. But The Good's heat mapping exercise showed customers going to the color swatches first because they're more visually appealing.
However, the color swatches change depending on the fabric picked, so a simple solution was to add a "1" in front of the fabric section and a "2" on the color swatch section.
"By implying there is a selection one, we're now seeing people spend much more time on the configurator, which seemed silly because it took two seconds for our developer to add in numbers in front of our configurator," said Pete.
The Results
The Good presented Knoll's audit results just before the ecommerce industry boomed in March 2020. Everyone was migrating from work offices to home offices, and they needed supplies quickly.
Pete described the impact on Knoll as positive: "Our business, quite frankly, exploded. So it was really great timing."
Combining the impact of the ecommerce explosion with the website improvements from The Good, Knoll saw a 500% increase in their conversion rate and a 2000%+ increase in revenue.
"I absolutely think they armed us. It was clear that work-from-home was going to become a serious market-need to totally re-envision how we presented work-from-home products online… We had just talked to The Good about these considerations, so we were able to bake that right into the enhancements that we needed to make because of the changing market," said Pete.
How They Got There
After two audits (one in 2019 and one in 2020), Knoll has made tons of improvements using The Good's suggestions.
The best part? Your website can see these improvements too.
Consider purchasing your own Comprehensive Conversion Audit or joining our Conversion Growth Program™ to maximize your investment in optimization.
Got questions? Use the form below to set up a time to chat with our team and get answers as soon as possible.