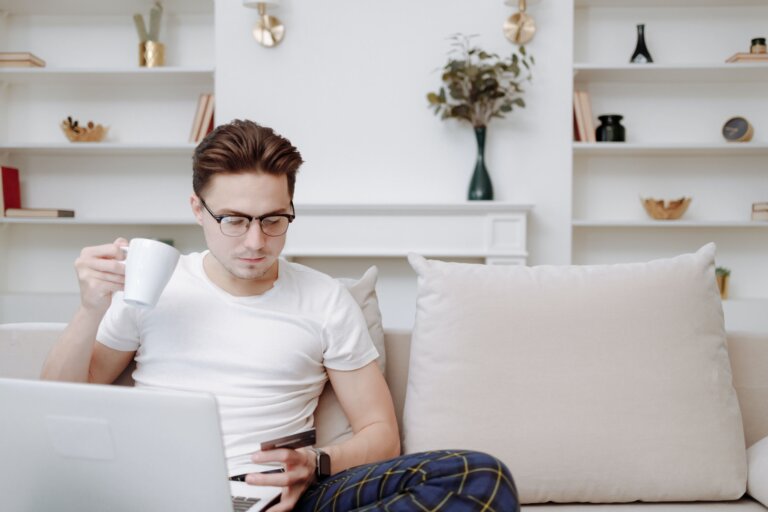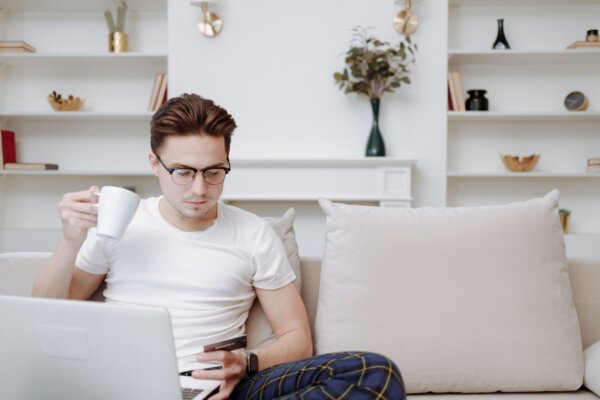 Customer Acquisition
Boost Your Customer Loyalty and AOV With Post-Purchase Offers
The euphoric moments that come immediately after a customer makes a purchase are often overlooked by ecommerce brands. Here's how to take advantage of this sales opportunity.
Special Note: This article was inspired by an episode of our podcast, The Ecommerce Insights Show with Jordan Gal (Rally). We go into much more detail here than we did on the show, but you might enjoy listening to the original conversation and subscribing to receive future episodes.
What is the key to growing your ecommerce revenue?
The obvious response is, "attract more customers," but let's not jump to conclusions. According to research from Adobe, as much as 41% of a store's revenue comes from only 8% of its customers.
What does that mean to you?
Making investments in attracting new customers and growing your audience is worthwhile, but the growth lever you should really be focused on is increasing the lifetime value of your existing customers.
How do you increase lifetime value? You get customers to stick around longer. In other words, you earn their loyalty through outstanding customer experiences.
There are many strategies you can use to increase customer loyalty. For example, you could double-down on customer research, create a membership program, or focus on delivering fast, reliable, pleasant customer support.
These are common approaches to creating loyal customers, but there's one tactic you may not have thought about: presenting compelling offers immediately post-purchase. It might seem counterintuitive, but asking someone to buy from you again immediately after they make a purchase can be a simple, effective way to provide them more value and boost your revenue.
In this blog post, you'll learn everything you need to know about post-purchase offers, such as:
What are post-purchase offers
The benefits of post-purchase offers for your store
4 examples of post-purchase offers done right
The best practices for getting started with post-purchase offers
Sound interesting? Let's dig in…
What Are Post-Purchase Offers?
Post-purchase offers are additional sales messages that are presented to customers immediately after they complete their purchase. These offers typically focus on items that will complement or upgrade the item that was just purchased.
You're probably used to seeing a similar feature on Amazon labeled as the "People Also Bought" section. The key difference is that those CTAs are presented before you check out, whereas post-purchase offers get out of the way of that initial conversion.
For example, let's say you're buying a coffee machine online. As a bonus, the store might recommend that you purchase some coffee filters, a cleaning kit, or subscribe to receive a monthly delivery of their dark roast coffee beans.
In this scenario, everybody benefits from post-purchase offers. The customer gets access to other products that will improve their experience with the coffee machine – potentially at a discount – and the coffee brand increases the total value of that shopping experience.
"When you buy something and click on the buy button, you are at your most euphoric moment," says Jordan Gal, CEO at Carthook, an upselling tool for Shopify stores. "That's a good time to make an offer. If you can set up your offer in a way wherever it's beneficial for both parties, then everybody wins."
There are two different types of post-purchase offers: up-sells and cross-sells. With up-sells, customers upgrade to a more expensive version of your product. Cross-sells, on the other hand, invite the customer to only add an item to their existing shopping cart.
So, to keep our coffee example going, an up-sell would involve offering to upgrade the customer to a higher priced model of coffee machine, or perhaps sell them an attachment to also grind their beans. Conversely, a cross-sell would involve selling them coffee beans, filters, or other complementary products.
Regardless of how they are implemented, the main goal of post-purchase offers is to increase average order value without compromising the initial conversion. If you present your offer before the purchase is completed, you risk overwhelming your customer with information or an increasing total cost.
By getting customers to add more to their shopping cart after they make an initial purchase, you catch them when their brand affinity is highest and make it easy for them to make an additional purchase with confidence.
Why Post-Purchase Offers Need to Be Part of Your Strategy
Optimizing the post-purchase experience is vital to retaining customers and driving repeat sales. Here's why upselling and cross-selling needs to be part of your game plan:
Reason #1: It's Easier to Sell to Existing Customers Than New Ones
Don't get me wrong, engaging new customers is vital for business. But stores are so focused on "filling the funnel" that they forget one crucial thing: there is an untapped well of revenue, referrals, and customer feedback right under their nose.
Your existing customer base represents your most significant source of potential revenue. In fact, it's 60 – 70% easier to sell to an existing customer. What are your odds of successfully selling a new-to-file customer? Probably somewhere between 2% and 15%, if you're lucky.
With post-purchase offers, you're targeting the prospects most likely to convert. In fact, when 310 Nutrition started providing customers with post-purchase offers, they were able to get 30% of their customers to say yes to buying an additional item.
Reason #2: It Boosts Your Store's Revenue
Without post-purchase offers, you're leaving a mountain of potential sales on the table. When implemented correctly, it's a low demand, high yield tactic that can significantly improve your earnings.
For example, think about abandoned carts. If someone initiates and checkout process, but doesn't buy, what should you do?
You should probably reach out and see if they have any questions or reservations, right? Share some social proof to help build trust and purchasing confidence. Perhaps even offer an incentive or a discount to get them over the finish line.
Doing this consistently tends to motivate as high as 30-50% of these "close, but no cigar" customers to come back and finish their checkout. But if you don't contact them, you're missing out on all of those potential sales.
Post-purchase offers are no different. If all you do is drop your new customer on a "thank you" page and send them a confirmation email, you're missing a key opportunity to present them with a compelling offer when they are most likely to take advantage of it.
"If you don't offer anything post-purchase, you won't make any money post-purchase", says Jordan. "But if you do, roughly 20% of those customers will buy. You'll make more revenue, have a better average order value, a better return on ad spend, and a lot of your shoppers will be happy for it."
Reason #3: It Creates More Loyal Customers
When implemented properly, post-purchase offers can be a great way to delight your customers and, as a result, increase their affinity and loyalty for your brand.
The key here is to make your post-purchase offers as relevant and valuable as possible. You are trying to find a mutually beneficial arrangement that helps them get more value out of their product while also increasing the value of their purchase for your business.
For example, if I purchase a grill, you probably don't want to present me with a post-purchase offer for a tent or a backpack. Instead, you'll want to highlight items like a propane tank, cooking utensils, or a recipe book. Equip me to have a better experience with my new toy.
By suggesting relevant, personalized post-purchase offers that add value to the customer's shopping experience, you're building rapport with them and putting them in an emotional state that makes them more likely to buy from you again or refer a friend.
4 Examples of Post-Purchase Offers Done Right
Now that we've covered the benefits of post-purchase offers, you may be wondering what this looks like in action. Here are a few examples of real-world post-purchase offers being used by some of the world's top ecommerce brands.
1. Dollar Shave Club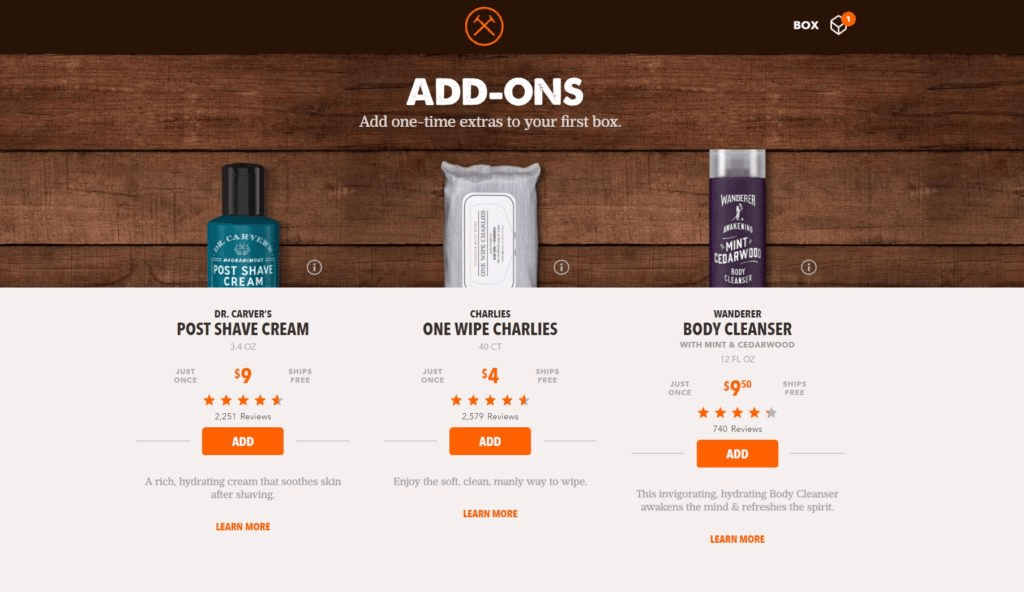 Dollar Shave Club is a men's grooming brand whose flagship offering is a razor and accessories to help improve the shaving experience. They have done an excellent job building a dedicated community of fans through their unique shopping experience.
In the example above, you can see that a customer who buys one of their razors can also purchase additional products, such as post-shave cream, personal wipes, or a body cleanser.
Whether it's a first-time buying experience or a reminder about their upcoming subscription delivery, Dollar Shave Club frequently uses post-purchase offers to help their customers get an even better shaving experience, which also boosts the company's average order value.
2. BombTech Golf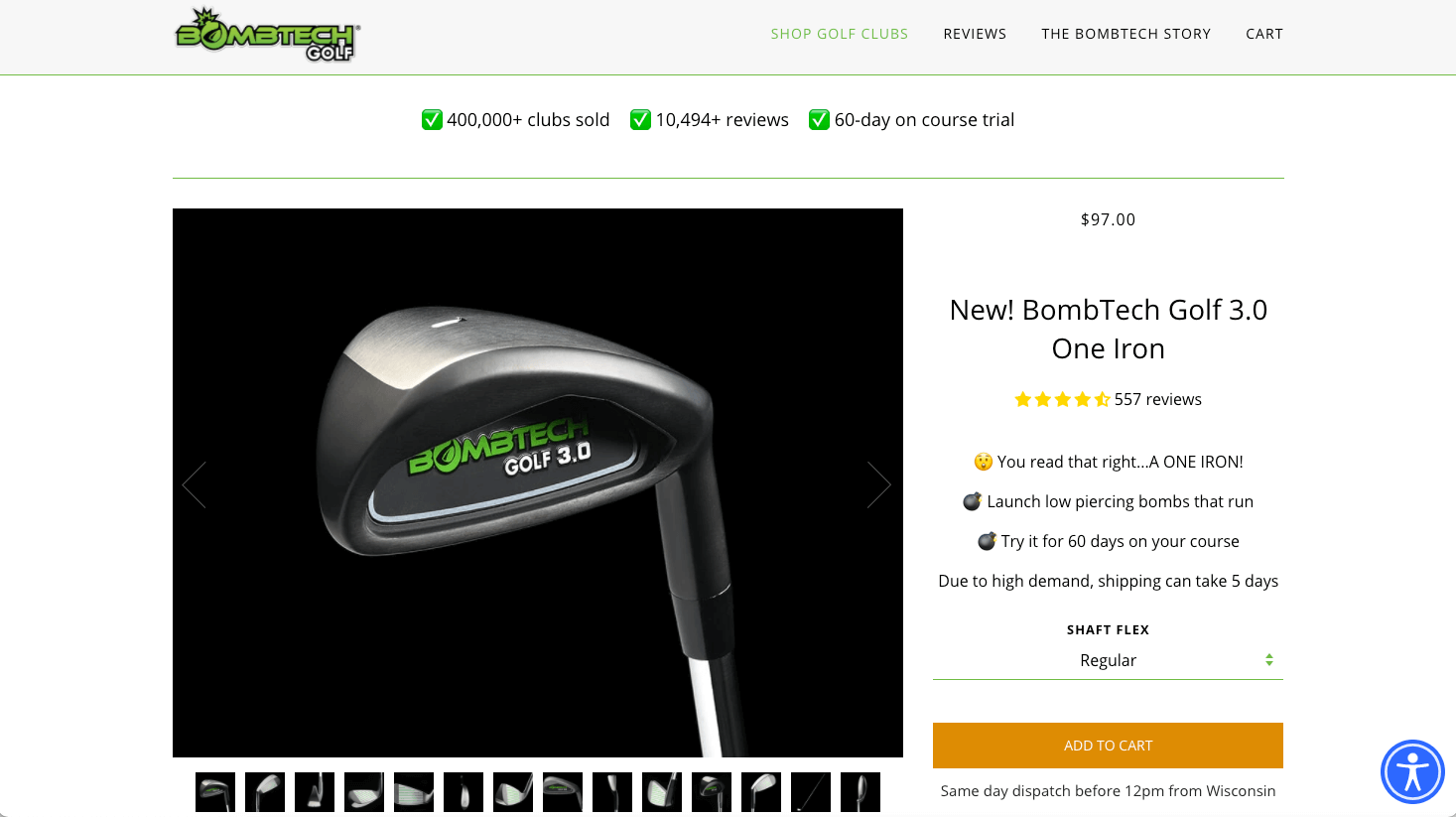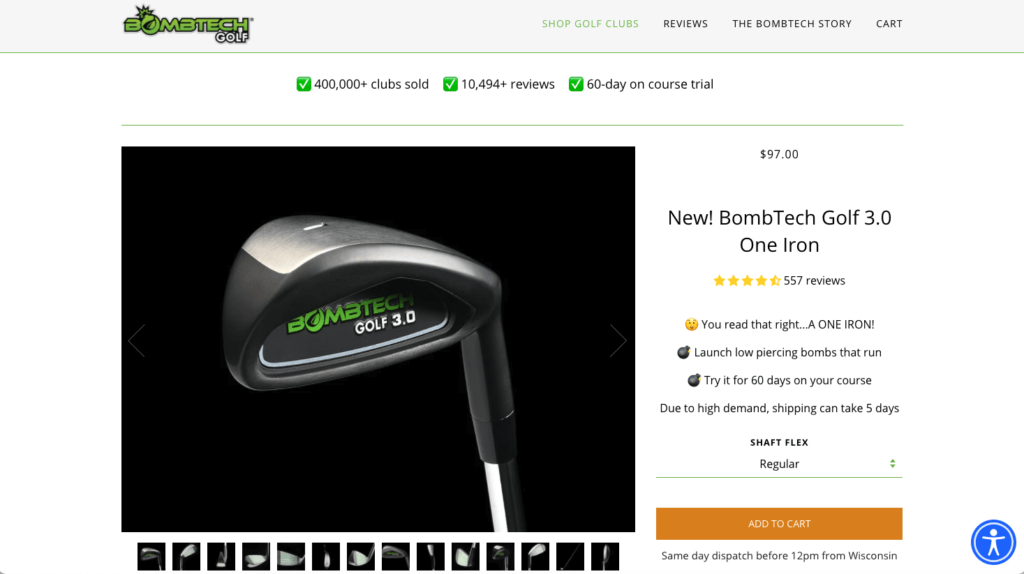 Tyler "Sully" Sullivan is the CEO of an ecommerce company called BombTech Golf. In a world where high-priced equipment from stuffy, established brands reigns supreme, BombTech is bringing more affordable options to the public, without sacrificing performance.
Sully decided to try post-purchase offers as part of a campaign to launch one of his new products. Spoiler alert: it turned out to be their most successful product launch ever.
Here are some high level stats about the campaign results:
They sold over $100,000 in a single day and $600,000 in the first month.
Their conversion rate increased to 45%!
Their abandoned cart rate went down 10%
About 8% of customers claimed the post-purchase offer
Their average order value increased by $60 (about 43%) over time
"Our average order value has gone way up," says Sully. "Last year, it was about $140…and now it's at $200. So it's much more profitable, and that means we can actually spend more money on advertising to acquire customers and scale way faster."
And the best part about all of this? Sully describes their post-purchase strategy as "set it and forget it." Once they got the offers and the checkout flow dialed in, they knew it was profitable, so they put it on autopilot and moved on to the next project.
Subscribe to our newsletter to get more just like it, sent straight to your inbox every week.
3. Kettle & Fire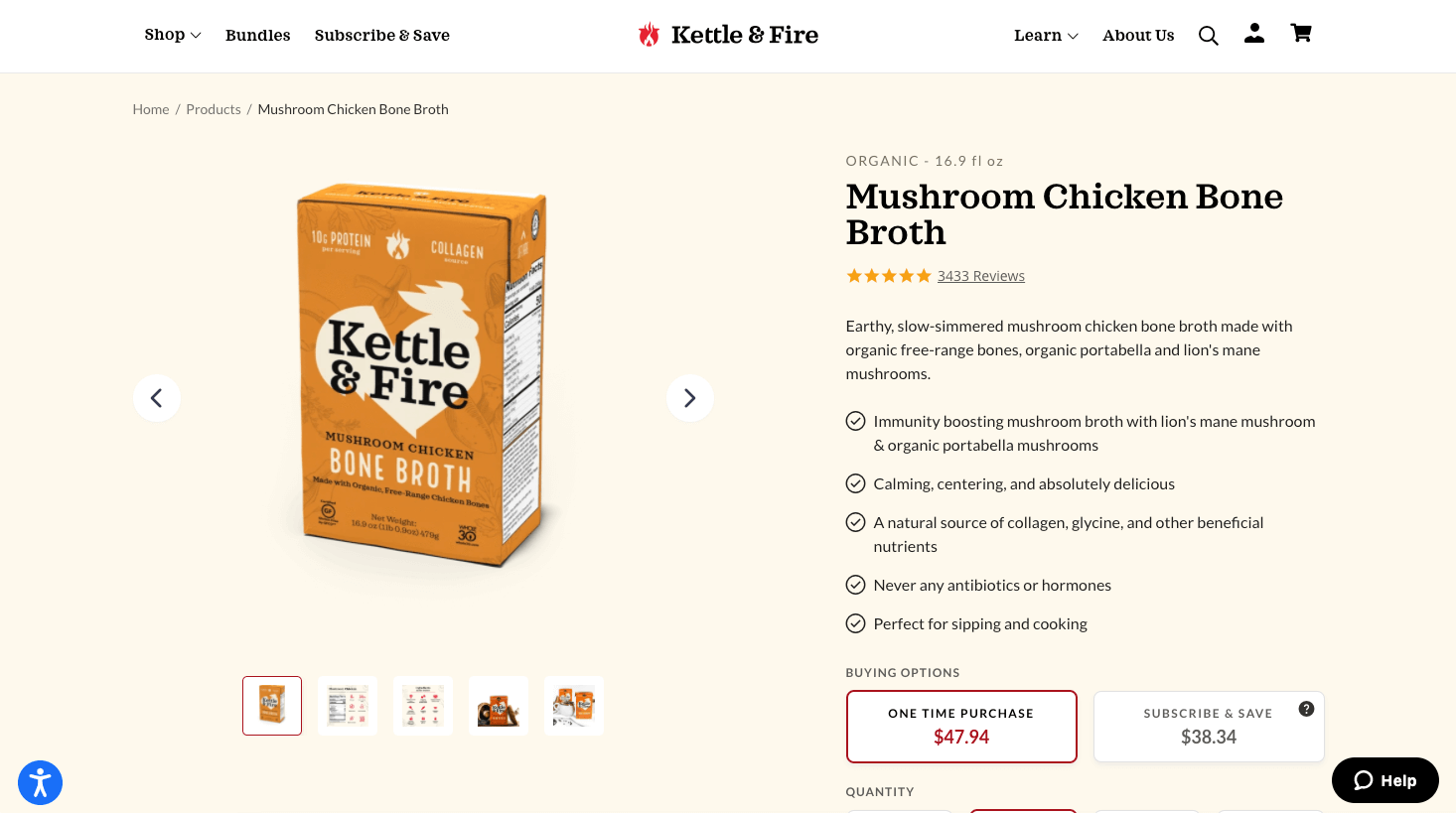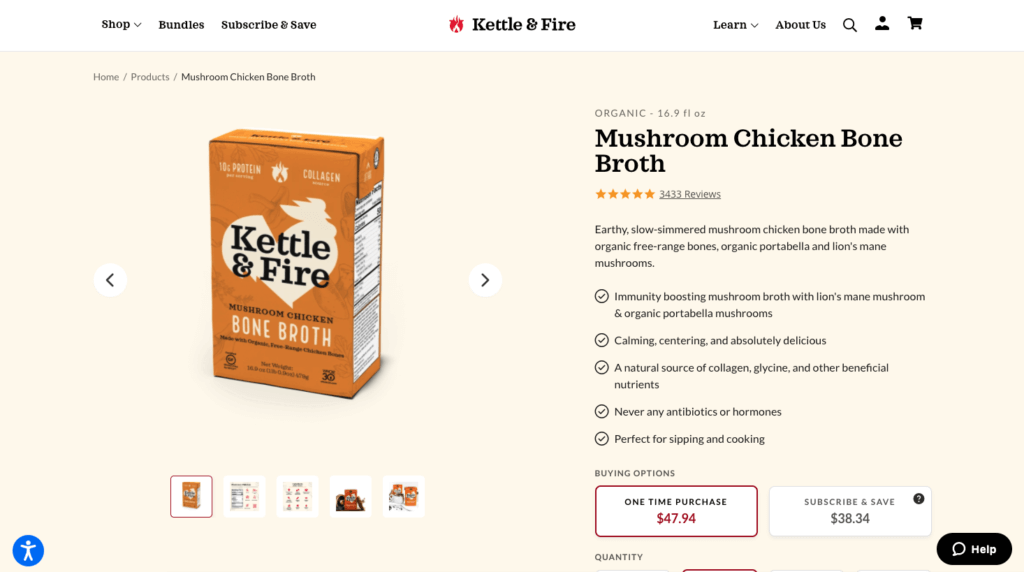 Kettle and Fire is a company that makes nutritious and convenient bone broths and bone soups. They were an early entrant into the market, which meant they were getting lots of new customer, but still had room for improvement in terms of customer lifetime value.
As they continued to grow, someone from the marketing team noticed that customers who purchased a greater number of flavors tended to have a much higher retention rate. The more flavors they were able to try, the more likely they were to find one that they enjoy and want to purchase again and again.
So, the challenge for Kettle and Fire's Director of Growth, Wilson Hung, was to find a way to make more first-time customers aware that they offered a variety of products and flavors. His first experiment was with post-purchase upsells and cross-sells.
"The first iteration, we had just one upsell and one downsell…and that gave us 41% higher revenue per visitor," says Wilson. "For the checkout conversions, over the course of three iterations, we've seen an increase of over 140%. That's a big factor."
Thanks to post-purchase upsells, Kettle & Fire now has a 10% higher average order value…and they've done it without compromising their stellar conversion rate, because the offers are being presented after the customer has already completed their initial purchase.
Best Practices for Setting Up Post-Purchase Offers
It's clear that post-purchase offers can boost sales and customer loyalty, but you need to have the right strategy to make sure they're effective. It's not as simple as presenting recommendations for random items or "best sellers" and hoping for the best.
To help you get off on the right foot, here are some of the best practices for adding post-purchase offer to your existing checkout experience:
Step #1: Choose The Right Platform
Technology goes a long way when it comes to optimizing the post-purchase experience. If you're on a platform like Shopify, there are a variety of upselling platforms you can choose from.
However, not all upselling platforms are created equal. You want to make sure to select the right platform that gives you full control over how you want to set up your post-purchase offers.
The tool we recommend is Carthook. This easy-to-install plug-in makes it simple to create compelling post-purchase offers that convert: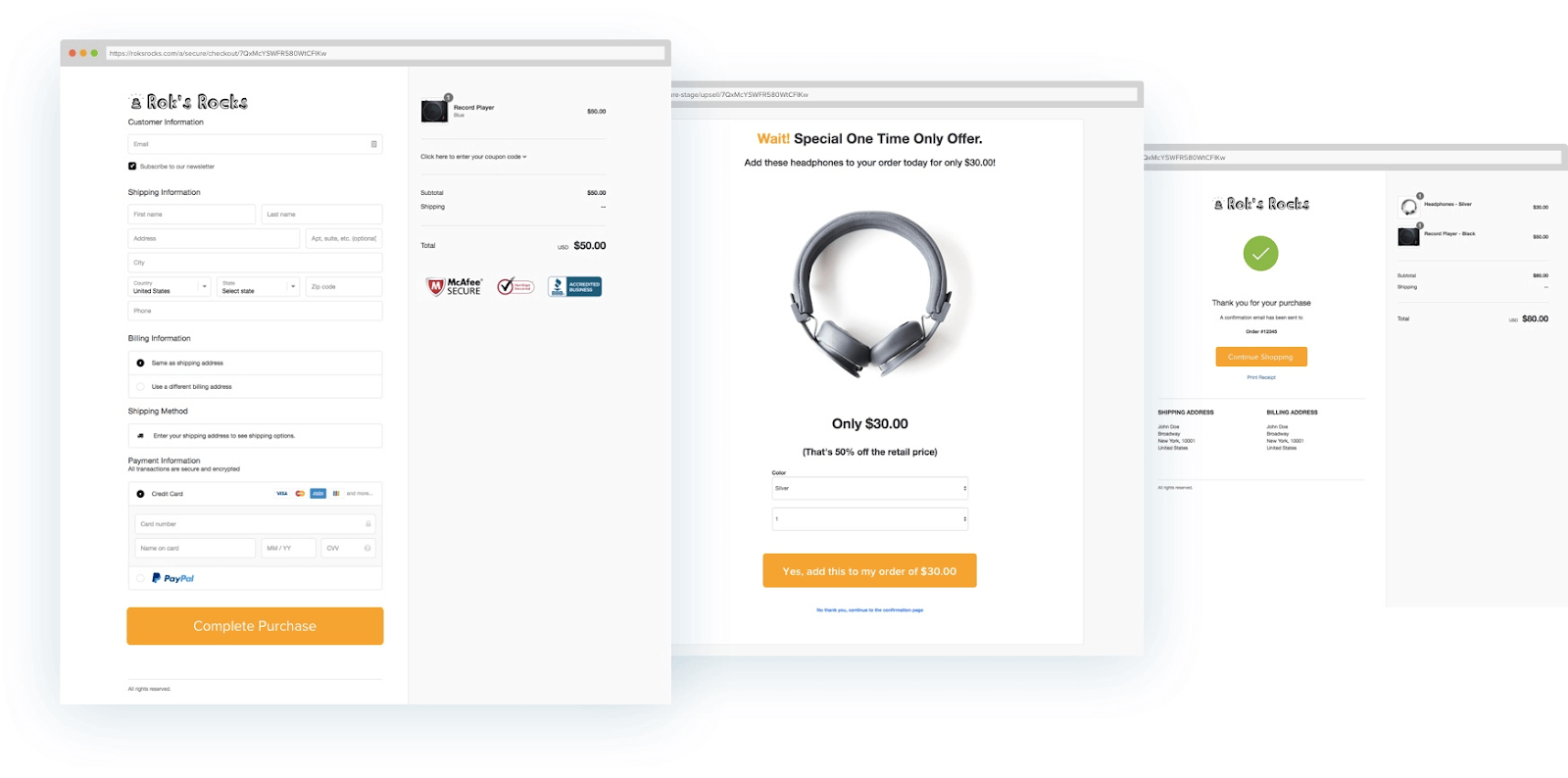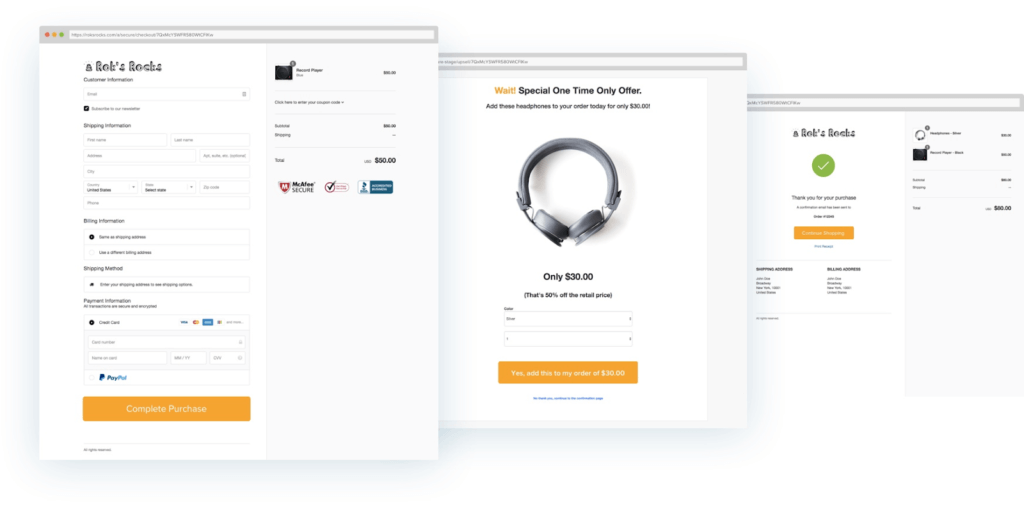 You can offer up to three cross-sell or upsell items once the customer completes their initial purchase. Carthook automatically populates the customer's payment details using their previous purchase, so they don't have to re-enter their credit card number or billing address.
CartHook also offers you great flexibility when it comes to styling your upsell, product, and checkout pages. There is no coding necessary — with its drag and drop UI, you can customize your pages thanks to ready-made templates, timers, and CTAs.
Step #2: Make Each of Your Post-Purchase Offers Relevant and Personal
Customers shouldn't feel forced to buy upgrades or add-ons that they don't want. To drive the best results, you need to make each upsell offer as relevant and personalized as possible.
"Personalization is non-negotiable", says Carthook founder Jordan Gal. "You can't just blast someone with a random offer and expect a certain percentage. That's a recipe for getting customers to be mad at you."
You need to consider things like purchase history, items in cart, and total cart value when developing your post-purchase offer flows.
For example, if someone completes a purchase of a few spices or seasonings totaling $35, you might not want to present them with a post-purchase offer for a deluxe pellet grill that costs $400.
Instead, you might want to pitch them additional spices with different flavor profiles, cooking oils, recipe books, or utensils/cookware to help them prepare their meal. In general, you probably want to keep the cost of post-purchase items no more than 50-100% higher than the customer's original cart value.
Similarly, you might choose to only present post-purchase offers to repeat customers (Ex: Those with at least 2-3 previous purchases in their history) or customers with a total cart value above a certain amount.
"If you care about shoppers, you want to make your offers as congruent and relevant as possible", continues Jordan. "That's like sending random emails: it doesn't work."
Step #3: Use One-Click Post-Purchase Offers
Where you place your offer and the steps required to claim it will make or break the success of your campaign. Post-purchase offers should only show up once the customer has already completed their initial purchase and they should ideally require just a single click to claim.
Making this process contextual and seamless will optimize the buyer's experience, which generates a number of positive outcomes for your business.
"If you make additional offers in between the time they put something in the cart and checking out, you are endangering the sale," says Jordan. "You are adding additional friction. So the balance is tricky."
With post-purchase offers, you eliminate any risk of losing the sale due to information overload or second thoughts, while still maximizing the value of every purchasing experience.
Step #4: Track Your Results And Keep Experimenting
Lasty, it's important that you regularly measure the impact of your post-purchase offers. Keeping an eye on performance will help you continue to test new messages and checkout flows to generate the best results.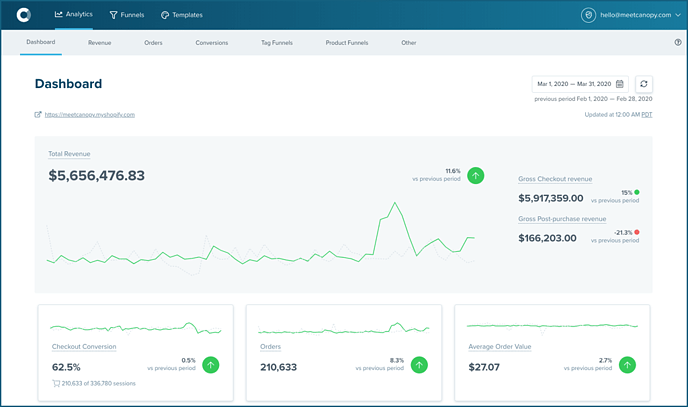 There's no one-size-fits-all approach when it comes to post-purchase offers. You'll have to come up with a hypothesis to start and then monitor the performance of that flow to see if it's making a significant improvement.
To get the most out of this strategy, you'll want to have a library of post purchase flows that are customized to specifically address checkouts that meet certain criteria like:
# of past purchases greater than or equal to X
Total cart value above or below $X
Completed purchase contains (product name)
Purchase history does note contain (product name)
Much like email segmentation or ad targeting, there are numerous ways that you can customize who sees your post-purchase CTAs and which offers they are presented with.
Don't over complicate things, though. Start with simple offers on your best-selling products and continue to iterate and improve over time.
Start Offering More Value to Customers Today With Post-Purchase Offers
Soon, post-purchase offers will become table stakes for ecommerce brands, just like abandoned cart emails, exit intent pop-ups, and retargeting ads. If you're not taking advantage of them, you will risk losing that business to your competitors or alternative products.
And what's not to love? When done correctly, post-purchase offers help your customers get more value out of your products while also generating more revenue and repeat purchases for your business. Sounds like a win/win to me!
Subscribe to our newsletter to get more just like it, sent straight to your inbox every week.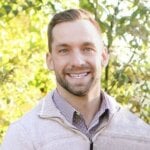 About the Author
James Sowers
James Sowers is the Director of The Good Ventures. He has more than a decade of experience helping software and ecommerce companies accelerate their growth and improve their customer experience.