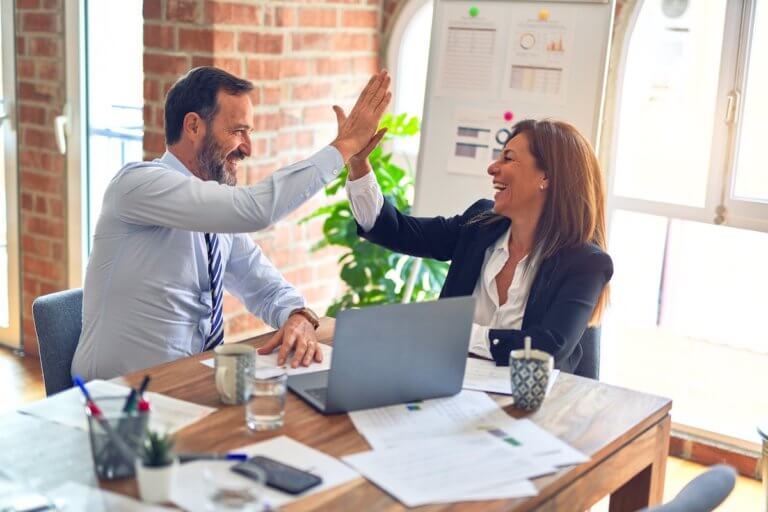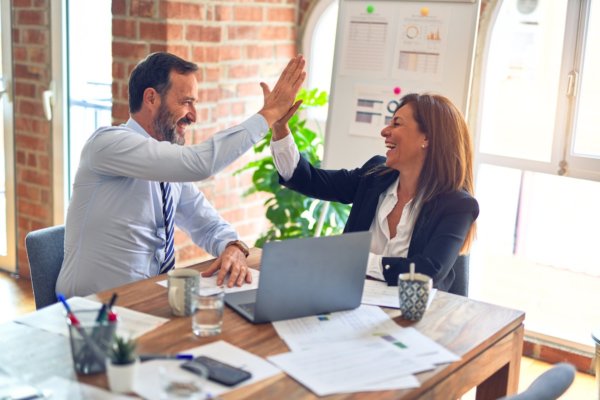 Customer Experience
How to Drive Customer Retention With SaaS & Ecommerce Winbacks
Reengage, convert, and retain customers with these 10 strategies for ecommerce & SaaS winbacks.
The customer lifecycle is a rollercoaster.
One day someone is avidly using your app or buying your bestsellers and the next day, they've disappeared into the ether.
Where did they go? And, more importantly, how can you get them back?
SaaS and ecommerce winbacks are crucial for business because they bring back existing customers (a.k.a. people who have already invested in your brand). Customers who already have experience with your product are likely to spend more in the future, contribute to consistent revenue, and recommend you to their friends and family. Basically, they're the Holy Grail.
But with fierce competition and a ton of choice, it's easy to lose a user's attention to the next newest, shiniest thing. It doesn't have to be forever, though. Winbacks remind customers why they chose you in the first place and give them a good reason to come back.
What's a SaaS and ecommerce winback?
SaaS and ecommerce winbacks are email campaigns that aim to re-engage past customers who have become dormant. Maybe they haven't logged on in a while or maybe it's been a few months since they made their last purchase. Either way, winback emails are perfect for staying top-of-mind and reminding past customers that you exist.
When to send a winback campaign
It's tempting to send a customer a "we miss you" email after a week, but let's be serious for a second – a week is not a long time in the great scheme of things.
The idea of a winback campaign isn't to guilt users into coming back, it's to remind them why they were so excited about your product in the first place.
People get busy, they get distracted, and their circumstances change. We recommend sending your winback campaign to subscribers who haven't opened an email from you, logged into your app, or made a purchase in three months – your email marketing platform will be able to isolate subscribers who fit this criterion, using automation to streamline the process.
10 winback email strategies (with real-life examples)
The key to a good winback campaign is to let your brand shine and show customers why they should choose you over the latest new thing. There are several ways you can do this, as highlighted in these real-life SaaS and ecommerce winback campaign examples and email templates.
1. Make your winback campaigns segment-specific
Every customer and every user is different. They have different needs, face different challenges, and chose your brand for different reasons. Because winback campaigns intend to re-engage, it helps to send your emails to specific segments.
Someone who has bought several pairs of men's shoes from you in the past probably isn't going to be won over by a discount on women's dresses. As well as segmenting subscribers based on when they last interacted with your brand, drill down further to segment your audience based on information like what they bought, why they use your product or their job title.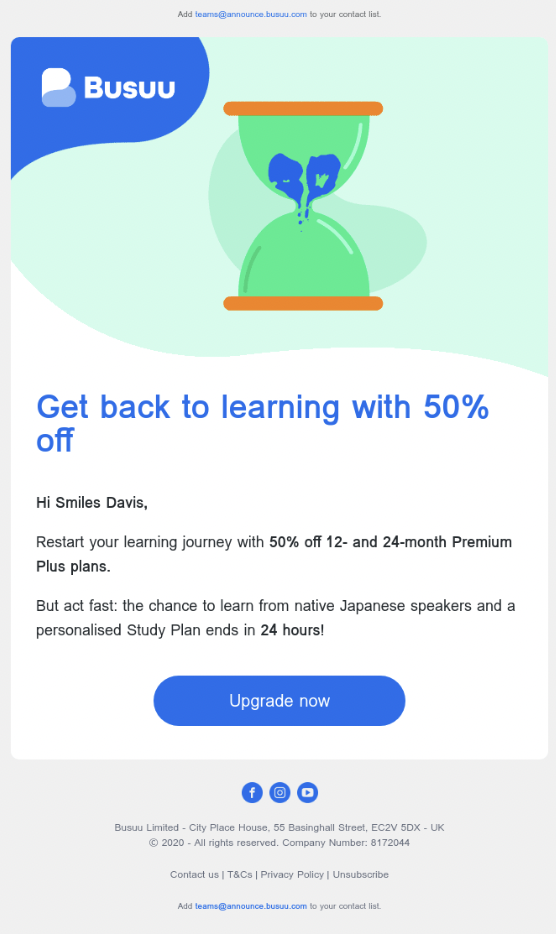 Language learning app Busuu has targeted inactive subscribers based on the language they're learning. Here, they lure a user back with a discount specifically on Japanese courses – an incentive that wouldn't be particularly enticing if the user was learning Spanish or Arabic.
2. Offer an incentive
Talking of incentives, offering subscribers a BOGO deal or a freebie if they re-engage can help give on-the-fence users the nudge they need. Make sure the incentive is relevant to their needs (i.e. don't offer incentives on women's dresses to subscribers who have only ever bought men's shoes) and something that will help keep them engaged.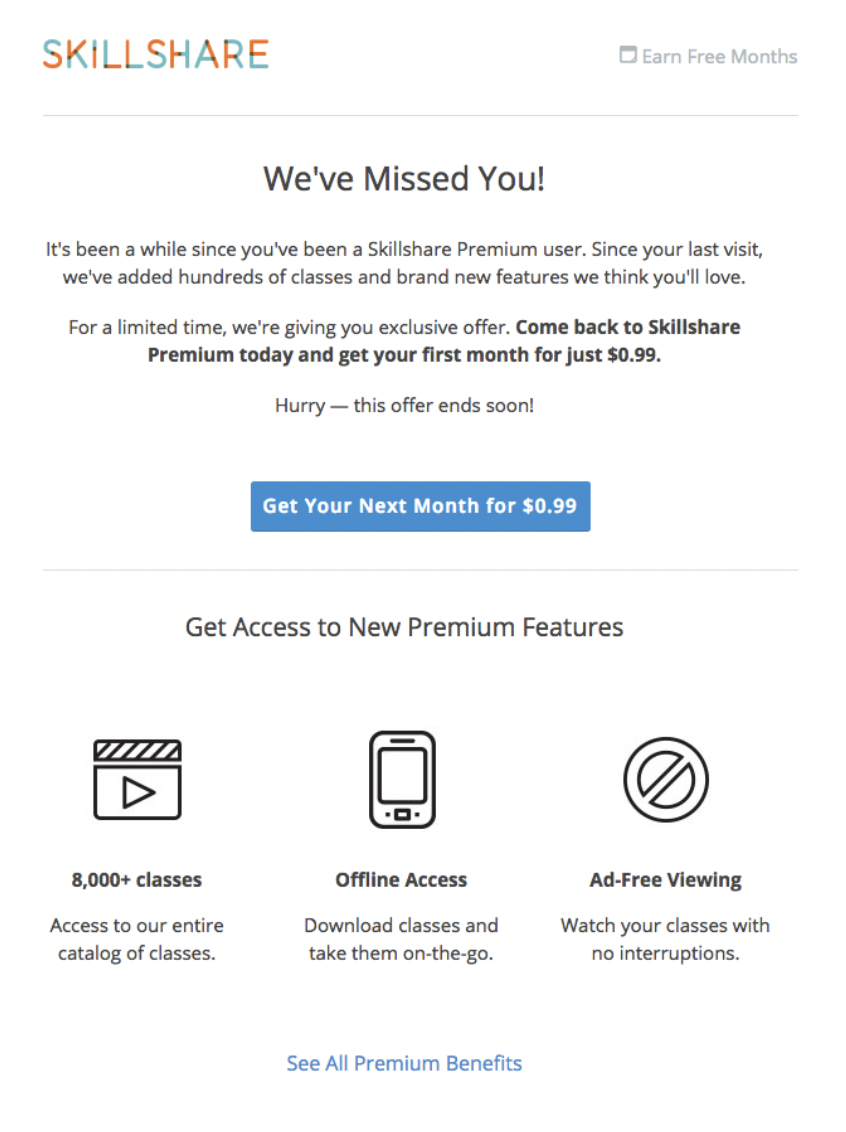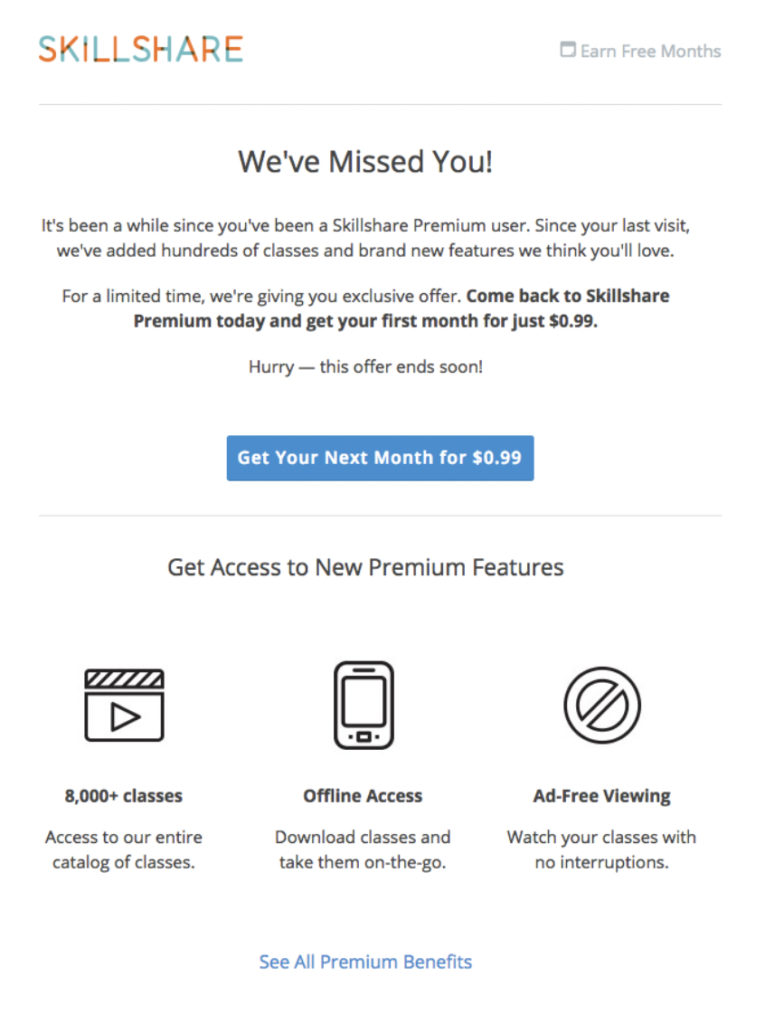 Skillshare starts its winback emails with a classic "we've missed you!" before offering a discount to users that have left the Premium plan. As well as offering a discount on their first month back, Skillshare also reminds subscribers about the benefits they receive as a Premium member.
Note how the offer is a discount for the first month. While we normally don't encourage discounting your product, a one time exclusive deal to encourage reengagement can work well for SaaS brands. During this time, Skillshare can send regular emails to help users get set up again and make the most of the tool, increasing their chances of sticking around long term.
3. Showcase your latest features
Got something new to shout about? Include it in your winback campaigns. As well as reminding subscribers why they chose you in the first place, show them why they should choose you again (especially if there's been an influx of competition in your market).
It helps users to see that you're consistently adding new features that tackle fresh challenges.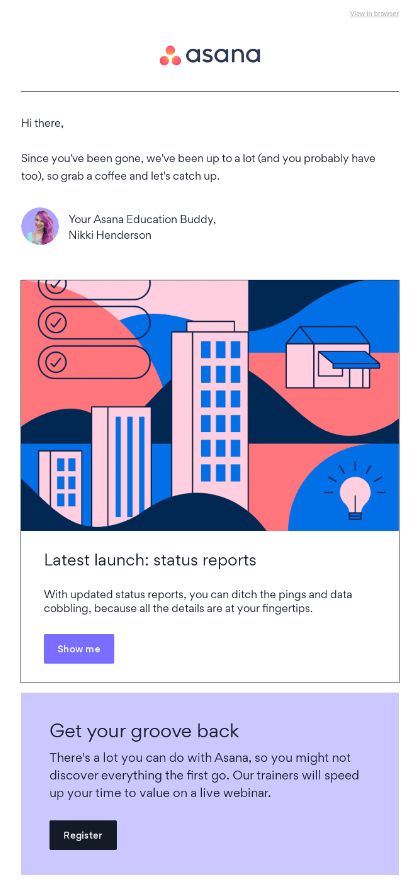 Asana's winback emails promote new content, offer new insights, and push new features. This triple threat of an update gives users all the information they need to return to the app and continue using it.
4. Send a quiz or interactive content
There's nothing like a quiz or a piece of interactive content to increase engagement levels. There's a reason BuzzFeed's quizzes are so popular. Who doesn't want to find out which 2000s movie star they are or what kind of house matches their personality?
Quizzes also personalize your winback campaigns. They help you understand more about your customers – if they get to the end of the quiz and click a tracked link, you can use this information to send more relevant communications in the future. You can also send a feedback email that asks lapsed customers to share their opinion on your brand, products, and their experience with you.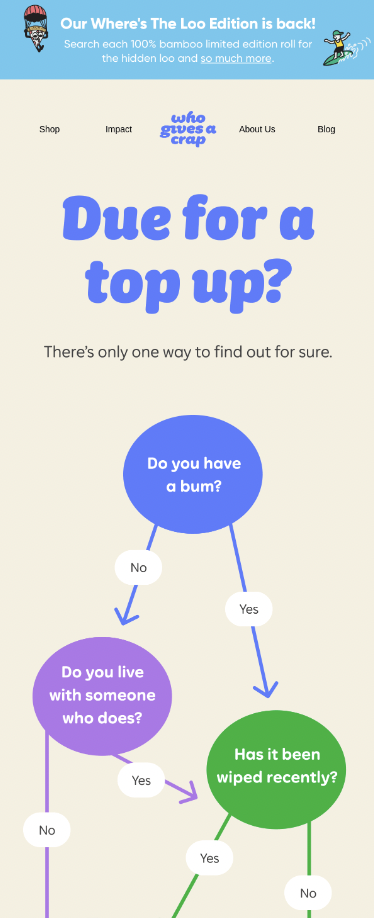 Toilet roll subscription brand Who Gives a Crap sends former customers a humorous flowchart quiz where all answers point to "buy more loo roll". The quirky copy reflects the brand's personality and, while the quiz doesn't necessarily add a ton of value, it engages subscribers and is a clever way to encourage them to return.
Subscribe to our newsletter to get more just like it, sent straight to your inbox every week.
5. Tell subscribers exactly what will happen
Sometimes the easiest way to win back customers is to tell them exactly what's going to happen if they don't resubscribe or show their interest. Not only does it give users a chance to make an educated decision about whether they want to come back or leave your list forever, but it also offers complete transparency (which incidentally builds trust).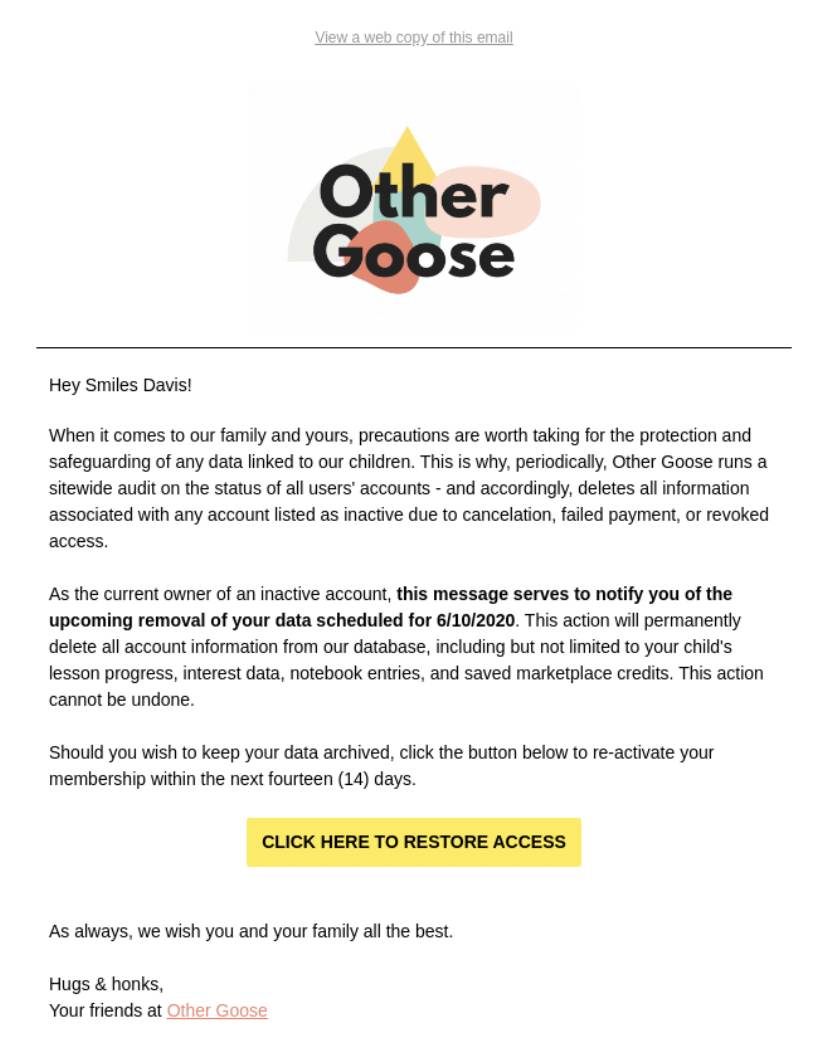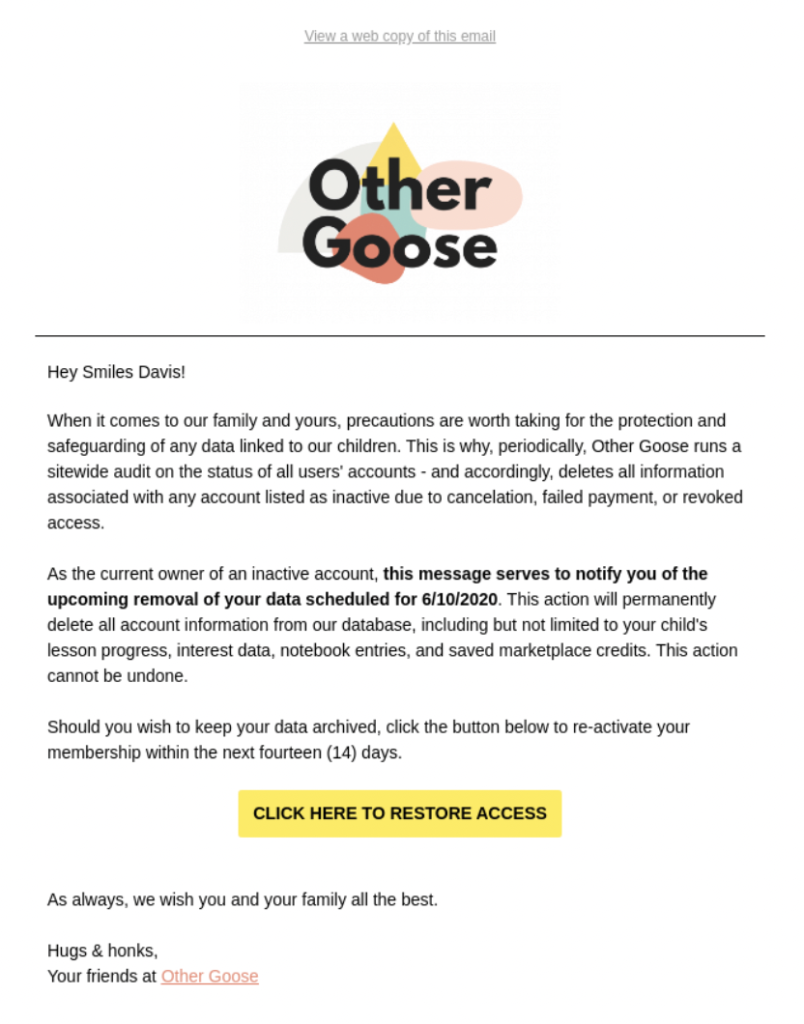 Childcare brand Other Goose doesn't mince its words in its winback campaign. It simply states why subscribers are receiving the email, what will happen if they don't take action, and a chance for them to restore access to their account. It adds in a handy timeframe too, so that subscribers can think about their decision.
Use your subject line to hammer the point home: the more concise and to the point you can be, the better.
6. Keep it simple
Simplicity is everything in a winback campaign. The subscribers you're trying to reach are already showing less engagement and the last thing you want them to do is jump through hoops just to show they're committed to your brand.
If you make them do seven handstands, click four links, and film a video to resubscribe, there's a very high chance (read: 100%) that they won't come back.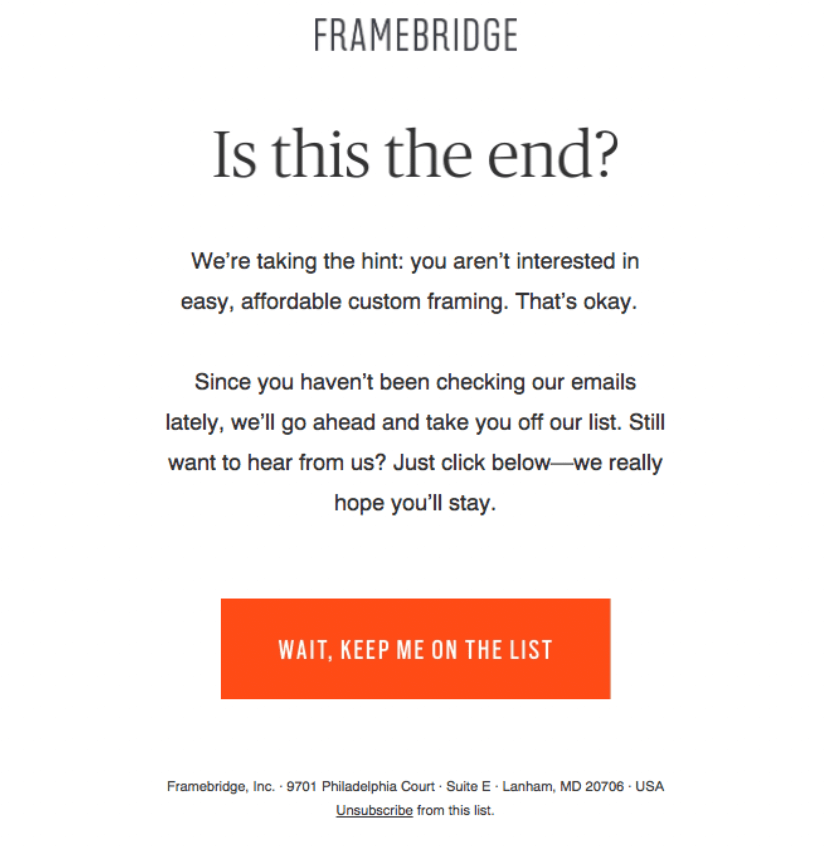 Framebridge keeps its winback email short, simple, and to the point. Don't want to resubscribe? That's fine, you don't have to do anything! If you do – also fine! Just click this link and you'll stay.
7. Let users customize their resubscription
Sometimes there's a reason customers haven't returned. Maybe they haven't received the information they need or they're not getting the right product recommendations from you. Give subscribers a chance to choose their preferences and put them back in control, whether that's by asking what kind of content they want to receive or what products they're most interested in. This will help them create their own unique journey and increase the chances of them coming back and staying.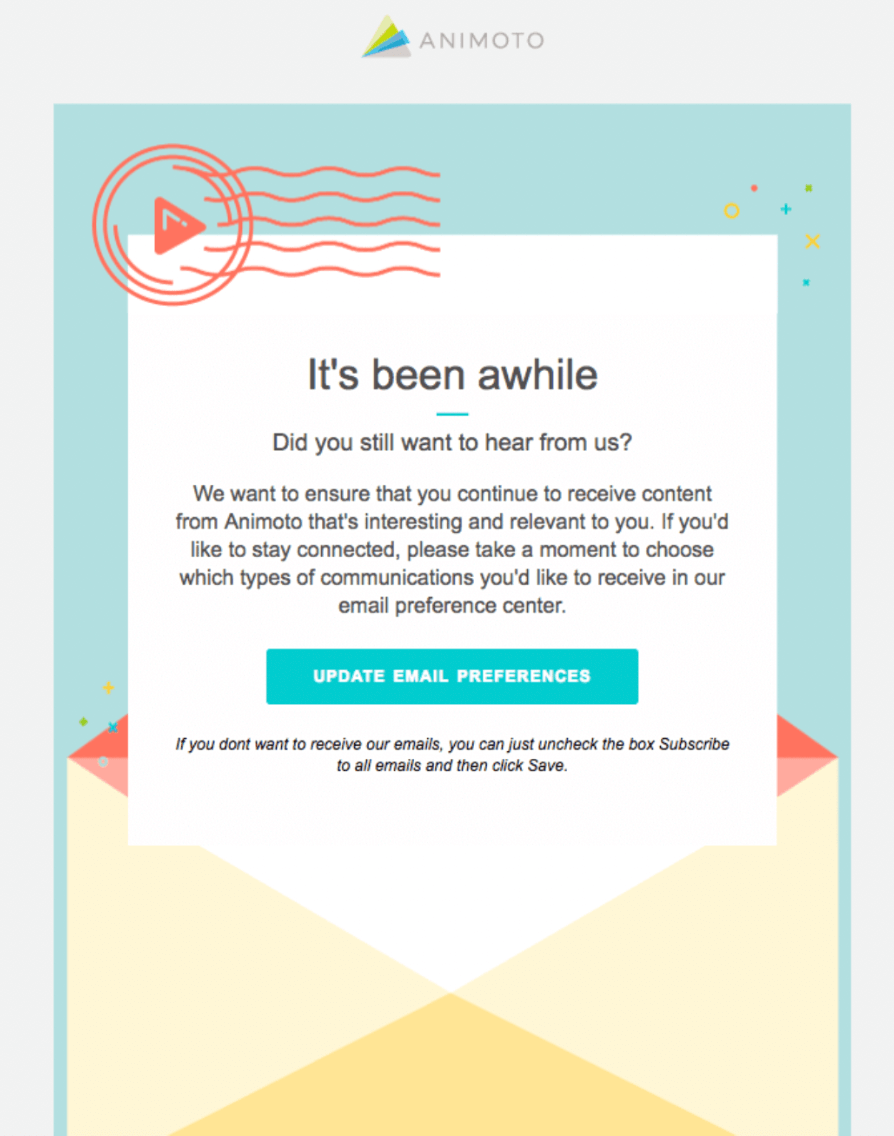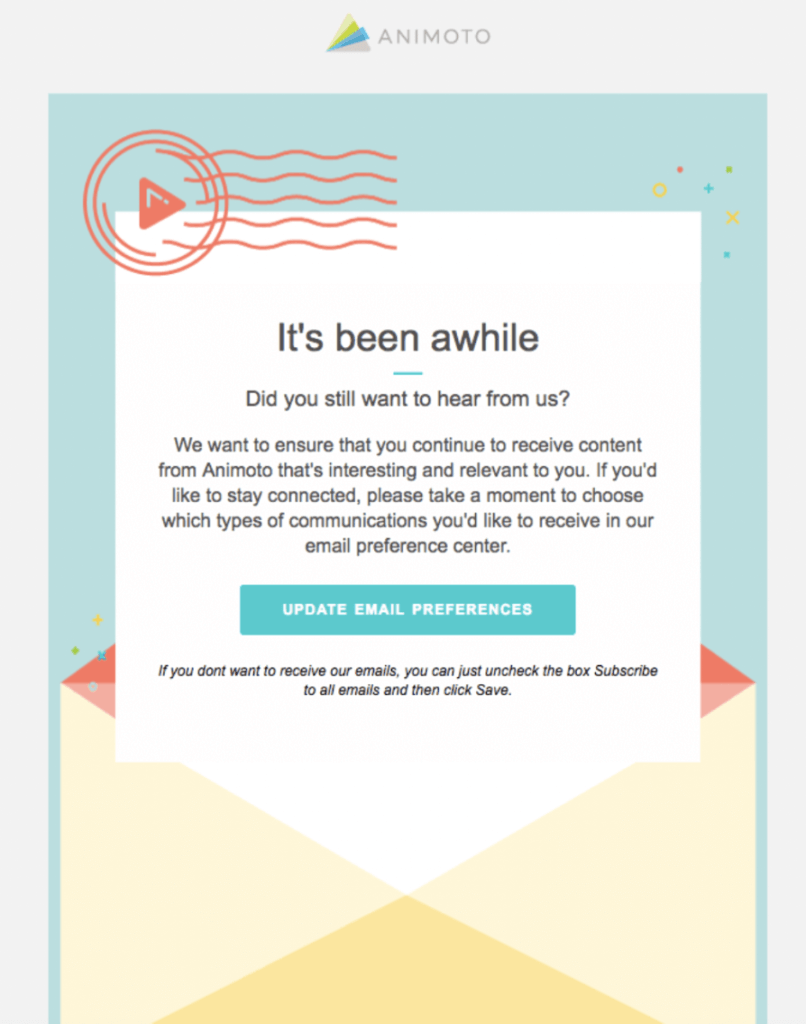 Animoto gives its subscribers the option to choose their email preferences, which include what types of emails they want to receive and what content they're most interested in.
8. Remind customers what they're missing
There was a reason someone signed up to your email list in the first place. Perhaps they downloaded an ebook, made a purchase, or simply wanted to get updates from your brand. Winback campaigns are the perfect opportunity to remind users why they gave you their email address in the first place and what they can expect from you moving forward.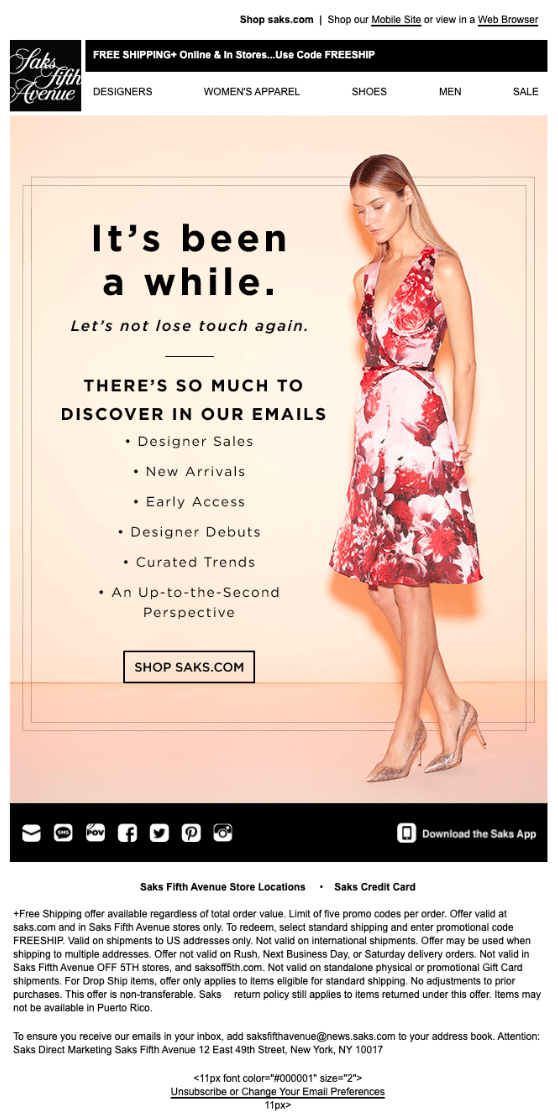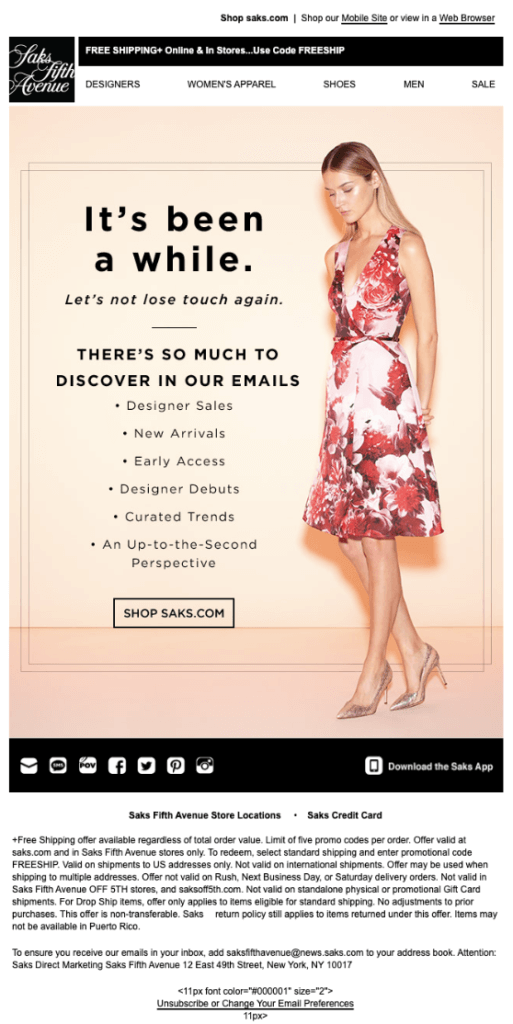 Clothing brand Saks recaps what kind of emails customers receive when they stay on the email list.
9. Include social proof
The Fear Of Missing Out (FOMO) is strong for a lot of people. They want to be amongst all the action and be a part of the cool crowd. Add social proof to your winback campaigns with reviews, testimonials, user-generated content, and numbers. Incorporating a couple of powerful and positive reviews can make all the difference, or showing how other users are benefitting from your product can help subscribers see what it can do for them.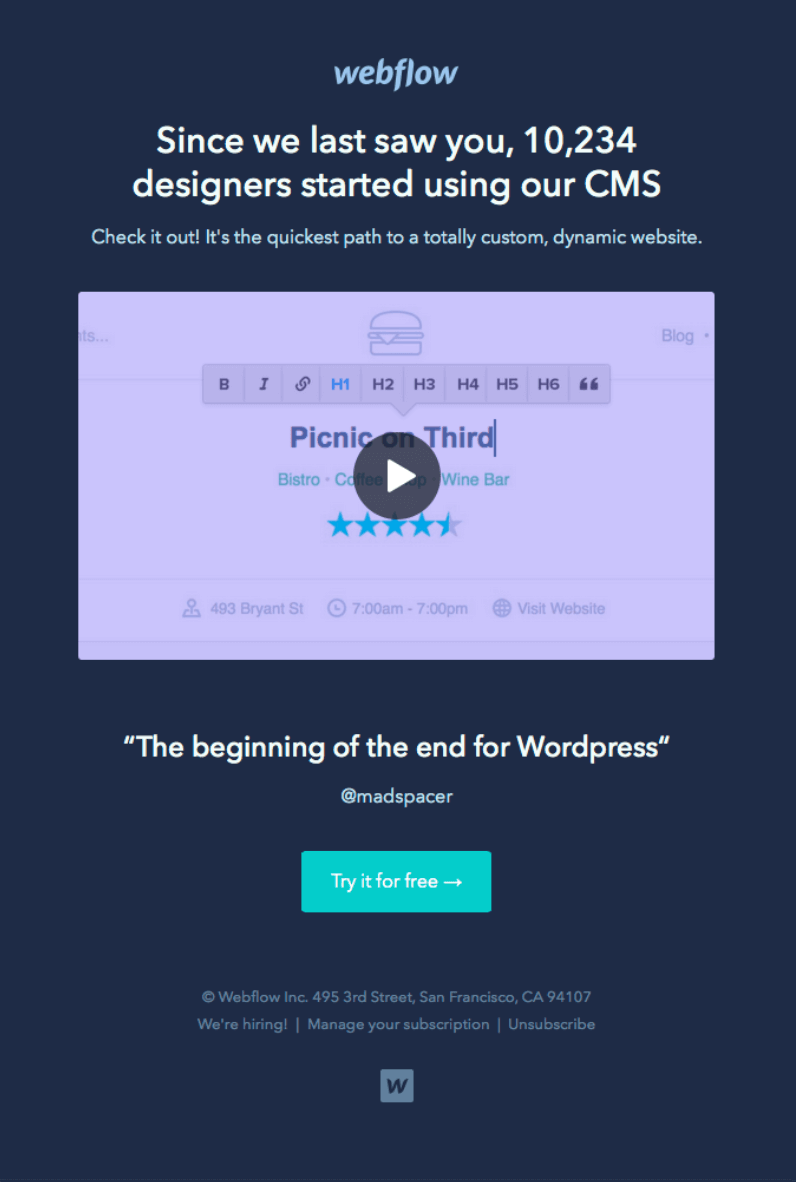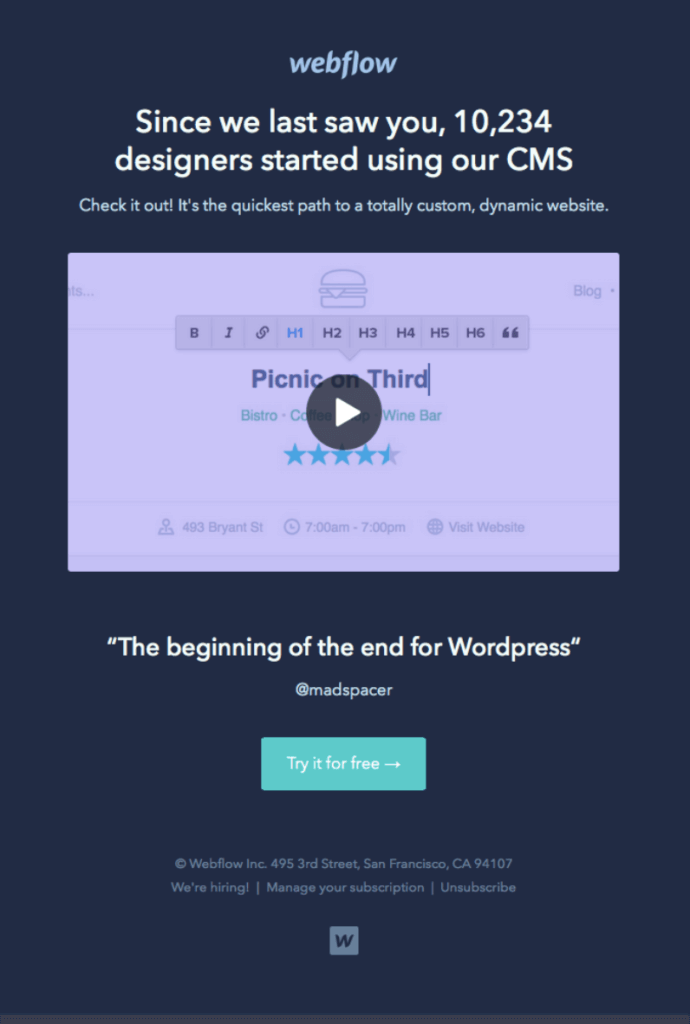 Webflow highlights how many new users it's acquired since the last time a user visited the site. Showing a dramatically higher user base gives subscribers pause for thought and gets them wondering whether they are missing out.
10. Leverage your brand personality
Your brand personality is what sets you apart. Use this to reconnect with customers and stand out from other, more serious winback emails. This winback example from Paul Mitchell does exactly that. The informal language and cute image pull on customer heartstrings and give shoppers the chance to re-engage.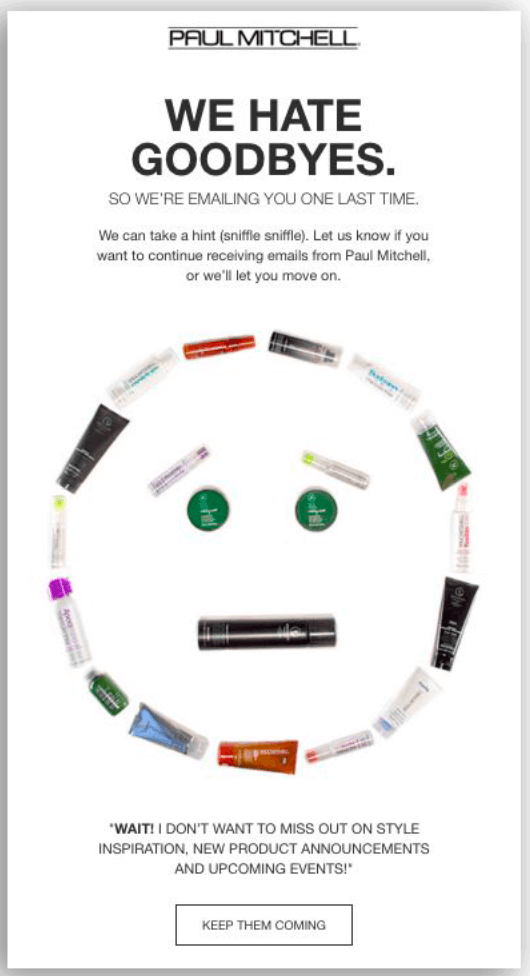 What a sample winback campaign looks like in action
Successful winback campaigns identify the reason for customer churn and remind users why they should come back. The campaign should be sent to dormant customers who haven't used your app, bought or product, or interacted with your brand in several weeks.
The content of customer winback email campaigns will vary depending on what you hope to get out of it – do you want to re-engage inactive customers or do you want to encourage a new purchase? Either way, it can take time to warm up subscribers again, especially if they've been dormant for a while.
As such, it helps to automate a series of emails instead of firing off just one and hoping it does the job. In this post, we go into more detail about what you need to think about when planning a winback strategy, but here's a sample winback series to get you started.
Winback email #1: Tell subscribers exactly what's going to happen if they don't stay subscribed and provide a very clear call-to-action (CTA) that tells them how they can stay involved
Winback email #2: Remind users why they chose you in the first place and restate the benefits they get when they remain a subscriber (you can include new features and content here)
Winback email #3: Add an incentive to the offer to give on-the-fence subscribers the nudge they need to stay
Winback email #4: Send social proof or remind customers what kind of communication they can expect to receive from you moving forward
Winback email #5: Give customers one last chance to re-engage by re-stating the incentive and telling them there will be no more emails if they don't take action
Winback campaigns increase re-engage customers and improve retention rates
Customer churn is a big problem for SaaS and ecommerce brands today. The sheer amount of competition makes it incredibly easy for shoppers to skip from one brand to the next, but it doesn't have to be that way.
Winback campaigns reach users who are still partially warm and re-engage them with great content, irresistible incentives, and a stark reminder about why they signed up in the first place. This ultimately leads to more conversions, higher customer engagement levels, and an increased customer lifetime value.
Subscribe to our newsletter to get more just like it, sent straight to your inbox every week.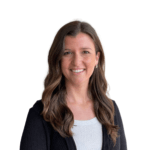 About the Author
Caroline Appert
Caroline Appert is the Director of Marketing at The Good. She has proven success in crafting marketing strategies and executing revenue-boosting campaigns for companies in a diverse set of industries.