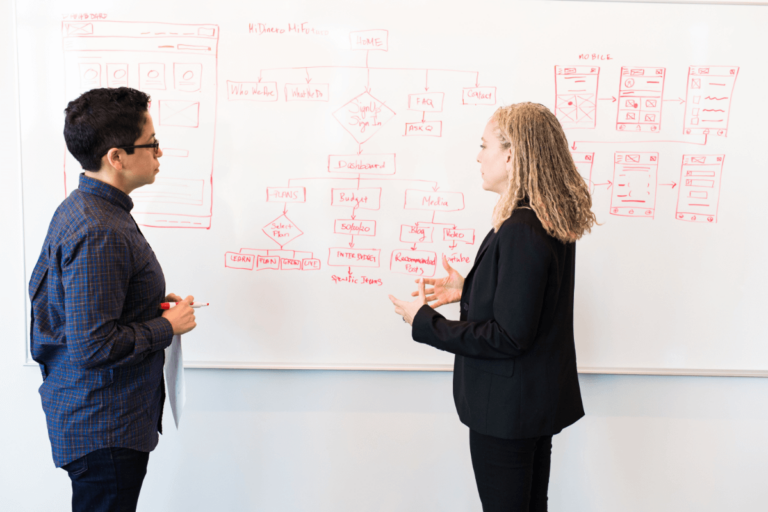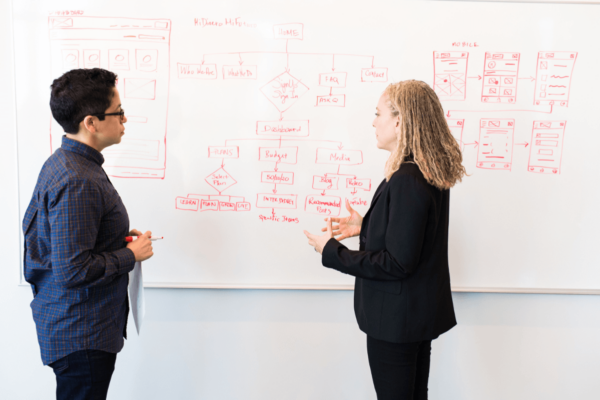 Conversion Rate Optimization
Answering The Question: Should You Build An Internal CRO Team Or Hire An Agency?
If you're struggling to decide if you should build a CRO team or hire an agency, we're here to help.
Conversions are everything in ecommerce.
The goal is to push shoppers seamlessly through the conversion funnel until they pop out at the other end, happy with their purchase.
So it's intuitive that conversion rate optimization is a pivotal part of business.
Without it, sales can get stagnant and your website can flounder under the millions of other sites being created every day.
One piece of research shows that 49% of companies want to increase their dedicated conversion optimization budget – it's a significant challenge that brands are willing to pay to solve.
But, what's the best solution–pulling together a CRO team from scratch or working with an external team of specialists to audit and improve your site experience?
Here's another stat to mull over: just 26% of brands have set up a dedicated optimization team over the past three years.
It's certainly an option, but if the thought of assembling a whole new department brings on a headache, you're not alone.
You've likely already got a sales team, a marketing team, a design team, and a product development team under your belt, so what's the problem with adding another?
The thing is, CRO teams tend to straddle all of these departments, dipping their toes into design elements, persuasive copy, site navigation, and everything in between.
This can quickly become complicated if you're plucking key players from each department to form an entirely new department. Or, if you're building an internal CRO team from scratch, you run the risk of doubling up on skillsets and duplicating tasks.
In this article, we're going to help you determine if allocating more resources to optimization is right for your brand and, if so, whether you should build an in-house team or find a third-party specialist to support your efforts.
Key ways to determine if you need help with CRO
You might have been puttering along with okay conversion rates, but is it time to switch things up?
Here are some indicators that you need help with your CRO efforts:
Low, stagnant, or declining conversion rates: it's a no-brainer, but if your conversion rates are below par, you might need an extra pair of helping hands. The average conversion rate in the US at the end of 2021 was 2.8% overall and 5.2% for ecommerce. That being said, benchmarks are okay, but don't take them as gospel. The best measurement of your current situation is whether or not your conversion rate is continuously improving. If it's stagnant or decreasing for too long, you might want to seek help.
No strategy: There's no clear strategy for coming up with tests and analyzing the results…you're just "winging it."
Minimal testing: if you don't have the time and resources to run as many CRO experiments as you'd like, or you have limited knowledge in testing and measuring results, a CRO agency can help.
Failed testing: most of your tests have failed or been inconclusive, so you're just not seeing traction from the effort
Lack of knowledge: you don't have anyone in-house who understands optimization and can ensure you're not wasting time or money chasing bad ideas
Overworked internal teams: if your internal teams are struggling to juggle their daily tasks and CRO activities, it might be time to bring in a CRO agency to support their efforts.
Unclear ownership: Nobody really "owns" the testing/optimization function…it's just something that everyone chips in on and probably gets sporadic (not consistent) attention
Now, let's see what the financial return could be if you invest time and resources into improving your conversion rate, whether it's with an in-house team or an external partner.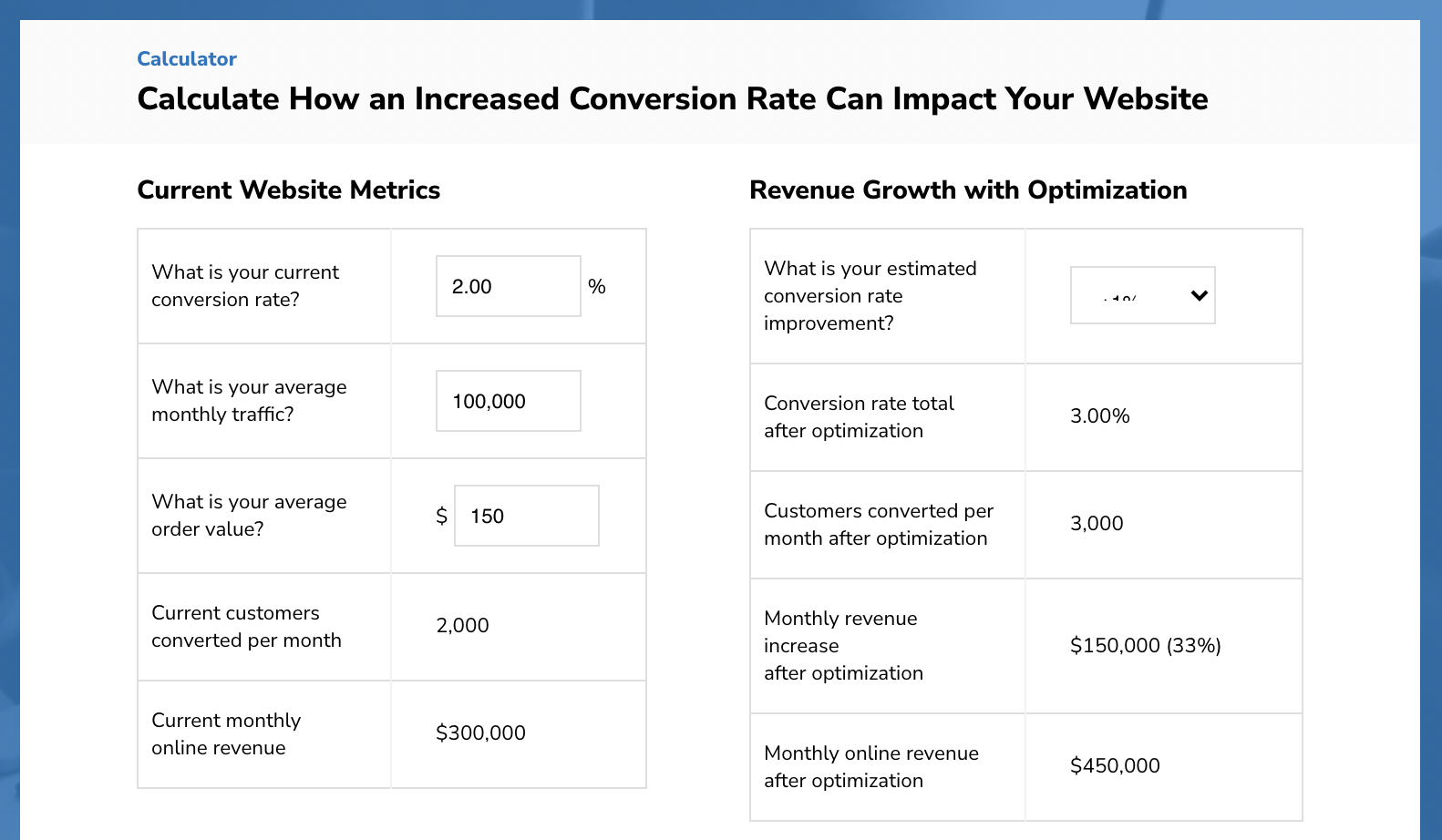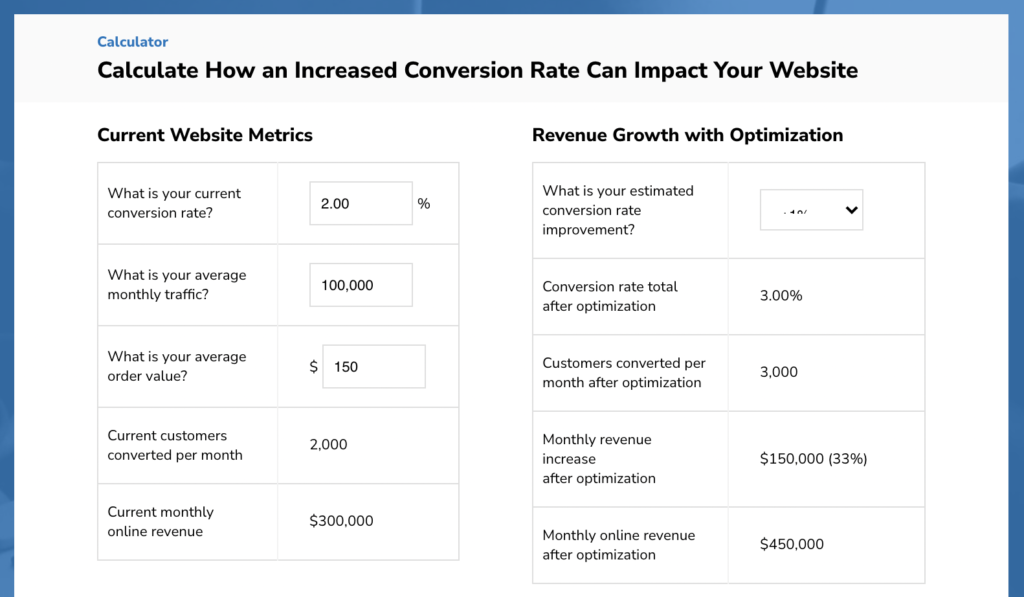 As our conversion calculator shows, improving your conversion rate by just 1% can have a massive impact on your revenue. So, is it time?
Why bringing in an external CRO team eliminates in-house frustration
It might make sense to stand up an in-house CRO team that can foster an internal perspective of business, but that comes with its own problems. Having a team constantly looking inwards can create a tunnel-vision approach to conversion rate optimization that fails to recognize (and implement) forecasted industry trends.
When you work with an agency you get the best of both worlds. They have deep knowledge and experience in CRO, tailored to your business needs, but they also have visibility on trends in the broader ecommerce industry thanks to their work with other clients.
That's just one example of why it might make sense to engage an external provider to support your optimization efforts. Let's take a look at a few more.
Subscribe to our newsletter to get more just like it, sent straight to your inbox every week.
Streamline the optimization process across often-siloed departments
The goal for many brands is to foster slick communication between teams, but that's rarely the reality. Everyone has their own departmental goals they're working towards. Sure, it'd be nice if sales and marketing were one and the same, but each has its own agenda, its own KPIs, and its own strategies to implement.
This often unintentional siloing of departments can make it tricky for an internal CRO team to push their head above the parapet. They quickly become just another siloed department fighting for airtime in the sales funnel.
On the flip side, an external CRO agency can bridge the gap between departments, plugging the holes and supporting key stakeholders with their CRO activities. Think of it as a supporting role rather than a starring role.
"The Good's research expertise and fresh insight have made them a valuable partner. Their recommendations have helped us move the needle on customer engagement and drive product growth."

– Aditya Lakshminarayan, the Product Marketing Manager at Adobe Document Cloud
What about an internal CRO team?
It's important to foster communication between teams, and encouraging separate departments to work together on CRO can help instill communication in other areas. Building an internal team can also work if you have a small number of staff members and a team member in each department dedicated to CRO activities.
Skip the hiring headaches and hit the ground running with a team of experts from day one
One of the biggest benefits of hiring an external CRO agency is that they already have a star-studded lineup of well-versed conversion experts and experience in place.
There's no need to immerse yourself in the lengthy hiring process or train existing team members for the role. You can simply plug a pre-made team into the places where you need the most help.
For example, if you've identified that your add-to-cart rates are distressingly low, but the rest of your conversion funnel is performing well, is it really necessary to hire a whole new team just to fix that issue? Or does it make more sense to tap the expertise of a CRO agency that can quickly identify the issue and remedy it far quicker than it would take for you to write and share a job ad (let alone interview and onboard new recruits)?
"We engaged The Good to help us tackle a difficult challenge: How do we increase subscription rates and registration sign-ups without sacrificing advertising dollars?" Says David Humber, Marketing Director at The Economist. "Through their work, we were able to increase conversions to paid subscriptions by 5% without compromising our ad revenue, which was a significant return on investment and a huge win for our organization."
The major media site already had a deep understanding of their data when they decided to partner up with The Good.
They knew all about their funnel abandonment, their bounce rate, and the percentage of users who convert from subscription trials. They'd even identified their key drop-off points, but they wanted help identifying quick wins and bigger testing ideas that would optimize the overall efficiency of their paywall. While an external CRO team worked on that, their internal teams were able to continue with their day-to-day tasks.
This is just one way a savvy team can benefit from getting a fresh perspective from an outside agency. Internal members work on their side every single day, and eventually, all of the pixels start to blend together. Working with a team that is coming in free of any historical knowledge or biases can help you uncover opportunities you didn't know were there.
For brands that don't know exactly where their conversion funnel is breaking, a CRO agency can do in-depth research to pinpoint and improve those areas.
What about an internal CRO team?
Training up team members can be costly and time-consuming, but development is crucial in helping your business grow. Giving current team members the opportunity to learn key CRO tasks and skills can improve your business in the long-run and helps you nurture dedicated CRO team members. Plus, if you have team members who show a particular proficiency for CRO activities, why not make the most of them?
Support at every stage, for every department
Because CRO straddles so many different departments, the team needs to fundamentally gel with everyone else. Bringing in an external CRO agency can make your life easier in so many ways, not least by offering support to each existing department:
Design team: supporting the design of your site by running A/B tests and analyzing test results, then passing along the "winning" variants or wireframes so the design team can put together layouts with a higher degree of confidence
UX team: digging into Google Analytics and other metrics to identify areas of improvement that your user experience team can implement
Marketing team: running copy tests and measuring ad campaign analytics so your marketing team can focus on customer engagement and communication as well as sharing insights from user research with actual customers to inform marketing strategy and messaging
Data analytics team: a second pair of eyes to identify problematic metrics and run data analysis and help to clean up existing data when bugs or inaccurate reporting is surfaced
Sales team: provide detailed insights from other departments so your sales team can cross-reference during sales calls and design a site that closes more customers helping the team hit their quota
Both your in-house team and the external CRO agency work collaboratively towards the same goal to get results in a shorter timeframe. Your in-house team helps us get off to a strong start, then the agency handles that grueling test in the middle, and both get together to push things across the finish line. Internal team members get all of the rewards while the CRO agency shoulders most of the burden.
"I have been really encouraged by the level of partnership that The Good shows in both proactively thinking about our business and being very open to collaborating with us on critical business needs," says Andy Lightman, Director of Ecommerce at Fully. The furniture brand partnered up with The Good to work towards two goals:
Increasing conversion rate on category pages
Finding a balance between providing helpful direction on the website and increasing visibility to various product categories
What about an internal CRO team?
Having dedicated CRO team members in each department can help create a cohesive communication strategy between teams and provide a streamlined approach to CRO that covers all bases. While a CRO agency may take some time to get to know your business and your goals, your internal team members are already experts on your brand.
Specialist skills and tools on hand
Finding a full-time in-house team that has all the CRO skills you need can be tricky.
You can always train them up, but that takes time, which leaves you even further behind on reaching your goals.
Bringing in an outside agency to support you with your conversion optimization efforts means you can tap into a well of existing knowledge, skills, and tools. Many CRO programs are made up of multiple different experts, each of which is well-versed in a different part of CRO. This means you can effectively cherry-pick your own supporting team based on the skills you need and the goals you want to achieve.
On top of this, they already have access to a suite of CRO tools which means you don't have to demo and trial a series of new software.
"The team at The Good have expertise and investigative analytics skills like I've never seen before. Their ability to dive in, research, analyze, and apply their findings to action items that get real results, has been so valuable for our business and bottom line."

– Marie Forleo, Entrepreneur and Founder of B-School
The work that CRO agencies do with other clients also gives them a broader perspective on ecommerce website optimizations that work. You'll have a leg up on brands by starting with the vast testing knowledge and insights that your CRO agency already has from other projects.
What about an internal CRO team?
Investing in new tools is a key part of business. Staying up-to-date on the latest CRO trends through an in-house team can ensure your brand stays at the top of its game. Team members can bring suggestions for tools and skills to the table, and providing training opportunities will help you create a CRO-focused team across the board. Ensuring everyone has the same CRO mindset and can access and use key CRO tools will play a huge part in growing your business.
When An Internal CRO Team Might Be a Good Fit
We've spoken a lot about the benefits of hiring a CRO agency, but the reality is, as long as you're tracking and optimizing conversion rates, the way you do it doesn't really matter. Sure, it might take you longer to get there doing it one way, but that doesn't mean you won't eventually get there.
And, for many brands, hiring an internal CRO team is the holy grail–having an entire team on tap every second of every day–but it's just not possible in the early days (or, if it's not a possibility, it's not a priority).
Brands just starting out might not have the budget to bring a CRO agency on board to manage and monitor every aspect of CRO. If you've opted for a low-investment assessment option with an agency (more on that in a minute), you might hire a consultant instead or train up a team member who's already well-versed in CRO to continually check results before committing to hiring the agency in the long-term.
Ways you can hire a CRO agency to support your efforts
Building an entirely new team from scratch can wreak havoc on your budget. It's not cheap to hire a handful of full-time employees all at the same time, and the extra monthly outgoings can affect your bottom line.
Of course, hiring a CRO agency doesn't mean you won't spend anything, but let's take a look at a quick comparison chart to understand the cost/benefit ratio:
| | |
| --- | --- |
| Hiring An Internal CRO Team | Partnering With A CRO Agency |
| At least 2 team members | Access to 3-5 team members or more |
| $250,000+ in total salary | Roughly $120,000 annual spend, total |
| Additional benefits, equipment costs, and bonuses | Access to a comprehensive set of tools included |
| Time for hiring, onboarding, and training | Shorter onboarding time, no training required |
| Additional internal management responsibilities | Minimal management responsibilities |
| Need to learn hard lessons along the way | Have already learned lessons and ready to apply them |
| Limited skillsets/expertise | Comprehensive skillsets and expertise |
| | Access to industry and comparative client trends |
| | Go from zero to productivity within 30 days |
Additionally, you can work with external experts in a way that suits your budget. Think of it as a sliding scale of services you can tap into on different pricing levels. They can range from:
One-off Support: A low cost, low involvement option that gets you a "playbook" that you can run on your own. This could be something like a Conversion Growth Assessment™ or Comprehensive Conversion Audit.
Limited Engagement: A moderate cost, moderate involvement option to solve a specific problem with a service. Services like a data-driven redesign or a custom project with a fixed fee and timeline would fall into this category.
Ongoing Advisory: A higher cost, moderate-to-high Involvement option to make an ongoing investment in improving your site performance. This has a team working round-the-clock to unlock additional revenue for you while you maintain the decision-making power for what gets tested and implemented on the live site. This is something like our Conversion Growth Program™, or an ongoing retainer partnership.
An external CRO agency can collaborate with you on isolated optimization tasks to relieve the workload of your internal teams. Contracts can cover everything from a landing page design exercise to a full-blown conversion optimization program that tracks your metrics every month, runs regular experiments, tweaks funnel elements, and implements much-needed changes.
How to choose the right CRO agency
First things first, do you need a CRO agency and when is the best time to partner up with one? The answer truly depends on your upcoming business goals for future quarters and the issues you've identified from historic data. Use our guide to determine when the best time is to work with an agency.
When you've identified this, you can start shopping around for the right CRO partner.
Check their working style: do they work in a way that aligns with your business values and goals? Do they use a specific methodology?
Ask the right questions: What results have they achieved for past clients?
Determine their tool stack: what tools and software do they use and how do they use them to measure results?
Read their case studies: see how they've worked with past clients and the optimization strategies they use to get results
Focus on a fit with your team: find out what expertise and knowledge the agency has and how that fits with your internal teams
As you look around for a partner, make sure to keep a special eye out for red flags like:
They are a full-service agency that "also does CRO" – Read: not a specialist firm.
They don't start off their engagement with an audit – One person works with a personal trainer to create a custom nutrition and workout plan. One person wings it. Who gets better results?
Their value proposition is based on the volume of tests they run. – Running lots of tests doesn't necessarily increase your likelihood of success and can actually lose you money.
They say they can work with any budget/traffic volume/industry. – CRO isn't a great fit for everyone, and agencies who "take all comers" often end up with higher client churn.
They don't have public case studies or they aren't willing to put you in touch with actual clients.
They don't have a formal, documented process for reliably generating sustainable, long-term results for their clients. – If they can't walk you through it, you should run the other way.
Getting started with a dedicated CRO agency
Most people think that building a CRO team or hiring a consultant is an "either/or" decision, but it's not. It's a "first/then" decision.
For example, "First…we'll hire The Good to do an audit to uncover our opportunities and teach us what a good CRO program looks like. Then…once we feel comfortable, we'll hire an in-house team to keep running that playbook."
CRO is an important part of business for ecommerce owners. Increasing conversion rates by a tiny percentage can have a huge impact on your revenue, so imagine the possibilities if you have a dedicated team on hand to help you identify problem areas, run tests, and implement results.
Building your own internal CRO team might be the dream, but if you're looking for quick results that don't require hiring new team members and training them up (which, let's face it, can take months), a CRO agency is the perfect mid-term solution.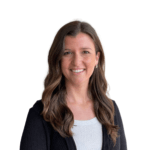 About the Author
Caroline Appert
Caroline Appert is the Director of Marketing at The Good. She has proven success in crafting marketing strategies and executing revenue-boosting campaigns for companies in a diverse set of industries.