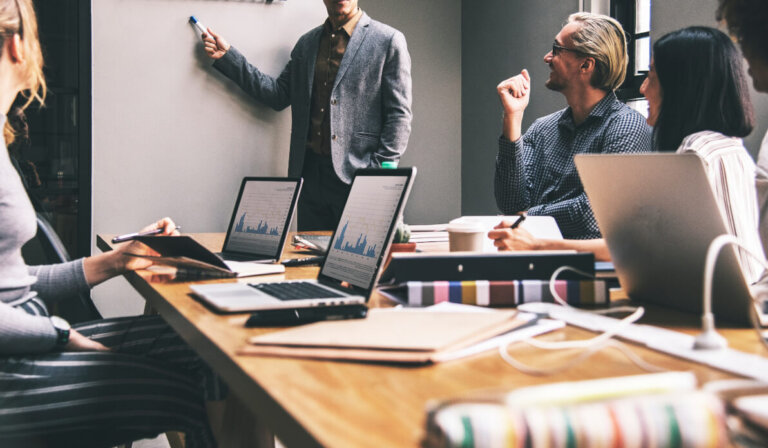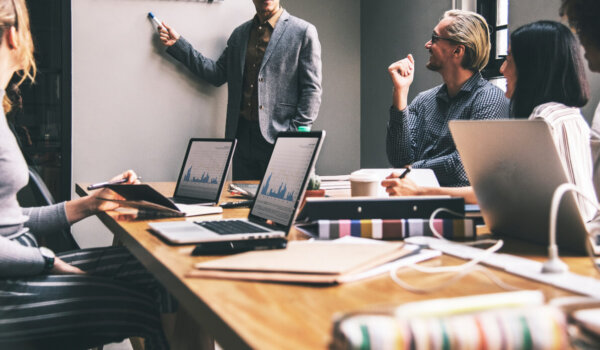 Customer Experience
Why a Customer-Centric Strategy is Essential
In this Insight, we'll look at why customer-centric brands are so successful and how you can replicate their customer experience for your own brand.
Gone are the days of building highly successful online brands through great products alone. Consumers expect more of an involved customer-centric experience from the brands they're purchasing from.
Ecommerce has undergone some rapid changes over the last five years. Each year we see more brands rising in the ranks that reject traditional business models and "rules" in favor of the customer. Looking at brands like Casper and Glossier—both of whom have caused ripples in their respective industries—their extreme focus on the customer experience is what's driven their rapid success.
We've entered what's been dubbed the 'emotion economy'. Emotion plays an immensely important role in B2C engagements now, and is viewed as an important currency of doing business (especially for online brands). Harnessing the power of big data, brands are able to understand their customers better than ever before, and are competing with each other to create the most customer-centered online shopping experience.
In this Insight, we'll be taking a close look at:
What the 'emotion economy' is and how it's affecting ecommerce
What makes customer-centric brands successful
Actionable ways to make your brand more customer-focused
What is the emotion economy?
First coined by Richard Yonck in 2017, he described the emotion economy as an ecosystem of emotionally intelligent devices and software iterations that will entirely shift how we use and interact with machines. But how is the 'emotion economy' transforming ecommerce?
Advancements in technology—specifically in big data—have had an undeniable impact on ecommerce. Brands have the ability to research and understand their customers' behavior better than ever before, allowing for increasingly personalized and engaging user experiences.
Sameet Gupta said it best when describing the 'emotion economy'…
"For organisations, it's no longer just about understanding what we do, but understanding what we feel".
Learning and understanding how this ecosystem functions will be essential to engaging with your customers in the future. If you want to stay ahead of your competition, you'll need to adapt to the demands of the 'emotion economy' by providing your users with a customer-centric experience that moves beyond just convenience.
Why are customer-centric brands in the lead?
If you look at many of the leading ecommerce brands today, you'll notice a trend running among them. They all have an extreme focus on the customer. Customer-centric companies focus on the people that purchase their product as a way to track success and inform their strategy.
Casper, the direct-to-consumer (DTC) mattress company that launched in 2014, went from zero profit to $750 million in four years by utilizing a customer-centric business strategy. They looked at the pain points of purchasing a mattress—driving to the mattress store, dealing with a pushy salesperson, choosing between dozens of different options—and set out to solve them for the consumer.
They've remained true to their customer-centered values since the beginning, offering a money-back guarantee for any customer that isn't completely satisfied with their purchase. Their customer-centric approach has enabled them to grow exponentially because consumers are looking for a brand that puts them at the center of the buying experience.
Customer-centric brands like Casper, Amazon, Glossier (and many others) are leaders in the ecommerce market because they're dedicated to understanding and satisfying every need of the customer. Focusing on the customer is essential to creating a great user-experience for your ecommerce site, and establishing a lasting connection with users.
Next, we'll go over the five tactics you should utilize to help improve your brand's customer focus.
Five practical ways to make your brand more customer-centric
1. Research and understand your audience
The first step in creating a customer-centric online experience is through extensive user research. Collect insights from every platform your customers use to interact with your brand will help identify friction points and uncover latent needs.
You won't be able to meet the specific needs of your customers until you know what those needs are.
User research has a variety of different inputs to consider. Typical user research will include customer surveys, focus groups, and user testing. To get a fuller picture of how your customers feel about your brand, we recommend you analyze every outlet your customers use to talk about you. Start broad by conducting surveys with your users, then narrow your focus with in-depth user testing sessions. The more data you gather from your customers, the better experience you'll be able to provide for them.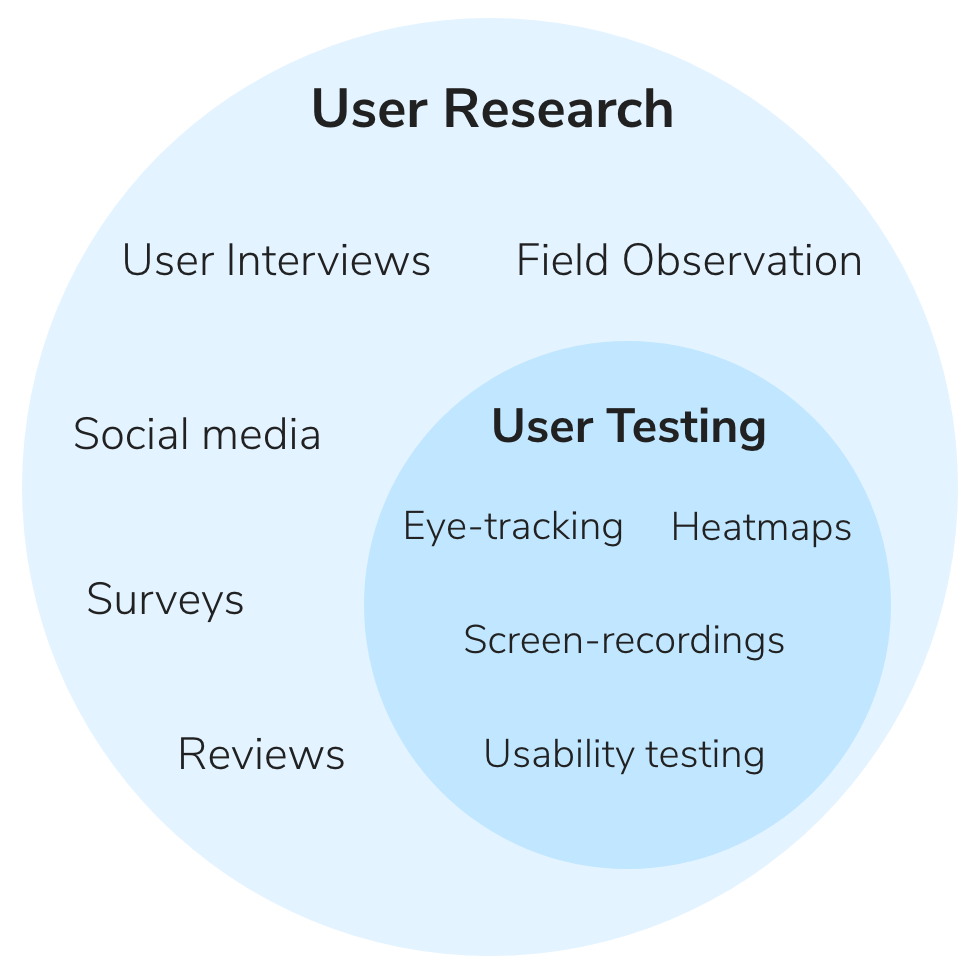 Related Insights:
2. Utilize a multichannel marketing strategy
The more places your customers can reach you and engage with your brand, the better. Multichannel marketing focuses on engaging with the user through every outlet they use, whether that be through social media, print, email, etc. This approach puts the decision of how to connect with your brand in the consumer's hands.
Reach your customers on social media – Social media has become one of the most effective methods for reaching your customers, and is a relatively versatile tool that allows you to respond to customer service issues, conduct customer research, and promote your brand. Consider utilizing Facebook's Messenger function as a way to engage with your customers offsite.
Subscribe to our newsletter to get more just like it, sent straight to your inbox every week.
You can now set up a messenger bot on Facebook in a very similar way you would with a traditional chatbot on your site. Harry's—the popular men and women's grooming brand—has made full use of Facebook Messenger, offering customers the full array of customer service options they have on their main site. You can return an order, request a refund, report an issue with your order, all on Facebook without having to leave the site.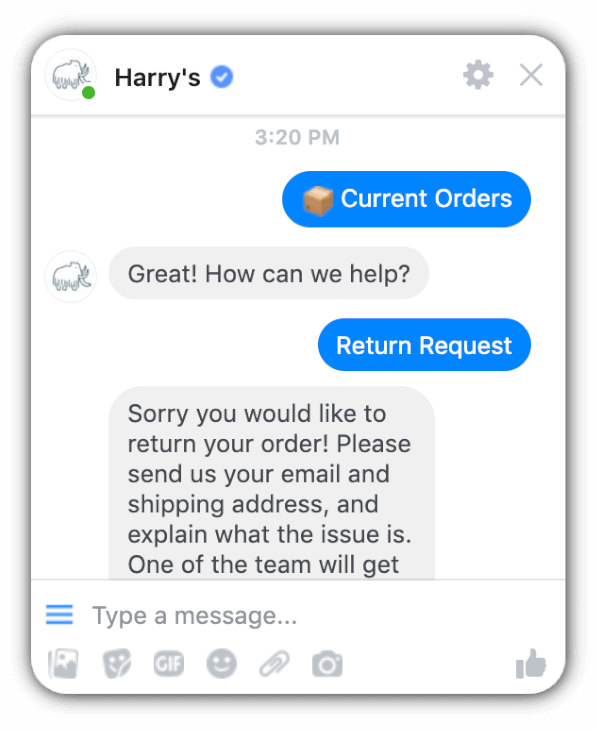 Start texting your customers – SMS texts have become a great way to keep customers connected to you and enables you to personally deliver details about upcoming sales and promotions right to their phone. We tend to perceive this approach to conversational marketing as a bit aggressive, but with SMS open rates beating email nearly 5x over, it's certainly worth trying.
Continue utilizing email – While many digital marketers and ecommerce managers alike are saying that "Email is dead", we believe that email marketing continues to be one of the most effective methods of communicating with customers, especially for ecommerce businesses. Despite more dynamic and personal methods of marketing emerging in recent years, email remains to be beaten in terms of visibility and efficiency.
3. Provide a personalized experience
Personalization is one of the most effective and simple ways to improve your business's retention rate and become more customer-centric. If your customers can't develop a connection with your brand, it's very unlikely that they'll be motivated to continue purchasing from you. Here are a few tactics we recommend you try on your site to improve customer personalization:
Use cookies to remember website visitors – Being able to cookie visitors on your site opens up various opportunities for personalization. If you can store basic information about a user (product preferences, time on site, page views), it'll help you cater to each individual user's needs.
Implement LiveChat or a Chatbot function – At this point, having some form of chat option available on your ecommerce site is essential. Providing your customers with a personalized and easily accessible method for getting their questions answered can have a significant impact on the conversion rate of your site. Chatbot applications like Drift and Intercom have the ability to remember customers' full names so when they return to the site, they can receive a personal greeting from the chatbot.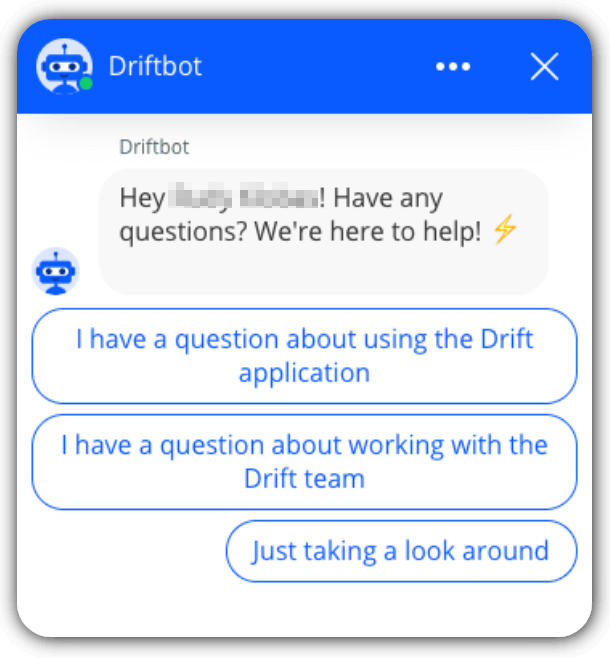 In 2020, consumers expect an experience that's tailored to their heightened needs and expectations. If you want to stay one-step ahead of your competition, you'll need to start considering how you're going to provide your customers with that individualized experience.
Related Insights:
4. Tell a story through your brand
Despite "storytelling" becoming a marketing buzzword over the last several years, there's an undeniable value in telling a compelling story to your customers in order to build a personal connection. Many successful ecommerce brands that've emerged in the last few years have had a compelling story associated with them that consumers have latched onto.
Bombas, the sock company that follows a one-for-one business model is a great example of a brand telling a compelling story to win over the affection of their customers. Adopting a similar business model to TOMS Shoes, for every pair of socks purchased from them, they donate a pair to a homeless shelter.
They include a snippet of their mantra—"Be better"—inside each piece of clothing they sell as a reminder "…that little improvements can add up to make a big difference, and that your purchase went towards directly helping someone in need". Not only are they offering customers a great product, but they also have a compelling story and mission that consumers can associate with their brand and get behind.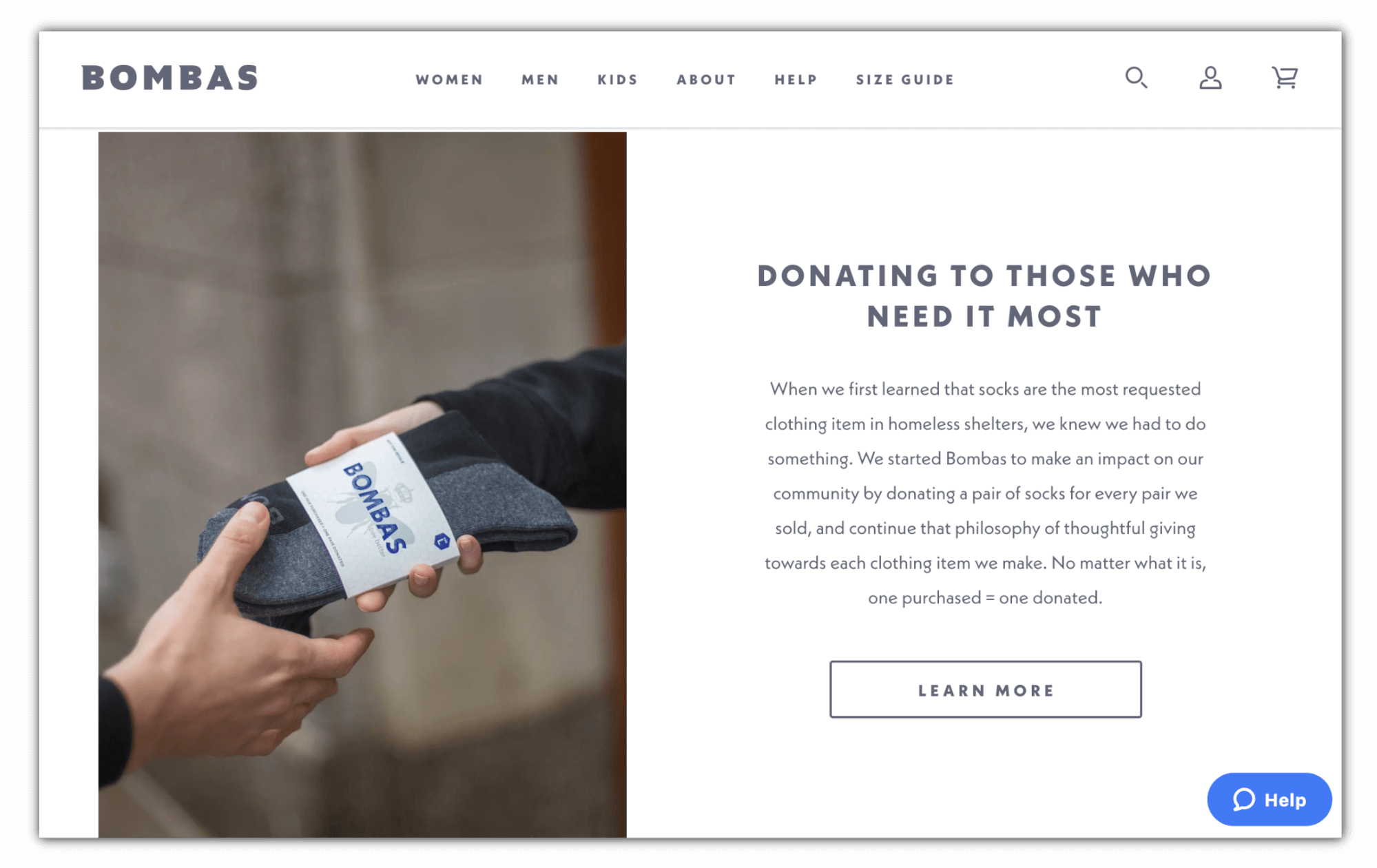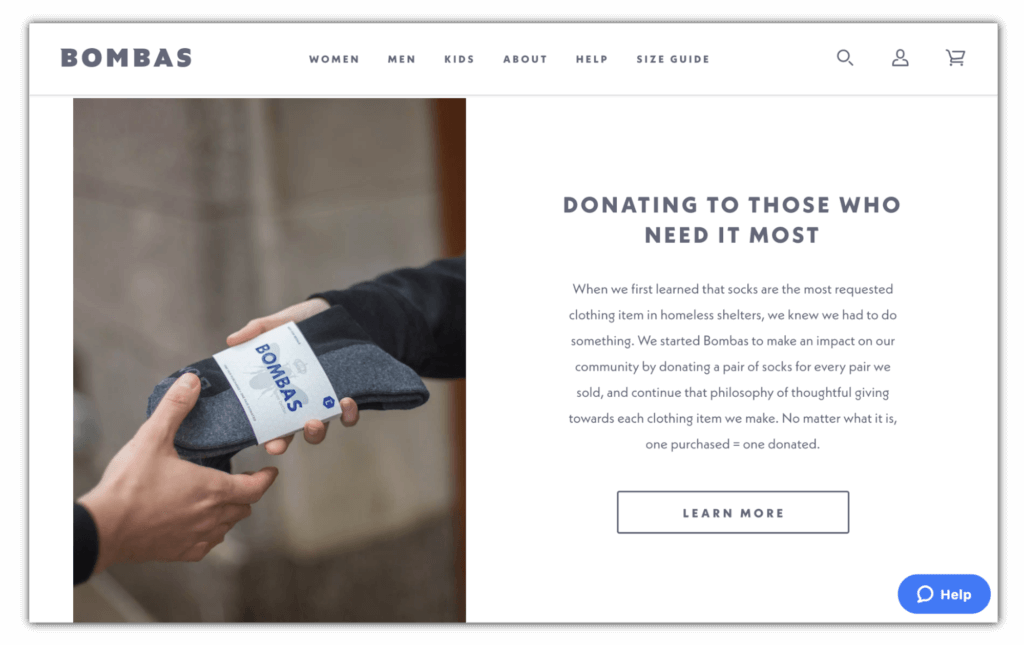 By no means are we saying you have to adopt a one-for-one business model to be prosperous, but rather find a compelling method for connecting with your customers beyond just your products. Consumers in 2020 need a story associated with a brand, otherwise there's nothing setting your business apart from everyone else in your market.
Related Insights:
Why Your Brand Story Is Killing Conversions
5. Define your customer experience strategy
Improving your business's customer experience can seem like a daunting task if you don't have a clear strategy outlining how your approach. Developing a customer experience (CX) strategy will help you take the insight you gained from user research, and turn it into an actionable plan for improving your site experience. Your CX strategy should be constructed with a variety of factors in mind including:
Market research
User research
Mission and vision statement
User testing
Creating a customer journey map can help you visualize how your customers are engaging with your ecommerce site and will help inform your CX strategy. It gives you the ability to "walk in your customer's shoes" through your site's navigational structure, and identifies glaring pain points that you may have missed otherwise.
There's no "right way" to develop a CX strategy, but not creating one for your business would be a serious mistake. Defining a clear strategy early-on will help align your team around a singular vision and goal, and will inform how you continue to develop and improve your website.
Related Insights:
Put your customers at the core of everything you do
The value in creating a customer-centric experience for your online business is undeniable. The user experience of your site needs to be tailored to the way your target customers use it. Focusing on the customer is what will separate you from your competitors and position you as a leader in your industry (at least in your customers eyes).
If you're interested in creating a more customer-centric experience on your ecommerce site, it may be time to start considering conversion rate optimization (CRO). CRO involves performing extensive user research and testing to understand exactly how your customers comprehend and interface with your site. It's the most thorough way to understand the behavior of your customers.
At The Good, we're committed to finding the best CRO solution for your ecommerce business, no matter the size. If you're interested in improving your customer experience, sign-up for a free landing page assessment where we'll take a close look at your site and identify areas that could benefit from a usability upgrade.
If you're not ready to commit to a full-scale optimization program yet, but are still interested in having an expert audit your site, consider our Conversion Growth Assessment™ offering.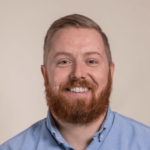 About the Author
David Hoos
David Hoos is the former Director of Marketing at The Good, conversion rate experts who deliver more revenues, customers, and leads. David and the team at The Good have made a practice of advising brands on how to see online revenue double through their conversion rate optimization services.