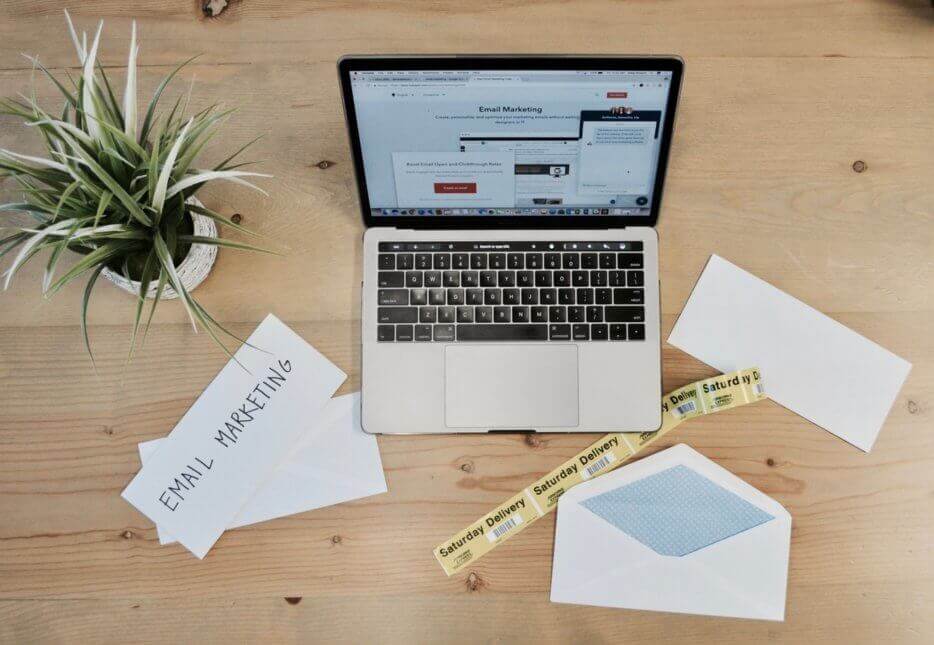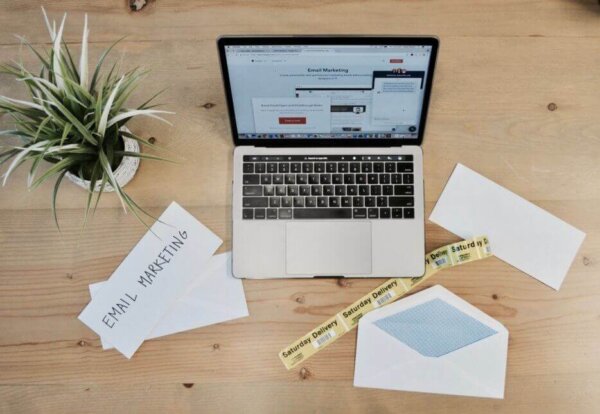 Customer Experience
5 Important Post-Purchase Emails You Need to Drive Sales
Give more thought to your post-purchase email sequences with these 5 key post-purchase email types. It will boost your conversions, nurture customers, and result in repeat sales.
Post-purchase emails are the Harry Potter of email marketing. Often neglected, given scant attention, and forced to live in a cupboard under the staircase of digital marketing.
And yet, like the magical boy with the scarred forehead, post-purchase emails are incredibly powerful.
It's 10 times more expensive to get a new customer than it is to sell something to an existing customer. Additionally, existing customers are 9x more likely to convert and spend 500% more than new customers. Now you know why Amazon does everything in their power to convince you to purchase Prime.
And… transactional emails are opened at twice the rate of promotional emails.
Despite the statistics, most marketers give little time or thought to their post-purchase email sequences. They send a receipt and little else. This is crazy and misses out on a huge opportunity to convert new customers into recurring customers.
In this post, we're going to give you 5 key post purchase emails that will boost your conversions, nurture customers, and result in repeat sales.
No time to read?
Get the highlights in 6 minutes.
Order confirmation is the first post-purchase email
The first email should always be the confirmation of purchase. When people click "Buy", they want to know that everything worked. That they didn't just send money into the ether of the internet, never to hear from it again. Confirm that their order was received and that someone on the other end is doing something about it.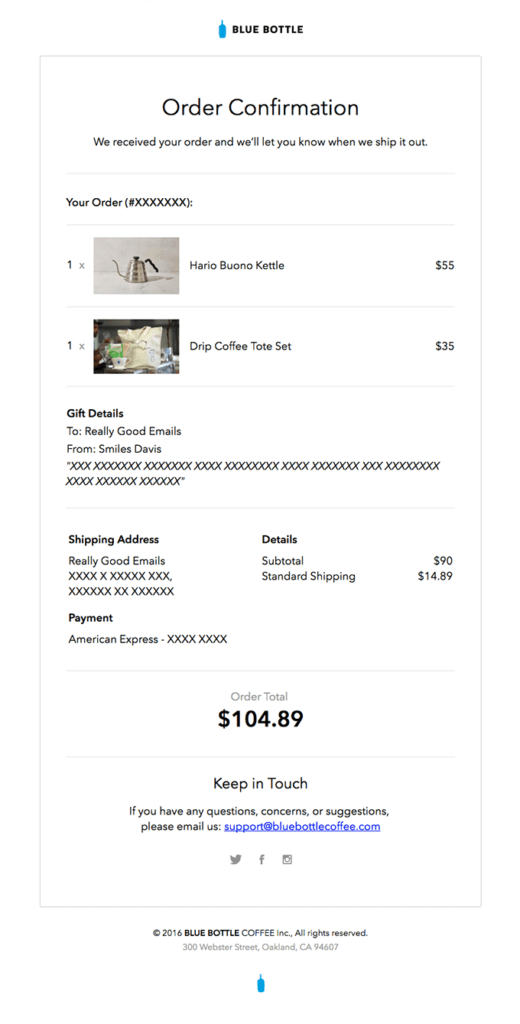 At the risk of stating the obvious, ecommerce involves significantly more trust than face-to-face transactions. A customer is handing you their credit card number with the assumption that you'll hold up your end of the bargain. They want assurance that you're not operating a scam out of an internet cafe in Nigeria.
An order confirmation should be sent as soon as the payment clears, letting the customer know:
That their order went through.
When it will ship and how to track their shipment.
How they can access their receipt.
Who to contact if there's a problem.
What they should expect next.
As soon as you order from Amazon, you get something like this: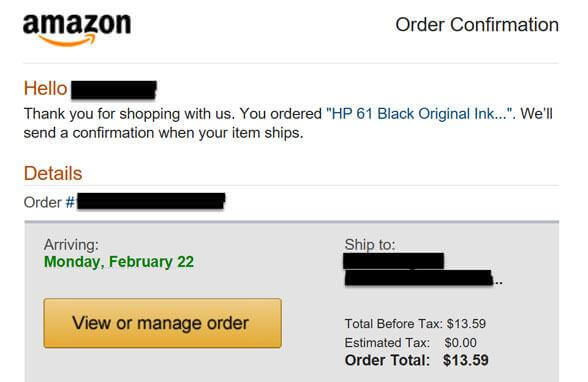 Amazon makes it clear what you ordered, when it will arrive, how to manage your order, and how to track it. They leave little room for questions or doubts.
You can use the order confirmation email for upselling or cross-selling, but you need to be careful about this. If you launch into product pitches too quickly, you can sacrifice trust and come across as only caring about revenue. Tact is the name of the game in the confirmation email.
But, the statistics are in your favor. On average, email receipts are opened 70.9% of the time, more than 4x the average of 17.9% for marketing emails. With this level of engagement, you should tactfully include some kind of cross-sell or upsell, much like GoDaddy does.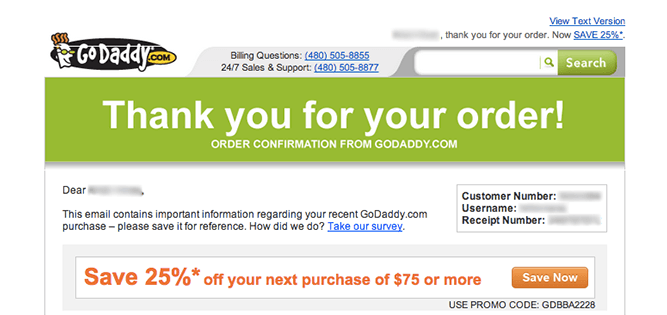 Whether you cross-sell or not, your primary goal in the confirmation email is assurance. You want your customers to have assurance that everything is working as it should. Adding a simple guarantee in the email, like RelayFoods does, can be an outstanding way of building trust.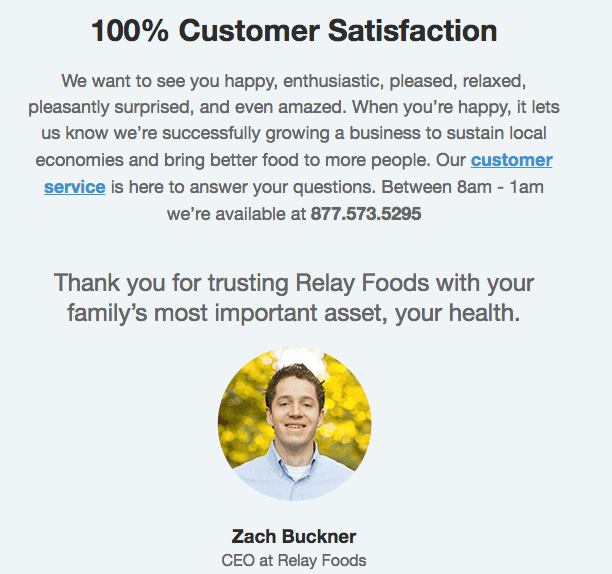 Finally, you should include some sort of social share option in your order confirmation. Allowing customers to share their purchases on Facebook and Twitter generates more exposure for you and promotes word of mouth marketing, which can be powerful.
LivingSocial does this by putting a shareable link directly into their confirmation emails:

And incorporating a referral reward motivates people to get in on the deal and drives even more customers.
Follow-up with a shipping confirmation
The shipping confirmation email allows you to update the customer on the status of their order, continue to build trust with them, and nurture your relationship with them.
When FitBit sends a shipping confirmation email, they use it as an opportunity to insert humor and personality: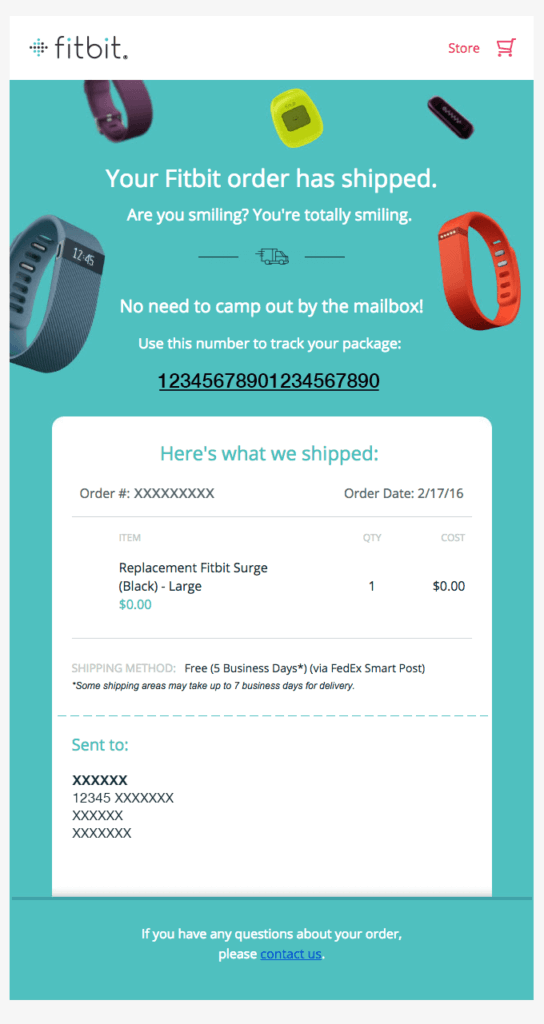 They also use the email to remind the customer of how they can continue to track the progress of the order, ensuring they don't become worried about the order being lost.
This confirmation email from CDBaby is absolutely brilliant, showing off a fantastic sense of humor: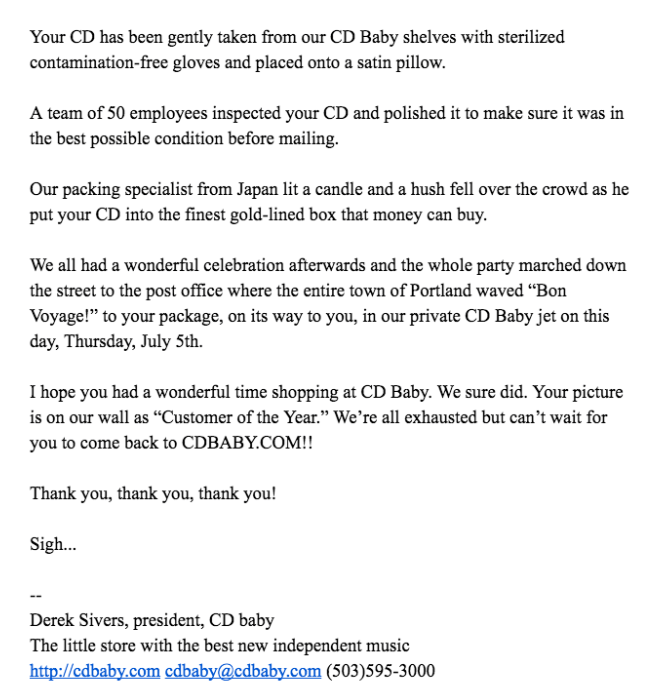 The shipping confirmation order is also an opportunity to provide advice before the product arrives.
Warby Parker advises making an optometrist appointment so that the customer has the proper prescription and can order the glasses they prefer. Obviously, if a customer does follows this advice, there's a much higher probability that they'll order the glasses they tried on: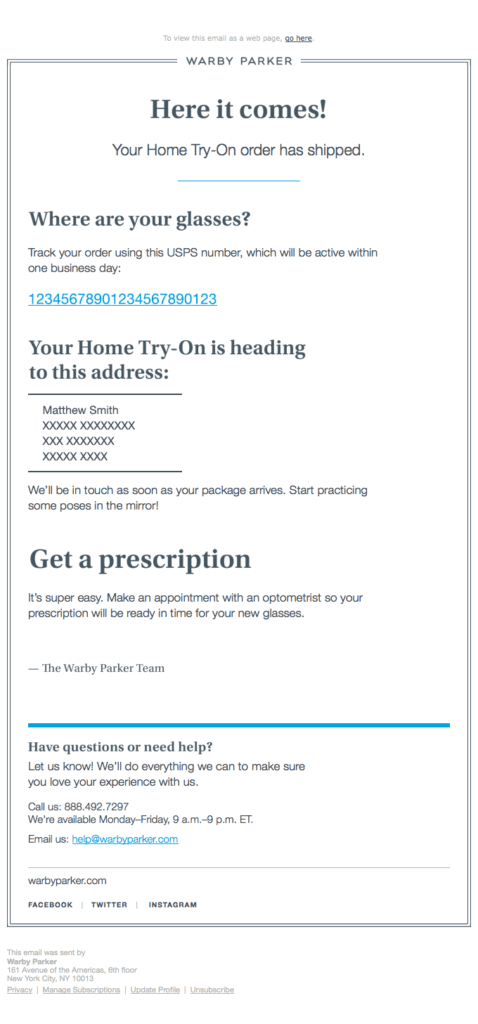 Similar to the order confirmation email, the shipment email is intended to nurture customers to the point where they implicitly trust you. You want them to know that you've got their back and that if there are problems, you will handle them.
Subscribe to our newsletter to get more just like it, sent straight to your inbox every week.
Check-in on the shipment in the third of your post-purchase emails
Approximately one week after their shipment should have arrived, you want to check in to make sure everything arrived when it should and how it should. Ask questions like:
Did it arrive on time?
Did it arrive in good shape?
Did you have any issues after it got there?
We've all had packages arrive late, banged up, and even containing the wrong item. We've also experienced the annoyance of trying to get an unresponsive company to fix the problem. It's incredibly frustrating and almost guarantees that we'll never do business with them again.
This email doesn't need to be particularly complex. It should simply say, "We really value you and wanted to make sure everything was okay." If there was a problem, you want to be proactive in resolving it.
Request a review in the fourth email
When you are researching an item online, what's the first thing you do? You look at the reviews. You want to know whether the product is good or will fall apart two months after your purchase it.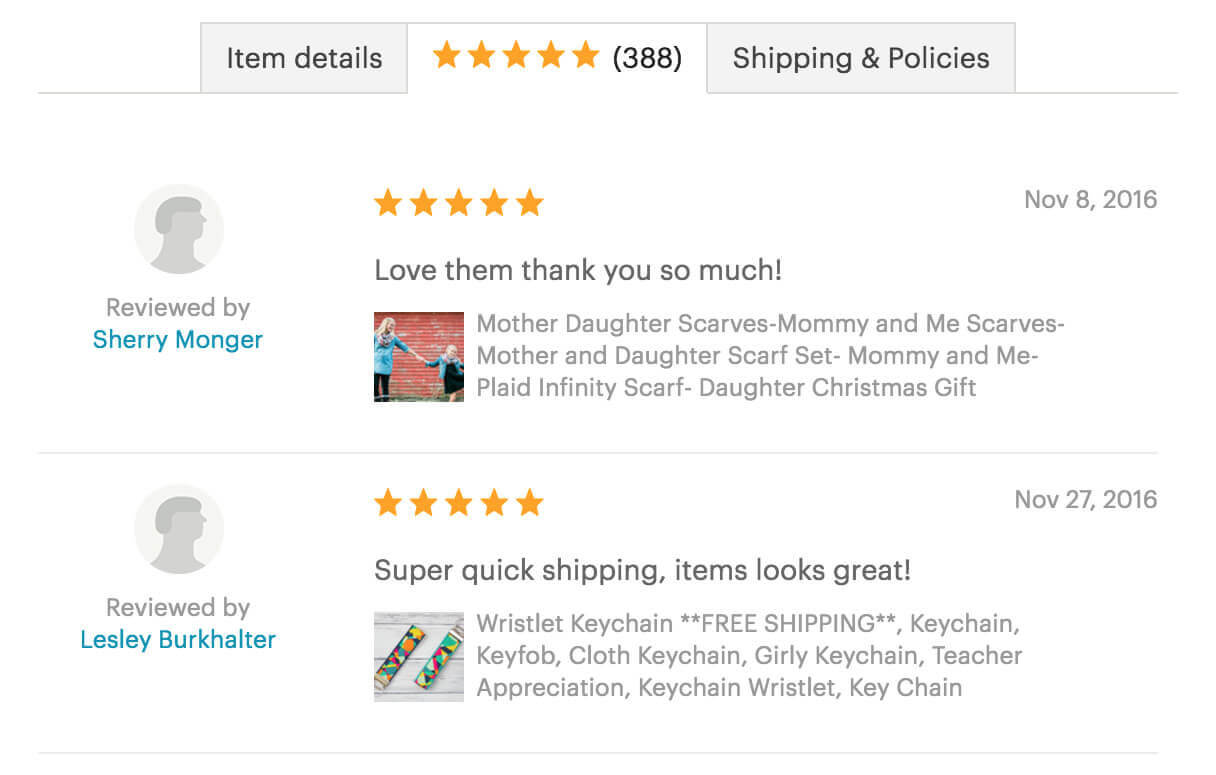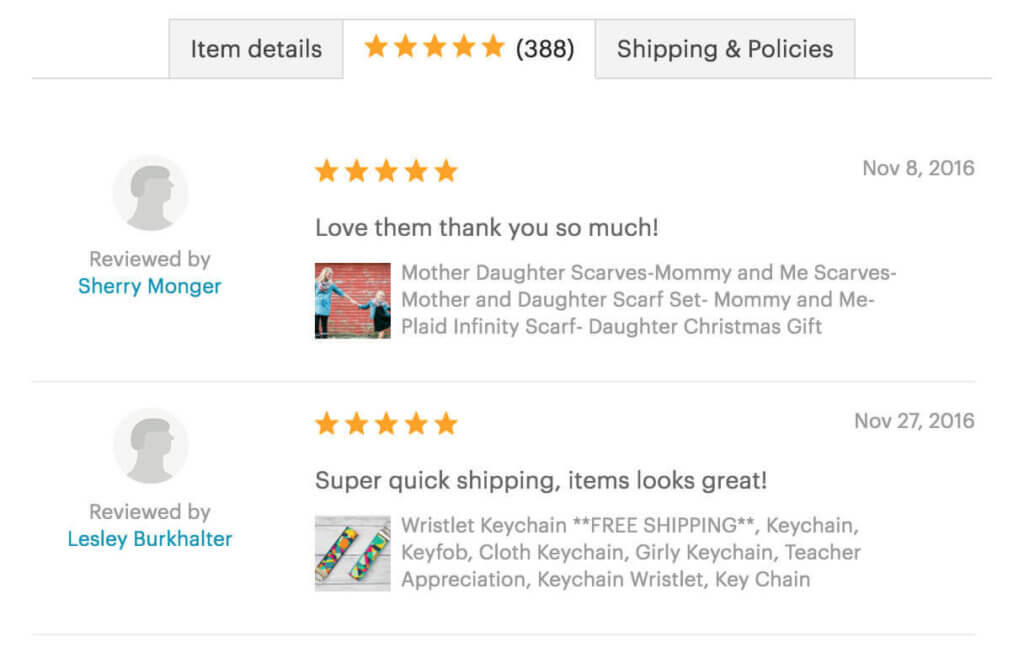 Positive reviews can lead to more sales while negative reviews can kill a product.
Reviews can also give insight into ways you can better serve your customers. If a customer leaves a poor review, it gives you the opportunity to fix the problem and keep a customer from becoming angry.
A review request email asks the customer to leave a review of the product or to rate the experience they had with you.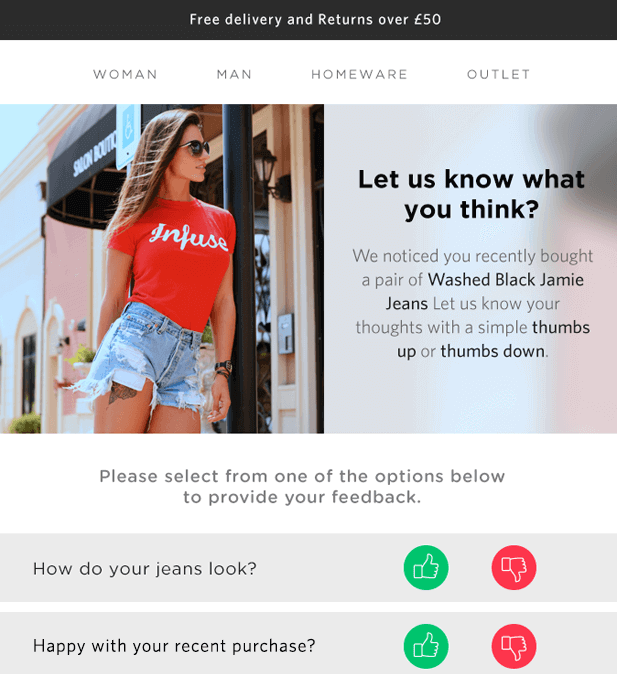 Ideally, this email should be sent after enough time has elapsed for them to try the product for a few weeks.
The review email should:
Remind customers the great product or experience you provided, usually using an image.
Be honest and upfront about how long the survey will take.
Describe how the review or results of the survey will benefit the customer.
When asking for a review, do everything possible to minimize the number of clicks necessary. As Chris Hexton says:
"Clicks-to-wow" is a way of describing the number of clicks it takes a customer from their first interaction with your email to the moment they achieve the goal, or hit the "wow" moment. In most cases, reducing the "clicks-to-wow" will increase conversions.
Link to the exact page where the review is entered to minimize the number of clicks.
Think of this as yet another check-in email. If a customer didn't like your product, you want to know why so you can fix the problem. If you don't fix the problem, you'll lose the customer and potentially lose more customers over the same problem.
Offer a discount to re-order with the final of your post-purchase emails
Your final post-purchase email should be a discount offer on a re-order or additional order.
Think about it. They already purchased the product and, assuming the review results were positive, you know they liked it. This is the perfect opportunity to get them to re-order the product or purchase a similar product.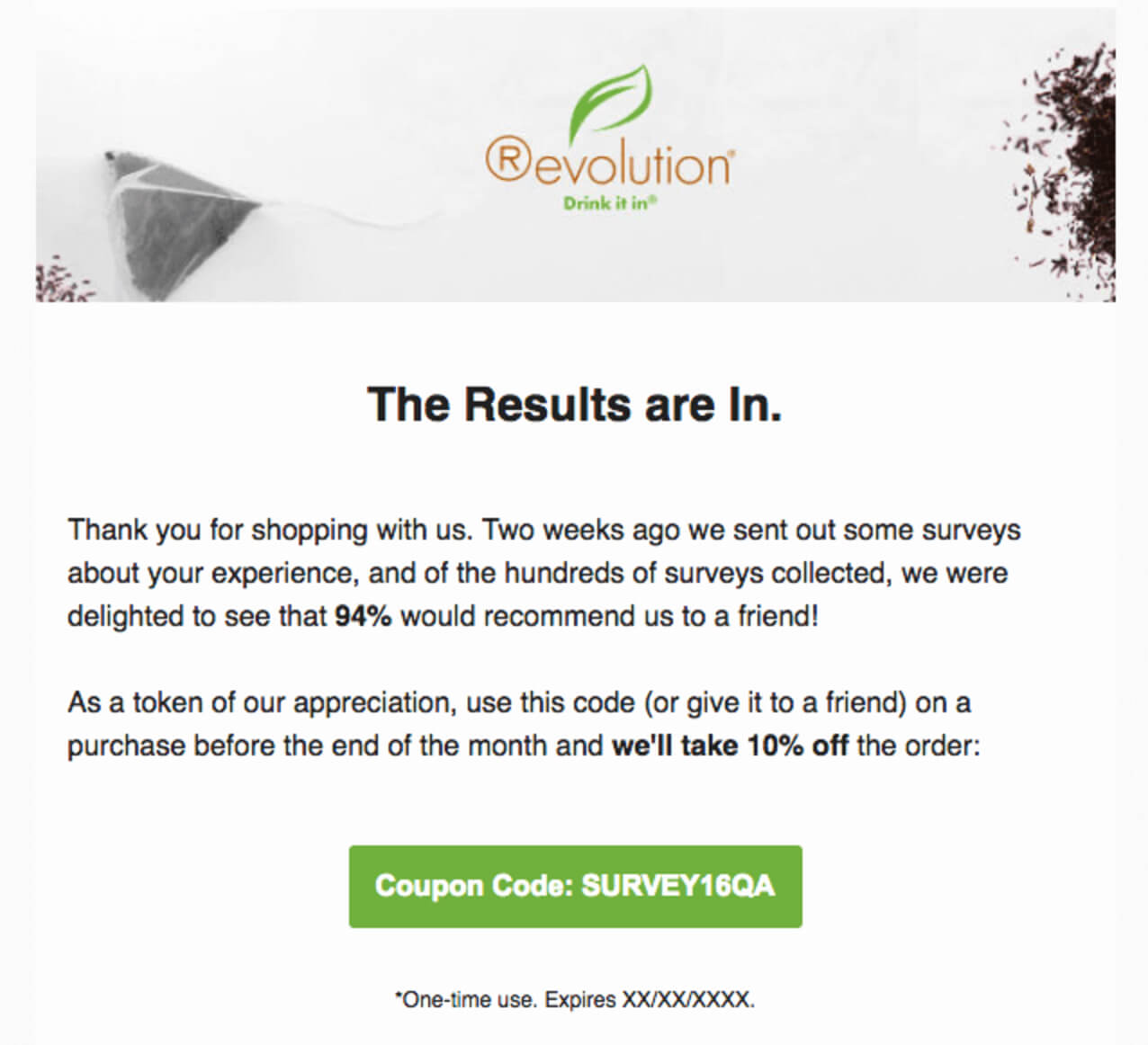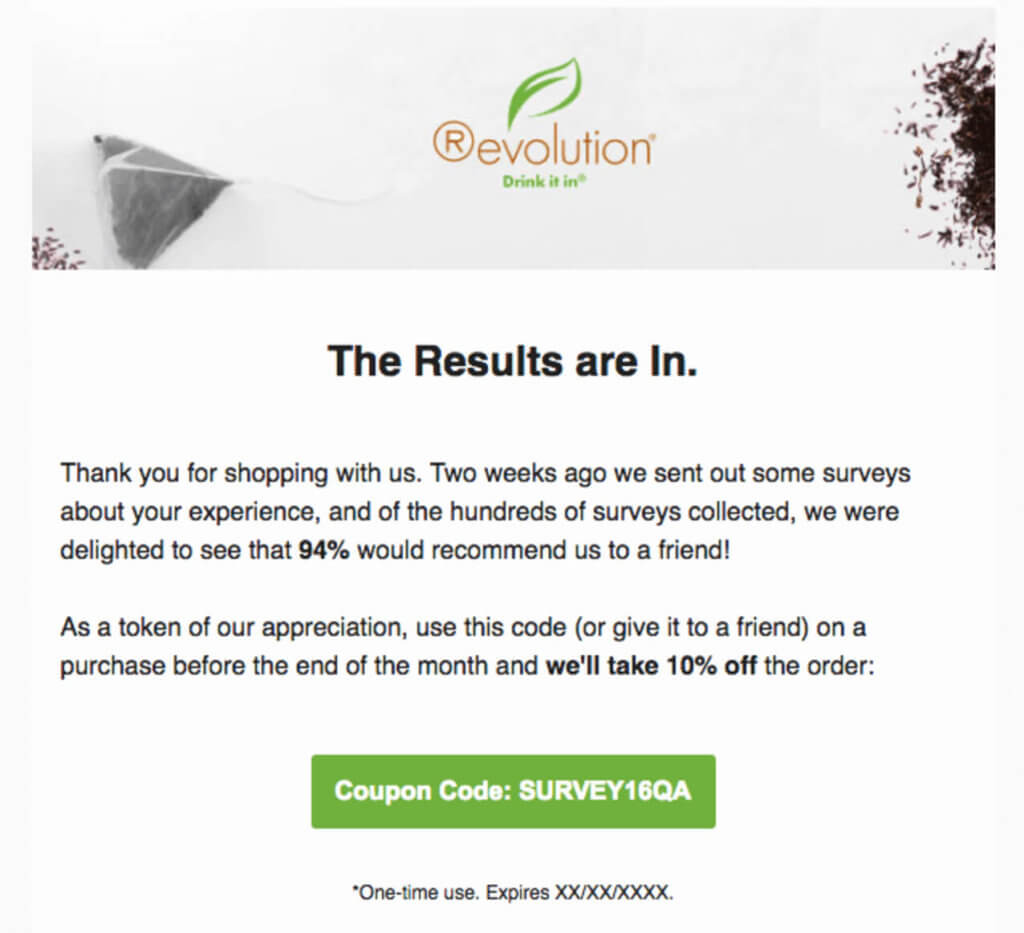 The conversion opportunities here are huge. Getting repeat customers is hugely important, with a 5% increase in customer retention leading to as much as a 75% increase in profitability. Additionally, repeat customers, on average, spend 67% more than new customers.
You've already spent the money to acquire a new customer. You could spend the same time and effort to acquire another new customer or much less time and money to keep the same one.
This final email is crucial for customer retention. When a customer re-orders, they become that goldmine that is the repeat customer.
Don't Waste Post-Purchase Emails
A post-purchase email sequence is a terrible thing to waste. You have a unique opportunity to convert a new customer into a recurring customer, and once that opportunity passes, you have to work doubly hard to get it again.
These email sequences aren't particularly difficult to create. Most email marketing services, such as Bronto, ActiveCampaign, SendGrid, and others can accommodate them. It simply takes a little bit of time and creativity.
Post-purchase emails are hugely underrated and can become one of the most powerful tools in your digital marketing toolbox. They can increase your revenue, boost your customer engagement, and actually reduce overall marketing expenses.
Isn't it time to stop giving them the Harry Potter treatment?
What else can we help you with?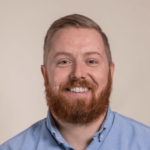 About the Author
David Hoos
David Hoos is the former Director of Marketing at The Good, conversion rate experts who deliver more revenues, customers, and leads. David and the team at The Good have made a practice of advising brands on how to see online revenue double through their conversion rate optimization services.