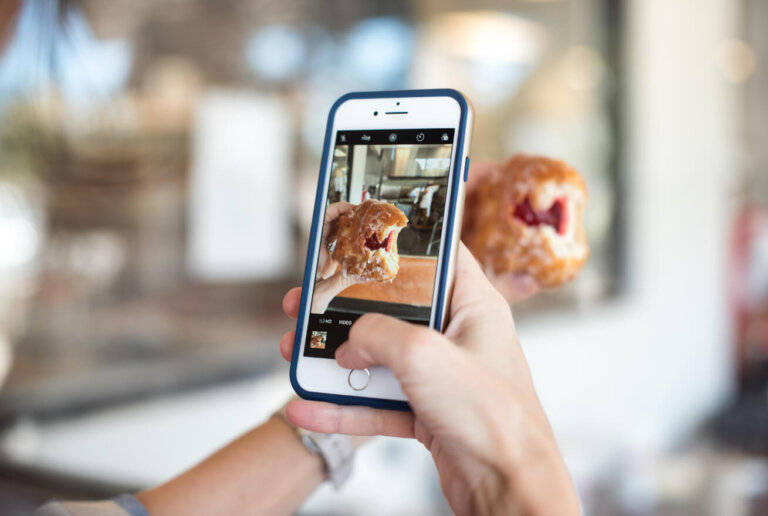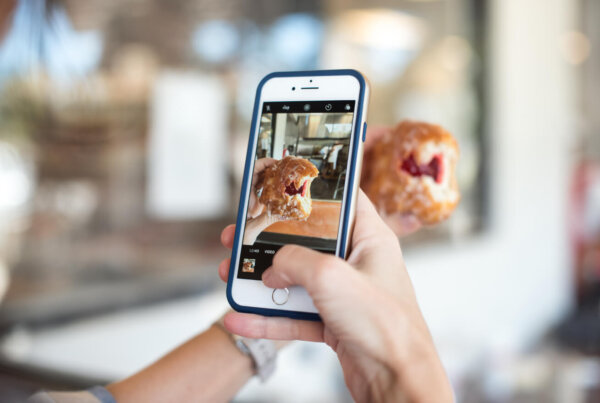 Conversion Rate Optimization
Leveraging Social Proof (in 2020) to Improve Your Conversion Rate
Social proof is one of the most powerful tools of persuasion a brand can employ. Getting others to promote you is infinitely more effective than promoting yourself.
Making a purchase is a journey, not an isolated event. That's why sales tactics that focus on pushing for a decision right away typically draw either a "Let me think about it" or end up with a cancelled order.
Even a well-informed, considered decision is stressful, though. That's why offering free trials or money-back guarantees are important. Those who feel confident they're making the right choice are happy buyers and willing to share it with their friends, resulting in social proof.
Ecommerce websites should make buying their products or services the next logical step on the buying journey. Lead the prospect to a "no-brainer" decision – one that is easy to make and easy to accomplish.
In this article, let's consider how to use one of the most powerful tools of persuasion sellers can employ. Getting others to promote you is infinitely more effective than promoting yourself. Here are nine effective ways to leverage social proof on your site.
Why is social proof effective?
Implementing social proof on your site can be one of the most effective methods for increasing your overall conversion rate. 61% of customers read online reviews before choosing to buy a product or service.
If everyone is buzzing about a newly-released movie, and I'm hearing nothing but recommendations to go see it, I'm quite likely to go. On the other hand, if the reviews are sour and my friends tell me the movie was a waste of time and money, I'm much less likely to go.
Human beings are social creatures. We want to fit in. We want to be accepted and admired. We don't want to look foolish or make mistakes. Our tendency is to do what others are doing, even if we pride ourselves on individuality.
Social proof is evidence that something is popular – that others have endorsed it. By creatively and soundly displaying social proof, ecommerce website managers can stack the deck in their favor and get more sales.
After all, claims by the seller or manufacturer are suspect. Buyers are used to marketing hype. When other consumers are raving about your company, though, the prospect is more inclined to accept that "social proof" as fact.
Types of social proof
Here's how to generate social proof online to capitalize on its ability to get consumers to believe that what you say is true and what you offer is valuable:
1. Reviews from purchasers
Product reviews are regarded as one of the most effective forms of social proof to utilize on ecommerce sites. Nearly 95% of shoppers read online reviews before making a purchase, and the purchase probability for a product with five reviews is 270% greater than the purchase probability of a product without them.
The bottom line is: If your website doesn't include customer reviews somewhere on the product page, you're losing a substantial amount of business.
LuluLemon makes great use of social proof tactic by going as far as having users create a short bio before they write a review. The bio includes basic information about the customer (athletic type, age) so users can find a review from someone that has a similar body type to them. They even provide the option to filter through reviews so you quickly find the reviews that will be most relevant to you.


Related Resource:
2. Customer testimonials
Requesting testimonials from your past customers can be a great way to build credibility and trust with your audience. These differ from product reviews in the way they are presented. Testimonials are concise recommendations that are placed in call-out format. If reviews are the backbone of social proof, testimonials are the face. Mixing in video testimonials with your written testimonials is a particularly powerful tactic.
Subscribe to our newsletter to get more just like it, sent straight to your inbox every week.
Monday utilize client testimonials through video interviews they conducted with past clients. Instead of using a simple quote from the customer, they created videos that go much more in-depth with the client about what made the product so great, and why others should try it.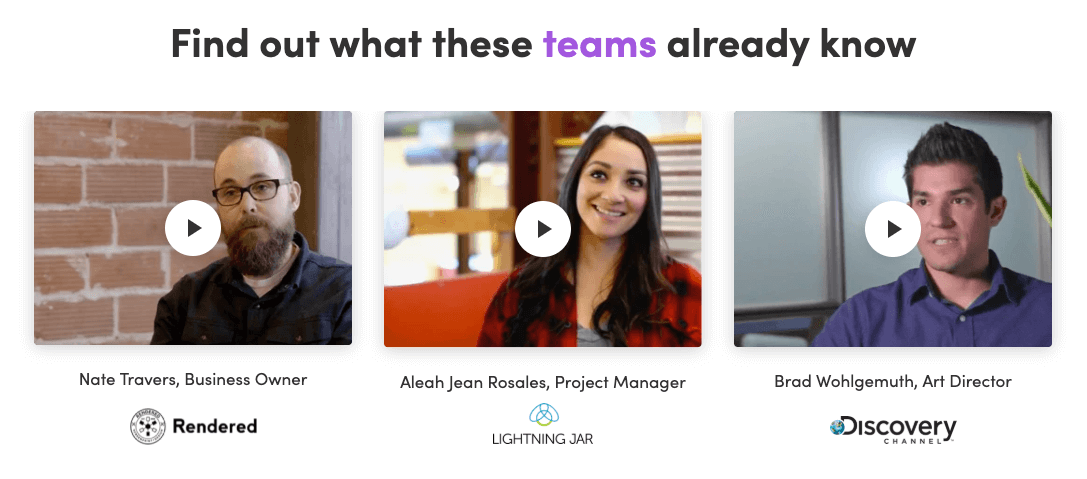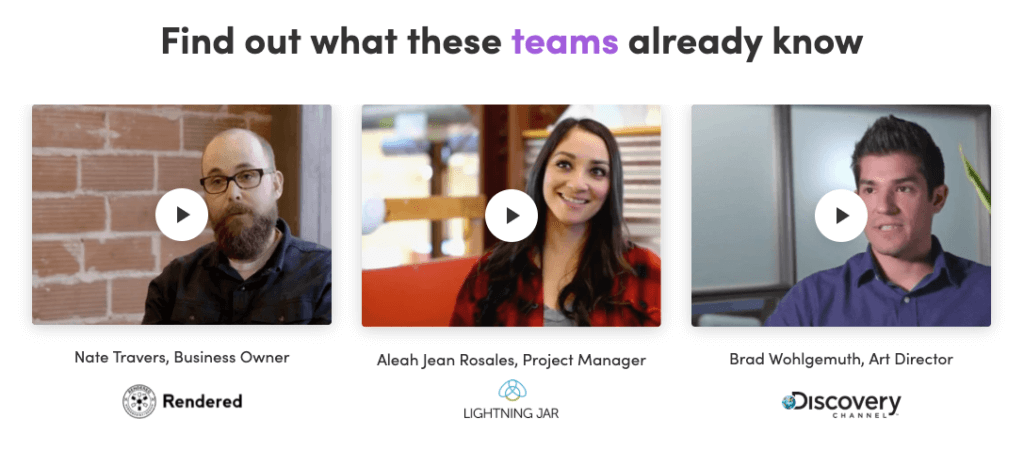 3. Celebrity and influencer endorsements
89% of marketers say ROI from influencer marketing is comparable to or better than other marketing channels. Clearly celebrity and influencer endorsements can be a very effective form of social proof, but it depends upon the types of products you're selling and the influencers you're selecting.
The key thing to understand with endorsements is that it doesn't matter how popular or famous the influencer you enlist is, just as long you find someone who is a celebrity to the people who use your product or service.
Note how Post Planner (see below) combines the testimonial format with celebrity endorsements. Not everyone knows (for example) who Kim Garst is, but those who are power users of social media (Post Planner's prime audience) definitely know Kim.

4. Wisdom of the crowd
The concept that a large group of people are collectively smarter and more trust-worthy than a singular expert. This form of social proof speaks to the popularity of a product, and our sense of FOMO (Fear of Missing Out). Just like the "most popular dishes" section in the menu at a restaurant, the "best-selling products" section in an ecommerce store typically maintain the highest sales volume. If you have the numbers to back-up the success of what you're selling, capitalize on that.
Take the example below from Quip. "Over 2 million mouths and counting" is a simple but effective way of conveying how many other people use and enjoy Quip's products. They cleverly back their statement up by displaying instagram posts directly below from happy customers.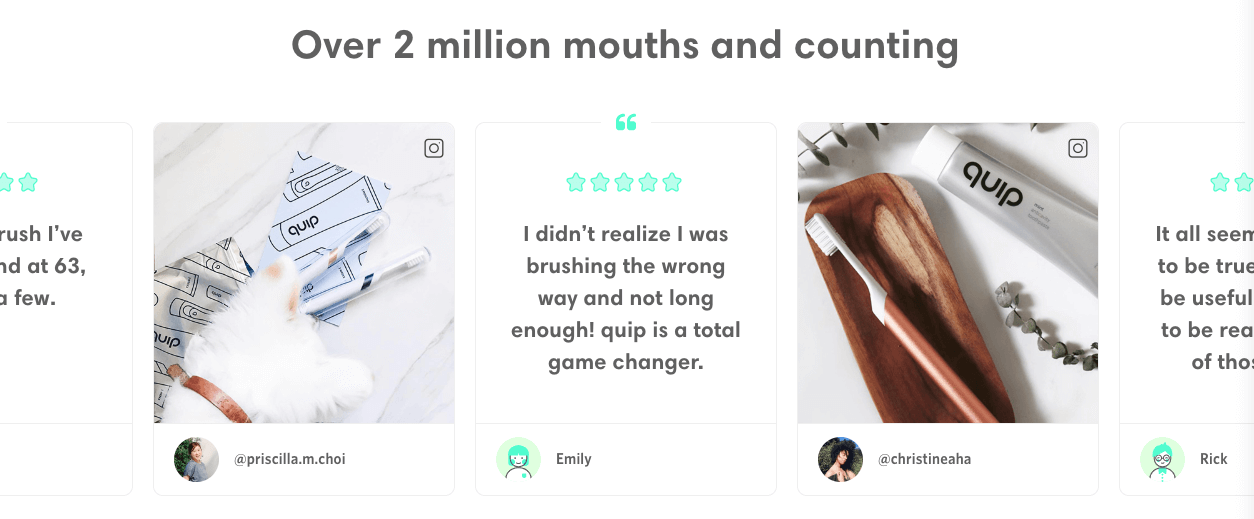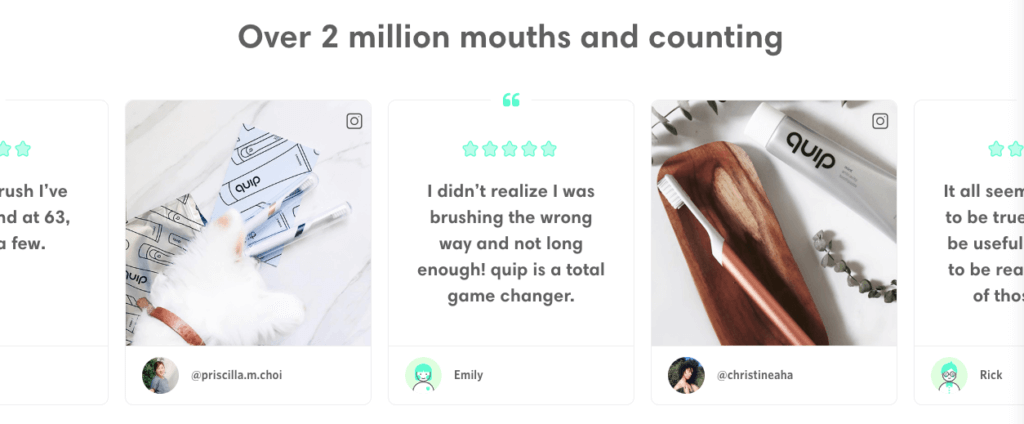 5. Earned media and press
If your company's been endorsed by recognizable media brands, you should definitely be leveraging this earned media on the homepage of your site.
Casper displays their press coverage front-and-center on their homepage. When you have glowing reviews from popular, well-respected media outlets, that leaves an impression on your prospective customers that will definitely have an influence on their decision to purchase.

6. Certification and trust badges
Certification and trust seals have been a time-tested method of implementing social proof on ecommerce websites. Statistics from Actual Insights showed that trust logos actually increased the perceived trustworthiness of a brand in 75% of respondents.
Baymard Institute conducted a study to determine the most effective trust badge to use on an ecommerce website. Although Norton beat the other contenders out by a long-shot, it's important to understand that your customers may respond differently to different trust badges. This is where testing comes into play. Experiment with different trust badges on your site to see how (if at all) customers will react to them.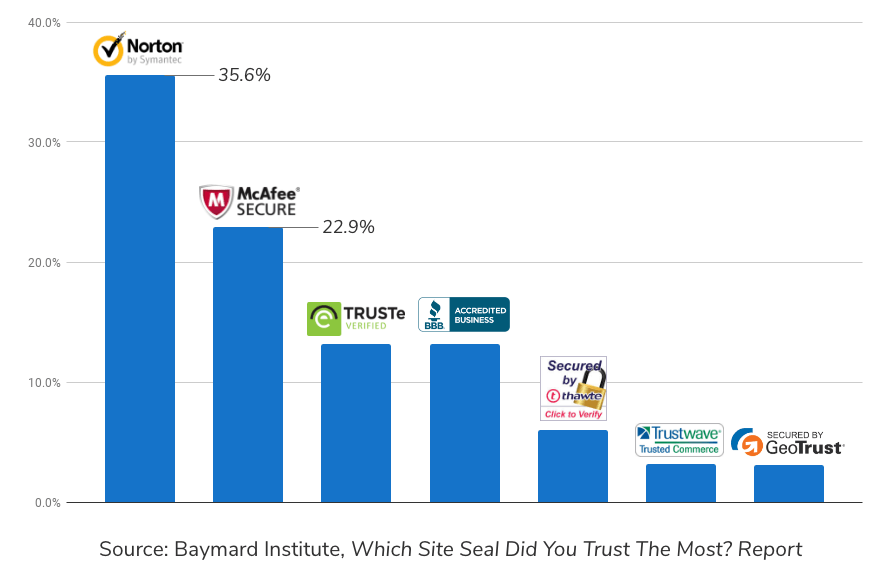 7. User-generated content
User-generated content (UGC) is an umbrella term used to describe any content that your customers are creating about you. This content can take a variety of different forms including social media posts, in-depth video reviews, blog reviews, or even a podcast mentioning your brand/product.
With over 1 billion users monthly active users, Instagram has quickly grown to be one of the best sources of user-generated content for brands. It ranks as the most effective and impactful social media platform to develop your brand or promote a product on. Many brands have started to utilize customer-created Instagram content for their product detail pages, and even on homepages.
A report from Hubspot identified social media posts as the most popular form of content that customers want to see from brands. If your not leveraging the content your customers are producing for you, you're leaving a lot of money on the table.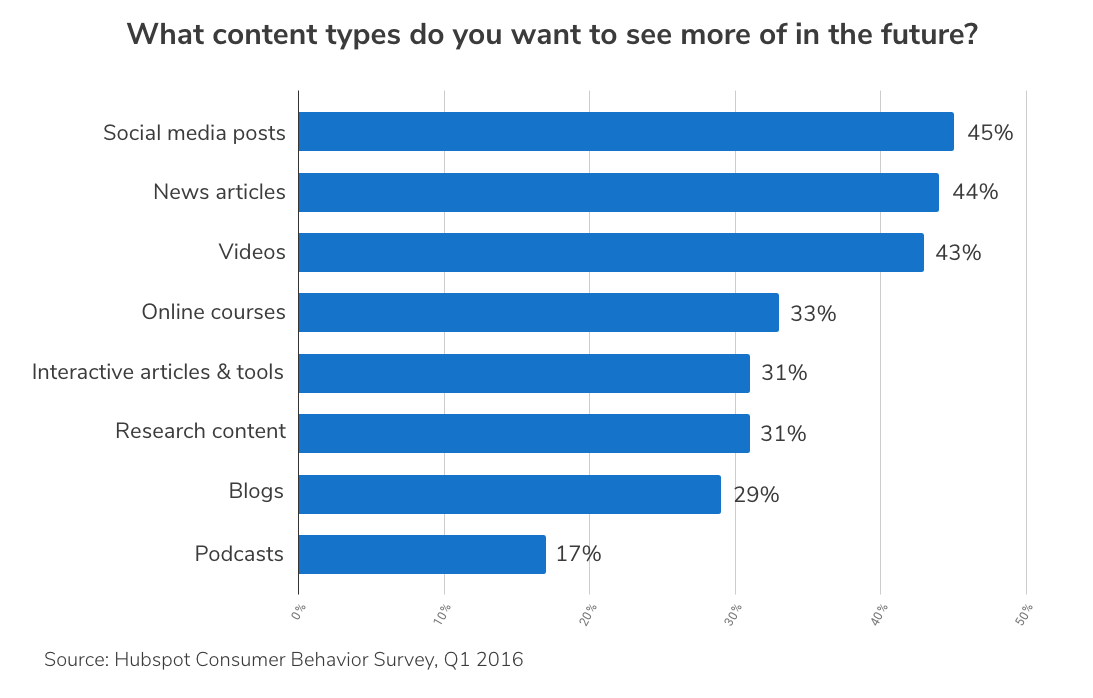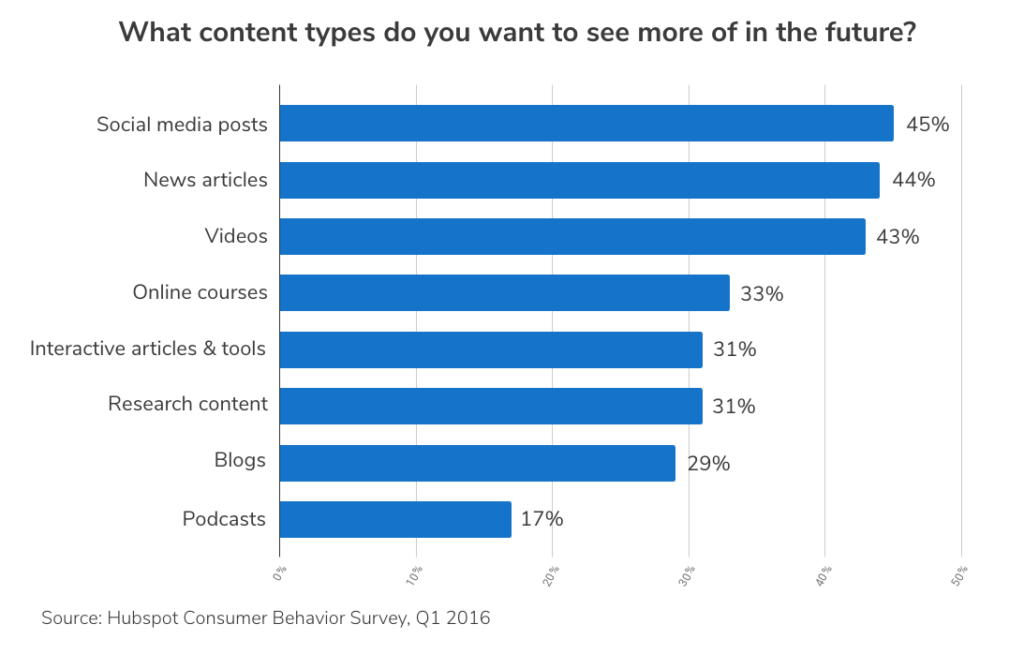 Related Resources:
8. Expert approval
Receiving a stamp of approval from an expert or thought-leader in your industry can carry a lot of weight. Being able to reinforce the quality of your product/service through an expert's recommendation is especially impactful if you're selling products that customers will typically research before purchasing (mattresses, footwear, supplements).
Consider the skincare industry. Many leading skincare brands have leaned on the "dermatologist recommended" statement of social proof to sell products, and it's worked. Identify the experts that your customers respect and listen to, and send them some of your product.
9. Client logos
If you've helped other companies build their business, display their logos to potential clients. At The Good, for example, we're proud of the work we've done for companies like Nike, Bell Helmets, Xerox, and others.
Note (below) how we stack on more benefit to social proof by not only citing client names, but adding numbers showing the revenue gains those companies realized from our services.


Social proof is here to help
Our aim here has been to get you thinking about additional ways you can incorporate social proof on your ecommerce website. At its core, social proof is simply homegrown advertising. It is providing a way for your customers to shout your praises, then encouraging them to do so.
Social proof is word-of-mouth advertising. That's why many businesses figure they don't have to do anything to get social proof. And while that's true on a small scale, it's not true on a large scale. The best ecommerce and lead generation sites include the cultivation of social proof in their marketing strategy, then develop ways to implement that strategy.
If you're actively looking for ways to improve the conversion rate of your site but don't know where to start, request a free landing page assessment from us. In our assessment we'll take a close look at your site and identify key areas where you can improve your customer experience and optimize your site's ability to convert visitors into buyers.
Want a free landing page teardown?
We'll provide a data-driven critique of the usability and effectiveness of your site free of charge.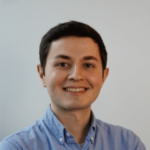 About the Author
Rudy Klobas
Rudy Klobas regularly works to produce insightful, informative content and copywriting designed to help ecommerce leaders increase conversions.