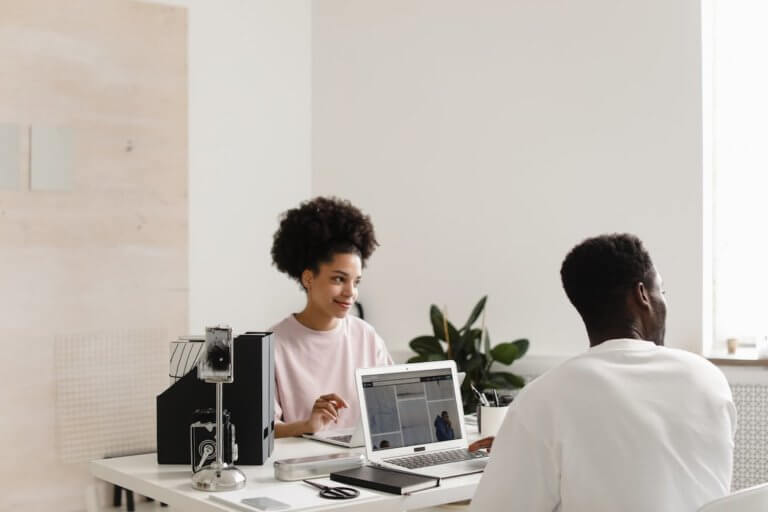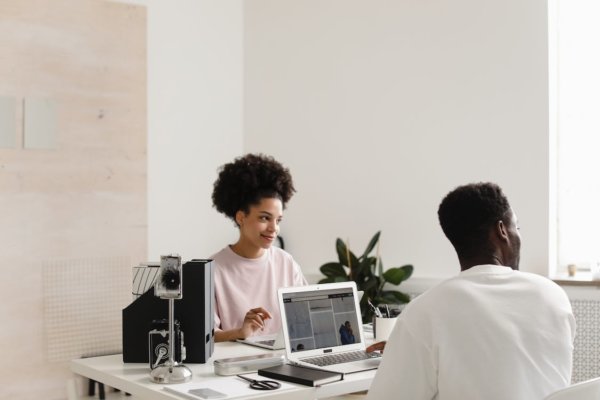 Customer Experience
How to Personalize Your Ecommerce Marketing Strategy with Product Recommendation Quizzes
Incorporating product recommendation quizzes into your personalization strategy boosts average order value and conversions. Here's how to get started.
Key Takeaways
By the end of this article, you should have the knowledge and resources to "check the box" in these areas…
How to personalize your ecommerce customer experience with a product recommendation quiz

Implementation strategies for product recommendation quizzes that drive engagement and sales

The winning product recommendation quizzes of 6 ecommerce brands
This blog is inspired by our podcast episode with Ben Parr, president, and co-founder of Octane AI. Listen to the full episode to learn how shoppable quizzes that personalize product recommendations can accelerate ecommerce growth.
Did you know that 80% of consumers are more likely to buy from a business that offers a personalized experience? Product recommendation quizzes are a great way to incorporate personalization into your business to guarantee a tailor-made experience for your customers.
Even if users are just "window" shopping on your site, quizzes can be a fun way to recommend products, provide a 1:1 experience, and push a potential customer closer to purchase.
Here's how you can get started.
What is a Product Recommendation Quiz?
A product recommendation quiz is precisely what it sounds like: a quiz that recommends products. It is an interactive tool that asks your website visitor a series of questions related to your brand.
The end result? A tailored product recommendation based on their responses.
These personalized recommendations help potential customers find the exact products that are right for them.
Why Are Product Recommendation Quizzes Important?
Product recommendation quizzes, and personalization in general, work towards building a better personalized and 1:1 customer experience.
Think of it as a guidebook for customers on what to buy from your site.
Product recommendation quizzes show customers how your product will solve their specific problems and makes the purchasing journey an efficient and pleasant experience.
Potential customers love product quizzes because they can:
Have some fun on your website
Understand how your product will serve their specific needs
Self-service to find answers to questions in minutes
Avoid waiting on hold or talking to customer service when trying to find the right product for them
How To Get Started on Your Product Recommendation Quiz
Again, think of personalization (and product recommendation quizzes) as a guidebook leading customers to the perfect product for them.
What questions do your customers have? And how can you answer them with a quiz?
We chatted with Ben Parr, President, and Co-Founder of Octane AI, on our podcast. Octane AI is a conversational quiz tool that integrates directly with platforms like Shopify to drive conversions through personalization, making Ben an expert on the topic.
He shared with us some of the thinking behind product recommendation quizzes. The real pain point they hope to solve is high bounce rates and increases in abandoned carts. Ben believes that people are "dropping off because they don't know what to buy. They're not being given any guidance."
That's where a personalized quiz comes in to save the day and be the aforementioned guidebook for your customer.
Before you begin building your quiz, it's important to understand where and why your customers are getting stuck. Do a bit of customer research to find out what kind of quiz would be most helpful to shoppers.
You're ultimately trying to guide them to the product they might not even know they want.
Here are some ideas to get your research started:
Collect common questions from customers
Find drop-off points in the conversion funnel
Ask customers what their goals are for your product
Evaluate what ways you can assist your customers in reaching their goals
Remember, an effective product recommendation quiz is a one-way ticket to your site and your products. Ultimately your quiz should solve customer pain points, deliver the perfect product recommendation, and create a better customer experience. As an added benefit, you'll likely see a decrease in customer churn and an increase in conversions!
Quick Tips For Creating a Great Product Recommendation Quiz
Quizzes are successful because they are convenient. That said, when it doesn't work well, the experience can become frustrating and turn customers off. This may leave them with a negative impression, and a customer's experience can quickly turn unpleasant.
Before you begin making your quiz, consider these 7 important elements:
Short quizzes don't necessarily convert better
I know it might seem counterintuitive, but building a short quiz can actually prevent users from converting. In our conversation with Ben, he mentioned people want a variety of questions since you can't give a decent result in a quiz unless you locate the problem and provide a solution. This process commonly requires more than one question and answer for a thorough outcome.
Establish your quiz goals and implement objectives accordingly
Before creating your quiz, evaluate the factors and items you want to include. You can craft questions in the customer's language that will collect relevant data for your company. All while giving you the info you need to recommend the right product.
Ask for their email address
Not all quiz takers will end up buying the product you recommend to them. However, if you ask for their email address at the end of the quiz, you'll be able to re-target your potential customer with other offers.
Include a progress bar
Appeal to customers by showing their progress on the quiz. You'll be able to keep them from dropping the quiz if they know how much time and commitment they'll have to put in.
Recommend products that serve the customer and your business
If there are specific products you want to market more than others or there are products that are lacking revenue, include them in your quizzes! It's a great way to build more familiarity with those products.
Collect data and build a better customer experience
Quizzes let you collect actionable data by asking your customers targeted questions. As you collect data about your customers, you can use it to make better user experience designs and build exciting, personalized customer experiences.
Subscribe to our newsletter to get more just like it, sent straight to your inbox every week.
6 Examples of Winning Ecommerce Product Recommendation Quizzes
Quizzes won't look the same for every brand. Each quiz has its own unique questions and personalized style. Here are a few examples to inspire your development:
1. Doe Lashes
Doe lashes has a unique feature that allows you to take a selfie and its software will automatically identify your eye shape.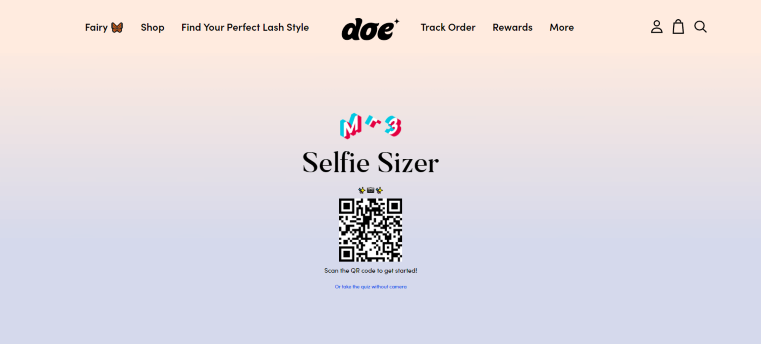 This feature is not only effective because it's fun and interactive for the quiz-taker, but it also guides potential customers to the eyelash product that fits their eyes best. It builds confidence that the product will look good, even though the shopper can't see it live.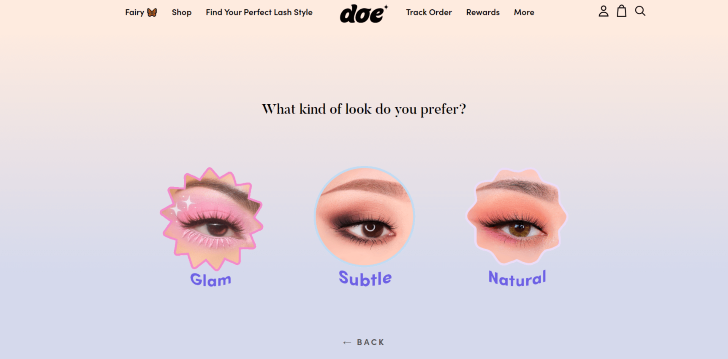 2. Jones Road
Jones Road, a beauty brand by the makeup legend Bobbi Brown, has multiple quizzes on its website. Each identifies the right shade of a specific product for the user. 
By sharing a quiz for each of its flagship products, the brand emphasizes the nuanced nature of its product shades and offers customers a truly personalized experience.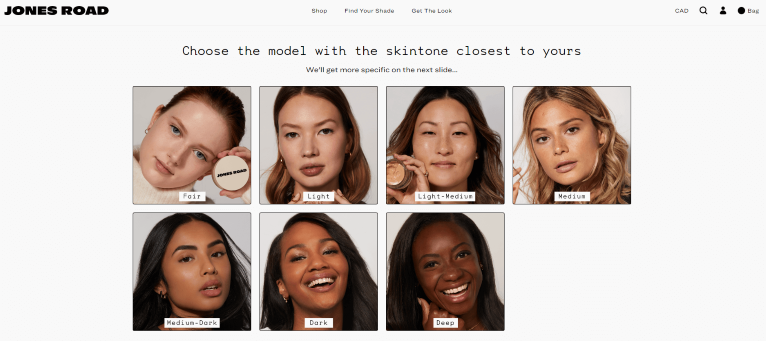 The brand also asks for the quiz-takers' email before giving them the result. They're then able to re-target shoppers with other offers in their shade.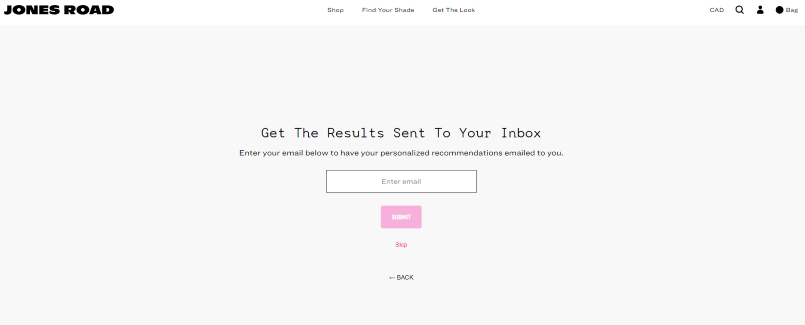 3. Prose
Prose's quiz helps shoppers find the right hair products. Beyond offering a comprehensive and thorough sequence of questions, the brand goes a step further by offering contextual information to curious customers.
For example, shoppers can click sidebars with "why do we ask this?" or "pictures for visual learners" for a more friendly and inclusive user experience.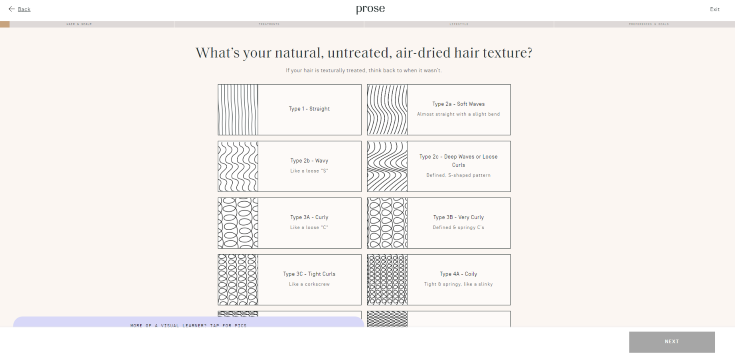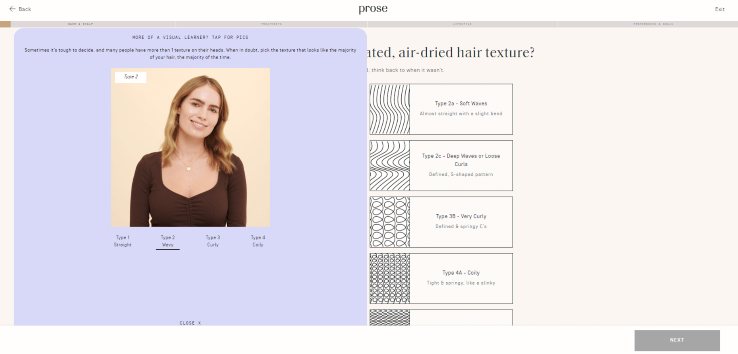 4. BeautyBio
BeautyBio takes its visitors through a virtual experience called the Virtual Consultation Quiz.
By marketing its quiz as a consultation, BeautyBio is successfully reaching its target market through a familiar service term in the skin-care world.
This quiz really works for both shoppers and the business. BeautyBio saw a 28% increase in average order value from using product recommendation quizzes on their website.
5. Skinny Mixes
Skinny Mixes, a company selling syrups and mocktails, helps users find the drink via its quiz. During the online experience, it also offers drink recipes and sweetens the deal with discount codes.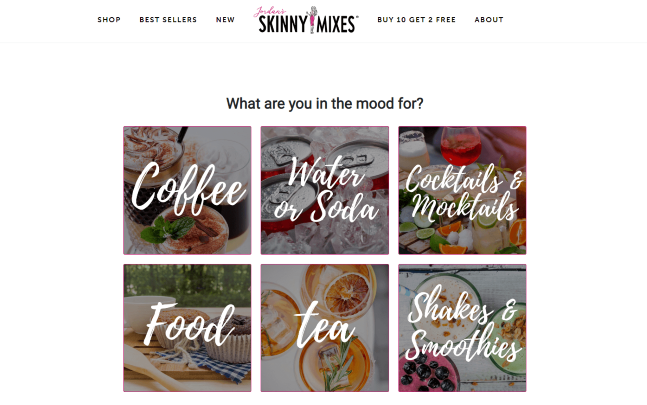 There's proof in the numbers. Skinny Mixes made over $1.7 million through product recommendation quizzes in the past year. Now quizzes generate over 30% of their online revenue.
6. The Farmer's Dog
The Farmer's Dog quizzes shoppers, and as a result, offers a custom meal plan for their fur baby. 
Highlights of the quiz include input options for users and their dog's name for a more personalized experience, a time estimate and progress bar, and strong imagery to engage shoppers.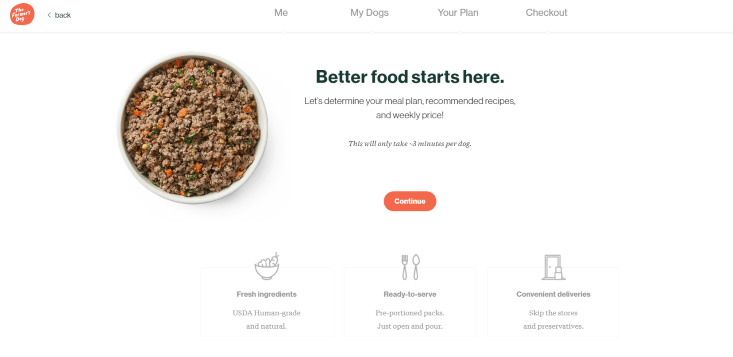 Increase Conversions With a Product Recommendation Quiz
Through user testing and customer interviews, you will learn more about your audience.
Knowing your audience improves your chances of delivering them the perfect product match.
This is a win-win scenario for the consumer and the brand. They have a pleasant, efficient experience on your site while you convert more visitors into buyers.
As our friend Ben Parr says, "A better experience for the customer makes a better experience with the brand. That's one of the things that excites me so much about the shoppable quiz in general; it's just a better experience for the end customer, which flows into everything else."
With the right implementation, product recommendation quizzes may be a great addition to your personalization strategy.
Subscribe to our newsletter to get more just like it, sent straight to your inbox every week.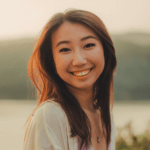 About the Author
Joanne Wu
Joanne is a former marketing intern at The Good. Her interest and knowledge of psychology, human behavior, and marketing strategy inform her written insights.