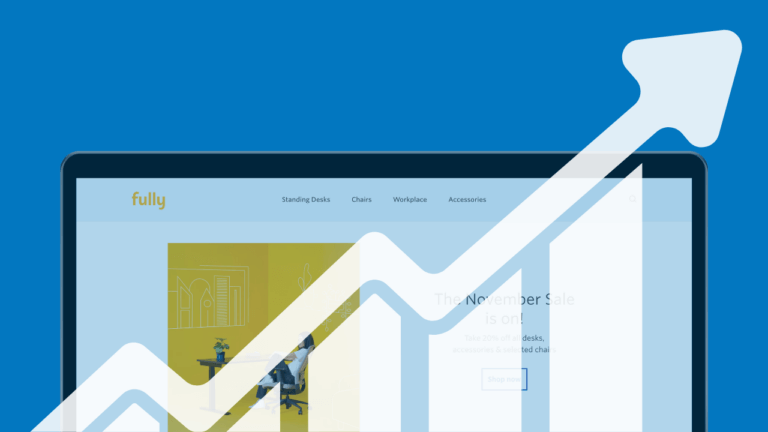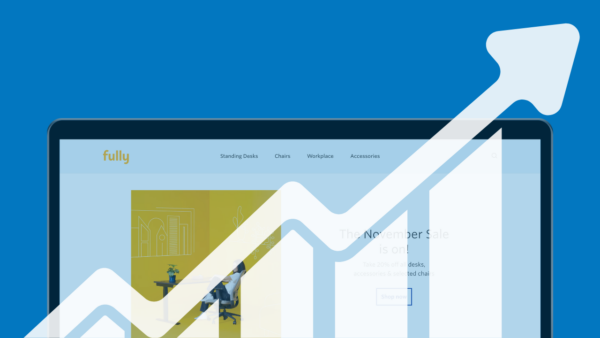 Conversion Rate Optimization
How Andy Lightman's Ecommerce Philosophy Created Millions in Revenue
Andy Lightman, expert marketer and ecommerce leader, built an effective growth engine that contributed to more than doubling Fully's ecommerce business. He is sharing his pointers for keeping a team focused on measurable business outcomes.
The most successful ecommerce brands understand the importance of iterative optimizations and data-based decision-making.
Brands that adopt those principles do well. Brands that resist them tend to struggle.
Andy Lightman, ecommerce and marketing expert, knows this well.
His leadership and mindset created an effective growth engine that contributed to more than doubling Fully's ecommerce business. So, we asked Andy to share his pointers on strategizing for success and keeping a team focused on measurable business outcomes.
A Standout Ecommerce Leader With A Challenge
Meet Andy Lightman. Experienced ecommerce and marketing leader with a stacked resume from Fully, TripAdvisor, and more, Andy handles the entire gamut. He finds quality traffic, converts those visitors into buyers, and grows customer lifetime value.
When you work with Andy, no levers are ignored. He looks at short-term revenue boosters, like promotions, and long-term optimizations, like improvements to the customer journey.
Andy takes a holistic approach to ecommerce management, but when he was hired as the first and only ecommerce team member at Fully, Andy had to start at square one.
Three years later, tasked with migrating off an out-of-date ecommerce platform, his job was to build a new website and stand up a team to support it. And how he approached the project is a great metaphor for what makes Andy such a standout ecommerce leader.
The new site would live on Magento 2, an ecommerce platform, similar to Shopify, but open-source and highly customizable. As he began work on the new website, Andy realized they were relying on a lot of "wisdom" that couldn't be supported by data. There was no shortage of opinions on what checkout should look like, how the product customizer should function, and how the website should look and feel.
This led to Andy's movement of clarity. "I realized we were never going to do it perfectly," he says. "We could end up using half our development budget on building something that doesn't perform. Ultimately, we agreed to just launch and then test the heck out of it. We didn't want to overburden the development pipeline with projects that don't have a financial impact."
So, they launched their minimum viable website without fussing over making everything perfect. Andy decided to A/B test their way into greatness and let "goodness" be enough at launch. Over time, he knew tiny improvements would stack up.
How To Stay Focused On Measurable Business Outcomes
Andy's laser focus on projects that have a financial impact goes beyond the website launch at Fully.
In theory, it seems obvious that an ecommerce leader should be focused on measurable business outcomes. But in practice, it's easy to get distracted by endless priorities and stakeholder opinions.
To avoid falling victim to those priorities and opinions, Andy did a few things to keep the focus on what matters and build a team that does the same.
Leverage The Right Data
When Andy joins a company, his first priority is getting clean data. For example, as Fully's solo ecommerce team member, his first task was to set a strong foundation about the current website and customer behaviors.
"There's an underpinning of data that we use to help us understand the business, moment to moment," he says. "We're able to see operationalized decision-making in a short period of time."
This lets whatever brand he's working with identify what's working so they can dial it up quickly, and what doesn't work so they can back off before investing too much time or money. He monitors everything through a series of custom reports and dashboards.
He doesn't rely on hunches or his gut instinct. He uses best practices as a starting place and then runs experiments to achieve incremental changes. He understands the importance of basing decisions on data.
Build A Team Focused On Moving The Needle
Ask any leader about their biggest challenges and they will usually mention something along the lines of finding the best people. Building a strong team can produce meteoric success. But a weak team can stall growth for months or years, especially if those team members aren't aligned with the organization's philosophy.
So, how did Andy end up with a team that not only supported his ideas but also helped drive the overall growth of the business?
He focused on hiring for the main levers to driving revenue: increasing traffic, increasing conversions, and increasing AOV.
The first person Andy hired was a performance marketing specialist. This person was in charge of search and social advertising campaigns, as well as competitive intelligence. He wanted someone in charge of bringing in traffic so they had a bigger pool of customers to build relationships with.
The next hire was a product manager. But in this case, the product was the website. This person was in charge of managing and implementing new website features.
Next, he hired content and merchandising specialists who would build products, update pages, set up promotions, and manage the appearance of the website. And all the while he worked closely with marketing and business leaders to build out competencies in SEO, email marketing, affiliate and partnerships to keep the traffic flow strong.
Each hire was strategic and circled back to the idea that Traffic x Conversions x AOV = Revenue.
Permeate A Culture of Prioritizing Based On Business Outcomes
The next actionable tactic Andy used was to make sure there was a culture of prioritization based on business outcomes. Rather than getting distracted by all the small wants and needs of the stakeholders, establish clear goals that you can collectively work towards.
There is proof in numbers. Brands can achieve growth by focusing their time and resources on the things that are verified to make an impact on the business.
In practice, this looked like Andy keeping his group of specialists connected to other teams, as many of the biggest problems require action from multiple departments.
"The thing that's been incredibly successful, both at Fully and also in my experiences working for TripAdvisor, is the need to be connected across teams," Andy said. "Rarely a day goes by where I don't speak with other teams. I work closely with marketing, merchandising, customer service, IT, accounting and finance, and our B2B sales team."
Find The Balance Between Focusing on Frontend Improvements & Systemic Infrastructure
In order to prioritize business outcomes, Andy understood that he needed a balance of focus between the front-end improvements that drive revenue and systemic infrastructure that supports general business health.
At Fully, SKUs were complex, often consisting of multiple sub-products that got assembled into a final product. It required careful coordination on the data systems level with marketing, accounting, and fulfillment. At the scale Fully operated, a few mistakes can spiral out of control.
Andy's philosophy is to tackle projects that create the biggest impact, but this prioritization system has caused moments of tension and frustration when his team couldn't address someone's issue right away.
In these cases, the only way to be effective is with transparency and honest communication about that prioritization process. He had to be willing to make prioritization decisions and then defend those decisions to anyone in the organization.
"I think that when you're transparent with other people, they tend to be understanding back," he told us.
"You don't have a million hours a week to do all the things [you want to do]," Andy said. So you have to be honest within the team and with the rest of the organization and the stakeholders about how long things are gonna take. Sometimes you have to acknowledge that you hear their concerns about a particular problem, and then explain that you have more significant issues with bigger financial impacts."
This model requires extremely clear communication. Andy likes to designate single points of contact for projects. For instance, if one of his product managers is working on an A/B test, all information regarding that test flows through that product manager. This keeps things simple and clear.
Leverage External Partnerships & Agencies As Needed
Another strategy Andy uses to prioritize work that moves the needle for the business is to leverage external partnerships and agencies. He smartly recognizes that outsourcing certain functions gives him access to skills and expertise he couldn't afford to hire for directly, and knows that spending on an external partner could save money in the long run.
For example, Andy knew he wanted to allocate development spend only on revenue-driving projects. In order to figure out what those projects were, he developed an A/B testing program with support from The Good.
One of the biggest changes Andy and his team made through experimentation was to the checkout system. They studied data from reputable sources like Bayard, examined checkout systems from major brands like Shopify, and then used their learning as hypotheses to run their own tests.
The result was a drastically overhauled checkout process. "We tweaked and fine-tuned everything in checkout. We looked at the impact of consolidating fields, a 'next' button versus scrolling, breadcrumbs vs. no breadcrumbs, and countless other factors."
Andy and his team could play with all the different ideas they had for the ecommerce site, but only execute and develop those that were proven to drive results.
Beyond the checkout process, product pages and checkout flows were the first areas of improvement. Then focus shifted to navigation and categorization. Finally to smaller projects and refinements.
Each piece of qualitative and quantitative research helps create a bank of knowledge. Over time, we learned what the customers like and what they don't, which makes future experiments more effective.
The external partnership with agencies like The Good meant he could use his development spend wisely and learn more about his customers in the process.
A Strong Team & Iterative Optimization Leads to Great Results
Under Andy's leadership, Fully had enormous success. He built a strong team, focused on key measurable business outcomes, and iterated his way to ecommerce growth.
Fully's product customizer is an excellent example of this success in action.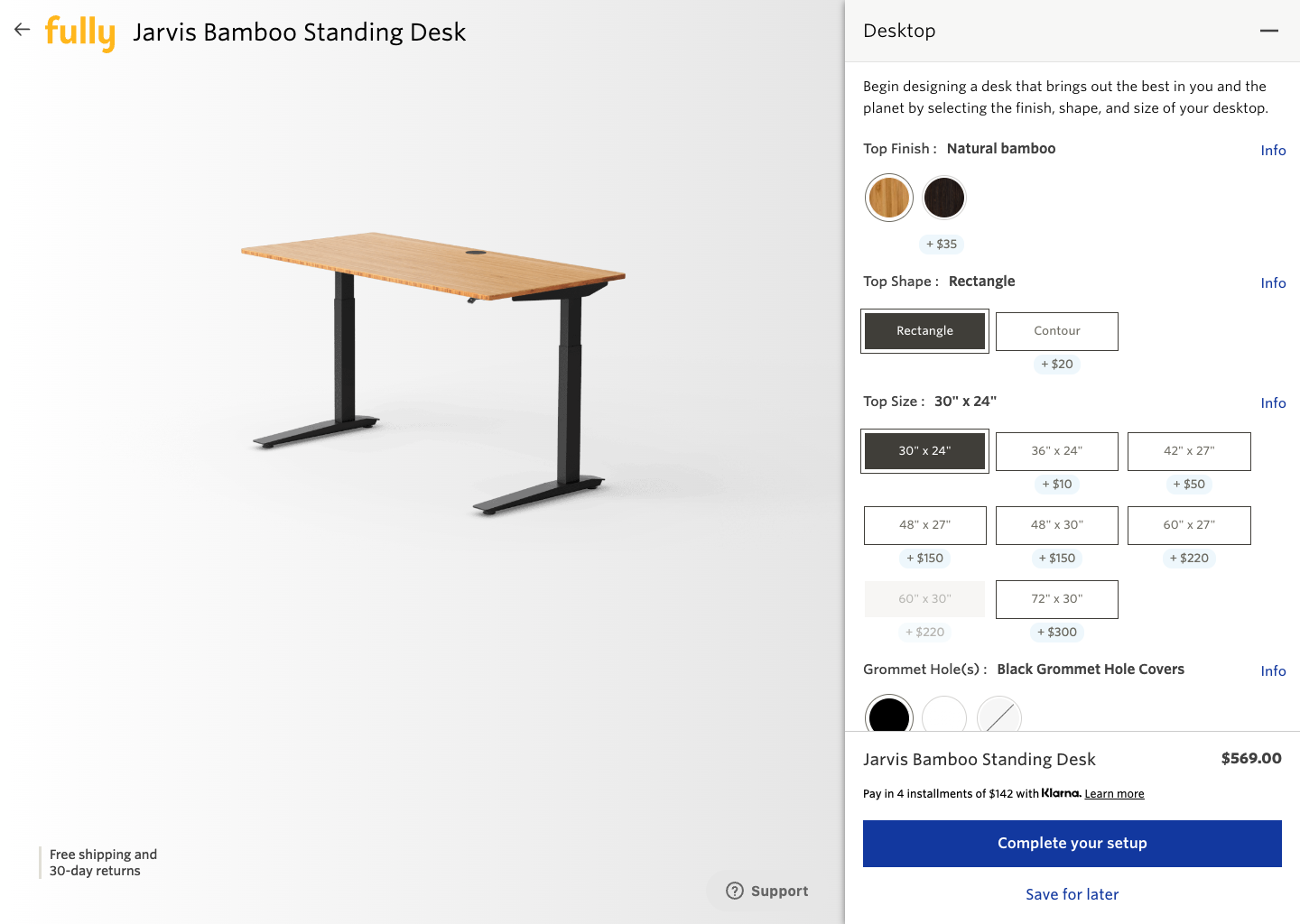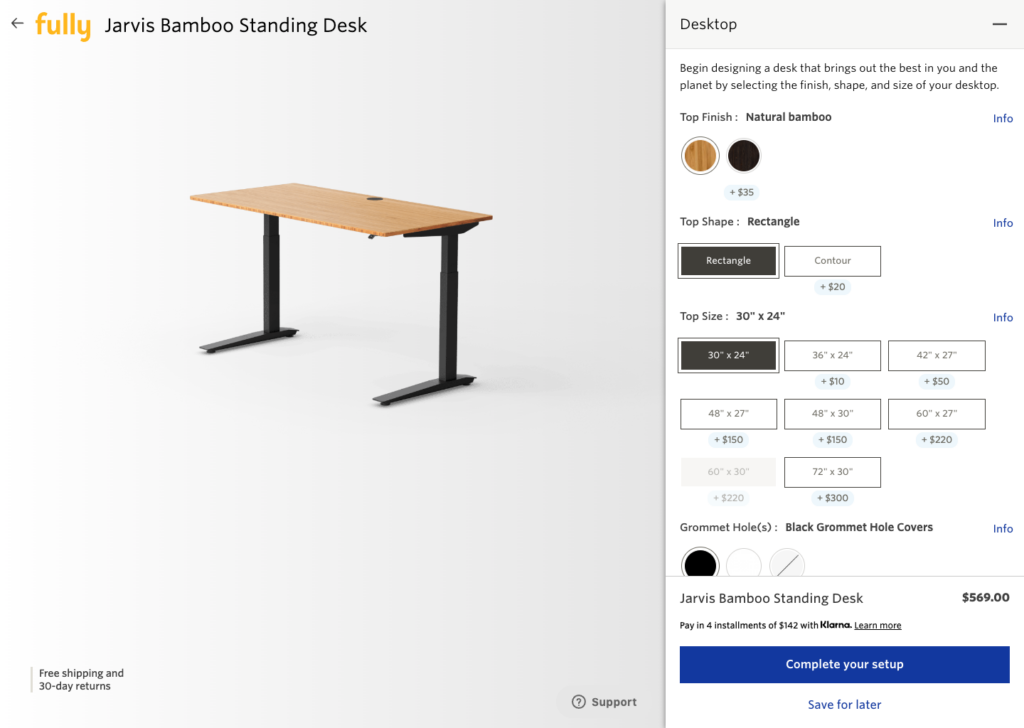 Andy understands the importance of personalization, especially for stores with lots of SKUs, high dollar values, and products that inhabit the physical spaces we see every day.
Many of Fully's products are configurable. Customers can choose components, materials, colors, sizes, and other attributes. For instance, you could have wire management holes added to a desk.
Presenting endless options to customers in a frictionless way is obviously a challenge. It's also complex in the back end. Inventory and fulfillment are a careful balance.
"When you have such a complex thing that you need to handle as a business, the inclination is to make it as easy as possible for the business to handle," Andy says. "But really, none of this works unless the customer finds it fun, engaging, or frictionless."
In the end, Andy focused on the customer and their experience. He figured if sales were coming in, the business would figure out how to fulfill those transactions.
So, Andy and his team (with support from The Good) learned to leverage an iterative testing program. The focus was to generate stacked learnings from tests that delivered a better, more personalized experience for users.
This iterative process and focus on the customer yielded impressive results. Fully was able to boost revenue by more than $1 million each quarter.
The end result is a customizer that isn't just effective, it's fun for customers.
"If you have a highly customized product, it's supposed to be fun. It's supposed to let people get hands-on with the shopping experience," he said.
The Secret Sauce: Consistent, Steady Optimization
If you ask Andy, the secret to ecommerce growth doesn't require you to hit home runs. In fact, in Andy's experience, explosive improvements are rare.
"This stuff takes time and you have to just be diligent about it," Andy said. "It's hard to get those overnight wins. Those are awesome, but most of this is just consistency."
Andy found that improving a site and the customer experience happens with consistent effort, finding small ways to improve, bit by bit. Instead of trying to make giant leaps every day, he focused on small wins that compound over time.
"Show up every day thinking, 'What are the things that we can improve today? What projects can we keep moving forward to get them eventually in place to make an impact?' And I think if you're continually working on the right activities, some are going to make an impact. Steady, consistent effort is going to yield better results in the long run."
We echo this philosophy at The Good. After all, you're never "done" optimizing. There's always room for improvement. The goal is to get a little better every day, sometimes only a quarter of a percent at a time.
Moving the Needle for a Winning Ecommerce Brand
Good ecommerce leaders like Andy know that converting on-site customers is essential. There's no sense driving traffic to your site (which can be expensive!) if it doesn't turn those visitors into customers. You could waste a lot of money acquiring bad traffic.
Andy is a great example for other ecommerce leaders. He has a clear philosophy of mining data, developing experiments, and focusing on the customer. He built a strong internal team, gave them autonomy and room to collaborate, worked closely with agency partners like The Good, and took steady steps that moved the needle.
Hiring an agency like The Good could be the key piece you're missing in your optimization team. You gain a whole team of experts, such as strategists, UX researchers, designers, and more, which puts all the expertise you need at your disposal without hiring expensive full-time specialists.
"The return on investment that we've had with The Good has been incredible," Andy said. "We pay this flat rate and then we see these tests that yield incredible results. It's a very good deal for us."
Want results like Andy's? Learn more about our Conversion Growth Program™, which will increase your conversions with a fully managed monthly optimization solution. This done-with-you optimization program has proven results and no long-term commitments.
Now It's Your Turn
We leverage data to increase ecommerce conversion rates for leading brands. Let's talk about putting our data-backed design to work for you, too.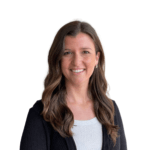 About the Author
Caroline Appert is the Director of Marketing at The Good. She has proven success in crafting marketing strategies and executing revenue-boosting campaigns for companies in a diverse set of industries.