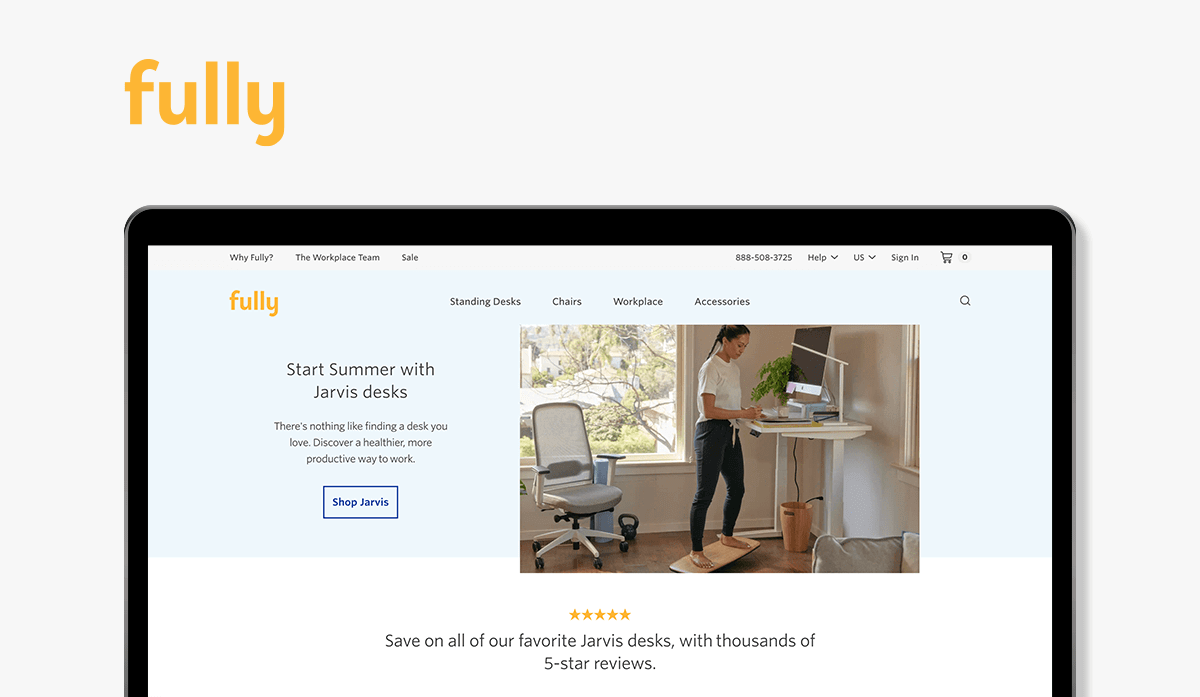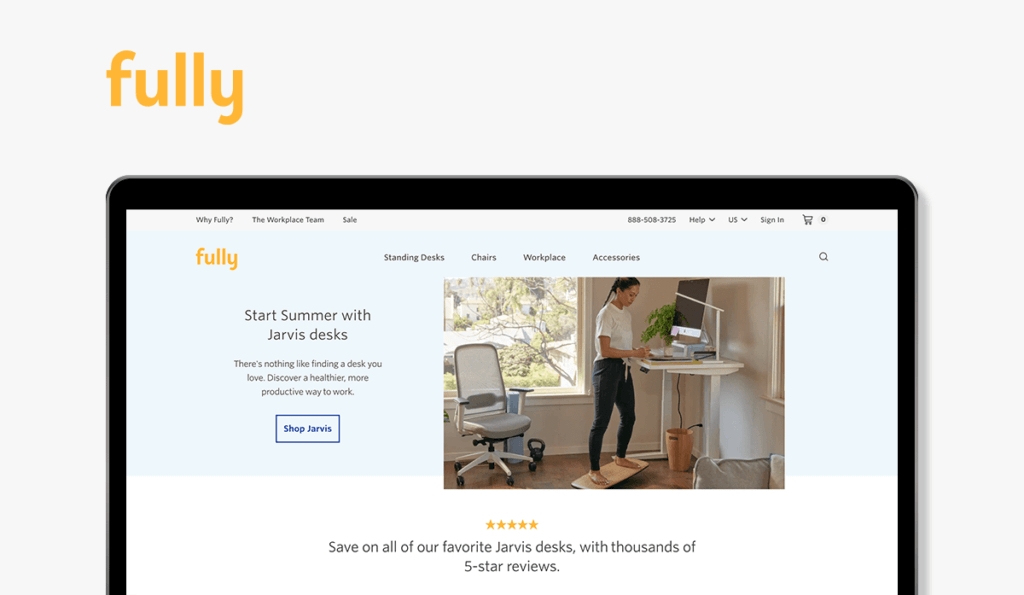 DTC Furniture Maker Fully Turns An Out-of-stock Issue Into A 75:1 ROI
Learn how they navigated unprecedented demand (and out of stock issues) to ultimately generate a 5.97% lift in conversions and produce a 75:1 return on their investment in The Good's Conversion Growth Program™.


"I have been really encouraged by the level of partnership that The Good shows in both proactively thinking about our business and being very open to collaborating with us on critical business needs."
– Andy Lightman, Director of Ecommerce, Fully
99%
statistical significance
The Overview
Fully is a direct-to-consumer brand that manufactures and sells office furniture to keep their customers moving, such as standing desks and pivoting chairs, through their ecommerce site. Fully is known for their highly customizable products, particularly their Jarvis standing desk.
The Challenge
As the majority of the world transitioned to work-from-home during 2020, high-quality office furniture like Fully's was in high demand. Specifically, their iconic Jarvis standing desk had a longer lead time than usual. While this presented challenges, the team knew there was also an opportunity to creatively display their in-stock products and give customers the option to shop for something new. That is where The Good came in.
Our strategy team worked closely with the client to understand and outline their specific goals. For this case study, we'll be focusing on two of those goals:
To increase conversion rate and AOV: This objective focused specifically on improving the conversion rate of their category pages.
To improve the browsing experience: There needed to be a balance between providing helpful direction on the website and increasing visibility to the various product categories that Fully offers.
The Process
For the quantitative analysis, our team conducted a thorough audit of Fully's website analytics to identify potential conversion barriers and drop-off points in the customer journey. The audit also included a review of Fully's acquisition channels to gain a better understanding of where their target customers were coming from, and how well each channel was converting. This quantitative analysis indicated that there was room to improve exit rates from category pages as well as the add-to-cart rate for customers visiting product pages.
To clearly understand how real website visitors might drop off from category and product pages without adding a product to the cart, The Good conducted remote usability testing and heatmap analysis. From the heatmaps, we observed high engagement with the filters located on the product category pages, with the most attention on the different types of desks. This indicated to our team that users who were not already familiar with Fully's product offering may not know the difference between different categories, or what desk might best suit their needs.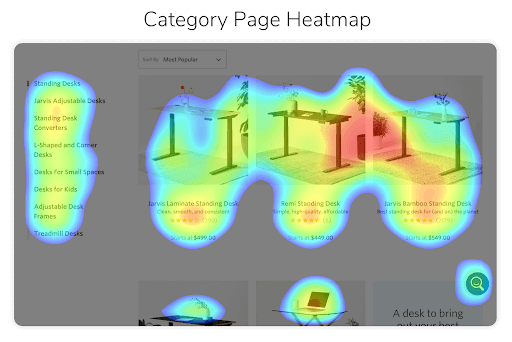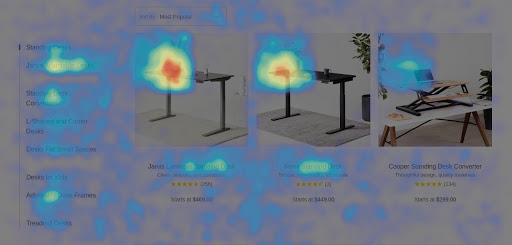 The Solution
To improve the browsing experience on product category pages, one tactic was to redesign the product filtering system. The product categories were simplified to help users navigate to the specific type of desk they were searching for. Additionally, our team added the functionality to filter products by material (bamboo, laminate, etc) as well as by part if the visitor was searching for a specific part or accessory to purchase for their desk.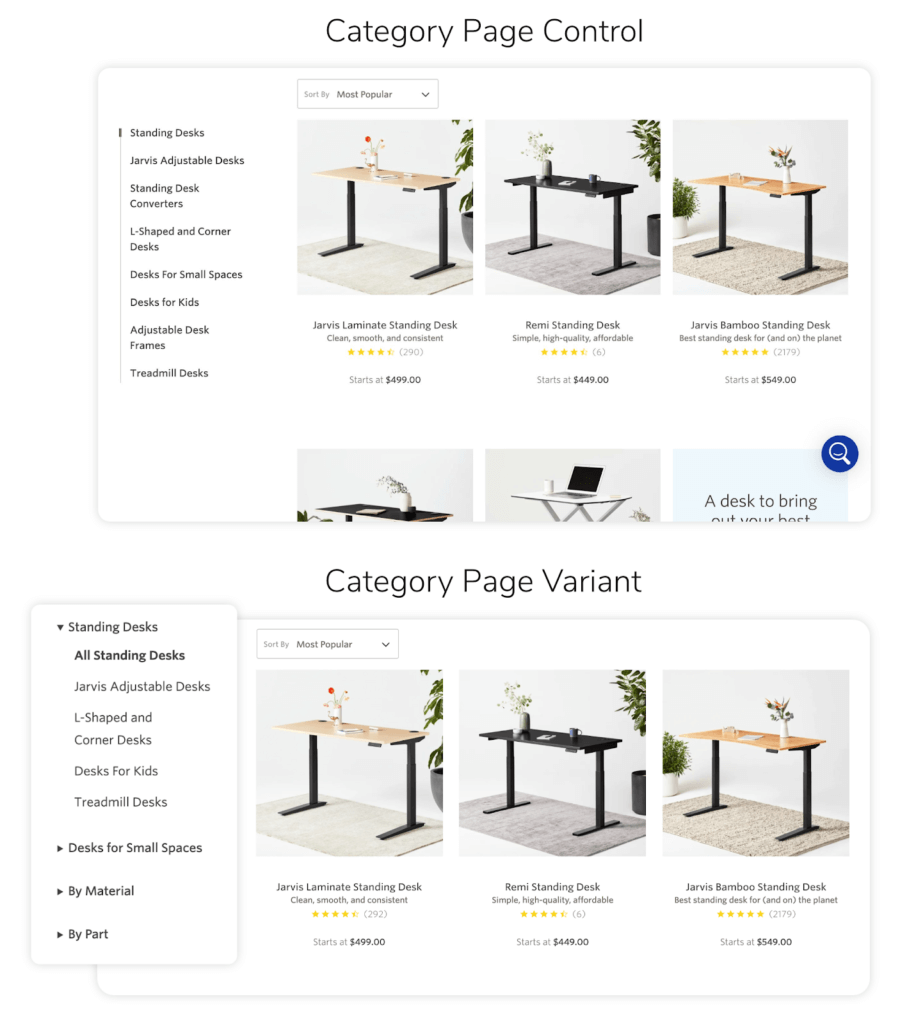 Improving filter categories increased visibility for the lesser-known product lines that Fully offered, and provided users with a focused approach to navigating the entire catalog.
The Results
After launching the test on the client's site, the variant design produced an average 5.97% conversion rate lift over the control at over 99% statistical significance. The variant produced significant results for both desktop and mobile sites, but performed particularly well on mobile, resulting in a 22% increase over the control. This individual test produced a 75:1 return on investment for the client.
Since implementing the recommended changes to their website, Fully have experienced a substantial conversion rate increase on their category pages and achieved their goal of increasing visibility to the various product lines that they offer.
The impact on the business has been a positive one. We are mitigating risk more and we are capitalizing on opportunities that our tests are showing for us.
– Andy Lightman, Director of Ecommerce, Fully
How They Got There
The results that our team unlocked for Fully were achieved on our Conversion Growth Program™.