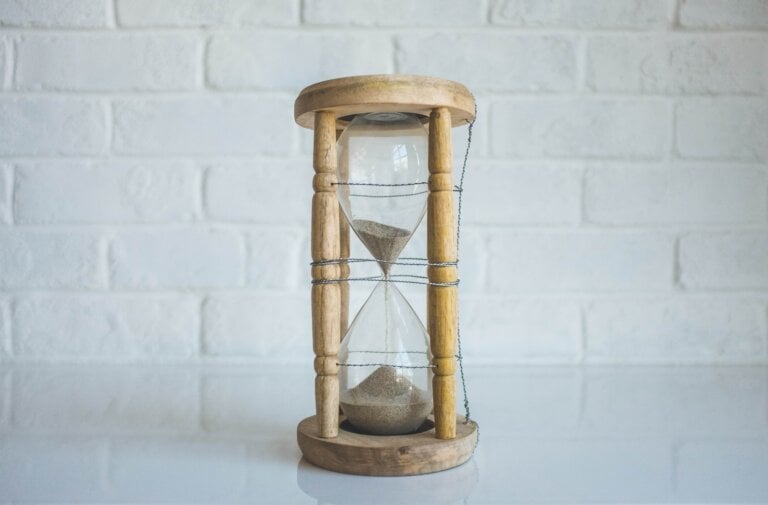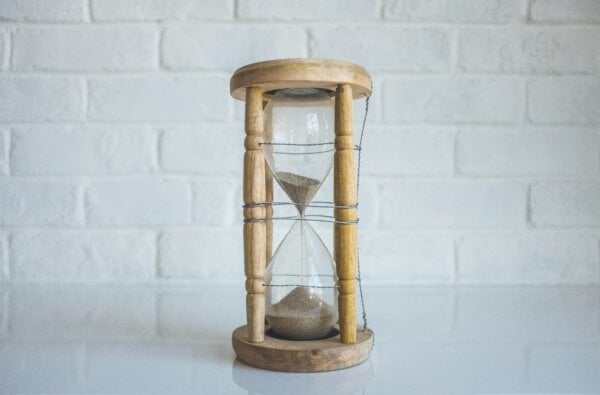 Customer Acquisition
Limited Time Offers: How to Drive Conversions with Scarcity Marketing
Here's your comprehensive guide to limited time offers - why they work, when to use them, and how to implement them today.
As an ecommerce manager, you know the importance of getting visitors to hang in there all the way to final payment. Sometimes your shoppers need a little push to make the decision to buy. Limited time offers provide that much-needed nudge.
In this article, we're going to explain the concept of limited time offers and how they work. We'll show you some examples and give you some tips to get started. This powerful technique is one of the most effective tactics to drive conversions on your ecommerce site.
What is a Limited-Time Offer?
Let's say you're in the market to buy a new computer. You're standing at Best Buy in front of a model that has every feature you want, and it's offering a free set of blue tooth headphones with purchase. The store is about to close, so you decide to think about it and come back tomorrow. There's plenty in stock. Then the salesperson says, "That offer is only good for five more minutes. The special ends tonight. If you don't act now you won't get the free gift."
What do you do? Buy now and save a few hundred dollars on the headphones you've also been eyeing, or keep looking? Chances are good the limited time promotion would swing you from prospect to buyer in a hurry. It's the computer you want, you've verified it's an exceptional deal, why not end the search and take it home with you tonight?
Like most people, you'll probably make the purchase and be pleased with yourself for boldly making a decision and going home with a free gift. But that's only partially true. Best Buy nudged you toward a decision by instilling a sense of urgency with their limited time offer.
A limited time offer is a time-bound promotional deal. It's an offer with a clear end date and/or time when it becomes unavailable. They usually take the form of sales, discount codes, free gifts, exclusive products, or anything else that is only available for a specific period of time. These are simple, but powerful tools to turn undecided buyers into customers.
Here are some examples of limited time offer messaging:
Offer ends at midnight tonight
Only a few left in stock
Offer limited to items on hand
Get yours while supplies last
Order within one hour to get delivery tomorrow
Limited time offers rely on the principle of scarcity marketing. This concept was coined by Dr. Robert Cialdini. It's based on the concept of supply and demand. It states that as a product or service becomes more difficult to obtain, the more valuable it becomes to potential buyers. Scarcity stretches both ends of the formula by exhibiting a limited supply while simultaneously cultivating demand.
Basically, when something is limited, our brains tell us to get it now before we miss out. Any time you experience the fear of missing out (FOMO) and have the urge to purchase something while supplies last, you're feeling the pull of scarcity marketing.
(Quick note: Scarcity also applies to limited supply offers, but that's a subject for another article.)
Examples of Limited Time Offers That Drive Conversions
Before we talk about making your own limited time deals, let's look at some effective ones.
To get a better feel for how well limited time offers work, consider one of the best examples: Black Friday. It's the perfect opportunity for limited time offers because the event is only one day. If customers want the discount, they'd better be ready to jump in there and shop.
The concept worked so well, marketers came up with another limited time deal extravaganza: Cyber Monday. Together, those days kick off the month-long shopping sprint that traditionally brings in about a third of annual retail sales. And it's all based on limited time: December 26th is too late. The presents have all been opened.
Typically a good Black Friday deal couples a powerful promotion with a clear time limit. You probably see a lot of these around the holidays. Attention-grabbing colors and countdown timers can further stimulates urgency.
Here's an example. In this ad, the copy "This is as cheap as we'll ever go" makes a customer's inner voice sound with, "I'll never save more money than this!"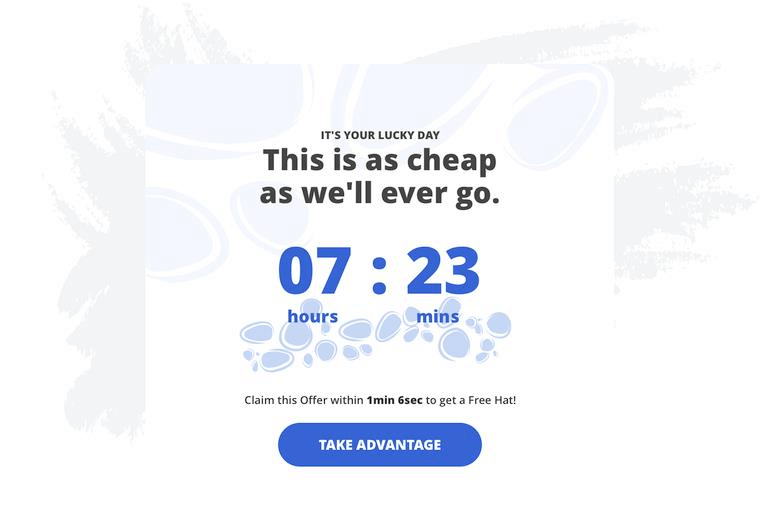 The following ad uses the phrase "limited time," but does not supply a timeframe. This can work in some cases. By being vague with the timeline, the customer may feel extra pressured to buy now because they don't know when it ends. But you have to be careful, because if the time isn't authentic, most customers can see right through it and you lose credibility.
What stands out about this example, is the free gift with purchase. Rather than discounting, and devaluing their product, the brand adds value to a shopper's purchase.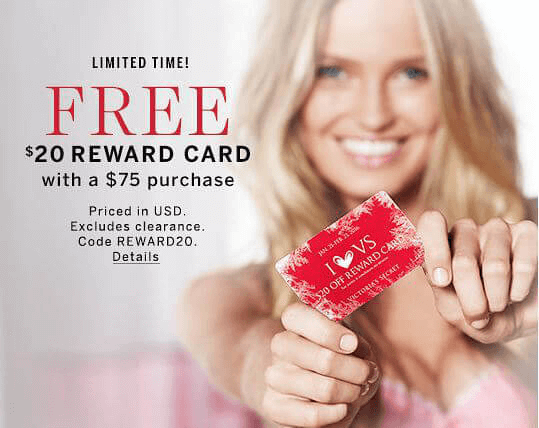 The ecommerce marketplace, Etsy, heavily relies on scarcity marketing to sell products. A message like "Only 1 available, and it's in X number of people's carts" creates a sense of urgency that would motivate new customers to buy.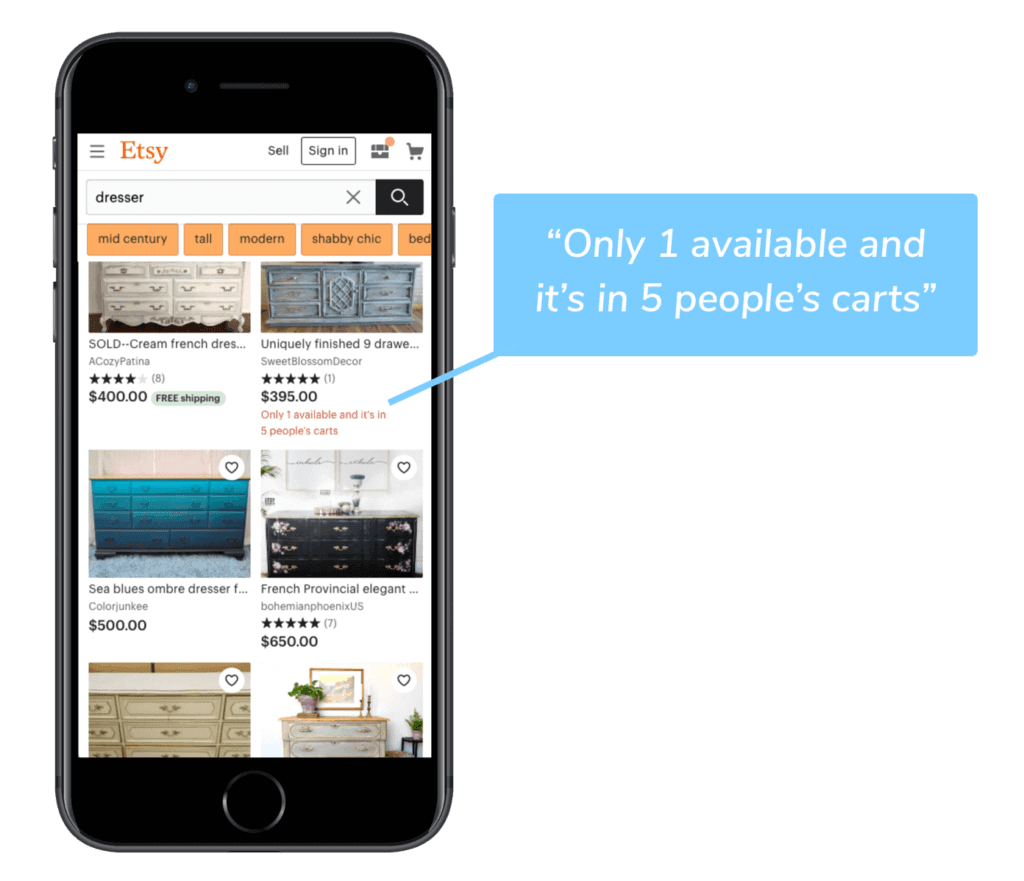 Some offers come with their own natural time limits. Take this ad for instance. If you want the product for Christmas, you need to order by certain dates. These are powerful because they are organic. The time limit never feels forced or artificial.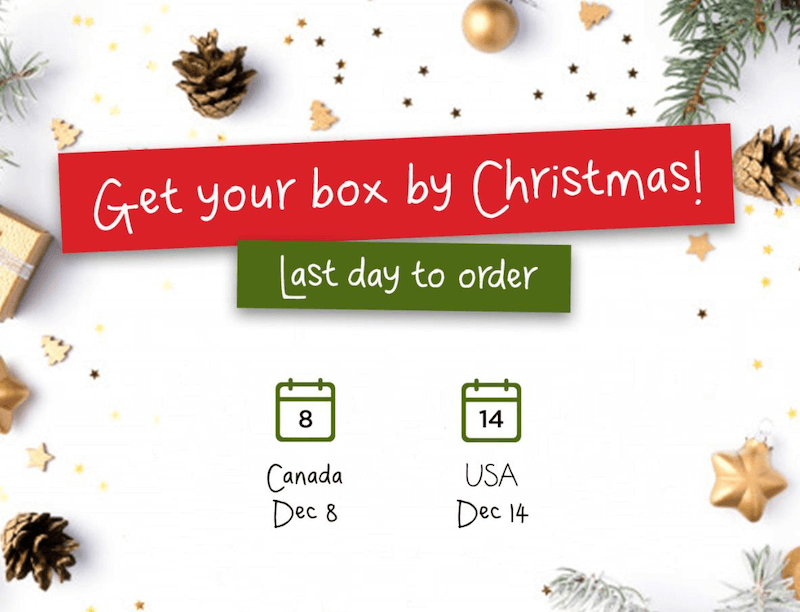 Limited Time Offer Best Practices
If the limited time offer concept sounds simple, that's because it is. Smart marketers present the tactic in a host of ways, though. Let's go over some best practices to get you started.
1. Use limited time copy
When it comes to copywriting, it's important to use limited time language, such as "one day sale," "sale ends at midnight," or "two days only." Here are some other variations:
State the length: Macy's One Day Sale
State length and time: Today (6/17) is Your Last Chance – Expires at Midnight
Not only for products: Free Shipping – This Month Only
Call it what it is: Limited Time Deal
Stress the risk: You'll Never See the Price This Low Again
Be very specific here. Don't assume your audience will understand that "Memorial Day Sale" means only Memorial Day. Spell it out for them with something like, "Memorial One-Day Sale."
2. Use proper timing
Timing refers to the nature of your offer. Your offer should be short enough to make people fear missing it, but not so short that they can't reasonably make a purchase in time. For instance, a one-day flash sale is fine, but a one-hour sale won't get much attention. Your audience needs a little bit of warning.
It also helps to set a definite time for your shoppers so they know exactly when the deal runs out. If you just say, "Sale ends today," people might wonder what that means precisely. End of the workday? Midnight? Which time zone?
Louis Vuitton accounts for this by including specific details (down to the hour) about the limited free shipping they were offering for Father's Day. This is a non-intrusive way to advertise a discount without being obnoxious and scaring off customers.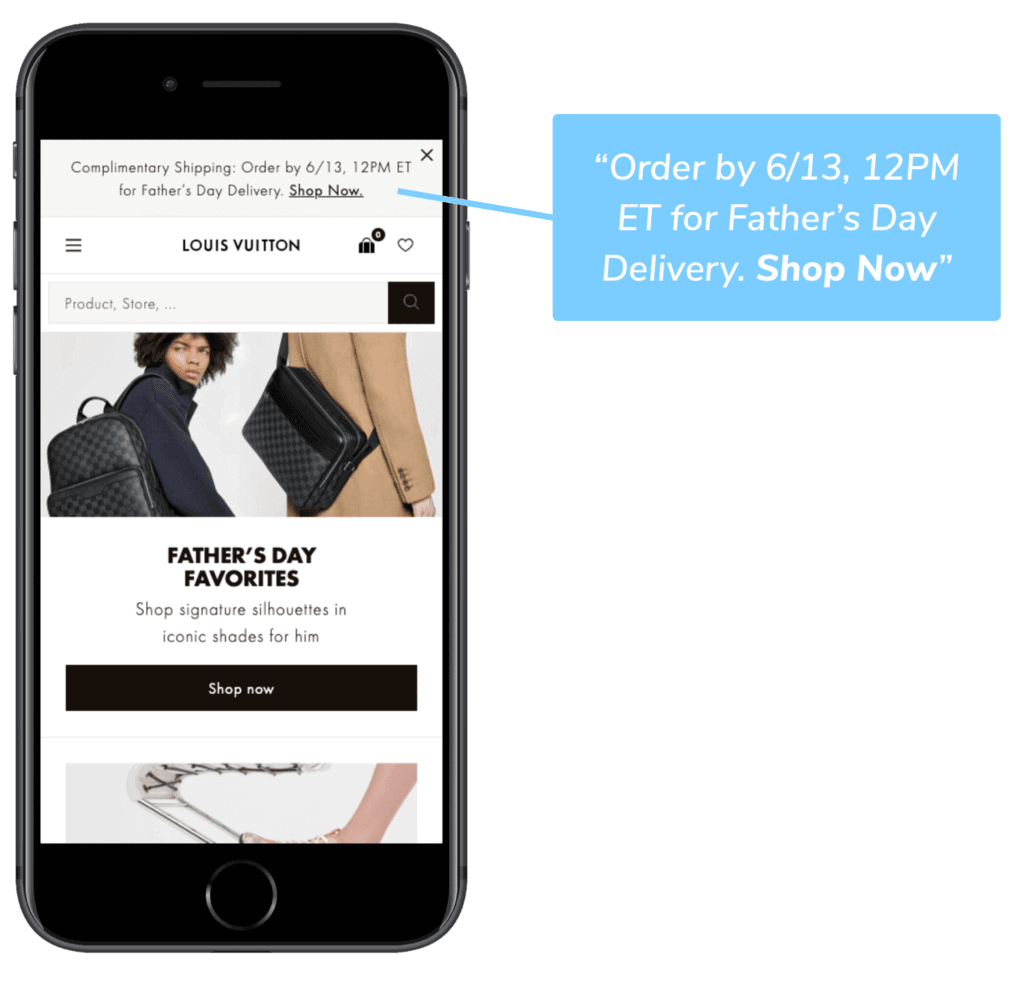 Furthermore, a limited time offer doesn't mean you have to spring it on your audience at the last minute. Your customers know you'll offer something for Black Friday, so build anticipation by telling them early and often.
In fact, when the window is too tight, people actually rebel against the limited time deal. Researchers at the University of East Anglia ran experiments to see what leads people to accept or reject such offers. Time-based offers were accepted more often when the study participants had 12 seconds to decide as opposed to four seconds.
Basically, if you push people to make a decision right this instant, they will reject the premise. But if you give them just a little bit of time to think, they are more likely to take the deal.
3. Promote your ad everywhere
Ideally, you want to tell as many people as possible, but you definitely want to tell your audience. This involves sending multiple email messages, posting on social media, implementing retargeting campaigns, spreading the news to your influencers, and any other marketing channel you have access to.
4. Get creative with your offers
While limited time offers are often used as part of discount pricing strategies, they don't have to come in the form of price reductions. You can offer a free gift for a limited time, a free upgrade, a special service, or access to a new product. "All orders placed today qualify you for our Hawaiian Vacation drawing," for instance.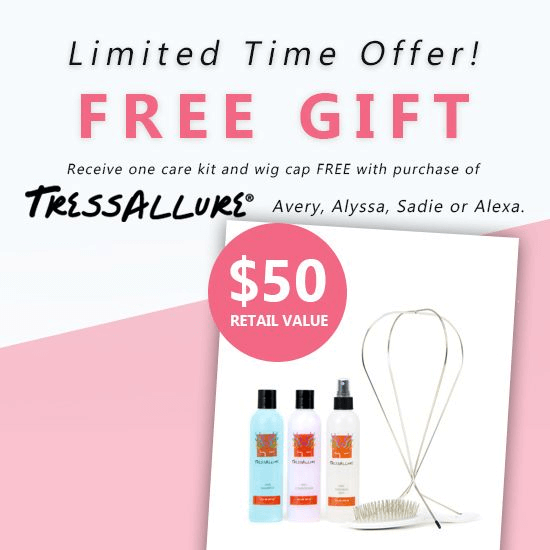 RIPT Apparel is a clothing brand with a unique spin on limited time deals. Their homepage has a "Daily Deals" section that consists of three new limited designs at a discounted price every day. The designs change at midnight. This creates a sense of urgency. If customers don't buy now, they'll miss the chance to own these designs entirely.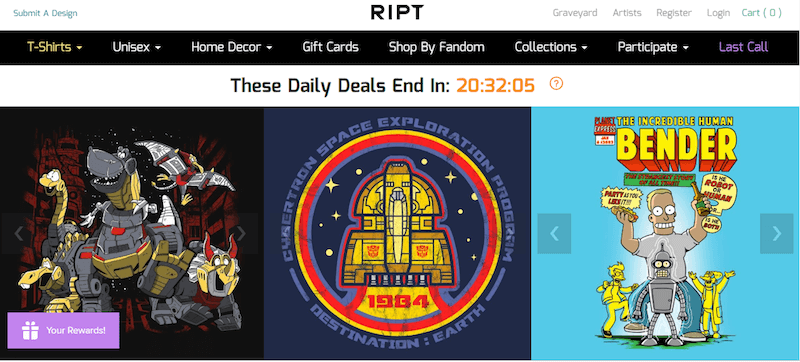 If sales and discounts are the only ideas you have, we strongly recommend checking out our massive list of ecommerce promotion ideas.
5. Focus on the benefit of the offer
A limited-time offer is simply the nudge your prospects need to make the decision to buy. But you still need a compelling offer that your audience finds valuable. The benefit should be the most prominent component of your offer.
For instance, this offer from Sephora is only available for the holiday season but emphasizes the free gift with purchase. The customer gets excited about the potential added benefit they'll receive with purchase, before moving on to the details of the date.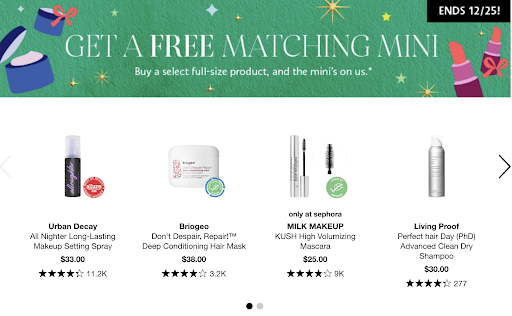 6. Close your offers when they're over
One of the worst things you can do for your reputation is to mislead customers about the timing of your "limited time" offers. If a deal is available often – or worse, all the time – your customers won't feel compelled to buy it. In fact, your deception may turn them off entirely.
For example, The New York Times uses limited time offers to increase their subscription sales. They advertise that their limited time offer to subscribe for $1 a week is ending soon, but that discount has been running for months without changing.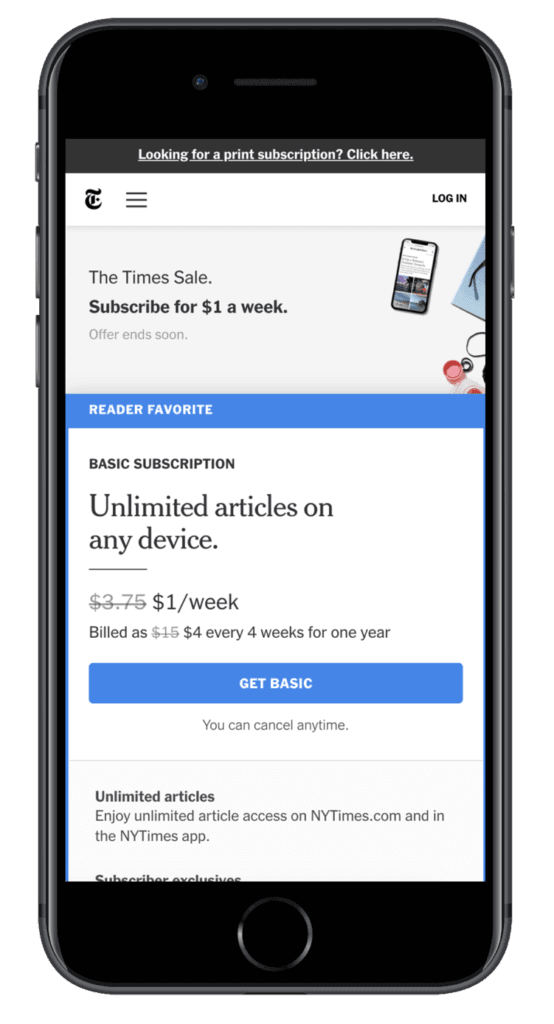 There's plenty of room for creativity with LTO's but you should always remember the basic rule: If you say it, do it. If you ignore that principle, you can dilute or destroy the results you might otherwise enjoy. We're all familiar with the "Going out of business sale" that never ends. Before long, it becomes a joke. If your offers are dishonest or inaccurate you risk losing the trust you've built with your customers which could motivate them to go to your competitor next time.
7. Boost effectiveness with personalization
Limited time offers aren't limited to landing pages. They make great email content as well, especially when you pair it with personalization. Notice how Barnes & Noble couples their limited time offer with a selection of products curated for the recipient.


8. Don't discount too much
When you want to drive revenue up, it's tempting to offer a sale. Sales are an easy way to create a spike in your sales report, but they're a hard habit to break. Too many sales can actually damage your business by draining your margins and conditioning your customers to expect sales (and therefore not buying when there isn't a promotion happening).
This doesn't mean discounts are always bad. Two or three a year won't hurt. They are also useful tools to secure a high lifetime value customer with a breakeven sale.
Check out this episode of our podcast, Drive & Convert, where we talk about discounts and their effects on your business.
9. Go easy with the popups
Once you've designed a limited time deal, it's tempting to shove it in your shoppers' faces. What's the point if they don't know about it, right?
Using popups to notify your visitors of a great deal is fine. In fact, we occassionally encourage it. But don't hit your shoppers in the face with a popup before they've had a moment to read your logo. The best performing popups don't appear immediately. They give visitors some time to see the site and grow invested in the page.
How long should you wait to serve a popup? There's no one-size-fits-all answer here. You'll need to run tests to determine effectiveness.
Limited Time Offer Marketing Works
The best thing about limited time offers is that they work. If you leverage scarcity marketing correctly, you'll get more sales with a limited time offer than without one. That's a universal truth. Few marketing tactics are as dependable as limited time offers, which is why you see them all the time.
Need help? Speak with us if you need more ideas or want to run your plans for a limited time promotion by a conversion optimization team. At The Good, helping you convert more customers and get more sales is what we do best. Contact us.
If you want to learn more about conversion rate optimization, check out our book, Opting In To Optimization. You'll learn a set of principles that will help you capitalize on unprecedented market demand and build sustainable, thriving businesses that can weather unexpected economic storms. Get the book.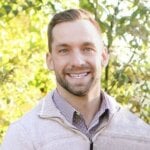 About the Author
James Sowers is the Director of The Good Ventures. He has more than a decade of experience helping software and ecommerce companies accelerate their growth and improve their customer experience.