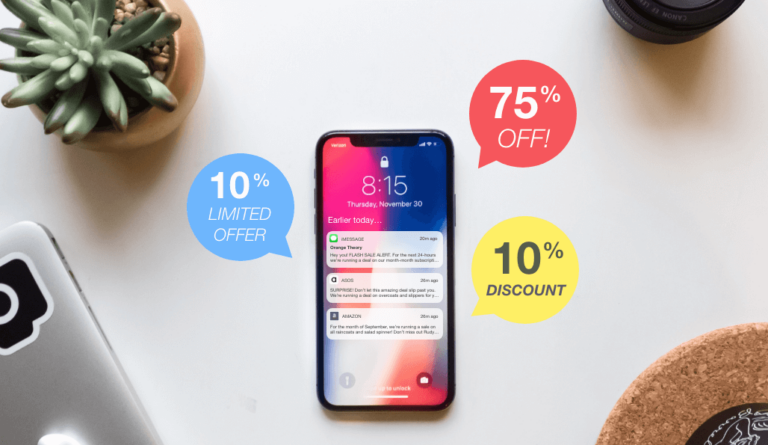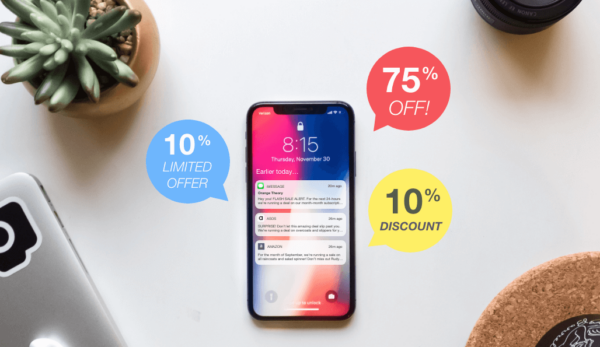 Customer Acquisition
8 Tactics to Create Urgency and Increase Conversions on Your Ecommerce Website
Creating a sense of urgency can benefit your ecommerce store in more ways than you'd think. This Insight looks at eight practical methods for driving urgency on an ecommerce website.
Imagine for a minute that you're looking to buy a new car.
You've already visited the dealership and know the model you want, but it's just slightly out of your price range. If only there were a promotion running that would get the price down to your budget…
Suddenly, you receive a text from the dealership announcing a 24-hour discount on the exact model you were looking at. You start to feel the pressure to buy the car even more. After all, you wouldn't want to miss out on that discounted price!
Urgency is a tactic used by so many ecommerce websites to motivate users to complete a purchase. Creating a sense of urgency for your customers can be a highly effective tactic for increasing buyer motivation, and can have a direct impact on revenue.
In this Insight, we've detailed a variety of tactics you can utilize to help reduce buyer hesitation and improve the overall conversion rate of your ecommerce site. 
8 Tactics to Create Urgency
Note: Before you move forward with implementing any of these ideas, remember that the purpose of creating urgency on your website isn't to cause a panic or rush your customers through the purchase process, it's to increase buyer motivation and combat the hesitation involved in online shopping. The bottom line is: never sacrifice your user experience for quick revenue gains. If your customers don't have a frictionless buying experience on their first visit, chances are good that they'll never return for future purchases.
1. Show stock levels on the product page
A great way to increase urgency on your site is by allowing customers to see stock levels if an item is close to selling out. Not only does this create a sense of urgency on your product detail pages, but it's helpful information for the customer to know. This tactic can also be used to combat cart abandonment. Showing low stock levels on the cart page can increase urgency and grease the path to conversion.
J Crew makes great use of this tactic by displaying stock levels when a product is close to selling out. This feature doesn't distract from the user experience, and is giving the customer extra motivation to complete the purchase without causing panic or frustration. They also utilize this tactic on their cart page as an additional attempt to reinforce the limited stock availability. Remember to be honest with these numbers though. You'll erode trust if your customers see the same stock levels three days in a row and realize you're tricking them. 
2. Alert your customers via text
There's an ongoing debate as to whether text message marketing is a viable option for reaching your customers, but there's no denying the results that SMS messages are producing. The response rate of SMS text message marketing is 45 percent vs email response rates at 6 percent, and what's even more interesting is the average open rate of promotional text messages being 90 percent.
Nobody has the time or patience to open every single promotional email from the brands that you're subscribed to, but you will open every text message you receive, even if you know it's promotional. Create urgency by sending a text message to your subscribers as soon as your sale launches. Create a short and attention grabbing message that will take less than 10 seconds to read, and make sure your send time is optimized.
Utilizing branded vanity links can also help increase the conversion rate of SMS messages being sent to customers. Branded links get up to 39 percent more clicks than generic short links because customers are more likely to trust a link that has your name attached to it as opposed to a random "bit.ly" link.
Testing will be essential to you having any sort of success with text message marketing. If you want to figure out what your customers respond positively to, you'll likely need to run a thorough testing program to help determine the specific wording and approach you'll have to take in order to have success with this tactic.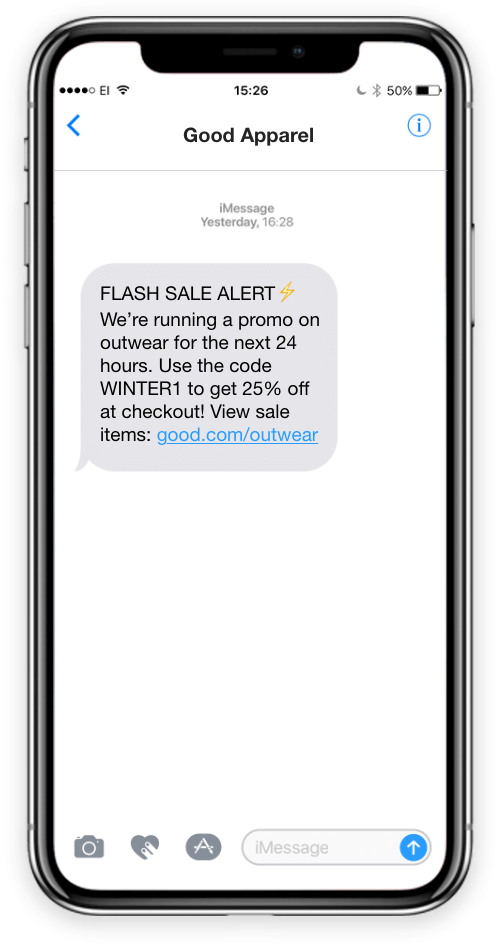 3. Allow customers to see other buyers
Scarcity is a significant driver of demand, so showing your customers how many other users are interested in the same product will have an impact on their perceived value of the product and their urgency to purchase it. Consider the classic study on scarcity and its effect on demand that involved to two identical cookie jars. In 1975, researchers wanted to know how people would value cookies in two identical glass jars. One jar contained ten cookies and the other jar contained only two cookies. Despite the cookies and jars being completely identical, subjects perceived the cookies in the near-empty jar as more valuable. The presence of scarcity had a direct impact on their perception of value.
Subscribe to our newsletter, Good Question, to get insights like this sent straight to your inbox every week.
The example shown below is taken from Etsy's mobile site. You can see how they clearly display how many other customers are interested in the product you're viewing, which helps add value to the product and increases the urgency to buy.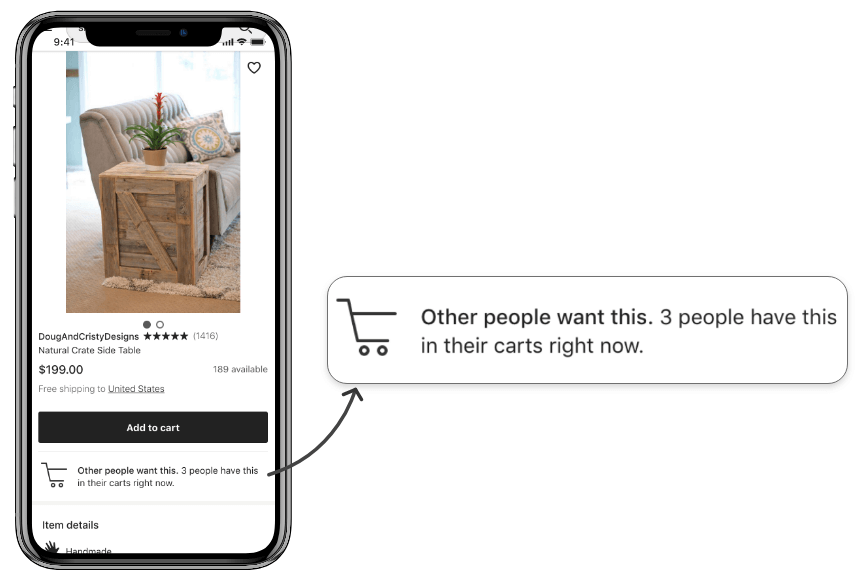 4. Last chance emails – "Don't miss out"
Despite email marketing being seen by some as an out-dated method for reaching your target audience, email continues to be one of the highest performing ways to get your content in front of people. According to a 2019 report by Drift, 65 percent of surveyed consumers named email as one of the key methods for interacting with brands online. 
Utilizing email marketing to build urgency and demand around promotions you're running is a necessary tactic to include in your ecommerce strategy. Ursa Major uses emails to alert customers about promotions that will be ending soon (See example below). All you need a simple subject line that highlights the promotion and builds excitement, and a clear CTA that your customers can click-through to browse the sale items. If you're able to nail those two things, I can guarantee you'll see an increase in your conversion rate.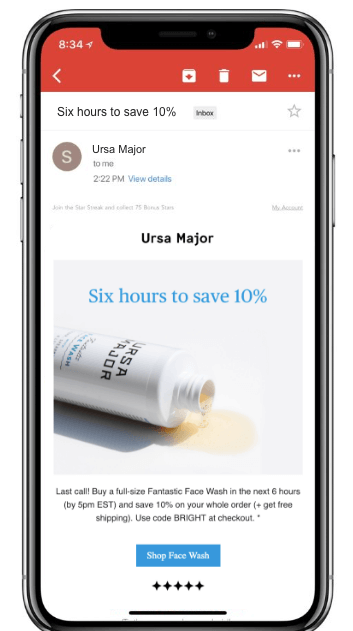 5. Time-bound purchase for same-day shipping
Adding a countdown timer for same-day shipping is a simple and effective tactic for adding urgency to the buying experience. Many ecommerce websites have adopted this feature because it's a non-intrusive method of motivating customers to complete the purchase on the spot. There's a reason why ecommerce giants like Amazon use this tactic to increase urgency, it's non-intrusive and provides the user with information that may influence their decision to buy.
Wheelership uses a countdown timer on their product detail pages that tells customers how much time they have left to place an order so it will ship the same day. The timer disappears from the product page at noon each day, so if a customer is ordering something past the same-day shipping cutoff time, they won't see the timer. This is a great way to add urgency to the ordering process without cluttering the user experience, and is a value add from the user's perspective.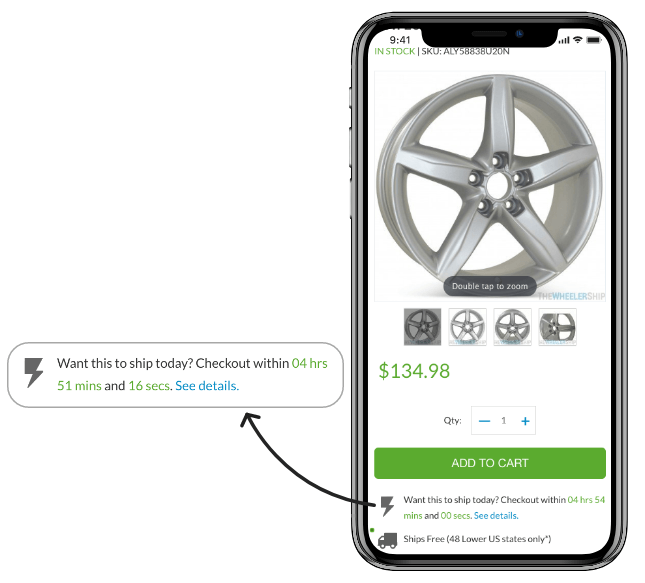 6. Add a Shopping Cart Timeout
Adding a countdown timer to your shopping cart can be a great motivator for customers to complete their purchases. It's very common for shoppers to add products to their cart and forget about them because either they want to browse prices elsewhere, or they get distracted and exit the site. Giving your customers a limited window of time to complete their purchase is a great tactic for adding urgency to the buying process and also helps prevent customers using the shopping cart as a wishlist.
ASOS is a great example of an ecommerce site that utilizes a countdown clock on their shopping cart without being intrusive. When you add any new items to your cart, a notification appears that your item will be held for 60 minutes before it's removed. Notice the messaging they use for these notifications (see example below) instead of causing panic, they position it as they're doing you a favor. "We'll hold it for an hour!" is a much better approach than simply showing a large red countdown timer next to the shopping cart icon. The goal shouldn't be to rush your customers through the purchase process, just give them motivation to complete the transaction.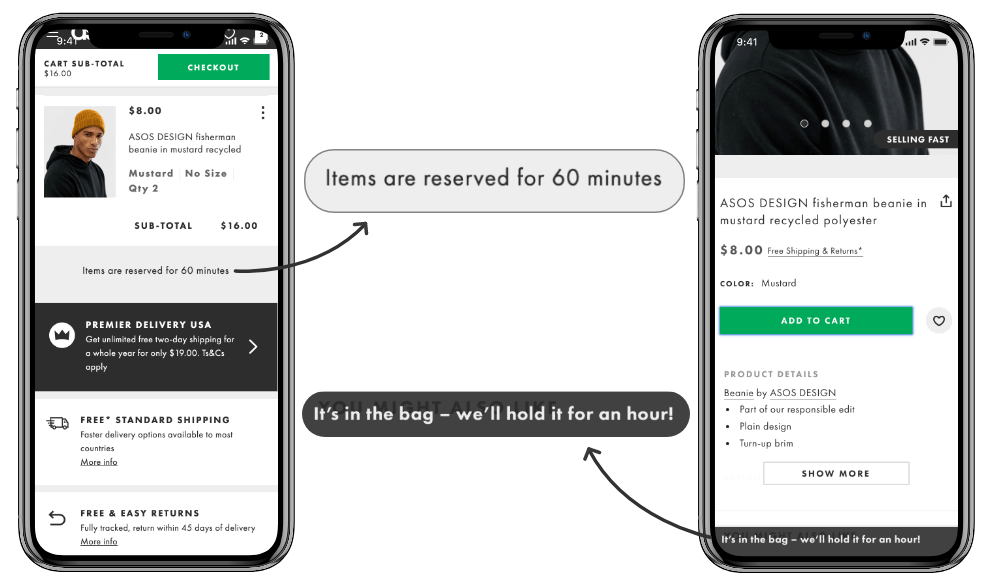 7. Utilize chatbots to promote sales
Research from 2019 showed that 33 percent of American adult consumers have used online chat to interact with a business in the past 12 months. Utilizing chatbots and livechat can be a highly effective method for creating urgency on your ecommerce website, and it allows you to add a touch of personalization to your engagement. Not only can they be used to notify customers of ongoing sales and promotions, but they can help add personalization to your site experience.
Most chatbot services have the ability to store general information about users which can be utilized to help target returning customers. The chatbot example below shows how the tool can be used to notify customers of current promotions, while also collecting useful information (email address, name) that can be used for retargeting or an abandoned cart email campaign.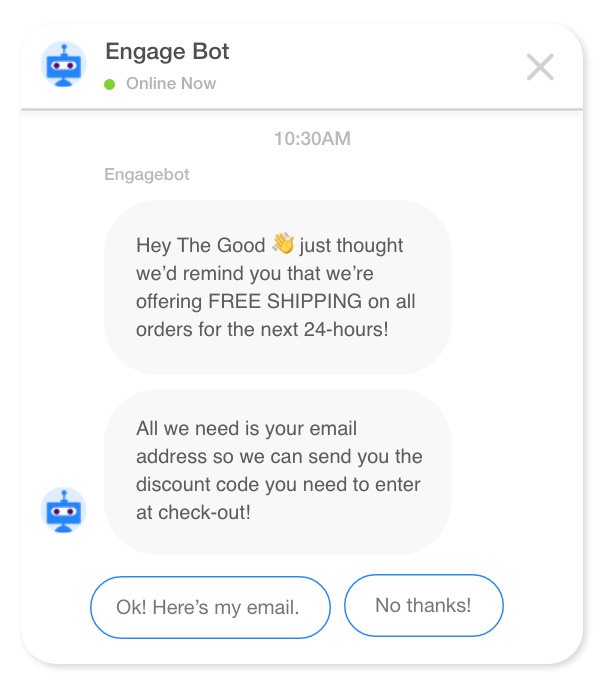 8. Don't tell your customers when a promotion ends
It may seem counterintuitive, but not disclosing the exact time that your sales promotion will end is a great way to build buyer urgency. When you tell your customers exactly when the sale is ending, this could lead to an increase in your cart abandonment rate because customers will browse for what they want, and then hold off on checking out because they still have time before the sale ends. Rarely will these customers remember to return to your site to complete the purchase, unless you have a strong method for re-engagement such as an abandoned cart email campaign. 
If you advertise your latest promotion as a "limited time offer" without disclosing a specific end date, it can increase the urgency for a customer to complete the purchase before the sale ends, and it allows you to gauge how long you'd like to run the promotion based on sales performance.
Note: To create urgency can be a double-edged sword
Creating urgency on your site can both decrease and increase friction. The goal of these tactics is to help nurture the user along the path to conversion, but overdoing it can lead to panic rather than urgency. Avoid using tools or plugins that appear to be 'spammy' from the user's perspective. Based on user testing that our own team has conducted, we've found that countdown timers located on pop-ups or sale items are an immediate nuisance to the user. You're not trying to trick your users into completing a purchase faster, you're trying to improve the overall buying experience.
If you're using urgency in a seedy or 'spammy' way, your customers will notice and most likely won't put up with it.
Don't expect scarcity and urgency to replace conversion optimization
Scarcity can be used as a quick win for your ecommerce site, but if you're expecting a long-term improvement of your conversion rate by simply applying these tactics, you may be disappointed. Creating a sense of urgency on your website will likely result in a momentary increase in conversions, but if the user experience on the rest of your site isn't optimized you'll have a very hard time retaining any new customers you gained from your promotion.
If you're looking to make lasting improvements to your ecommerce site, it may be time to consider investing in an optimization program. At The Good, we specialize in removing friction points for ecommerce websites so the customer journey is effortless and nurtures customers along the path to conversion. Creating urgency is just one of many tactics we utilize to help improve conversion rates, and we're committed to working with brands of all sizes to help achieve the revenue goals they have for their business.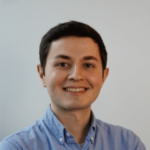 About the Author
Rudy Klobas regularly works to produce insightful, informative content and copywriting designed to help ecommerce leaders increase conversions.