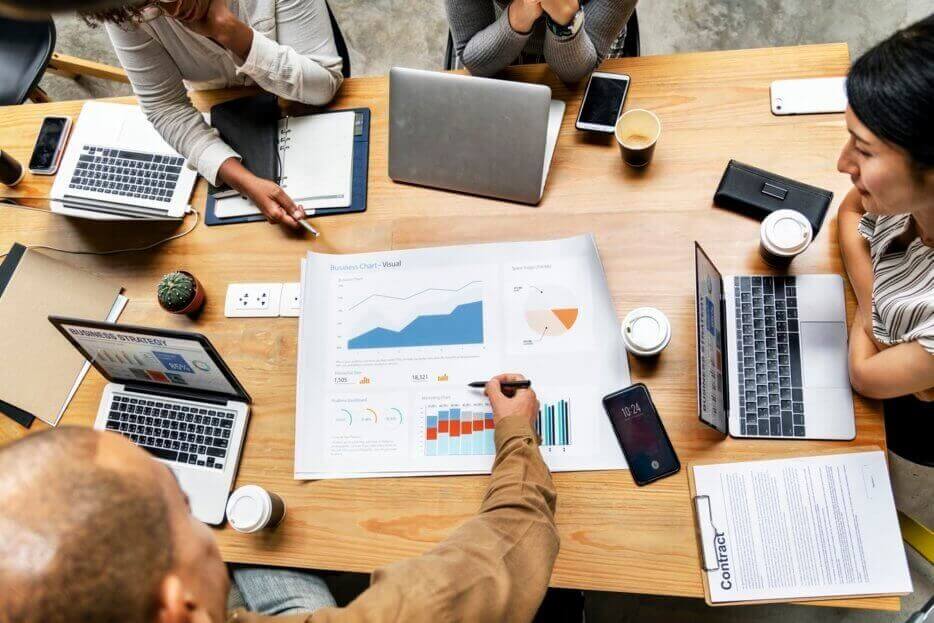 Data & Analytics
A User's Guide to Google Analytics Users Flow Report
Learn how the Users Flow report can point out roadblocks and help you make changes to enhance your user experience.
The Google Analytics Users Flow report gives you a graphical representation of which pages visitors use to enter your ecommerce website, where they go on your website, and which pages they're on when they decide to leave.
The Users Flow report can point out stuck points and help you make changes to enhance the user experience. The easier visitors can navigate your site and find the products or information they seek, the happier they'll be.
Gaining a deeper understanding of how users are interacting with your site can help you optimize your pages for maximum conversions.
The bottom line for you: increased sales.
In this brief guide, we'll cover the basics of Users Flow reports and how you can leverage them to build your ecommerce business.
What Are Users Flow Reports?
Users Flow is one of the analytics reports that The Good's specialists recommend to every ecommerce marketing manager.
The Google Analytics Users Flow report helps you understand exactly how visitors to your website are navigating their way through your web pages. By comparing the desired path to the actual paths, ecommerce managers can make user experience adjustments to better serve their prospective customers.
The Users Flow report is relatively simple to set up and access. Those who've been hesitant to dive into the complexities of Google Analytics will find the Users Flow report easy to pull and exceptionally helpful.
Why Should You Care About Users Flow Reports?
Here's the biggest problem in marketing:
You know what you want and like, but to be effective at sales you need to understand the desires of your best prospects.
Understanding the preferences of your target audience is the first step in optimizing your website for conversions. Your aim is to make it easy for your target audience to find and purchase your products and services.
The Users Flow report helps you do that—and then some.
The Users Flow report can also be segmented to show you how visitors from various sources approach your offers.
Do prospects arriving from your advertising campaign behave differently than those who find you via a social media link? Would it be helpful to create separate landing pages for each?
You can combine the information from Users Flow reports with a strategic testing protocol to optimize for each segment.
Here are just a few of the user behaviors you can learn about with the Users Flow report:
Which pages do your visitors favor?
Which source of traffic is providing the most sales?
Which pages have the highest drop-off rate?
Subscribe to our newsletter to get more just like it, sent straight to your inbox every week.
How to Set Up User Flow Reports
Ecommerce managers who are still trying to figure out how to set up Goal Flow reports and create sales funnels in analytics will be glad to hear that User Flow reports are just as easy to create and configure.
The only prerequisite to pulling User Flow reports is that you must have a Google Analytics account with tracking code properly embedded on the pages you want to monitor.
Here's a link to info on how that is accomplished: Getting Started with Analytics.
Once the code is live and you've received visitors to your site, sign in to Google Analytics, navigate to the property you want to view, and choose Reports from the menu on the left (see the screenshot below).
To illustrate, we'll use data from a recently launched ecommerce website: TenCoats.com. The site is new, so while it doesn't have a lot of data, it has sufficient information to demonstrate the report.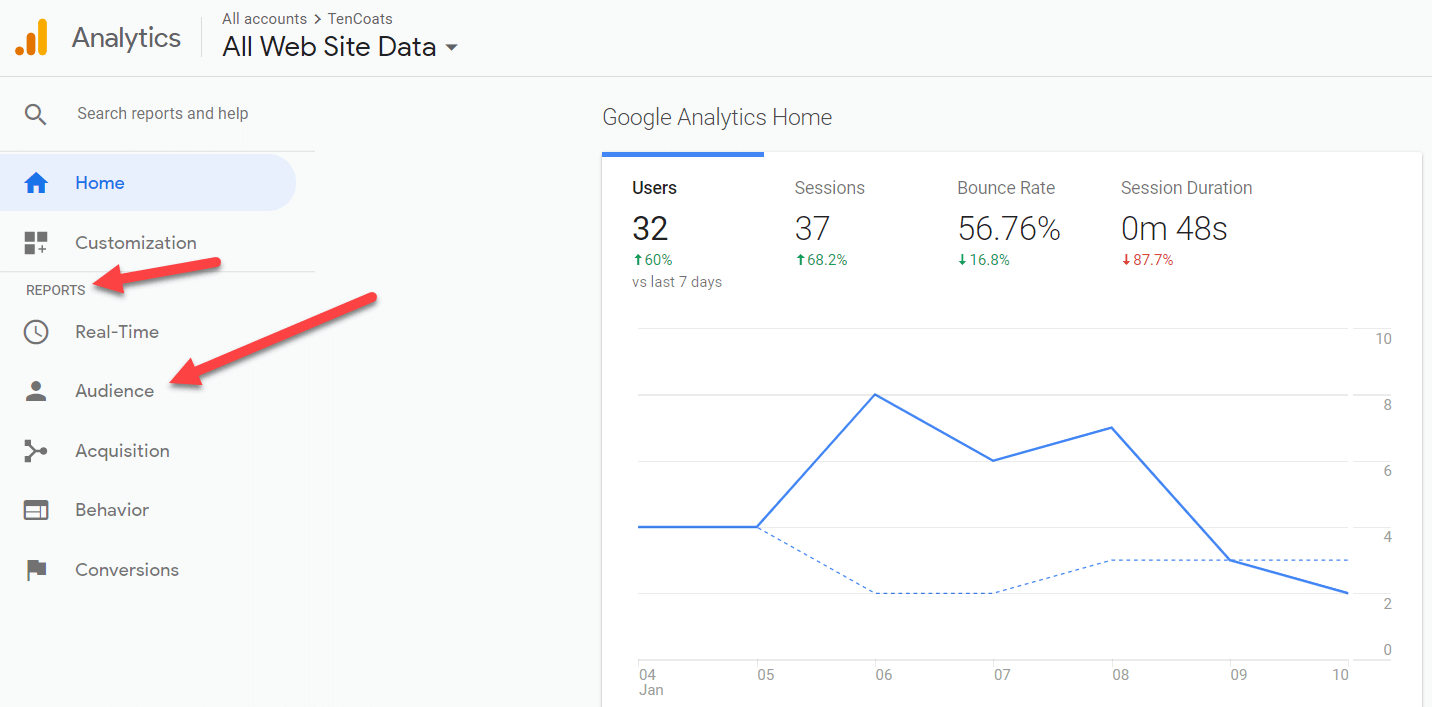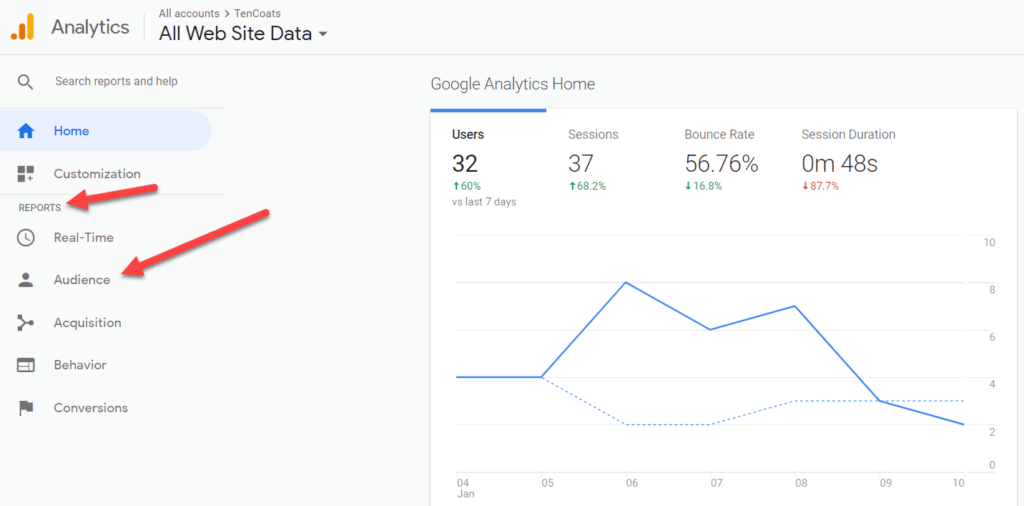 To access Users Flow reporting, choose Audience in the Reports section (see the screenshot above).
With the Audience menu expanded, scroll down to the bottom and choose Users Flow (see the screenshot below).
It's that easy.
The Users Flow graph will display the data you need to start analyzing your user behavior.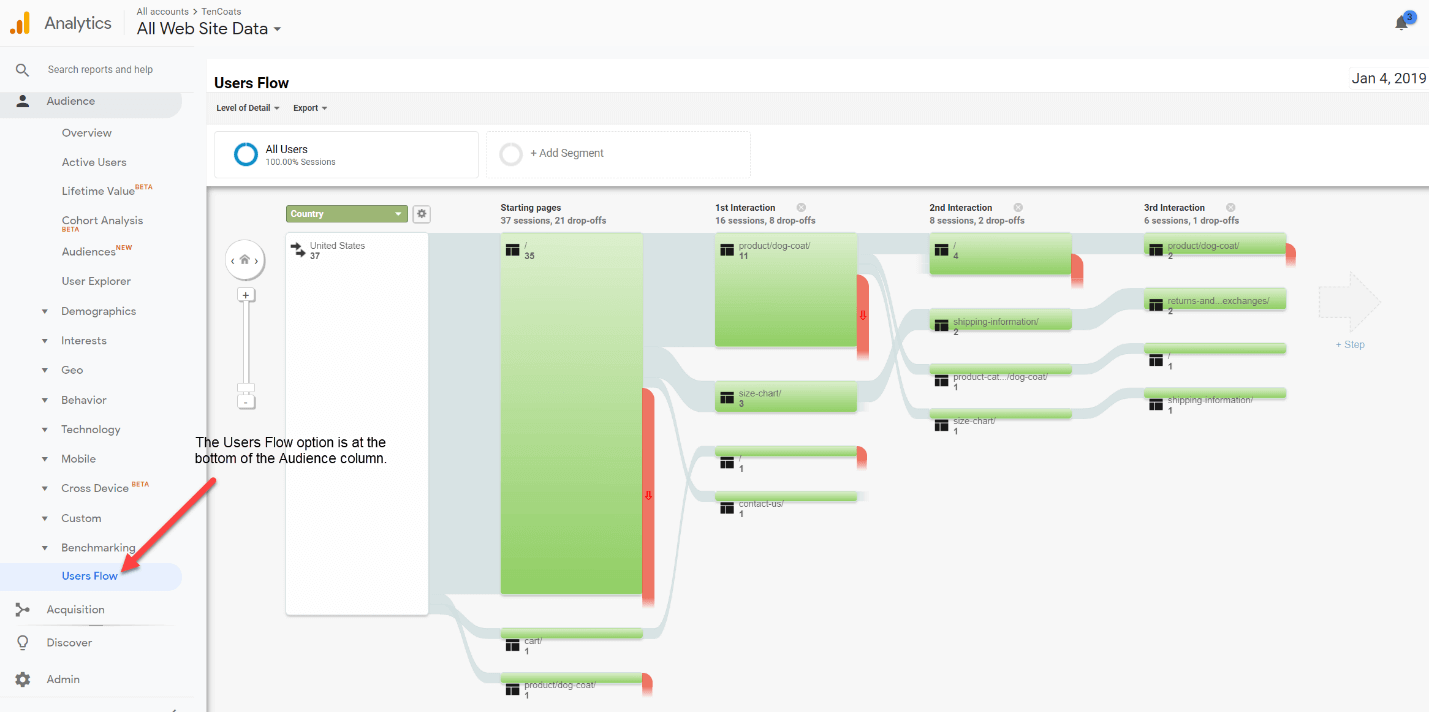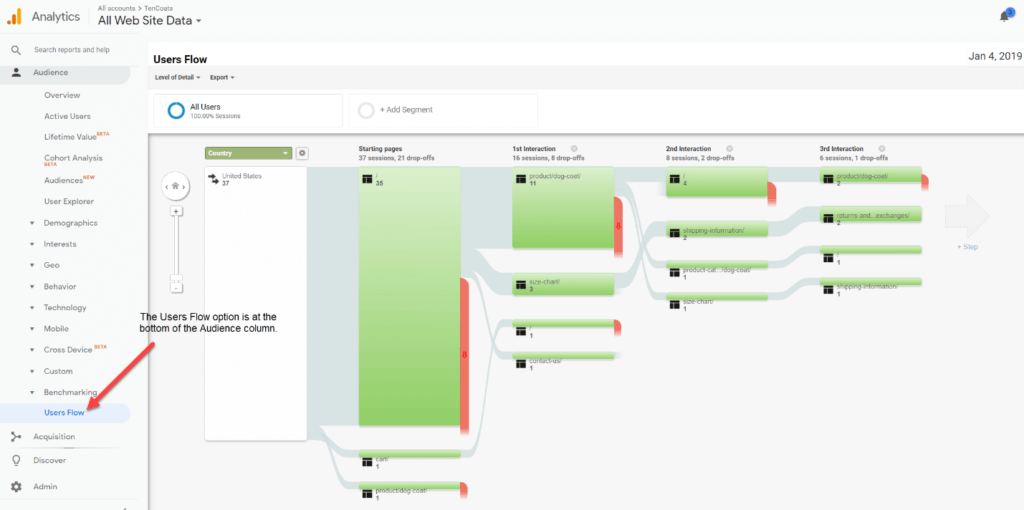 If your analytics tracking code is properly embedded on your ecommerce website, and you've followed the steps above, you'll see a graphic similar to the one shown above. However, your site will probably have more pages and more data, unless you're just launching your business.
How to Read the Users Flow Report
Referring to your own Users Flow report (or to the one shown in the screenshot above), note the colored sections and columns:
The green boxes indicate pages on your website
The red waterfalls indicate the number of visitors exiting from that page
The grey lines show visitor flow between pages
The page indicated by a forward slash only (/) is your home page
Moving from left to right (see the screenshot below), here are the controls and info pull-ups available to you on the Users Flow report:
The vertical slider with the circle and icon on top allows you to pan and zoom.
The first column selects the Dimension you want to view (more about that below).
The +Add Segment selector lets you view specific traffic segments.
The second column shows Starting pages where visitors enter your site.
Subsequent columns show the journeys taken from the Starting page.
The +Step selector opens up deeper interaction levels.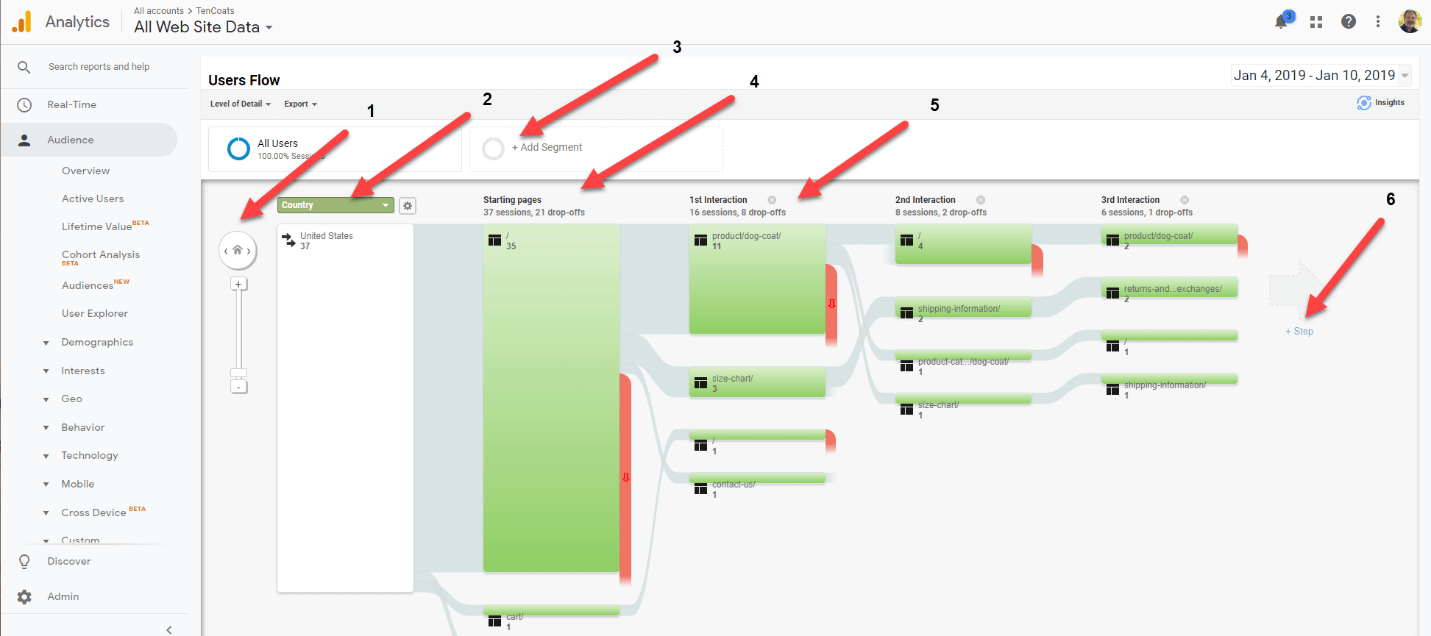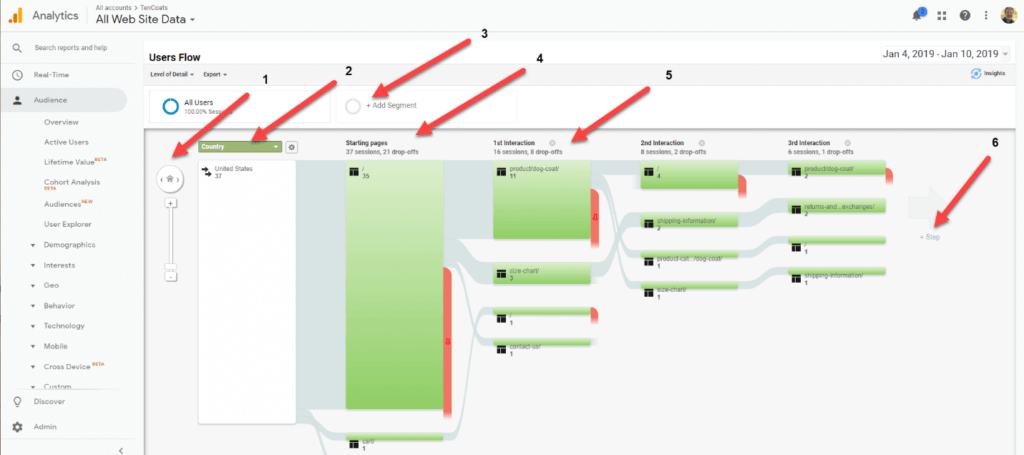 The screenshot above shows the primary components of the Users Flow report graph.
How to Leverage Users Flow Reports for Conversion Rate Optimization
The data presented by your Users Flow report can help you understand more about where your visitors are coming from and what they like and don't like (or understand and don't understand) on your ecommerce website.
To get started with Users Flow, consider the following options:
Dimensions (#2 in the screenshot above) allow you to analyze visitor actions by source.
Don't overlook the options here. Dimensions provide drill-down capabilities that can help you allocate resources to your best-performing sources and shore up the sources that are underperforming.
Here's just a sample of the questions dimension selection can answer for you:
Which countries are sending the most traffic to your website, and how do the actions of visitors from those countries differ from other visitors?
Which pages of your site attract the most organic (search engine) traffic? How does organic traffic perform versus your paid traffic?
Which advertising campaigns are performing best for you?
Which social media channels draw the most prospects?
How effective are your email marketing campaigns?
The Google Analytics Users Flow report can provide powerful insight. Don't let the apparent simplicity of the report fool you into overlooking the depth of information available.
Segments (#3 in the screenshot above) allow you to fine-tune the dimensions.
Would it be helpful for you to determine the traffic patterns of visitors who came to your ecommerce site and made a purchase, as opposed to those who arrived and left without buying anything?
Segments allow you to easily and graphically see exactly what happened.
By adding segments to the Users Flow report, you can separate those who purchased from those who didn't; differentiate between mobile, desktop, and tablet users; identify search traffic versus referral traffic … and more.
Experiment with the Users Flow report. Look for patterns, leaps in volume, changes in conversion activities—the more you study Users Flow, the more you'll understand why people are visiting your site and what they want to achieve while they're there.
The landing page and interactions beyond it (#4-6 in the screenshot above) show you the paths visitors choose to engage with your site.
Are your prospects heading directly to your product pages, or are they first checking your shipping charges and return policy?
Are there certain pages that move them further towards a purchase than others? Are there certain pages that get more drop-offs than others?
To make the flow even clearer, click on the interaction level to view basic data and highlight the flow. Other options that appear after you click the interaction level are "Explore traffic through here" or "Group details." Each option gives you a different view of the interaction level.
Get Started with the Google Analytics Users Flow Report
Follow the steps provided above and dive in. That's the only way you'll get a sufficient feel for the value that is packed inside the Users Flow report.
Experiment with the options. Slice and dice your traffic in every way you can think of. The more you study this report, the more appreciation you'll gain for it.
If you get stuck—or even if you just want some additional ideas on how to leverage the Users Flow report—give The Good a call.
Users Flow is one of our favorite topics. It gets to the roots of conversion rate optimization.
If you want to ensure your best prospects and customers return to your site, make sure they are happy, make sure your visitors are happy with your ecommerce site and that stuck points are cleared to make every interaction a good experience.
Subscribe to our newsletter to get more just like it, sent straight to your inbox every week.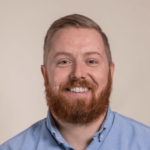 About the Author
David Hoos
David Hoos is the former Director of Marketing at The Good, conversion rate experts who deliver more revenues, customers, and leads. David and the team at The Good have made a practice of advising brands on how to see online revenue double through their conversion rate optimization services.