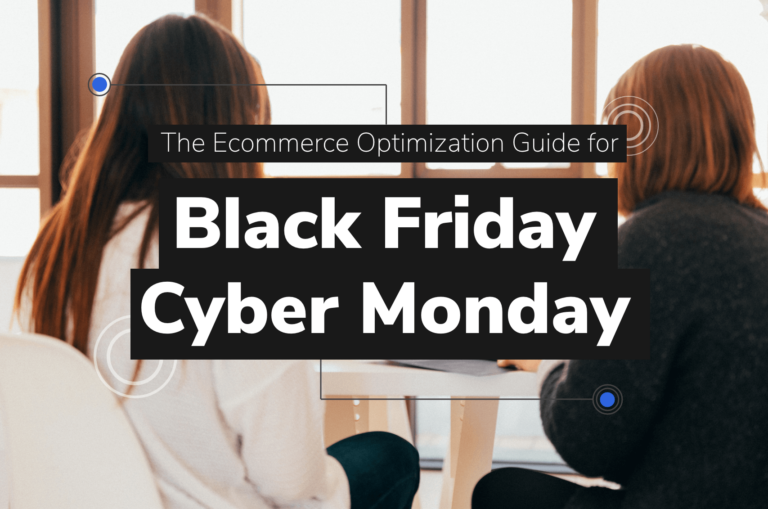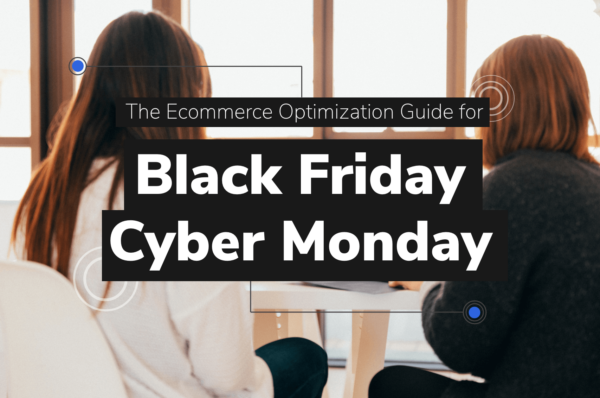 Conversion Rate Optimization
The Ecommerce Optimization Guide for Black Friday & Cyber Monday
The ultimate Cyber Monday and Black Friday guide for ecommerce businesses gearing up for the holiday shopping season.
With the Black Friday / Cyber Monday shopping season right around the corner now is the time to start thinking about how you can optimize your website to win big this year. Here's the Cyber Monday and Black Friday guide to do it.
According to research from Adobe, US shoppers racked up a total of $10.8 billion in online sales on Cyber Monday in 2020. It was the biggest shopping day online in U.S. history, showing a 15.1% increase in sales from the year prior.
In this guide, we outline a three-step process you can follow to help optimize your website experience before the holiday traffic strikes.
Here's what we cover:
Step 1: Conducting a Website Audit
Step 2: Optimizing Your User Experience
Step 3: Re-evaluating Your Sales Strategy
Step 1: Conduct a Website Audit
Conducting a thorough review of your website prior to the Cyber Monday and Black Friday shopping season will set your business up for success. Now is the best time to identify holes in your conversion funnel before the holiday traffic surge arrives.
Technical Review
Start with a technical audit of your website. Before you can dive into improving your website's customer journey, you need to ensure that it's technically functioning at its best.
Site Speed
Having a fast ecommerce site is the difference between conversion and abandonment. For every millisecond your site delays in loading, you could lose up to 1% in online revenue. Unfortunately, for a lot of ecommerce managers, optimizing a website's load speed is often overlooked and languishes at the bottom of the priority list.
Many brands, content with the quickness of their homepage forget that their product pages, category pages, and shopping cart's load speeds matter just as much. Having a homepage that loads in 2 seconds is great, but if your shopping cart takes 10 seconds to load (or worse, times out) you will lose a sale.
Not only does poor site speed performance hurt your customer's experience, but it also negatively impacts your organic search rankings. Search engines live and die based on the user experience they deliver. Providing the highest quality results to searchers is how Google came to dominate the business. Since users don't like websites with slow-loading pages, search engines don't either.
Your site's speed can cause your site to be penalized by the algorithm that determines which pages show where on a search engine results page (SERP). Both desktop and mobile searches use site speed as a ranking factor in results.
So how do you properly analyze your website's speed and pinpoint areas that are causing loading delays? Fortunately, there are effective tools available to help you with this – most of which are completely free to use.
If you're looking for a more advanced tool to help identify load speed problems, GTmetrix is another great resource. GTmetrix gets to the specific elements of your website's code and structure that may be costing you precious seconds of load time. Additionally, you can compare your load times with other websites to see how you stack up against competitors.
Website Analytics Funnel Analysis
Funnel analysis allows you to visualize the journey your visitors take to complete a task and observe how they're succeeding or failing at each step. The insights you'll gain from this type of analysis will help identify where in their journey customers are experiencing problems so you can prioritize those areas as part of the optimization process.
If you're still learning the ins and outs of Google Analytics (or whichever analytics platform you're using), consider reading our Insight article that explains the most effective approach to conduct a funnel analysis of your site. You can also use our step-by-step guide to setting up a custom funnel analysis in Google Analytics.
User Experience Review
Analyzing the user experience of your website is an essential step to consider before moving on to testing. Evaluating your website analytics helps you identify the specific pages on your site that may be causing problems for your customers.
The three key components to conducting a successful user experience review are…
Eye-tracking heatmaps
Session recordings
Talking to customers and customer service representatives
First, let's focus on heatmaps—a tool we use on a daily basis at The Good. We use it so often, we have a whole guide on it. Eye-tracking heatmaps provide a visual representation of typical user behavior by aggregating data showing where users click, move, and scroll on a webpage.
Heatmaps may not provide the breadth and variety of data you'll receive from a website analytics tool, but they work very well for quickly diagnosing problems that could potentially be costing you sales.
Recommended tool for heatmaps:
VisualEyes – Harnessing the power of AI for quick and accurate data, VisualEyes is the future of heatmaps. This powerful tool simulates eye-tracking studies and preference tests to analyze user data and product in-depth insights in just a few seconds.
Hotjar – Another can't miss option is Hotjar, an excellent tool if you're serious about optimizing your website experience. It provides heatmap reports based on the clicks and movements of customers on your site.
Next, let's talk about session recordings. Session recordings (also referred to as session replays) are one of the essential tools you'll need to conduct a comprehensive website audit. As the name implies, these recordings capture the mouse movements, clicks, and scrolls that a visitor executes while browsing your website. Session recordings provide an unbiased look at how real customers behave on your site, and play a key role in helping you uncover potential usability challenges.
User Testing is another method of research that works in tandem with session recordings. This research technique involves asking "user testers" in your target audience to complete specific tasks on your site. While the tester is completing the assigned tasks, their screen is recorded and they're usually asked to narrate their thoughts on the browsing experience.
The knowledge you'll take away from even just a handful of user testing sessions will be invaluable to the optimization process later on.
Recommended tools for session recordings / user testing:
UserInput.io – With a range of user testing options, you can get quick and in-depth user feedback on your site. Real people will record their live impressions of your site, so you can make sure their experience is exactly as you want it to be.
UserTesting – This is another tool for conducting remote, unmonitored user testing. After you input the specific demographic information of your target audience, this service will hand-pick a group of user testers who meet your criteria to participate in tests.
Hotjar – In addition to generating heatmaps, Hotjar also offers session recording services for all of their paid subscription tiers.
The last (and arguably most important) task you should take into consideration when conducting a website audit is speaking directly with your customers. You'd be surprised by how many ecommerce managers we talk to who have never invested in focus groups or in-depth customer surveys.
Tools like CMNTY and Remesh make it very easy to conduct an online focus group and get valuable insights directly from your customers in real-time. There's no better way to understand how your customers perceive your website than talking with them directly. Investing in just one focus group session will provide more than enough insight to fuel your next round of A/B tests.
In addition to focus groups and in-depth interviews, you might consider opening a direct line of communication between your UX designer(s) and your customer support team. It's not uncommon for there to be a disconnect between these two teams, especially for larger ecommerce companies or if customer service is outsourced to a third-party. Creating a feedback loop between these teams may unearth latent problems that can then be addressed quickly by your ecommerce manager or UX designer.
Step 2: Optimize Your User Experience
After identifying the specific challenges and conversion blockers that are hindering sales on your site, the next step is optimizing your user experience.
The three key areas of we recommend focusing your attention on are your:
Homepage
Product Pages
Checkout Page
Homepage
A critical mistake we see ecommerce managers make is insisting that their homepage is the most important place on their site. They'll invest a majority of their time (or their developer's time) trying to make it the most beautifully designed page of the site with complete disregard for the rest of the customer experience.
Here's the problem with this approach: Putting most of your resources into designing an aesthetically appealing homepage is like investing all of your automotive budget into a new paint job, then not having funds left over to buy gas or repair the engine. It'll look good, but it won't get you far.
That said, the homepage does play an important role in your customer's journey. Your homepage should accomplish something in a major way that every subsequent page on your site should echo: let visitors know exactly where they are, what they can do there, and how to take the next step forward.
Unfortunately, many brands misuse the homepage as a dumping ground for all things marketing, neglecting the wayfinding purpose of the page.
Here's what we recommend you do to get your homepage optimized before the BFCM traffic starts pouring in:
1. Revisit your value proposition
Visitors direct their attention to your value proposition when deciding if they need what you're selling. If they don't fully understand the value that you can provide for them they'll leave your site.
If you don't already have a value proposition, look at your unique selling proposition (USP) to aid in developing one. If you can clearly describe what makes your company unique, you'll be better equipped to explain to your customers why they should choose you over the competition.
This template is a good place to start:
Target audience: Be as specific as possible so you attract the interest of the prospects who matter. If you're targeting digital marketers, be specific about that.
Target objective: The objective is revealed when you're determining your customers' immediate needs. If your target audience's goal is to improve their search engine optimization strategy, speak to that need.
Unique selling proposition: Explain what value you can provide through your products/services. This is the unique solution that you're selling to your audience.
One way to make sure your home page is delivering on all of the above, is to have an acquaintance perform a 5-second test (usually friends and family are too close to give real, raw feedback). Go to a local coffee shop and offer to buy someone a coffee for a few minutes of their time. Show them your website and ask them to tell you about the first things they notice. Are those things the most important? If not, how can you improve your homepage to make sure in 5-seconds anyone knows what your site is about. Check out our landing page optimization rubric for more information.
Subscribe to our newsletter to get more just like it, sent straight to your inbox every week.
2. Optimize your navigation menu
Optimize your mobile website's navigation. Having a navigation menu appropriate for a mobile device is essential to any ecommerce website. Consumers expect the mobile experience of a website to be as good, if not better than the desktop experience. Provide your visitors with a responsive, optimized navigation bar and you're guaranteed to see an improvement in your mobile conversion rate.
Replace the drop-down menus. When the options in your drop-down menu are complex, unfamiliar, or extensive, consider replacing them with a detailed navigation page. Usability research shows drop-down menus are annoying; plus, you'll need to sacrifice valuable info to make everything fit.
Make site search frictionless. Visitors who use search typically have intent to buy or act. Plus, they're much more likely to find what they're looking for. People who run a site search convert buyers approximately two times more often than people who don't.
3. Remove any unnecessary distractions
First, if you're currently using a nonrotating carousel on your homepage, we strongly recommend removing it. Research has shown that a staggeringly low 1% of site visitors click nonrotating image carousels (carousels that don't change automatically). Additionally, 84% of those clicks are on the first slide, meaning all the remaining slides combined receive a dismal 16% of the clicks.
The numbers aren't much better for carousels that rotate automatically. Auto-rotating carousels receive a bit more attention, but again, the first slide dominates, receiving 40% of all clicks. The second and third positions receive 18% and 11% fewer clicks.
Another distraction you'll often find on an ecommerce homepage is the, "Sign-up for our email list!" pop-up. In general, we recommend that you stay away from pop-ups that detract from the browsing experience, but in the case of exit intent pop-ups, we actually recommend them. Through experience we've found that exit intent pop-ups can work to reduce cart abandonment and increase conversions site-wide.
The two basic rules we recommend you follow when implementing a pop-up are: 1) The pop-up needs to offer a compelling reason for users to give out their contact information that isn't just a discount (more on that later), and 2) The pop-up shouldn't distract from the overall browsing experience.
Product Page
If you plan on investing in paid traffic this holiday season, it's important you're making sure your product pages are properly optimized to get the most out of that traffic.
To optimize your product pages for a better conversion rate, we recommend you focus on:
1. Product naming conventions
When it comes to product naming conventions for your products and product categories, the more descriptive, the better. The reason for this is because each word is a potential keyword for organic search. Google favors product pages that have descriptive titles because it allows users to find exactly what they're looking for. Long names also implicitly indicate more value and stand a better chance of attracting the visitor's attention.
2. Product descriptions
Great copywriting begins with an understanding of the audience – their needs, their desires, their problems, and the words they use to describe them.
The copy should be presented in a scannable, jargon-free format, with benefits highlighted to spell out exactly what the product will do for the potential customer. Use white space to help keep your product page layout clean and easily readable.
The product description should provide critical product information, short-circuit objections, and provide answers to the visitor's most pressing questions.
3. Product photography / video
This is where your writers and designers join forces. High-quality images or illustrations lend credence to the copywriter's product description.
Show people wearing and using your products to give the prospect a glimpse of ownership.
Your headlines and product images should work together to establish the product's value and illustrate why the prospect would be wise to select it.
The practice of including video elements in the digital assets strategy has risen so dramatically that many ecommerce sites now consider videos essential. Do people worry your product is difficult to use? Video can disprove that concern by demonstrating that the owner only needs to follow a few simple directions.
Do customers want to know more about the difference between certain features? Video can describe those differences quickly and accurately.
4. Back-in-stock notifications
If you're prone to running out of stock on certain items during the holiday shopping season, you need to have a solid back-in-stock notification option to recapture those sales when your stock is replenished.
There are a few things you can do to ensure you don't miss out on sales when a product goes out-of-stock:
Use back-in-stock emails. Work on your back-in-stock emails themselves. There are a few details to note here. Include the brand, the product, and its best price in the email subject line. In the body of the email, we recommend including an image and mentioning the brand, product name, and price again. You can also include a reminder of why they are receiving the email, clearly explain that it's back-in-stock, and include a very clear call-to-action that brings them to the exact product in the store.
Use SMS and push alerts. SMS text is quickly becoming one of the most effective ways to reach customers on their mobile devices. Providing customers with the option to input their mobile number instead of an email address may be an even more impactful way to notify customers that an item is back-in-stock.
Checkout
According to Statista, over 69% of visitors who load items into an ecommerce shopping cart end up not finishing the transaction. For one reason or another, they abandon the cart.
Improving your shopping cart conversion rate is the spot where your ecommerce optimization dollars will pay off best. It's the ideal place to begin.
Here are several items to consider when optimizing your checkout process:
1. Evaluate your post-purchase follow-up
Reevaluate your post-purchase follow-up procedure to ensure customers are receiving the best possible service even after they complete a purchase.
Despite the statistics, most marketers give little time or thought to their post-purchase email sequences. They send a receipt and little else. This is missing out on a significant opportunity to convert new customers into recurring customers. Here are the post-purchase emails we recommend you include in your post-purchase follow-up sequence:
The order confirmation. The first email should always be the confirmation of purchase. When people click Buy, they want to know that everything worked. That they didn't just send money into the ether of the internet, never to hear from it again. Confirm that their order was received and that someone on the other end is doing something about it.
The shipping confirmation. The shipping confirmation email allows you to update the customer on the status of their order, continue to build trust with them, and nurture your relationship with them.
The shipment update. Approximately one week after their shipment should have arrived, you want to check-in to make sure everything arrived in good condition. This is also an excellent opportunity to entice the customer with complimentary products or sign them up for a recurring purchase plan.
The review request. Always make sure the final email you send is a review request. After the customer has had time to use the product, make sure to politely ask them to submit a review and let you know what they thought of the product.
2. Hide the discount code field
With the rising popularity of discount-finder apps like Honey and Wikibuy, consumers have grown to expect a discount on every purchase made while online shopping. Unless your business is relying on discounts to draw in new customers, showing this form field to users is only going to encourage them to leave your site in search of a discount or promo code. After they leave your site, it's very unlikely they'll return empty-handed to complete the purchase at full price.
We always recommend hiding the discount code field (even completely removing it) so visitors aren't tempted to go searching for coupon codes somewhere on the internet.
3. Offer free shipping
For retailers, it's important to consider both the short-term and long-term benefits of offering free shipping. In the short term, offering free shipping will likely lead to an increase in orders and a higher average order value (AOV), especially if you set a minimum order threshold that your customers need to reach before they "unlock" free shipping.
Sixty percent of ecommerce businesses report that "free shipping with conditions" is their most successful marketing tool. If adding one more item to the shopping cart results in getting free two-day shipping, most consumers will do it.
In the long-term, offering free shipping will benefit your business by increasing customer lifetime value, and helping you build a group of loyal repeat purchasers. Additionally, it can be a great way to maintain your competitive edge in the marketplace, especially if you're operating in an industry that sells commonly available products, or even commodity products that compete heavily on price.
4. Implement a one-page checkout process
The checkout page is easily one of the most crucial, yet often overlooked elements of an ecommerce website. If your checkout process is too lengthy or complicated, you're seriously hindering sales for your business. We always recommend implementing a one-page checkout.
A single-page checkout simplifies the checkout procedure and eliminates any additional steps in the customer journey that could potentially contribute to cart abandonment. The one-page checkout template comes standard with most major ecommerce platforms (Shopify, BigCommerce, Magento) so there's really no reason to not have it on your site.
If everyone is buzzing about a newly-released movie, and I'm hearing nothing but recommendations to go see it, I'm quite likely to go. On the other hand, if the reviews are sour and my friends tell me the movie was a waste of time and money, I'll skip it..
Product reviews from purchasers – Product reviews are regarded as one of the most effective forms of social proof to use on ecommerce sites. Nearly 95% of shoppers read online reviews before making a purchase, and the purchase probability for a product with five reviews is 270% greater than the purchase probability of a product without them. If your website doesn't include product reviews somewhere on the product page, you're losing a substantial amount of business.
Customer testimonials – Requesting testimonials from prior customers can be a great way to build credibility and trust with your audience. These differ from product reviews in the way they are presented. Testimonials are concise recommendations that are placed in a call-out format. If product reviews are the backbone of social proof, testimonials are the face. Including video testimonials with your written testimonials is a particularly powerful tactic.
Earned media and press – If your company has been endorsed by recognizable media brands, you should definitely be leveraging this earned media on your homepage.
Step 3: Reevaluate Your Black Friday & Cyber Monday Sales Strategy
After conducting a thorough review of your website and optimizing your user experience to meet your customers' needs, it's time to outline your selling strategy for the BFCM season. How are you going to drive the highest return on investment from your promotions?
What promotions will you offer?
If your current strategy is to rely on discounting to bring in new customers, it might be time to start thinking outside the box. Here are three ways you can optimize the impact of your planned BFCM campaigns to compete with big brands like Amazon, Walmart, Best Buy, and Apple.
1. Offer free shipping
Local retailers often counter the "I can get it cheaper online" objection with "Not after you add on the cost of shipping." And while the reality is that free shipping plans often fail to provide significant cost savings to consumers (the expense must be covered somehow), conversion rates typically take a healthy leap forward when free shipping is featured. Just use Amazon Prime as an example.
Here are several recommendations for how to offer free shipping without destroying your margins:
Free shipping threshold. A popular way to offer free shipping right now is having a certain cart threshold visitors need to reach before they unlock free shipping. Customers who are close to reaching the order amount for free shipping will very likely tack on additional products to reach the required threshold. That, in turn, can push your average order value up considerably and help make up for the absorbed shipping cost.
Free shipping to members. This is a great way to improve customer retention while also growing your mailing list. You can charge for membership or not, but helping people feel like they're a part of your business and giving them a good reason for shopping with you are good ideas.
Free shipping to limited locations. Given the often exorbitant cost of shipping abroad, many ecommerce stores will offer free shipping only to those in their own country. Another possibility here is to offer free shipping from the distribution center to a local retail outlet. Be sure to spell out which locations qualify for free shipping.
Flat rate shipping. This isn't a free shipping offer, but it does alleviate much of the shopper's anxiety. Those who know what the shipping cost will be before loading up the cart are more likely to follow through and place the order than those who don't know how much shipping costs will be until they're ready to pay. This tactic is especially effective when higher-priced items are ordered. A $5 flat rate shipping on a $150 order is far more attractive than $5 shipping on a $12 order.
2. Exploit the FOMO
Remember to create a sense of urgency around your campaigns. The fear of missing out (FOMO) can draw sales from people who might otherwise abandon a shopping cart and not return to complete the sale.
Here are a few ideas to help get you started:
Displaying "limited quantities available" on popular products
Offer exclusive offers or priority buying privileges to loyalty program members
Display sold-out items to encourage users to sign-up for a back-in-stock notification
Implement a free shipping countdown timer
3. Don't lean on discounting
Shoppers love sales. Any reason you can come up with to hold one – be it Black Friday, Memorial Day, or your ecommerce birthday – is sure to boost revenue. There's just one problem with the idea. "On Sale" means a discounted price, and a discounted price means less profit.
Yes, a properly orchestrated sales strategy can make up for the slimmer margin by pumping up the volume. The problem is, you end up sacrificing profits for the reputation of your brand.
Discounting leads customers to think that you're a discount brand. Instead of being known for quality products or outstanding service, customers associate your company with the lowest price. You become the ecommerce version of Dollar General, attracting those searching for bargains. When a customer receives a discount on their first purchase, you can be pretty confident that they're going to try to get the same discount with every subsequent purchase.
Do you really want to join other discount brands in a race to the bottom? Instead, focus on Black Friday Deals that add value for your customers.
Segment & Grow Your Customer Base
Segmentation delivers results. Ecommerce managers who take the time to identify customer segments and tailor messages specific to each segment, consistently see ROI boosts that justify those efforts. People like to feel like you're speaking directly to them, not just blasting out generic sales pitches to the masses. The more you know about your prospects, the better you'll be at influencing their buying decisions.
There are two levels that should be considered in market segmentation: product fit and customer fit. Some would see this as the difference between business-to-business or business-to-consumer sales.
Remember, though, that buying decisions are made by people. Whether you're selling to a corporation or a homemaker, you still need to be concerned about individual preferences.
At The Good, we tend to look at segmentation as either bottom up or top down.
Top-down segmentation begins with the product or service and seeks to fit the offer to the most lucrative segments of the available markets.
Bottom-up segmentation focuses on the buyer's preferences and style, then works to get the best messaging to the right customers. An offshoot of bottom-up segmentation is the preparation of customer personas.
Neither approach is best. Insight from both is needed to develop the most effective marketing plan. The aim of market segmentation is to know what matters, where it matters, and when it matters. The end result of market segmentation is the division of your viable market into clusters of buyers with similar needs and desires. 
Market segmentation research is the basis of determining your most effective marketing mix.
This brings us to a key takeaway that improves both your Black Friday sales and your year-round efforts. Leverage the increased holiday traffic as a way to build your email marketing and SMS marketing lists. To find meaningful places where you can collect emails and phone numbers across your site, check out our teardown event with email marketing expert, Val Geisler. Throughout the event, Val makes tactical suggestions for how to collect and utilize valuable customer data the right way.
Before the holidays, capture more emails so that the group receiving your Black Friday deals and Cyber Monday deals is sizable. You want as many people as possible to see your best Black Friday deals.
Cyber Monday & Black Friday Guide: It's Never Too Late to Start Optimizing
Be prepared to adjust your strategy to meet changing needs and demands. If a certain offer or campaign isn't working for you, make the necessary adjustments to ensure that the rest of the season goes smoothly. It's OK to change up your ecommerce strategy as long as you're making changes based on data, not assumptions.
If you're still not sure what to start improving on your website or don't have time to manage optimization on your own, you might consider bringing in a conversion optimization expert to lend a hand. For over a decade, The Good has successfully increased conversions for brands large and small including Nike, Adobe, Xerox, The Economist, and many others.
If you're interested in learning more about our approach to conversion optimization and how we can help improve your website experience, the best place to start is by booking a free landing page teardown.
This teardown is a data-driven critique of the usability and effectiveness of any landing page on your site. It's developed using data from our insight platforms as well as an expert analysis by members of The Good's Conversion and UX Strategy team.
Want a free landing page teardown?
We'll provide a data-driven critique of the usability and effectiveness of your site free of charge.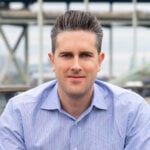 About the Author
Jon MacDonald
Jon MacDonald is founder and President of The Good, a conversion rate optimization firm that has achieved results for some of the largest online brands including Adobe, Nike, Xerox, Verizon, Intel and more. Jon regularly contributes content on conversion optimization to publications like Entrepreneur and Inc. He knows how to get visitors to take action.