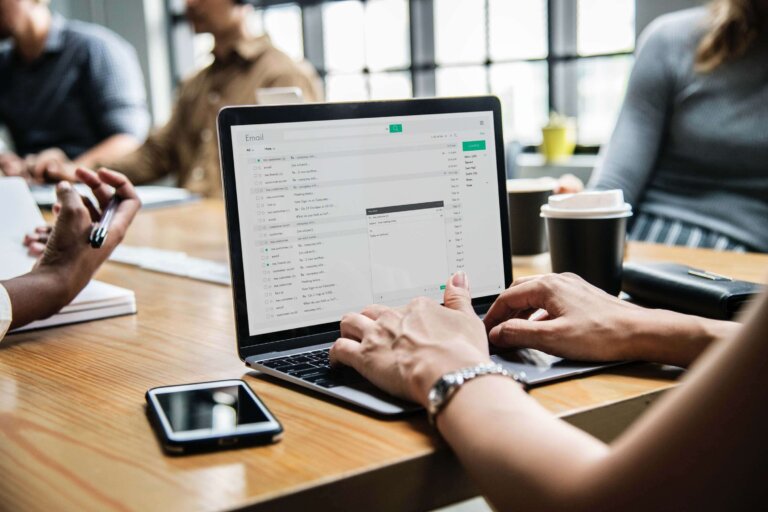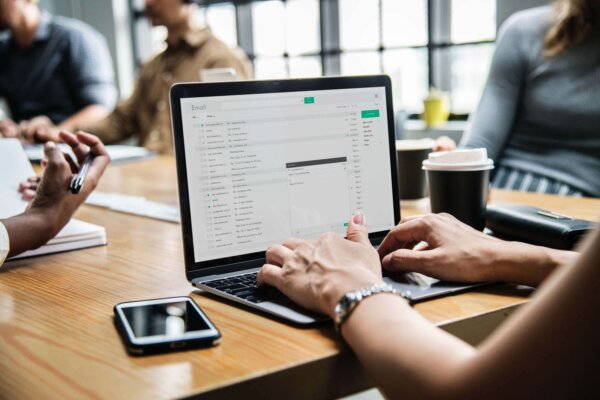 Customer Experience
Your Confirmation Email Starter Kit: Strategies, Best Practices, and Examples
Confirmation emails are an overlooked way to boost customer engagement and conversions. Here is our best advice for making the most of these opportunities.
When you receive a confirmation email for an online purchase, it's almost always a template offered by the brand's email marketing tool or ecommerce platform. They throw in some quick copy, an obligatory "thank you", and an order number.
Then they set it and forget it.
This might be why a whopping 85% of consumers say less than half the emails they receive are useful. Ouch.
Retailers and marketers are missing out on big opportunities to deliver value, start conversations, stand out from the crowd, and improve conversion rates here. "A confirmation email, particularly post-purchase, is the perfect opportunity to deepen the customer relationship and earn their loyalty," says Ami Williamson, ecommerce copywriter and quiz funnel creator.
How do you seize that opportunity?
That's what we dive into below. We'll define what we mean by "confirmation emails" in an ecommerce setting and explore why they deserve more than an email template. Then, we'll cover the fundamentals behind effective confirmation emails, with plenty of examples for guidance.
Here's what you can expect to learn:
What is a confirmation email?
Why are confirmation emails important to marketing?
3 types of ecommerce confirmation emails
What to include in your confirmation email design
Effective confirmation email examples
Confirmation email FAQ
What is a confirmation email?
A confirmation email is a transactional message you send to website visitors and customers. It verifies a completed action, a bit like a digital thumbs-up. It's also a relational email. It intersects a prospect's or customer's journey with your brand, so it's a key opportunity to build trust and rapport with the recipient.
Why are confirmation emails important to marketing?
While our inboxes are fairly flooded (something like 319 billion emails are sent every day), we're still spending a good deal of time there. Five hours a day, in fact.
Your customers are hanging out in their inbox. And, if you do a few things right, they're also opening your confirmation emails.
Here are four big opportunities you have when they do.
1. Start a one-on-one conversation with your prospects
Transactional emails, correctly presented, aren't seen as spam by either regulatory guidelines or by the people who receive them.
Because of this, all types of confirmation emails enjoy exceptionally high open and click-through rates. They experience an average open rate of 42.51%, a click-through rate of 18.27%, and a conversion rate of 10.34%. Keep in mind the average open rate for marketing emails is only around 15-25%, with the average click-through rate hovering around 2.5%. So, folks are opening your confirmation emails way more than your average emails.
This gives you a unique opportunity to start conversations. For example, you could ask recipients why they chose to buy in an order confirmation email (hello customer research!). Or, ask them to self-segment in a subscription confirmation email, the way Brightly does below, so you can deliver more personalized emails in the future.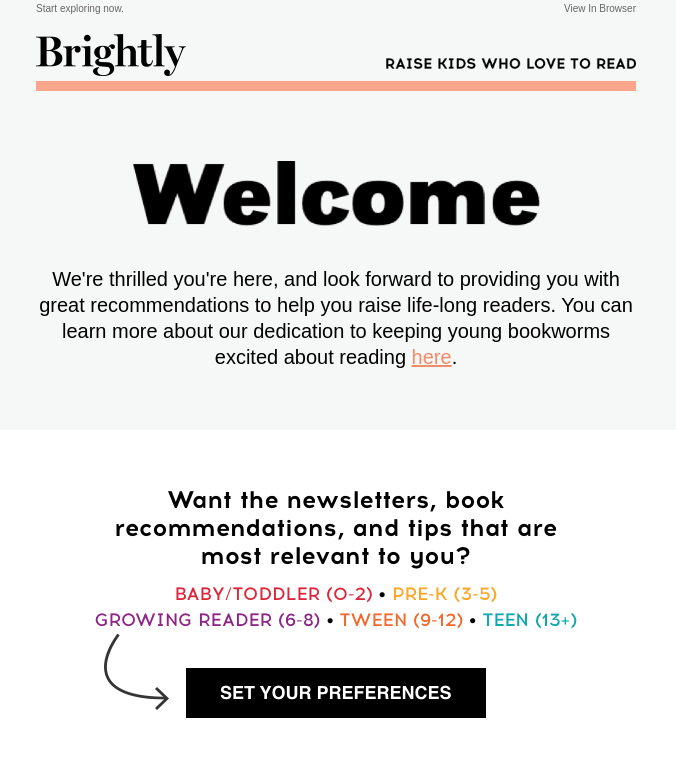 2. Touch base with prospects at critical points in the consumer lifecycle
If someone just subscribed to your email list or rewards program, they've expressed interest. If they've just made a purchase, they've chosen to spend their hard-earned money with you. At either point, they've made a significant step in their journey with your brand, and you now have the chance to build rapport.
"If you're wanting repeat customers, you can start by focusing on making sure their first order is a positive experience," Ami Williamson points out. "Teach them how to get the most out of your products — happy customers are more likely to come back, tell others and less likely leave a negative review."
3. Track valuable data for better engagement
There's a good deal of valuable quantitative and qualitative data you can pull from the confirmation emails you're sending.
For example:
Quantitative:
Subject line performance
Day of week open rates
Click rate
Conversion rate
Read time
Revenue per subscriber
Subscriber lifetime value
Forwards
Qualitative:
Any responses, including clarifying questions, frustrations, or "yay, can't wait!" anecdotes.
On the quantitative side, this data can help you optimize your send times, segmentation, open rates, and more so you get better at sending the right message, to the right person, at the right time.
On the qualitative side, these responses help you understand what the customer is thinking or feeling at that journey stage, where you can improve your emails (are they frustrated because you left out key information?), or identify customers you can interview for deeper insights.
4. Boost conversions with well-timed CTAs
Confirmation emails are also a chance to boost sales. Your audience is actively engaged, so they're also primed for conversions.
"Confirmation emails are triggered by your subscribers' actions AND intent, so by default, they're HYPER personalized, HYPER relevant, and sent at the exact moment your subscriber is LOOKING to engage with you," explains ecommerce email consultant, Nikki Elbaz. "You really couldn't ask for a more magical mix — and the numbers show it."
So, while you do want to think carefully about how you add in conversion prompts, such as upselling or cross-selling related products, confirmation emails are a good place for well-timed call-to-actions (CTAs) — as long as you're providing your new customer with all the essentials they are expecting first.
5. Stand out in a crowded marketplace with an exceptional experience
"Why make a bland impression when you can make an incredible one?" asks Samar Owais, email strategist for ecommerce businesses. She recommends, "Surprise and delight your customers in unexpected places — and everyone expects a bland confirmation email. It's one of the easiest and most underrated ways a brand can stand out."
For example, Nuggs packs a load of delight into their confirmation email with just a few changes to the default Shopify confirmation template. Lianna Patch, owner of Punchline Conversion Copywriting, explains normally these templates just say "'We have received your order. We will notify you when it's ready for processing.' and it's such a missed opportunity — especially if you want to stand apart with your brand." Her confirmation email from Nuggs did something delightfully different.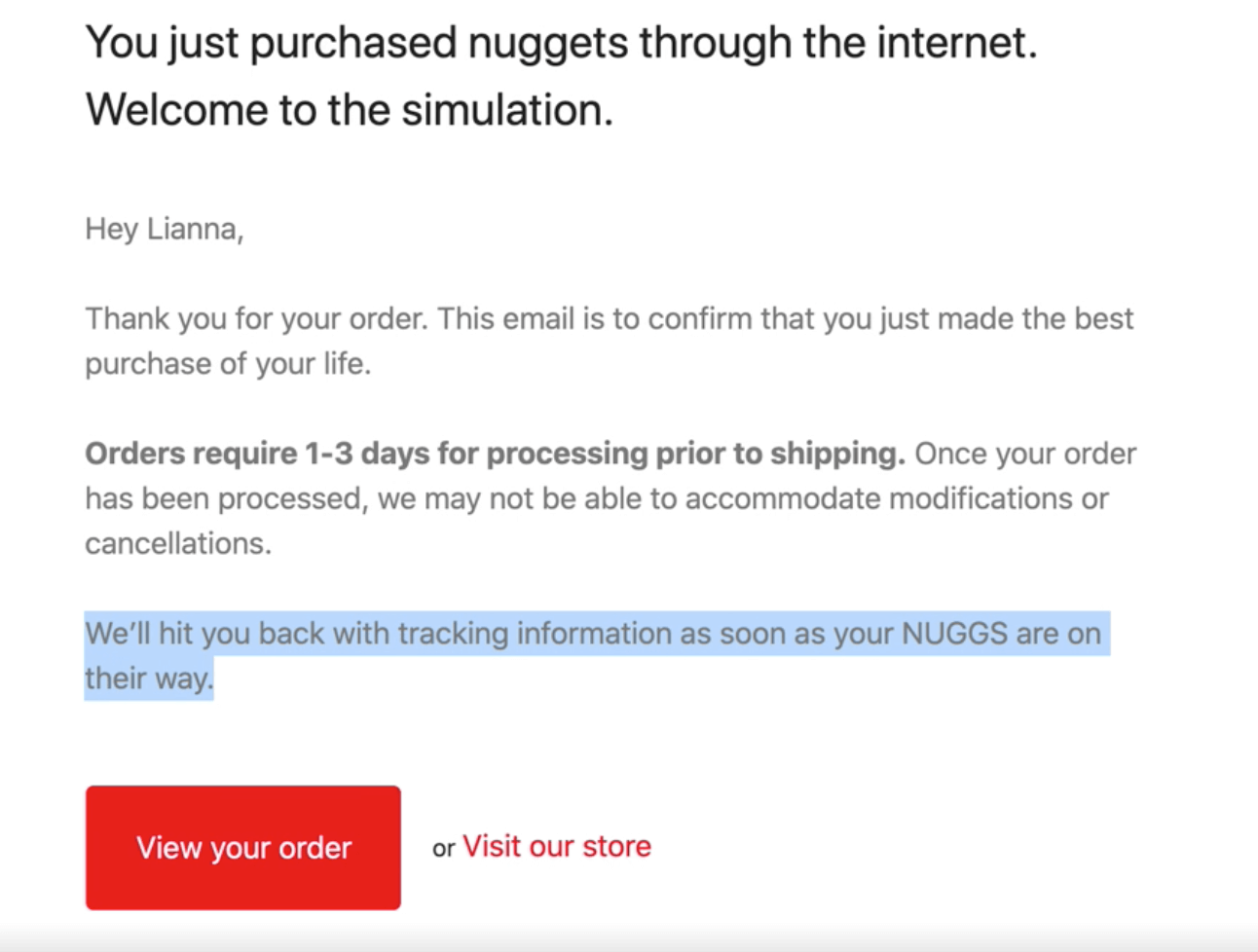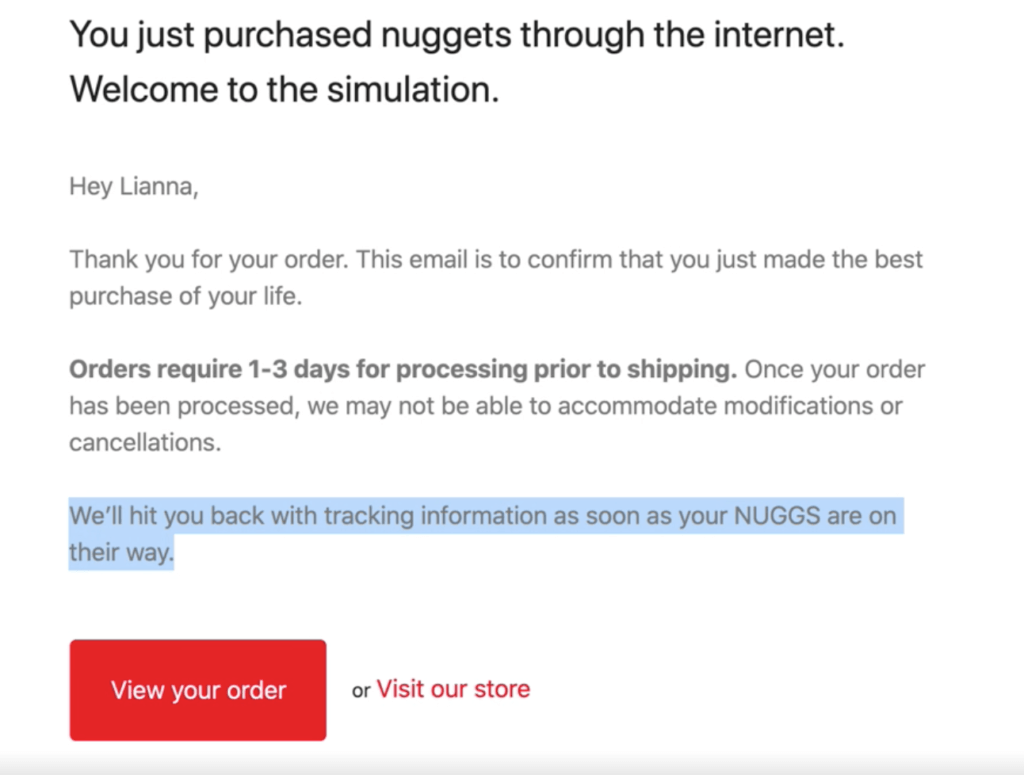 Remember, a great customer experience builds an effective moat for your brand. And since confirmation emails are one of the initial experiences a prospect or customer has with you, they're a great place to start building a best-in-class experience. "Confirmation emails are often the first email your subscriber/customer sees after taking an action you wanted them to take," reminds Owais, "…the least you can do is reward that conversion with a great email experience." 
3 types of ecommerce confirmation emails
Confirmation emails, as the name implies, confirm the consumer or retailer took some kind of action. Three actions that commonly trigger a confirmation email in ecommerce are:
A visitor subscribes to your mailing list. When a visitor on your website signs up to your mailing list or loyalty program, they're sent a subscription confirmation email.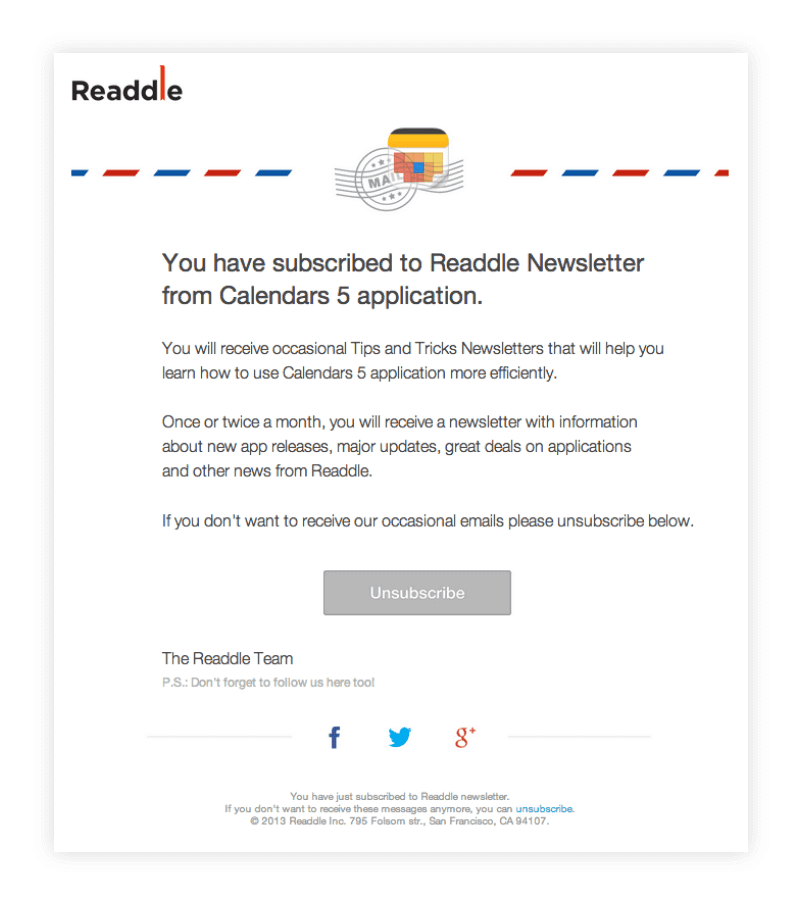 Someone buys something from you. When a visitor completes a purchase on your website, they're sent a purchase confirmation email. This email typically summarizes important order details and answers any questions the customer may have about the order.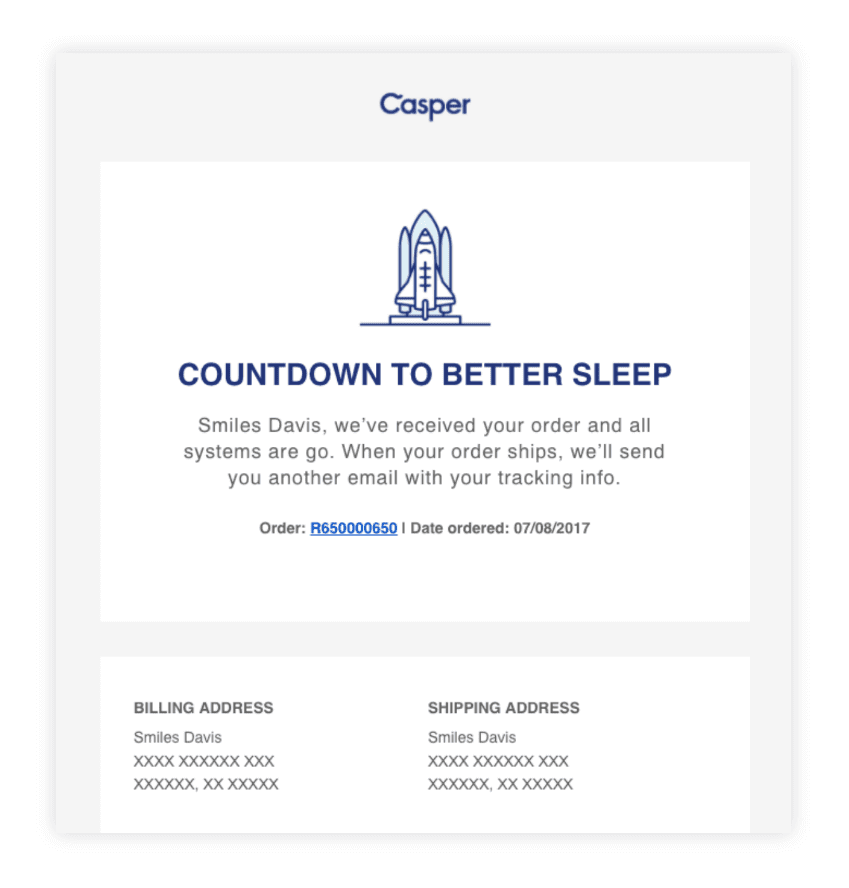 You ship the item. Once the product has shipped, you'll send the customer a shipping confirmation email to notify the customer that their purchase is on its way.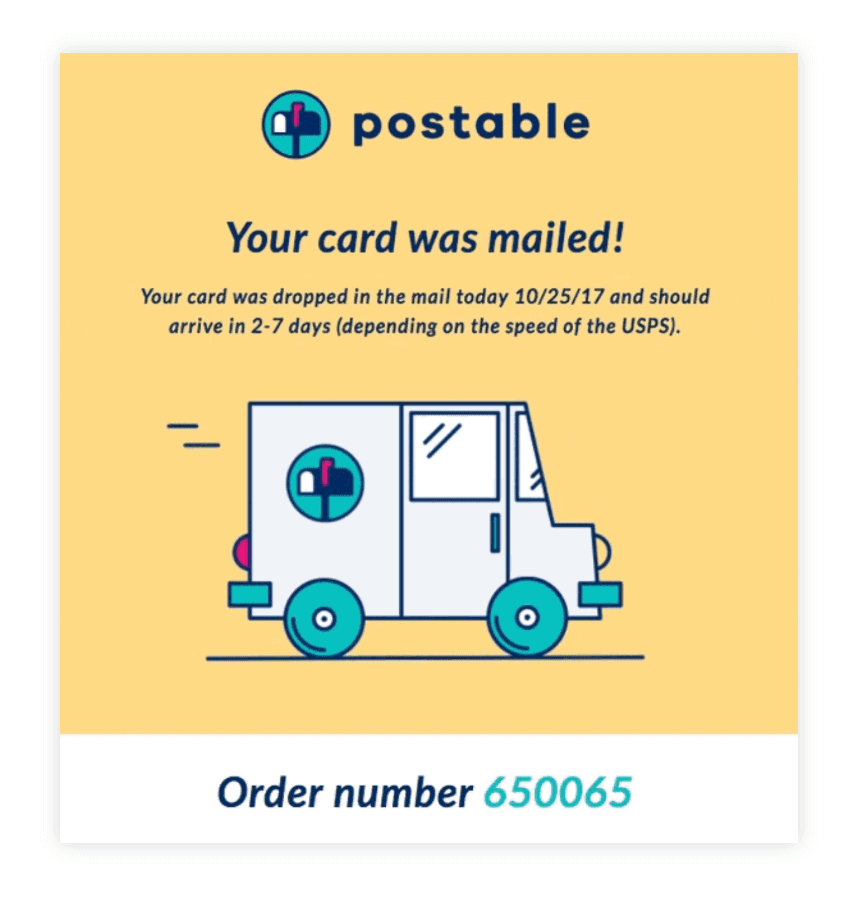 There are other types of email confirmations, of course. If you run webinars, you'll send registration confirmations, and if you're a boutique hotel you'll send booking confirmations, but those are a bit less common. The three above are the ones most every ecommerce brand will deal with.
Here's how to design all three of those in a way that builds rapport and improves conversions.
What to include in your confirmation email design
Every confirmation email should include at least these items and best practices:
Relevant information
Right expectations
Clear next steps
Human writing
Brand-specific elements
Skimmable structure
Optimized subject lines
Mobile-first design
And, depending on your brand and the email's content, you may also want to include:
A celebration
A well-timed call-to-action
Here are each of those bullets in more detail.
Optimized subject lines: Get their attention ASAP
We're starting with this one because your recipient will need to open the email to see anything else on this list.
Here are some guidelines from Mailchimp for optimizing your subject lines and email open rates: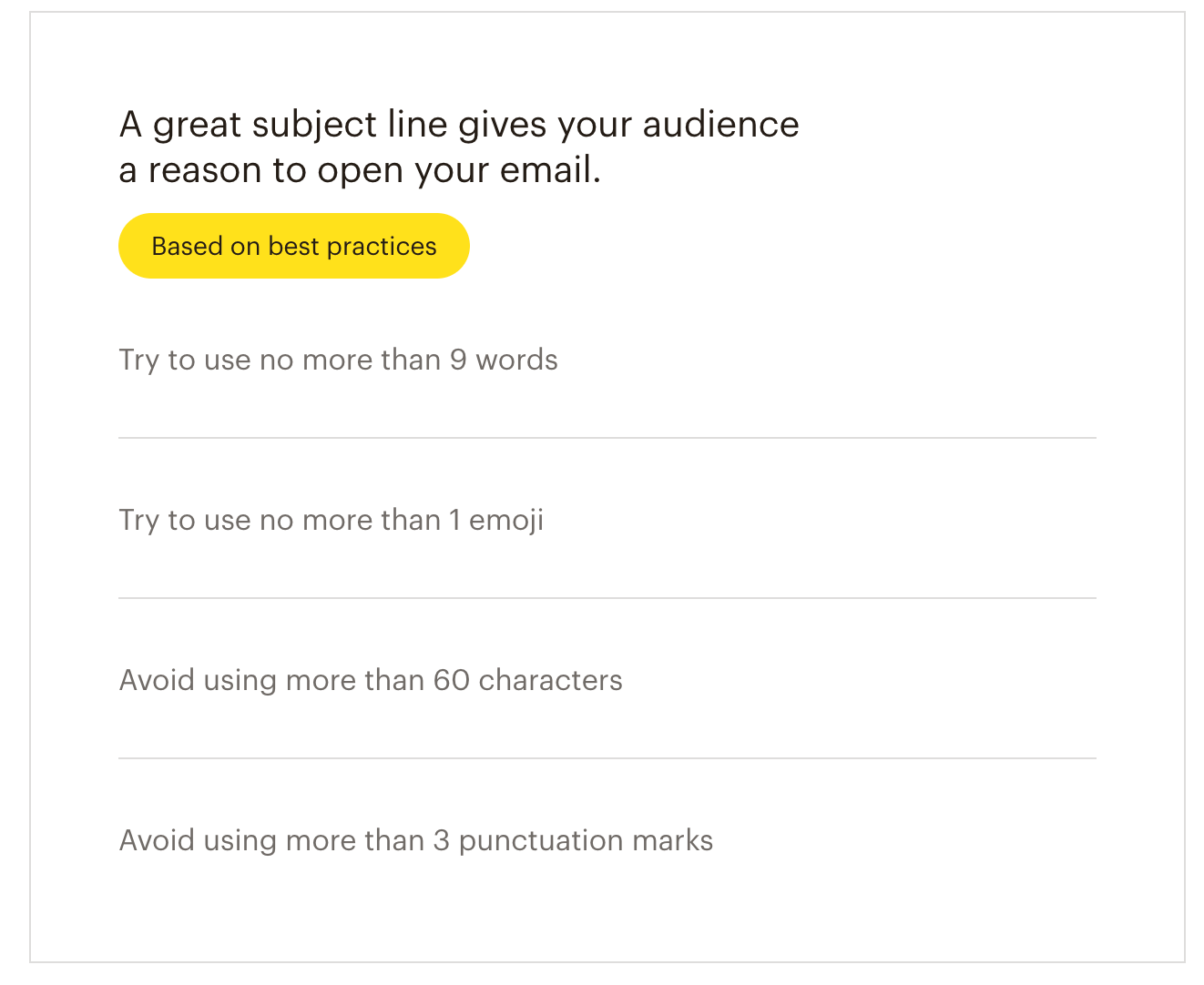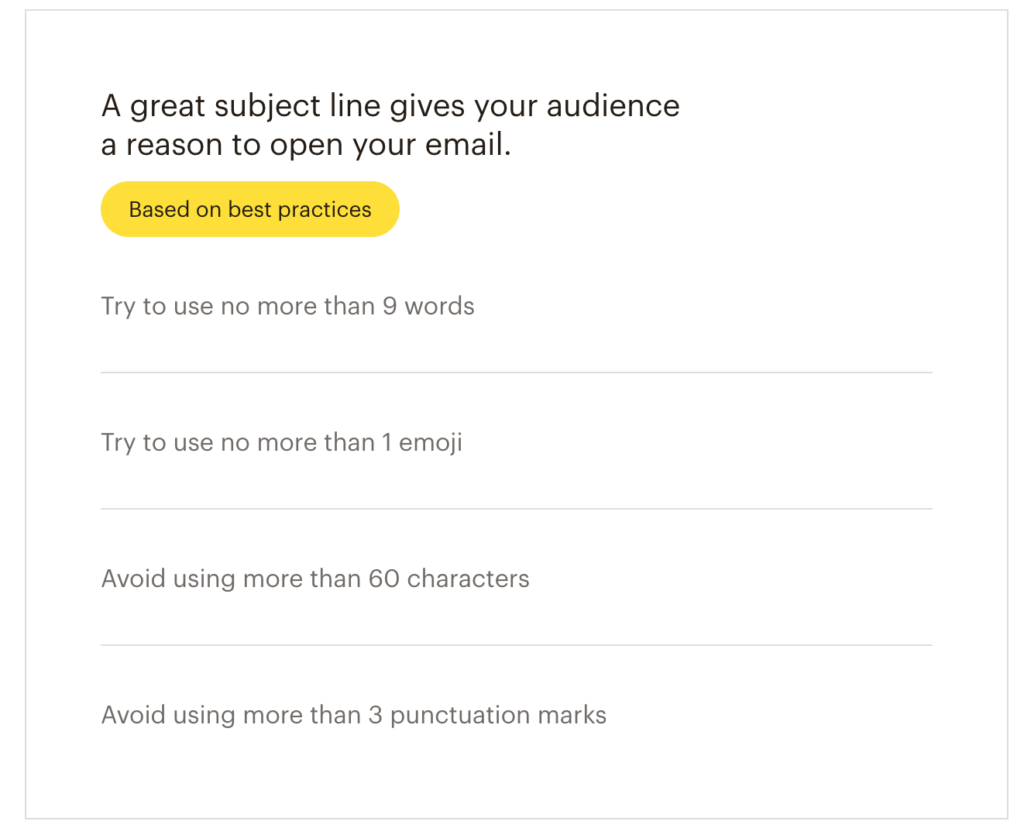 A few more data-backed tips here:
Make sure it's obvious the email is from your brand. Fun fact: the #1 driver for a recipient opening your email is "recognising the brand" closely followed by the subject line. So use something recognizable, and stay away from "no-reply" email addresses.
Get personal — emails with personalized subject lines are 50% more likely to be opened. Remember that "personalized" goes beyond using the recipient's first name. It also means accounting for the recipient's past interactions with your brand, expressed preferences, and customer's status (seasonal shopper vs. year-round).
Do something different. Subscribers should still be able to recognize what your email is about, of course. But that doesn't mean you have to use the same subject line as everyone else. Lianna Patch took me inside her inbox and highlighted a few brands who break the mold well here. These brands use a clever loading bar (Nuggs) or on-brand copy (Natural Dog Company) to stand out in their subject lines. "The ones who get lost," Patch explains, "are the ones that just say 'Thanks for your order' and include the order number."


Relevant information: Include what's necessary
Once the recipient opens your email, the content must be immediately useful. Make sure your email serves the customer before anything else. This means including all the necessary information in a clear, succinct way.
What information is necessary and relevant?
If you're sending an order confirmation email, you'll want to include at least the following:
Confirmation the order went through
Explanation of how it'll ship and how they can track it
Image of what the customer purchased
Information about who contact if they have concerns
Maybe: A cross-sell using Klayvio or Privy (if it's appropriate)
If it's a shipping confirmation, include these items:
Shipping update
Expected delivery/date range
Tracking information
Maybe: Additional resources, such as tips that'll help your customer use the product when it arrives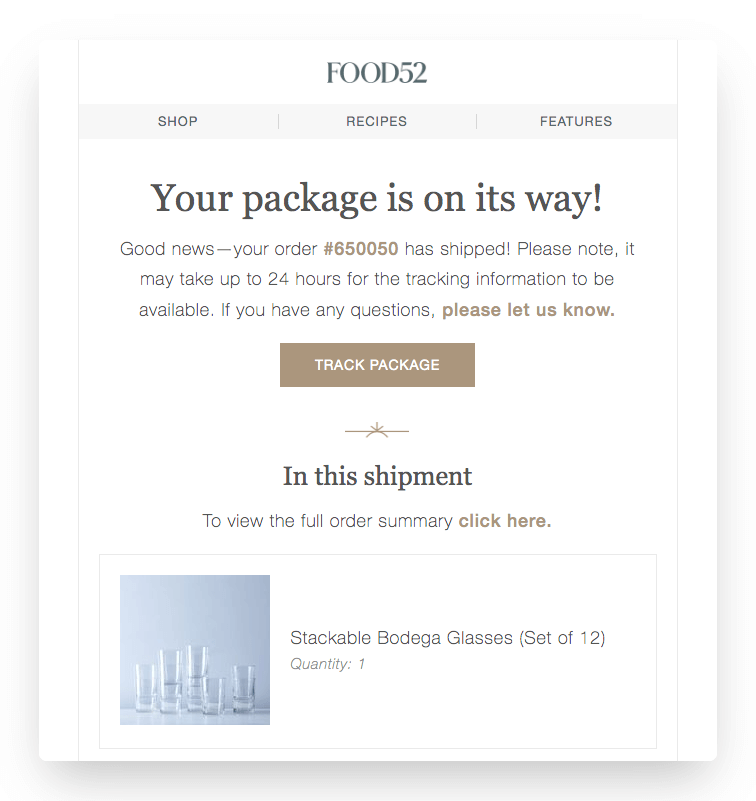 If you're sending a subscription confirmation (say, to marketing emails or a newsletter), you'll want to keep context in mind: DMA and Pure360 found 48% of consumers subscribe to brand emails for discounts and offers, 43% subscribe because they're already a regular customer, 40% sign up because they want email receipts, and 40% sign up for a loyalty program. (You don't have to be a math quiz to realize most customers sign up for multiple reasons.)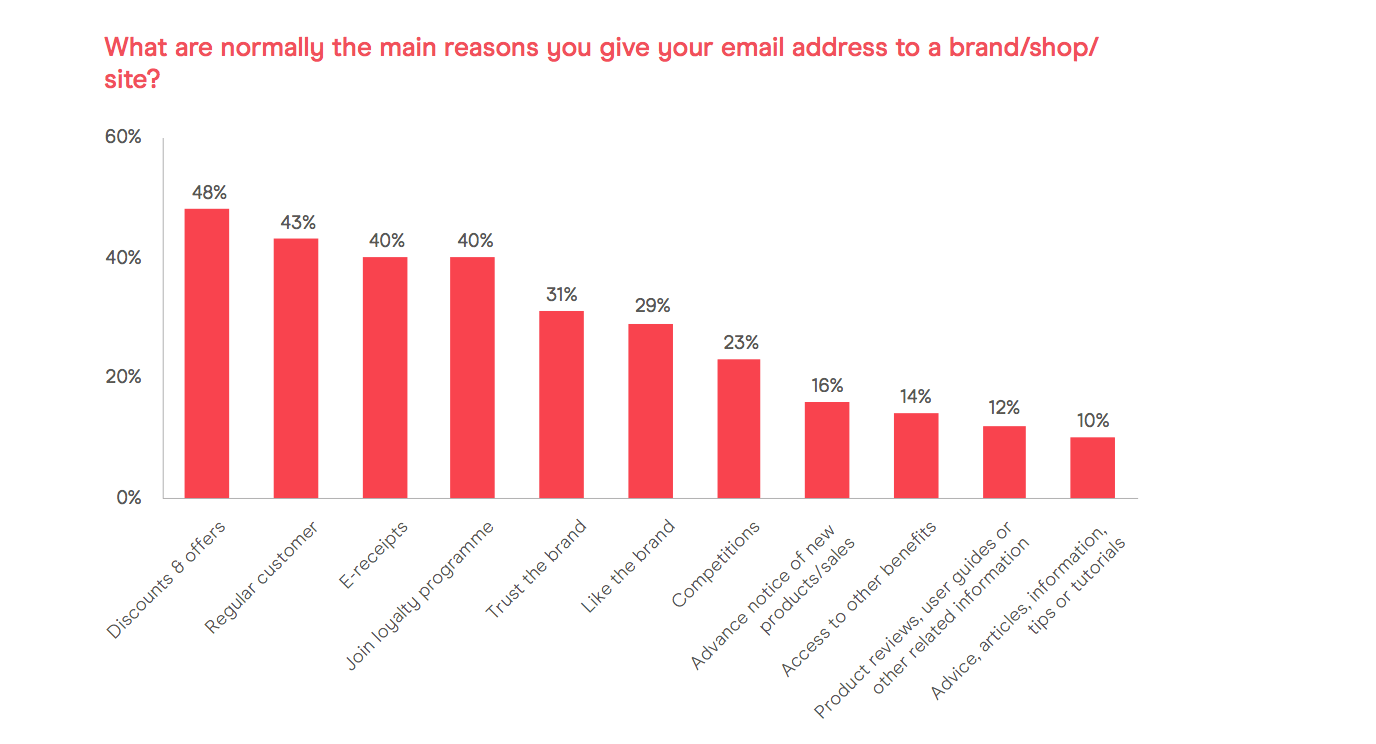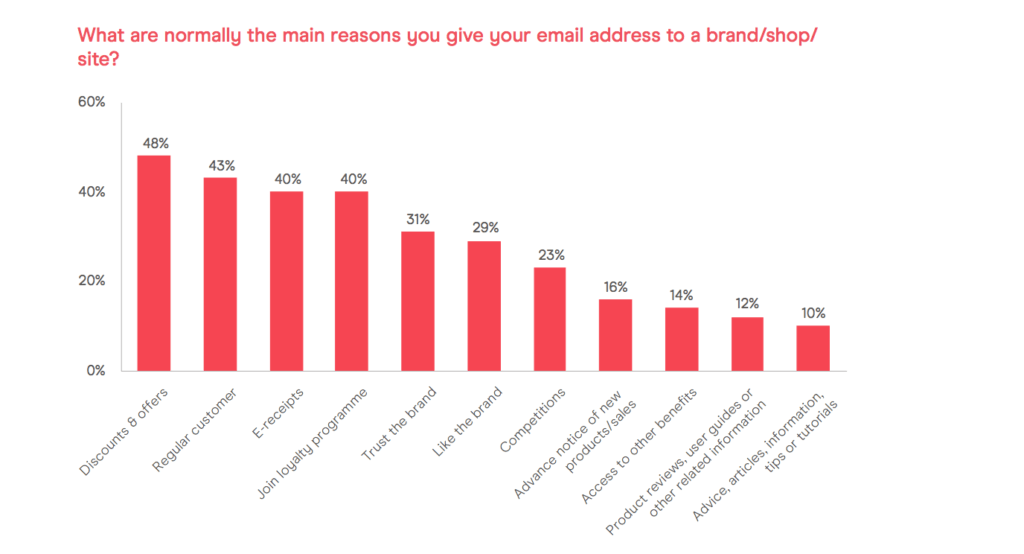 So, first deliver on why the customer signed up. Then also consider including:
A warm welcome
Any incentive they signed up to receive
A clear and prominent button for double opt-in (if you've set that up)
How to unsubscribe (no one likes feeling trapped)
Maybe: a prompt to self-segment (e.g. are they interested in promotions? Tips? Community advice?)
Right expectations: Start on a good foot
"My favorite confirmation emails are the ones that tell me what to expect next," says Samar Owais. "Unfortunately, that's where most brands fall short. If shipping's gonna take longer than usual, tell me in the order or shipping confirmation then tell me how to check in with your customer service." Owais says this proactive approach is a key way to build trust. "Set my expectations so that I don't turn into a dissatisfied customer. Let me know that you care about me receiving my order. Make it easy for me to trust you."
Remember, consumers are protective of their inboxes, and they (much like you) don't have the patience for emails that add more noise than value. If you want them to keep opening your emails, delight them.
The best way to delight your recipient? Start the conversation off with whatever they're most concerned about, then confirm the action that they just took. From that point, you can transition into any educational or lead nurturing information you want to include in the email.
Make a good first impression, and subscribers will be more likely to keep you in their inbox.
Clear next steps: Tease an upcoming email
Ever felt like you've been left in the dark — you're not sure what's coming next…or when? It's an uncomfortable feeling for anyone. And it's a feeling your visitors don't ever have to experience if you're intentional about what you put in your confirmation emails. No matter what type you're sending, tell recipients what emails are coming next. Promotions? Shipping? Tips for using the product or earning rewards? Spell it out.
Check out how Roark outlines clear next steps well in their order confirmation email. Immediately after confirming the customer's purchase, they say: "We will send you another email as soon as it ships."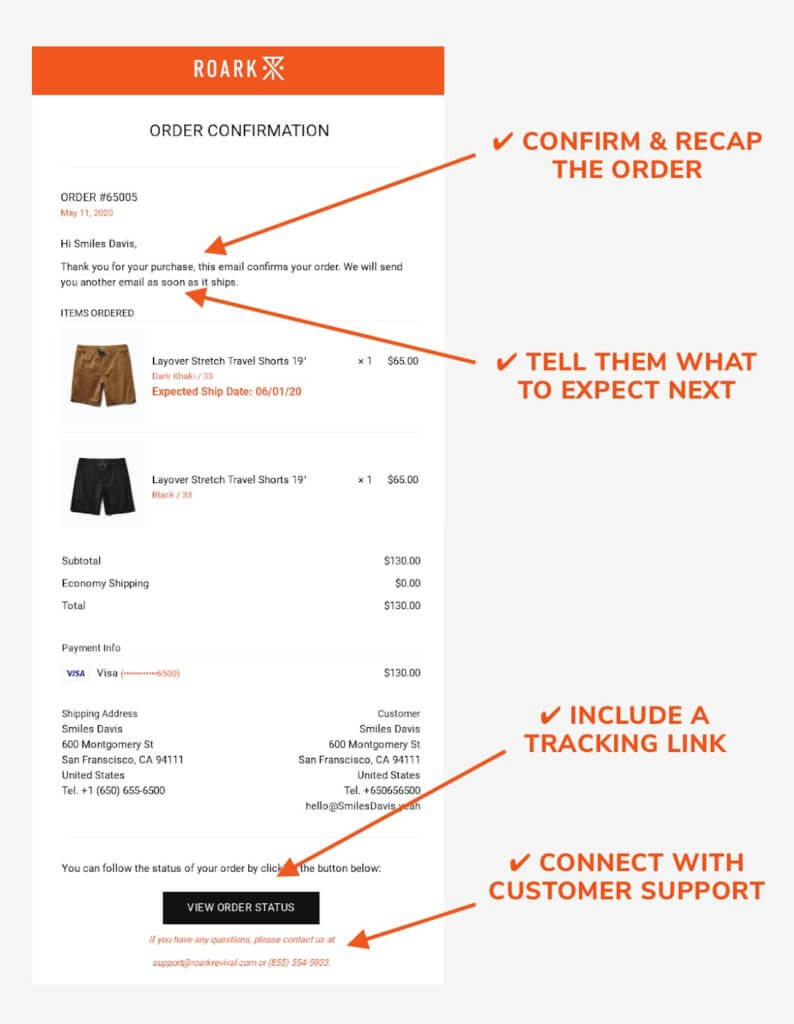 Of course, this is a bit more straightforward in purchase and shipping confirmation emails where you know for a fact which email the customer will receive next.
Subscription confirmation emails can be a bit trickier, especially if you don't have a set welcome sequence (which, by the way, is a good thing to put together). Even so, consider at least telling the subscriber what types of emails they can expect going forward, the way Wine Enthusiast does below.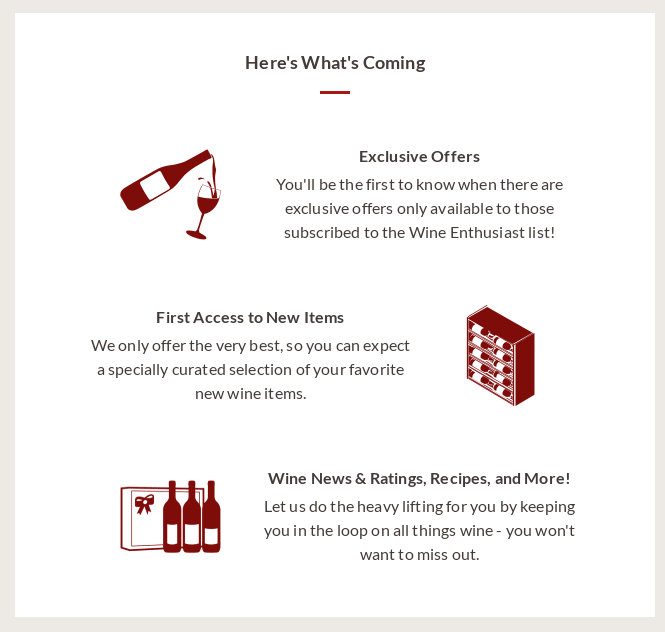 Human writing: Write like a human, not a car salesman
People connect with people, so you want to make sure the copy in your email sounds like it came from a person, not a robot.
Casper, for example, does an excellent job of sounding human in many of their emails, including the one below. Phrases like, "But not too bright, it's bedtime after all" and "Here's what you'll get…" all sound like phrases you'd use in everyday conversation with a friend.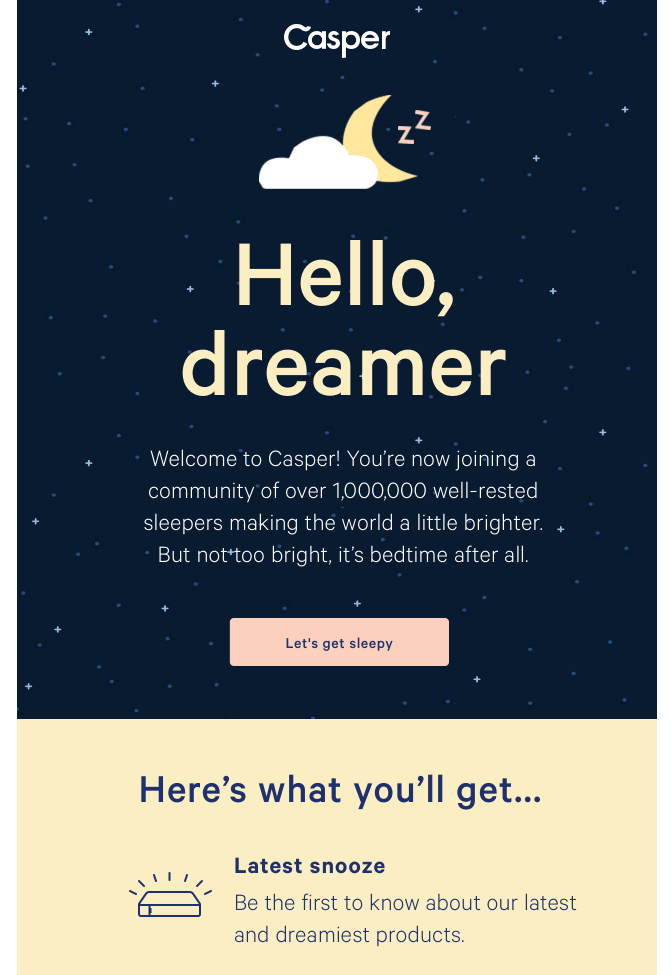 Brand-specific elements: Keep all elements on-brand
From colors and font, to the logo and voice, make sure your brand concept is evident in every email you send…including confirmation emails. Never use the stock design provided by your email or marketing automation platform. Every email should look, sound, and feel like "you."
For example, Lianna Patch walked me through a confirmation email in her inbox from cadence, a DTC company selling self-care organizers. Check out the header of their confirmation email.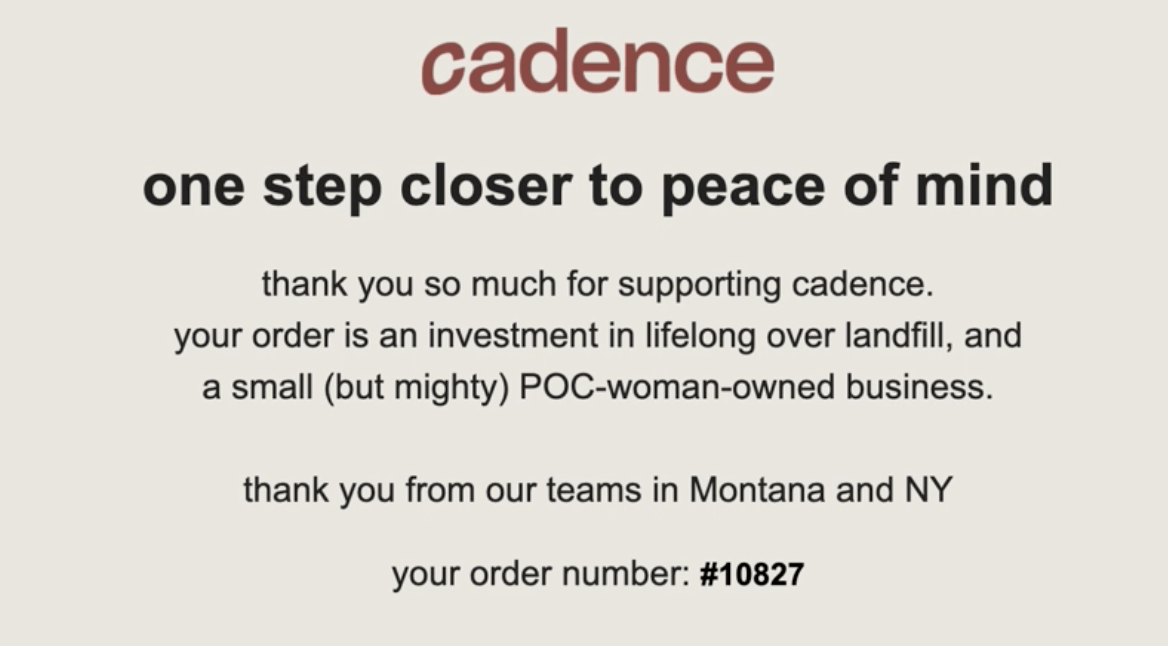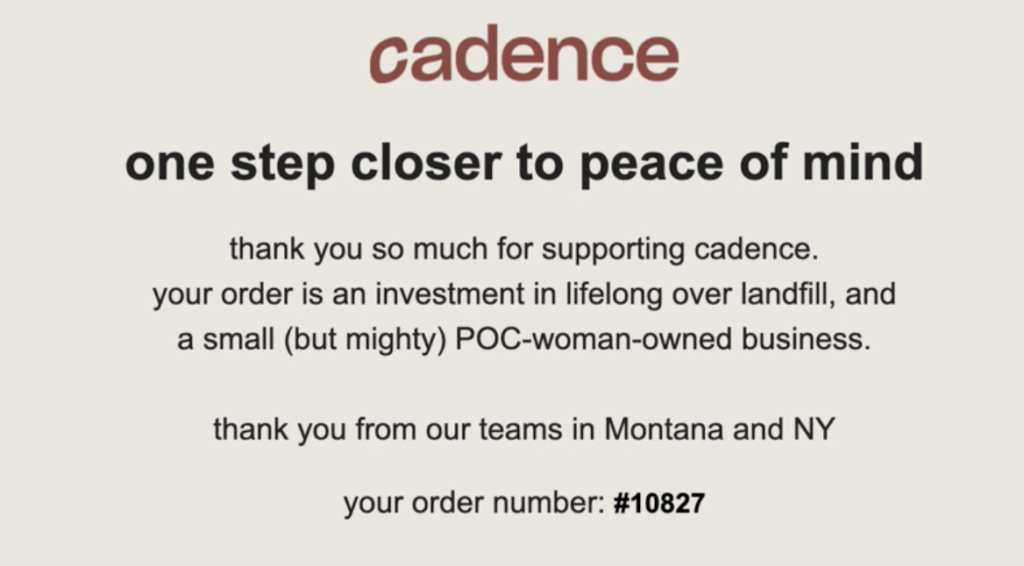 In-line with their brand, cadence keeps the copy here all lower-case. Also worth noting is the way cadence reminds Patch of her impact (in a human voice, too — bonus points!). She explains, "they're reminding me I've not only ordered something for myself, I have contributed to the good of the world in some way — and in this case two ways."
Skimmable structure: Make it easy to digest
Prospects don't brew a tea, grab a blanket, and settle in to read to your latest email line-by-line. Far from it. Assuming they open it, they'll quickly skim the content to see if it's interesting. This means you have seconds to earn the reader's attention. Don't overload them with information right off the bat. Make the confirmation email easy to read, and remember to keep the information focused on them, not on you.
A good way to do this is with short blocks of texts. Icons can help as well. Check out how Brooklinen uses both to succinctly highlight brand benefits in their subscription confirmation.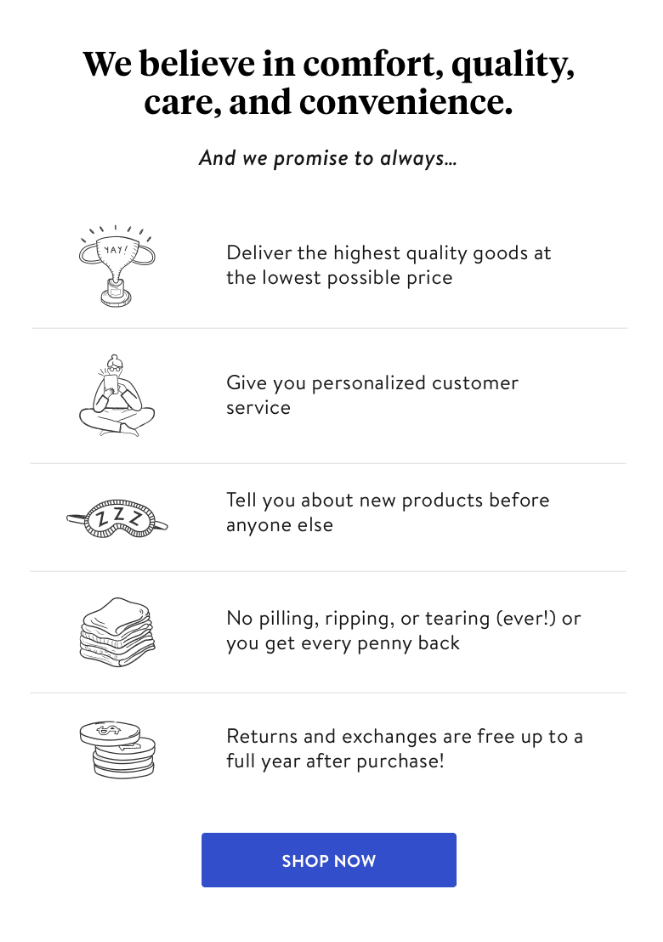 Mobile-first design: Make it phone and tablet friendly
According to Litmus, recipients opened 39.9% of emails on mobile devices in 2020. So yes, your emails need to be mobile-friendly. To make sure they are, always test your emails on a mobile device — either by sending it to yourself or an employee or by using a testing platform such as Litmus. Never assume an email will look as good or perform as well on a small screen as on a big one.
Friendly celebration: Confirm milestones with rewards
This could be as simple as a well-chosen gif, a bit of illustrated confetti, or a great big HURRAH. Or it could be something more concrete such as a reward or discount (remember there are plenty of ways to discount without taking a percentage off!)
Also, keep in mind you don't necessarily have to craft a new reward for every confirmation email. You may be able to reframe valuable services you already offer instead. For example, Glossier reminds subscribers of several perks (free returns, consults with editors) the brand offers. Framed up nice and tidy in a welcome email, these feel like a reward for signing up with the brand.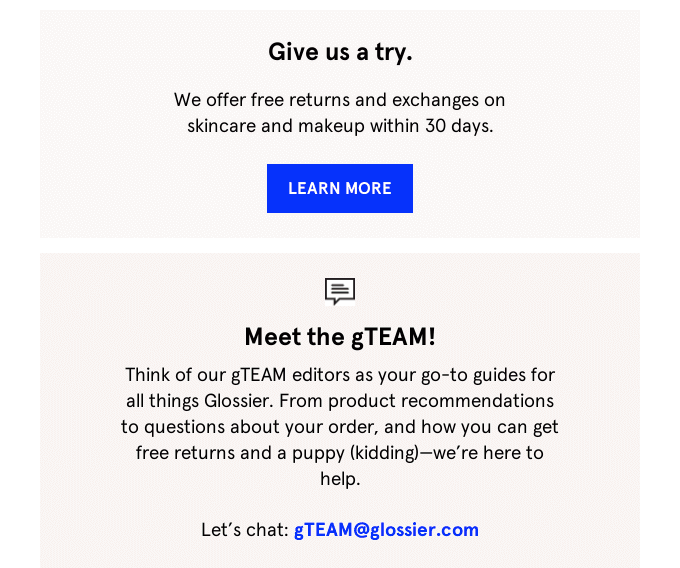 Call-to-action: Promote your products or invite participation
Lastly, you may want to consider adding an appropriate CTA to your email.
Just remember to choose carefully here.
Nikki Elbaz warns, "it can be super tempting to stuff in allll the things into your confirmation email — because you know it's getting eyeballs." But this can do more harm than good. She cautions a too-stuffed email will result in higher rates of inaction — not at all what you want. Instead, she advises "take a look at your typical customer journey — and offer the most common next step at the confirmation email's ONE call to action."
For example, check out how Bite welcomes subscribers with a "here's how you're making a difference" email and one, clear invitation to shop.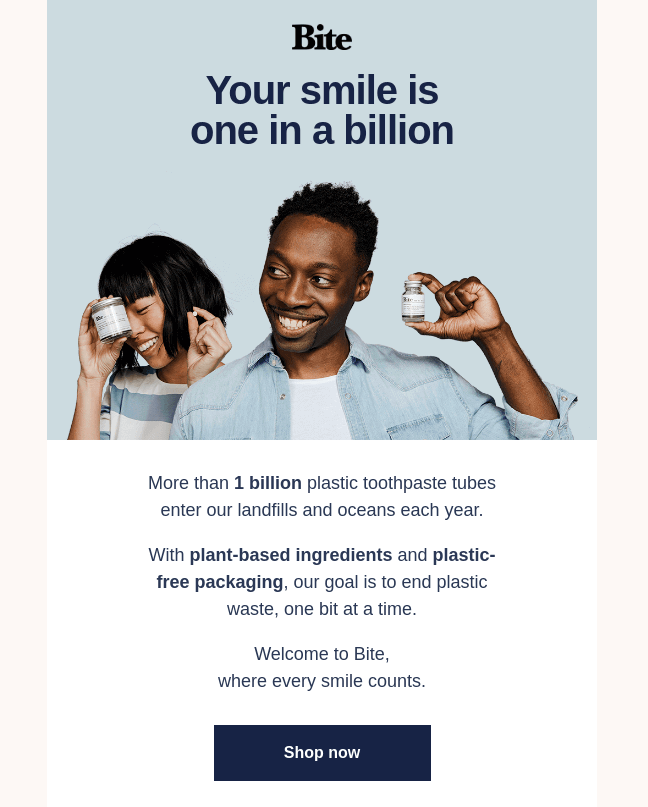 What else could you prompt readers to do?
Here are several ideas:
Tell the elevator pitch version of your brand story/mission and invite readers to dive into a more detailed narrative
Introduce your team and tell their impactful stories
Share positive reviews/testimonials from customers who also bought that product to get them excited
Proactively address common FAQs
Reassure recipients about refund and return policies, especially for items like apparel
Educate them on how to use the product once they get it in their hands
Invite them to opt-in to your loyalty program or another exclusive group
Give new subscribers a special reward (maybe a coupon or free shipping)
With a little creative thought and a good deal of customer understanding, you'll identify several ways to keep the conversation going and your customers coming back for more. Just remember not to sacrifice the details of the order confirmation for the sake of marketing. Focus on delivering value to the customer first, then ask if there's a way to deliver additional value through a non-salesy promotion, referral invitation, participation in a rewards program, or many other options. The confirmation takes priority.
Okay, that wraps up all the elements you'll want your confirmation email to include. Now, let's look at a few examples of brands putting these elements into action.
Subscribe to our newsletter, Good Question, to get insights like this sent straight to your inbox every week.
Effective confirmation email examples
Here are four winners who've applied email confirmation fundamentals well.
Warby Parker's purchase confirmation email
Warby Parker has one of the best post-purchase email sequences out there. They keep it simple and focus on delivering plenty of value to the customer.
Type of email: Purchase confirmation
What they do: They start by providing the necessary transactional information for the order, then they provide a link to their FAQ page for any questions about shipping or returns. They end with giving customers the final order details as well as a link to track the package. All wrapped up in friendly copy, a skimmable structure, and an on-brand design.
The extra mile: Note the valuable cross-sell for contacts, tucked in at the bottom. The peppy "Here it comes!" header up top is a fun and celebratory variation of the standard "thank you" as well.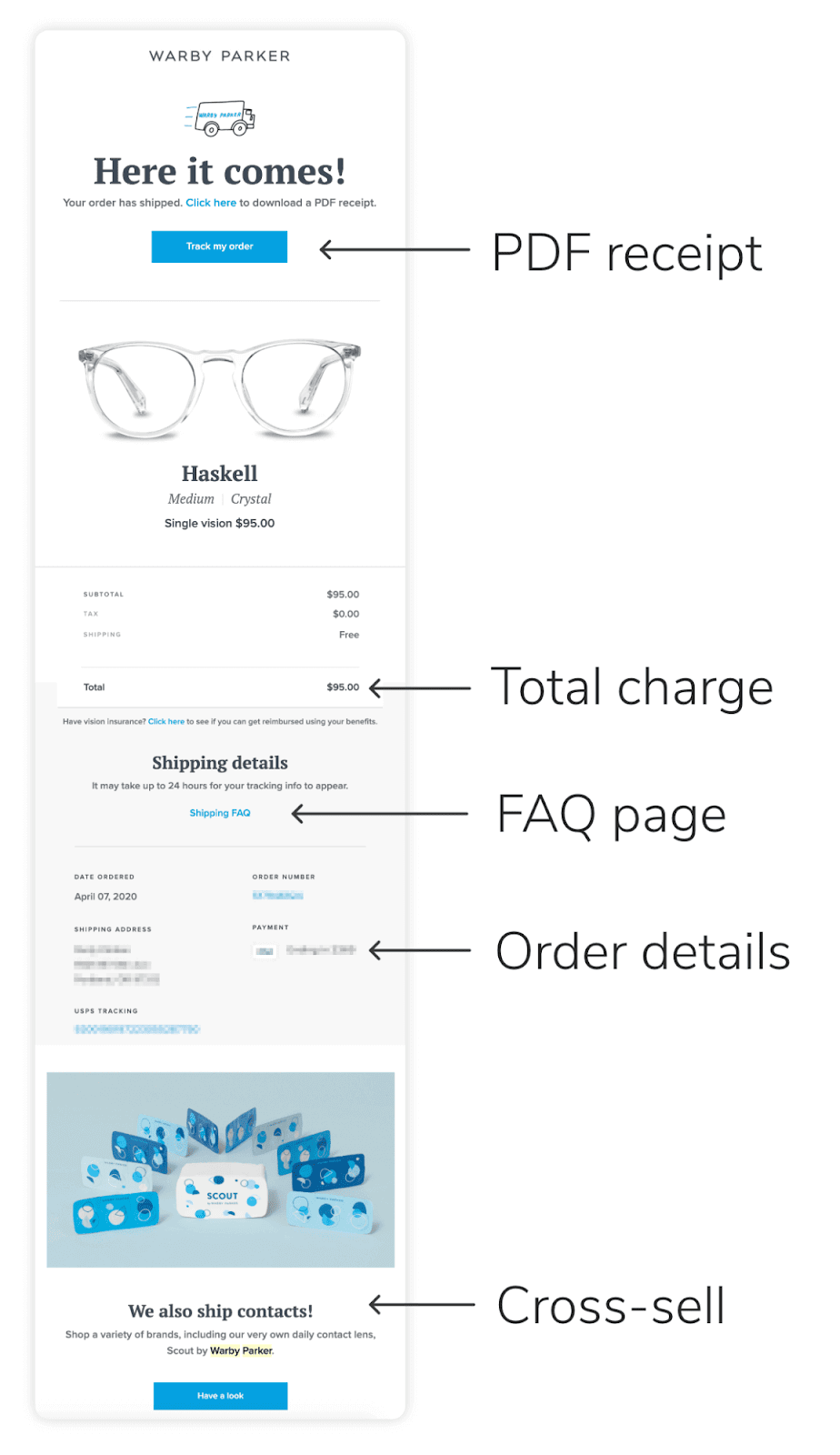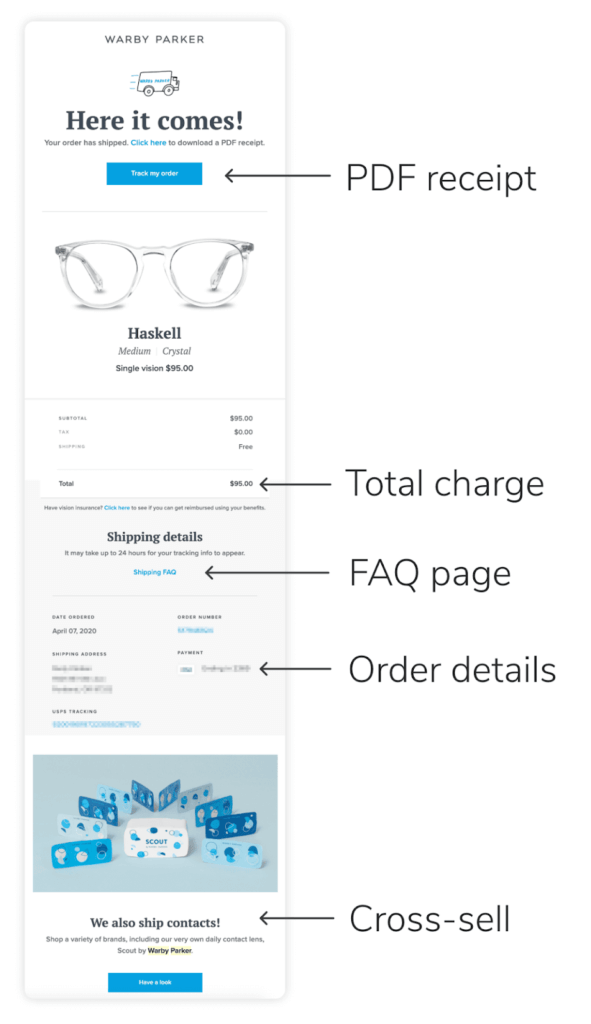 Welly's confirmation email sequence
Welly – a DTC brand that sells first-aid products – also has a great purchase confirmation email.
Type of email: Purchase confirmation
What they do: They lead with a friendly celebration and clearly remind customers of the delivery date at the top of the email. From there, they move on to the order summary and total transaction amount (complete with a product image!). They also clearly state how to get in contact with customer service if you have any concerns.
The extra mile: At the bottom of the email, they provide answers to a variety of common questions that might arise around the order. This proactive move likely reduces the number of emails the support team receives. Plus, tracking these clicks could tell Welly what customers are most concerned about in this stage.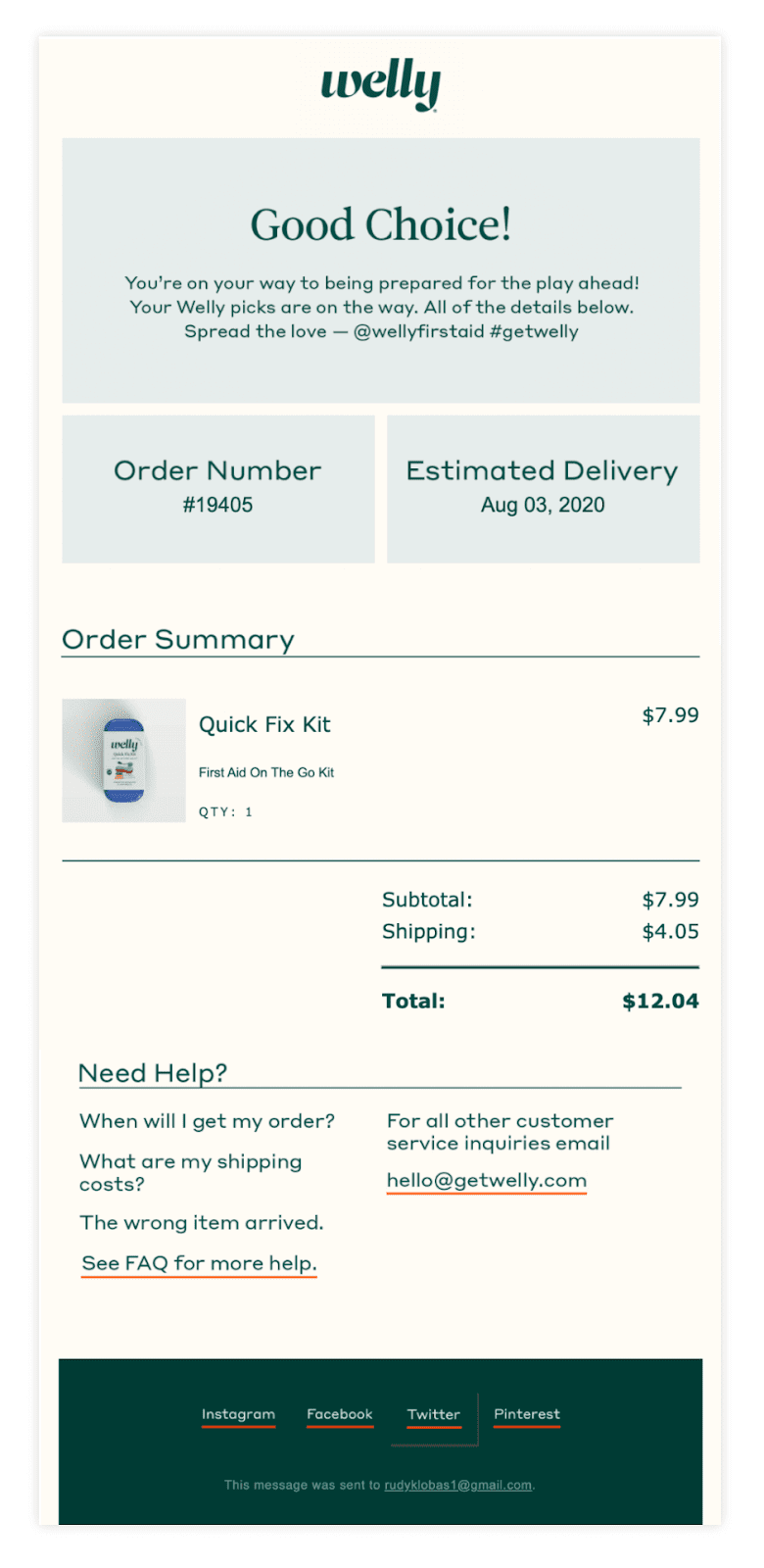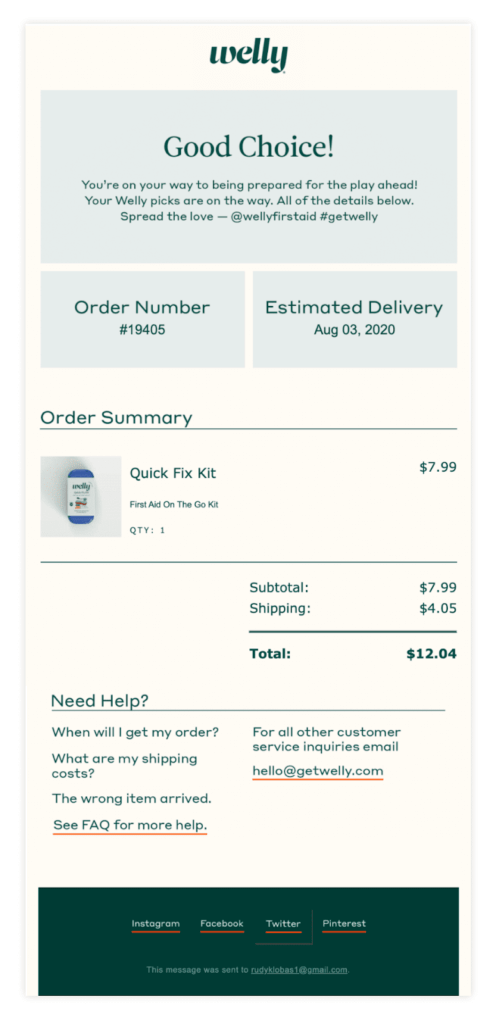 Bonus: After the order confirmation email, Welly also sends follow-up emails to notify customers when their product has shipped, and when the package has been delivered.
Dollar Shave Club membership confirmation email
Dollar Shave Club also checks all the boxes with their membership confirmation email.
Type of email: Purchase confirmation
What they do: They start the email off by building excitement around the purchase and providing important transactional information. They finish the email by showing customer account information, as well as a way to get in touch with their customer service team regarding any questions or concerns they may have regarding their order.
The extra mile: They emphasize their referral program, and offer the customer a $5 credit toward a future purchase if they get a friend to sign-up for the shaving club. This is a great addition to the confirmation email we rarely see utilized by subscription services, and it's a huge missed opportunity to capitalize on the post-purchase excitement that customers typically feel immediately following a purchase.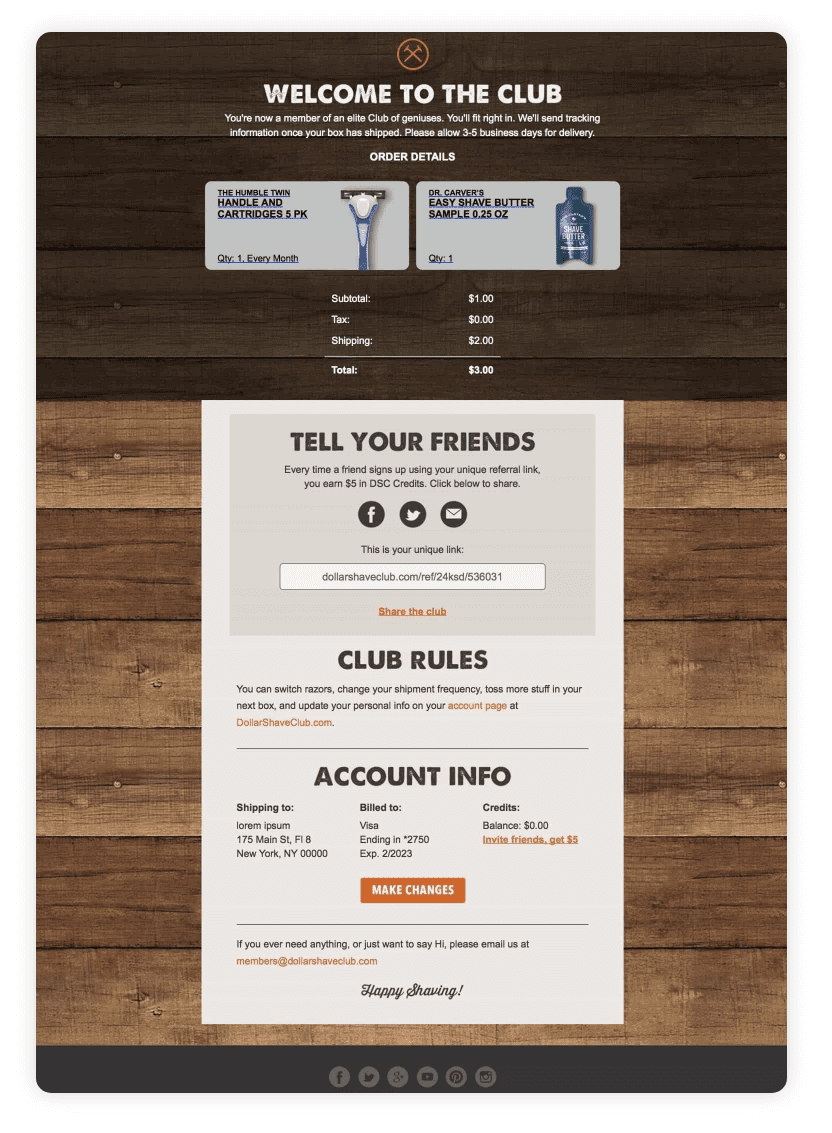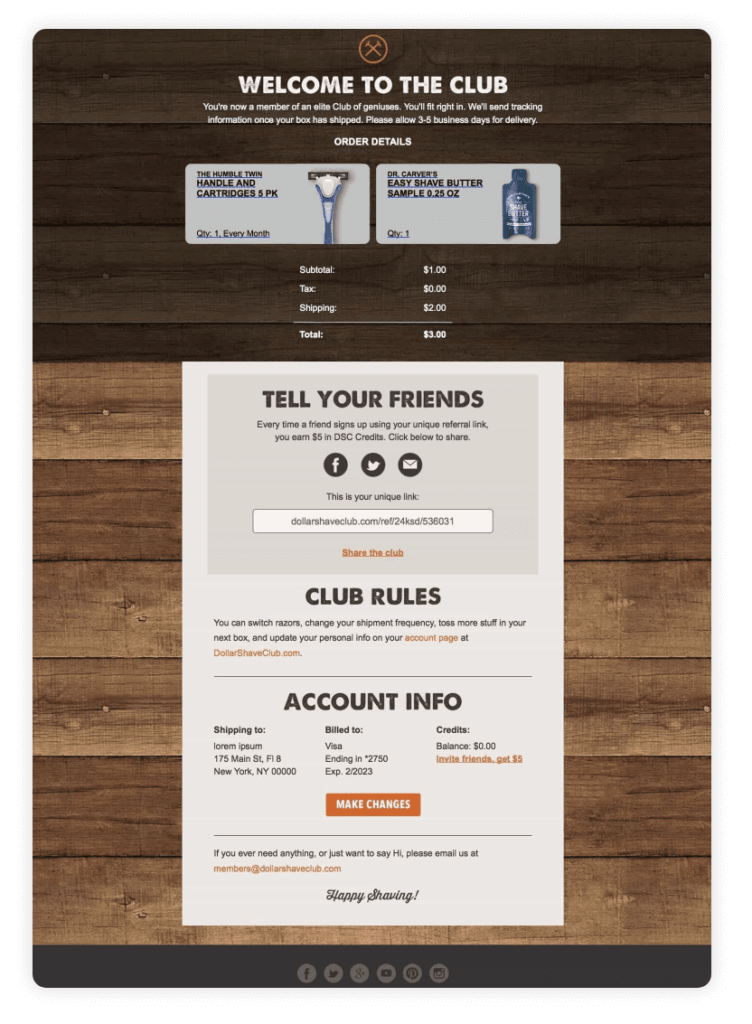 Chipotle registration confirmation email
When you give Chipotle your email, they make it easy to keep engaging with them.
Type of email: Subscription confirmation
What they do: On-brand design, clear next steps, expectations about future rewards, and an easy-to-skim structure.
The extra mile: Customer-centric and human copy through-and-through. From "there's a lot of deliciousness in your future" to "you'll be the first in line for tasty deals," Chipotle re-emphasizes all the perks their subscribers receive. This is a phenomenal way to reassure subscribers they've made a great choice. Remember: Explore the existing customer journey your visitors take and provide only the most relevant links once you confirm the customer's initial action.


Note: If you're looking for more confirmation email examples, make sure to check out ReallyGoodEmails – a website that offers a library of 6,000+ emails to reference for inspiration.
Confirmation email FAQ
Still have a few lingering confirmation email questions? Here are some common ones and their answers.
Will adding in a CTA get me in trouble with CAN-SPAM or GDPR?
Not if you don't overdo it. Here's what CAN-SPAM says:
It's common for email sent by businesses to mix commercial content and transactional or relationship content. When an email contains both kinds of content, the primary purpose of the message is the deciding factor. Here's how to make that determination: If a recipient reasonably interpreting the subject line would likely conclude that the message contains an advertisement or promotion for a commercial product or service or if the message's transactional or relationship content does not appear mainly at the beginning of the message, the primary purpose of the message is commercial.
While GDPR isn't as clear on the topic (yet), the assumption is that those requirements will be in line with CAN-SPAM. Check the GDPR website for up-to-date info.
And by the way, when we say, "don't overdo it," we mean don't force your customer into an option or pitch a sale in a spammy way. Take a cue from Fullscript and the way they add a compelling but subtle subscription reminder into their purchase confirmation email.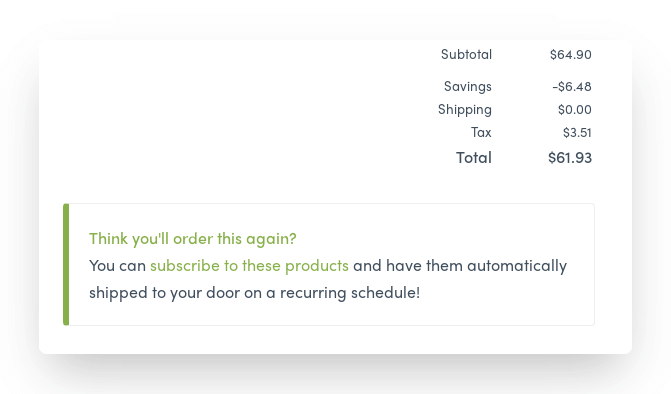 Should I A/B test my emails?
If you have a large enough audience for the test to be statistically significant, go for it. Just remember to run small experiments where you vary one element at a time, so you know what works. For example, adjust only the subject line, the featured image, OR the CTA. If you adjust all three in one go, you'll have no idea which change resonated the most with your audience.
How do I send a confirmation email?
This will vary according to which email platforms you use. Most allow you to set up email campaigns, workflows, series, or triggers based on common actions.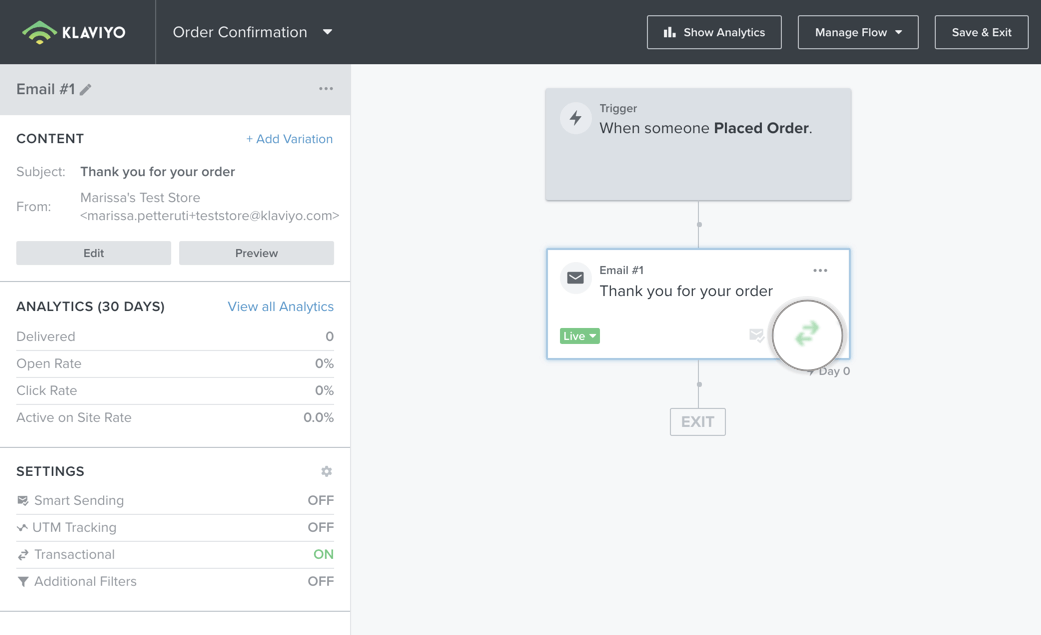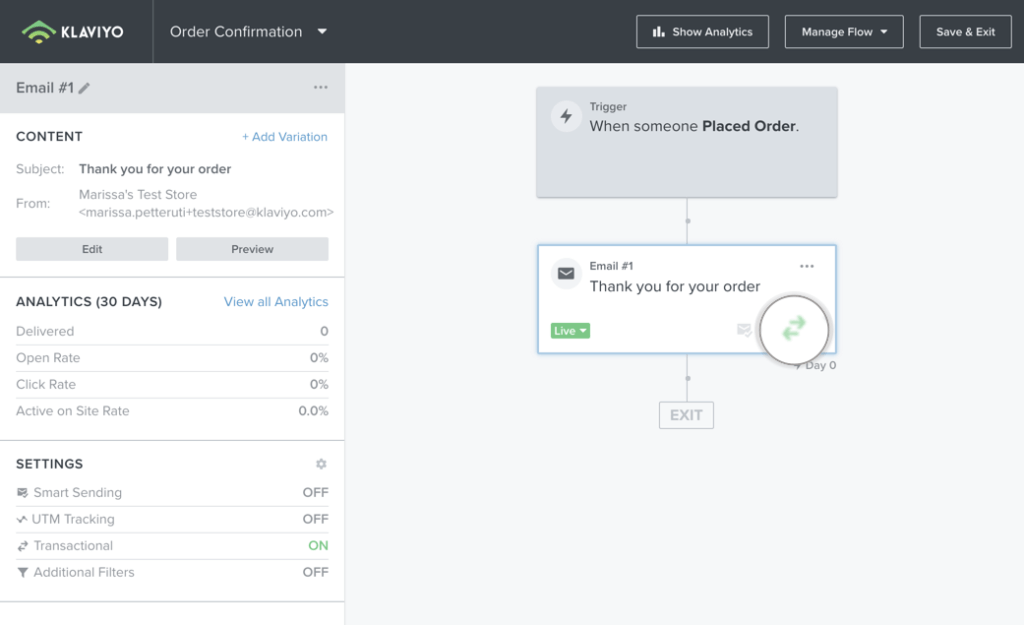 For specifics on sending confirmation emails with your email platform, check out their help docs, tutorials, or resource center— that's where you'll find the best and most up-to-date guidance.
What about an email confirmation page?
Whether or not this is a good idea depends on what you're confirming — and how the visitor signed up.
For example, if the visitor entered their email into a pop-up or form on the side of one of your landing pages, you may not want to interrupt their journey by whisking them off to a new and separate "thanks for signing up" page. It's enough to show this in-line.
This is the approach Outdoor Voices takes when you subscribe to their email list in their footer. When you enter your email address, add your birthday, and hit "sign up now," they display a simple confirmation message where the form used to be.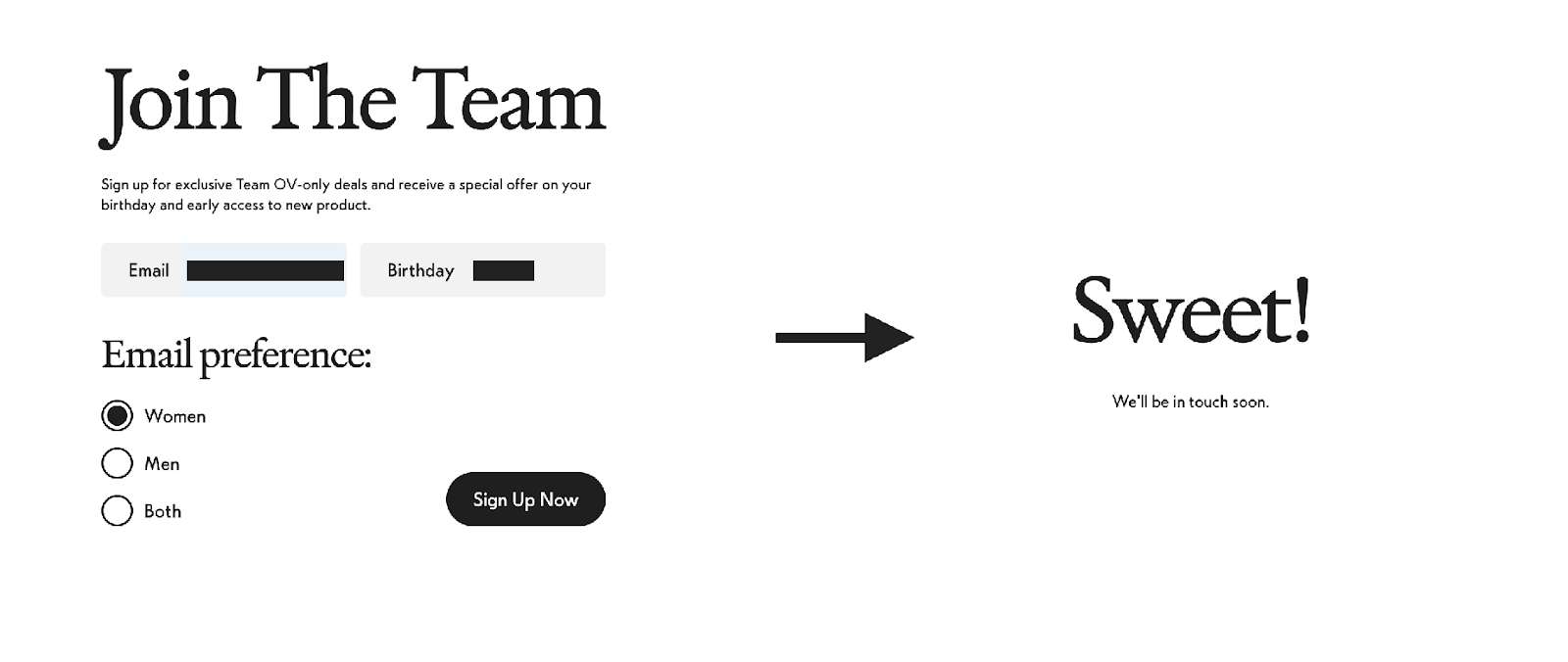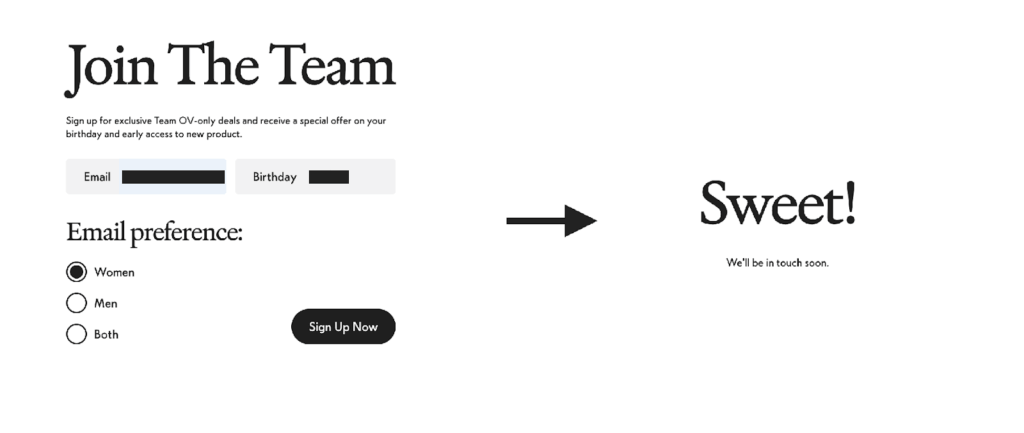 But if your visitor has just made a purchase, a thank you page is an important (we'd even argue necessary) part of their post-purchase journey.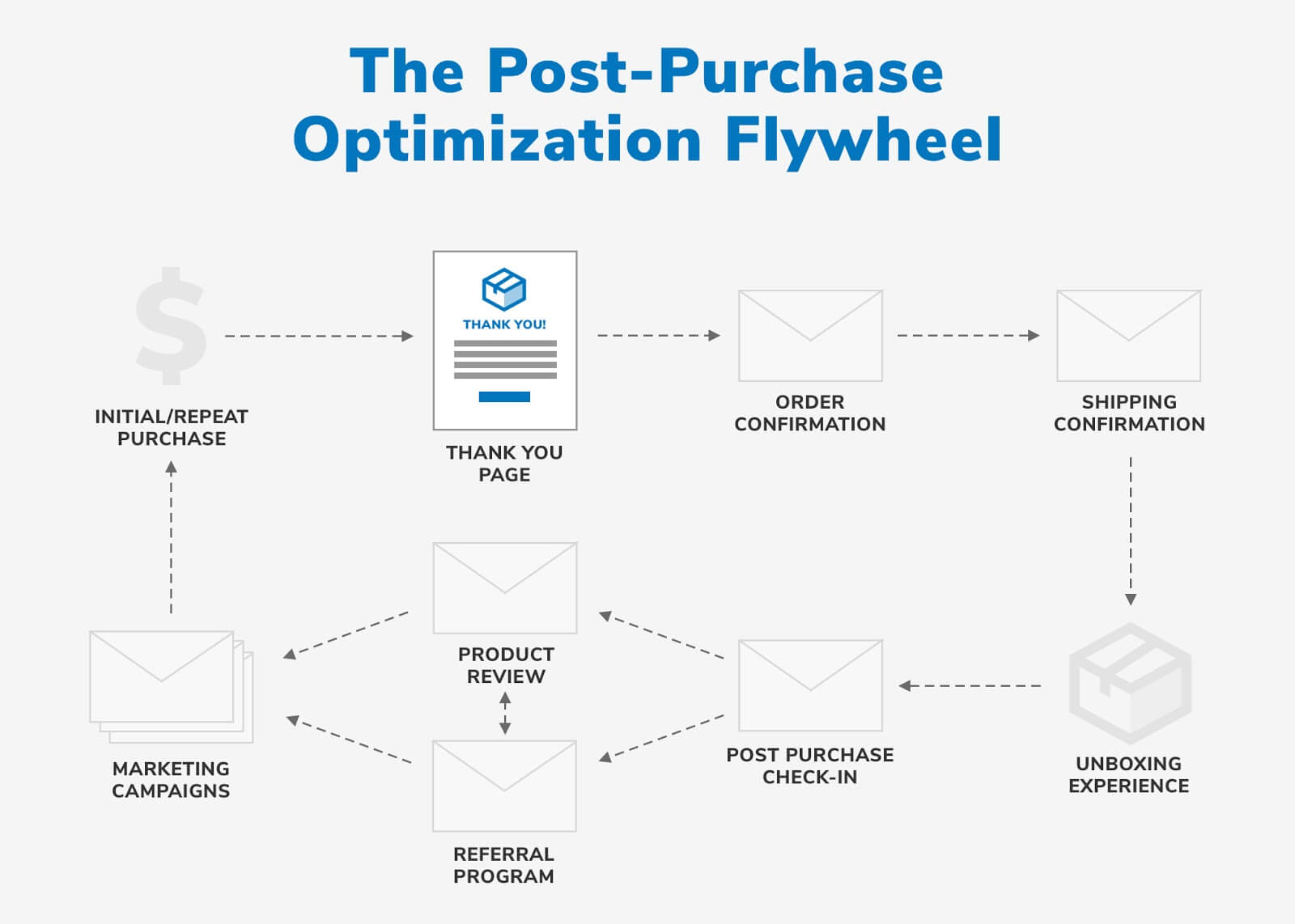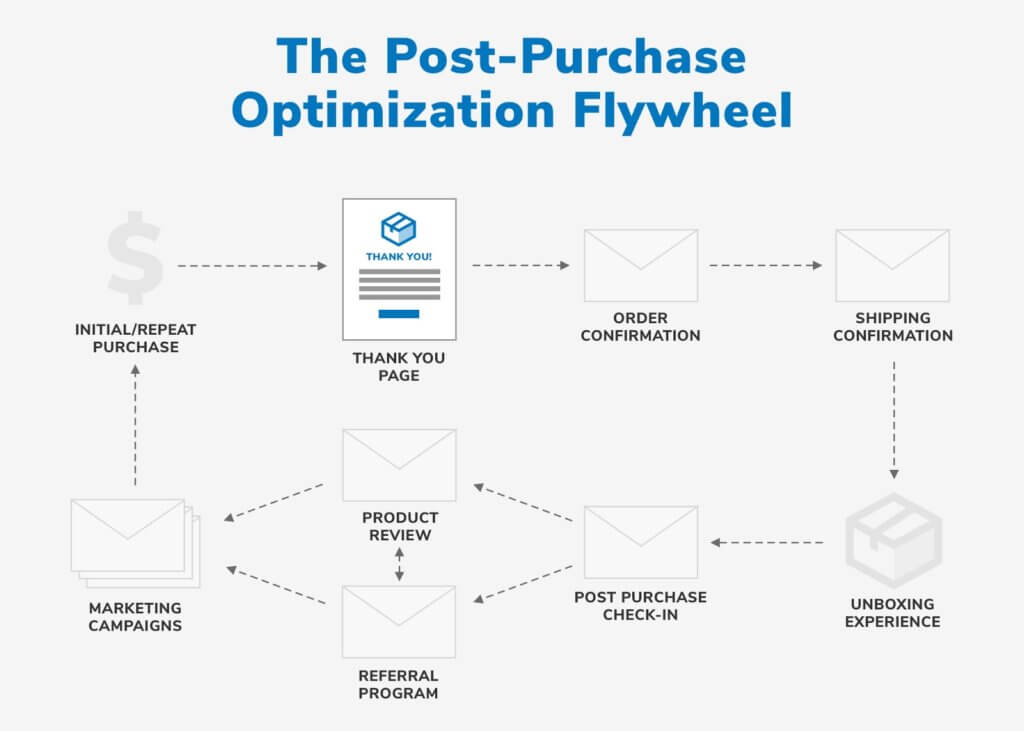 It's a great place to suggest bulk orders, pitch a subscription, or mention related upsells with CartHook. You could also use it to reduce any purchase anxiety the customer might be feeling. Good ways to do this include highlighting any charities you and the customer's purchase support, emphasizing the exceptional work environment you provide for employees, or showcasing other happy customers.
Confirmation Emails: Your Brand's Advantage
Your confirmation emails don't have to be dry and transactional, but they do have to deliver value to the customer and help them happily continue their journey. And there are many opportunities to turn a bland template into a strategic advantage for your brand.
"The one email that your subscriber is most likely to open — are you gonna send them a generic template?" Elbaz asks. "Or are you gonna use that opportunity to build loyalty and move them through the customer journey faster?"
When you look at things from that angle, the answer is easy.
P.S. Need help driving more conversions with your emails? You might consider scheduling a free landing page teardown where a member of our strategy team will provide you with actionable recommendations for how to improve the customer experience of your website.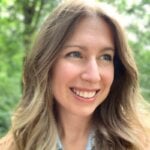 About the Author
Laura Bosco is our Lead Content Marketer at The Good and a phenomenal freelance writer. She helps us translate our thoughts, opinions, and client experiences into written products that are both entertaining and educational. You can learn more about her background and her services at www.laurabosco.com.