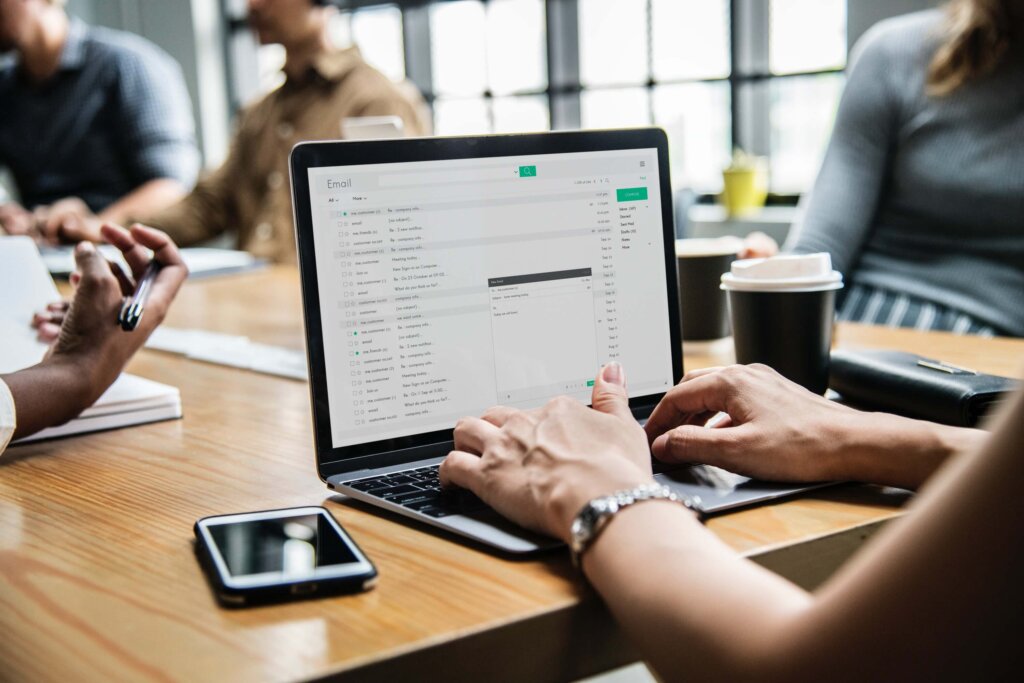 Articles
5 Confirmation Email Design Best Practices (with Examples)
Learn how to leverage confirmation emails as a strategic advantage for your brand.
The confirmation email is key in a post-purchase email sequence and is one of the most overlooked tactics in the ecommerce conversion toolbox. Many ecommerce managers don't bother to send them at all. Others use a barebones, basic confirmation email template that rarely provides more than an order number and a simple "thank you".
In this article, we'll show you how confirmation emails can help improve conversion rates and get you more sales. First, we'll set the stage by defining what we mean by "confirmation email" and explaining why they are so important. Then, we'll cover the fundamentals of how to write effective confirmation emails.
Looking for more ways to increase your email conversions and revenue? Sign-up for our ecommerce insight emails.
What is a confirmation email?
A confirmation email is a transactional message you send to your website visitors and customers as verification of a completed action.
Here are three of the most common triggers:
A visitor subscribes to your mailing list: subscription confirmation email
Someone buys something from you: purchase confirmation email
You ship the item: shipping confirmation email
On the receiving end, confirmation emails assure your prospects and customers that you're listening, and that you're taking action on their behalf.
Why are confirmation emails important to marketing?
Transactional emails, correctly presented, aren't seen as spam by either regulatory guidelines for email or by the people who receive them.
Because of this, all types of confirmation emails enjoy exceptionally high open and click-through rates. Consider the following chart, taken from the Experian Transactional Email Report.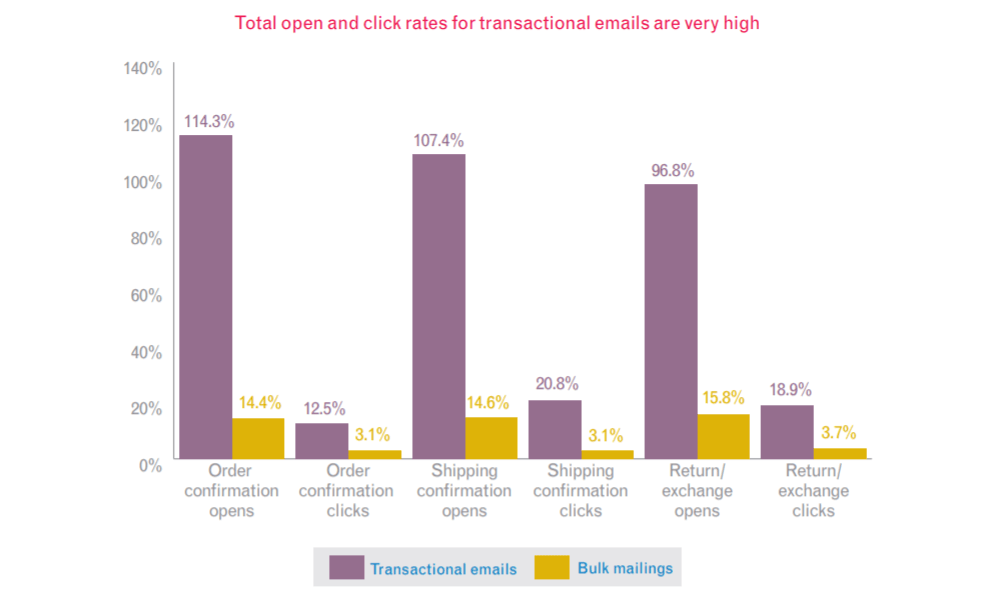 You can leverage the general acceptance granted to your confirmation emails (a type of transactional email) to improve the consumer experience and drive more conversions.
You can leverage the general acceptance granted to your confirmation emails (a type of transactional email) to improve the consumer experience.
Click To Tweet
We do advise caution when considering upselling or cross selling at this point. If you launch in to a sales pitch too quickly after they've already purchased, it can reduce trust. That said, it is acceptable to tactfully include some sort of CTA as long as you're providing your new customer with all the essentials they are expecting.
One question that can arise is, can carefully adding a call-to-action to your confirmation emails get you in trouble with CAN-SPAM or GDPR guidelines?
Not if you don't overdo it.
Here's what CAN-SPAM says:
It's common for email sent by businesses to mix commercial content and transactional or relationship content. When an email contains both kinds of content, the primary purpose of the message is the deciding factor.
While GDPR isn't as clear on the topic (yet), the assumption is that those requirements will be in line with CAN-SPAM. Check the GDPR website for up-to-date info.
Confirmation emails reach your audience at a vital stage in the consumer journey. They've identified themselves and they've taken action. You now have an excellent opportunity to move the relationship forward.
Marketing is concerned with reaching the right person, in the right place, at the right time. Transactional emails check off all of those boxes. At this stage, because your audience is actively engaged, your audience is also primed for conversions.
Your primary goal should be to confirm effectively. After all, this is the confirmation email. But once you have thoroughly and effectively confirmed the purchase, consider providing something that will cut with the grain of this purchase.
5 confirmation email design best practices
Okay, that's enough background. Now let's look at theory and structure. Here are five fundamentals of effective confirmation emails.
Set the right expectations. Consumers are protective of their inboxes. Use the confirmation email to set the right expectations about the kind of communications they can expect from you. Delight them with the first email, and they'll be much more likely to open the next.
Keep it skimmable. You have seconds to earn the reader's attention. Don't overload them with information right off the bat. Make the confirmation email easy to read, and remember to keep the information focused on them, not on you.
Keep every email true to your brand. From colors and font to the logo and voice, make sure your brand concept is evident in every email you send… including confirmation emails. Never use the stock design provided by your email or marketing automation platform.
Make sure your emails are mobile-friendly. Always test your emails on a mobile device. Never assume they will look as good or perform as well on a small screen as on a big one.
Consider including a call to action (CTA). Every email should have a single purpose. Confirmation emails are not an exception to the rule. Yes, the bulk of the message should deliver the transactional message that prompted the mail, but you don't have to stop there if you are providing value.
What could you ask readers to do?
Here are five ideas:
Invite them to opt-in to your loyalty program or another exclusive group
Give them a special reward (maybe a coupon or discount offer)
Ask them to refer friends and family
Invite them to join you on your primary social channels
With a little creative thought, you'll have no problem thinking of a way to keep the conversation going, and your customers coming back for more. Remember, don't sacrifice the details of the order confirmation for the sake of marketing through. The confirmation should take first priority.
Effective confirmation email examples
There are many situations that prompt a confirmation email, so any confirmation email template you rely on will be general, not specific.
Let's look at two winners to see how the fundamentals apply:
Rover order confirmation email
Note how Rover (see the screenshot below) cuts right to the chase. They provide the basic necessary information, stay client-focused, and wrap up with two calls to action. Rover might do better to stick with the referral request and drop the blog link. At the most, one CTA per email will be your best bet.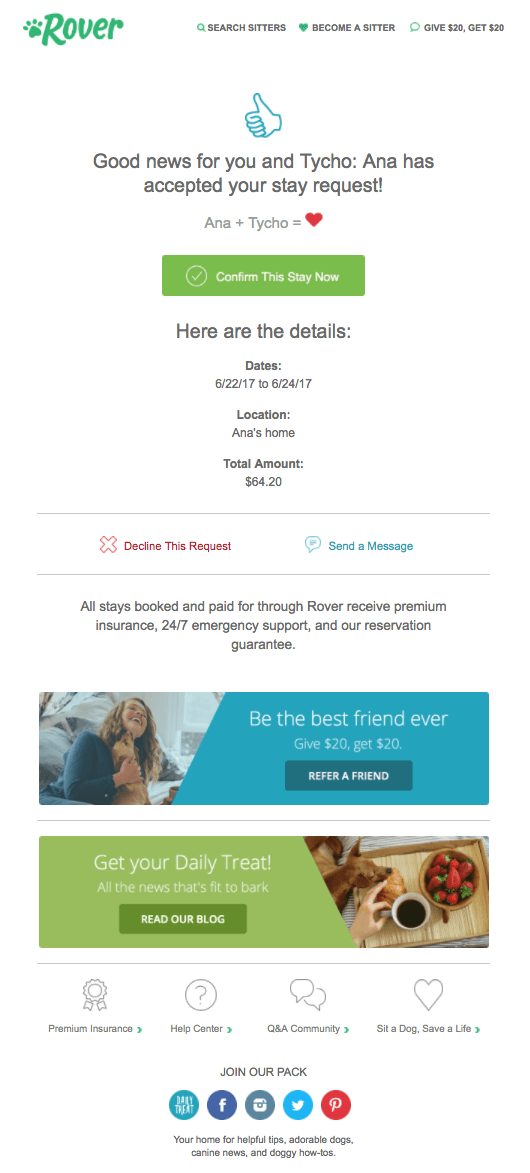 Chipotle registration email confirmation
When you give Chipotle your email, they make it easy to continue with them by including links for the potential next steps of the journey you are on.
Explore the existing customer journey that your visitors take and provide only the most relevant links after you confirm the customer's initial action.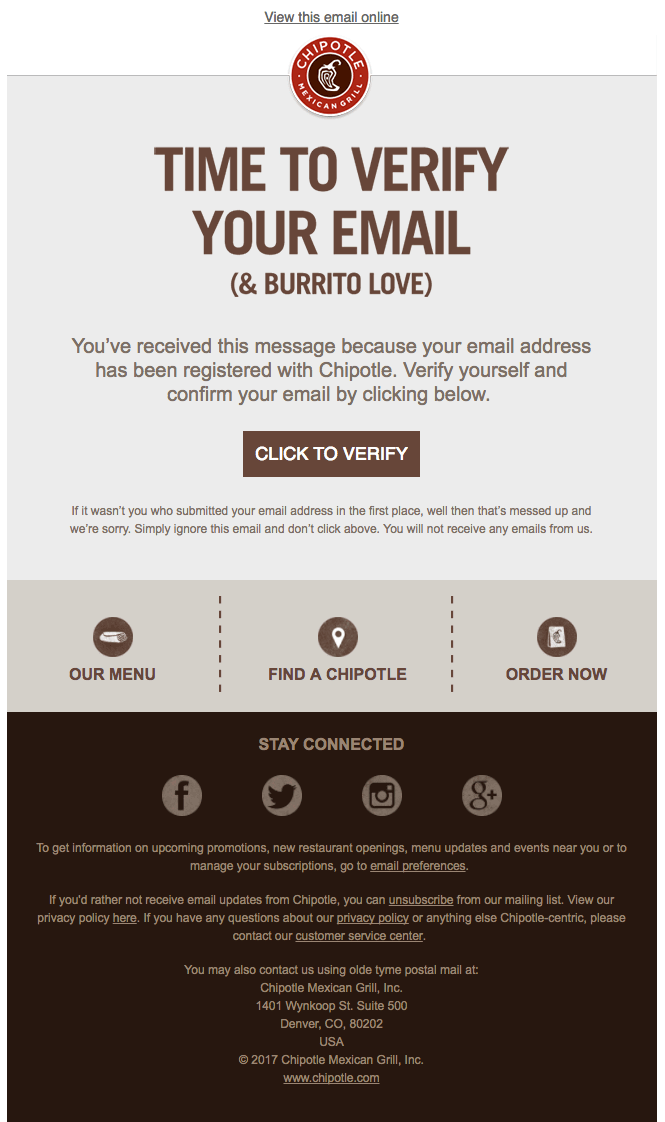 Confirmation Emails: Just the Facts
Both of our examples stick with the fundamentals. They're pleasantly helpful, skimmable, true to the brand, mobile friendly, and they present CTAs to build on the relationship.
Do the same with yours to turn something many companies fail to leverage into a strategic advantage for your brand.
Your confirmation emails don't have to be dry and transactional, but they should reassure the customer about their transaction first, and then provide a means to continue the customer journey down a path that they're likely to enjoy.
This email is meant to instill trust (and even a little customer delight). If you play your cards right with this email, your new customers will be eager to open your subsequent emails.
Need help driving more conversions with your emails? Call The Good.
Resources: