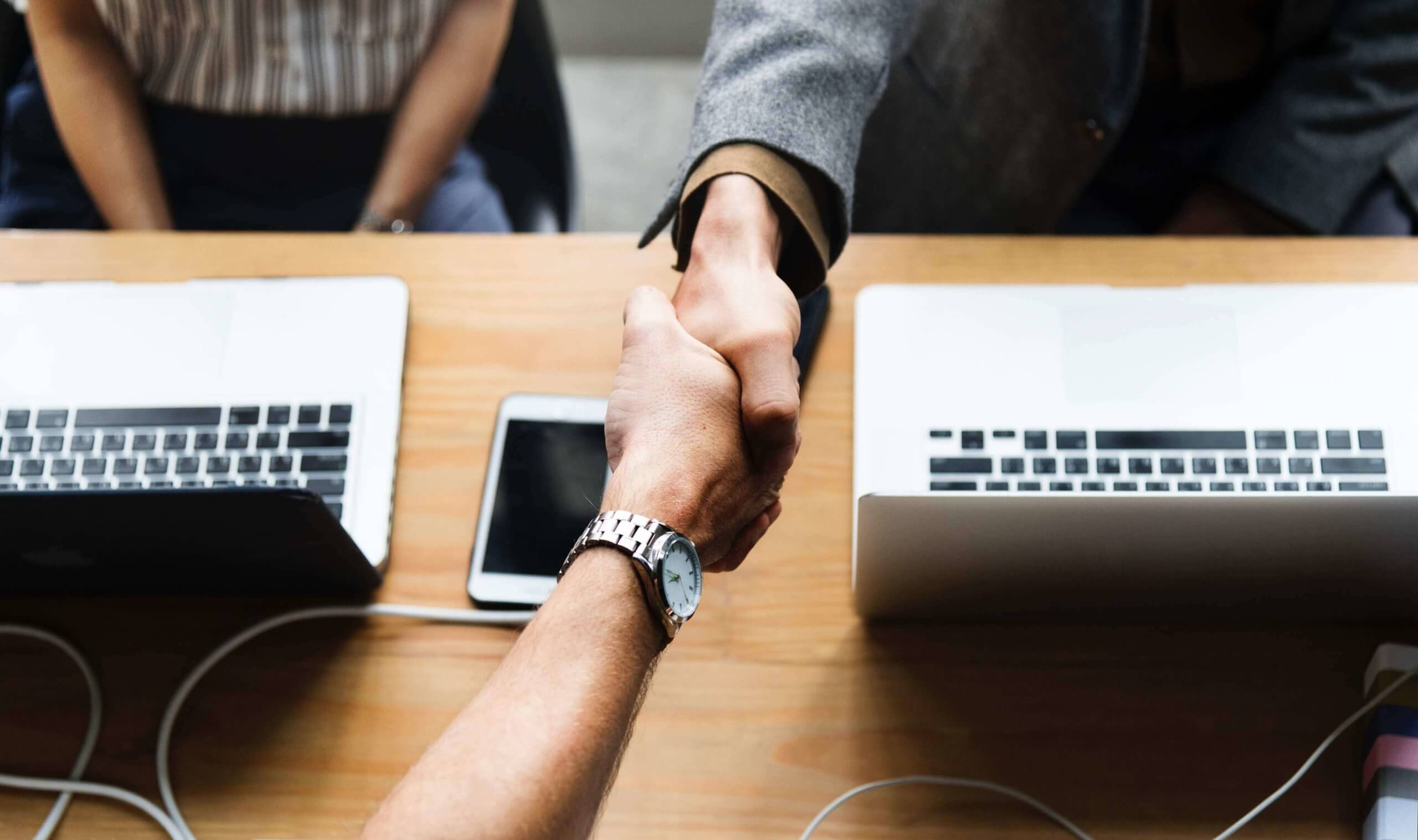 Customer Acquisition
14 Powerful Unique Selling Proposition Examples From Real-Life Brands
These ecommerce and SaaS unique selling proposition examples will inspire your marketing efforts and help you convert more website visitors into buyers.
Standing out in a sea of online businesses can be hard. You're not just competing with your local mom and pop stores, you're also up against companies from all over the world who can tap into your audience with just a few clicks.
Knowing how to position your brand, products, and services can put you at a serious advantage, not just for standing out, but also for attracting and maintaining a loyal customer base.
This is where a unique selling proposition (USP) or value proposition comes into play. It differentiates you from your competitors and guides your branding, SEO, and marketing strategy so you can reach the right people with the right message. 
Iconic brands like Warby Parker, Toms, Death Wish Coffee, and Saddleback Leather have all grown huge brands off the back of their USPs – you can do the same. 
What is a USP?
A unique selling proposition is a definitive feature or benefit that makes your business different from the competition (and, in many ways, makes it better too).
Your USP can refer to the way you do business, like using sustainable materials and local labor, or the specific benefits it gives prospective customers, like a faster way to manage their accounts or a cheaper alternative to their usual face cream.
The most important thing about your USP is that it underpins everything you do, from your content marketing efforts, general marketing campaigns, and sales to new product features, customer support, and even your internal operations.
The 3 elements of a great USP
Great USPs actively show what makes a brand different. They are clear, concise, and leave absolutely no confusion. But a good USP also:
Appeals to a certain audience so you're not trying to appeal to everyone
Focuses on one big benefit or feature rather than trying to be superior in every way
Encompasses something that your customers want, need, or expect, like stronger coffee or a vegan shampoo
14 unique selling proposition examples in action
Ready to be inspired? Here are some of the best USPs from 14 ecommerce and SaaS brands.
1. Dossier
Dossier's header puts its USP simply: "the fair alternative to luxury perfumes." 
There's a good chance consumers associate luxury perfume with a high price tag, but Dossier tries to quell those fears straight away on its homepage, appealing to an audience that might want to smell luxurious but don't necessarily have the budget.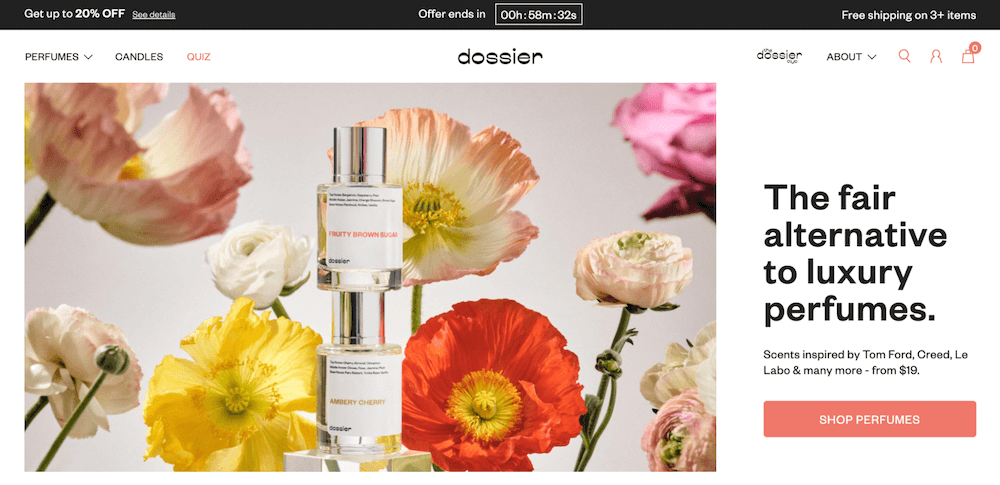 The retailer continues this messaging throughout their website. But there is an additional USP that gives Dossier another dimension aside from selling "cheap luxury perfume." The brand also highlights that its products are ethical and high-quality – it's not just another knock-off perfume distributor.


2. Nomadica
"We're making wine a stress-free experience", claims the Nomadica website. The brand goes on to state its mission, which is to bring the high-end sommelier experience out of the restaurant and into people's homes.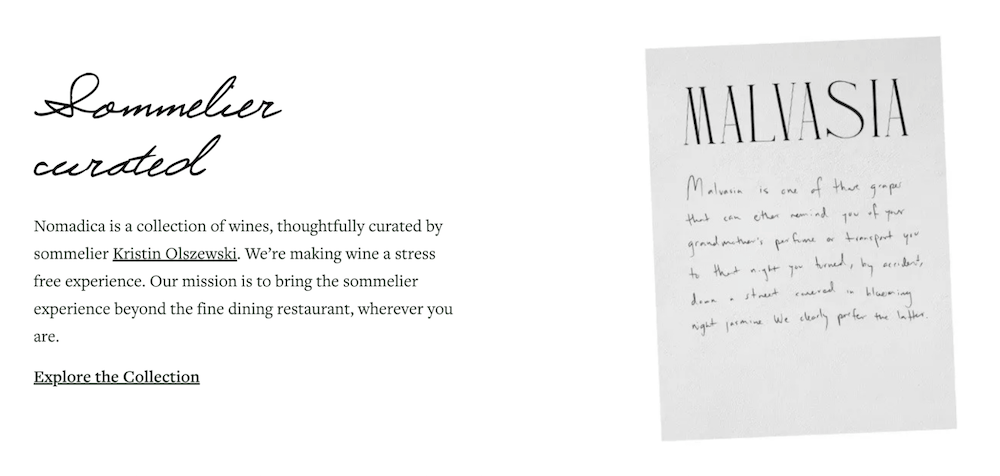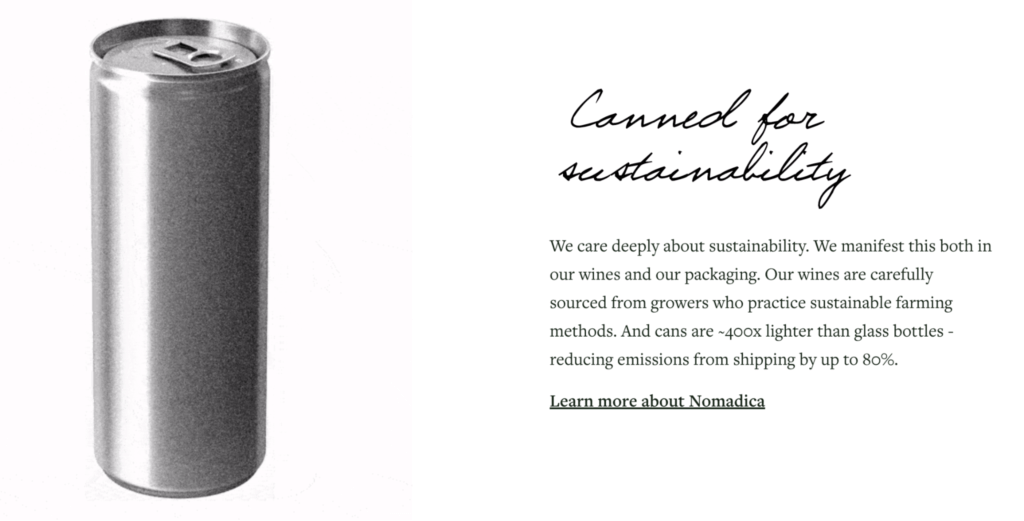 The unique selling propositions example is that the brand sells top-class wines in cans for sustainability (and, arguably, a more relaxed experience) – perfect for wine lovers who rarely frequent high-end restaurants or who simply want to enjoy good wine from the comfort of their sofa.
Like Dossier, Nomadica also has sustainability as a unique selling point. It's "About" page clearly defines its stance on the environment: "our wines are carefully sourced from growers who practice sustainable farming methods" and the cans reduce emissions from shipping by up to 80%.
3. Good Dye Young
Good Dye Young's USP puts it first and foremost as a community that values vibrant self-expression and creativity. It also happens to "make bad ass hair products." Interestingly, the USP is less about the product and more about the purpose of the online store and its big-picture vision.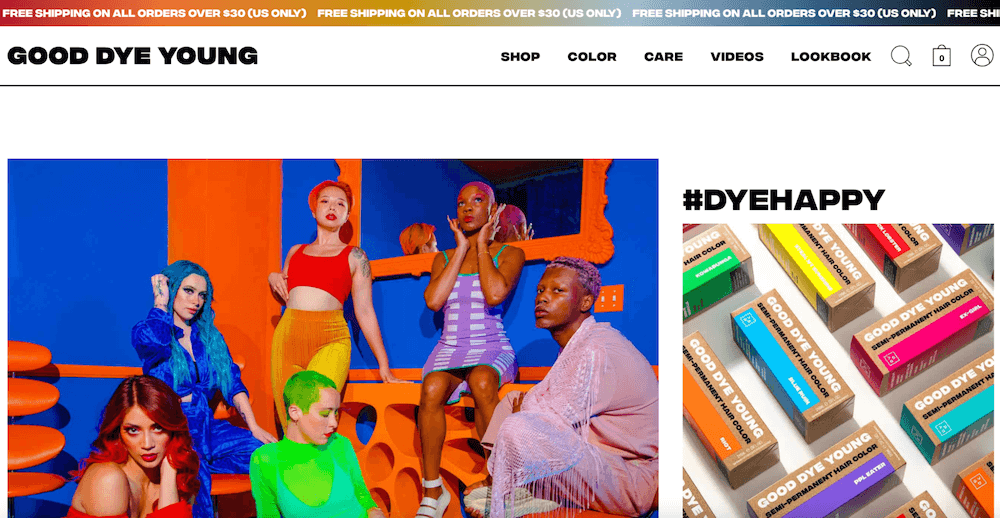 The strong unique selling proposition is embodied throughout the site, from the copywriting and the bright, bold images to the community hashtag that brings together customer stories in one place.
4. Fishwife
Tinned fish isn't a particularly sexy product, but Fishwife has managed to carve a niche in a relatively male-dominated trade. Its USP as a "female-founded and led food company aiming to make ethically sourced, premium, and delicious tinned seafood a staple in every cupboard" sets it apart from other tinned fish brands that are notoriously peppered with pictures of bearded fishermen.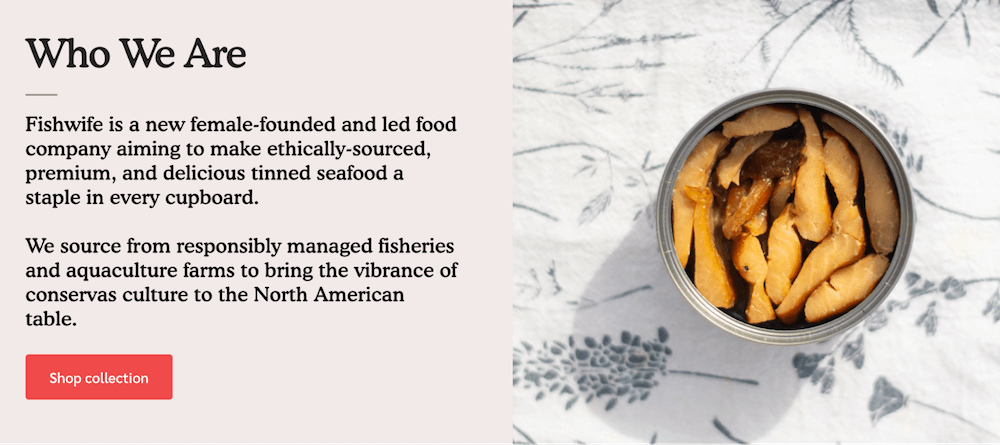 In this unique selling proposition example, as well as spotlighting the women-focused side of the brand, the website also highlights its commitment to sustainability by sourcing from responsibly managed fisheries. 
Subscribe to our newsletter, Good Question, to get insights like this sent straight to your inbox every week.
5. Touchland
Hand sanitizer has been a core part of our lives for the past couple of years, but if you're tired of the alcohol smell and sticky gel, Touchland has a solution. It touts itself as the "world's first rejuvenating hand sanitizer mist", adding that its products are predominantly for the senses (not for eliminating germs as we're so used to).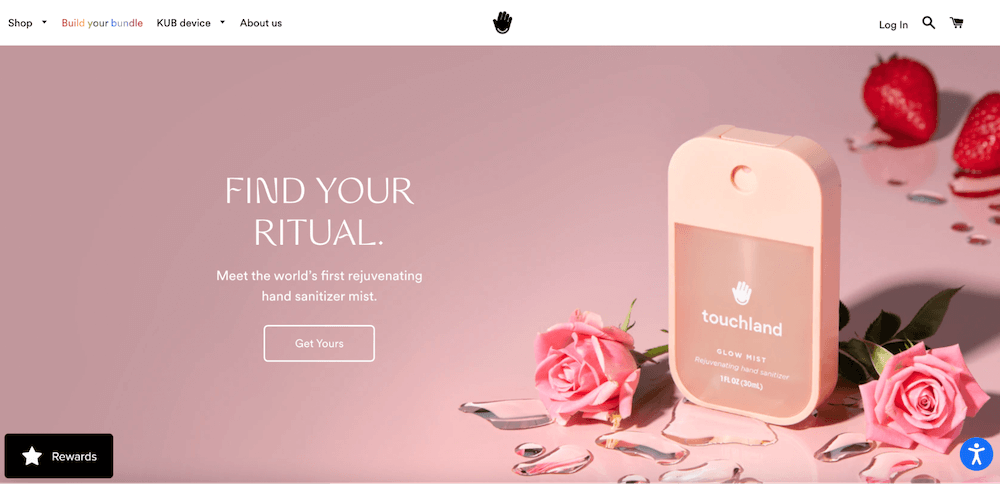 Who is this product for? Touchland states right at the top of its homepage that its beautifully packaged spritzers are for those "who live life sensorily, curiously, passionately, and fearlessly… but not recklessly."
Combining its USP (nice smelling, non-sticky sanitizer) with a specific audience has helped Touchland carve a niche in a particularly trendy product category.
6. Olipop
Olipop puts a spin on the "soda you grew up sipping." We've long been told that fizzy pop is bad for us, but the brand has managed to transform an unhealthy treat into a delicious and good-for-you option with "microbiome and digestive health support." 
The USP on the homepage states it's "a new kind of soda" (the trademark sign shows this tagline is well and truly entrenched in the brand). It's easy to see this USP in action throughout the site and Olipop's products, with its range of old classics that have added "plant fiber, prebiotics, and botanicals" to make them healthy.
7. Ruggable
Everybody loves a good rug, but there's always been a very clear line between an indoor rug and an outdoor rug. Not anymore, thanks to Ruggable, a brand that sells "the indoor, outdoor, use anywhere rug." 
This USP filters through to the products, which are machine washable and can be used in any room, regardless of whether it has a roof or not.
8. Robinhood
Investing is notoriously confusing and can be a huge headache. Robinhood understands its customers' frustrations and has addressed them with a product that simplifies the investment process.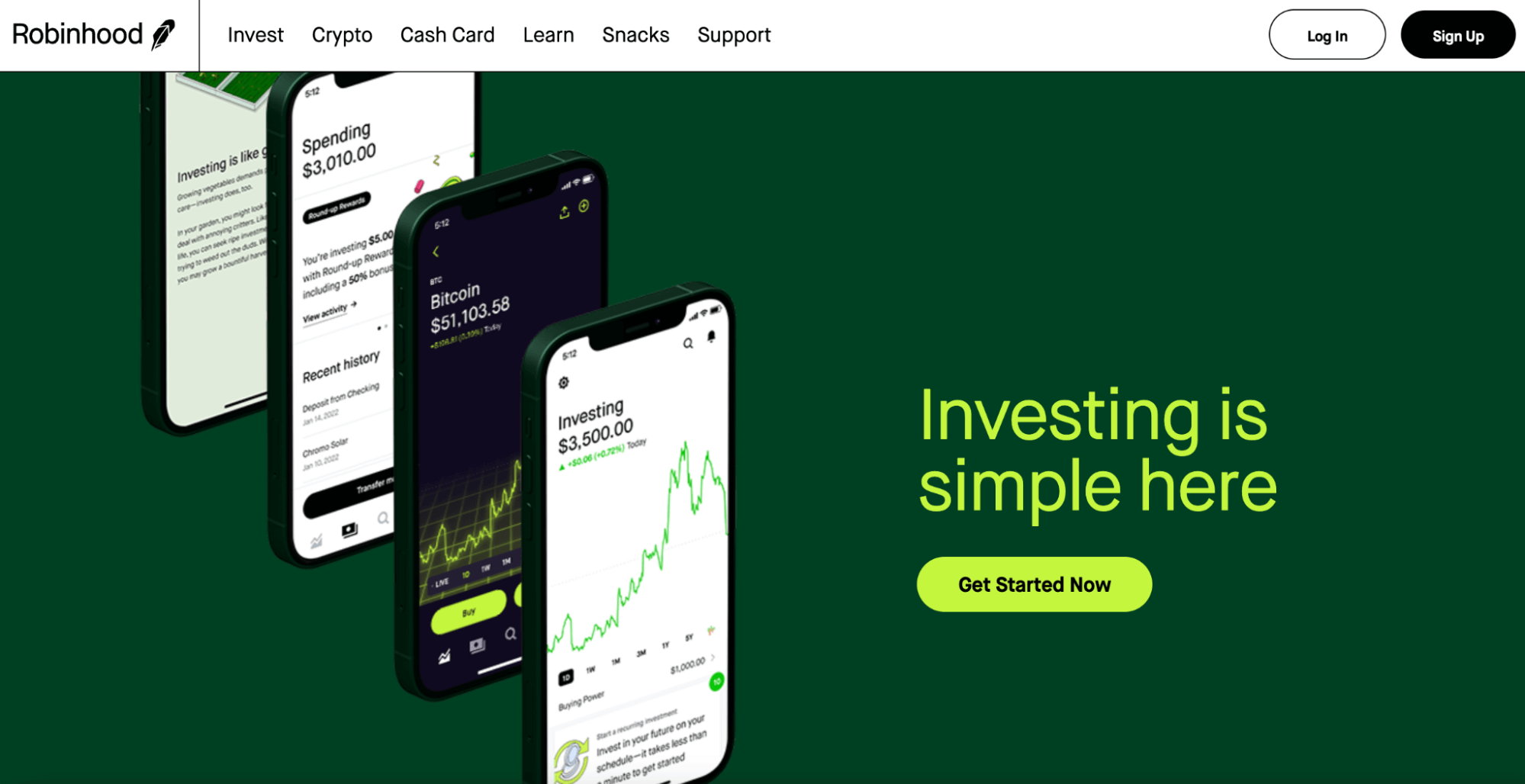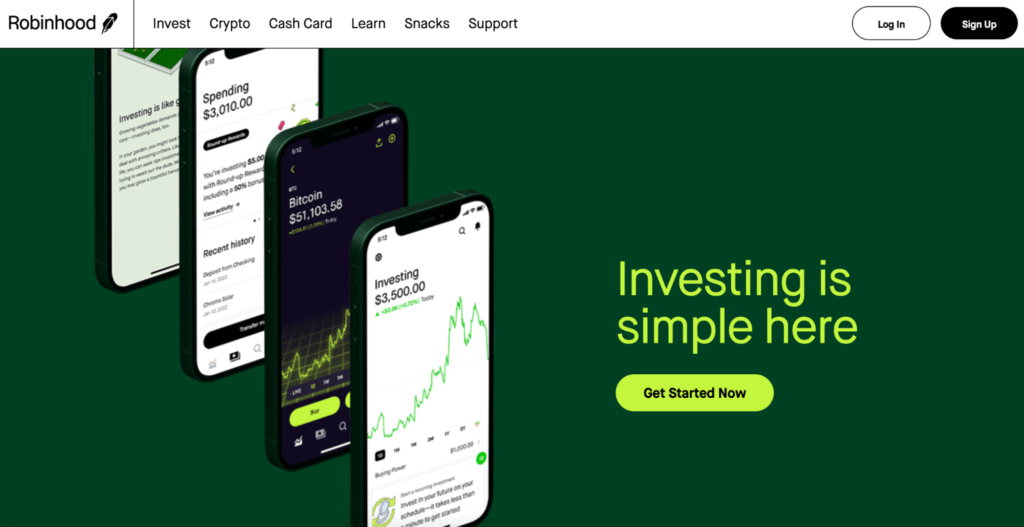 The USP on the homepage is short and snappy: "investing is simple here." It has the potential to put potential investors' minds at ease the moment they land on the site.
9. Minisocial
Influencer marketing is huge and many brands are scrambling to partner with well-known social media stars. But Minisocial comes at it from a different angle and this unique selling proposition example is that it "pairs brands with micro-influencer creators."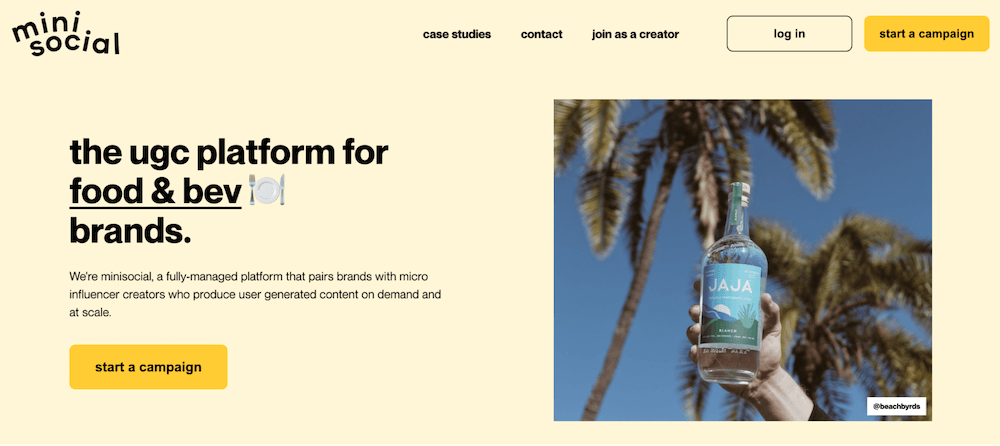 This sets it apart from the influencer tools that pair brands with big-name accounts and instead focuses on matching smaller influencers to DTC brands in the food and beverage industry, the pet food industry, the fashion industry, and many more.
10. Webflow
Online business is on the rise, which means brands need a website – but what if they don't have any dev skills? In swoops Webflow, a tool that helps you create "the site you want – without the dev time." 
Its USP is that it helps users create beautiful and optimized websites without the hassle of coding. In fact, its message is clear: "your website should be a marketing asset, not an engineering challenge."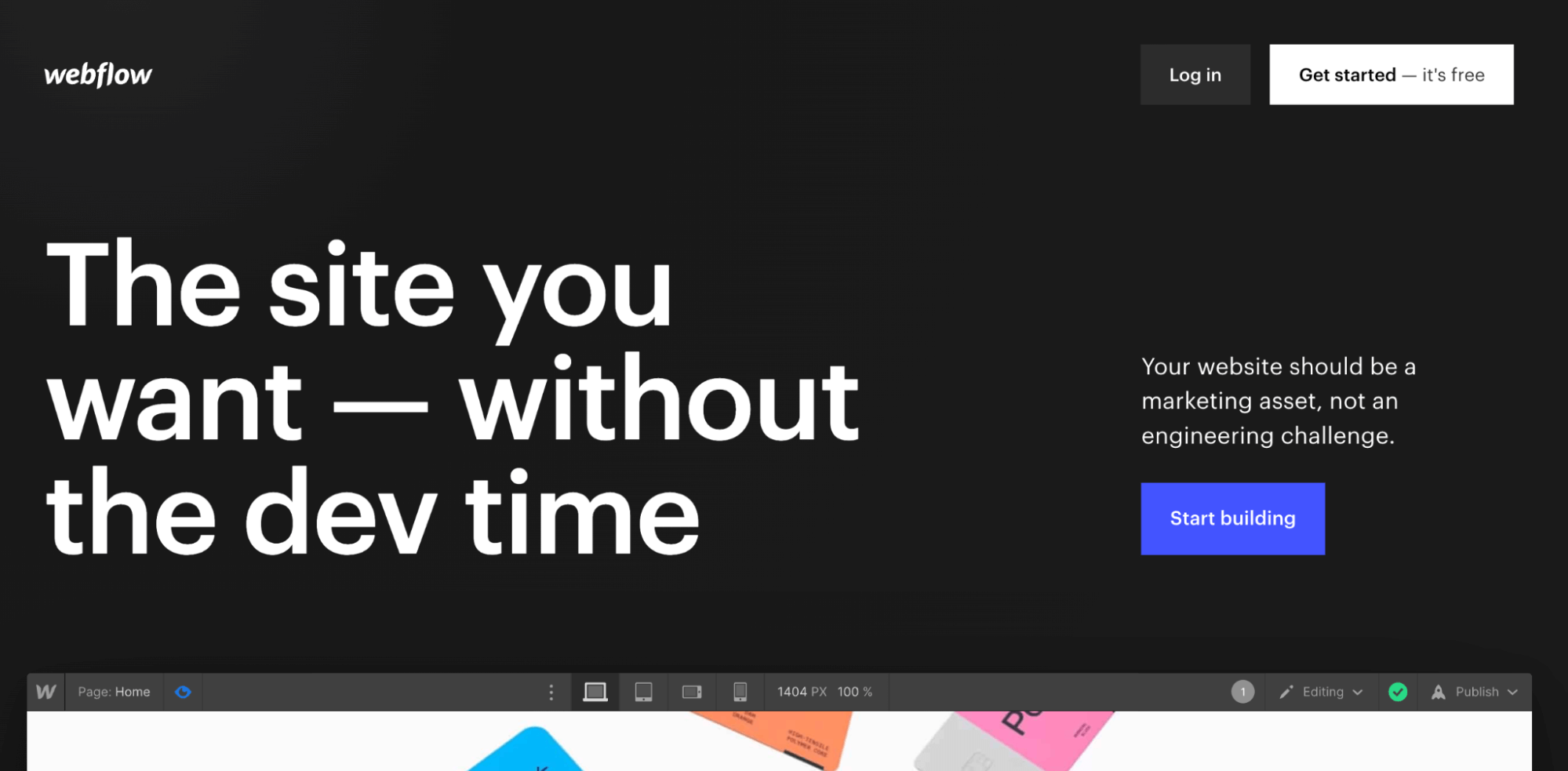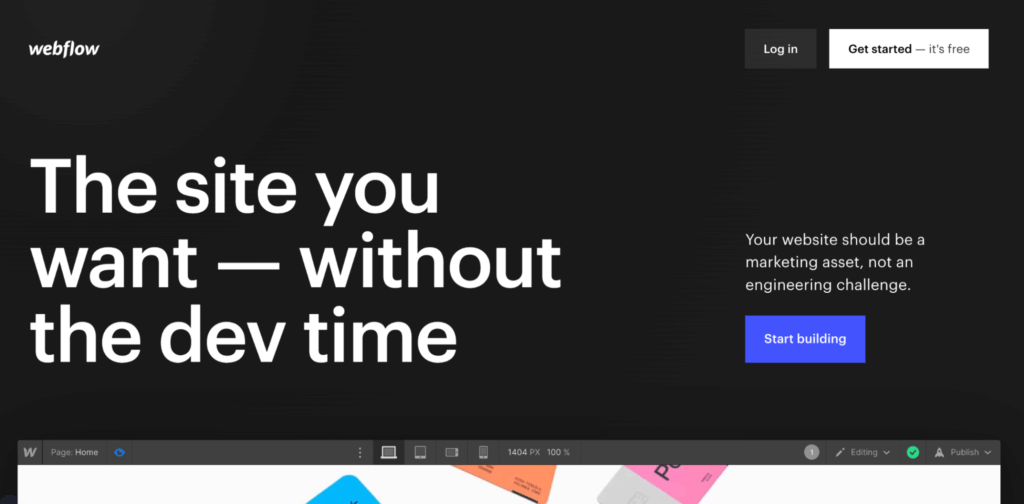 11. Gorgias
There are plenty of customer service helpdesk tools out there, but Gorgias pitches itself as "the ecommerce helpdesk that turns your customer service into a profit center." 
The USP encapsulates both a target market (ecommerce brands) and a benefit it gives its users (revenue from support tickets). It's particularly important for brands like Gorgias that have a ton of emerging competition to stand out, otherwise they run the risk of blending into the background and ultimately being a flash in the pan.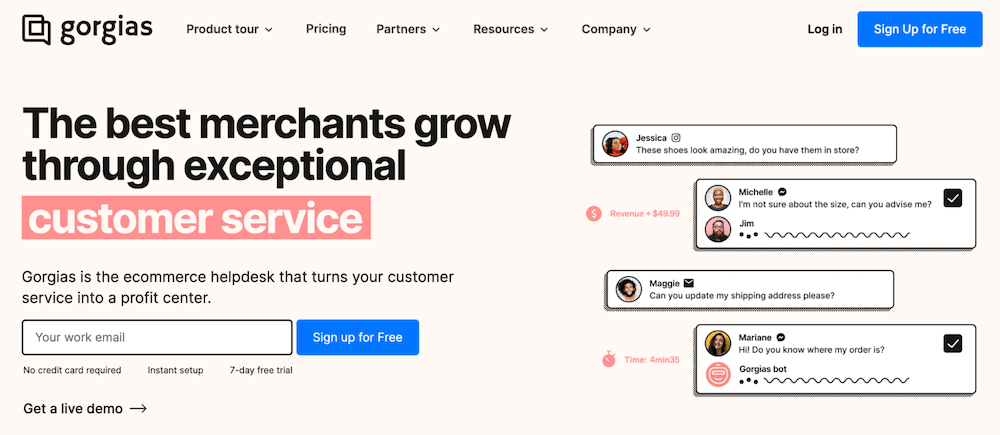 12. Podia
Podia is an all-in-one course platform. It's definitely not the only course creation platform out there, which is why it puts its USP right at the top of its homepage. It doesn't just allow users to set up their courses and run them, it also has features to host webinars and build a community. 
But there's another spoke to its USP: users never have to "worry about getting a bunch of different tools to talk to each other again." Tapping into a very specific frustration like this will help them stand out amongst the competition.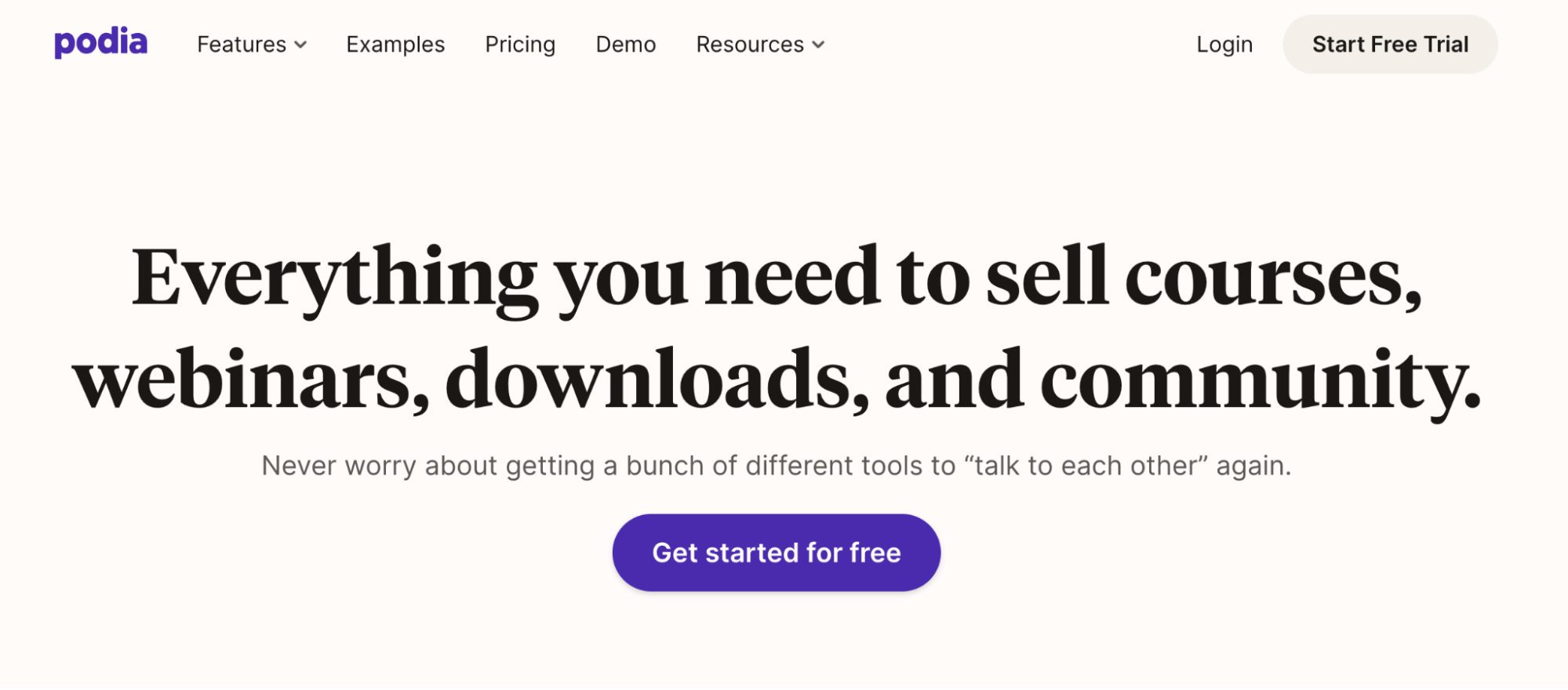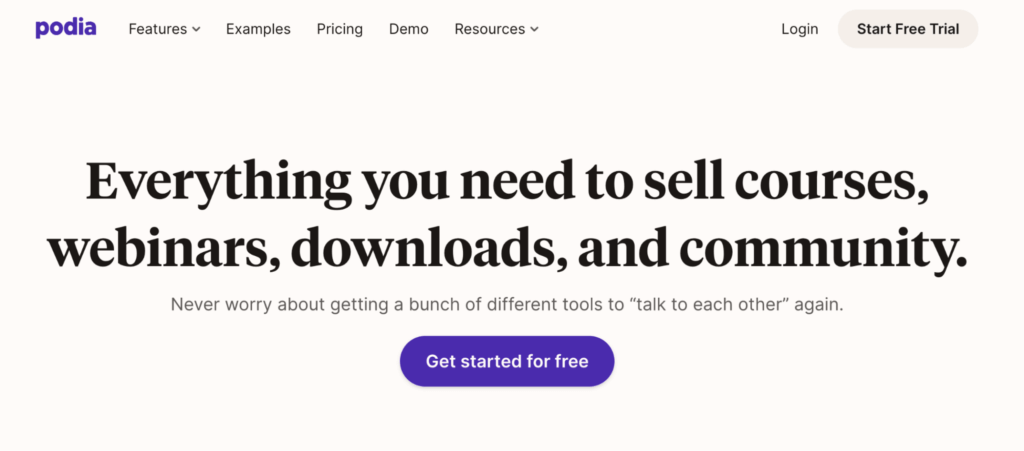 13. Slack
Slack has propelled itself to the top of its industry (partly thanks to remote working during the pandemic), but it's done this by having a very strong USP: "Slack is your digital HQ." It isn't "just" a team chat tool, it also provides a central place to work, store documents and set tasks. 

This USP has capitalized on what consumers need right now and, further down the page, it reiterates this with the slogan "welcome to where the future works."

14. PandaDoc
PandaDoc has also risen to fame during the pandemic and that's because its USP tackles a specific pain point its potential customers were facing: finding a central place to manage, edit, and sign important documents. 
The USP is splashed across the header of the homepage and the use of the word "finally" shows that it understands people are struggling with this pain point.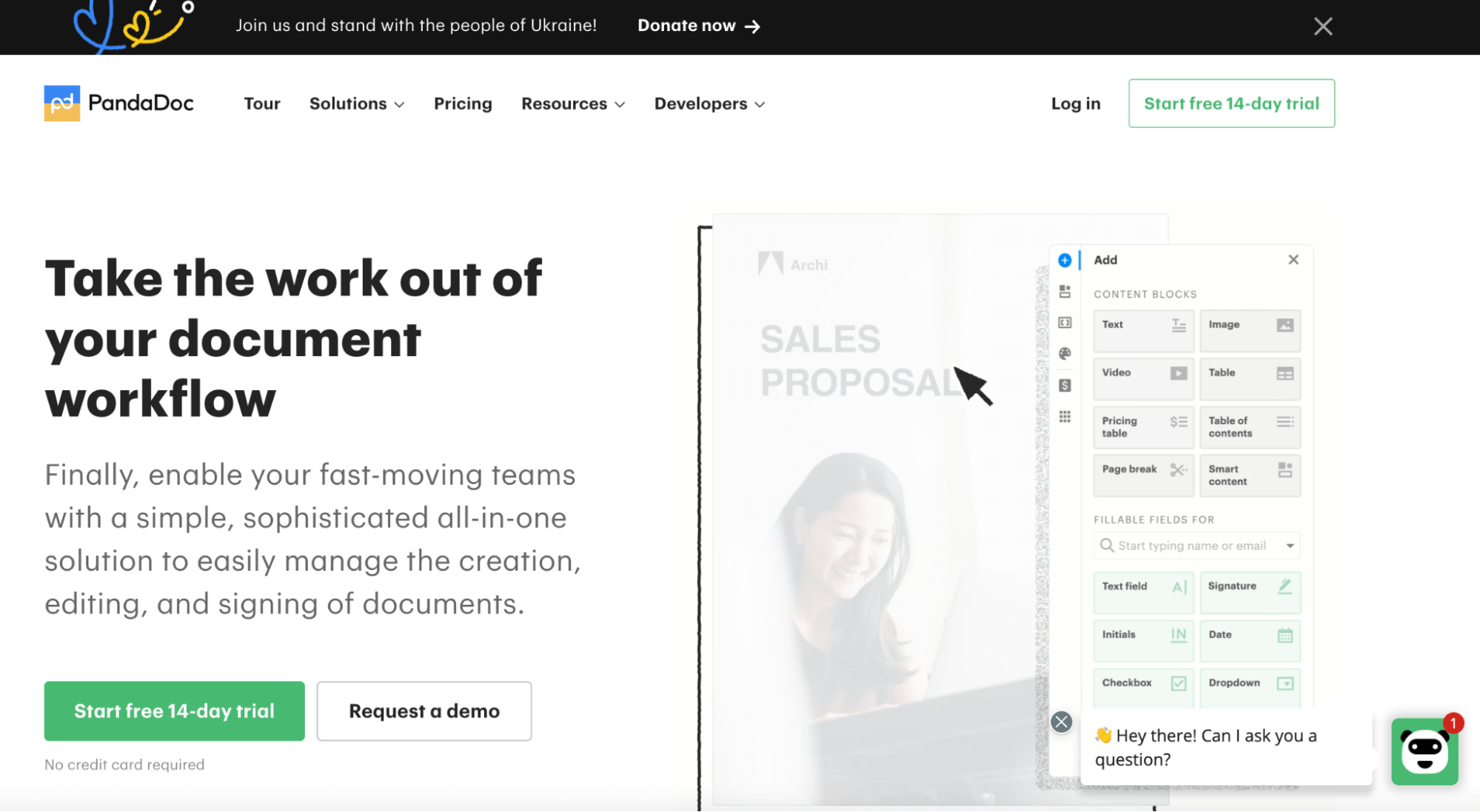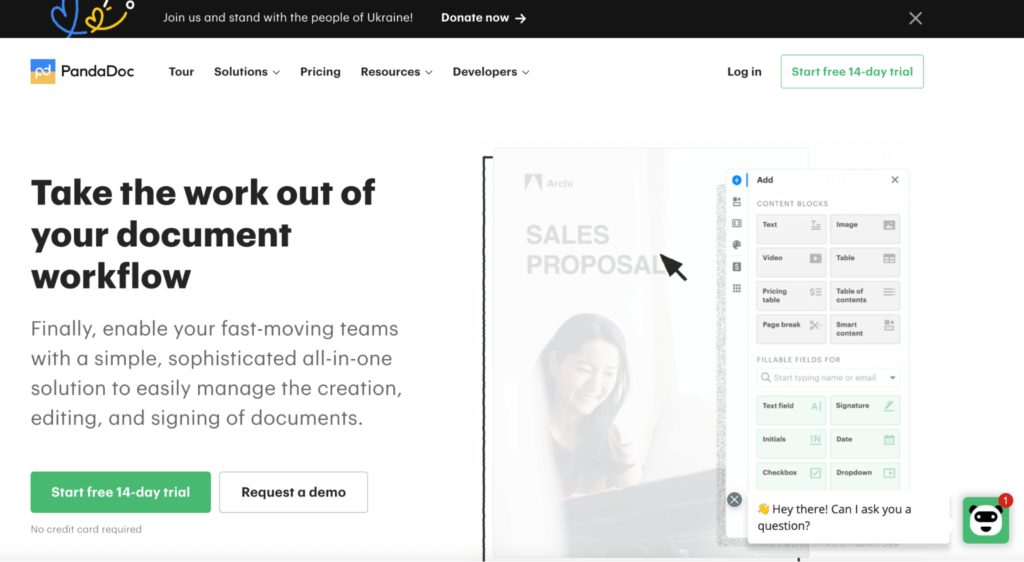 How to write a powerful USP
It can be tricky trying to find the right words or even identify your USP when you're so entrenched in your small business. Obviously, you can see that it's different from your competitors, but can everyone else?
Here are some tips for writing a USP.
Write a list: jot down all of the things that make your business, products, or services different from your competitor's – get specific, like your return policy, your low prices, or your quality products.
Research the competition: you won't know what makes you stand out if you don't know what you're up against. Dig into their USPs to see how you can position your brand in a different way.
Identify your customers' needs: research your customers using data and surveys to discover their most pressing needs and determine how your USP can address those needs.
Combine needs and differentiators: cross-reference the list of things that make your successful business different and your list of customer needs to pinpoint any that overlap.
Consider how you will use your USP: think about where you can apply your USP throughout your business, including your name, marketing, and branding. Your USP should embody everything you do!
Don't forget to test your USP!
Once you've come up with a USP, it's time to test it. There's no point going all-in on fresh branding and messaging if your customers don't relate to the USP you've chosen. Instead of just implementing it and leaving it, run tests to see how your customers feel about it. You can:
Analyze different USPs using A/B testing across your site with separate landing pages
Conduct user testing to see if website visitors understand what makes you different
Run surveys and interviews with customers to get their thoughts on your USP 
Your USP informs everything you do
Your USP is an integral part of your brand. It informs your digital marketing strategy, how you do business, and who you're targeting, but it also helps customers differentiate you from your competitors.
Start by figuring out what makes you different and researching your competitors and customers to find out where your niche market lies. Don't forget to test your USP to make sure it resonates with the right people – try using surveys and data to determine how customers feel about your value proposition and experiment with different ways to present it. And finally, take some of the examples we shared above as inspiration for your efforts.
At the end of the day, your unique selling proposition is a reflection of your core brand value. So, here's to making it the best it can be!
Subscribe to our newsletter, Good Question, to get insights like this sent straight to your inbox every week.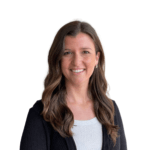 About the Author
Caroline Appert is the Director of Marketing at The Good. She has proven success in crafting marketing strategies and executing revenue-boosting campaigns for companies in a diverse set of industries.