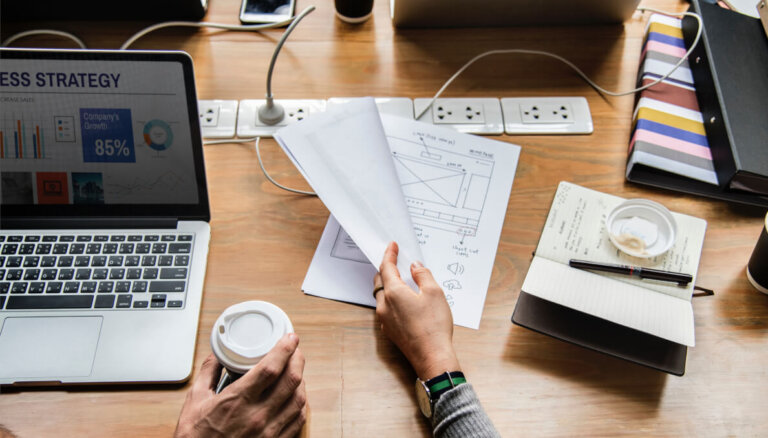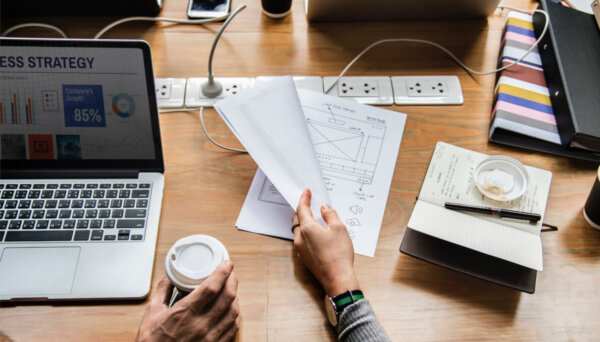 Customer Acquisition
How to Write a Value Proposition That Resonates With Your Audience
If your audience doesn't clearly understand the value of your product or service offering, your conversion rate is going to suffer.
How is your business meeting the needs of your target audience? How much value can your customers expect to take away from purchasing your products or services?
These are questions that you should be asking yourself when writing your company's value proposition. If your potential customers can't identify the value you're offering them within 30 seconds of visiting your site's homepage, you're in trouble.
Even if your company has a unique product offering, excellent customer reviews, and flawless UX design, you'll have a difficult time converting prospects into paying customers if your value proposition doesn't provide a clear solution to their problem.
In this Insight, we'll look at:
Why a clear value proposition is essential
What goes into writing a strong value proposition
A step-by-step approach to developing your own
Winning value proposition optimization tests
Examples to help get you started
Why Is It Important to Have a Clear Value Proposition?
The value proposition is the first thing that people on your website direct their attention towards when deciding if they need what you're selling. If your target audience doesn't fully understand the value that you can provide for them, there's no reason for them to stay on your site.
"If your audience doesn't clearly understand the value of your product or service offering, your conversion rate is going to suffer"
Click To Tweet
A poorly executed (or completely absent) value proposition can be one of the biggest hits to your conversion rate. You know the value in your company's offering, but explaining that to someone that knows nothing about you can be much more difficult than you'd expect. If it helps to visualize it, the value of your product comes down to a relatively simple equation:

The more informative and concise you can make your value proposition, the better your site will be at converting new visitors. If the perceived cost of your product outweighs the perceived benefit, the likelihood that your ideal customer will pay for your products is slim.
What Goes into a Strong Value Proposition?
Look at your unique selling proposition (USP) to aid in developing your value proposition. If you can clearly describe what makes your company unique, you'll be better equipped to explain to your customers why they should choose you over the competition.
What do you do better than your competition? Do a competitive analysis of similar brands in your industry to identify their weaknesses. Even if you're operating in a saturated market, there has to be something of value you can provide your customers with that sets you apart from others in your market.
Consider what experiences your audience values the most. If you offer competitive pricing, mention that. If you have free two-day shipping for all orders over a certain price, definitely mention that. Identify the value-adds that motivate your target audience to purchase and highlight them in your value proposition.
Your value proposition should not be interpreted as a slogan or positioning statement. Saying that your business is the "#1 provider of [insert product here]" is great if it's true, but it won't help people understand the value of your offering.
It's good to be concise with your value proposition, but don't be so brief that you leave out what's really important.
How Do You Write a Winning Value Proposition? (Step-by-Step)
Writing a great value proposition is tricky, so we broke it down into three simple steps to help guide you through the process.

Step 1: Determine the needs of your target audience.
Writing a strong value proposition will be nearly impossible if you don't have a clear understanding of the needs your customers are seeking to fulfill. Communicate with your customers (through surveys or online forums) to help reveal any latent needs that you can capitalize on.
Here are some questions you should be asking about your target audience:
What are your customers' current priorities? Lowest price? Best customer service?
Are there groups of people in your customer base that experience the same pain points?
Step 2: Identify your unique offering.
What's at the center of everything that you do? Look to your company's mission statement and core values to help identify this. After you have a solid understanding of your customers' needs and what differentiates your business from others, it's time to establish the solution that you're offering.
Here are some questions you should be asking about your business:
How is your product a solution to your customers' pain points?
What makes your product/service unique?
Why should your customers buy from you instead of your competition?
Subscribe to our newsletter to get more just like it, sent straight to your inbox every week.
Step 3: Write your value proposition as a concise paragraph.
Take the information you gathered in the previous steps and use it to guide your value proposition statement. You should be able to convey the value of your business in 50 words or fewer. Don't be afraid to use visual content to help aid in this. If your value proposition is a wall of text, I guarantee that less than 5 percent of your site traffic will take the time to actually read through it.
This template is a good place to start:


Target audience: Be as specific as possible so you attract the interest of the prospects that matter. If you're targeting digital marketers, be specific about that.
Target objective: The objective is revealed when you're determining your customers' immediate needs. If your target audiences goal is to improve their SEO strategy, speak to that need.
Unique selling proposition: Explain what value you can provide through your products/services. This is the unique solution that you're selling to your audience.
Winning Value Proposition Tests
Our team at The Good has a lot of experience with optimizing value propositions for conversions, so we decided to include a few examples of successful ones we've worked on in the past to help inspire your own tests.
Test 1: Identify your differentiators
Here's an example of a winning value proposition test that The Good did for a protective eyewear company, Theraspecs. The main goal was to emphasize the homepage CTA and give new users a quick understanding of the product offering.
The test included three value propositions:
Control (original): Wear your relief. Find your freedom.

"Use TheraSpecs to protect yourself from light-related migraine attacks, headaches, and photophobia and join the thousands who have found relief."

Variation 1: Style. Function. Relief.

"9 out of 10 TheraSpecs customers find relief for their light sensitivity, migraine and post-concussion symptoms."

Variation 2: Keep your style. Get your relief.

"Fashionable and effective eyewear for light sensitivity, migraine, and post-concussion relief."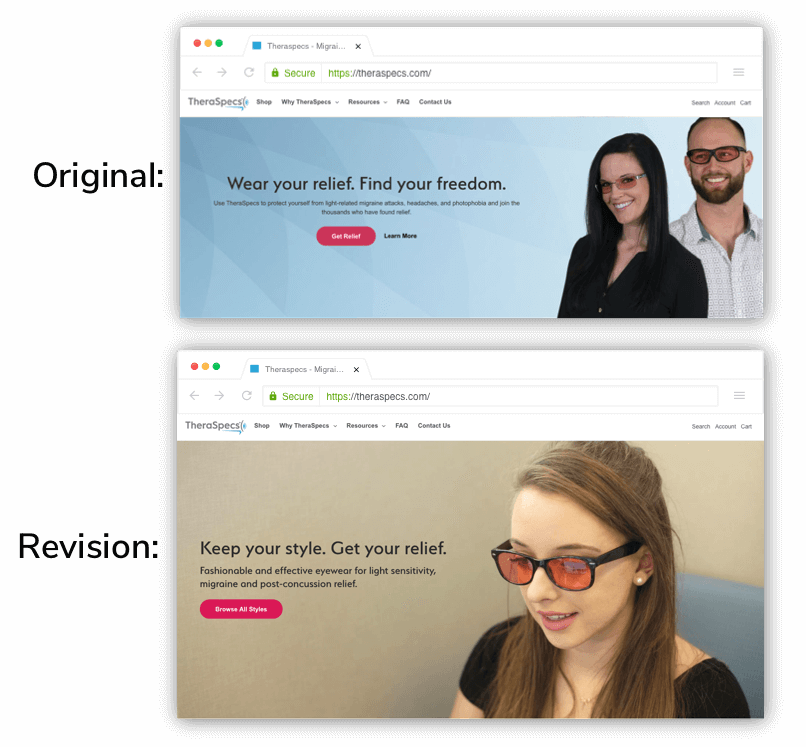 The results: The winning test, Variation 2, increased the conversion rate for users sampled in this test by 16 percent!
The results showed that users were more likely to visit a Collections page or an About page—indicating an increased interest in learning about the products and the brand. The test confirmed our team's hypothesis that by more concisely explaining the benefit of the product, we were able to encourage more users to shop (16 percent uplift), learn more about the company (20 percent uplift), and convert more often (16 percent uplift).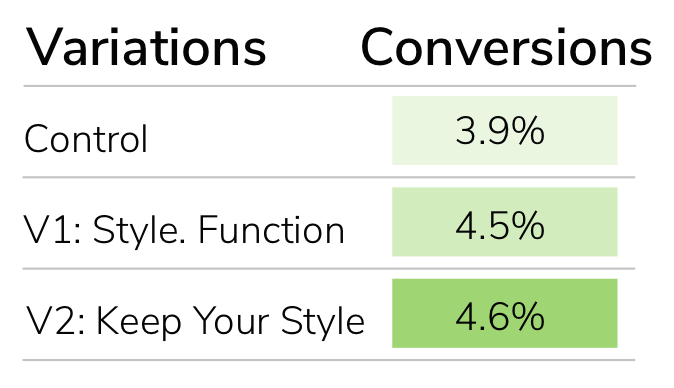 Test 2: Less is more
Here's an example of a value proposition test we ran on a client that sells handcrafted beehives. We saw an opportunity to give new users an introduction to the brand through content on the homepage because, as we discovered through testing, users were interested in the product but lacked understanding of the brand's key differentiators. The price point and the time commitment required in owning a beehive made this item a high-consideration purchase, so we chose to emphasize that the products were produced sustainably.
The test consisted of four different banner messages:
Control (original): "Sugar pine top bar hive is here!"
Variation 1: "Sustainable hives for natural beekeeping"
Variation 2: "Saving bees, sustainably"
Variation 3: "Natural beehives for modern beekeepers"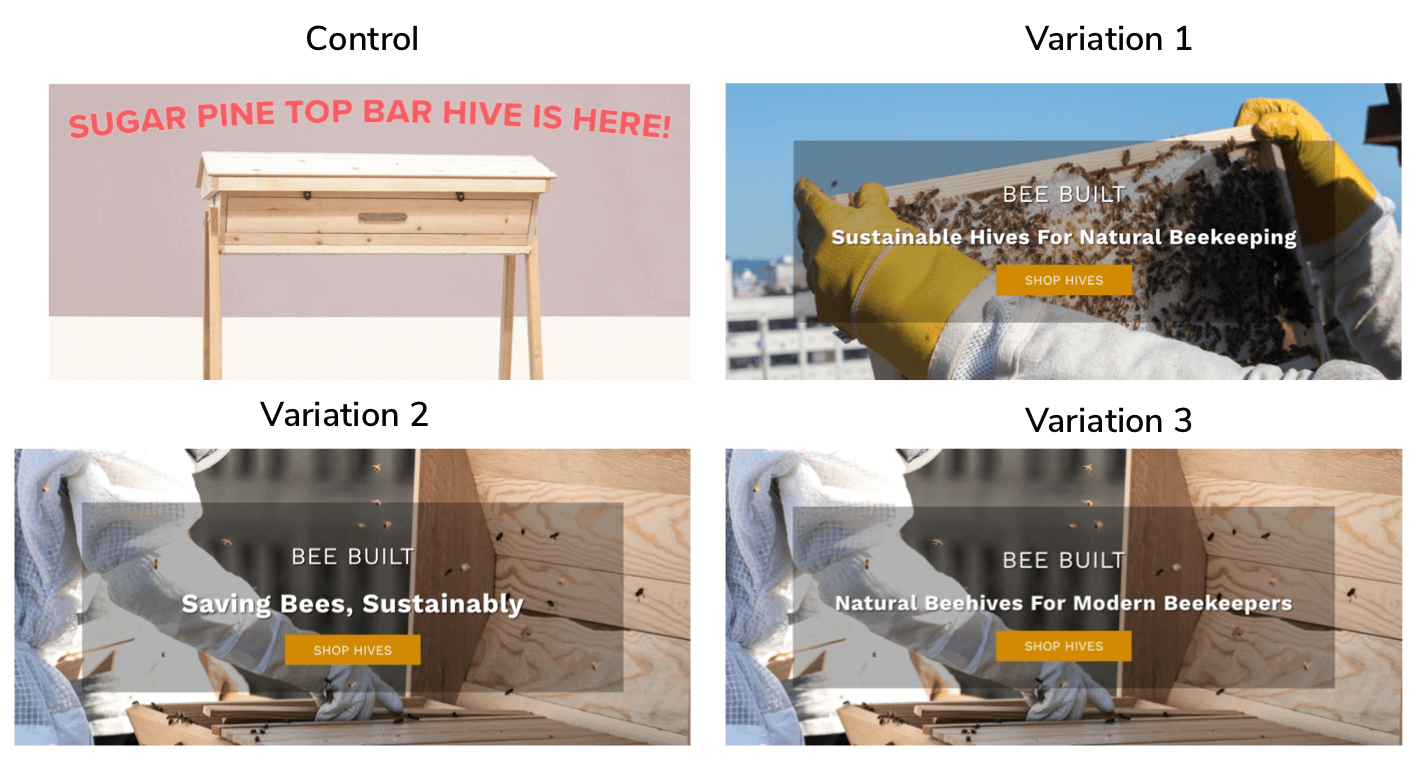 The results: Variation 2 ("Saving bees, sustainably") received the most interest initially, but Variation 3 ("Natural beehives for modern beekeepers") ultimately was the most effective at increasing conversions. The combination of using a lifestyle image as the banner and having better messaging increased the conversion rate for users sampled in this test.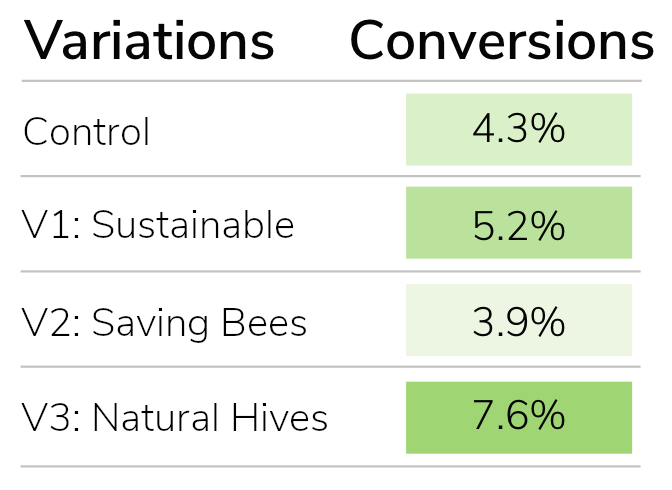 Examples to Take Inspiration From
It's always a smart idea to look at the value propositions of other players in your industry to get a feel for how you can start developing your own. We've put together a handful of excellent value proposition examples from companies of varying industry to help inspire ideas for your own business.

Zalando: This European footwear retailer has a great value proposition that highlights their two biggest selling points: they carry more brands than any other fashion retailer, and they offer free returns. This is a great example of highlighting value-add features to your product offering. There is a multitude of options for buying footwear online, so it's a smart move to include in their value proposition that they carry more than 1,900 brands and offer free returns.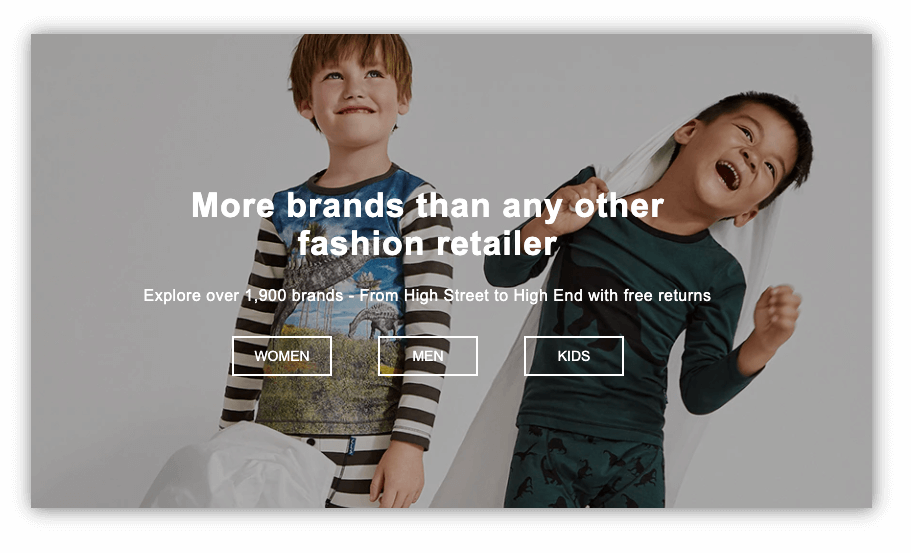 Curalate: This tech company consolidates their value proposition into a succinct, two sentence explanation of their services. They first state what they do, and then go on to explain what value you'll get from using their platform. This is a great example of how a concise value proposition can still be effective at telling customers what it is they do. Directly below this are two CTAs and then a more specific unique selling proposition (USP).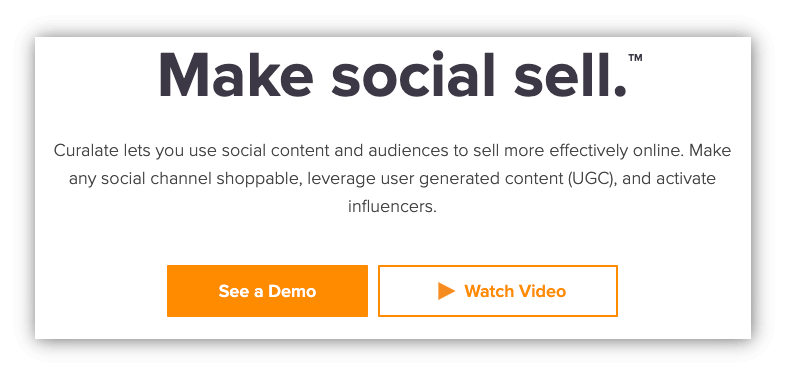 VWO: The A/B testing toolset VWO has an even shorter value proposition than Curalate, but it doesn't fall short in explaining what the business does. This approach is effective because it teases at what they do (the solution that their target customer is searching for), and then immediately moves you toward the sales funnel by offering a product tour or a free-trial.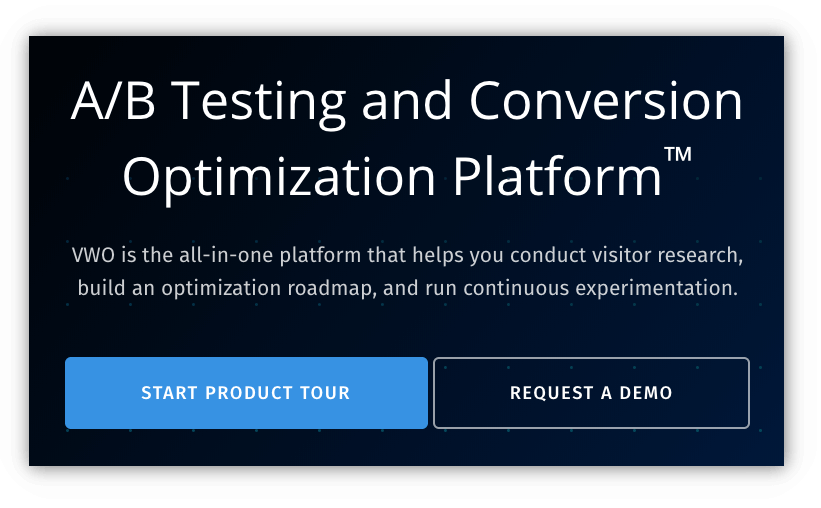 Test and Improve on Your Value Proposition
The importance of a great value proposition can't be overemphasized. If people don't understand what your brand is offering and how you're different than everyone else in the market, what's keeping them from buying from someone else? The key to finding the best value proposition for your business is to test different variations and see what the response is. If you identify that one variation is doing significantly better than the others, implement the change and assess its impact on your key performance indicators.
Follow the steps we outlined in this Insight, and you'll be well on your way to writing a winning value proposition for your company. You'd be surprised by the impact that a simple fix to your value proposition can do for the conversion rate of your site.
Looking for ways to increase the conversion rate of your ecommerce site? Optimization doesn't always mean a complete UX design overhaul. Often we find it's the messaging that has the biggest impact on customers' buying motivations. Request a free landing page assessment to find out how you can start improving your site.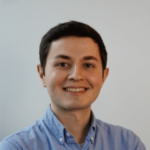 About the Author
Rudy Klobas
Rudy Klobas regularly works to produce insightful, informative content and copywriting designed to help ecommerce leaders increase conversions.