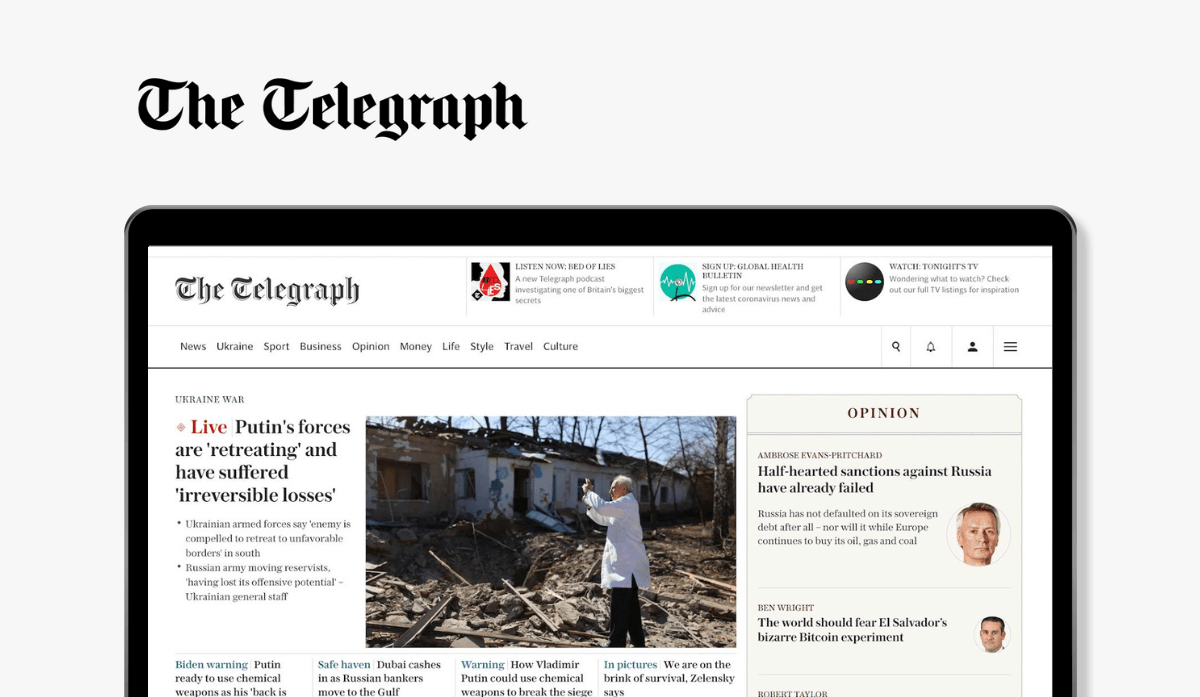 The Telegraph Increased Conversion Rates While Improving Subscriber Quality
Learn how The Telegraph improved their onboarding experience and increased conversions with a Comprehensive Conversion Audit and Custom Consulting Engagement.


"One of the reasons why someone like The Good can add value is because they've done this with other people, and they're experts."
David Humber, Head of Conversion
30%
Reduction in same day subscription cancellations
Improved subscriber quality and acquisition rates 
Increased paywall conversions
The Overview
The Telegraph has distributed authoritative news for over 160 years.
They were the first newspaper in Britain to produce an online website (the "Electronic Telegraph"), and, in 2017, they became the top quality UK news brand with over 25 million unique visitors.
Today, they're an award-winning multimedia outlet brand with over 1,200+ employees managing print and online editorials on sports, business, finance, travel, and more.
The Challenge
With a large reader base, and ambitious acquisition growth plans, David Humber, Telegraph's Head of Conversion, has no small task. A large part of his role involves converting anonymous visitors into engaged readers — and then subscription trialists. All within an era where studies indicate the UK's trust in media is declining year-over-year.
"We have a set business goal to deliver a million subscribers by 2023," David said, "and the whole business is focused on that." To hit this north star metric, David and his team need to take inbound traffic on The Telegraph's site and convert more of those visitors to subscribers.
This conversion is simple in concept but complex in execution.
"I wanted to bring some additional eyes in quickly to help us scale up and determine what is best from a reader perspective."

David Humber, Head of Conversion at The Telegraph
Phase 1 : Improving paywall conversions and subscriber quality
The Process
The first stop in The Telegraph + The Good's partnership was improving The Telegraph's paywall-ed experience (showing a "subscribe to read" cta on an article).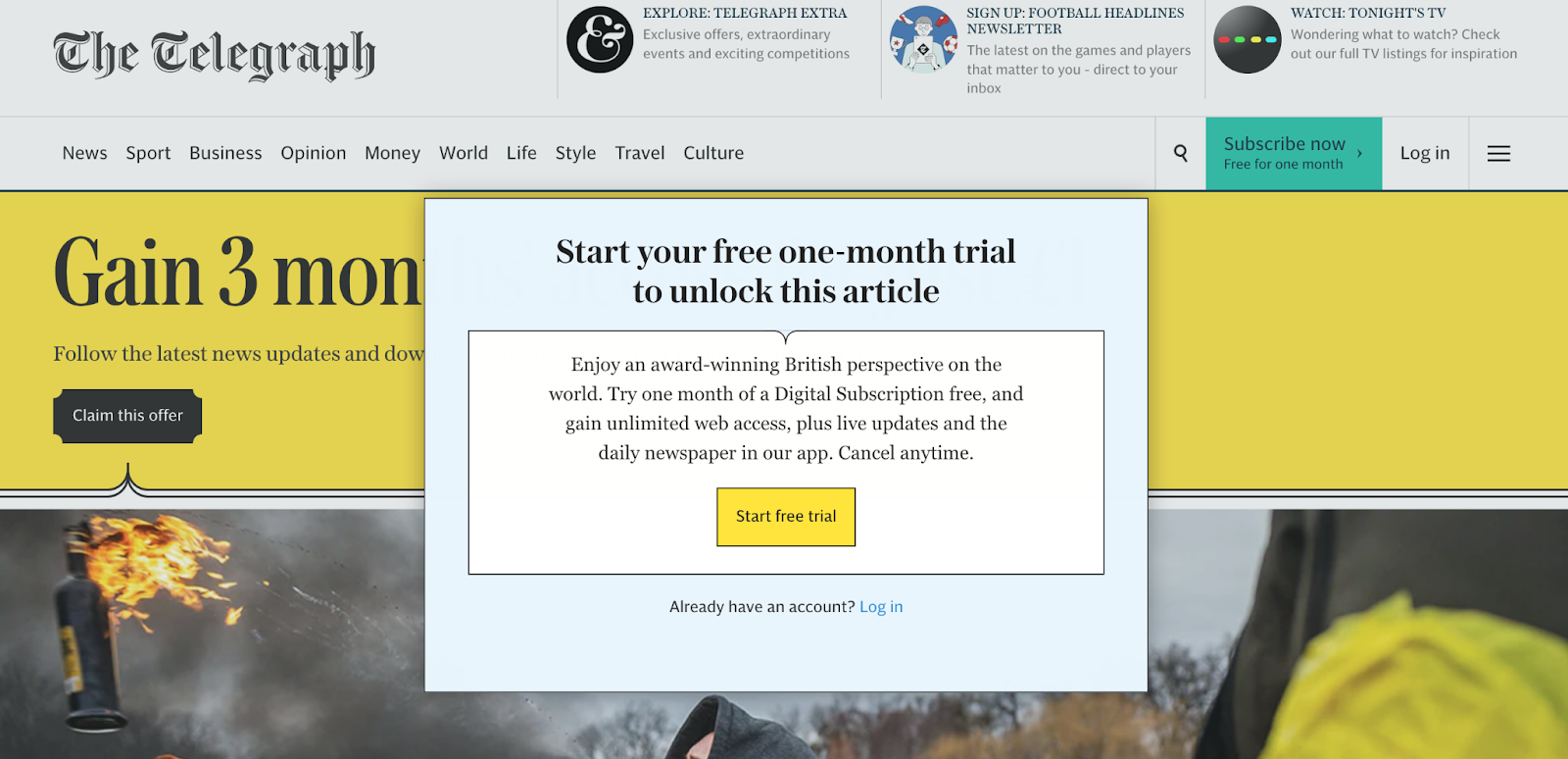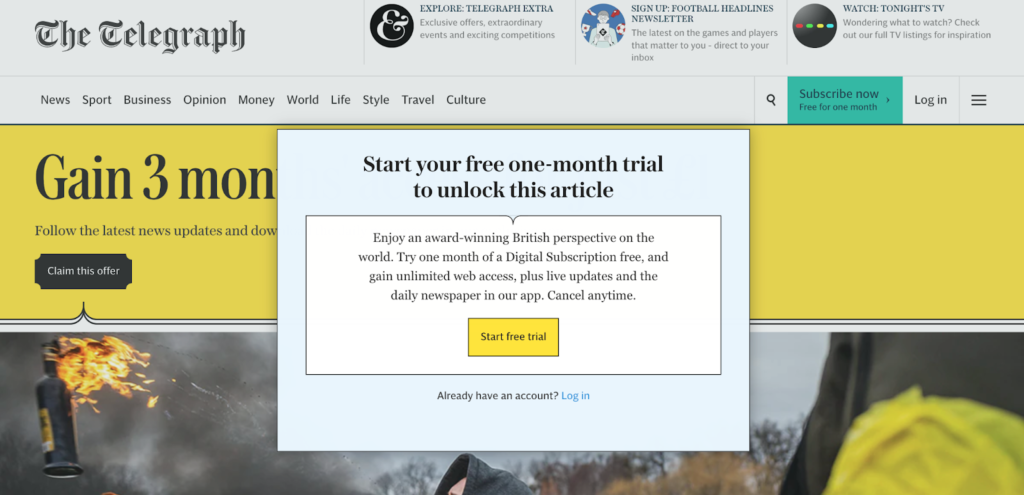 Senior CRO Strategist, Maggie Paveza, kicked off a Comprehensive Conversion Audit by reviewing quantitative data available through The Telegraph's internal dashboards and reporting systems.
Initial findings included:
Behavioral differences on desktop vs. mobile
Conversion rate differences on old vs. new site content
Content preferences for registered vs. anonymous visitors
From here, strategists reviewed the visitors' qualitative experiences using user testing, session recordings, heatmaps, heuristic analysis, and over-the-shoulder research.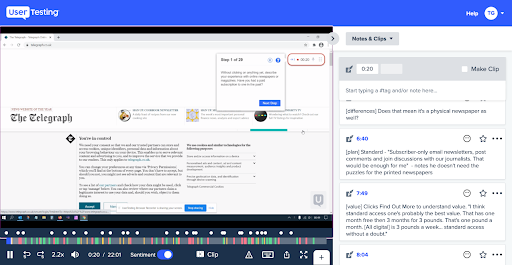 As a result, they compiled an in-depth competitive analysis and drew on our firm's decade-plus experience to identify and prioritize critical improvements.
"If you're purely looking at statistical data, in terms of website visits, etc., without interpretation…the numbers might tell you something that could lead you down the wrong road."

David Humber, Head of Conversion at The Telegraph
Our strategists summarized these improvements in a roadmap — a visual depiction of where visitors were getting lost or frustrated in their journey with The Telegraph, combined with our recommended approach to fixing each one. Suggestions included messaging, layout, paywall placement, timing, and other paywall journey improvements leading to the subscribe button.
"The decisions are made based on science, rather than it just being a gut-feel."

David Humber, Head of Conversion at The Telegraph
Here we could visually depict the most challenging areas that needed optimization. It's important for us to diagnose problems before prescribing solutions.
The Solution:
Once we had a roadmap, it was on to testing. Through a process called rapid testing, we worked with The Telegraph to design, test, and decide on implementations in a matter of days.
For example, one rapid test we ran for The Telegraph assessed site banner color and layout. When shown two banner variants, visitors had a clear preference — 78% of participants found content easier to read against a yellow background. Recall tests also showed visitors were more likely to remember key details in this variant as well, further supporting it as the preferable option.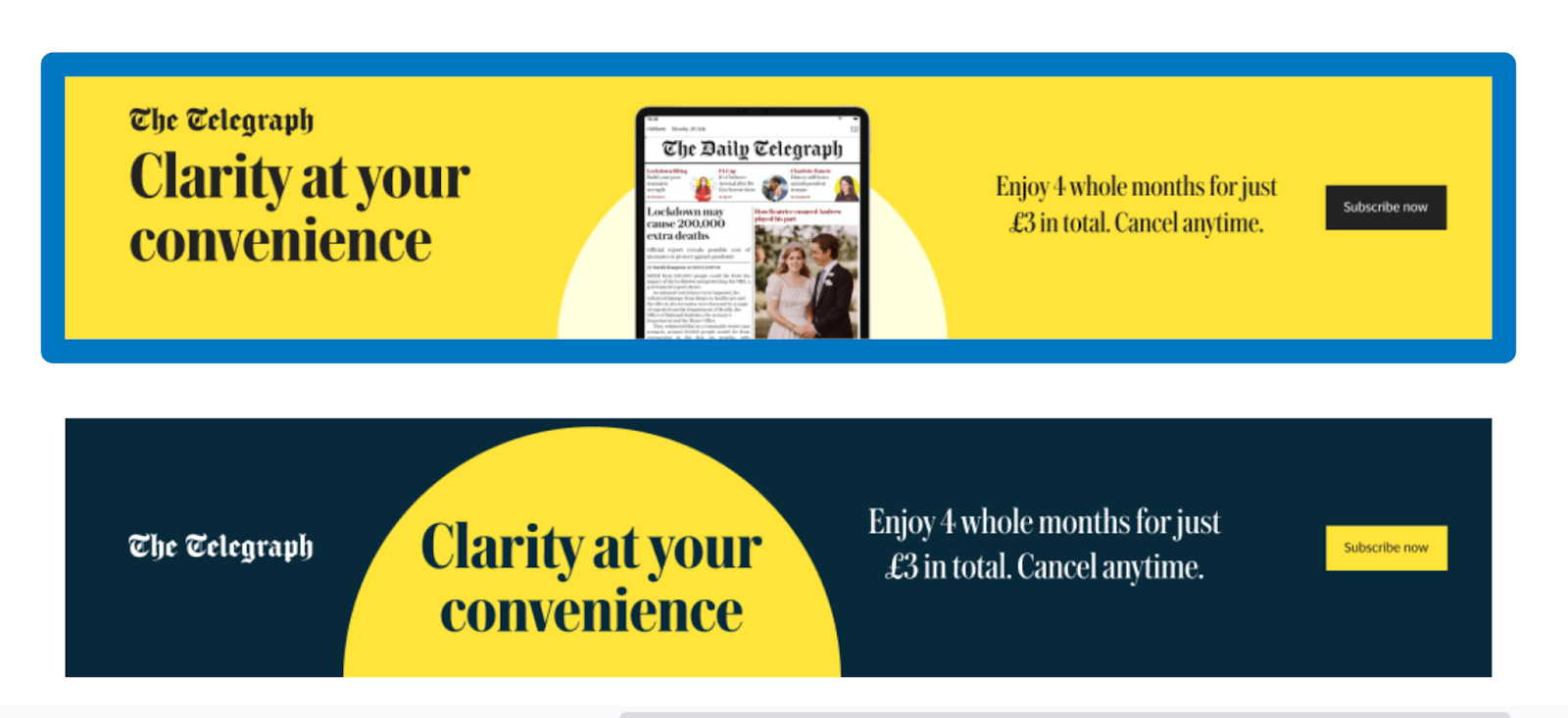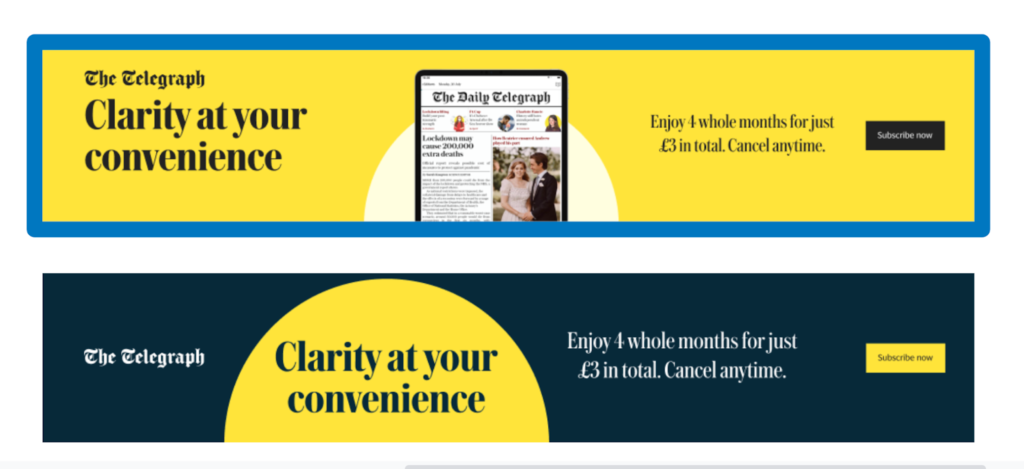 We ran over 20 similar tests to assess cookie notification placement and design, desktop and mobile paywall presentation, brand headlines, offer messaging, and more. Overall, identifying small wins in numerous places added up to a significant impact for The Telegraph.
Phase 2: Improving onboarding for customers
The Process:
Bettering paywalls was an excellent first step, but it was only one part of a user's subscription journey. Keep in mind the initial paywall project sat in the context of big business goals (one million subscribers) and complex inputs (varied visitors and journeys).
To get to one million subscribers, The Telegraph knew there was more work to do. So, the next project we partnered on, this time with their retention team, was improving the overall onboarding journey.
As with the first project, we started with a diagnosis — a thorough review of data. This data review informed key questions such as:
What's the best place for a new subscriber to onboard?
What's the best language, design, and number of actions required for onboarding?
Why aren't visitors completing this key action?
Next, we started forming hypotheses with the help of heatmaps and heuristics. Among other findings, we noted visitors were:
Click-click-clicking through onboarding patterns to skip to what they wanted
Overlooking much of the onboarding content
Missing important celebratory milestones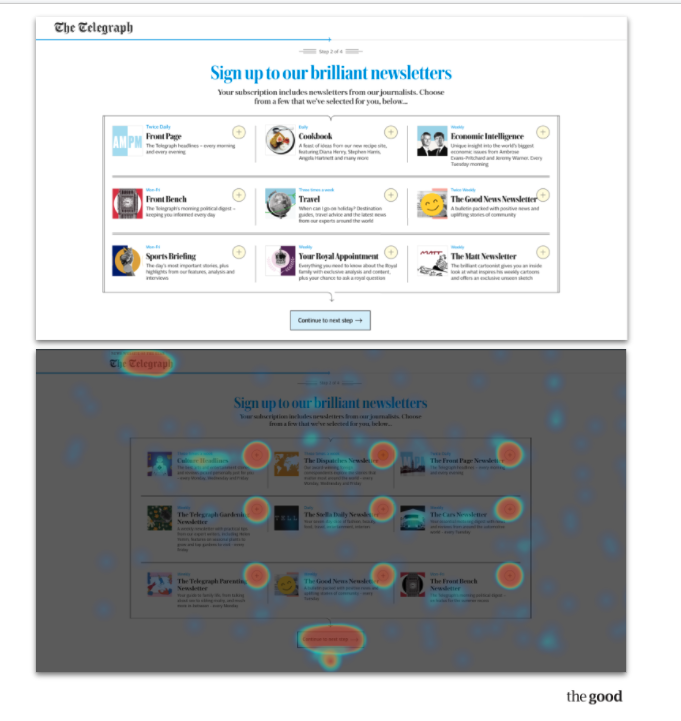 We also invested in a competitive analysis, which looked at onboarding flows. And we didn't just look at other publications — we researched other subscription-based purchasing and onboarding experiences, such as Netflix, to identify insights. This cross-industry review honed our strategists' eyes for great experiences and inspired rapid testing options.
Overall, the data review, qualitative testing, and analysis revealed a substantial number of improvements The Telegraph could make. The next question was, out of all the possible roads we could take, where do both teams go from here?
The Solution:
To align both teams around what The Telegraph's onboarding journey should look like, our strategists created ideal customer experience standards. These standards described what a phenomenal experience should feel like to a user. For example:
Every action within the onboarding journey should feel like a step towards sign-up/ account registration, rather than an advertisement.
This and ten other standards set the tone (and vocabulary) for onboarding improvements. Potential improvements were vetted against the standards and then assessed with rapid testing.
Rapid testing in this project looked like:
Asking, "Which of these variants will be most effective at communicating the value of downloading the mobile app?"
Gathering data from a small group of visitors, through various user testing methods (such as card sorting)
Bringing findings to The Telegraph team, who implemented a live site change in days
"The main benefit to Dave and his team," Natalie explains, "is they were able to hear some new research, take a recommendation, turn it into a design within a week — sometimes even three days."
From David's perspective, the audit and rapid testing allowed him to move quickly through internal pitches and approvals. "Bringing in The Good allowed us to leapfrog a lot of that process," David explained. He could confidently say whether an idea had merit or would be problematic. This decisiveness helped him gatekeep The Telegraph's focus and efforts. "It just speeds up the whole process, and there's a lot of value in that," he affirmed.
"When we get to the live test, we've already validated and done a lot of the work."
The Results:
As a result of our Comprehensive Conversion Audit and Custom Consulting Project, The Telegraph has integrated data-driven insights to improve user experience.
Formerly, some readers would sign up for a subscription, read a gated article, and then cancel before their credit card was billed. Through improved experiences, The Telegraph and The Good reduced this behavior by 30%.
It's worth noting many brands attempt to improve retention by using deceptive design. They create experiences that make it difficult to cancel, which results in lower churn, but also leaves customers feeling frustrated or even angry.
That doesn't align with our philosophy, nor the Telegraph's, so instead, we focused on improving subscriber quality and journeys.
Improving paywall conversions, subscriber quality, and the onboarding experience were notable results for The Telegraph. But those aren't the only improvements that matter.
The Telegraph has always been customer-centric, but things like complex business operations, market volatility, and changing consumer preferences sometimes make it difficult to keep the customer at the heart of every design decision. Now, they have the tools and processes to see changes from the customer's perspective.
"Having The Good come in allows you to validate your hypotheses, your thinking, and get an early read on whether you're going in the right direction or not."

David Humber, Head of Conversion at The Telegraph
How They Got There
The results with The Telegraph were achieved through a Comprehensive Conversion Audit and Custom Consulting Engagement.
The best part? Your website can see these improvements too.
Get in touch with our team using the form below to find out what conversion optimization program is best for your business.