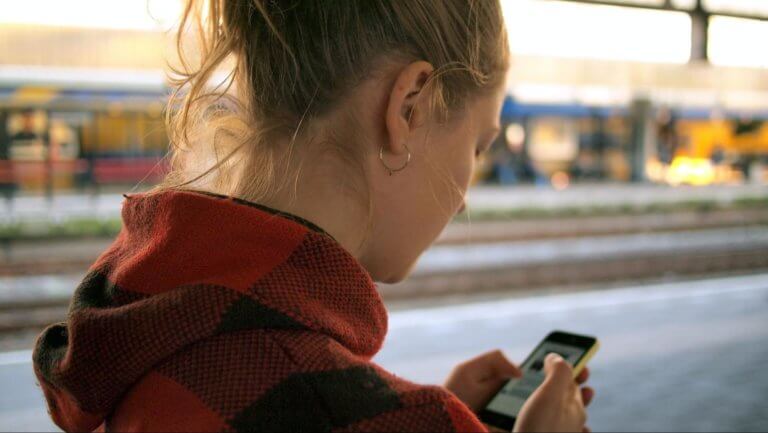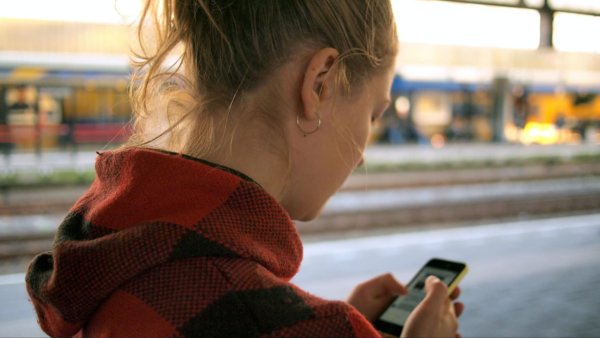 Customer Acquisition
How To Scale Ecommerce Growth With SMS Marketing
SMS marketing can help you reach more customers, increase sales, and grow your business. Best of all, it's easy to start, and we'll show you how.
This blog is based on our podcast episode with Lisa Popovici, Co-founder, and COO of Cartloop. Listen to the full episode for her expert advice on abandoned cart recovery strategy, the value of real human interactions for ecommerce brands, and how she sees the future of SMS marketing. 
Many companies only use email marketing to target their customers, ignoring the benefits of SMS (short message service) messages. But SMS messaging provides unmatched immediacy, arriving instantly into the hands of your customers, outperforming other marketing channels with open rates of around 98%. SMS marketing isn't a monolith but rather a pillar supporting your overall digital marketing strategy. 
The intimacy of text messaging marketing allows you to cultivate valuable customer relationships, broaden your audience reach, increase ROI (return on investment), and scale your ecommerce business.
We'll examine:
What SMS Marketing Is
How SMS Marketing Works
3 Effective SMS Marketing Tips
A Few SMS Marketing Examples
What is SMS marketing?
SMS marketing, or text message marketing, is an opt-in method of sending marketing messages through text messages to communicate with customers.
These messages can:
Promote special offers
Collect feedback on products or services
Update delivery status
Send newsletters and updates
Announce events and newsworthy items
While SMS is most commonly used for sending one-way messages from businesses to customers, it's also capable of two-way communication. This is known as SMS chat or SMS interactivity. Companies can use this feature to answer customer questions quickly, help recover abandoned cart sales, deliver order updates, and more. 
Historically, there have been two types of SMS text messages companies send their audience: promotional and transactional messages. But based on our conversation with Cartloop COO, Lisa Popovici, there's another type: conversational.
Promotional marketing text messages, one-to-many texts, communicate campaign promotions like flash sales and coupons, or other updates like special events and product updates.
Transactional marketing text messages, one-to-one texts, communicate transactional information like order confirmation, shipping notifications, or other pertinent information customers need.
Conversational marketing text messages, one-to-one texts, are used to create relationships with customers by addressing their concerns and questions about products offered or the purchasing process.
Why you should care about SMS marketing
How often do you pick up your phone? Well, according to global tech care company Asurion, the average American checks their phone 96 times a day, or once every 10 minutes. And what's more, SMS messages have an average open rate of 98%, while email significantly underperforms, coming in at a 20% average open rate.  This makes SMS marketing one of the most effective methods for reaching prospects. 
There are several benefits of SMS marketing:
It's immediate: Compared to other types of marketing like email, which has more of an "I'll check it later" mentality, SMS is fast and responsive. You can reach your audience within seconds of sending a text.
It's intimate: Your messages appear right in the hands of the consumer, always at arm's reach.
It's easy to track: With SMS, you can track opens, clicks, and other metrics to help you improve your marketing campaigns.
And it doesn't stop there. There's a growing consumer desire for mobile communications. In 2021, 66.5% of consumers opted to receive texts from more brands than they did the previous year. 
And with 83.72% of the world's population owning a smartphone, that's an enormous market just waiting for your SMS marketing messages. 
Here's how SMS marketing works
By sending texts directly to customers' mobile devices, businesses can provide them with coupons, links, reminders, and updates in seconds. And because nearly everyone has a cell phone these days, the potential reach is massive. But how does SMS marketing work?
First, companies must find an SMS marketing software enabling them to send mass texts or to individuals. After acquiring an SMS marketing platform, companies collect phone numbers of current and potential customers who express consent to marketing messages. Once customers consent, companies can freely send SMS messages.
SMS marketing messages are sent from "shortcodes" consisting of 5-6 digits. So, for example, a traditional American phone number looks like this (555) 555-555, but an SMS marketing number would look like this 555-55.
Important: you must make sure your customers opt-in; otherwise, you'll violate the Telephone Consumer Protection Act (TCPA). 
Subscribe to our newsletter to get more just like it, sent straight to your inbox every week.
3 SMS Marketing Strategies to Scale Your Ecommerce Growth
When you think of scaling your growth, what comes to mind? Maybe more marketing spend, more team members, a larger office, or offering a new product feature? Those are all great to have when trying to scale your business. However, there's much more that goes into scaling your ecommerce company, and one of those is SMS marketing.
While SMS marketing is best used in conjunction with other marketing strategies, there are actionable strategies you can use now to bolster your SMS marketing campaigns.
Multimedia is your friend
Some companies may view GIFs, memes, or other images as immature, but consumers today desire an engaging visual experience, complete with personalized messaging and graphics. 51.1% of consumers say they're more likely to purchase if they receive a text containing a GIF, image, or video. 
But, if images or GIFs aren't on-brand for your company, it's no problem. 33% of shoppers say they don't have a preference, just as long as the message contains pertinent information. 
It's all in the timing
It's not all about how you present the information but how often you present it. 58% of consumers want to hear from their favorite brands multiple times (1-3 times) per week. 
Although consumers mostly prefer 4-6 text messages per month, there's no rigidity. Therefore, companies should establish the right rhythm to compel engagements, different for every company and industry.
Different cadences may be applied to segmented audiences, adjusting to their personal preferences. For example, some companies offer customers the option to choose their preferred messaging frequency. This way, customers have the power to decide what's best for them.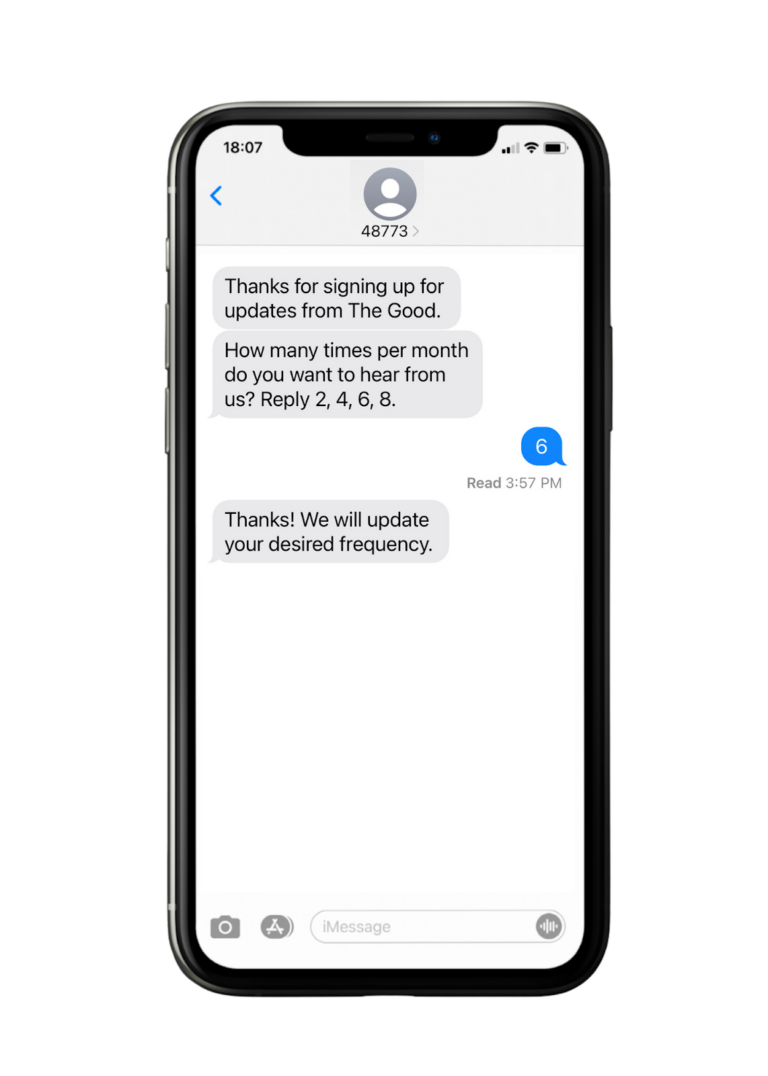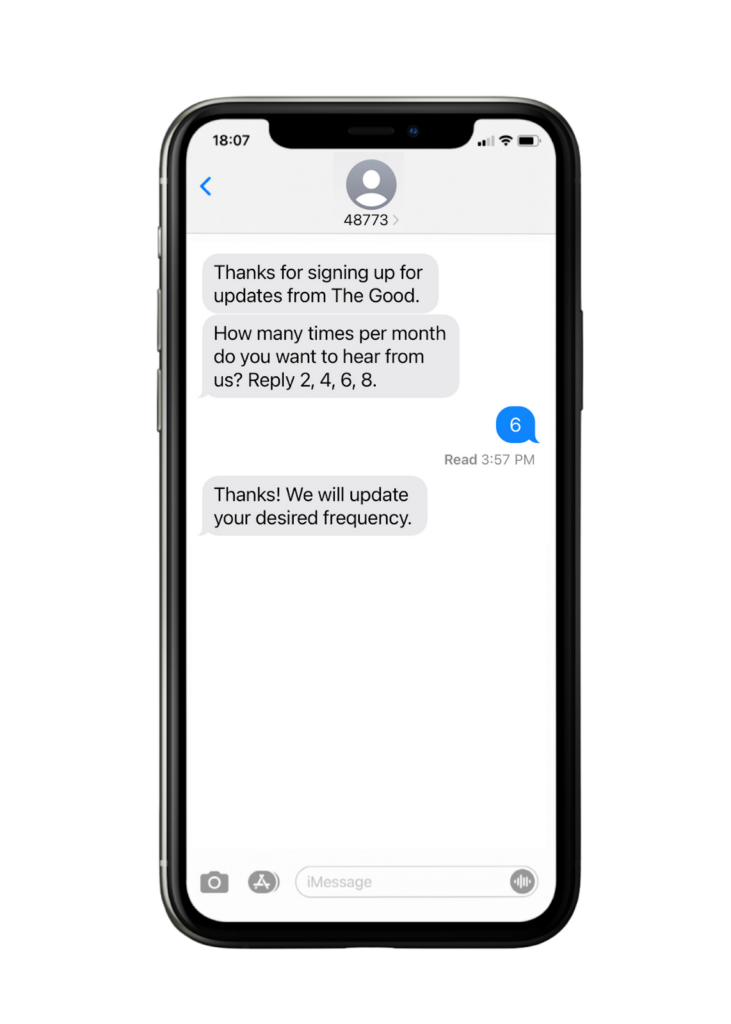 But, quality is still better than quantity.
Customers want you to talk to them, not at them. Traditional SMS marketing communications often look like this:
A company blasts a general promotional text message out to the target audience.
The customer picks up their mobile phone, reads the text message, and promptly forgets about it.
But there's another possible ending. Let's rewrite this story:
A company sends a personalized message to a customer or potential customer in real-time.
The customer feels a compelling connection to the personalized content.
The customer responds in kind to the message and converses with the sales representative.
What if SMS marketing texts all ended like the second story? Well, it may surprise you to learn that 70% of consumers want to connect with brands in real-time. And that's what Lisa Popovici recognized when she co-founded Cartloop. 
"Cartloop is…human to human interaction happening in real-time…We are not treating SMS as a traditional channel or a profit-only channel. The way we see SMS marketing is as a long-term investment, that's built the best customer experiences and also a long-term relationship." – Lisa Popovici
Cartloop is less about marketing management and more about human relationship management. Consumers crave this personal, interactive relationship with brands, not just receive a one-way message with their first name in the subject line.
You can optimize the frequency of your texts, but unless you optimize the human part of it, your SMS marketing efforts will fail.
Successful SMS Marketing Examples
Not sure what messages to send your customers? Whether you're looking to market a product or service, promote a cause, or save an abandoned cart, SMS marketing can help you drive engagement, increase brand awareness, and build trust with customers.
However, it's not as simple as batching and blasting customers. Successful SMS marketing requires understanding how to use it effectively, minimizing the risk of annoying them with unwanted messages.
Here are some examples of successful SMS marketing campaigns:
The Welcome Message
This is the first text message a customer sees when they opt-in to your program, so make it count.
Some companies offer an incentive with the welcome message to encourage customers to sign-up, such as 15% off an in-store purchase or free shipping.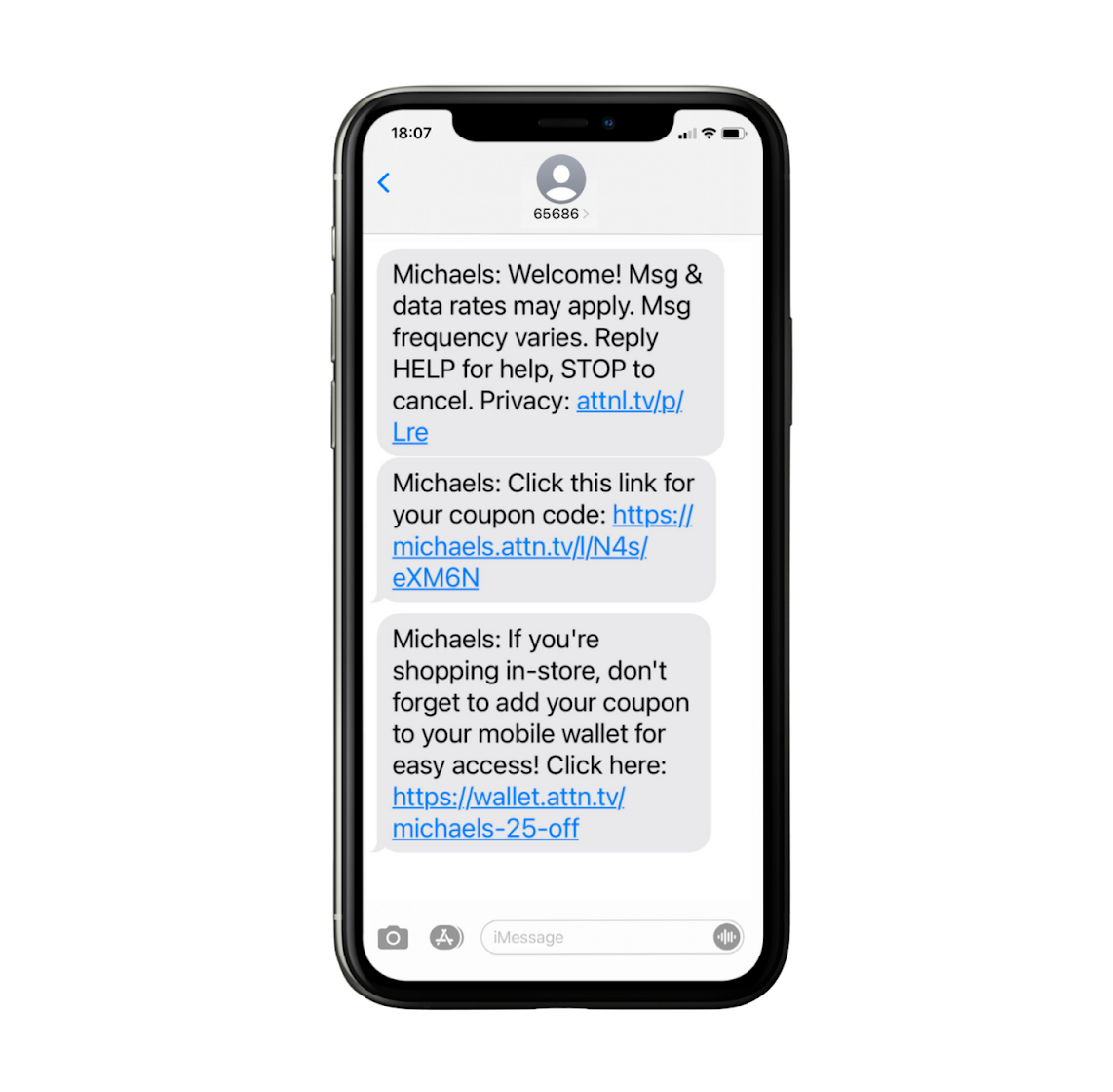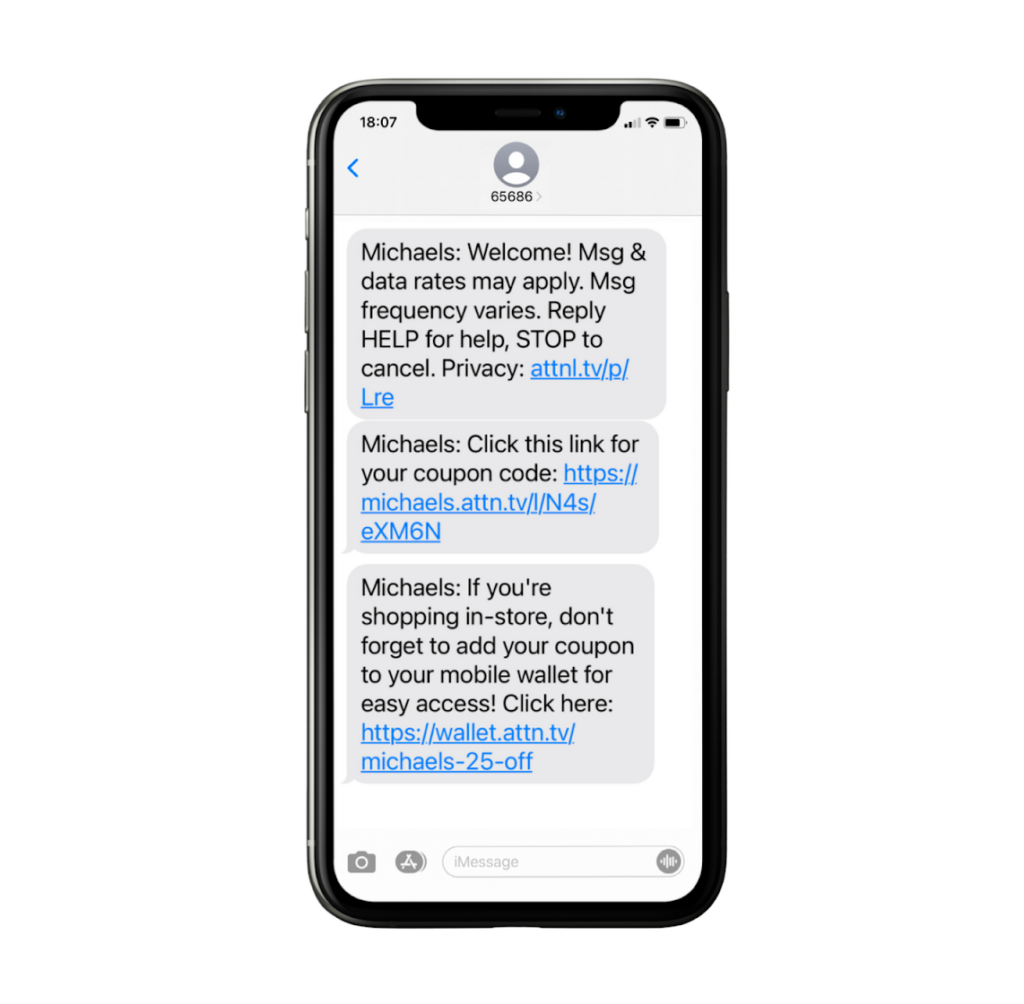 Michael's, an arts and crafts store, offers first-time SMS subscribers an exclusive in-store or online coupon code to use on their purchases.
Successful welcome messages:
Offer an incentive
Offer an option to unsubscribe
Ideally describe how often messages will be sent
The Promotional Message
Ecommerce businesses can use SMS marketing to announce special sales or other promotional events.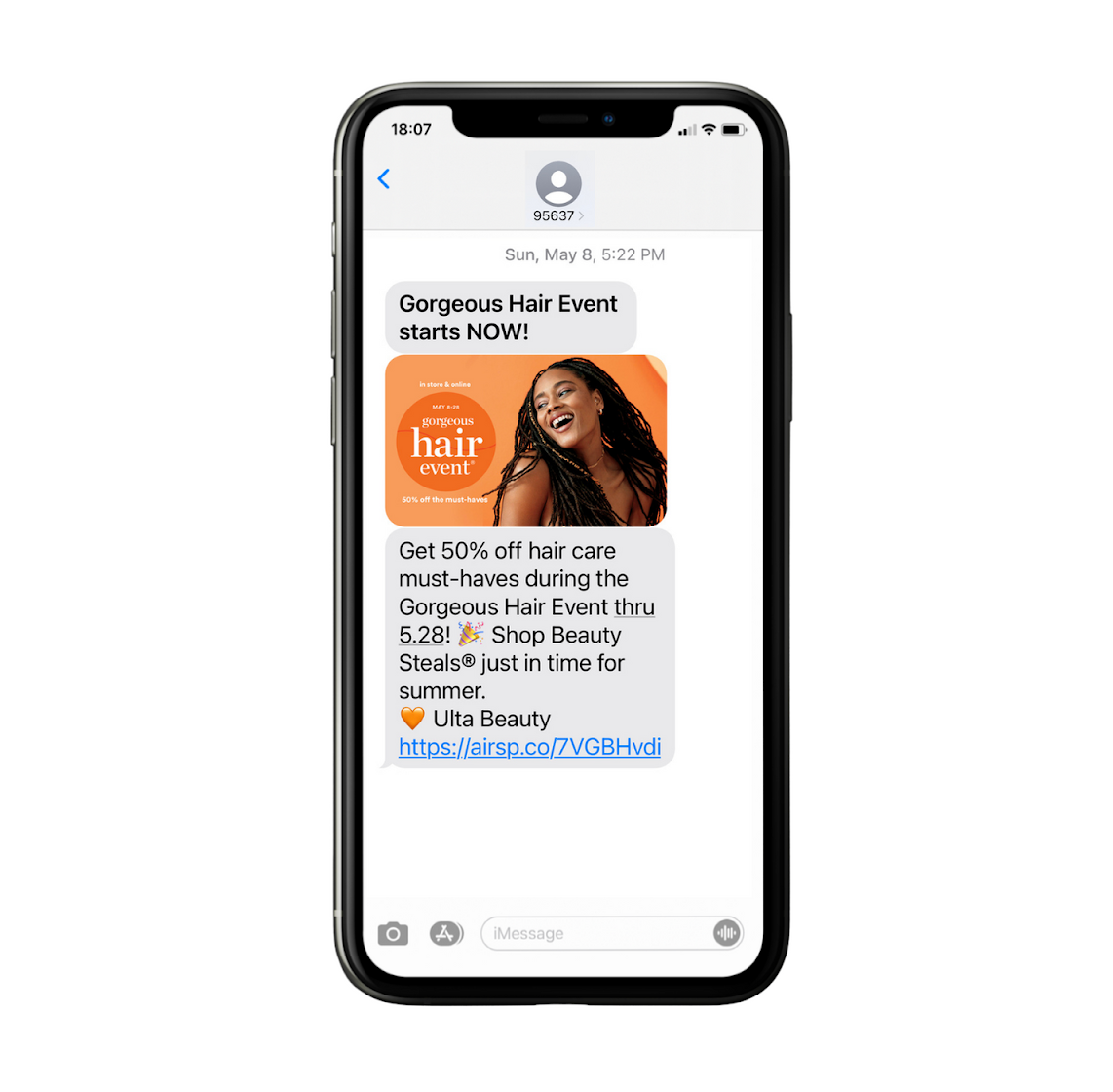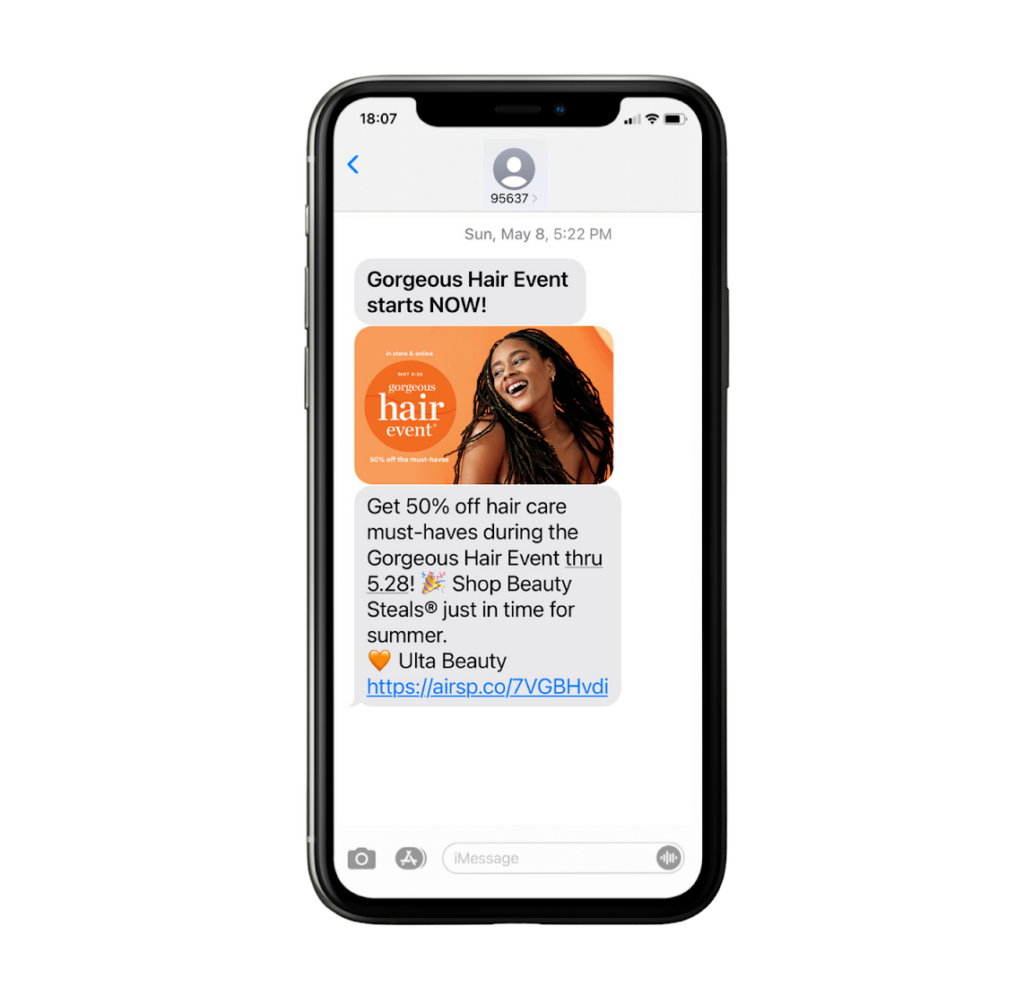 To do this, segment your customer lists so that you can send this message only to those who are most likely to engage with it. You can segment customers based on their previous actions, like the products they've bought or browsed, the items they added to their shopping cart but didn't buy, or the links they clicked on within your ecommerce site.
For example, Ulta, a beauty store, sent a 50% off coupon to customers who've previously purchased hair products.
The Status Update Message
Keeping your customers apprised of company developments is a smart marketing tactic. You can use SMS marketing to deliver these updates directly to your clients' phones. It might be a new product launch, shipping status, or anything your clients might benefit from.
To ensure that your status updates reach your customers, set up an automated status message triggered by certain events.
For example, you may set up an automated status message that sends your clients a notification when a new product enters production or update your client on the delivery status of their package.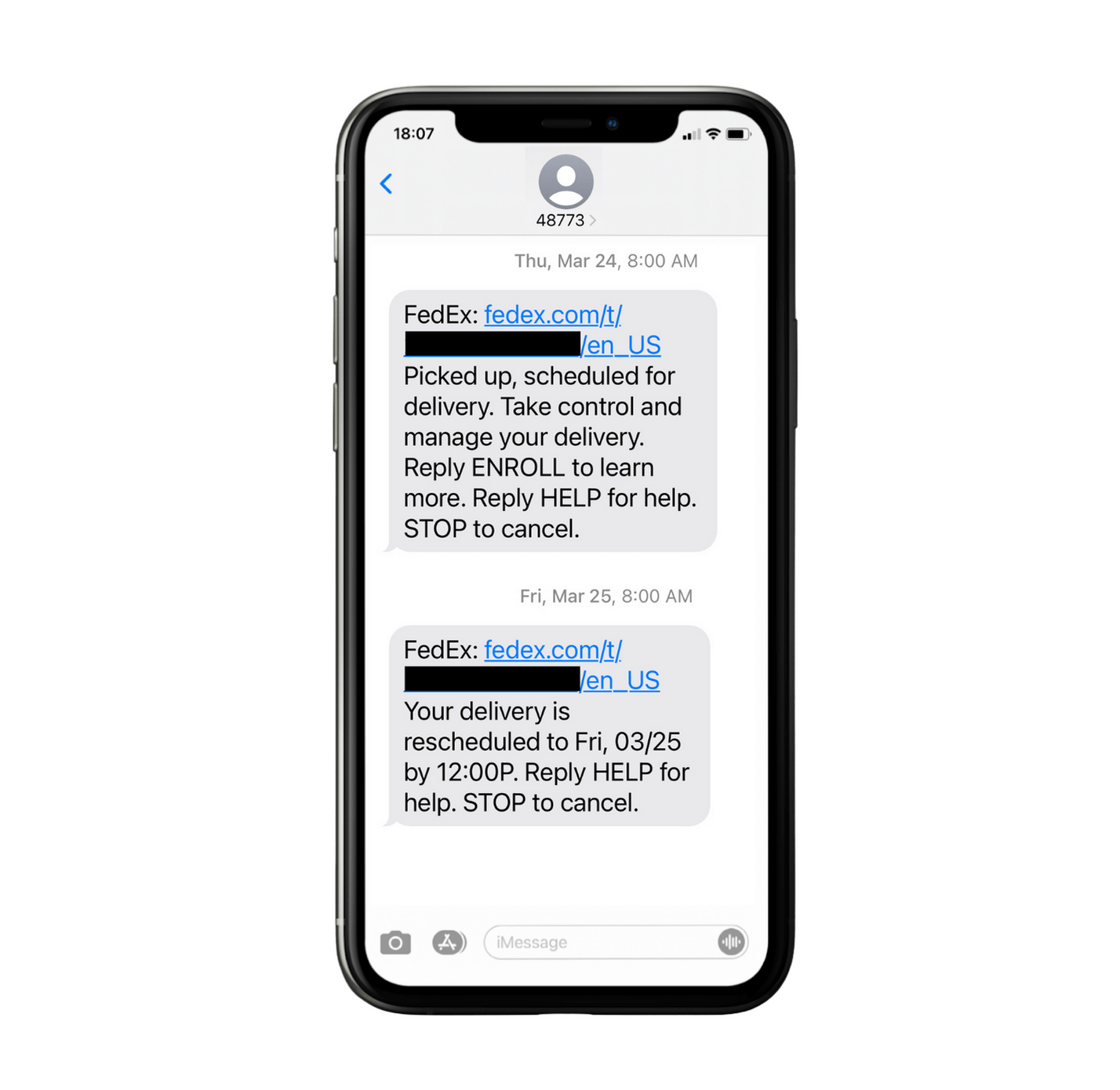 FedEx sends opted-in customers delivery updates on their packages.
The Abandoned Cart Message
You've probably encountered some abandoned baskets on your ecommerce site; after all, according to Baymard Institute, 69.57% of online shopping carts are abandoned. In other words, for every 100 potential customers, you'll lose 70 of them. 
Although it's frustrating for your store, it presents an opportunity to use SMS marketing to your advantage.
Abandoned cart messages are best sent within 24 hours of the user abandoning their cart.
You have two options on how to follow up in your message:
You can send a generic "we miss you!" message with a link to complete the purchase and a potential coupon code or another discount as an added incentive to close the sale.
You can send a direct, personalized message to the customer asking them how you can help them make an informed purchasing decision.
Both are valid, but Cartloop found that they can increase ROI by 22x on average by taking the second approach.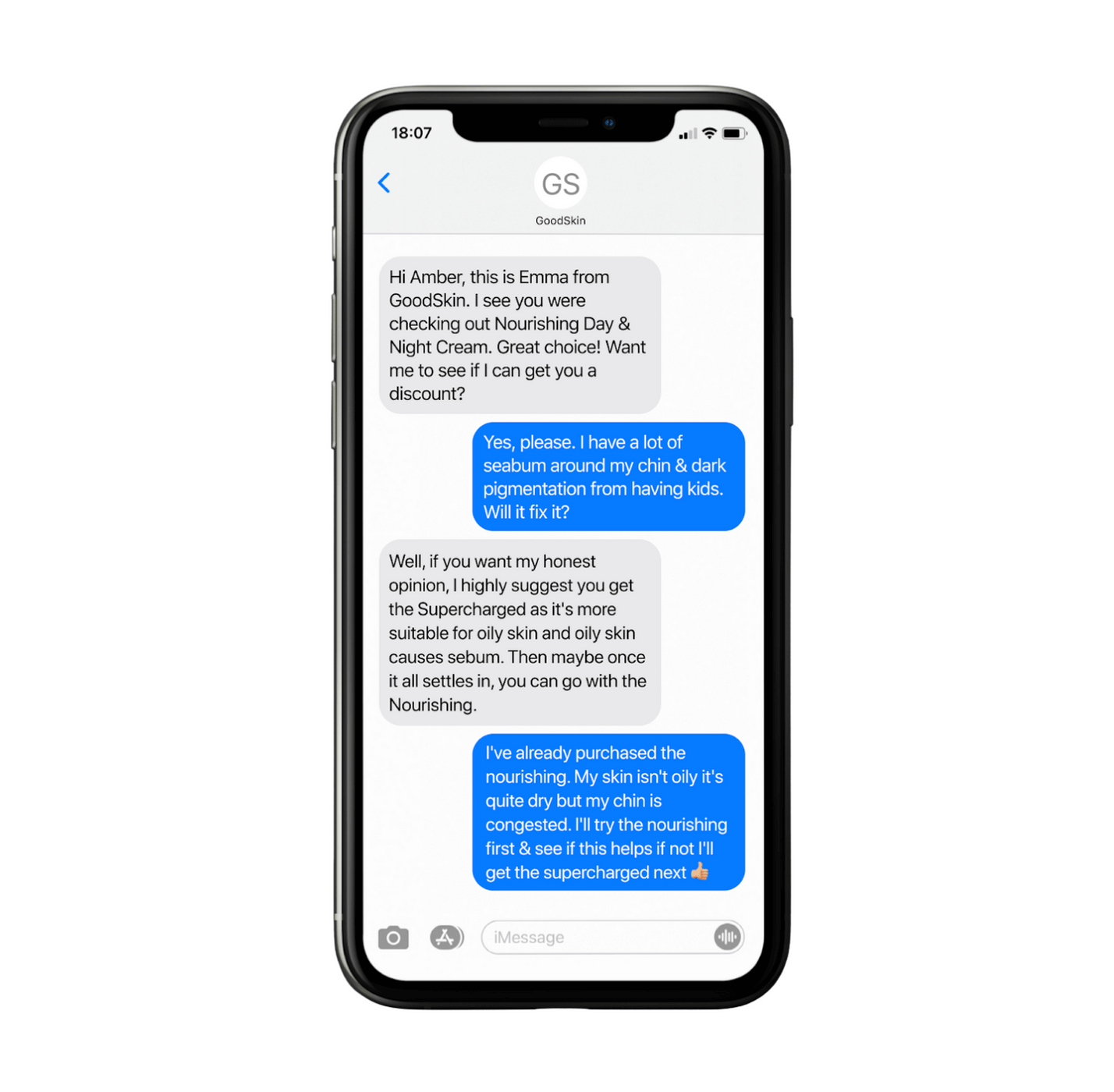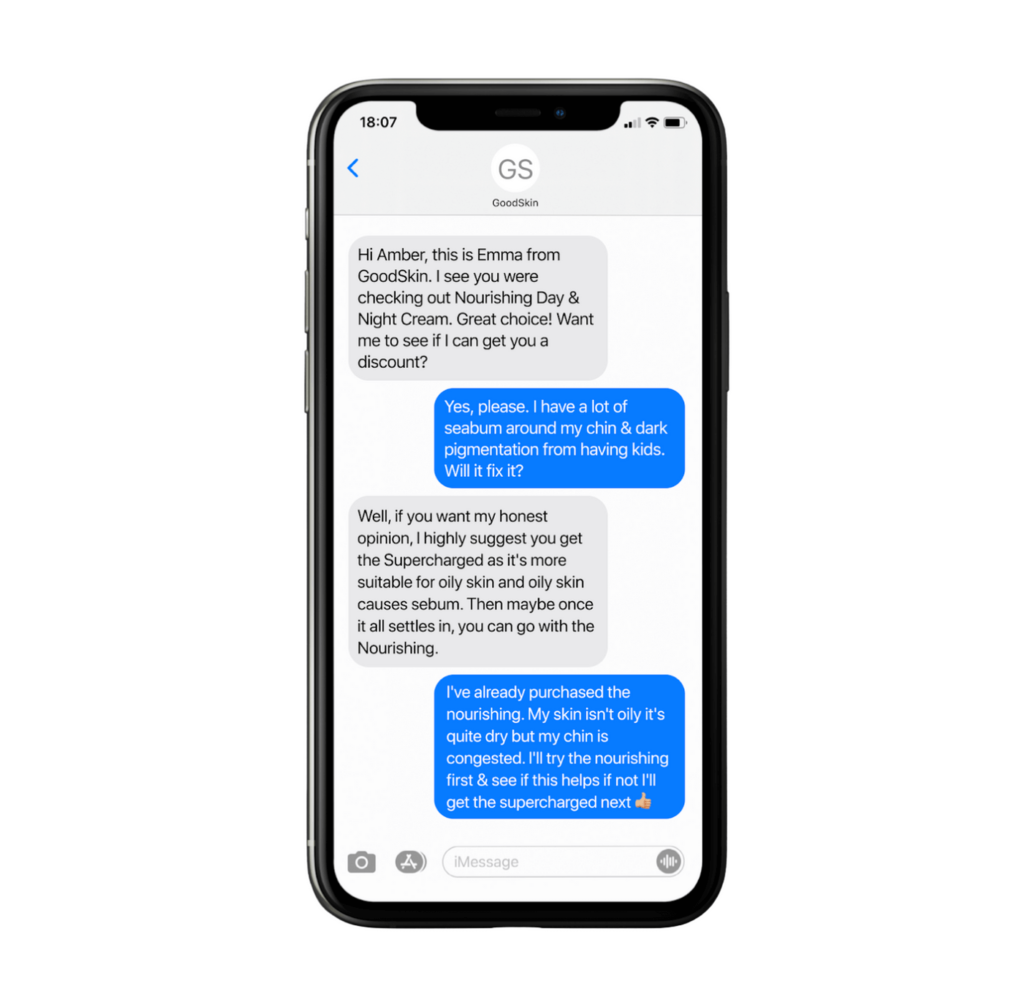 Cartloop's example of a personalized message to a customer who abandoned their cart.
Scale Your Ecommerce Growth By Providing Unparalleled Value for Customers Through SMS Marketing
While SMS marketing is a popular marketing technique, it's often underutilized by ecommerce businesses. Not only is it an effective way to reach potential customers on short notice, but it also offers high interactivity and the ability to grow relationships.
It's important to remember that not every customer will respond to your campaigns. However, you can encourage them to join your brand with the right timing, frequency, and messaging.
Getting started with SMS marketing now will keep you ahead of the curve and collecting data to inform testing efforts in the future. 
Subscribe to our newsletter to get more just like it, sent straight to your inbox every week.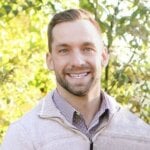 About the Author
James Sowers
James Sowers is the Director of The Good Ventures. He has more than a decade of experience helping software and ecommerce companies accelerate their growth and improve their customer experience.