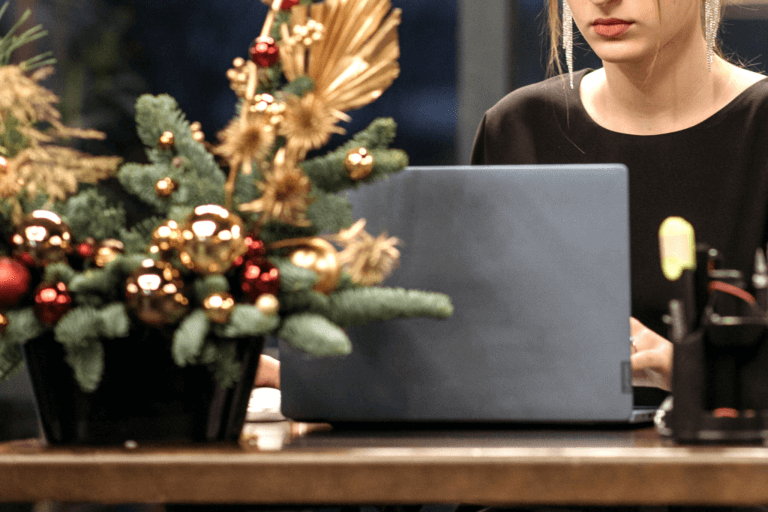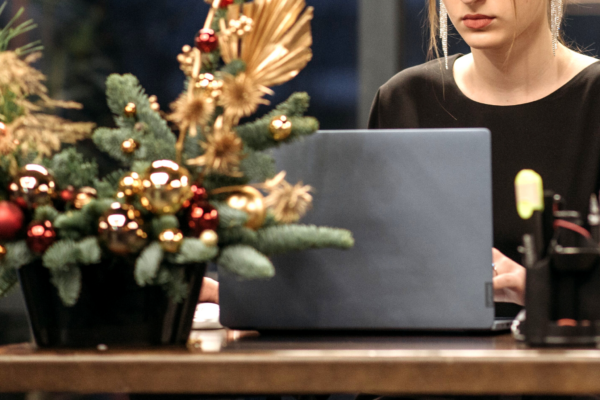 Customer Acquisition
5 Ways to Improve Sales from Your Holiday Email Marketing Campaign
Optimize your holiday email marketing campaign to stay top-of-mind and maximize sales this season.
Clients often ask for our thoughts on how to improve sales from their email marketing strategy.
While we focus on the on-site experience and don't run optimization programs specifically for email marketing, we've collected plenty of learnings on the topic after 15+ years optimizing the digital experience for ecommerce and product marketing teams.
We recently answered the question "how do I improve sales from email?" for a client, and I thought our audience might like to know the answer. Here's a summary to get you started.
1. Analyze last year's holiday email marketing campaign
Before diving into the nitty-gritty of this year's holiday email campaign, analyze the previous year's Black Friday & Cyber Monday campaigns. This can help inform the upcoming holiday season sales.
Looking at YOY sessions and ecommerce data highlights trends and identifies what days have the highest potential for conversions. In this client's case, we saw the day before Cyber Monday had the highest revenue and conversion rate, indicating an opportunity to remind users of the sales end date and create a sense of urgency.
Understanding your peak conversion days can help you focus your marketing efforts on the most fruitful periods.
2. Review landing page performance and optimize emails accordingly
Analytics also provides insight into what landing pages perform best. For this client, we saw users who landed on the homepage or a category page rather than directly on a product page converted the most often. This indicates that users needed more information about the company and other products it offers before being ready to decide on and purchase a product.
We can't assume that just because someone is on your email subscribers list, they're a devoted brand loyalist. Instead of linking to individual products in your email, try linking them to the main category page to encourage exploration. Shoppers can utilize the information you already have on your site to make product decisions rather than relying on the content you can fit in the email.
Holiday shoppers want to learn more about the brand and compare products. They don't necessarily want to make a decision about a product in the email and navigate directly to the product page.
---
A Guide to Email Marketing For Ecommerce Businesses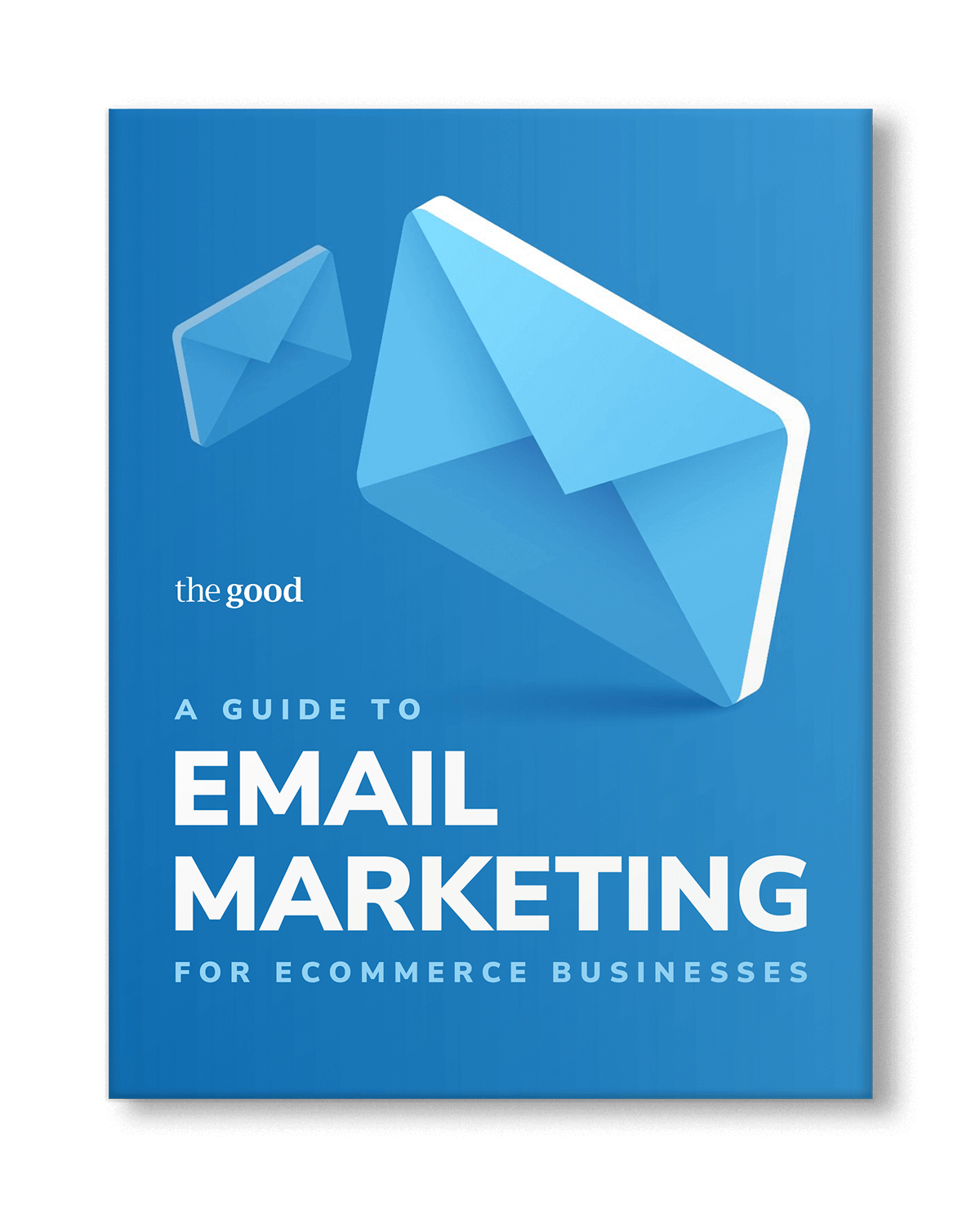 3. Use data-backed tips to write holiday email marketing copy
Effective copywriting is the backbone of a successful ecommerce holiday email campaign. To maximize your campaign's impact, we've gathered some simple but data-backed copywriting tips that have improved sales from email for clients:
Quantify the deal
Remind users of the value they are getting with language like "the best deal you'll get all year." Providing tangible metrics, specific calls to action, and emphasizing the savings can capture the recipient's attention and interest.
Here's an example from Fitbit, who shares that "the biggest deals of the year are here."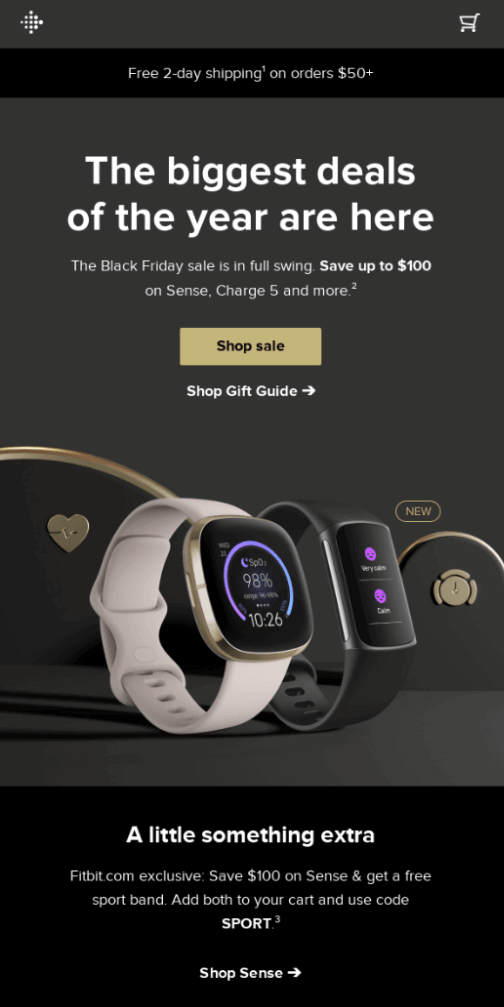 Create a sense of urgency
Presenting a timeline for the special offers can create a sense of urgency and drive action. Phrases like "ends tomorrow at midnight!" can be more effective than vague statements like "save all weekend long." Users are more likely to act when they perceive a limited time to take advantage of a deal.
Check out this header from Grammarly's Black Friday sale emphasizing "one day only."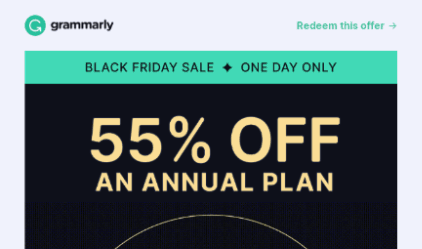 Highlight your unique value proposition
Don't just focus on the deal; emphasize the synergy between the incredible offer and your outstanding products. Make it clear in your email that users aren't only getting a great deal but also a high-quality product that aligns with your brand's value proposition.
The sub-header in this Canon email says "Gift now. Create year-round." The message emphasizes not only the brand value of sharing moments together during holiday time (gift now) but that their product is a creative gift that keeps giving (create year-round).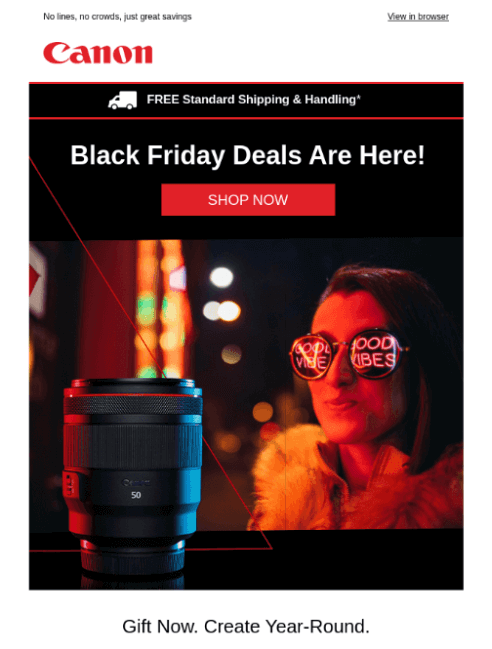 4. Segment your subscribers and personalize your campaign
Segment your email list based on user data like purchase history, browsing behavior, and engagement levels. Send custom messages that will resonate with each audience.
For example, some clients create segments for loyal customers who have previously made multiple purchases, potential customers who have shown interest but haven't converted yet, and inactive subscribers who need reengagement.
Tailor your email content to cater to the specific needs and preferences of each group.
5. Validate your email content (and your offer)
Experiment with different elements such as email subject lines, images, CTA buttons, and email content. By comparing the performance of different versions, you can fine-tune your emails to maximize engagement and conversions.
To get ahead of the competition, don't wait to A/B test during your holiday email marketing campaign. Instead, get early and quick validation from rapid testing. Here are two rapid validation methods you could try:
Preference tests
Preference testing takes multiple designs or pieces of copy and presents them to the tester by asking, "which one of these do you prefer?" or "which one of these do you think is more effective?"
You can display multiple options of your email, offer, copy, or images to get quick feedback from qualified users on what to implement.

5-second tests
5-second tests show users an image for five seconds, take it down, and then ask them what they remember seeing.
Use this test to validate your email layout and to make sure that you are communicating the main message quickly and effectively to your target audience. The test helps you understand what a reader's first impressions will be and what stands out visually.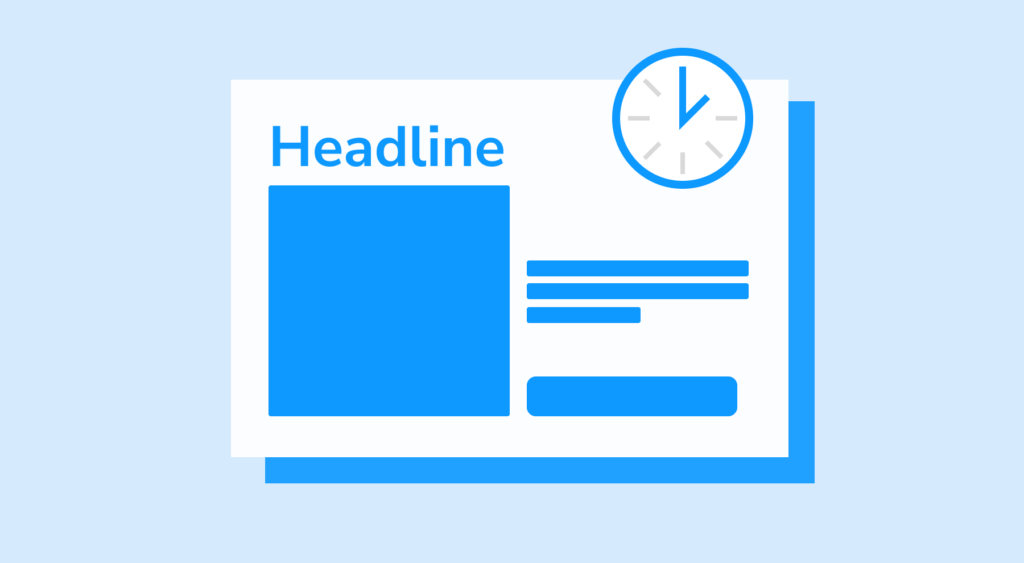 Set your holiday email marketing up for success
Optimizing your ecommerce holiday email campaign requires a combination of data analysis, effective copywriting, and strategic execution.
By leveraging insights from past holiday email campaigns, segmenting your email list, crafting engaging content, and creating a sense of urgency, you can increase your chances of a successful holiday season.
The key is to focus on improving the user experience by understanding your customers' needs. Then, you'll be able to provide obvious value that meets them where they are.
Subscribe to our newsletter to get more just like it, sent straight to your inbox every week.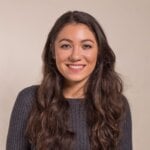 About the Author
Maggie Paveza is a CRO Strategist at The Good. She has over five years of experience in UX research and Human-Computer Interaction, and acts as an expert on the team in the area of user research.