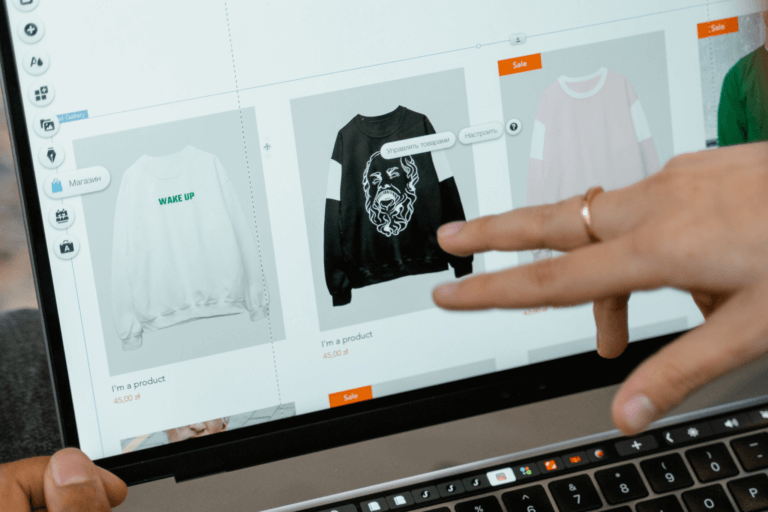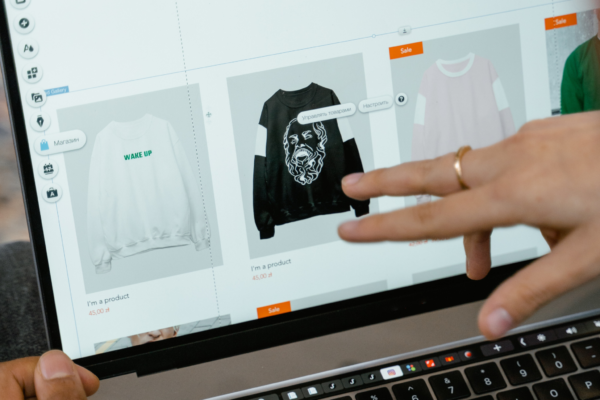 Conversion Rate Optimization
Nine Strategies To Increase Average Order Value
Increasing your average order value is a powerful way to grow your overall sales. Follow these nine tactics to get started.
There is sage advice that I'm sure you've heard: never grocery shop hungry.
Grocery shoppers that visit the store with a rumbling stomach end up ignoring their lists and loading their carts with anything and everything in sight.
It's the store owner's dream! And what if I told you that your ecommerce store could identify things that make your shoppers "hungry" for your products so they abandon their proverbial lists while on your site?
Ecommerce marketers might scoff at this, but grocery shopping is the perfect way to illustrate how to increase average order value (AOV).
Shoppers are already on your site, and your job is to show them products they are "hungry" for beyond their original shopping list.
Instead of driving traffic and new visitors to your site (and battling your customer acquisition costs), you can draw more value out of the customers you already have. Meaning you can grow your business without having to invest heavily in additional marketing and advertising.
In this Insight, we'll be sharing nine tactics that you can utilize on your website to motivate customers to buy more.
What is Average Order Value (AOV)?
Average order value (AOV) measures the average dollar amount spent every time a customer places an order on your website. To calculate your website's AOV, simply divide total revenue by the total number of orders.
Let's say you sell $10,000 of products in a month, and that revenue was created by 500 customer orders. Your AOV would be 10,000/500 = $20 per order.
Average order value is a crucial ecommerce metric to track because it provides a window into the purchasing behavior of your customers. Improving the average order value of your website will have a direct impact on your sales margins and profit while also providing you with critical insights into the behaviors and buying patterns of your audience.
You should be looking at ways to drive more value from the traffic you get to your site. If you don't track AOV, you won't know if it's working.
Calculate how an increase in average order value and an increase in conversion rate can impact your website with our CRO calculator.
Nine Tactics to Improve Your Average Order Value
Motivating your customers to spend more on your website can be achieved by delivering a better customer experience.
1. Identify what makes your audience "hungry"
Consider your audience's needs. What are their purchase motivators? Why should they be hungry for what you're selling? How can your products/services satisfy their specific needs?
Once you're able to pinpoint what makes your audience "hungry", you'll have a much better understanding of how to tailor your messaging.
Get started by talking to your customers. Opening up a direct line of communication with your audience is one of the best ways to learn about customer behavior and what motivates them to purchase.
Consider running a small focus group to understand what makes them "hungry" for your products/services. User testing is another great way to learn about your customers and can play an important role in helping to increase your average order value.
If you're looking for a customer research tool to support your efforts, check out UserInput.
2. Cross-sell complementary products
Someone purchasing a heavy raincoat may also be interested in getting a waterproof hat or a pair of rain pants.
Cross-sell where it makes sense. For complimentary items, develop add-ons and recommend them to your visitors. Cross-selling isn't just a product page or checkout tactic. It's a service you provide. Do it consistently and watch average order values respond.
Create bundles of items that make sense together. You know they'll need a reel, fishing line, and bait to go with their new pole, don't let them forget! Create a bundled offer to make it easy for people to buy all the additional products they need simultaneously.
Look for trends in your order history. Are there connections you hadn't realized before? It's very likely that there are product combinations you haven't thought of because you can't think like your target audience. Look through your order history to identify buying patterns to help inform your cross-selling efforts.
Columbia Sportswear is a great example of a brand that knows how to cross-sell. On their product page, once you scroll past the product details, you'll see a section labeled Complete the Look. Here they suggest items that complement the one the customer is looking at, exposing them to more options and potentially enticing them to make additional purchases.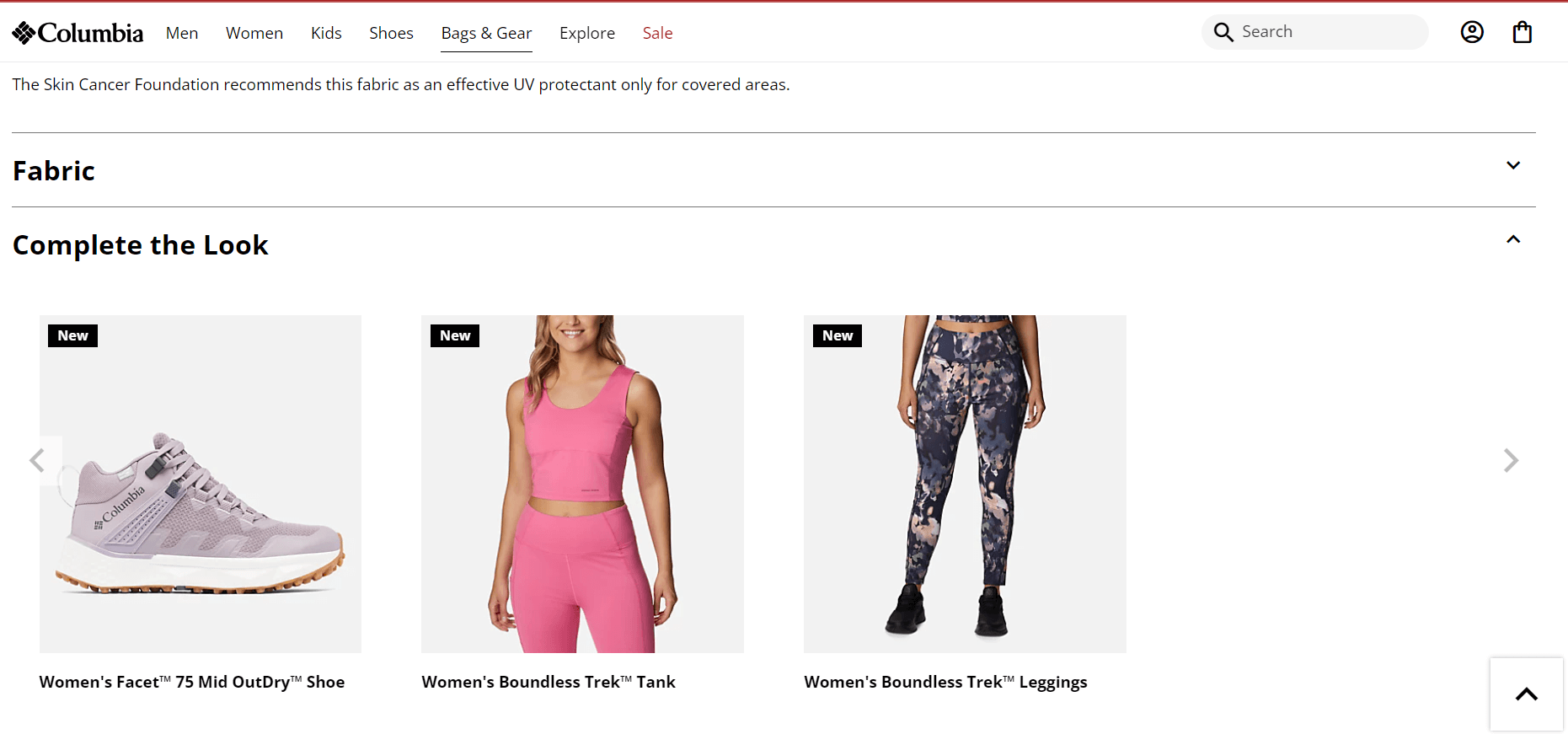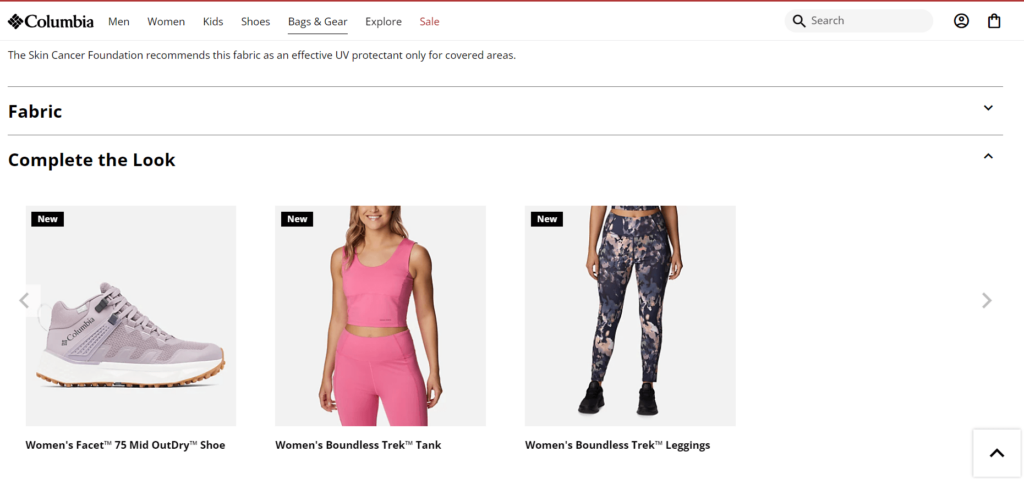 Don't leave it up to the customer to remember everything they need when shopping on your website. It's your job to help them out.
3. Upsell an upgraded version of the item
Upselling is a time-tested method for increasing average order value, and it's widely used by both retailers and ecommerce businesses.
When you're buying coffee filters, why would you buy the 50 filter pack when you could just as easily spend an additional $5 and buy the 150 filter pack?
4. Amplify social proof throughout the customer experience
Leveraging social proof on your website can be a surprisingly effective method for improving average order value. We tend to trust our peers more than we trust brands. Every ice cream company will say their product is superior, but when a fellow shopper confirms that claim, you're apt to believe it.
Here are some ways to use social proof to increase AOV:
Highlight customer reviews of products and customer testimonials
Include earned media features from recognizable brands
Feature certifications and trust badges
Take the cosmetics brand Rare Beauty, for example. Their product pages offer a ton of social proof that comes in the form of customer ratings and reviews. They also added badges that feature product awards. This beauty brand knows how to create trust by letting its customers do the talking for them.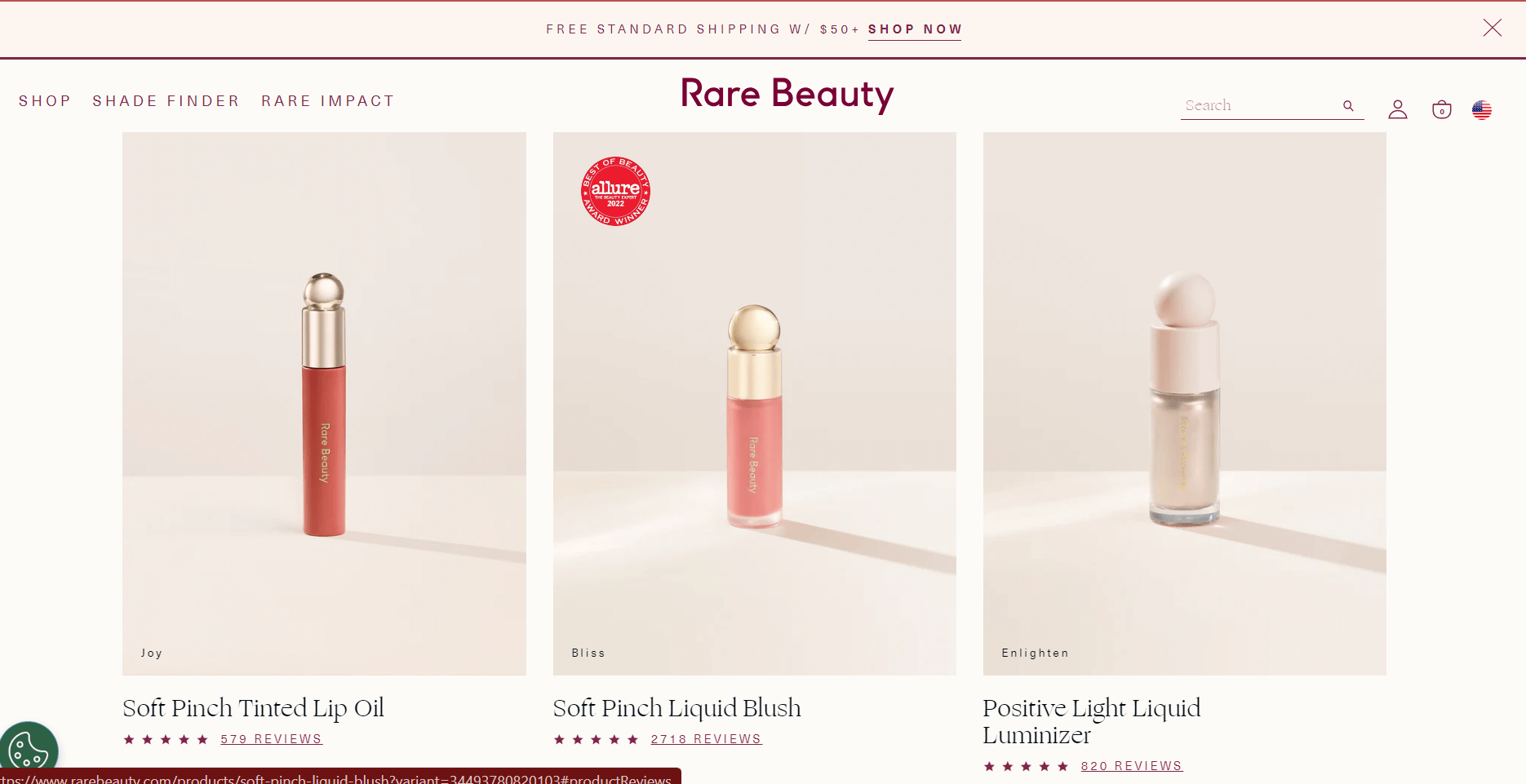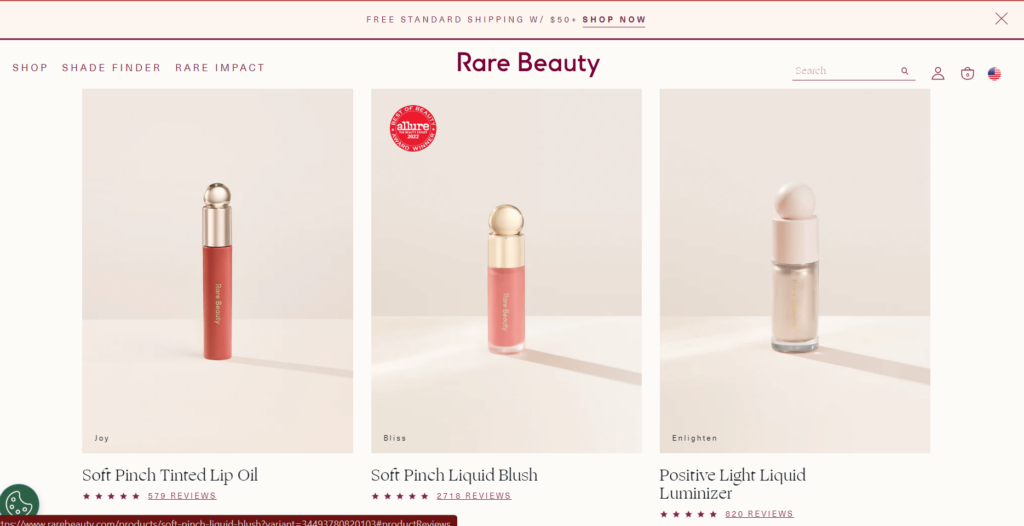 The best ecommerce and lead generation sites cultivate social proof in their marketing strategy, then develop ways to implement that strategy.
5. Incentivize shoppers without devaluing your brand
Be smart about how you incentivize a purchase. Relying on an offer that promises a 25% discount will only hurt your AOV in the long term.
Nordstrom is known for their pricing strategy and "free gifts" with a purchase over a certain threshold. They're essentially giving away perfume samples they already receive for free from their distributors, but the messaging makes it seem like the company is going out of its way to offer you something special.
Here are some ways to incentivize purchase and increase AOV (without devaluing your brand):
Offer a free gift with purchase at a certain threshold
Set up a loyalty program
Give a buy one get one free deal on certain products
Chewy has found a great way to not only increase AOV but keep customers coming back for more. They offer a $30 free eGift card for those with an order of $100 or more. The free eGift for the store assures them that the customer will return for future purchases while also enticing them to buy items worth $100. It's a great win-win strategy!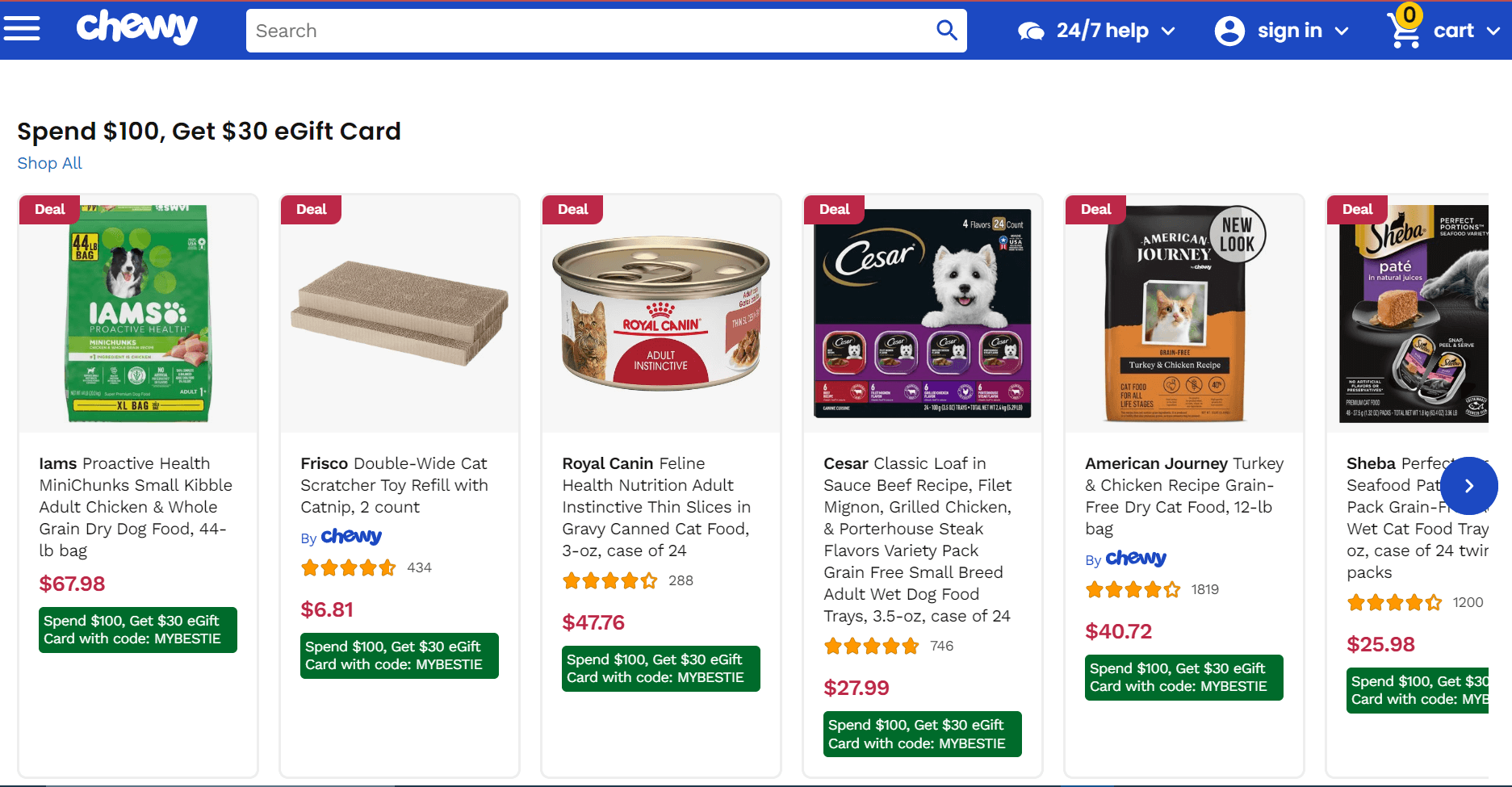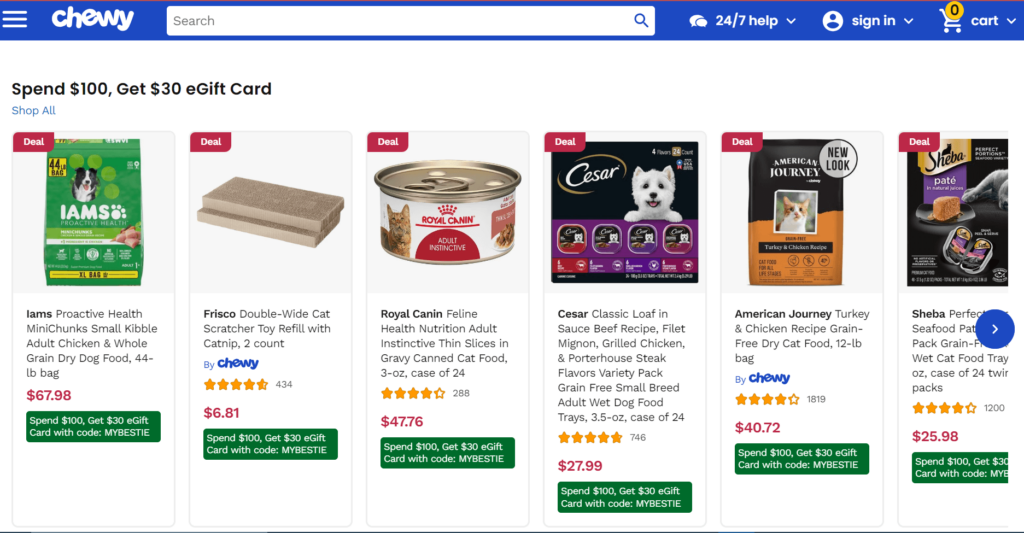 These are starter ideas, but the list of possible incentives could be huge. Here's a list of 20+ ways to increase sales without discounting.
Subscribe to our newsletter, Good Question, to get insights like this sent straight to your inbox every week.
6. Elevate your personalization with product recommendations
Providing a personalized experience for your customers can be a highly effective method for increasing average cart value.
Personalize offers based on the customer's order history. If a customer recently purchased a bag of organic dog food from you, they may also appreciate you notifying them of a new promotion you're running for organic dog treats. If you're going to recommend new products to your customers, make sure those recommendations are relevant to their individual needs.
Display frequently bought-together recommendations. There's usually a good reason certain items are bought together. Maybe shoppers always purchase plant milk to go with their coffee beans. Suggesting products that are often bought together delivers a better shopping experience and increases AOV.
Use product recommendation engines to personalize email campaigns. Integrate product recommendations into your email marketing strategy by sending personalized emails that base product recommendations on their recent purchase history.
Tarte Cosmetics understands this tactic very well, as they have makeup sets specifically created to save customers the time and effort of having to order products separately. They've started pairing makeup products with brushes (for easy application, duh!) and the best color combos for lip liners and lipsticks. They really know how to help out!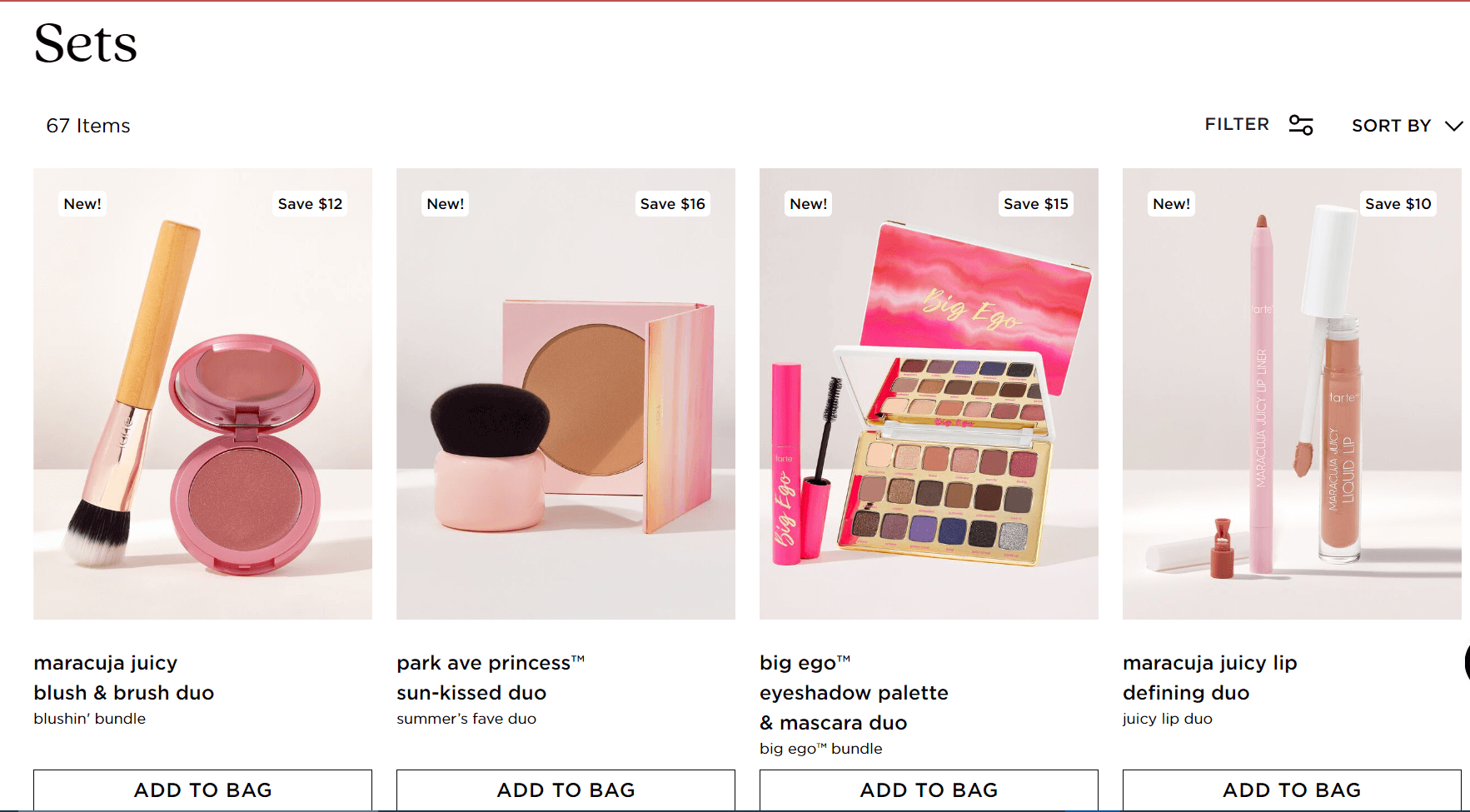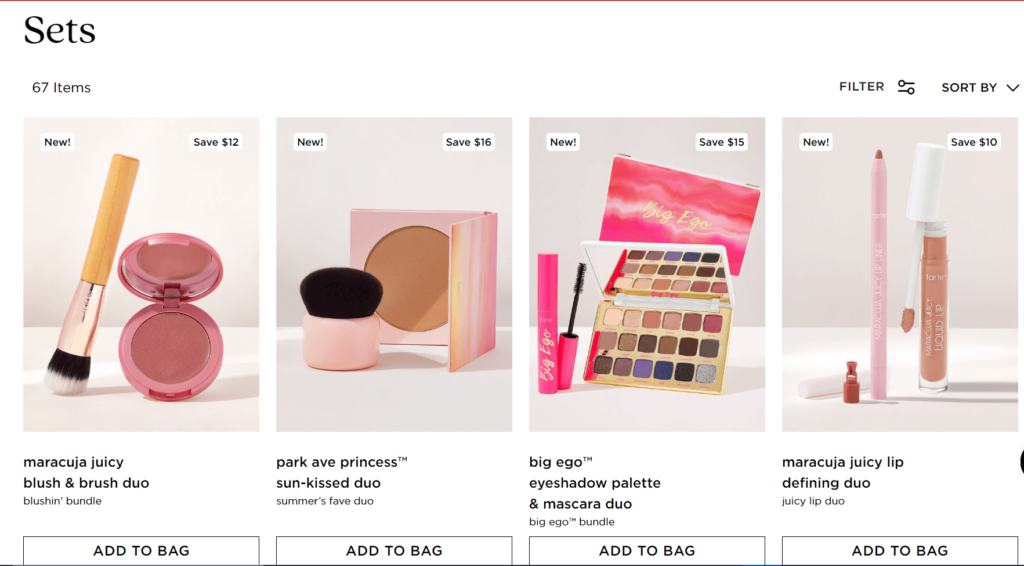 You can also start with the basics and take it as far as you want, but the potential here is staggering. Product recommendations are one of those "get on the bus or get run over by it" concepts every ecommerce manager or executive should consider.
7. Offer free shipping at a certain threshold
Customers love a good freebie, and the lure of free shipping is a proven way to increase average order value.
In fact, according to a survey conducted by Return Customer, 93% of people prefer free shipping over other types of discount. Why? People often abandon their carts when they get to the checkout page and see the added cost of shipping. By offering free shipping, the amount they see throughout the shopping experience and at the checkout page is more or less the same.
The smart way to do this is by allowing customers to unlock the perk once they reach a certain amount. For example, SKIMS offers free shipping in the US for all orders over $75.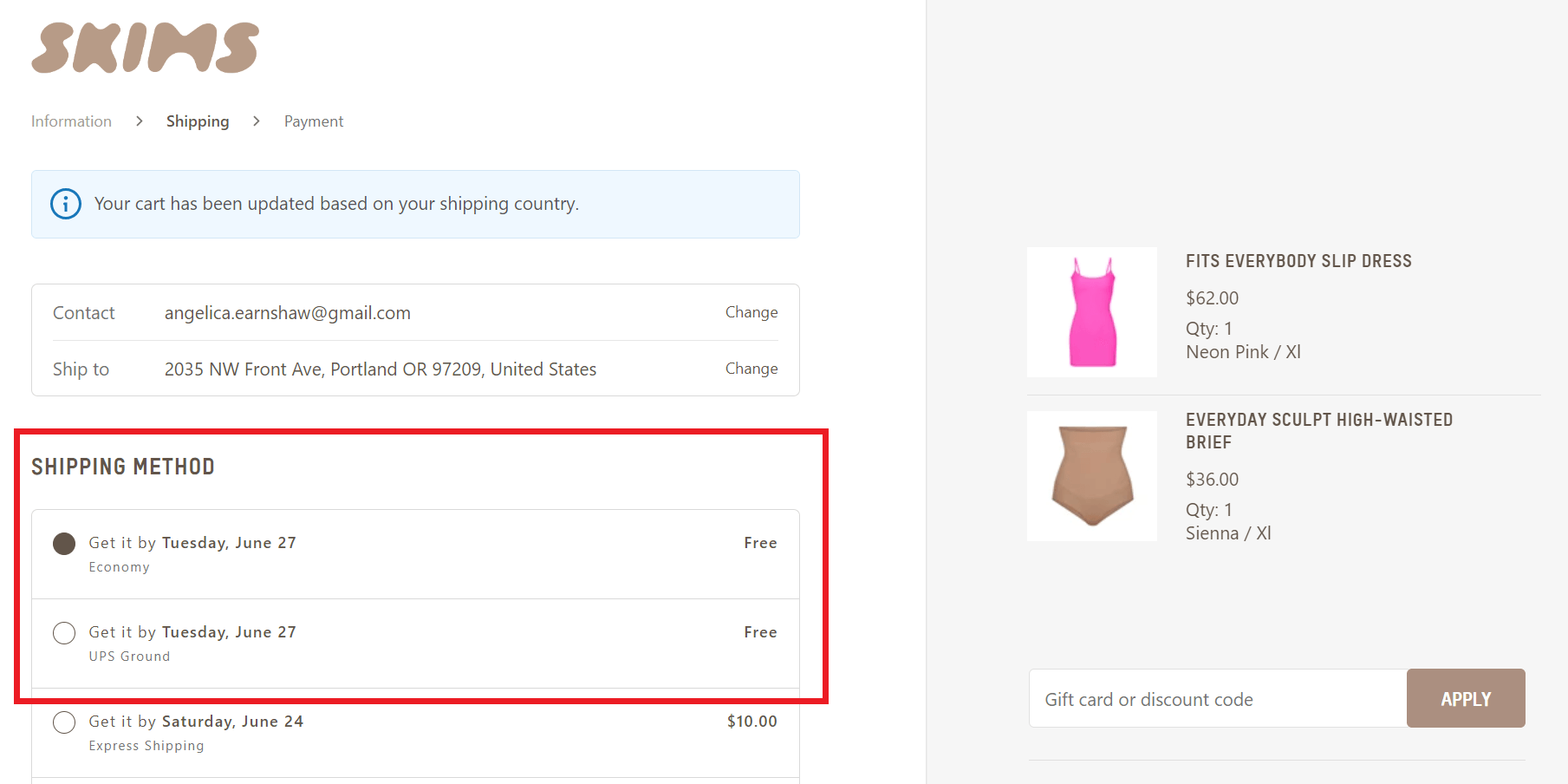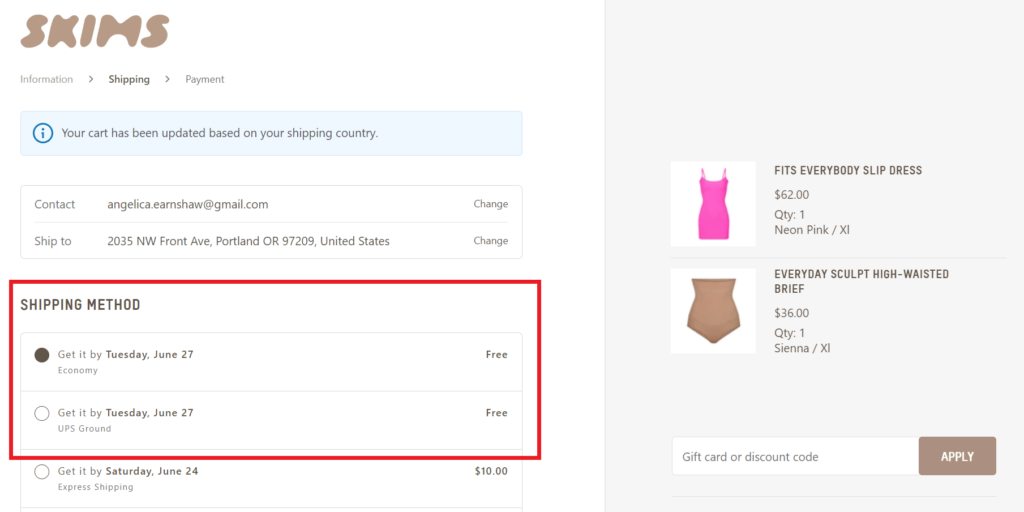 In a study about the benefits of free shipping conducted by comScore and UPS back in 2015, they found that 52% of Americans add items to their cart to meet the amount required to be eligible for the free shipping option.
8. Leverage limited-time offers to create a sense of urgency
Psychology Today found that people's fear of missing out tends to make them press the purchase button even if they do not have an immediate need for a product. However, keep in mind that limited-time offers do not necessarily mean having a flash sale or offering discounts over a defined period of time.
Look to Mcdonald's or Burger King for the easiest and smartest way to run limited-time offers. Some items are not available year-round, like the McRib or the Chicken fries, so when they do release it, customers tend to flock to the stores before time runs out.
The only thing to keep in mind is that limited-time offers are not intended to increase average order value for long durations. However, if you execute it correctly and align it with your low season, it will help give you a boost when you need it.
9. Don't ignore the power of a post-purchase offer
The euphoric moments that come immediately after a customer makes a purchase are often overlooked by ecommerce brands.
By offering discounts, bundles, or other incentives to customers who have already made a purchase, you can encourage them to continue shopping with you.
To make your post-purchase offers sing, follow similar guidelines to what we've already covered, including:
Personalize your offers. The more relevant your offers are to your customers, the more likely they are to take advantage of them.
Time your offers. While you don't want to follow up immediately post-purchase, don't wait too long either. You want to still be top of mind when you do reach out.
Make it easy for customers to redeem your offers. The easier it is for customers to redeem your offers, the more likely they are to do so.
Bonus Tip: Implement clear, flexible, and creative return policies
While not directly related to increasing AOV, we have a bonus tip for you to consider.
Most brands forget that returns are still a part of the customer journey.
Some may see this part of the customer journey as negative because, if all goes well, then there shouldn't be any returns, right? Whether it's due to a customer getting the wrong size or the wrong color of something or an error on the part of the seller, it's unavoidable. Instead of dreading it, use it to your advantage.
Creating a flexible return policy will provide a better customer experience and increase the chances of someone becoming a repeat customer. 92% of customers agree that they're more likely to buy again if the business has a great return policy.
But you can also implement other strategies during the return process to increase average order value.
Include an option to have their product exchanged. When creating the policy on your website, make sure to highlight the option for customers to have the product exchanged instead of receiving a complete refund. This not only keeps the revenue in your store but opens up the opportunity for you to cross-sell and upsell. Offer an incentive for a higher-priced alternative to make them consider other items or arrange for free shipping for the return to minimize barriers that would keep them from choosing to have the item exchanged.
Offer a store credit or gift card instead of a refund. Again, this strategy will keep the customer coming back to your ecommerce store for their future needs and give you the chance to increase AOV by encouraging them to make additional purchases. By offering a slightly higher amount of store credit compared to the refund amount or offering a bonus credit for future transactions, you can entice customers to avail of this option.
How to Increase Average Order Value (& Your Conversion Rate)
Now you know how to get started.
Identify what makes your audience "hungry"
Cross-sell complimentary products
Upsell an upgraded version of the product
Amplify social proof throughout the customer experience
Incentivize shoppers without discounting
Elevate your personalization with product recommendations
Avoid cart abandonment by offering free shipping
Create urgency with limited-time offers
Don't ignore the power of a post-purchase offer
Bonus tip: Remember that returns are part of the customer experience
If you're looking for actionable ways to improve average order value on your ecommerce website, you may want to consider investing in a conversion optimization program.
At The Good, we've spent the last 10+ years helping ecommerce brands improve their key website metrics, including average order value.
Request a free landing page teardown and receive customized recommendations today.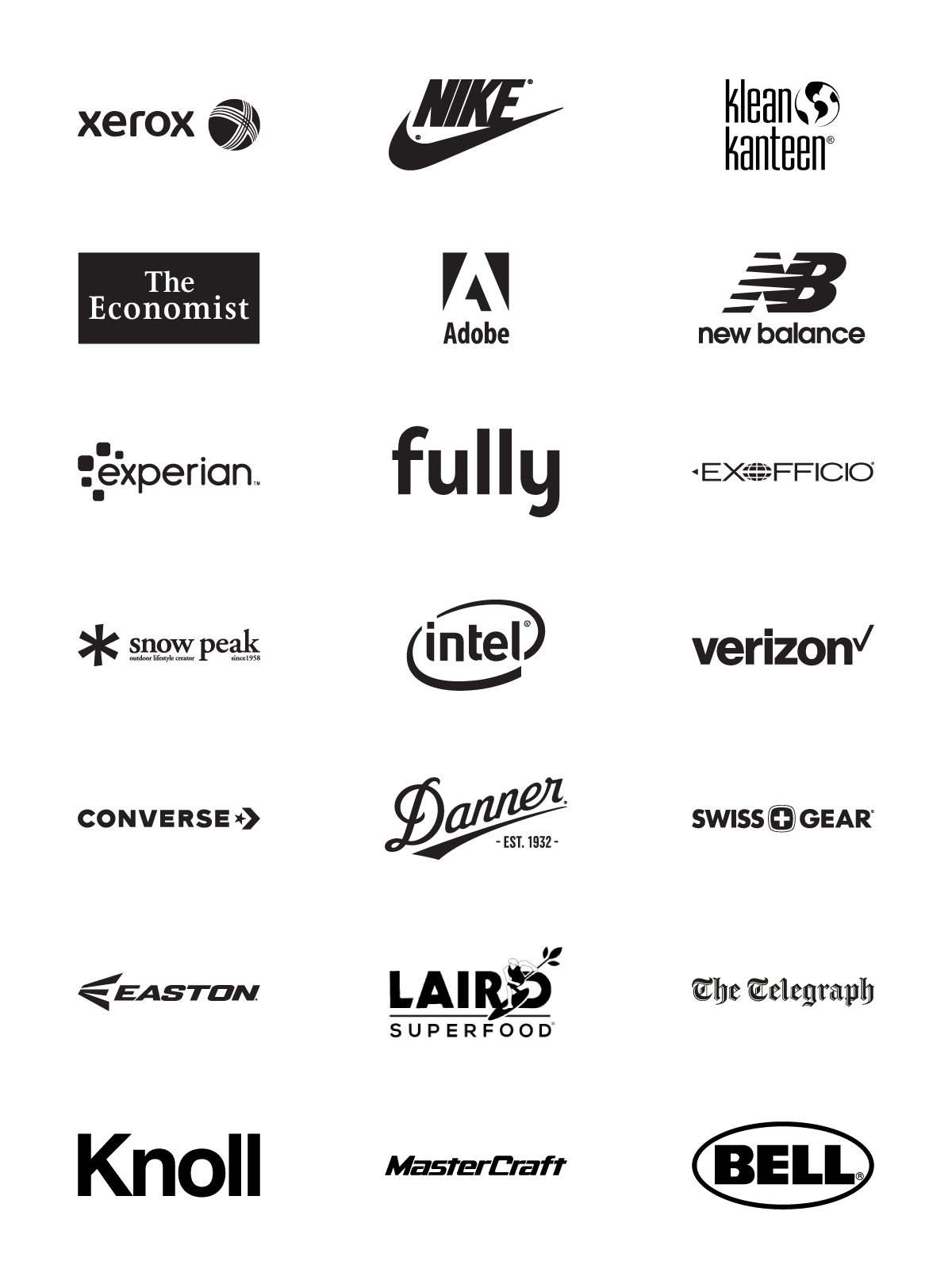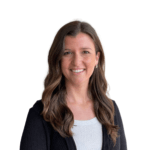 About the Author
Caroline Appert is the Director of Marketing at The Good. She has proven success in crafting marketing strategies and executing revenue-boosting campaigns for companies in a diverse set of industries.