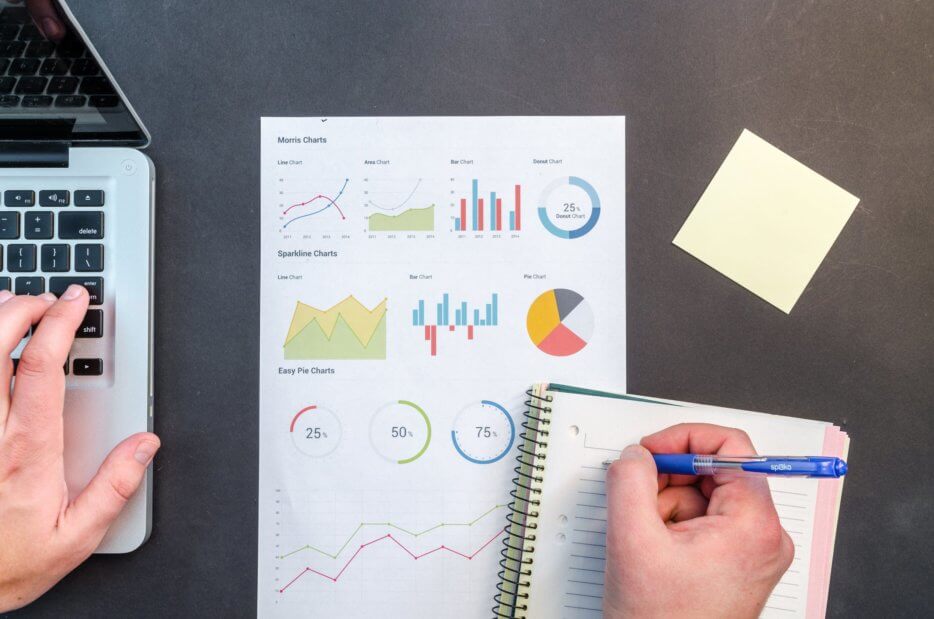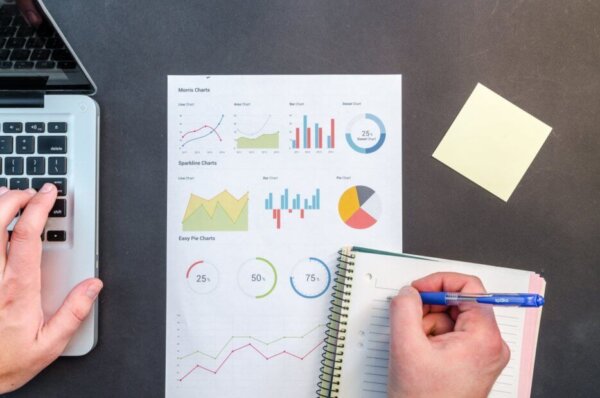 Data & Analytics
A User's Guide to Google Analytics Custom Alerts
Google Analytics custom alerts help you monitor your analytics for any surprises so you can adapt quickly.
Imagine how this would feel:
You find analytics frustrating, so you don't set up Google Analytics Custom Alerts.
Your checkout process develops a glitch on Friday afternoon that causes would-be buyers to give up on trying to buy from you and go elsewhere. It's Monday morning before you discover the problem. Now you have to explain what happened to the VP of Marketing (who then has to go hash it out with the CEO).
Unfortunately, this scenario and others like it happen way too often.
Here are some of the nightmares we've seen:
The email sign-up process breaks and stops collecting information to build the list.
Sales for a particular product plummet when a graphic on the product page fails to load properly.
Page load time increases drastically, sending visitors elsewhere.
The list of possibilities is huge. Ecommerce sites are prone to technical hiccups—but you don't have to just stand by and let them happen.
Catch them soon enough and the damage may be minimal. Let them go without detection for long, though, and heads are going to roll.
We want to make sure that never happens to you.
In this guide, we'll demystify Google Analytics Custom Alerts so you can respond to future issues and minimize their effects.
What Are Google Analytics Custom Alerts?
Custom alerts tell Google Analytics to send notifications (email or text) when signals you've predetermined on your website are triggered. You set the standards, and Google will let you know if there's a deviation from those standards.
Custom alerts are relatively simple to set up, can monitor just about anything related to your ecommerce website, and can absolutely save your bacon should a situation be ready to mushroom into a potential catastrophe.
Why Should You Worry About Custom Alerts Anyway?
Unless you have the time, team, and energy to monitor every data point on your ecommerce website 24/7 and can interpret changes in the flow at lightning speed, you're a candidate for custom alerts.
Custom alerts are like having a strategically placed network of warning signals embedded in your website. If traffic dips too quickly or too far, if sales begin to flag (or soar), or if your Facebook ad suddenly stops working for you, custom alerts will let you know immediately.
That's much better than finding out the hard way.
How to Access Google Analytics Custom Alerts
We've got good news: Creating custom alerts is one of the simplest things you can do in Google Analytics. This guide will show you exactly how to get started.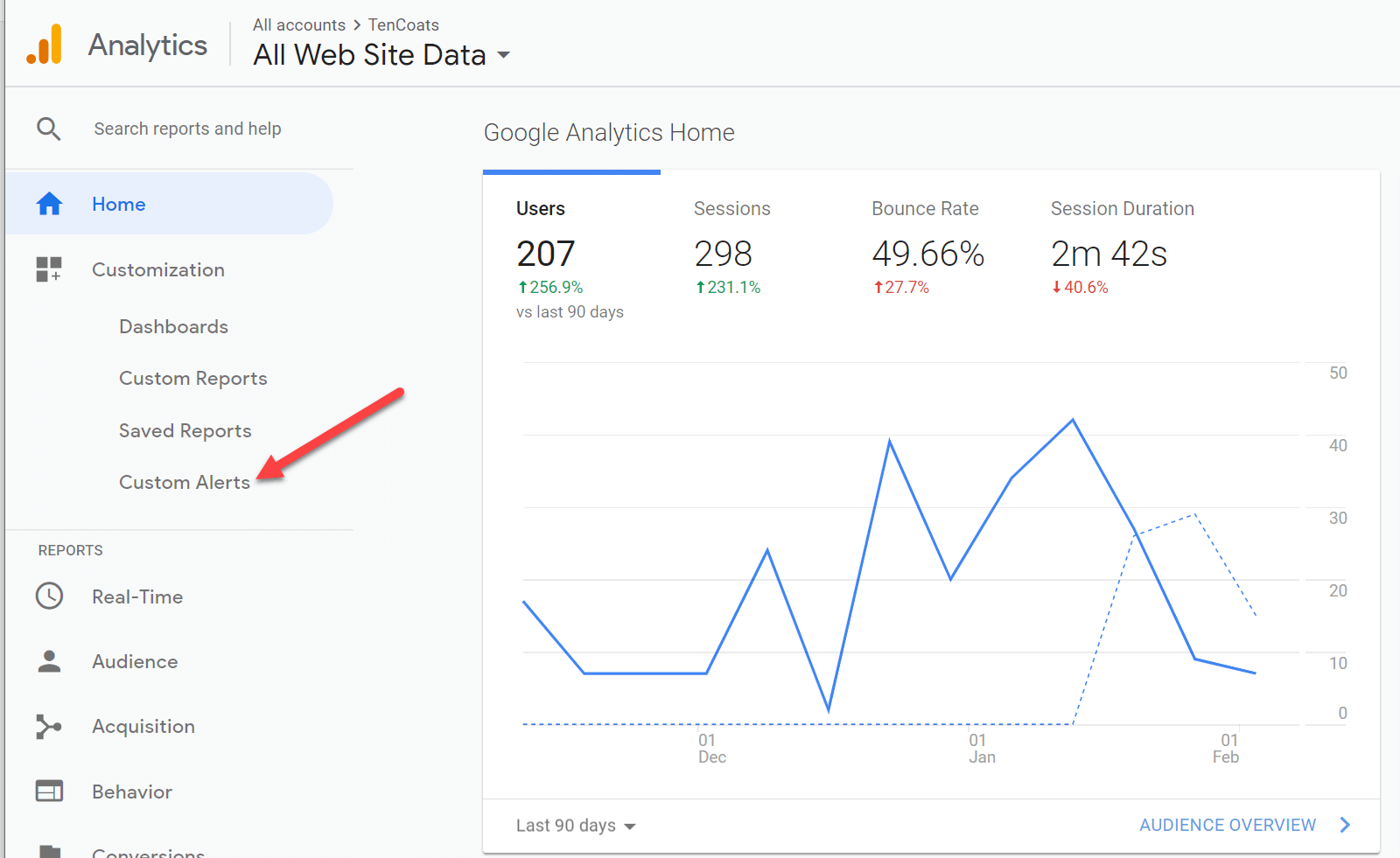 The screenshot above shows how to access Custom Alerts in Google Analytics. Thanks to TenCoats for allowing us access to their analytics dashboard to illustrate this guide.
Here's how to access custom alerts settings:
Log in to Google Analytics and navigate to the property you want to view.
Click on Customization.
Click on Custom Alerts.
The first thing you'll see after following the path above is the Custom Alerts dashboard. To get started with Custom Alerts, click the "Manage custom alerts" button (see the next screenshot).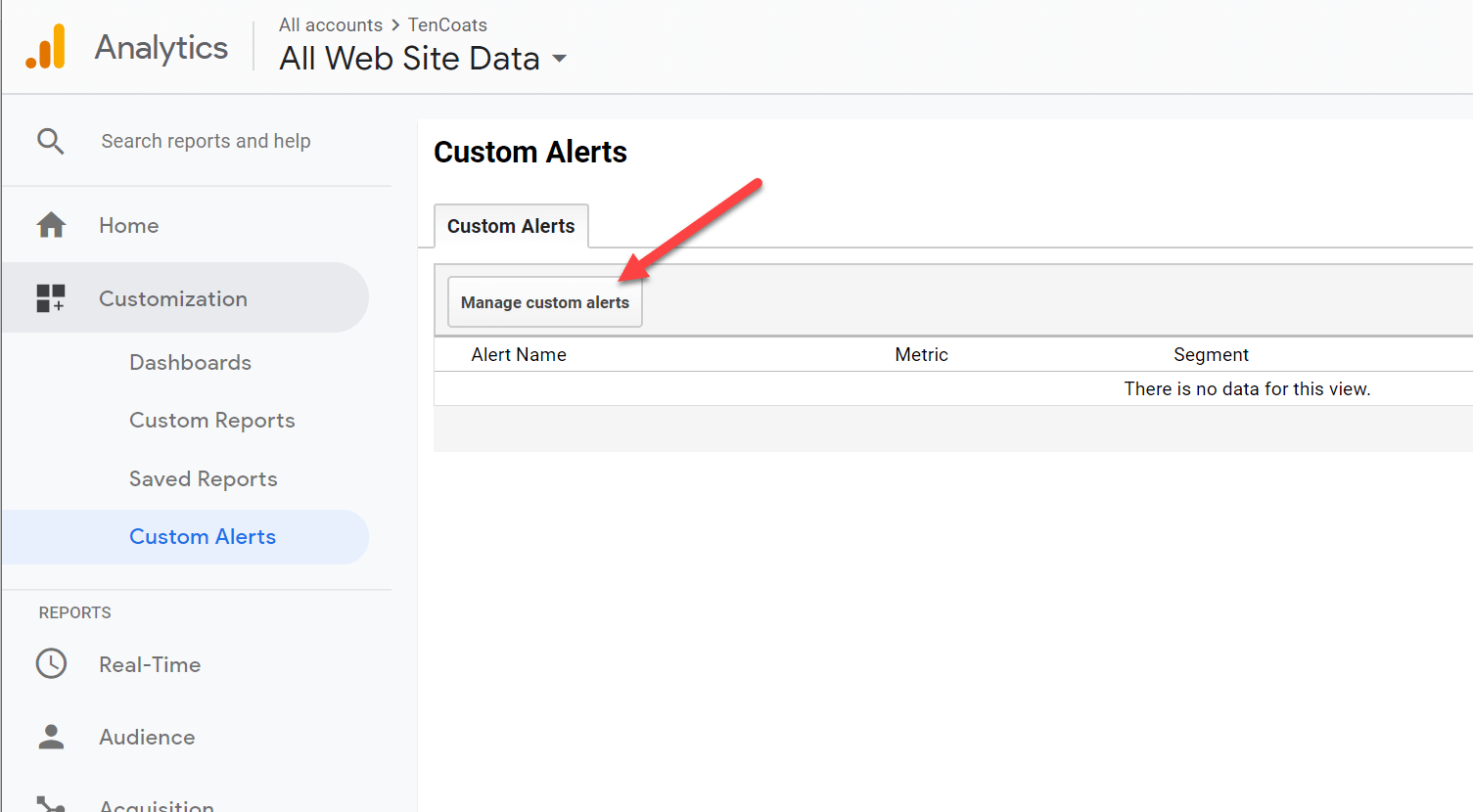 Once that opens, click the "+ NEW ALERT" button (see the screenshot below), and you're good to go.
You'll need to name the alert, determine which reporting views you want it to work with, choose the alert reporting frequency (period), and enter the email address and/or mobile phone number (USA only) to which you want alerts delivered.
You then choose the Alert Conditions and save the alert.
We'll walk through the steps of creating an alert soon, but first, you must decide which Google Analytics Custom Alerts will serve you best.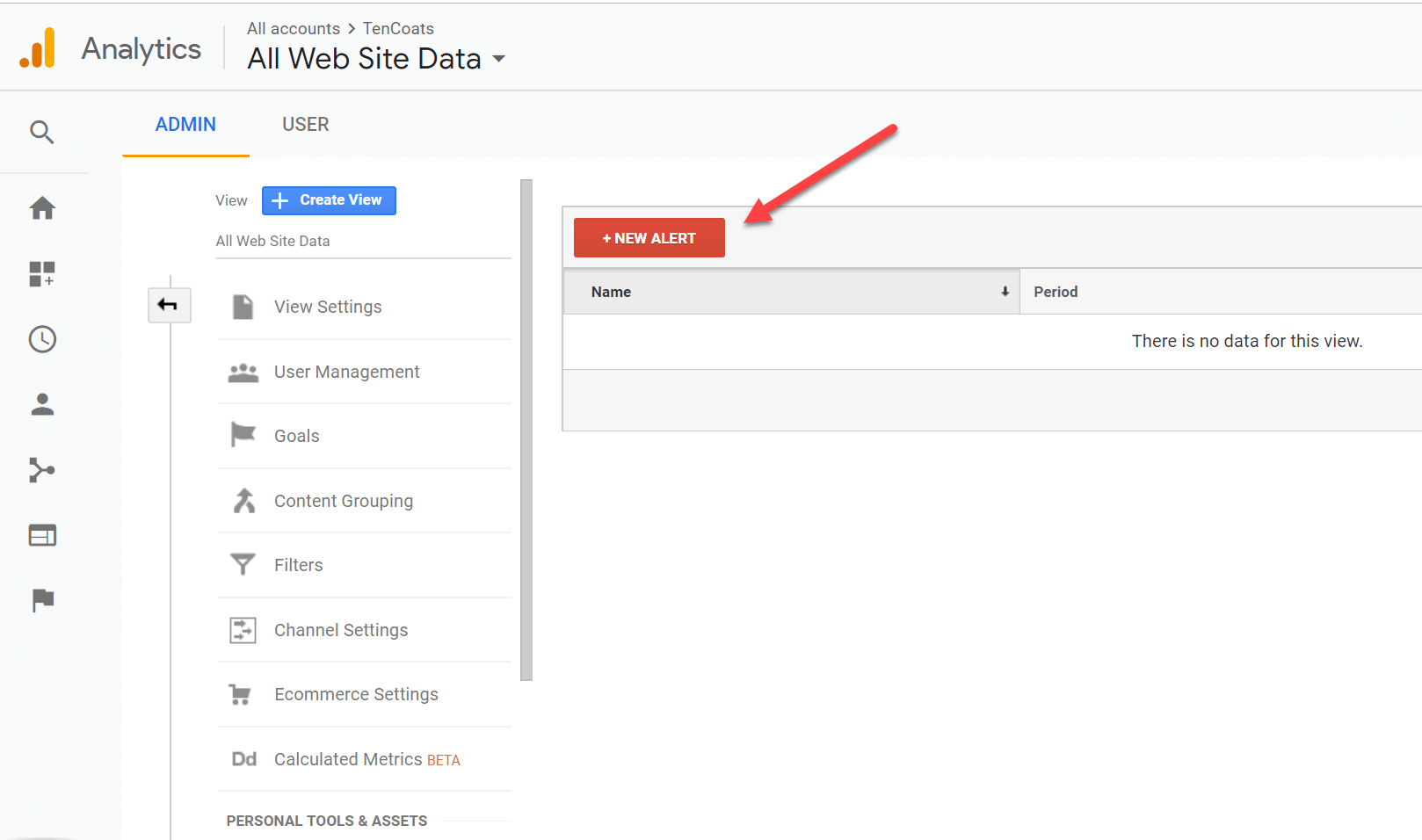 Which Custom Alerts Do I Need?
Google Analytics is essentially a robust table of dimensions and metrics gathered by bits of code you place on your ecommerce website pages. Dimensions are attributes—for example, City, Page, and Browser Type (see screenshot below). Metrics are the quantitative measurements, such as the number of pageviews. Reports and Alerts are ways you can view and manipulate the information collected.
While the possibilities are extensive, some of the popular custom alert types we've seen are notifications for significant changes in:
Website traffic
Pageviews
Sales
Bounce rate
Conversion rates
Traffic source types
Page load speed
Basically, if a metric is important to your ecommerce business and you want to know when deviations from the standards you set occur, custom alerts will serve you well. Set up the critical alerts first (checkouts, conversion rates at essential points along the path to sales, traffic to your site, etc.), then add non-essential alerts later.

Google Analytics is a robust table of dimensions and metrics.
Subscribe to our newsletter to get more just like it, sent straight to your inbox every week.
How to Set Up a Google Custom Alert for Checkout Completions
The process for creating custom alerts is the same for every metric on which you desire notifications. After you click the "+ NEW ALERT" button (see How to Access Google Analytics Custom Alerts above), you'll have several options for creating custom alerts.
We'll walk through the selections for our example account (TenCoats.com), and then you can log into your Google Analytics dashboard and practice setting up custom alerts for your site.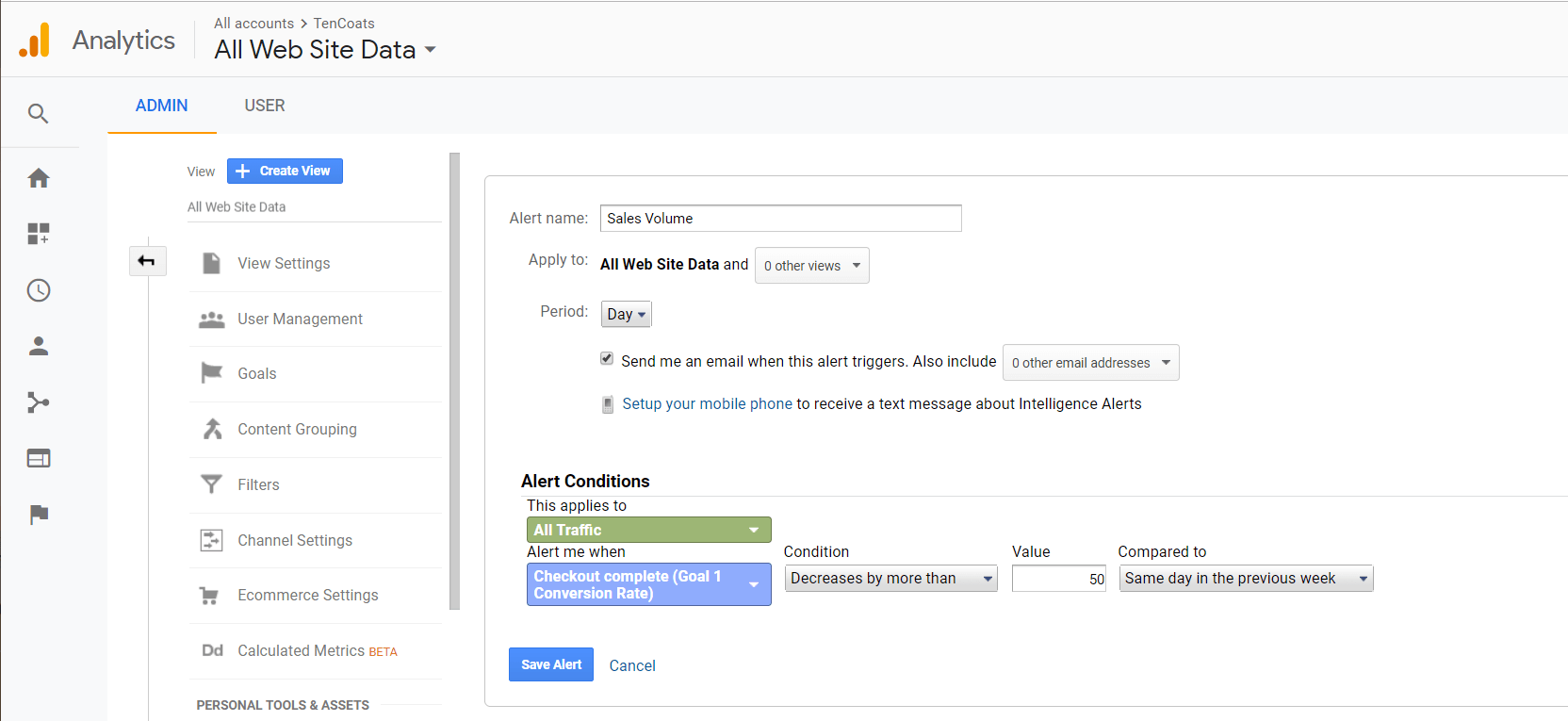 In the screenshot above, you can see the options TenCoats.com selected when setting up there alerts. Here's some more information about your options when creating alerts:
Alert name: Use something significant to you. It's not uncommon to have a dozen or more custom alerts set. When one fires, you want to immediately know which of your KPIs it is tracking.
Apply to: The default is your current view, but you can choose other views or even other properties to apply it to as well.
Period: Choices are Day, Week, and Month. TenCoats.com chose to monitor daily checkouts, but we could have also set custom alerts to inform us about significant changes to weekly and/or monthly checkouts.
Send email: You can choose to have alerts sent to you only or to multiple email addresses. The From address for custom alerts is noreply@google.com.
Setup mobile phone: This is currently for U.S. phones only. It allows you to get text messages when alerts (Intelligence Events) fire.
Alert Conditions: This is where the process can get a little tricky. You'll need to choose the traffic dimensions you want the alert to apply to, and then set the conditions that trigger the alert.
When determining the traffic dimensions, you can choose All Traffic (as we did in the custom alert shown above), or you can limit the alert to track by Custom Segments, Users, Acquisition, Behavior, E-commerce, or Systems. Click the box at the bottom of the drop-down list to view all choice possibilities alphabetically.
The best way to get familiar with Alert Conditions is to experiment. Before you get too involved in the sandbox, though, be sure to configure the primary custom alerts most important to your business. Your basic alerts shouldn't be difficult to choose, but more complex settings are certainly possible.
Click "Save Alert," and you've set your first custom alert!
To edit or delete a custom alert use this path: Admin > Customization > Custom Alerts > Manage custom alerts.
Google Analytics Custom Alerts and Your Ecommerce Website
You'll need to adjust your custom alerts over time. It won't take long to determine whether a certain alert is firing too often or not often enough. You may also find additional metrics you want to observe.
As long as your alerts are significant to your own key performance indicators and are set at meaningful levels, you can't go wrong.
Here's why:
The alerts you set are visible only in your current reporting view and the other views to which you choose to apply them. You determine who should be alerted and whether that alert should be delivered by email or text message.
That means you don't have to spam anyone else with custom alerts. You can direct them only to yourself until you're confident of the settings and are ready to share the capability with others.
The only way we know of to really mess up with Google Analytics Custom Alerts is to not configure them at all.
If you've experienced headaches with your prior attempts to set up Google Analytics features, we definitely understand. You don't have to deal with it alone, though. Call The Good and speak with one of our analytics professionals.
Resources:
Subscribe to our newsletter to get more just like it, sent straight to your inbox every week.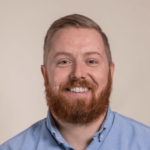 About the Author
David Hoos
David Hoos is the former Director of Marketing at The Good, conversion rate experts who deliver more revenues, customers, and leads. David and the team at The Good have made a practice of advising brands on how to see online revenue double through their conversion rate optimization services.