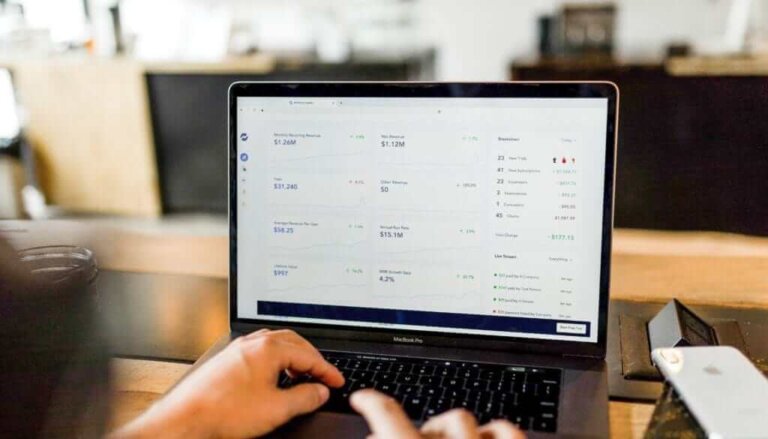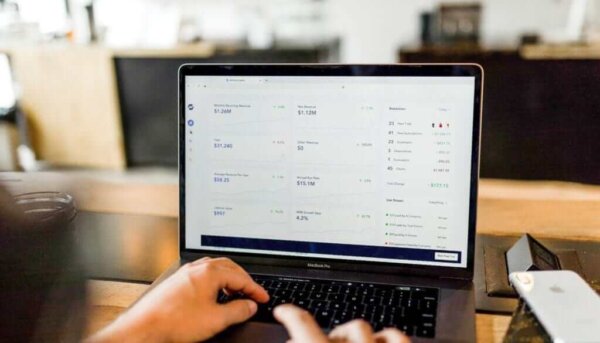 Customer Acquisition
How To Turn Transactional Emails Into Revenue Generators
Transactional emails often get the highest open and click rates, which is why they are an important growth opportunity for many brands. Follow this guide to turn your transactional emails into new revenue streams.
It's Amazon's world, and we're just living in it.
At least, that's what it feels like most days. Just look at the stats:
In addition, the ecommerce giant has been steadily increasing its share of online retail dollars over the past few years, and shows no signs of stopping.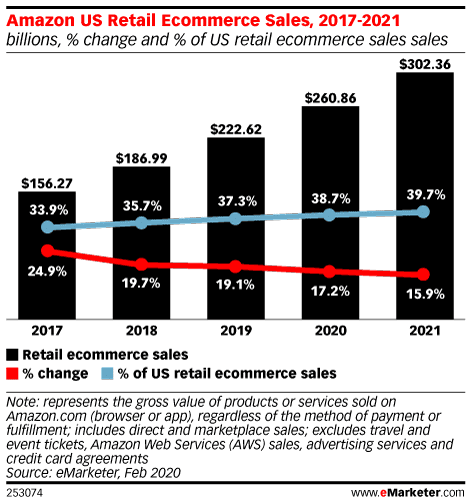 How did Amazon become such a powerhouse?
The site sells more than 12 million products, but thanks to powerful search/navigation tools, it's easy to find what you're looking for.
The checkout process is lightning fast.
And the free two-day shipping for all Amazon Prime members is the icing on the cake.
It may be impossible for DTC brands to compete with Amazon on price or efficiency, but there is one area where Amazon scores poorly:
Customer experience.
Amazon's strength (millions of merchants selling millions of products) is also its weakness. In the process of automating and optimizing the purchasing process so that every transaction feels the same, the world's most popular marketplace has stripped out the human elements of online shopping.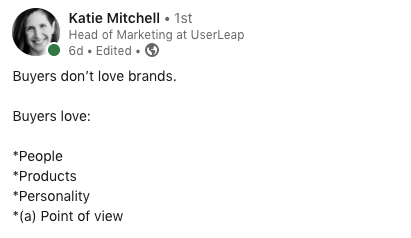 This is great news for independent ecommerce shops.
How can you turn your direct connection with customers into profit?
Read on to learn:
What customers want
3 ways personalization can increase your bottom line
How to turn transactional emails into revenue generators
What customers want
Research shows that 80% of consumers are more likely to make a purchase when brands offer personalized experiences, and that 44% of consumers will likely become repeat buyers after a personalized shopping experience with a particular company.
It's clear that customers expect brands to deliver an engaging buying experience. But retailers are falling short when it comes to providing thoughtful service.
"Despite those expectations, however, a majority of consumers are disappointed with the ongoing lack of personalization in their shopping experiences. On average 71% express some level of frustration when their experience is impersonal."  – Segment's State of Personalization Report
Let's take a closer look at this missed opportunity.
3 ways personalization can increase your bottom line
Online shoppers have infinite choices when picking where to spend their money – just think about how many ecommerce mattress companies advertise on the subway, or how many beauty subscription boxes there are in the world.
Delivering a personalized shopping experience is one way that a brand can stand out in a crowded market, and it's a very smart move from a financial standpoint.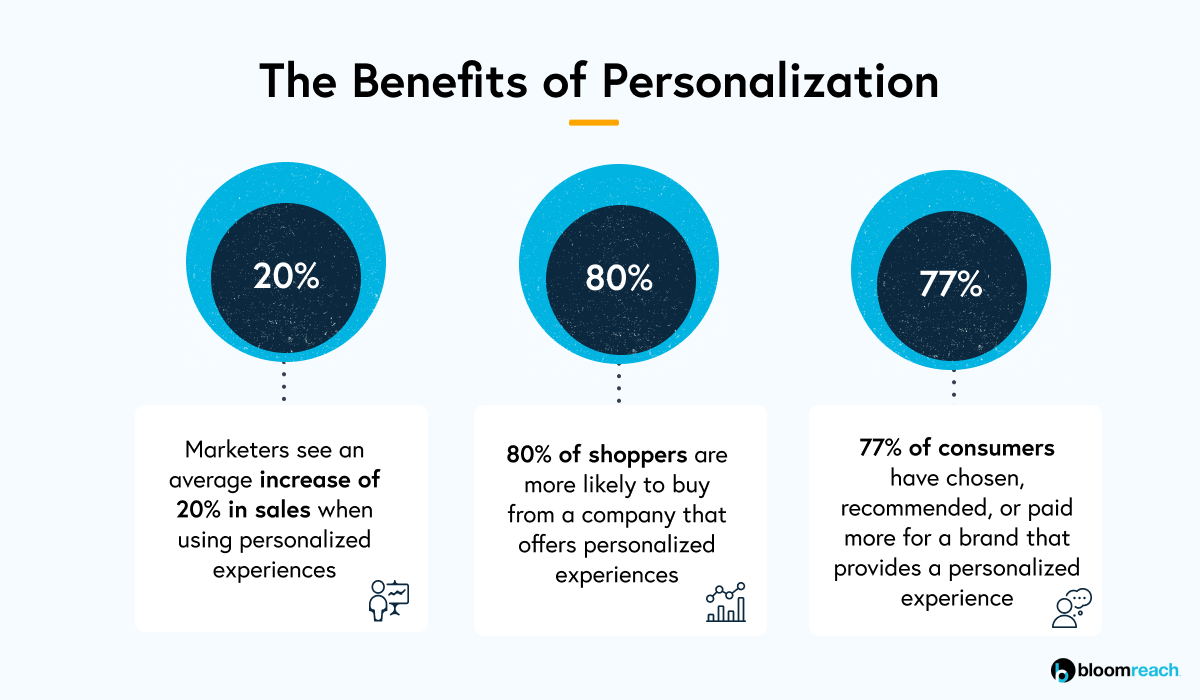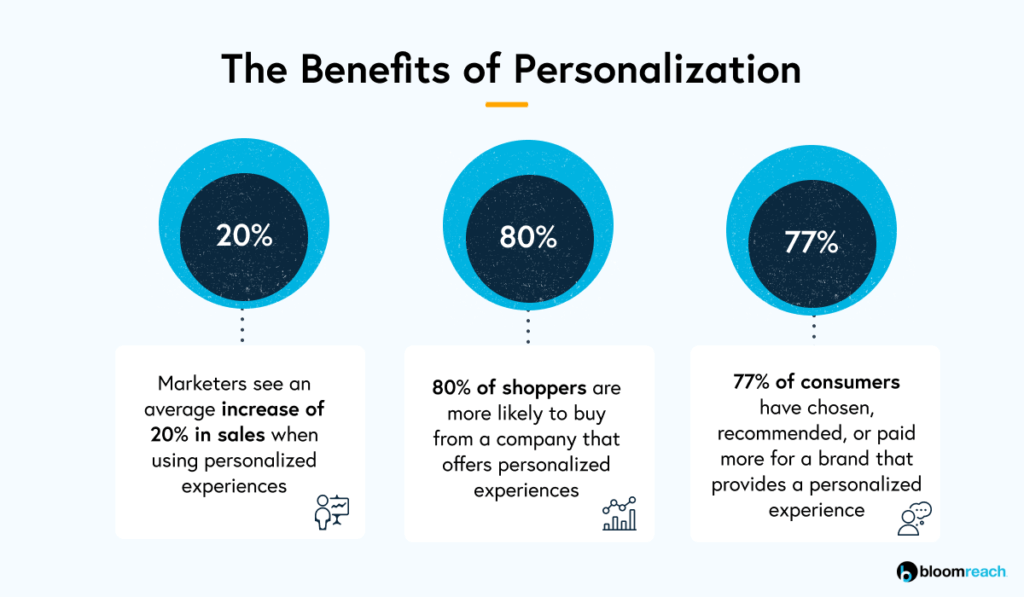 Here are three ways personalizing the online shopping experience can increase your bottom line:
1. Increased Customer Retention
People don't just shop with their wallets; they shop with their feelings.
If you can make them feel good about their decision to buy your product by delivering a superior customer experience, or by making them feel like they're part of something meaningful, they will keep choosing your brand over others.
According to Hubspot, just a 5% increase in customer retention can increase company revenue by 25-95%. So don't sleep on building brand loyalty:
Offer customers the chance to get to know your brand through your About Us page, or a special email from the founder
Give them the opportunity to meet other customers with shared values via an online community or popup events
Reward them for sticking around with a repeat purchase discount, loyalty points or ambassador program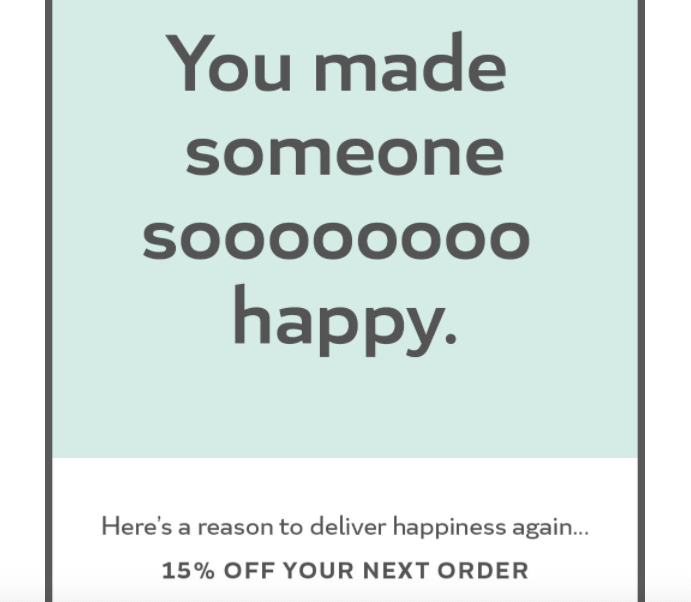 2. Higher AOV (Average Order Value)
"Ultimately, average order value boils down to increased profits and continued success for your brand." – Alex McEachern, Marketing Manager at Loop
When you offer shoppers items that align with their order history or browsing activity, not only are they more likely to buy from you; they are more likely to spend more, increasing your average order value.
A few thoughtful touches you can add to the online shopping experience to raise AOV:
Create bundles of related products that customers often buy together
Offer a bulk buying discount or subscription on products your customers buy often
Upsell customers on complementary items during checkout
3. New Business (Referrals)
When you invest time or money in personalizing the ecommerce experience, you create happy customers. And those happy customers generate new customers when they spread the word about how great your brand is.
It's a beautiful thing.
Take a look at how these Shopify merchants have benefited from creating brand evangelists: 
Thrive Causemetics earned 18.4X ROI on their referral program in the first month
The AOV from Pura Vida's referral sales are 11% higher than normal orders
100% Pure generated over $244,000 in 18 months from referrals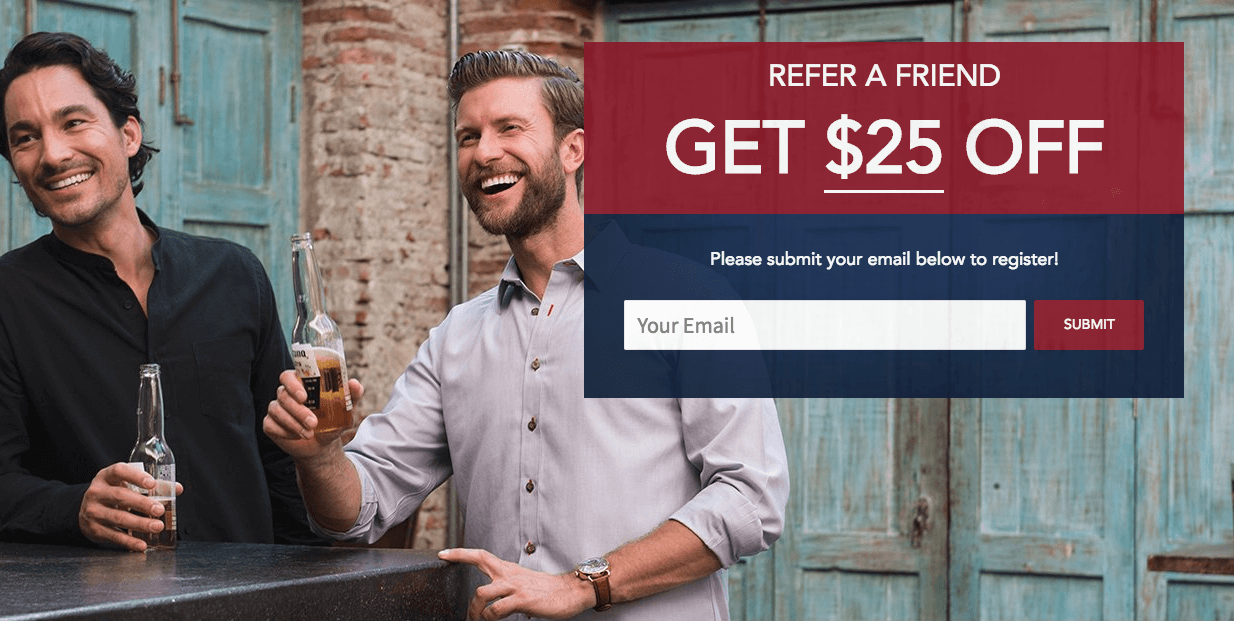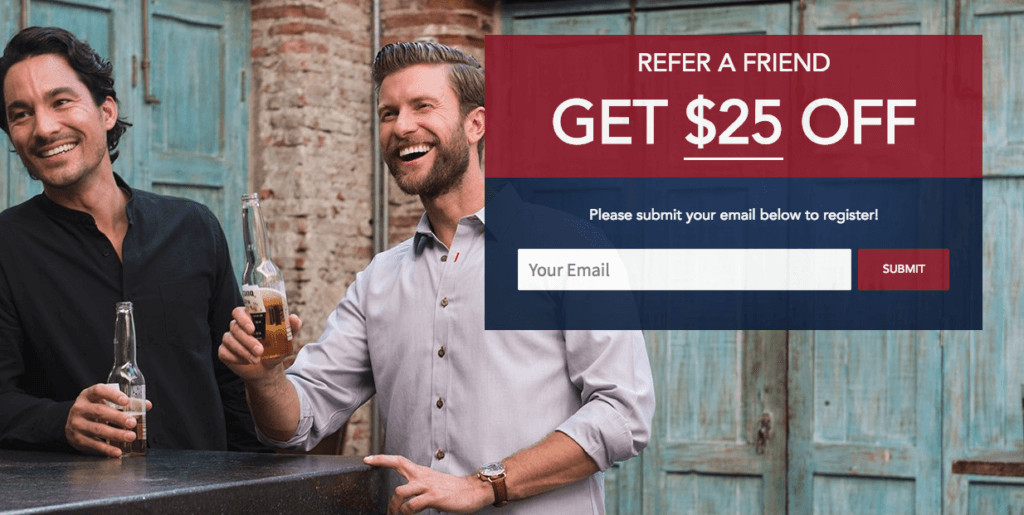 Whether you officially build out a referral program, or you delight your customers so much that they can't help telling their friends, word of mouth is a powerful marketing tool for ecommerce brands.
How can you get people talking?
In ecommerce, transactional emails are often overlooked – and therefore a great place to start.
How to turn transactional emails into revenue generators
Sure, Amazon employs more than 1 million people worldwide. But have you ever taken a look at their customer communications? 
To put it bluntly, Amazon emails suck. It feels like they've been written and scheduled by an AI program.


You can do better.
Let's take a look at the transactional emails Amazon is sending, and how ecommerce brands can add a more personal touch to boost customer loyalty and drive revenue.
Transactional Email #1 – Abandoned cart
Amazon example: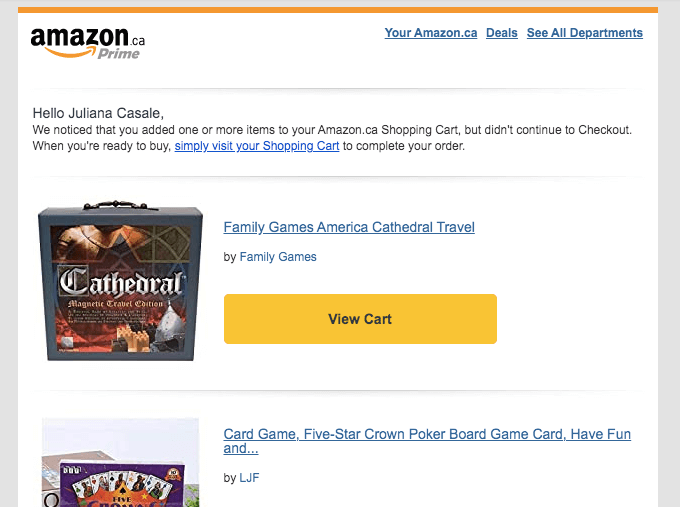 Amazon's abandoned cart email is pretty bare bones: "You added some stuff to your cart. You should go back and buy it." And the CTA button doesn't actually demand much action; "View" is a pretty passive verb, after all.
Ecommerce example (Blume):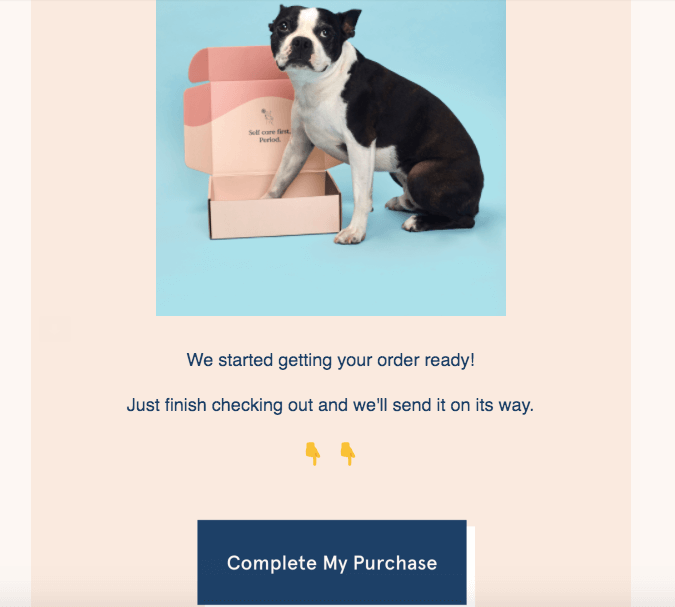 Tips for driving more revenue through your abandoned cart emails:
Pull in customer reviews of the product to overcome any hesitation
Inject your branding into the copy or design to engage potential buyers
Provide an exclusive incentive to complete the purchase
Offer customer support or a 1:1 session with a shopping specialist
Transactional Email #2 – Subscription activation
Amazon example: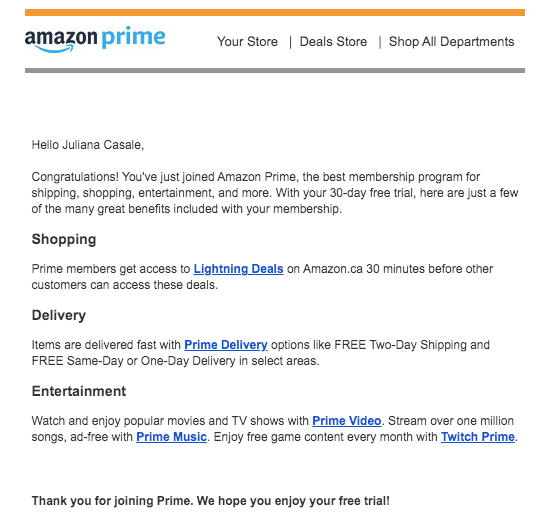 Ah, yes. Nothing screams personalization like using someone's first AND last name in an email.
All jokes aside, this is actually Amazon's best automated message – although it's plain text the tone is friendly, the benefits overview is helpful, and the nav bar at the top is a nice touch. It's like they want to convert me as a customer.
Ecommerce example (Birchbox):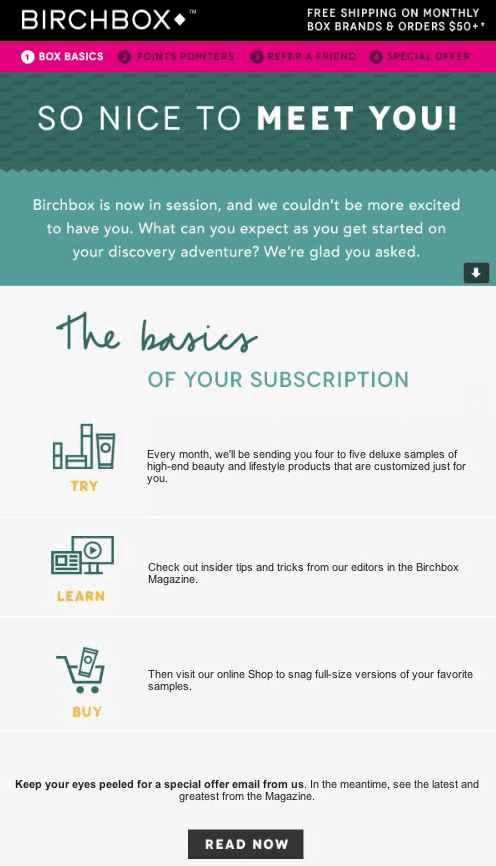 Tips for driving more revenue through your subscription activation emails:
Invite new members to take a quiz so you can make tailored product recommendations
Play up any VIP benefits
Provide access to an exclusive online community to make the membership more sticky
Subscribe to our newsletter, Good Question, to get insights like this sent straight to your inbox every week.
Transactional Email #3 – First purchase
Amazon example: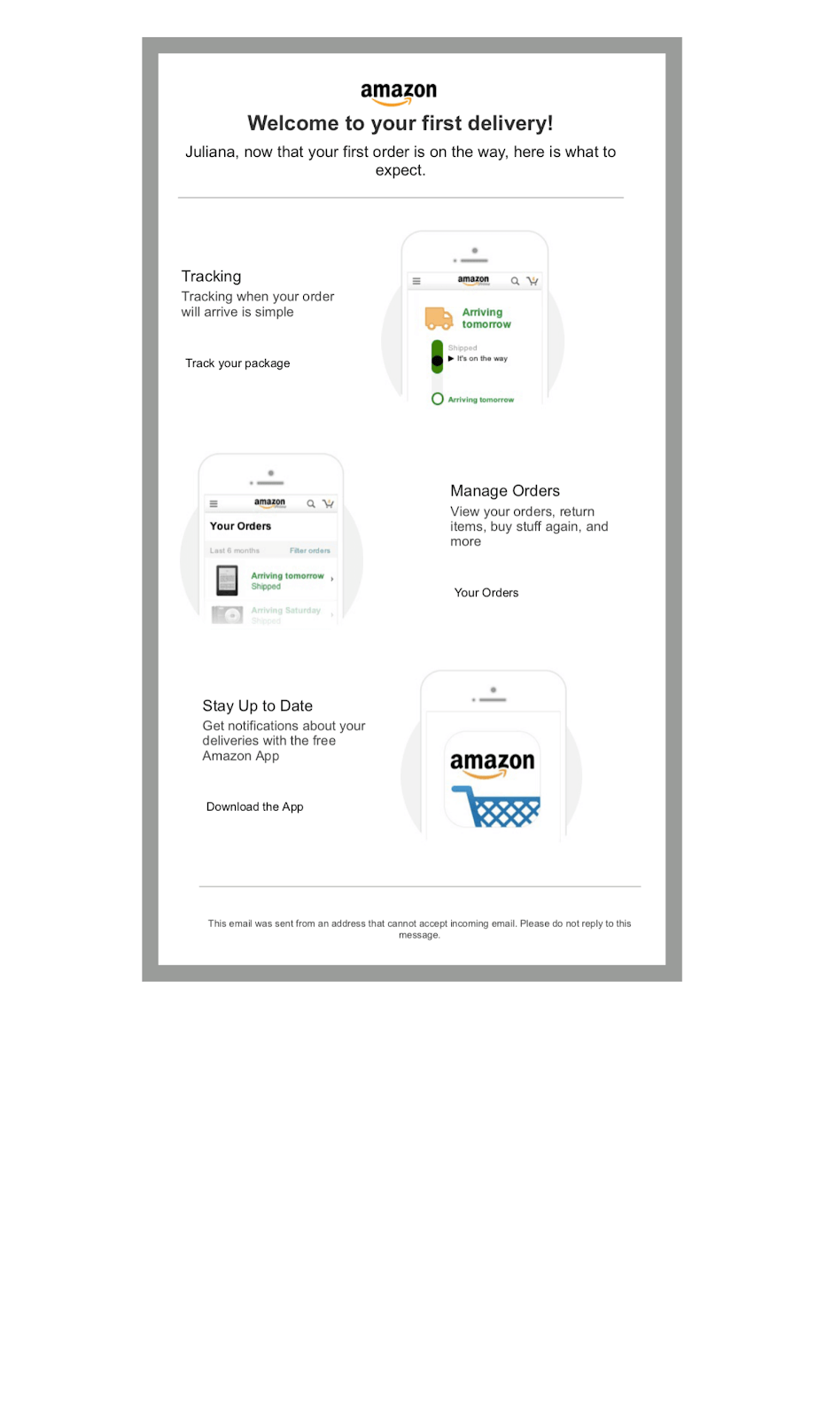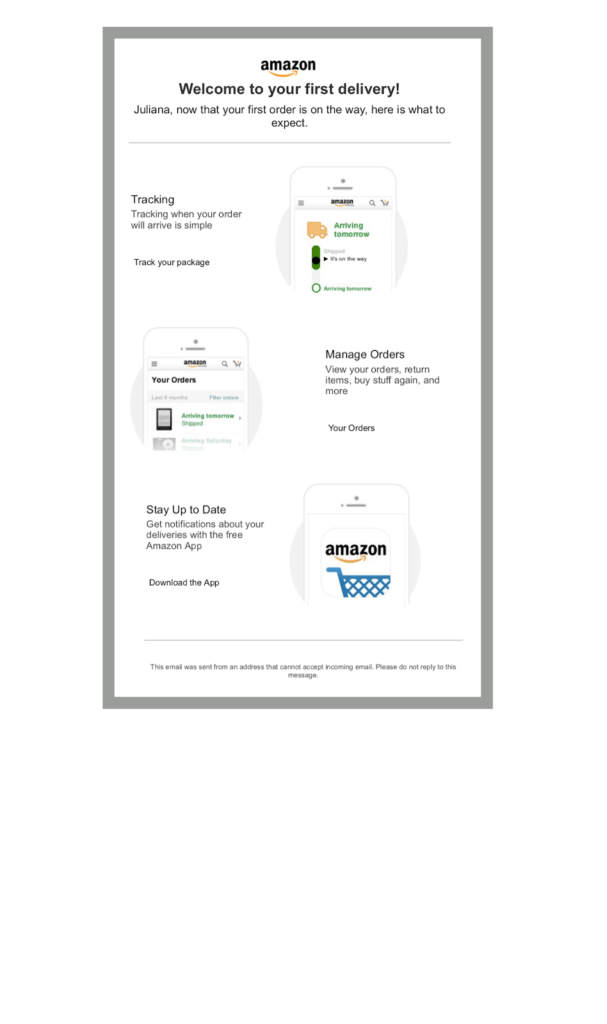 Once you've paid for your first Prime order, Amazon does throw some design elements and product marketing your way.
However, there's no hint of relationship building in the copy, and if you note the fine print at the bottom of the email, you aren't allowed to reply to their "welcome" message. So cold.
Ecommerce example (Vellabox):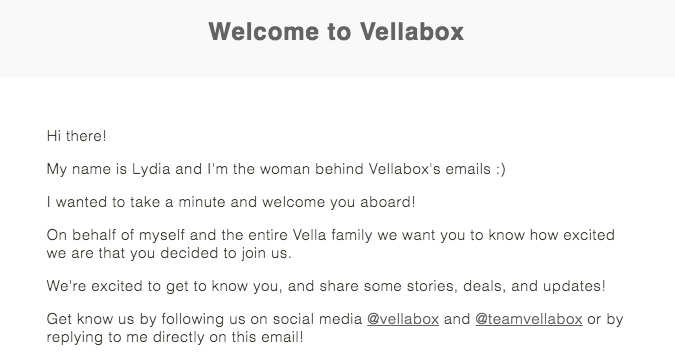 Tips for driving more revenue through your first purchase emails:
Make customers feel welcome with the copy; like they are joining something special
Send the message from a team member or founder
Allow or encourage people to reply to the email with comments or questions
Transactional Email #4 – Shipping confirmation
Amazon example: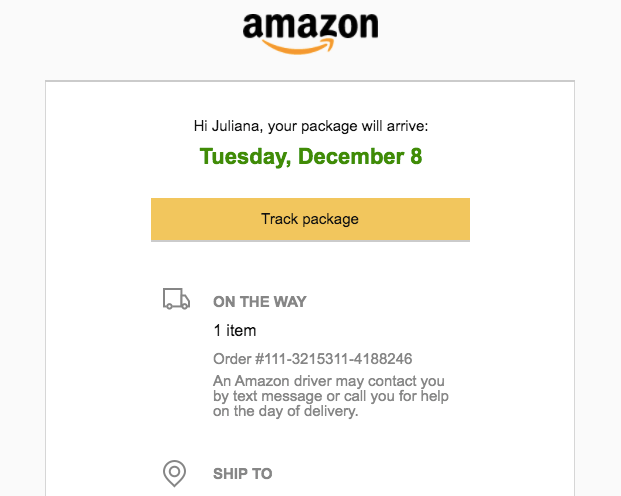 Another "just the facts"-style message from everyone's favorite ecommerce giant.
Curiously, Amazon's order and shipping confirmation emails don't actually mention the products that have been purchased – which can get confusing if you are a frequent/impulsive Prime shopper. 
Ecommerce example (Carnivore Club):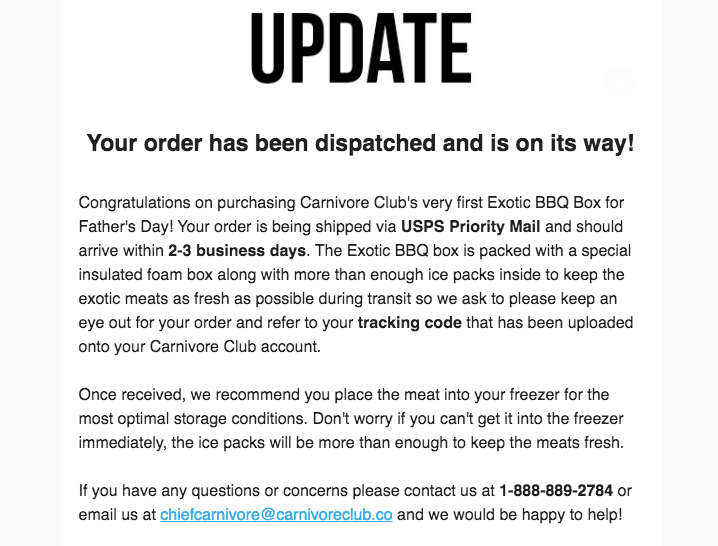 Tips for driving more revenue through your shipping confirmation emails:
Praise the customer for making a smart purchasing decision
Build anticipation around the delivery with the copy
Link to your exchange policy
Make it easy for customers to contact customer service with questions
Transactional Email #5 – Delivery confirmation
Amazon example: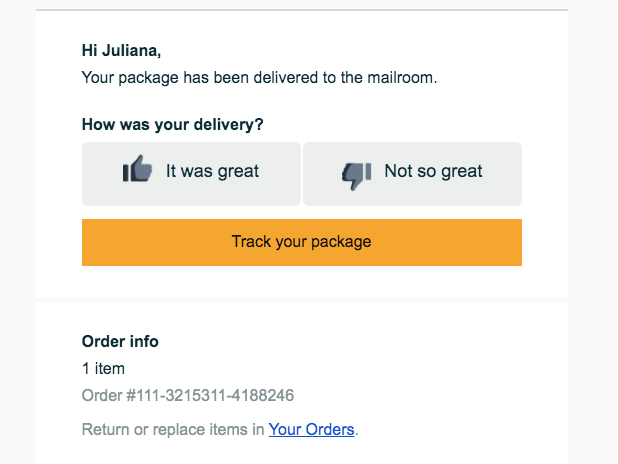 It is nice that Amazon is asking if my delivery experience was satisfactory, and I appreciate the link to make a return or exchange. But once again, this is a bare-minimum message with no hint of color or humanity.
Ecommerce example (Teleflora):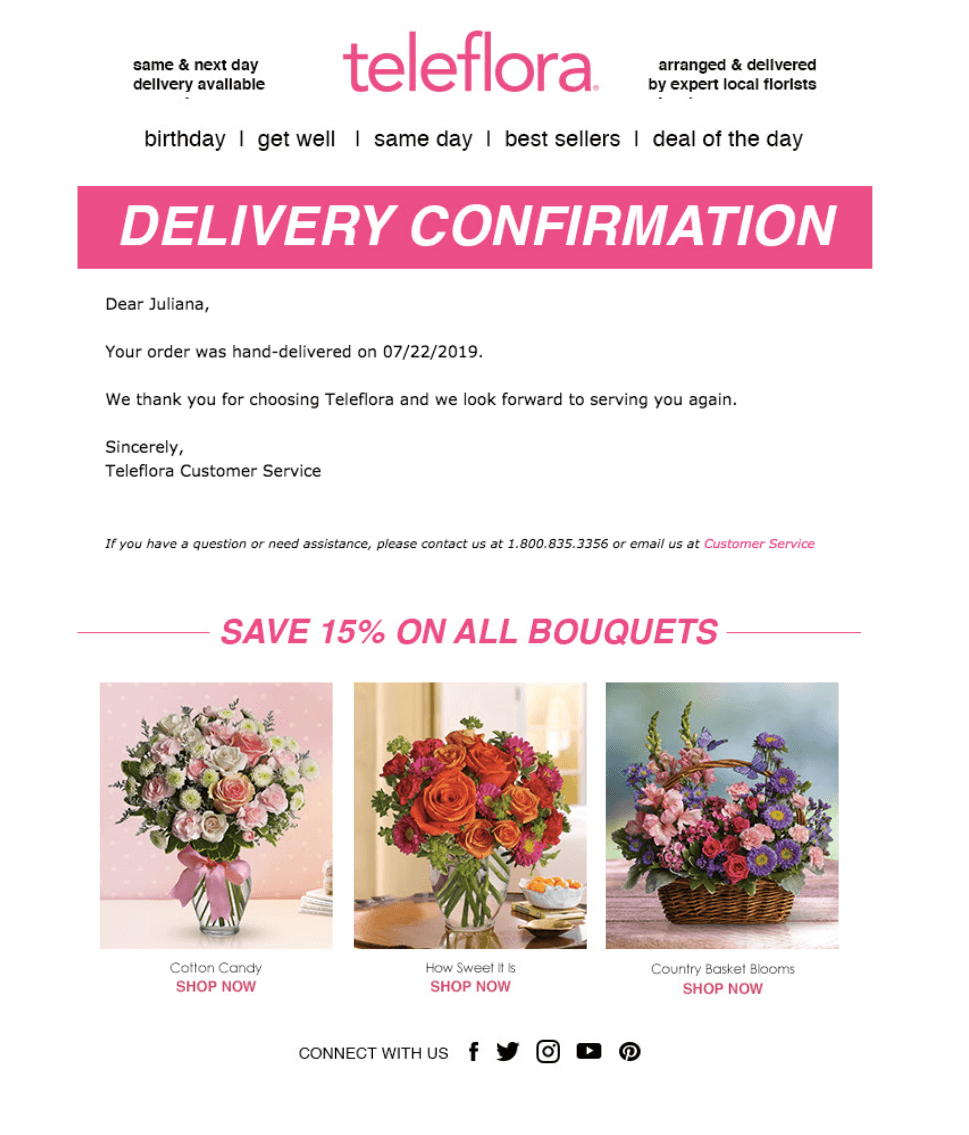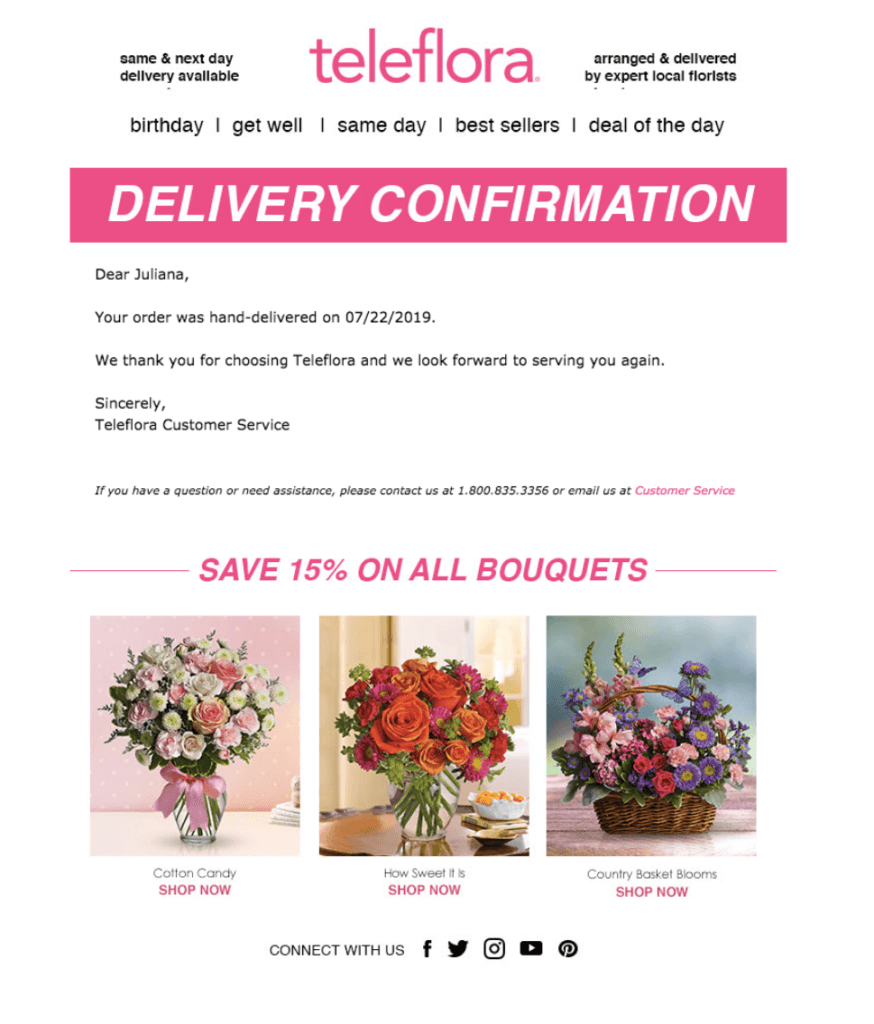 Tips for driving more revenue through your delivery confirmation emails:
Celebrate the arrival of the package
Share product usage tips to reduce your return rate
Recommend related products
Encourage additional purchases with an exclusive promo
Transactional Email #6 – Refund
Amazon example: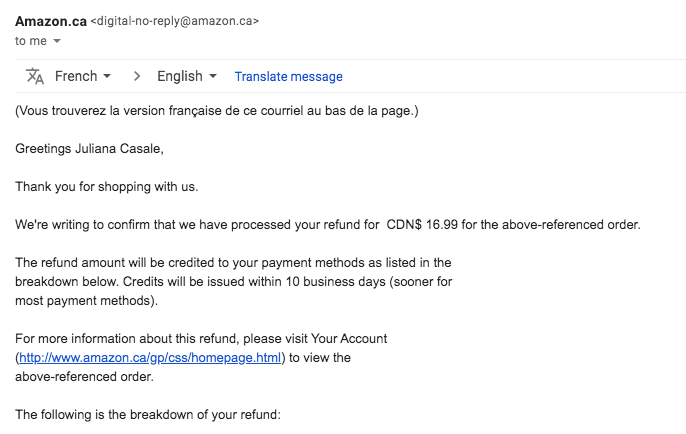 This refund confirmation email is business as usual for Amazon – there's no mention of the product or the merchant, they make no attempt to ask what went awry, and there are no next steps if you have questions.
Ecommerce example (Figleaves):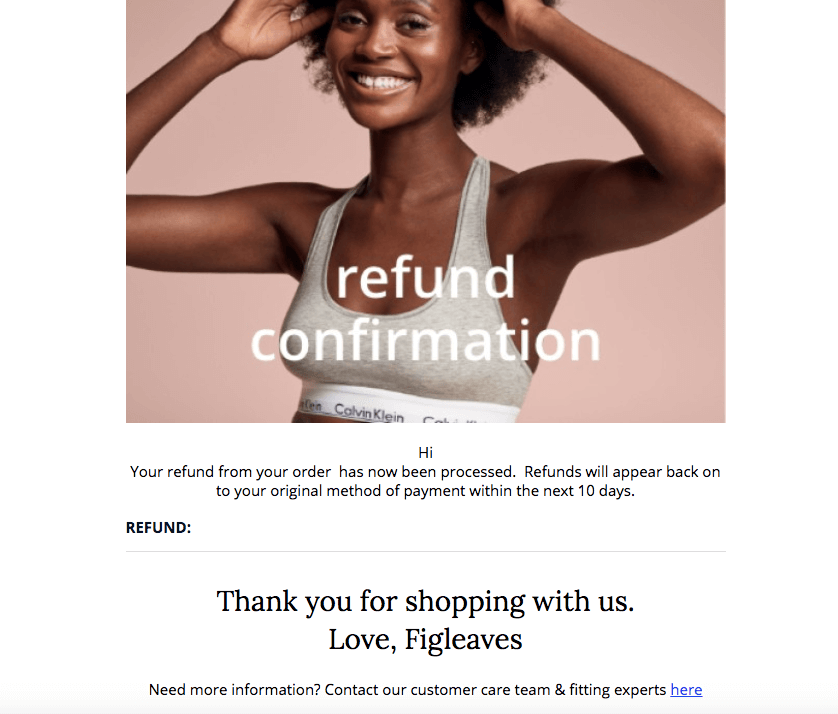 Tips for driving more revenue through refund emails:
Acknowledge that the customer's experience may have been less than perfect
Keep them shopping with free shipping or credit towards their next purchase
Provide tips on finding a better size or style of the product that was ordered
Ask for product or delivery feedback to show you are listening
Transactional Email #7 – Subscription cancellation
Amazon example: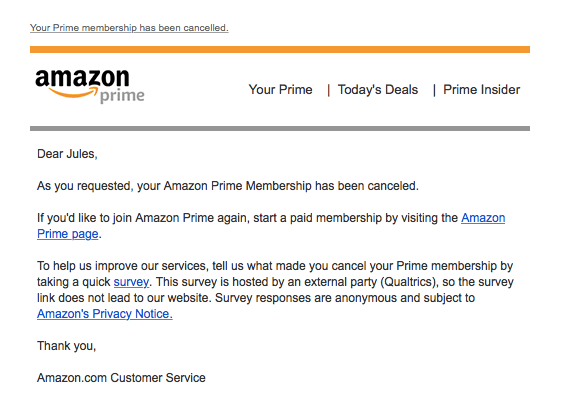 Amazon sends its strongest automated emails at key points in the customer journey – when they are trying to close you as a paying Prime member, and when they have lost you as a paying Prime member.
Here, they do ask for feedback (though the words "external party" and "privacy notice" do not exactly give me the warm fuzzies).
Ecommerce example (CAUSEBOX):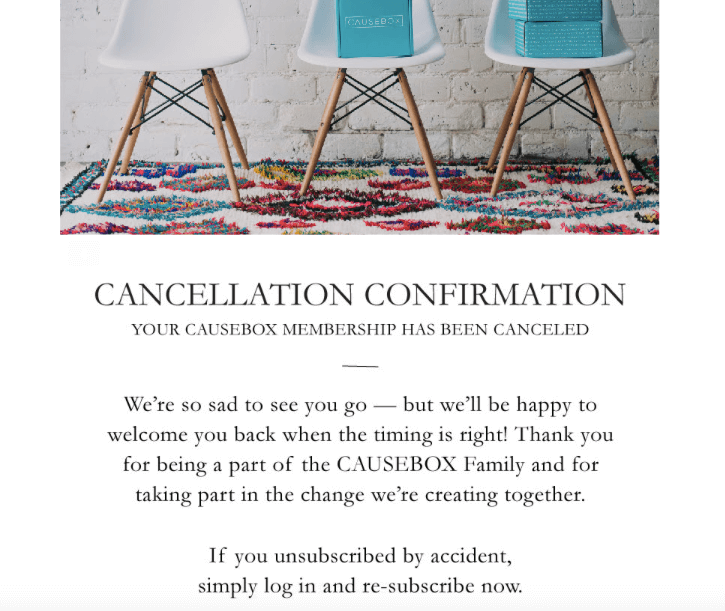 Tips for driving more revenue through your subscription cancellation emails:
If you sent an activation email from a team member/founder, send the cancellation email from the same person
Offer VIP customer support if they are willing to give you another shot
Remind the customer why they subscribed in the first place
Pull in data about any loyalty points or referral bonuses they might be leaving behind
Instant replay
For all of its clout in the ecommerce world, Amazon hasn't spent nearly as much time on the email side of customer communications as it has on optimizing the online shopping experience.
This leaves the door wide open for DTC brands to create a more personalized customer experience with every email sent – including transactional ones.
Happy shoppers become repeat purchasers and referrers, so if you haven't taken a look at your automated emails lately, you're definitely leaving money on the table.
Who knows – according to Rod's experience below, your investment could give you an advantage over your competitors as well!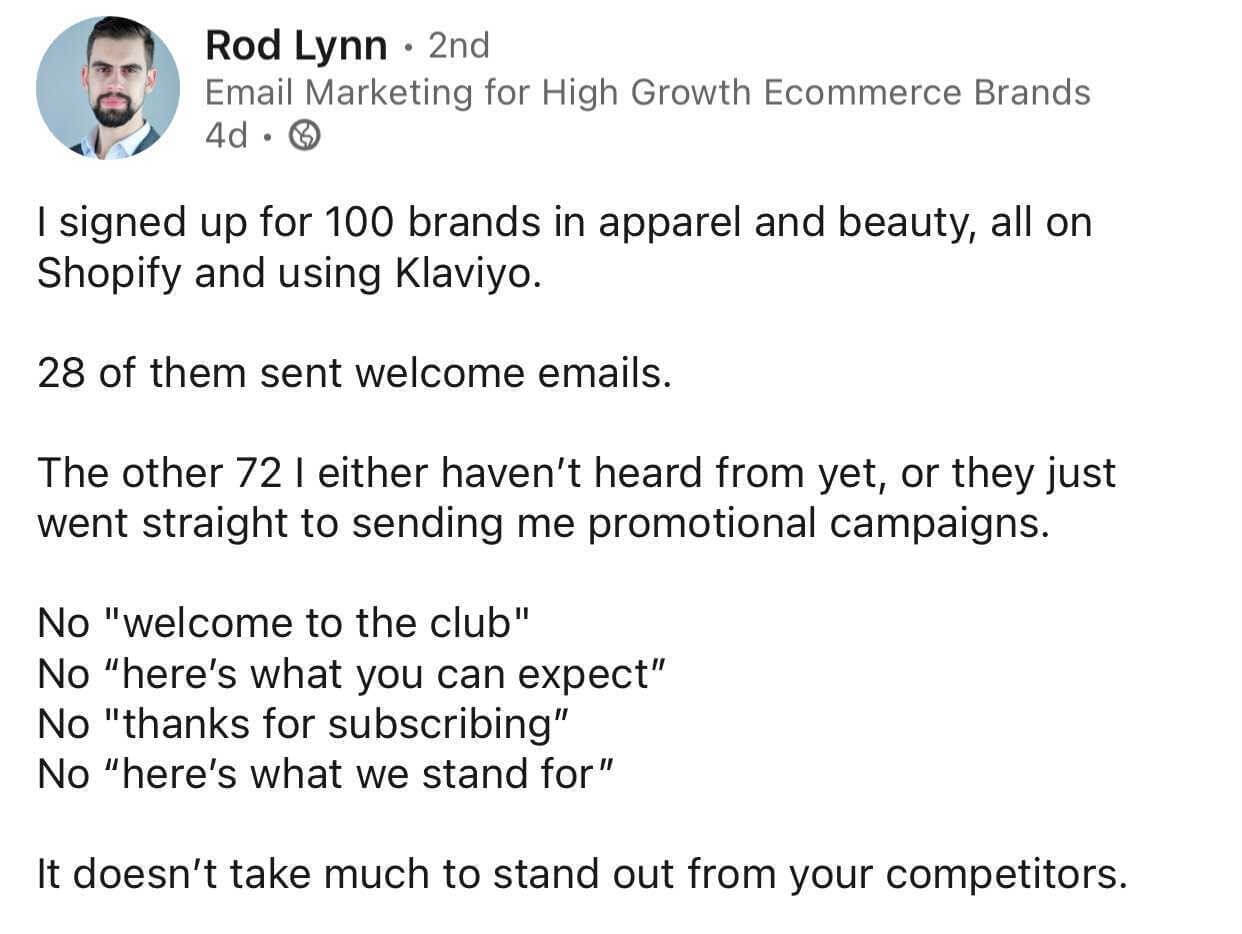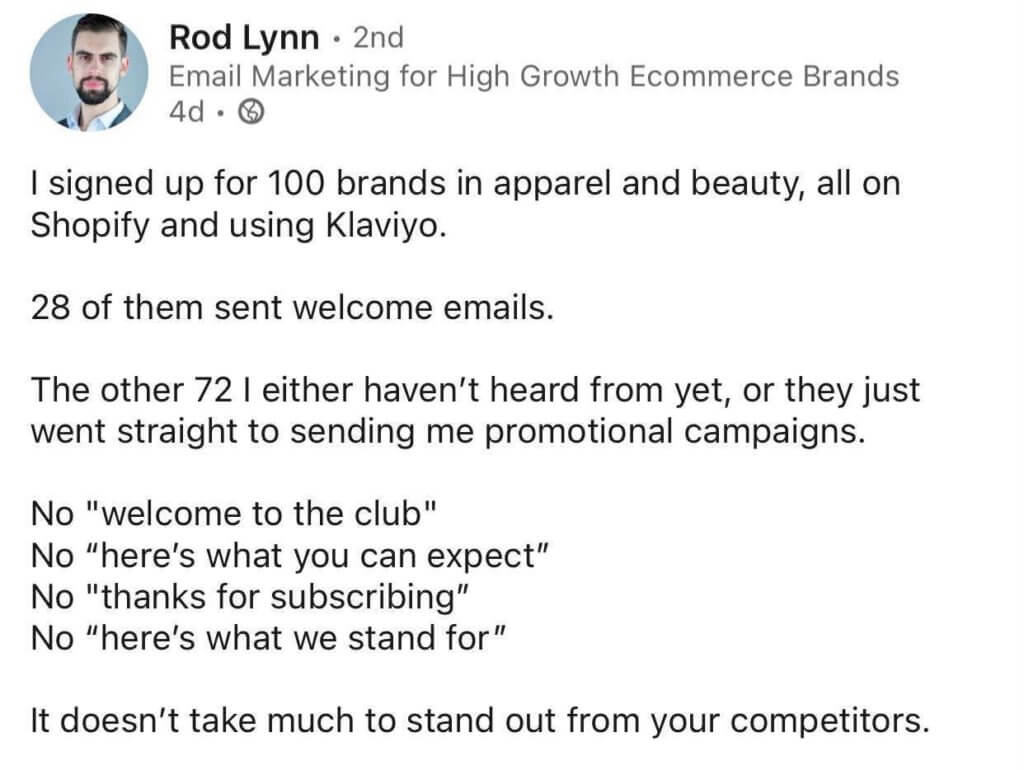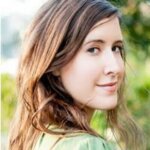 About the Author
Juliana Casale is the founder of Quick Wins Department. For the past decade, she's helped ecommerce merchants and B2B/SaaS companies improve their website conversion rates and build holistic customer experiences.