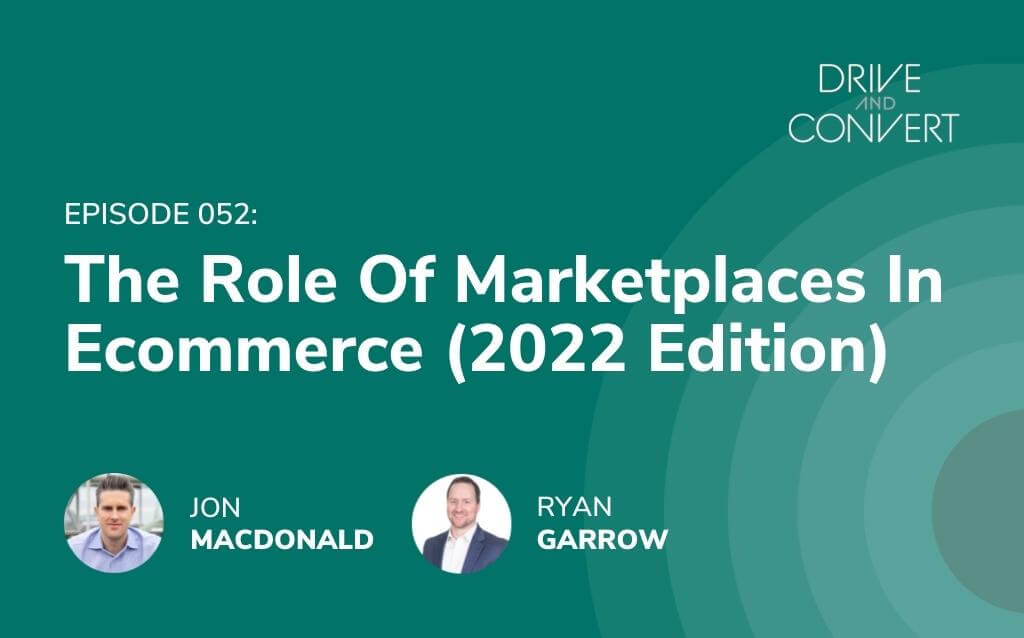 Drive & Convert
Drive and Convert (Ep. 052): The Role of Marketplaces In Ecommerce
In this episode, Ryan and Jon talk about how brands should be evaluating marketplaces like Amazon and Walmart as a potential contributor to their overall growth strategy. The goal is to clear up some misconceptions and present a realistic assessment of marketplaces as growth levers.
Listen to this episode:
About This Episode:
Marketplaces like Amazon and Walmart can be a polarizing topic in the ecommerce space. Some folks swear by them as one of the most effective "growth levers" you can pull, while others contend that what you're required to give up in exchange for access to marketplace customers means that the "juice isn't worth the squeeze."
In this episode, Ryan and Jon assess the current landscape around marketplaces and provide a balanced recommendation for ecommerce brands who are considering adding marketplaces to their growth strategy for 2022.
Listen to the full episode if you want to learn:
How big the opportunity for "marketplaces" really is
What surprised Ryan and Jon about marketplace activity in 2021
How to determine if joining a marketplace is right for your brand
What opportunities and challenges are on the horizon for 2022
If you have questions, ideas, or feedback to share, hit us up on Twitter. We're @jonmacdonald and @ryangarrow.
Episode Transcript:
Announcer:
You're listening to Drive and Convert, a podcast about helping online brands to build a better e-commerce growth engine with Jon MacDonald and Ryan Garrow.
Jon:
All right, Ryan, I hope you're having a good day. I know we've both been, just running through to the ringer today with meeting after meeting, presentation after presentation, webinars and all that stuff. So we're going to try to make this exciting today so that we can get some energy out of it, maybe. But what's going to be exciting for the listeners is, A, I know nothing about what we're talking about today, so that's going to be fun. And, B, I haven't read any of your show notes really on this. So good news is you get to educate me on something I know nothing about, even better news is everybody listening gets to have some fun at my expense today. So what I do know is we're talking about marketplaces and what to expect in 2022. And I also know that there's been some crazy numbers thrown around when it comes to marketplaces, right?
So the revenue that they contribute to brands just seems to be huge, BigCommerce, I think it was released some numbers that said, a brand that added one marketplace grew 34% and two grows over a hundred percent just by adding marketplaces. And some can get over 400%. So when you start talking about numbers like that, I get a little skeptical and I want to learn more, of course, but I'm guessing that that can't be happening across the board, but at the same time brands can't ignore these marketplaces like Amazon, Walmart Target, et cetera, if they really want to grow, can they? I mean, I think that's the question I'd love to have an answer to.
Ryan:
Yeah. The numbers that you can see on the internet if you just Google some marketplace numbers from 21 are pretty crazy. It's almost like it puts it out of context of just how big things are. And so if you're going to grow your brand and that's your goal, if you're going to avoid marketplaces, I think you do that at your own peril. You've got to figure out how your brand is going to play into these marketplaces and what you're going to give and what you're going to take from that platform. I just got off kind of the gauntlet of webinars and presentations, I just got off our client webinar for the quarter at LP and the end, we have Q and A live going on as we're presenting and I'm moderating. So I'm answering a lot of these and there's a lot of comments flying around and we get to Amazon and it was like unleashing venom towards Amazon.
Amazon is garbage. It's the devil it's terrible. Don't ever do it. I mean, it was surprising actually, because we do have a lot of clients that are successful on Amazon. In fact, we talked about one Micah who leads our Amazon department, brilliant human and all things digital marketing, but marketplaces he's on another level. We have a luxury floss client and that actually is a category. They sell it two to three times, what normal floss is. And when we brought that brand on Michael, it was in their Amazon account and he is like, "Yeah, they did about 50,000 a month in luxury dental floss." Which that was way beyond what I would've expected. I'm like, "Okay, you're selling a $7 floss."
Jon:
Right.
Ryan:
Really? 50,000 a month at seven bucks a pop. So Micah didn't think and we strategized… I don't know how much they can grow, but their ads are doing really bad. So we can probably help them there. They're doing 250,000 a month on Amazon.
Jon:
Wow.
Ryan:
I don't care who you are as a brand. That's a number. That's decent. And this is like going on Amazon, that a lot of people see as a race to the bottom or best price type thing. But as a brand and you're in the luxury category, granted, you're still seven bucks in your dental floss. But at the same point, that's a lot of units. I mean, just the volume there is astronomical.
Jon:
Yeah. And you know, Amazon is promoting other products that are way cheaper on your page, your product page.
Ryan:
Oh yeah. I mean, I knew that there… There's always a lot of tension when you bring up Amazon in any brand, any marketing conversation, and it's rightly deserved most of the time. Amazon's done some pretty crappy things over the years. And to brands and to retailers. But I think as a brand, if you are going into a relationship or you're looking at Amazon as, this is a bad, bad company. They only want to steal my data and customers, and they're going to try to steal my product and recreate it and take me out of the place. Of course, you're going to have a bad experience on Amazon. There's no relationship you can go into be like… You're going to go date a woman that you know, "Hey, she's going to cheat on me and steal all my stuff and steal my dog, and pour out my beer."
Of course, that's going to be a terrible relationship. Don't do it. But if your perception of Amazon in a marketplace changes a little bit, and you look at them as a retailer where you're competing for shelf space and potentially you get better margin than a retail, maybe you start to have some potential there. Take it this way. This is a good example. If Walmart came to you as a brand and said, You know what? We want to put you on our shelves. And instead of going through our normal retail agreement where we are going to pay you lower than what you normally get paid for wholesale, because we're Walmart.
So we're going to pay less. And you have to spend advertising dollars around Walmart to drive foot traffic, to buy your product at our store. And if you don't sell the product, you have to buy it back and pay for shipping back to your store. Those normal agreements are not friendly to brands, but they're going to say, don't worry about that part. We're going to give you space on our shelf. And you're only going to pay us a 12 to 15% commission if it sells. I mean, most brands would have to look at that.
Jon:
Yeah.
Ryan:
Now, the marketplace on Walmart's a little different, but I would argue that eyeballs on marketplaces are exactly those eyeballs from Walmart. They're driving traffic to walmart.com for marketplace eyeballs. And I think there's potentially way more exposure on a .com like, walmart.com or target.com than there are potentially in the store, especially getting into their app. We have a Walmart down the street from us in Sherwood and we do grocery pickup sometimes. And I'll go into the store occasionally, but more often than not, I am not in the store looking for products at Walmart, even on Target.
I can't imagine… I get called at least two or three times a week. "Hey, I've got a Target pickup. Can you pick it up on your way home?" We don't even go in the store because there's no cost. I just drive in, tell them I'm coming. They're basically ready to come out as soon as I pull up into the parking lot. Pop the trunk, show my code. I leave. So I think as for most retailers 2022 needs to be a year of perception change that you start looking at Amazon… It doesn't have to be your friend, but if Amazon's a retailer, there's a much different way you would look at that proposal of, do I go on to Amazon? So start number one, don't automatically think the worst of Amazon in a marketplace. Think of it potentially through different lenses and what could it be to your brand?
If you're a retailer, yes, you are going to be competing a lot more with Amazon and Walmart because they are retailers, Walmart, especially. But Amazon in my argument, they're a retailer. None of your retailers, if you're a brand, give you customer data. So why would you expect walmart.com or Amazon to give you all the customer data? That's a them customer, not a you customer. So it's a retailer re-arrangement. And so I think that's going to solve a lot of problems in 2022, if we can get some brands to start thinking that way. And then as a retailer, of course, you're not going to go on Amazon and Walmart necessarily because they do want those customers. They are going to try to go to your supplier and get them a better price because they see the volume of course, but as a brand you control who buys your product and where they sell it. If you don't want to sell to Amazon, don't sell to Amazon, but you can sell on Amazon and push them as a retailer.
Jon:
So let me ask this then. If we're talking about a total marketplace volume, what's the potential here? Because I heard you say, "Hey, you should be thinking about this as shelf space." That there's a lot of potential. I don't disagree that if you're a brand who's just starting out, getting into Target or getting into Walmart can be a huge boom for getting A, in front of people and B, it can either make or break you really because you either can't keep up with the demand and the supply or it really can make you because you're just going to sell so much and build your brand up on their platform. So what's that volume? Because I think that it's interesting to kind of have an understanding of that space for me in the anyways.
Ryan:
Yeah. So the punchline is, it's massive and it puts so far out of context for average humans, but Amazon in 21 did over 600 billion in sales. It outpaced all Walmart revenue for the first time-
Jon:
Worldwide or U.S?
Ryan:
Globally.
Jon:
Okay.
Ryan:
All platforms, can say it's 600 billion to Amazon. Walmart did as a store. They sell a lot in stores, 581 billion. So the first time Amazon as a whole was larger than Walmart.
Jon:
With very little retail.
Ryan:
Yeah. I mean, they randomly put little bookstores up that I never see people in them, but there's got to be-
Jon:
I went to their Go store that they have on campus in Seattle at their headquarters. I happened to be in Seattle and was walking by their headquarters and I noticed they had this retail store and you literally just grab stuff off the shelf and walk out. It's an amazing thing. And then it charges your Amazon account. Your default card on your Amazon. And I was like, "How do they know they're doing this?" And the guy that was sitting there, they had one guy for the whole store. And he's like, "Yeah, it's all cameras. And we know what you pull off the shelf. And we just have you scan your barcode when you walk in. So we know it's you and we track you around the store." I was like, "Okay, cool." I mean, I don't want to deal with a checkout.
Ryan:
Yeah. So much easier. I don't have to scan those little things by myself where… I let my daughter help me last week. It was some checkout at a grocery store and she double scanned one day and I was like, "God." And I actually looked at it. It was $2.50. And I'm like, "Is it worth it?" And I'm like, "I'll just be mad at myself if I don't get it taken off." So I had to wave that. I'm like, if I could just go in and out, not enough to talk to anybody and-
Jon:
Now that I know you're doing Target pickups, I mean, I don't even have a reason to go into the parking lot anymore. Just text Ryan.
Ryan:
Text me, I'll drop it off on the way home. So going a little deeper on the volume, Amazon breaks their numbers into two numbers. Amazon sells direct to consumer. They buy the products and sell, and then there's third party sell. I'm a third party seller on Amazon. The third party sellers alone, if you put them as a country globally, they're the 37th largest GPD in the planet. Right above Malaysia, little below Denmark. Just one company allowing non Amazon people to sell on Amazon. Ugh. I mean, you can't ignore that if you're a brand. I will say, Walmart, I think did 75 billion on their platform in 2021 through just the sellers and the online.
Jon:
Okay.
Ryan:
That number's a little murky because I don't know how much of that is actually… They pick bio and pickup outside of store or their grocery stuff, which I don't necessarily include in market place. For that matter, we buy whole foods and we have them deliver it. I don't know what part of that goes into Amazon's.
Jon:
That's true. That's why I was thinking that's the other retail they have, it's whole foods. Right?
Ryan:
Yeah.
Jon:
How much of that-
Ryan:
Which Walmart does as well, but it's… Again, it's people buying on an app and Walmart or whole foods, probably allowing a lot of people to do marketplace things eventually as well. I mean, I assume there's a plan to tie that in. Shopify is looking more and more like a marketplace. They're going to start doing some fulfillment things. I don't know when that's going to come out, but be aware, pay attention to that. Whether you're on Shopify or not. Etsy did I think three or four billion last year. So there's a lot of volume on platforms that are not a website that are a way to compete against other people. And so just getting a small piece of that could be very valuable to your brand, which is I think how BigCommerce can see those numbers. If you got Amazon or Walmart to your brand, there's probably a lot of eyeballs that you can't get on your website.
And that's how I look at… For joyful dirt, I have maybe six or seven skews at this point. If somebody's looking for a general fertilizer, I can't really compete… I can't really send it into my site and get a conversion rate that makes sense yet. I don't have the product depth that's necessary for somebody that doesn't really know what they want yet. Amazon, there's the instant credibility there. If they're searching for a general product and I'm up there and I've got the reviews, my conversion, rate's going to be pretty high on that. Just because there's a trust level on Amazon. They see the reviews. They know that I can return it off Amazon without even asking a question. Like, I just didn't like it. Who cares? Send it back. I just don't have that credibility on my brand yet. So my brand is not as trustworthy yet as an Amazon. Probably we're going be as trustworthy as Amazon necessarily in the public eyes, but there's some big advantages on Amazon on finding new customers and introducing new people to your brand.
Announcer:
You're listening to Drive and Convert a podcast focused on eCommerce growth. Your hosts are Jon MacDonald, founder of the good, a conversion rate optimization agency that works with eCommerce brands to help convert more of their visitors into buyers and Ryan Garrow of Logical Position. The digital marketing agency offering paper click management, search engine optimization and website design services to brands of all sizes. If you find this podcast helpful, please help us out by leaving a review on apple podcasts and sharing it with a friend or colleague. Thank you.
Jon:
There is a big story that broke this week about how there's a train coming from the port in LA and it goes to the Amazon warehouse, but there's a section of track about a mile long where it has to really slow down and stop and people have been looting the train. Go Google this and the photos of the empty boxes along the train track because people will open the doors to the train and just start riffling through the boxes and ripping them open and pull… Like, "Oh, that's not valuable. Throw it away, if it's valuable and I'll take it." And it's really shocking to see the… You think about the volume that Amazon is doing. And I think that day to day consumer doesn't understand that. But as a retailer, you most likely have a more of an inside track.
So I saw that image on the news and I was like, "Oh, I mean, that's a pittance for Amazon, that's why." Because my wife saw it the same time. She's like, "Why is Amazon letting them do this?" And I was like, "Honestly it cost Amazon more to secure that train and have 24 hour patrols and do all this other stuff than it does to lose a hundred grand in product every week or whatever's happening on that train." So I thought it was really interesting. I was like, "That's why." Maybe they'll do something about it now. I don't know. Since it became a news story, but yeah, I think that most people don't realize the volumes so that's helpful to hear what. What's your biggest surprise last year?
Ryan:
Right now, it's like, people just are robbing trains again. We just went back 200 years. Like, really? What are we going to have, stagecoach robberies next and steal Wells Fargo stagecoach?
Jon:
I love how people are robbing trains from e-commerce purchases. That's the best part, right? It's like, your e-commerce purchase traveled on one of the oldest methods possible.
Ryan:
Just because we can't get volume and truck drivers and boats.
Jon:
Oh yeah.
Ryan:
Crazy. So lots of surprises last year and we've gone over a lot of those. The funny thing for me and a funny surprise, I guess, was when I saw some of the data around search volume on Amazon, the month of October, the largest search term in all of Amazon, we're talking… What is that? 50 billion a month of search volume on Amazon in sales, the largest one in the month of October was Squid Game costume.
Jon:
Wow.
Ryan:
What?
Jon:
I mean, I will say I thoroughly enjoyed that show. Probably most people, but I don't know if I could be one of the faceless dudes in that game. Right? That doesn't seem like it suits me. I don't want to be on either side of that game. Quite honestly.
Ryan:
No. There's no character. I'd be like, "Yeah, I really wish I was that guy or girl."
Jon:
Yeah.
Ryan:
But that's just an indicator that Netflix owns that property. I don't think they had an Amazon store or set up where they were driving traffic to Amazon to try to sell stuff on Amazon. So, probably a missing and Netflix process didn't even probably consider the potential that they had. If they thought that was going to be a knockout of the parks story. Maybe they have really good people do. But I doubt that was the case. And so you see kind of a viral thing, the potential of Amazon just to capture once something's popular, where do they people go first? I would normally would go to Google first, but that's… I mean, online marketing maybe and Amazon's not as good for product discovery yet. There's another story like that, which I didn't even have in my notes. But I just remember, there was a viral TikTok on leggings. This woman just went crazy about how great these legging were on TikTok.
Jon:
Okay.
Ryan:
And it went viral. I don't think it was a plan by the brand. For leggings, the largest search term on Amazon for a long time was TikTok leggings. They were looking for TikTok leggings, didn't know anything, and then they could find it that way. By looking, what are the TikTok leggings lady on Amazon? So if you were a competitor to that brand or you're a competitor to Squid Game or had some product that would draw people from that search being present on Amazon and being aware of that search trend on that platform would allow you to capitalize very well. If you just trademark TT Leggings or something and tried to bet on TikTok leggings probably would be very successful.
Jon:
Interesting that also though underscores my concern with… And probably most people's concern with Amazon, where Netflix had no control over what was being sold on Amazon and good luck playing whackamole to get all those costumes off of Amazon because there weren't authorized by Netflix or the show or the movie, anything of that sort, right? I guarantee you that all of those… As you even said, being sold almost all of them on Amazon were knockoffs to some degree they weren't authorized to do that and use that IP. So I find that interesting. That is kind of what most people are concerned about on Amazon. No?
Ryan:
Oh, for sure. The there's a reason Nike doesn't sell on Amazon, because it's not as easy to protect your brand from… Especially in the textiles or clothing space. Amazon is the largest manufacturer of clothing on the planet and that's where a lot of brands, very public brands had concerns that say, "Hey, if I sell a very high quality product and get a good design that I can't trademark." Well, Amazon can easily see it, but they could also do that as well if you sold it somewhere else and they just saw it.
Jon:
Yeah.
Ryan:
So there has to be some protection for your brand to sell to a degree on Amazon. And just in general, I would say. If you can't defend your brand from knockoffs, how strong is your brand to a degree? I know there's exceptions, but there is some ways that you can protect your brand on Amazon. They actually have this trademark protection thing, where they'll give you a little sticker thing that authenticates it and you put it on all of your product that you produce. And Amazon won't let any products that say they're you come into the Amazon system and get sold. So if you're FBA, Amazon's fulfilling it. You send them all in. For some brands, that makes sense. I think for Nike it was such a cost prohibit thing. Like, no, we're not going to put a sticker on all of our millions of billions of products we sell. You just need to not let anybody sell it, that's not us.
And I've gone to Amazon and had this conversation and I've told Amazon's like, "I look at you as a retailer, not a marketplace. I'm sorry." But I want to control my brand and make sure the retailers that are selling my product have mapped protection. I don't want any retailers selling below that. And I should be able to request that of a retailer, don't sell below. Amazon's blanket statement was, "Sorry. Our job is to get the customers the lowest price. And if somebody wants to sell it lower, we're going to allow it." And I was like, "Okay, well, I don't want anybody that's not authorized to sell on Amazon to sell." "Sorry. If they've got a legitimate product, they're going to be able to sell."
To a degree, I get it because it's going to be hard to control that. And it's not necessarily Amazon's job to make sure that Widget A doesn't get sold on their platform. There's a lot of liability that opens up for them if they say we can control that. Because there is third party seller's that don't send through the actual Amazon fulfillment system. So they never see the product. And so brands have to do a better job of controlling it and having penalties, if their products they're selling to some retailers get onto Amazon, if they don't want it there. And so I've had to do some of that myself. So there are struggles, there are things you have to consider going on there. It doesn't make sense for every brand, but for brands that can get there. Some of those crazy numbers are potentially there. I think for a lot of those brands.
Jon:
That's good. Well, what do you think will be your biggest surprise this coming year or the year we're in, I guess, right?
Ryan:
Yeah. I think it's going to be… Hopefully, if my soapbox gets heard enough that people are going to try to look at Amazon, Walmart, Target marketplaces a little bit differently and not as just the bad guy trying to hurt them.
Jon:
Yeah.
Ryan:
There will be a lot of companies testing marketplaces, and I'm seeing that happen. BigCommerce is a good partner of ours at LP. They've created an easy button to let all BigCommerce merchants test Walmart and say, "All right, you don't believe the numbers, you don't believe what we're seeing? Test it. We're going to help you get onto Walmart." Which isn't the easiest thing. So there are some barriers to entry. There's some shelf space available because your competitors may not be able to get through the processes easy, but BigCommerce has a team at Walmart to approve merchants and get them on there. They're going to sync the orders back into your BigCommerce site. So you don't have to add fulfillment channel. It just goes through your inventory, right into whatever you're using for fulfillment already. And it gets sent. It's this super easy button. And I think that's going to become more common. I would expect Shopify to have one of those. I would expect-
Jon:
I was going to say, I'm shocked they don't already.
Ryan:
They may already, I just haven't seen it yet. Then we're going to start doing API connections into Wish. So I think it's going to happen that people are going to see through experience that, "Okay, this isn't as scary as I thought it was." I'm one of those, I've been working with Google for 13 years now.
Jon:
Yeah.
Ryan:
And Amazon was always presented to me as the scary bad option, that you don't ever want to be working with Amazon. It's terrible. That Bezos guy. And I was like… For a while, I was like, "That's fine, our business with Google is so big and large, why would I even care?" But on a personal line, I was like, "I've got to just figure this platform out and see what it is." And so I did it, with some prejudice built in, but got out of the platform and realized, man, there is just some really good things here.
You have to have a strategy, I think, to help protect yourself as a brand end, which I think we've done to a degree on joyful dirt, but every brand's going to have some struggles, some bumps and scrapes along the way, as you figure out what this marketplace is going to look like for your brand and what are these customers going to be like? Managing reviews can be a frustrating thing. It's very easy for competitors to put negative reviews on your product on Amazon. That's just a simple fact and it's very difficult if not impossible to get them all taken down. So you get to play whackamole. But better than that, I try to say, "All right, overcome all the negative with good." Once you get a volume of reviews, it becomes stupid for your competitors to try to throw negative reviews on because there's so many good things on there. I think that it'll be a lot of testing this year.
Jon:
Okay. So, what about up and coming platforms? What should people thinking about for what's next?
Ryan:
I think Etsy for brands will probably be something that happens. Etsy's been focused a lot on the small, micro manufacturer producer. Kind of crafts and putting it out there. Like an online Bizarre has been the kind of what they've been viewed as. I think they're going to take some pretty decent steps into becoming a legitimate marketplace player where brands will start to create Etsy specific products. I don't know what that's going to look like yet, but maybe someday you see a Nike Etsy shoe or something, you can only get on Etsy. And I think Target's going to expand. So right now, I don't know how many millions of sellers Amazon has, but it's millions.
Jon:
Yeah.
Ryan:
Walmart is very busy expanding that aggressively bringing on. I mean, there's a lot of Chinese manufacturers going direct to Walmart. Some of their products avoiding some of the… Yeah, I think the headphone case is the biggest one. You can get headphone brand started up for $0 cost and start selling headphones on Amazon. Target is being much more controlled, trying to position themselves as kind of the high end boutiquey marketplace maybe is a good way to explain it. I think Target only has between 400 and 450 sellers on their marketplace.
Jon:
Really?
Ryan:
So they have all of their merchandise. What they're trying to do is control and make sure that they have quality sellers coming on. Not just, "Hey, all the volume." I think Target trusts their customers to stay pretty loyal to Target and to continue shopping Target without the marketplace. And the marketplace is just kind of an add on to that for Target at this point. Where it's like, "Hey, you can buy this stuff at Target." And, "Hey, we also have these sellers here that can help you."
Jon:
That's interesting. You say Target. I've heard a lot in the DTC world lately around Target that they're doing things like having… In the cosmetics aisle, they're putting a center kind of station in between and widening the aisles. And that center station is all new and up and coming brands that are higher end. That I could see, your high end dental floss you've been talking about. Right?
Ryan:
Yep.
Jon:
Those type of brands would sell really well at a Target because let's be honest, the shopper at Target is generally not looking for the bargain price that they're going to find at Walmart. That's what Walmart's known for. They're not known for are stocking that niche product that you saw on TikTok, right?
Ryan:
Yep.
Jon:
But Target, they very well may, they see that something has gotten big. Everybody's into high end floss and then they're going to put up a display. So I think that definitely makes sense. I mean, when you said they only have 400 and something sellers, I was like, "Wow, that seems like nothing." But yeah, if you're highly curating it, that definitely makes sense.
Ryan:
Yeah. I mean, our Target store in Sherwood has gone through massive construction, continues to. And they've talked… I want to say it's Ulta, maybe it's… I don't think it's Sephora, but there's a big retailer that Target historically has competed with I'm sure in the beauty space. And they're letting them put a store inside of Target. And the bites are brighter. In the beauty space there, Target is really doubling down on… I mean, it appears at least where we live, like the suburban makeup buyer.
Saying, if we can draw you in for makeup, we know you're going to start buying other things around our store and you're not just going to stop at the beauty space. And I think it's almost where you see the Walmart buyer kind of trying to step into an aspirational. Target, trying to say, "Hey, step up into Target for these things." And go back to Walmart for these things and try to have stepping stones, would be my hypothesis. But from a marketplace perspective, if you can get a lot more volume with the same amount of effort, because there's less competition in Target, for sure I'd want to be in that marketplace. Much more difficult application process and I think if I play this out on how logically it makes sense to me, I think the Walmarts and the Targets are going to use their marketplace as their testing grounds.
Jon:
Okay.
Ryan:
In the past you would have to get into Walmart and say, yeah, we do like your product. We've seen your presentation, let's negotiate all these pricings. Let's do this, let's get you these three or four test stores to see how you sell on the shelf next to these other things. Do you need an end cap? Do you need these things? There's a lot that goes into selling in retail stores for a lot of risk for both the seller and for Walmart. They're choosing to give up real estate that may have been better spent elsewhere so they could take a hit to revenue so they can have a brand proven on the marketplace, say, "Wow, you are selling really good on the shelf space next to your competitors. Let's bring you into store and start getting a lot more money out of you."
Jon:
Yeah.
Ryan:
So much easier to get into… I'm guessing I don't know this yet, but I'm guessing it's going to be a lot easier to get into Walmart and Target if you can succeed on their marketplace.
Jon:
Yeah. Well, I mean, why not, right? If you prove it out, then move into the shelf. They're they're definitely going to want to do that.
Ryan:
Mm-hmm (affirmative).
Jon:
Awesome. Well, Ryan, thank you for educating me as usual. And I think this turned out pretty good for me not doing any prep.
Ryan:
I think so too. Hey, we should not prep more.
Jon:
You brought the fire. So thank you for that. I appreciate it. Any last parting words on this topic before we move on?
Ryan:
No, just make sure, I'm going to reiterate. Don't be scared. Just test. It's not going to be hard. It's not going to ruin your brand to test a marketplace.
Jon:
All right. There you go. Spoken from someone who's in the marketplace. All right. Thank you, Ryan. Have a great day.
Ryan:
All right. Thank you.
Announcer:
Thanks for listening to Drive and Convert with Jon MacDonald and Ryan Garrow. To keep up to date with new episodes, you can subscribe@driveandconvert.com.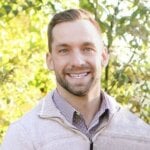 About the Author
James Sowers
James Sowers is the Director of The Good Ventures. He has more than a decade of experience helping software and ecommerce companies accelerate their growth and improve their customer experience.