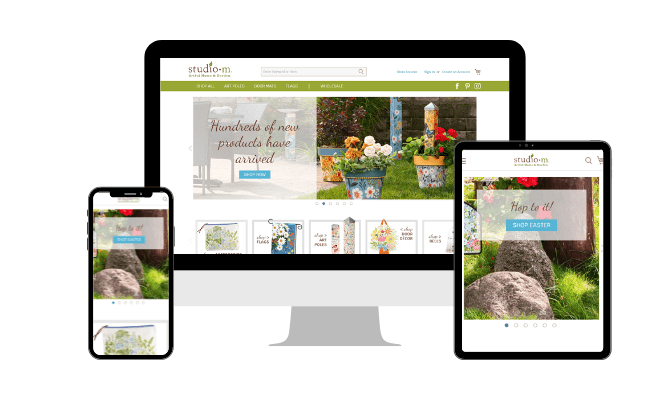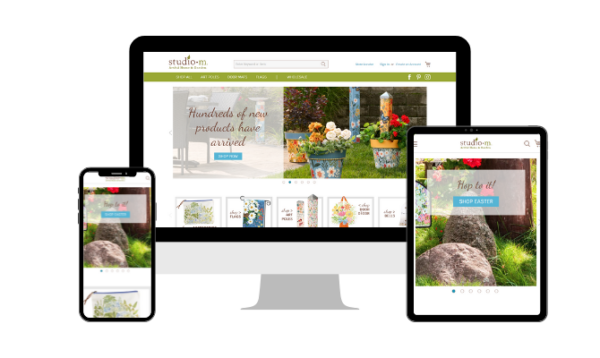 Conversion Rate Optimization
Encouraging a "test and learn" culture to keep innovation fresh after 30 years in business
How Studio M encouraged a culture of testing and experimentation by partnering with The Good to improve their customer journey.
It's 10:30 am on a Wednesday (but it could be any day of the week) when a bell chimes in the office. The Studio M team kicks back from their workstations and takes a moment to consider how they might make the task they're working on easier or more efficient.
At 10:45 am, the team returns to work, their creative juices replenished and in full flow.
Innovation runs through Studio M's veins. The 80s brainchild of Curt and Sue Todd has evolved from its humble beginnings to become one of the most prolific family-run home and garden DTC and wholesale businesses. Today, it's famed for inventing MailWraps®, the first decorative magnetic mailbox cover, and its most recent patented product, Art Poles. But it's the constant commitment to a culture of innovation and experimentation that has given the brand its competitive edge.
Maura Godat joined the company 10 years ago as an intern—a favor from her brother-in-law during her college days. Over the past decade, she has risen to become the Creative Team Director, overseeing resource management and timeline planning for the expanding product and marketing teams.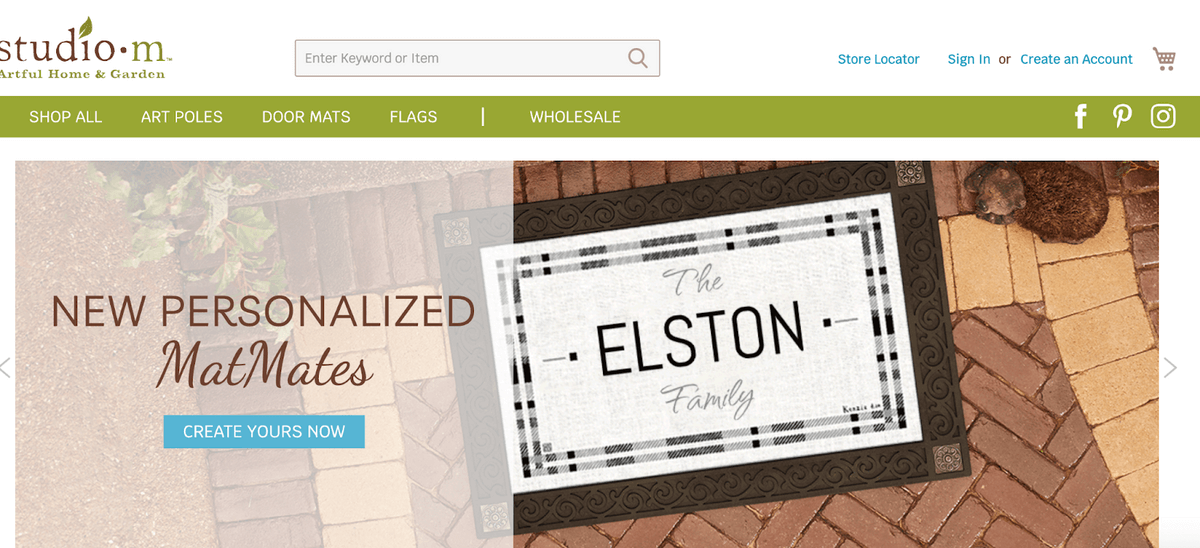 There has been a lot of change at the company since Maura started—something that she handles strategically and thoughtfully with her team. "If we're talking about a general sense of change in an organization, it's really just about making sure people feel like they're part of the change," she says.
Involving the entire team in decisions, reassuring people that their opinions are valued, and encouraging them to feel part of the change has been a huge driver behind the success of Studio M's experimentation program. "Everything is more successful when everyone in the organization, whatever the project they're working on, feels like a part of the solution," says Maura.
The brand is always coming up with new product ideas and iterating on and improving products that are already out there. "We add a little twist to make them better," says Maura. Studio M has always had an experimental streak, and the brand is not afraid to explore and play. As the company has embraced a continuous improvement mindset, Maura has helped her team implement lean principles. "We're always pushing continuous iteration and improvement across all teams, whether it's production, warehouse, admin, or creative. Everybody's challenged," she explains.
It's this willingness to think outside the box and innovate while still trusting the data that has made The Good's partnership with Studio M so successful.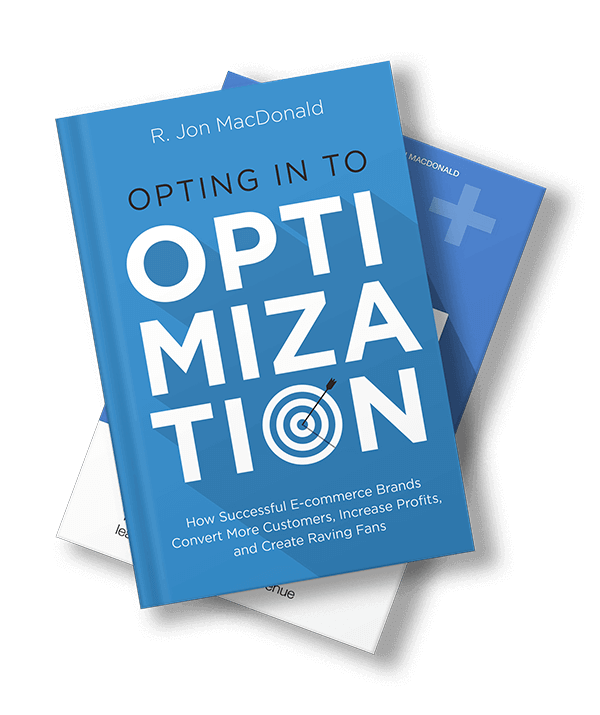 Building testing and innovation into the heart of the decision-making process
Studio M wanted to put itself in a position where it had little to no competition, and focusing on a unique product mix was a big part of that journey. "Things you just don't see from other vendors–those were the things that stuck around," says Maura when describing how the brand chose to explore different product lines.
But, as is the case with many small, family-owned businesses, it's hard to test everything. This was a struggle for Maura, who's a keen advocate for A/B testing anything and everything. "It's super helpful when you're trying to make an informed decision, but for us, it's not always feasible because it's a lot of extra effort to implement two versions of something or to even track it at all," she admits.
It wasn't just products that were the subject of Studio M's testing and innovation, though. As part of its growth plan, Maura and her team implemented many different marketing tactics, including the most effective strategy—PPC campaigns. Pay Per Click ads were huge for the business, but when the traffic started pouring in, Maura quickly realized she had to turn her attention to conversion.
"At that point, we realized it was time to focus on the customer journey once they get to the site," says Maura. "We wanted to know what shoppers were seeing and what was making them go away."
Partnering with an expert CRO agency was all part of the learning process, and Maura was keen to work alongside someone who could take the reins.
"Partnering with The Good was huge because, as a small company with small teams, we just don't have the resources to always do the due diligence and dig through the data to decide what the outcome of each test was."
Maura Godat, Creative Team Director, Studio M
The biggest value-add for Maura was she could leave testing in our capable hands and give back her own time and energy to her team.
Moving beyond assumptions with a data-driven partner
When you've been working at a business for 10 years like Maura has, it's easy to assume you know what customers want and what's important to them. Maura didn't want to fall into this trap, so it was important for her to partner with an expert that could go beyond assumptions and use tangible, data-led evidence.
Our partnership with Studio M was an excellent match. We're both insight-led companies that aren't afraid to dig around to find what works. "Reading about The Good's processes, case studies, and site teardowns—it was just very evident that your approach is data-driven," Maura said about choosing to work with us.
It was important for Maura to get tangible outcomes—something that she and her teams had struggled with due to a lack of resources and time. And, with a background of relentless testing and experimentation, it was very clear that Studio M didn't just want a surface-level site refresh. They wanted evidence of the impact of every new iteration–and there was a lot to test. A jam-packed product catalog, multiple product variations, and over a decade's worth of content all lent themselves perfectly to multiple tests.
But to begin with, we focused on improving three core areas:
The product page experience
Category pages
Navigation
One of the biggest challenges we faced was the sheer breadth and depth of Studio M's product catalog. As a result, we did a lot of testing with the goal of exposing shoppers to a wider range of products. For starters, we adjusted the content shown in the top-level navigation bar and provided links back to related categories on product-level pages. We also had a winning mega menu design, pictured below.
We also wanted to shine a spotlight on one of Studio M's unique differentiators—its library of talented artists. To do this, we featured artists across the site and linked back to their collections, creating deeper shopper connections and exposing customers to new products in the process.
Winning back time and scaling innovation: how our integrated partnership created a seamless research and testing hub for a busy team
The Good's Conversion Growth Program™ suited Maura and Studio M's needs perfectly. The done-for-you process meant Maura could take back her time for other parts of the business while we trialed a number of tests behind-the-scenes.
We were keen to work closely with Studio M to identify where they could benefit from optimization, particularly across such a huge product catalog. But we also wanted to make sure that every product had its moment in the limelight and that the brand's unique differentiators were brought to the forefront.
The integration with Studio M was seamless—made possible, no doubt, by the businesses' commitment to testing and experimentation.
Trust played a big part in our successful partnership, and it was a huge help having the entire team on board—something that Maura has been fostering over her time at Studio M.
The best part was our ability to help Maura and the team shake up decades-old assumptions and continue to push for innovation.
"Sometimes, our team thought something would be super impactful for shoppers, but it wasn't. So it just goes to show that it's always worth testing. It's always worth experimenting."
Maura Godat, Creative Team Director, Studio M
So, while we took care of the data, testing, and tangible outcomes, Maura and her team leveraged their experience in the home and garden industry and their well-honed intuition. "I think if you make every decision based on data it's going to slow you down big time," says Maura. "So you have to go with your experience and your gut sometimes, but it's nice to have that balance of a team that's looking at the data and digging in to show a clear winner."
We were, in all intent and purpose, an extension of Maura's existing team. We were given free rein to run with the information we had—and while it was a collaborative effort, we were there to make Maura's job easier, not harder. "When you feel like you have a partner who's just got it, it saves so much of your time and energy," says Maura. "It really feels like a help instead of a handhold. It's just super refreshing."
The innovation bell chimes again: pairing years of industry experience with creative new ways of thinking
It's 10:30 am and the bell chimes. It's that time of the day again—time to test, innovate, and experiment, and we're right here beside the Studio M team.
"You have a super dynamic, dedicated team that really feels like an extension of our team that helps drive growth by making our site the best it can be for users," says Maura. "Putting yourselves in the shoes of the user and doing a deep dive into what that experience is was incredibly valuable for us. We can't wait to get back into it—it was just a really fun time."
As a small brand that often didn't have the traffic to reach a conclusive test result, Studio M leaned into the partnership with The Good to provide recommendations.
"Sometimes traffic wasn't as high as we anticipated it being, or a clear winner wasn't presenting itself. The Good was able to look at different data points in different ways and see that, while it might not be meeting a specific goal, it still accomplishes something else."
Maura Godat, Creative Team Director, Studio M
We were able to take the years of experience and industry knowledge that Studio M has and pair that with thoughtful and creative ways to look at the test results and data.
"Build and they will come": Implementing a test and learn culture in your own organization
Encouraging a test-and-learn culture has allowed Studio M to continue to innovate after decades in business. Business and consumer preferences are in a constant state of motion, and the only way to stay on top and gain a competitive edge is to learn and learn some more.
If you want to become an innovative powerhouse like Studio M, follow in their footsteps—build your innovative product and drive traffic to your site. Once you have the traffic coming in, turn your attention to conversions to create an enjoyable customer experience.
We are here to help.
Now It's Your Turn
We leverage data to increase ecommerce conversion rates for leading brands. Let's talk about putting our data-backed design to work for you, too.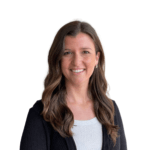 About the Author
Caroline Appert
Caroline Appert is the Director of Marketing at The Good. She has proven success in crafting marketing strategies and executing revenue-boosting campaigns for companies in a diverse set of industries.