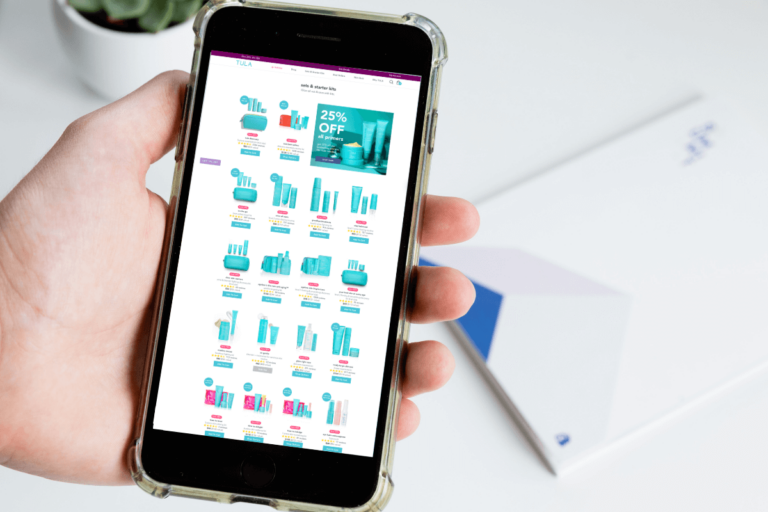 Customer Acquisition
Everything You Need to Know About Product Bundling to Increase Sales and AOV
Product bundling improves your conversion rate by offering options and value to shoppers. Here's your guide on how to do it (with examples).
Ecommerce merchants are constantly on the hunt for ways to increase their profits, sell more stock, and secure loyal customers. Product bundling is a strategy that ticks all three of these boxes – but only if it's done the right way.
There's an art to putting together the right products and pitching them to customers so they fly off your digital shelves. In this piece, we delve into what exactly product bundling is, why it's important, and how you can implement it in your online store.
What is product bundling?
Product bundling is a term used to describe grouping individual products together into a bigger bundle.
The idea is that the bundle is sold at a lower price point than if the products were to be sold separately, offering increased value to customers and potential savings on their part. You've probably seen this strategy in action many times before, whether it's a shampoo and conditioner pairing or a computer that's sold with accompanying software.
There are several different kinds of bundles that ecommerce merchants choose to use:
Pure bundles: this is where the products cannot be sold individually and are only available in the bundle
New product bundles: this is where brands put new products together with existing popular products to encourage customers to discover new items
Mix-and-match bundles: this technique allows the customer to "build their own" bundle from a selection of different products
Cross-sell bundles: this is where a complementary product is tacked onto the sale of the main item, like a case to go with a new phone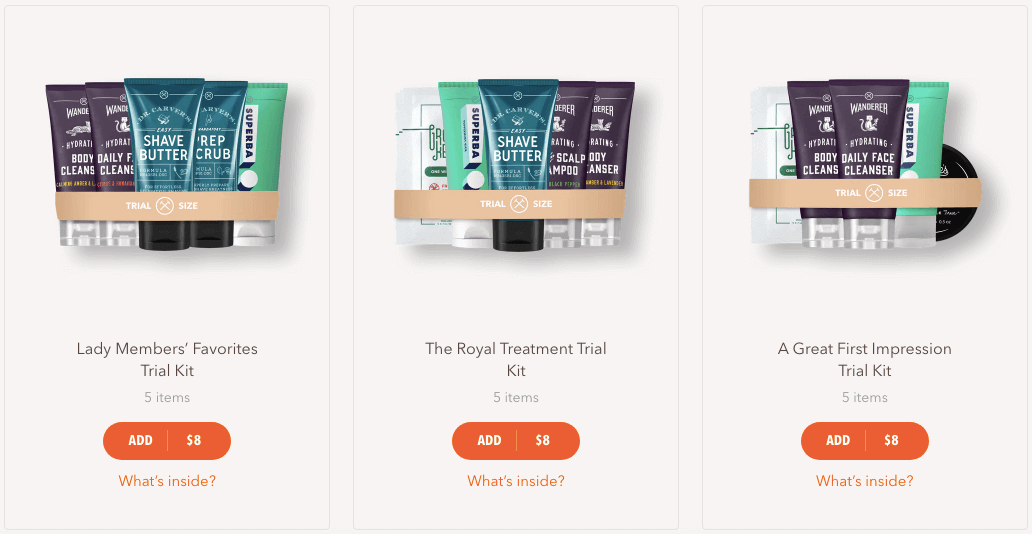 Dollar Shave Club has a range of different bundles that customers can choose from.
The goal of doing this is to generate more bundle sales and increase exposure across your product line.
The benefits of bundling products
The math is simple: the more products a customer buys at once, the higher the average order value (AOV) will be at checkout. For example, a customer might arrive on your site to purchase a bar of soap, but then they see a bundle that includes hand wash and a bath soak so they buy that instead. Rather than the single cost of the bar of soap, you've quickly secured a higher AOV by pitching extra, complementary products.
According to McKinsey, 35% of all Amazon purchases come from recommendations, which often includes the "buy it with" bundles. Customers can add all recommended products to their cart with one click.

Increasing your AOV isn't the only benefit though.
1. Sell off stock and improve inventory management
If you've got a lot of stagnant inventory you want to shift, bundles can help you do just that. Putting together slow-moving products with your bestsellers will help with inventory clearance and introduce customers to products they might not otherwise have bought. It's important that the products are relevant, though, as just adding a slow-to-shift product to a package deal for the sake of it can actually put customers off.
2. Focus your marketing efforts
Marketing one product is a whole different ball game to marketing 20. When you bundle products you only have to push "one" product rather than create marketing campaigns for every single item within the bundle which you would have to do if you were selling them separately.
3. Encourage product exploration
Product bundling introduces customers to other products in your line. This can increase customer loyalty and LTV if they continue to come back for more.
4. Simplify the customer experience
It can be overwhelming for a shopper to be faced with hundreds of different product options. Trawling through each individual product description can be time-consuming and boring, but by bundling related products together, you eliminate the need for them to research every single product.
8 powerful product bundling strategies
Now you know how product bundling can benefit your ecommerce business, let's take a look at the ways you can implement it throughout your store.
Subscribe to our newsletter, Good Question, to get insights like this sent straight to your inbox every week.
1. Group together relevant products
The most important thing when bundling products is to make sure the products relate to each other in some way. They can either complement each other, like a phone case and a phone, or be used together, like batteries and a torch.
For best results, your product bundles should make sense and address a specific need your audience might have.
For example, a customer buying a new computer might need a screen cleaner, a spare USB cable, and a suite of software to install. Grouping together products in a practical way not only provides extra value but it shows customers you understand their needs.
2. Use customer data
No one knows your customers better than your customers. Instead of guessing what products you should bundle together, consider digging into shopper data to determine what products your customers actually buy.
Using performance and sales metrics can quickly bring to light what products customers are buying and track the products they frequently purchase. This gives you an insight into what products might make sense when bundled together and helps you create stronger bundles.
3. Emphasize savings and added benefits
Everyone loves to secure a deal, and that's one of the biggest draws of a product bundle. Customers get more products for less. It's a win-win. Highlighting how much they are saving will help shoppers see the value of a bundle – but don't make it all about price. The value of a bundle also lies in the products included.
What extras are a customer getting? What can they do with the bundle that they wouldn't have been able to do with a singular product?
For example, a customer that buys this yoga bundle from Luma has everything they need to get started straight away.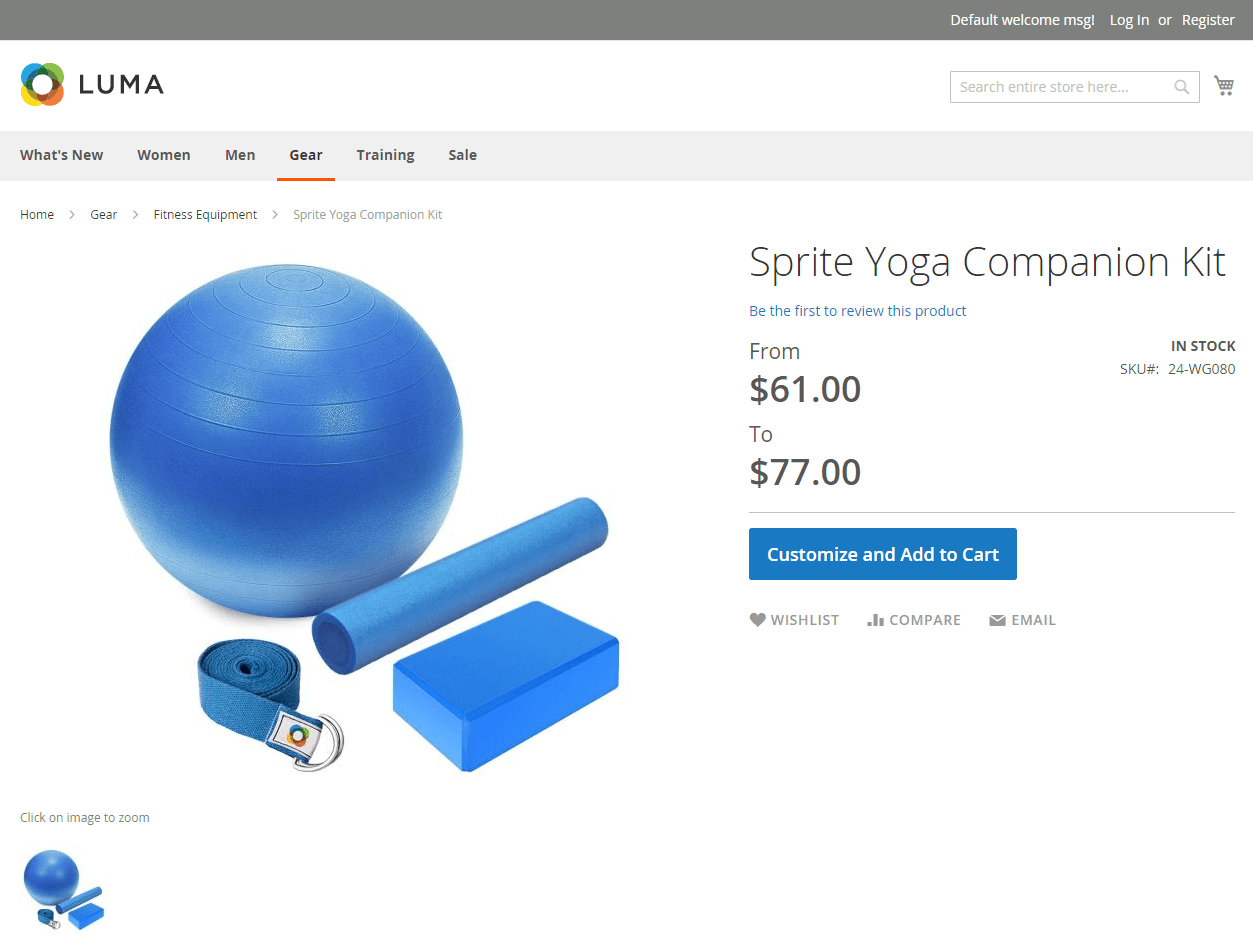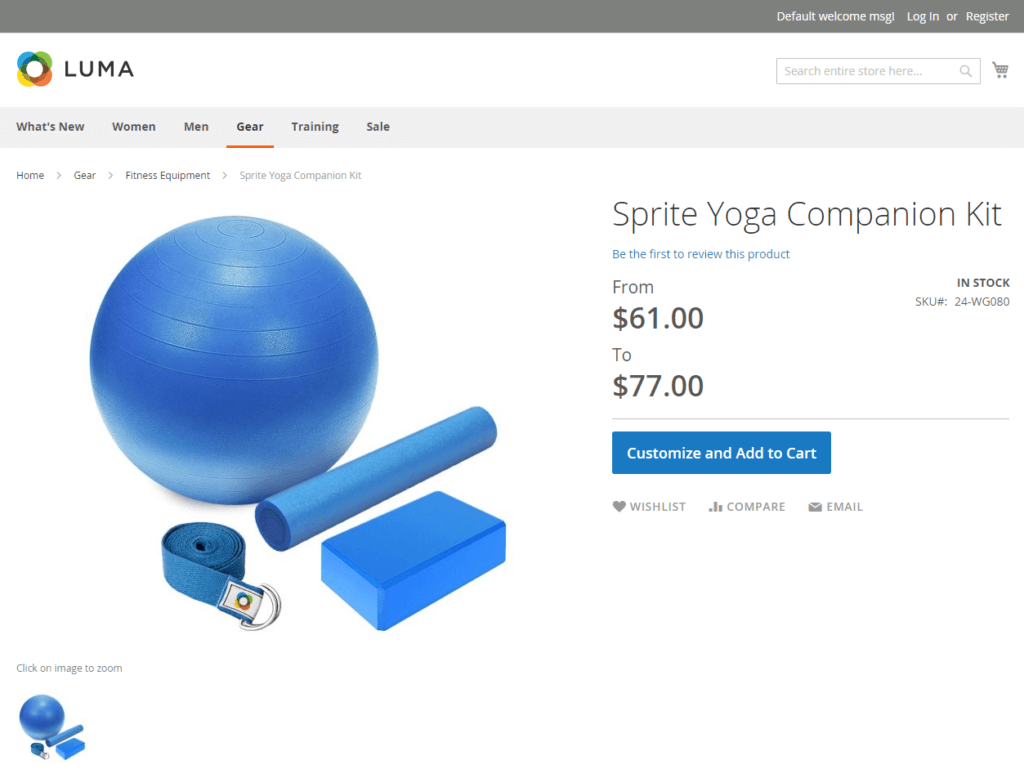 4. Reward customers with a discount
Just like everyone likes to save money, they also love a discount. Encouraging shoppers to invest in bigger bundles at a discount price can help shift more products and provide customers with more value at the same time.
Discounts can make customers feel good about your brand, securing their loyalty and retention. It also helps you stand out above competitors, but it's important that you don't lean on discounts just to drive bundle sales.
Remember, the main aim of a product bundle is to boost sales and provide value. Simply slashing the price of your bundle offers just to lure in customers can often lead to disappointing results (like a lower ROI).
5. Personalize product bundles
Shoppers today crave personalization. It makes their shopping journey much easier if they are served product suggestions that are a good fit for them. Creating bundles based on unique interests and needs can be a great way to attract similar customers, but you can also use customer data and automation to build individual bundles for each shopper based on their past behavior and interactions with your brand.
6. Turn bundles into subscriptions
Customer retention is crucial for growth-minded retailers. Existing customers are often your most profitable, so putting strategies in place to keep them coming back for more can be a gamechanger.
Start by giving customers the opportunity to "subscribe" to bundles. This means they can get a replenishment every month if they continue to pay to cash in on the bundle.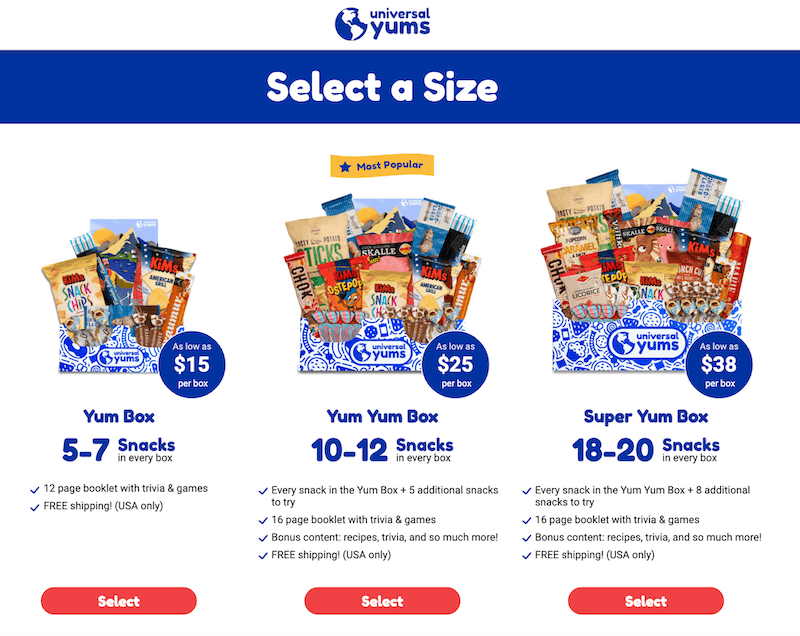 Universal Yums offers different-sized snack boxes that customers can subscribe to every month.
7. Let customers build their own box
Give customers the power to choose their own products. This goes one step further than simply recommending products based on their unique interests and needs. Instead, customers are able to cherrypick the products they want, providing a highly-personalized experience that meets all their needs.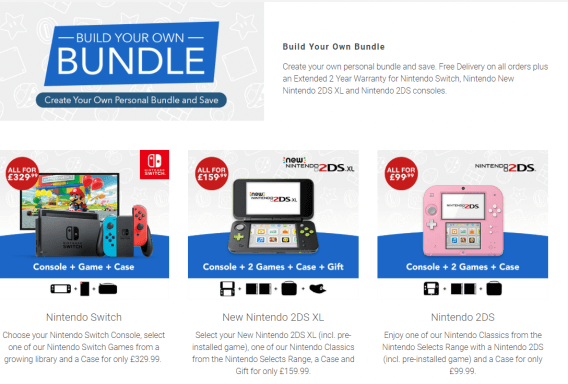 Nintendo is renowned for its "build your own bundle" option that lets customers choose a console, games, and extras that best suit them.
8. Keep bundles simple
It can be tempting to create huge, elaborate bundles just to entice customers to buy, but this can often do more harm than good. Overwhelming customers with every product in your line can turn them off. Instead, keep bundles simple – they can include as few as two products if it makes sense.
The simpler your bundles are, the easier it is for customers to choose which one is the right fit for them without having to scroll through hundreds of irrelevant items.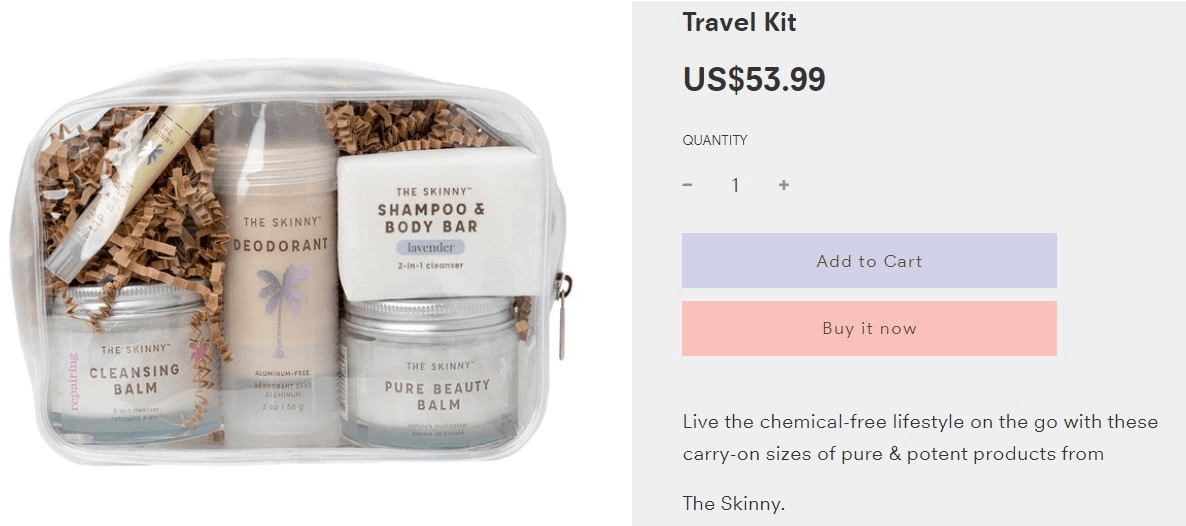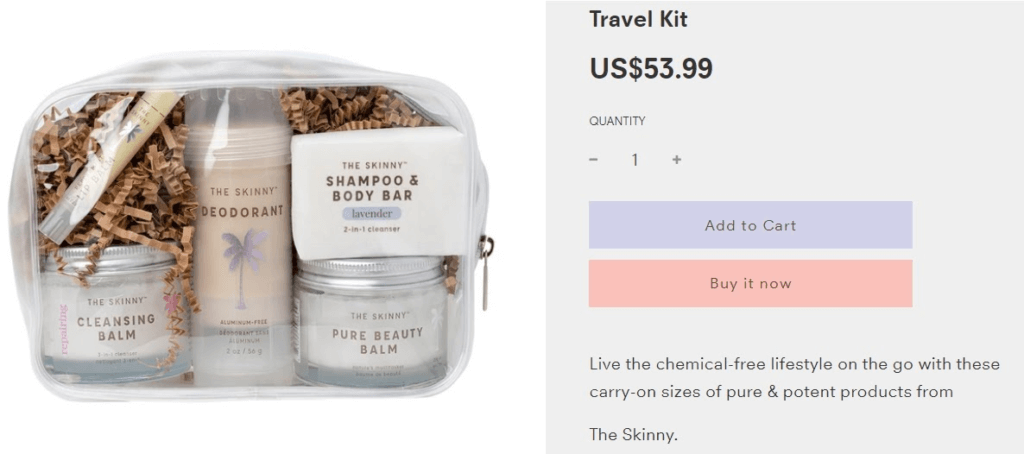 This travel kit includes just a few essential items. Note how it doesn't include everything a traveler might need when on vacation.
4 unique product bundling examples in action
Let's take a look at some examples of product bundles in action to see how ecommerce brands are highlighting their offers and promoting their bundles.
1. Perfect Keto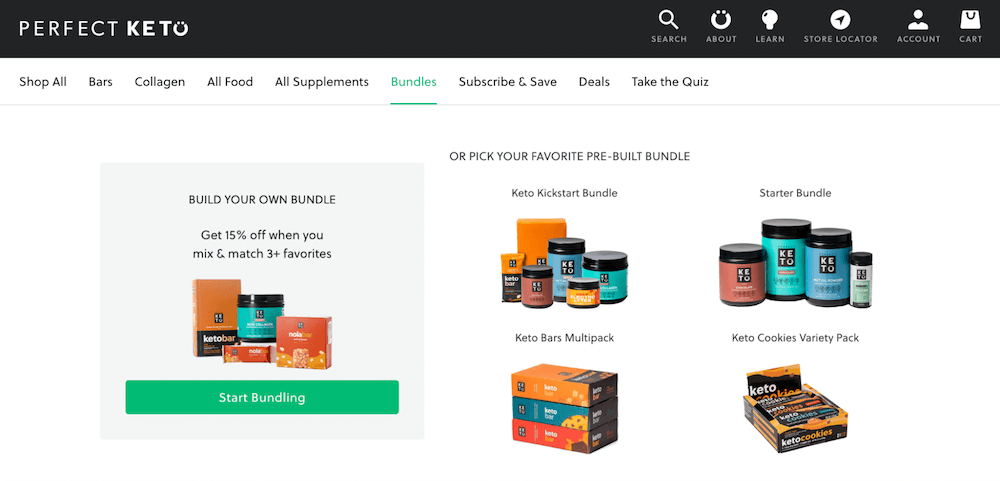 Perfect Keto has an entire section on their menu for bundles. Customers can quickly see the different options available as well as start building their own bundle.
2. TULA Skincare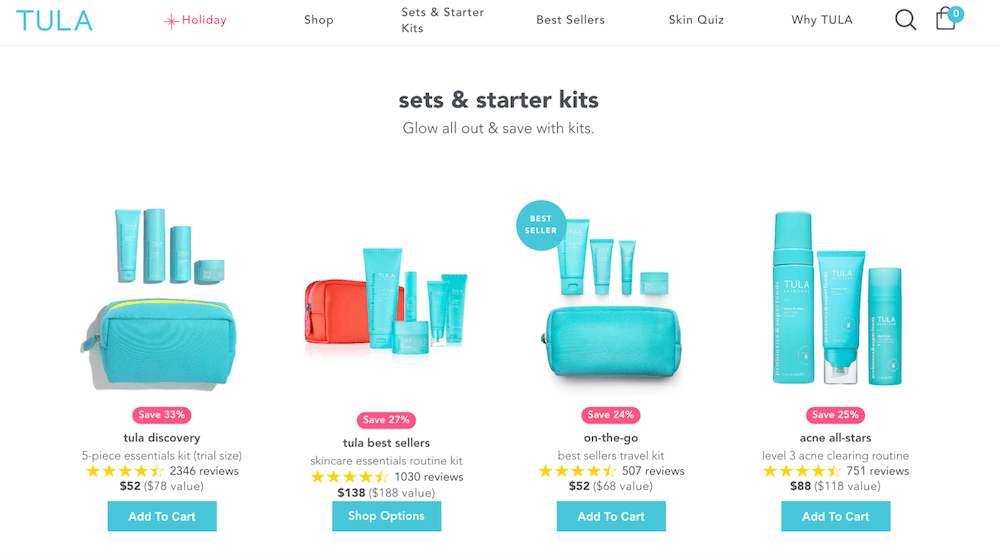 Like Perfect Keto, TULA Skincare has an entire section on its website dedicated to sets and starter kits. Customers can browse through a huge selection of product bundles that group together a range of different items.
3. Quip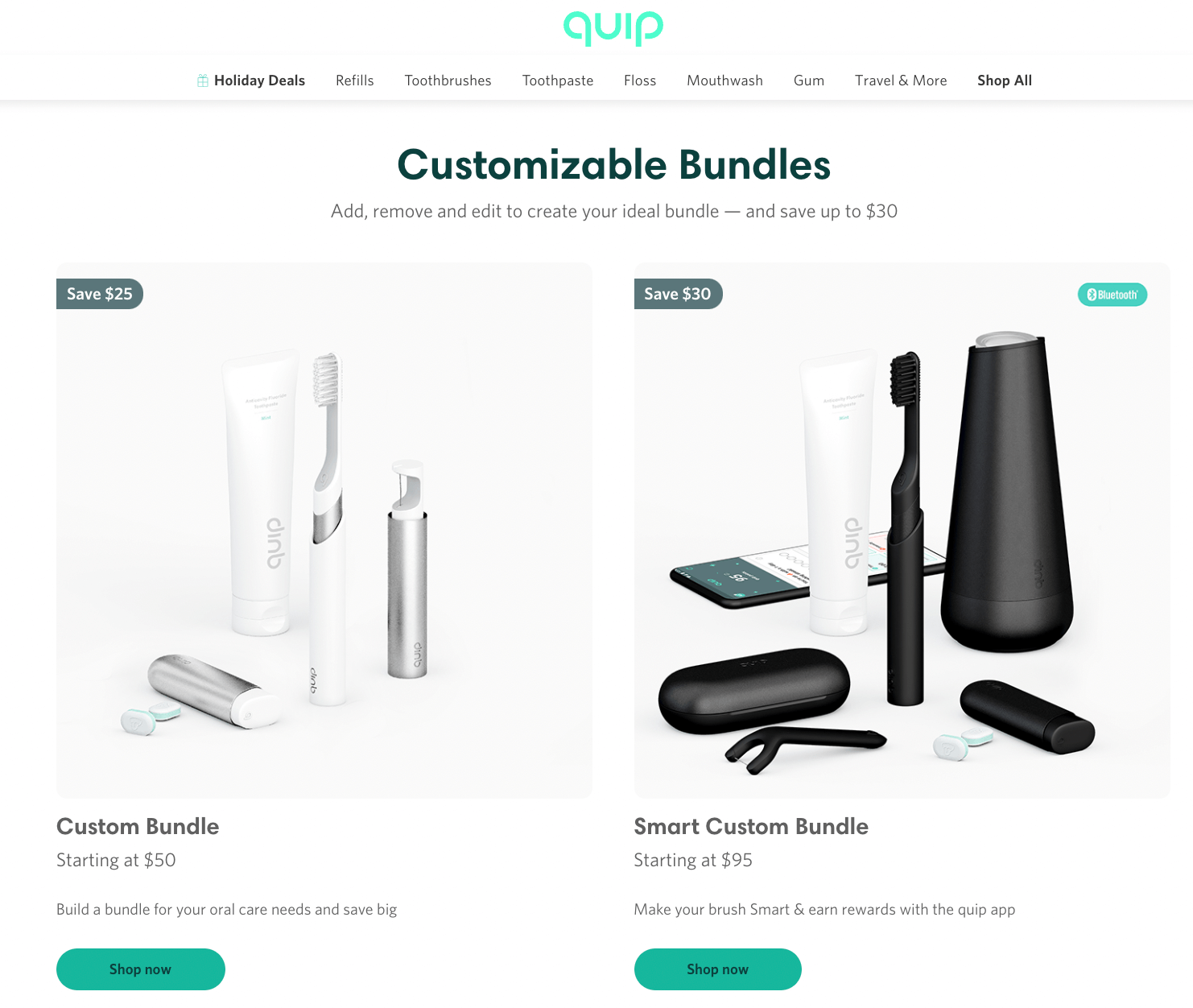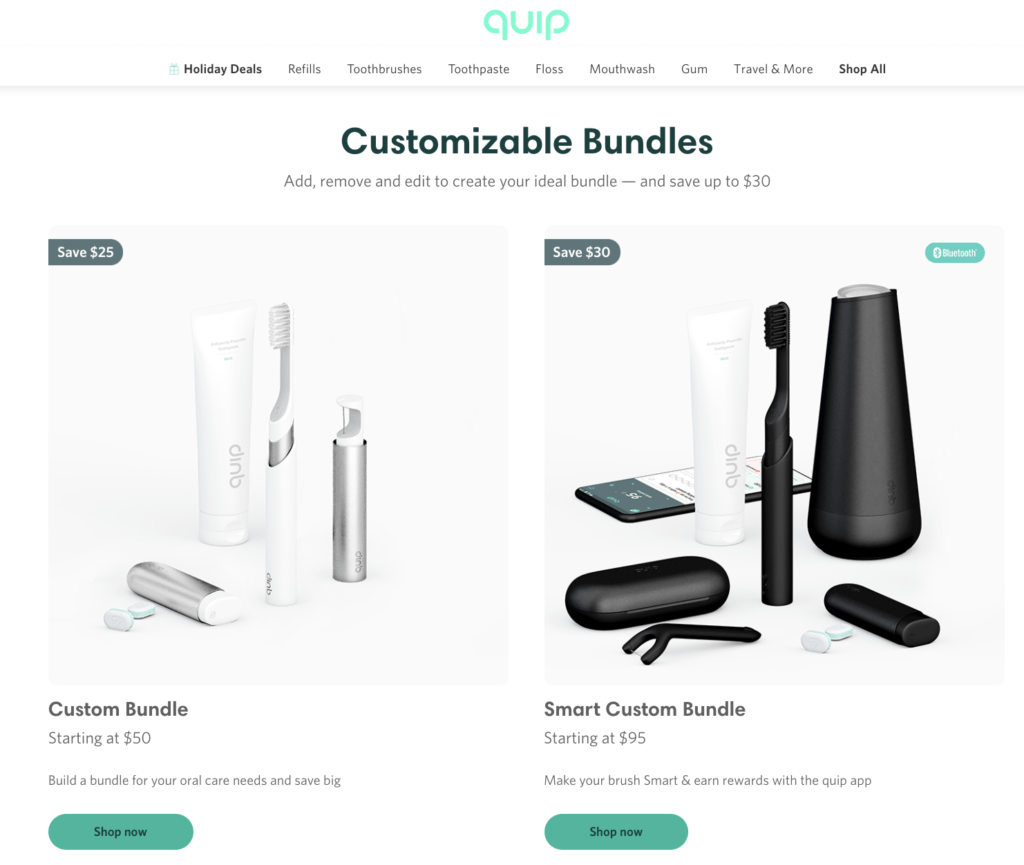 Quip puts its bundles front and center on its product page. It encourages customers to group together items in a range of different bundles and starter kits. New customers are sold the starter kits while existing customers are sold refills and bundles.
4. Grove Collaborative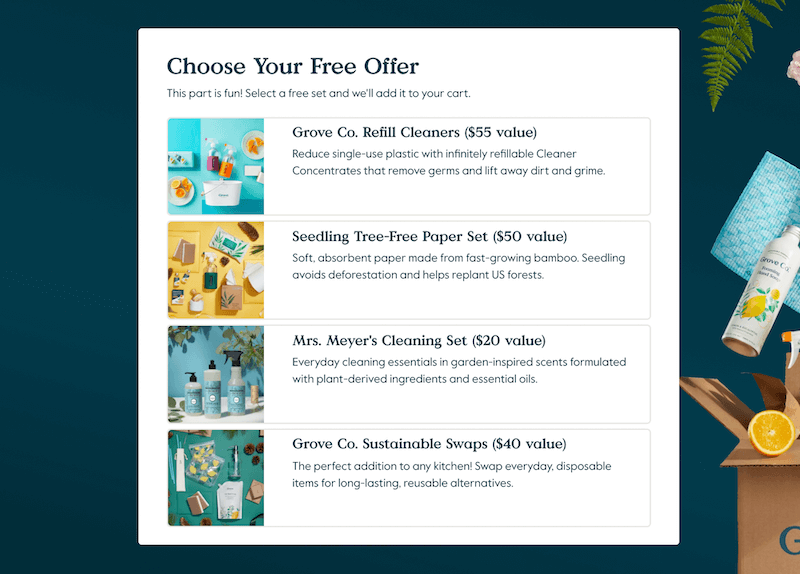 Grove Collaborative does something unique with its bundles. They actually serve them as a free offer to shoppers that provide their email address, offering unprecedented value.
Product bundling marketing 101: How to market product bundles
Setting up your bundles is only the first step in the process. After that comes the important but difficult task of promoting them. This is where your product bundling marketing strategy comes into play.
1. A/B test different product combinations
You probably won't get your bundles right the first time. Use customer data and purchase patterns to identify which product combinations work best together. Split test different options and see which ones customers prefer.
2. Create campaigns for each bundle
Your product bundles will each attract a different type of customer. Make sure you're using those customer attributes to target your ads and campaigns so they reach the right people. Don't use a scattergun approach to promote all your bundles at once; instead, create unique campaigns and ads for each segment and bundle.
3. Highlight the added value
We spoke briefly about this before, but it's important to highlight the added value customers get when they buy a bundle over an individual item. This information should be included in your email marketing efforts, your social media ads, and your website.
4. Capture (and display) customer reviews
Making a purchase is a big decision for a lot of customers, so make it easy for them to invest in a bundle by showcasing past customer reviews. This will help shoppers identify if a bundle is right for them and will highlight that existing customers have had a good experience with your brand.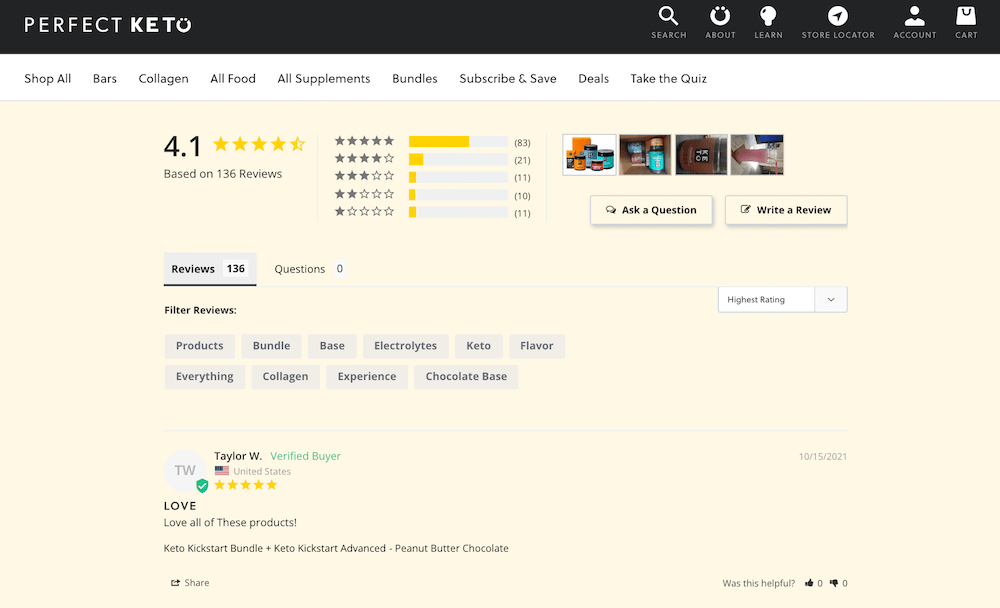 Perfect Keto displays hundreds of reviews for each of its product bundles.
5. Focus on existing customers
Customers that have already bought a bundle from you understand the value you're offering and are therefore more likely to buy from you again.
Send out replenishment details when you think a customer might have run out of products or if a renewal is coming up. For example, if your bundle includes body lotion and shower gel, send a reminder after a month when a customer might be coming to the end of the pot.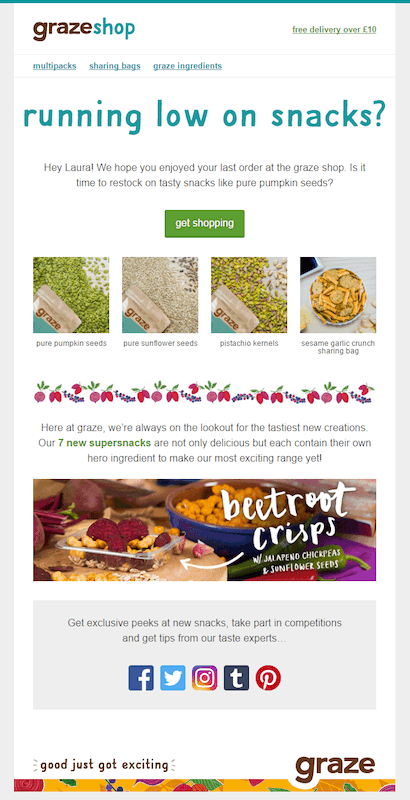 Graze sends out a replenishment reminder so that customers can order their next box of snacks.
How product bundling can improve your conversion rate
Bundling together similar products can improve your conversion rate by offering more options and more value to shoppers. Instead of buying individual products, customers are served a group of products that address their unique needs at that given moment in time. Investing in multiple, complementary products allows customers to experience a wide range of your product line and find a selection of products that's best for them.
For ecommerce merchants, product bundling can dramatically increase sales and AOV while providing an improved customer experience for shoppers. The latter plays a significant role in conversation rates, since customers that have an enjoyable experience with a brand are far more likely to buy from them (and come back for more).
Try out these product bundling strategies to see which ones work best for your brand.
In the meantime, check out our new book, Opting In To Optimization.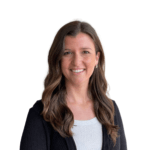 About the Author
Caroline Appert is the Director of Marketing at The Good. She has proven success in crafting marketing strategies and executing revenue-boosting campaigns for companies in a diverse set of industries.