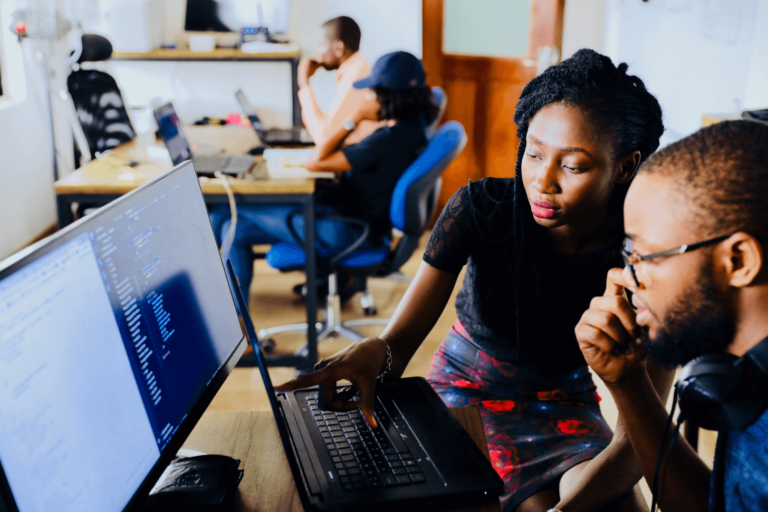 Conversion Rate Optimization
How to Increase Engagement & Conversions with Interactivity
Interactive elements are an effective way to increase engagement with your visitors, increasing the likelihood they will convert.
User engagement is often seen as a less significant metric to track for ecommerce businesses, at least in comparison to retention rate or conversion rate. The thing is, improving your on-site user engagement can also have a direct impact on the higher priority metrics. User interaction is one of the mainstays of marketing, but it's also one of the most underutilized.
So how do you improve user engagement on an ecommerce site?
Of course, there's no singular tactic or strategy that is guaranteed to work for your unique brand, but in this article we'll be addressing five methods we've seen help other ecommerce businesses improve their engagement metrics.
How you can get visitors to interact with your ecommerce or lead-generation site
First, a definition. For our purposes here, interactive elements are components of your website that require the visitor to make a choice, click a button, enter info in a form, etc… in short, elements where the visitor must make some sort of action in order to get to take the next step. The action can range from watching a video, to filling out a form, to listening to an audio recording.
The more someone interacts with your website, the more likely that person is to make a purchase. The same principle is in play when an automobile salesperson invites a prospect to take a test drive. Interaction builds familiarity and establishes a sense of belonging.
In research terminology, interactivity "boosts social-psychological effects of content by creating greater user engagement with it." In a way, interaction is akin to personalization. It creates a one-to-one communication with the prospect.
We'll be addressing five specific examples of interactive elements you can use to improve engagement on your website:
Deepen your engagement with visitors with an opt-in form
Provide customization options
Integrate social media into the buying experience
Start a conversation with your customers
Utilize product videos
Five prime interactive elements for ecommerce and lead-generation websites
Interaction doesn't have to be complicated. It can be, but it doesn't have to be. You do want to observe a few cardinal rules:
Make sure it's easy for the visitor to understand how to engage the interactive element. Remove all the friction possible. Make the process simple.
Make the interactive elements stand out. Interaction decreases boredom and increases interest. The more interactive your site, the more exciting and fun it will appear.
Keep the interactive element in smooth working order. It should respond quickly and be bug free. Few things are more frustrating online than thwarted attempts at interaction.
1. Deepen your engagement with visitors with an opt-in form
Whether as a stand-alone form or included in the flow of another element, opt-in forms not only help build your mailing list, but they give the prospect an opportunity to dig in a little deeper in their quest for the products or services they're seeking. These work especially well if you can offer them something of value in exchange for their information.

Designing the form is an art in itself. Artisans love to argue about the color of the "Submit" button, and copywriters tend to fight over which words work best to get that button pushed (surely not "Submit").

Always be testing, and A/B tests or multivariate tests are an excellent way to fine-tune your opt-in forms to provide maximum effectiveness. Beyond colors and copy, you can test the location of your opt-in form, the size of the form, whether to make it static or have it appear at a certain point in the visitor's journey, label alignment patterns, and more. The primary rule of thumb with forms is to ask only for the information you need. Don't try to collect everything you want in one shot. The lower the friction, the better the experience.

A great opt-in form used by Minimalist Baker offers a free ebook in exchange for the user's email address. What's great about this opt-in is that it continues to engage the visitor even after they leave the site (to read the ebook). The more value you can offer to users with your opt-in form, the better it will perform.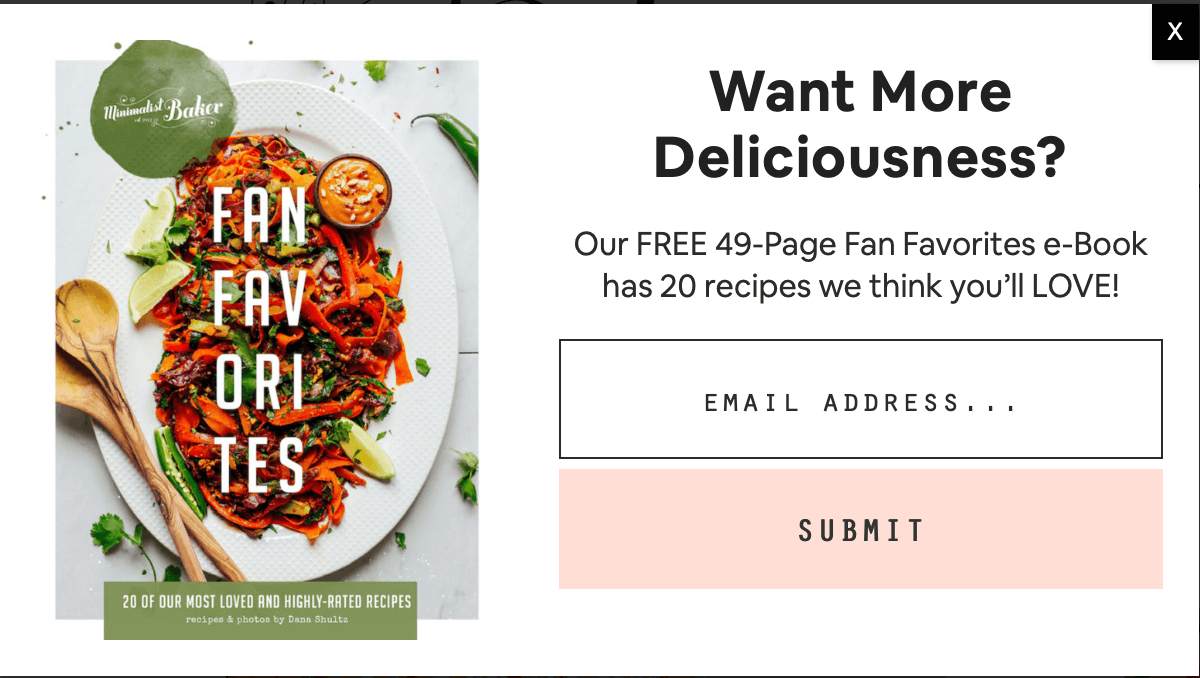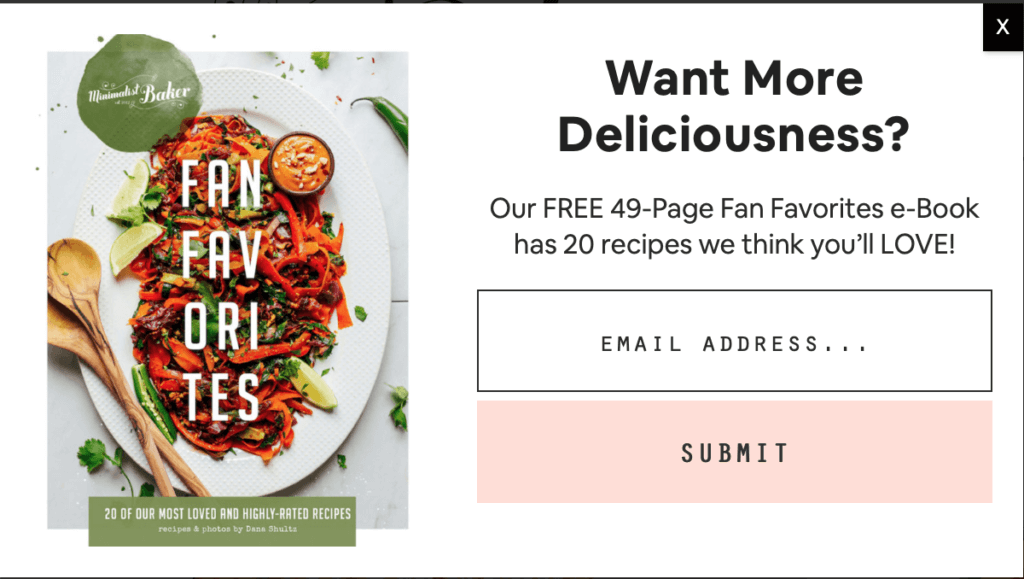 2. Provide customization options
Here's one creative way to get deeper interaction with your brand. When you let the customer choose options and participate in the design of the order, you amplify the degree of ownership and loyalty. Providing customization for products is an instant value-add, and it gives the customer a sense of exclusivity.

Oakley allows their customers to personalize just about every aspect of their order. From lens color to material texture, to the cloth bag they arrive in, everything is customizable. This ensures that the customer gets exactly what they want, and that the product they're ordering is uniquely manufactured to fit their personal taste.


3. Integrate social media into the buying experience
The typical way of seeking social media interaction is to provide share buttons somewhere on the page. That tactic may work for some brands, but in general we don't see much engagement with share buttons, especially if they're located on the product detail page.A smarter way to integrate social media into the buying experience is by creating a compelling way for customers to share the products they've purchased.

Subscribe to our newsletter, Good Question, to get insights like this sent straight to your inbox every week.
Tuckernuck makes expert use of social media with their "#tuckernucking" instagram tag. Customers that use this hashtag can have their post displayed on the front page of the website as well as on product detail pages. Connecting with customers across multiple platforms is an excellent way to improve engagement, and the content you get out of it can be repurposed as social proof.

4. Start a conversation with your customers
At this point, providing your website visitors with a personalized (and instant) method for communicating with you is an essential element of the customer experience. Having live chat on your site has quickly grown to be one of the most effective ways of connecting with your customers.

Allbirds uses live chat on their ecommerce site to provide customers with 24/7 customer support. The chat function is designed to help customers with essentially any questions they may have regarding the products, and you have the ability to be instantly connected with a real person to help answer your questions. Whether or not you opt to have live agents or a chatbot is up to you, but you want to plan to improve engagement with your users, having some sort of chat function is vital.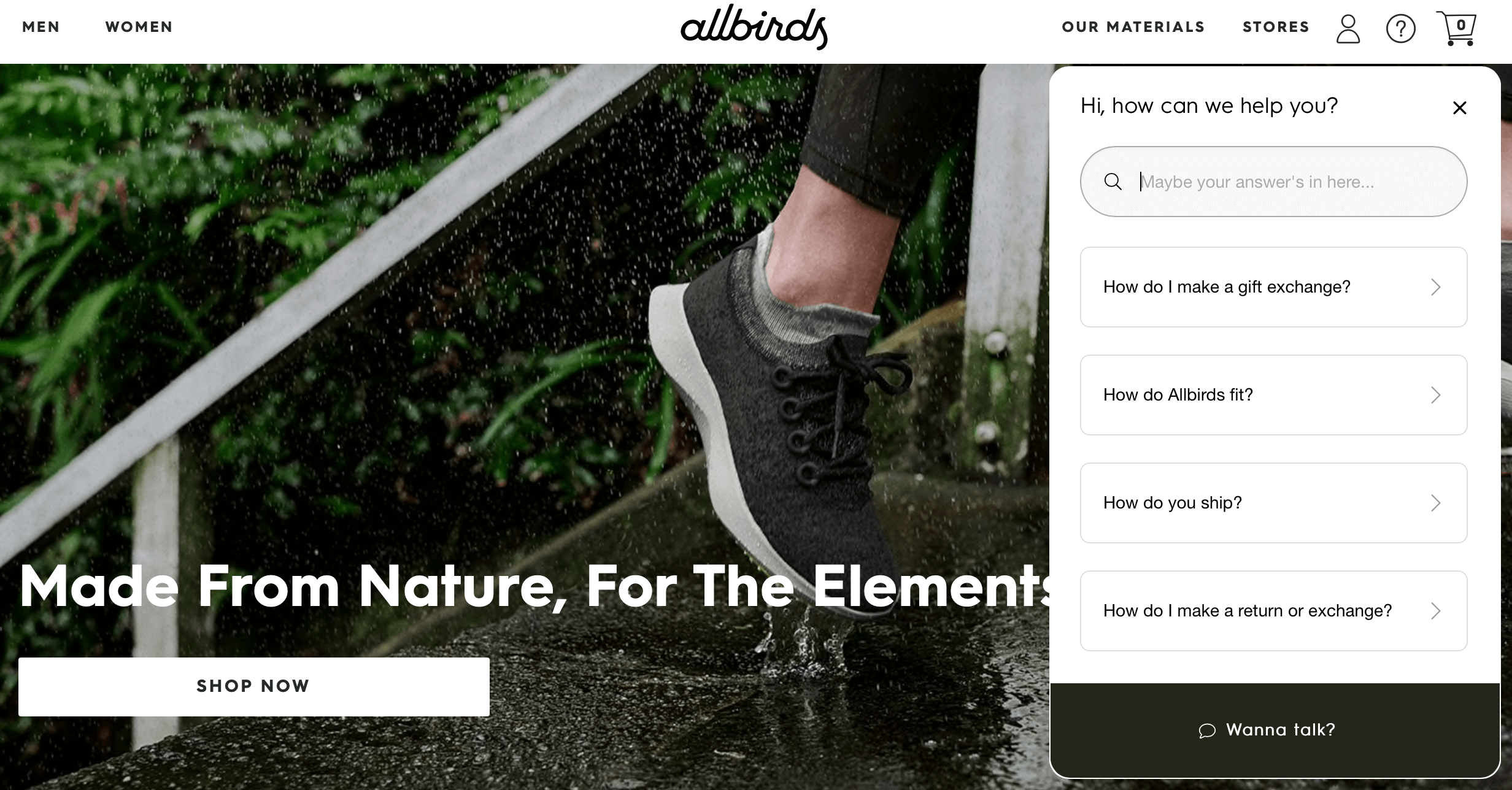 5. Utilize product videos
Product videos are a great way to increase engagement with your customers and improve your site's conversion rate. If a picture is worth a thousand words, then a video is worth a million. Invest in creating 360° product videos for even just your top ten products and you'll start seeing results almost immediately. 71 percent of consumers think that product videos explain the product better than images or text. If you can give you customers a dynamic way of viewing your products it'll improve engagement on-site as well as greatly impact your conversion rate.

ASOS is known for creating great product videos to help achieve a more interactive and involved shopping experience. The customer gets to see a 360° perspective of the product and how it fits on the model. Already this positions them ahead of other retailers because they can offer customers a complete view of the product as opposed to just a collection of images.
Give your visitors ways to interact with your business – Get creative
Now, it's your turn.

How do you plan to implement ways for your customers to engage with your website? Many companies focus a majority of their attention towards optimizing the buyer's journey, but won't think about how they're actually involving and engaging with customers on-site. You may have the smoothest checkout process, the sleekest homepage, and the best product reviews, but if you don't have a way for customers to interact and connect with your brand, you're missing out on a big opportunity to improve key metrics like retention and conversion rate.

The more you get your prospects involved with your website, the quicker they will convert into loyal and enthusiastic customers. You'd be surprised how the littlest changes can have the greatest impact on your site.

Our team of strategists at The Good have worked with some of the largest online brands (including Adobe, The Economist, and Xerox) to help convert more of their prospects into buyers. If you're interested in learning more about how we can help to improve user engagement on your site, sign up for a free landing page assessment where we'll take a close look at your site and determine specific areas that could benefit from optimization.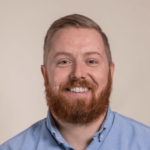 About the Author
David Hoos is the former Director of Marketing at The Good, conversion rate experts who deliver more revenues, customers, and leads. David and the team at The Good have made a practice of advising brands on how to see online revenue double through their conversion rate optimization services.