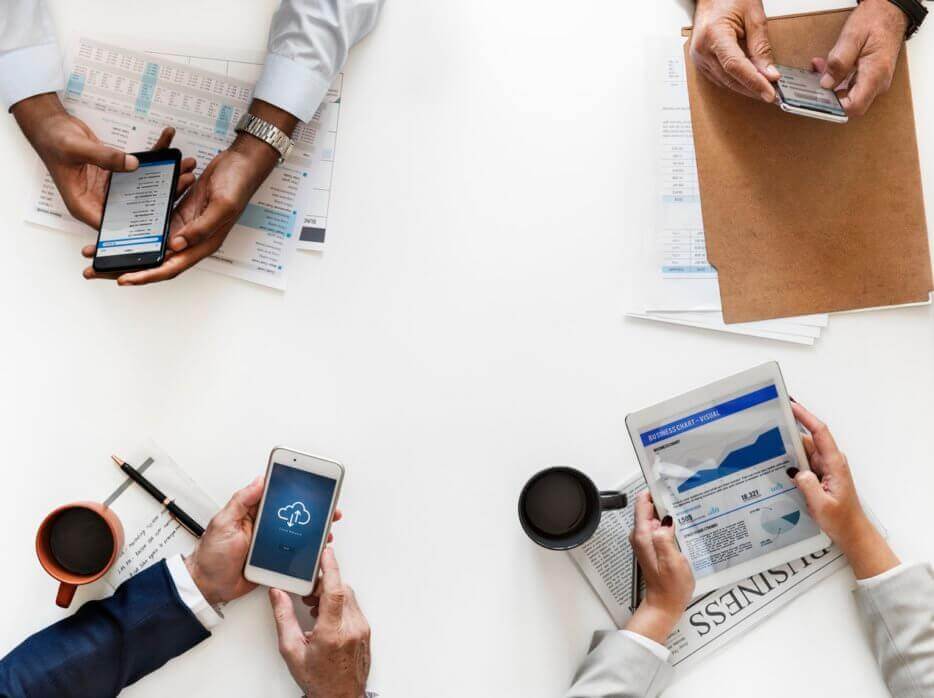 Articles
How to Increase Engagement & Conversions with Interactivity
Interactive elements are an effective way to increase engagement with your visitors, increasing the likelihood they will convert.
Interactive elements on your website can be a powerful tool for conversions. By encouraging active engagement in one part of your site, data shows you can drive active engagement elsewhere on your site.
Interactive elements on your website can be a powerful tool for conversions.
Click To Tweet
For example, let's say you're pushing middle age, you're single, and you end up at your 20-year high school reunion alone. You notice someone you once had a huge crush on back in the day, and it appears your long-ago secret love is single too.
You have two options:
Make an approach, strike up a conversation, and see where it leads.
Stay back in the corner, say nothing, wait until you see her or him make a move to leave, then run up and say, "Hey, want me to come too?"
Okay, it's a ludicrous example. Of course the first option would be the wisest. That's obvious.
Why then, here at The Good, do we find that many ecommerce and lead-generation businesses settle for posting a call-to-action off by itself somewhere (method number two) instead of encouraging site visitors to first interact and build relationship before asking them to do something?
Consumer interaction is one of the mainstays of marketing. It's also one of the least utilized.
Let's do something about that right now.
How you can get visitors to interact with your ecommerce or lead-generation site
First, a definition. For our purposes here, interactive elements are components of your website that require the visitor to make a choice, click a button, enter info in a form, etc… in short, elements where the visitor must make some sort of action in order to get to take the next step.
Here are examples of actions the user might be directed to take:
Click on something
Enter info somewhere
Watch a video
Listen to an audio recording
Answer a question
The more someone interacts with your website, the more likely that person is to make a purchase. The same principle is in play when an automobile salesperson invites a prospect to take a test drive. Interaction builds familiarity and establishes a sense of belonging.
Interaction builds familiarity and establishes a sense of belonging.
Click To Tweet
In research terminology, interactivity "boosts social-psychological effects of content by creating greater user engagement with it." In a way, interaction is akin to personalization. It creates a one-to-one communication with the prospect.
Let's look at specific examples of interactive elements you can use.
How to boost online sales by drawing visitor interactivity.
Click To Tweet
Five prime interactive elements for ecommerce and lead-generation websites
Interaction doesn't have to be complicated. It can be, but it doesn't have to be. You do want to observe a few cardinal rules:
Make sure it's easy for the visitor to understand how to engage the interactive element. Remove all the friction possible. Make the process simple.
Make the interactive elements stand out. Interaction decreases boredom and increases interest. The more interactive your site, the more exciting and fun it will appear.
Keep the interactive element in smooth working order. It should respond quickly and be bug free. Few things are more frustrating online than thwarted attempts at interaction.
Resource: Saving Customers Time Online Key Element in Earning Loyalty
Here are five types of interactivity, along with examples from a variety of websites. Use them as thought-provokers. How can you adapt the technique in a way that will appeal to your audience?
1. Present the visitor with a quiz or survey
The key here is to make the interaction informative, if not downright fun to do. It's okay to ask prospects and customers to "help you," but it can be a turnoff to make the survey or quiz a "requirement."
The Red Cross doesn't integrate the request for an email opt-in with their quiz (see below), but you could with yours. Note how appealing this element is. The question is, "Could you save a co-worker's life?"
Resource: How Customer Surveys Help Improve Your Conversions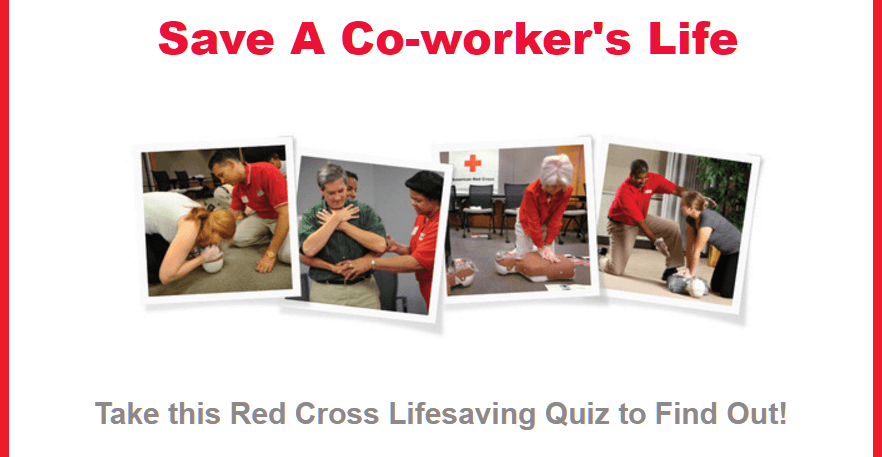 You may not be in the same life-saving niche as the American Red Cross, but you could still pattern a quiz in the same sort of way.
For instance, if you sell shoes, your quiz could be, "Could you help a friend choose the best boots?". The questions could then guide the visitor through a series of questions related to intended use versus styles, materials, weight, and such.
2. Give the visitor a way to get further embedded with your business via an opt-in form
Whether as a stand-alone form or included in the flow of another element (such as the quiz mentioned above), opt-in forms not only help build your mailing list, but they give the prospect an opportunity to dig in a little deeper in their quest for the products or services you offer.
Designing the form is an art in itself. Artisans love to argue about the color of the "Submit" button, and copywriters tend to fight over which words work best to get that button pushed (surely not "Submit").
As with much of conversion optimization, though, the answer to those and similar questions always gets answered by your audience. You can't outguess them. You have to ask and watch in order to find out.
Always be testing, and A/B tests or multivariate tests are an excellent way to fine-tune your opt-in forms to provide maximum effectiveness. Beyond colors and copy, you can test the location of your opt-in form, the size of the form, whether to make it static or have it appear at a certain point in the visitor's journey, label alignment patterns, and more.
The primary rule of thumb with forms is to ask only for the information you need. Don't try to collect everything you want in one shot. Again, the lower the friction the better the experience.
This Klean Kanteen opt-in form (see below) is an unobtrusive slide-up at the bottom right of the page. Notice it promises "Exclusive Promos" plus "Tips & Tricks" – things most shoppers love to get. And it asks only for your email… not your address, phone, income level, or even your name.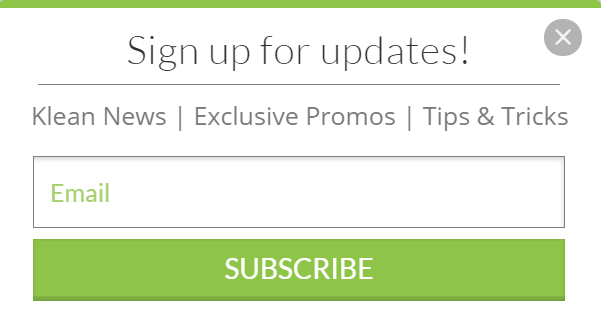 3. Allow the buyer to customize the purchase
Here's one creative way to get deeper interaction with your brand. When you let the customer choose options and participate in the design of the order, you amplify the degree of ownership and loyalty.
Check the Converse site (see the graphic below) for a first-rate example of how that can work. Note the steps as described in the Converse Custom box:
Make it yours
We build it
We ship it for free
How can a lover of Converse tennis shoes pass that up?

4. Provide a way for visitors to your site to share about you on social media
The typical way of seeking social media interaction is to provide share buttons somewhere on the page. That helps, but you can do better than that.
Find a way to trade social media shares for access. Use the same give-away items you might use to encourage visitors to opt-in to your mailing list, but bump your ask up a notch by requiring social media shares to get the item.
Note (see the graphic below) how Royalty Core custom truck grilles combined a sweepstakes (another interactive element) with social media promotions. Those who follow and share get extra entries. Facebook rules prohibit trading benefits for Likes, so there are no award points indicated for Facebook interaction. Many will click and Like anyway, but regulations prevent providing the bonuses.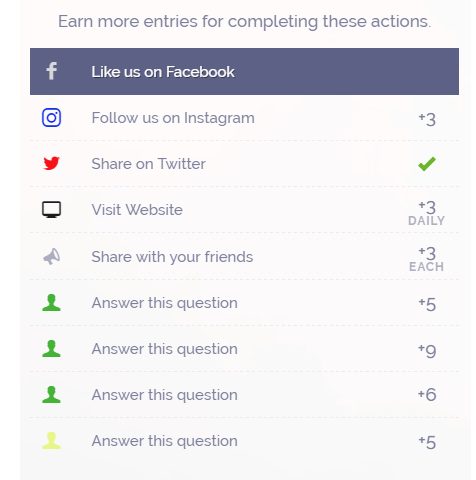 5. Design a special calculator for visitors to use
This can be a crowd-pleaser. Gadgets are fun to use, just be sure they are relative to your service or products, that they are simple to use, and that they provide valuable information.
The more value you pack into your calculator, the better response you'll get from users. You could even combine tactics by asking for social shares or email address opt-ins as 'payment' for using the tool.
Since The Good specializes in conversion rate optimization, one of our tools helps prospects see how increasing your conversion rate can exponentially increase sales (see graphic below). Only the boxes are necessary data entry points. The other metrics are automatically generated from those entries.
See the bases covered there?
The ROI calculator is relative to our business, it's helpful for visitors, it affirms our positioning as conversion experts, it's simple to use, and it is a relationship-builder.
BONUS: How can this website further apply the principles of interactivity?
CouponChief is popular with people who like to find and use discount coupons for their purchases. A cool thing here is that you can get both online and offline coupons. You can print them out, or you can simply show the cashier the image on the phone. Often, shoppers will pause at checkout, go to CouponChief to see if any additional discounts are available, then come back with a code to finish the purchase.
Take a look at the CouponChief home page (see the screenshot below). Which interactivity elements are already in place? How would you improve it? A really good way to improve your own abilities is to advise someone else on how to improve their's.
Leave us a comment with your ideas for building interaction.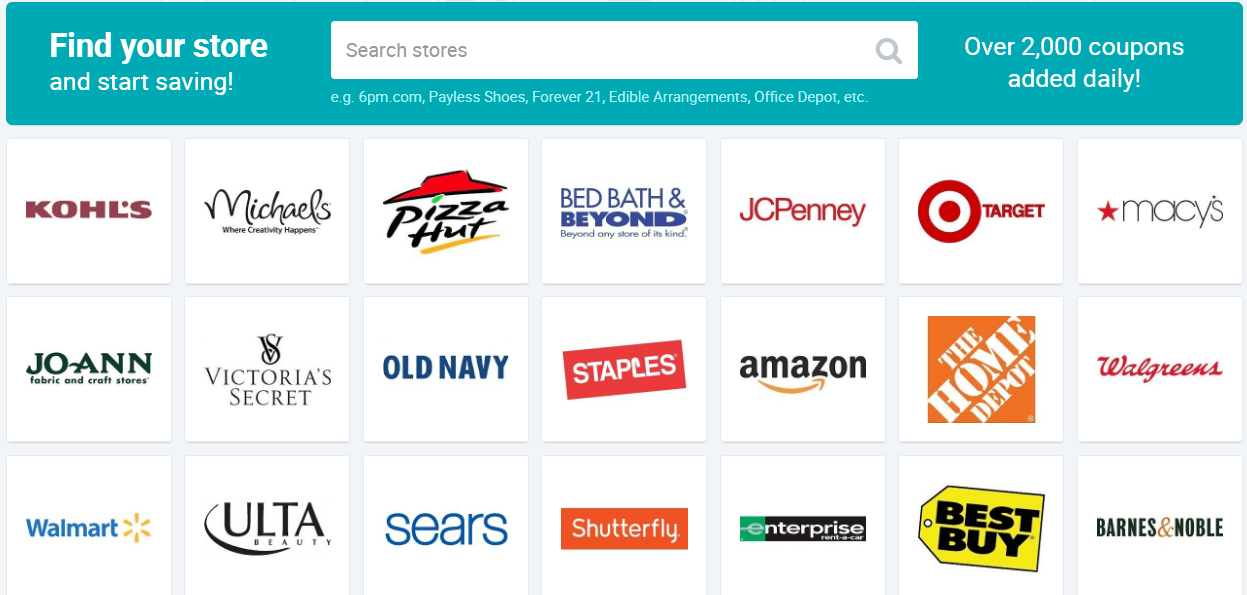 Give your visitors ways to interact with your business – Get creative
Now, it's your turn.
Using the examples we've provided, how can you provide ways for visitors to your website to enter information, use tools, share about you on social media, or respond to queries? Can you switch to smart search filters? Can you give them options for direct access to customer service? Are they able to provide reviews and make suggestions?
The more you get your prospects involved with your ecommerce or lead-generation website, the quicker they will convert into loyal and enthusiastic customers.
For help, don't hesitate to contact The Good. To get help with identifying stuck points that are keeping your conversion rate too low, take our (free) Stuck Score™ assessment.
Little things can sometimes make a huge difference.