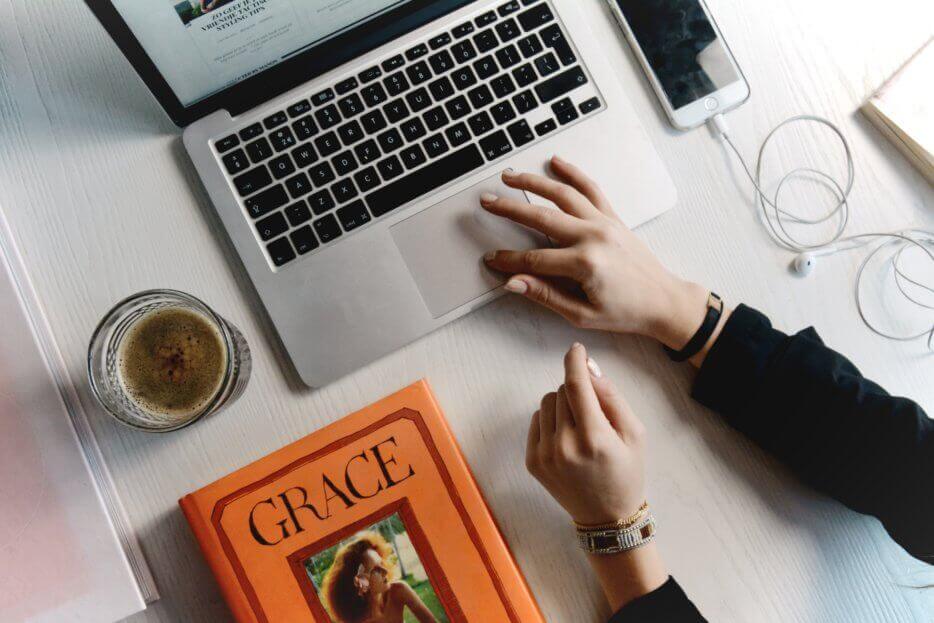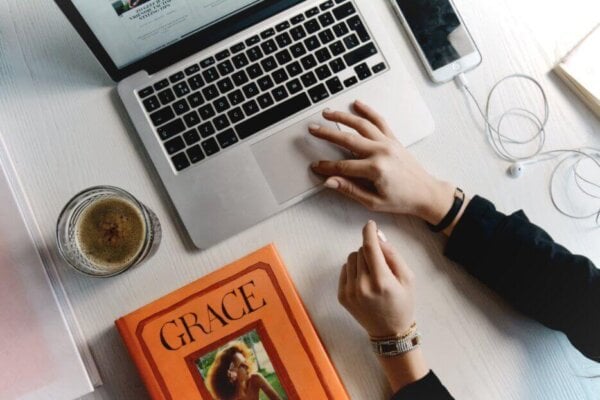 Customer Acquisition
Email Pop-ups – The Most Controversial Marketing Tactic Ever
The email pop-up is one of the most used, and most hated marketing tactics around these days. Take a balanced look at their strengths and weaknesses.
A little over three years ago, I was searching for information on how ecommerce businesses can leverage social media to attract buyers. My research led me to Neil Patel's Quick Sprout blog where I began reading about how to build an email list on Facebook. There was a problem with the post, though. I was quickly and consistently interrupted by pop-up boxes asking me to subscribe to Neil's mailing list.
Finally, I entered my name and email address in one of the forms – more to get them to go away than to fill my inbox with more marketing messages.
I've been a Neil Patel subscriber ever since.
But I still don't like pop-ups.
My aim in this article is neither to slam pop-ups nor to praise them. Rather, I'll try to stay neutral and present arguments from both sides of the table.
The information here will help you formulate, defend, or make changes to your own marketing strategy.
One thing is certain: it seldom hurts to test your assumptions.
The Pop-up Controversy – Do Email Pop-ups Attract Subscribers or Run Them Off?
A 2004 study by the Nielsen Norman Group, entitled "The Most Hated Advertising Techniques" listed pop-ups as the #1 tactic negatively affecting the website visitor's experience.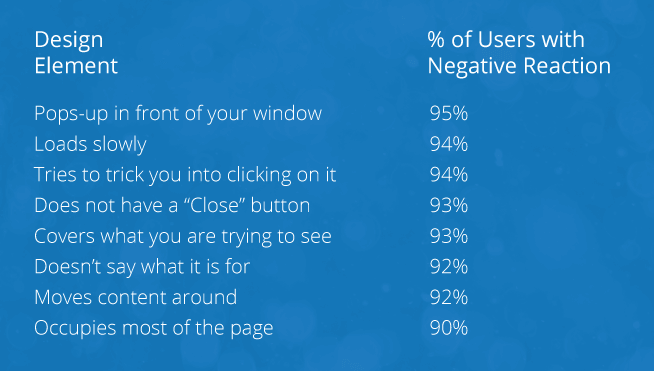 Pop-ups were created in the 1990's as a means of showing ads on a website without explicitly tying that site to the ad shown. (The developer of pop-ups, by the way, has since apologized, calling pop-up ads "one of the most hated tools in the advertiser's toolkit.")
Pop-ups today are widely used to entice visitors to opt in to an email subscription list – thus the term "email pop-ups." That's the type of pop-up we'll primarily consider here, though there are other uses for them.
According to eMarketer, only 37% of internet users are not likely to employ ad blocking in the next six months. Couple that with an Omnicom Media Group saying 45% of those who do plan to block ads cite "I do not want to deal with pop-up ads" as their primary motivation, and it's clear that pop-up aversion hasn't disappeared. I'm not the only one who hates dealing with them.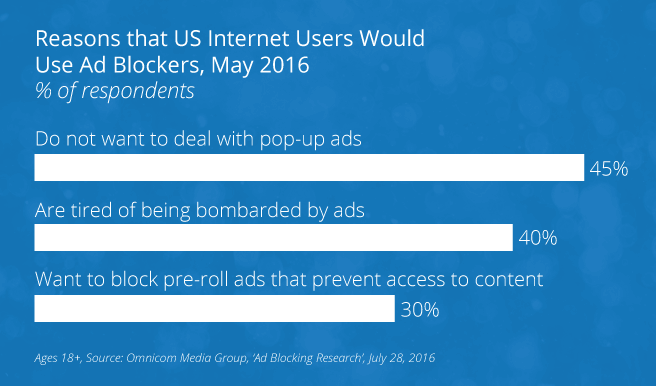 The big question is this: Given email pop-ups are welcome by so few, why do some of the smartest digital marketing companies in the world still use them?
Let's talk about that…
Email Pop-Ups Positives – If You Don't Use Them, You're Losing Subscribers
Neil Patel is hailed as one of the foremost digital marketers on the planet. His online ventures include KISSmetrics, Crazy Egg, Quick Sprout, and Hello Bar.
So why in the world is Patel seemingly so fixated on pop-ups?
I asked Neil that question during an interview with him not long after I complained about the prolific email pop-up ads on Quick Sprout.
In typical Neil Patel style, he cut to the chase: I use pop-ups because they work. But does the data from other sites suggest Patel's adamant loyalty to email pop-ups is well-founded?
Let's take a look.
These Sites Saw Positive Results by Implementing Email Pop-Ups
The only way to find out for sure whether a certain tactic will work for you is to test it on your site. Here are examples of businesses that tested email pop-ups and reported favorable outcomes.
So, if pop-ups work so well, why do other companies – even some conversion optimization experts – warn against them?
Let's look at the other side of the fence.
Subscribe to our newsletter, Good Question, to get insights like this sent straight to your inbox every week.
Email Pop-Ups Negatives – If You Use Them, You'll Lose Credibility with Subscribers
You'll find few websites that have tried pop-ups, but ended up with a lower subscription rate. Pop-ups definitely bring in more sign-ups.
Email pop-up critics say the problem is that those who sign up typically do so just to get the annoying pop-up to go away, but those (forced) subscribers rarely engage and unsubscribe at a very high rate. Or worse, they mark your emails as SPAM causing your deliverability rates to drop.
Here's a sampling from the naysayers:
Pop-ups versus usability, conversions, and bounce rates: Cassandra Naji says engagement levels from those who subscribe via pop-ups are low and that pop-ups can destroy the credibility of your brand. The biggest reason of all not to use email pop-ups, though, says Naji is based on one little problem: users HATE them.
Pop-up ads versus #usability and #conversions… @just_in_time
Click To Tweet
Go pop-up-less… you don't need them: Emma Siemasko says "Pop-ups are a marketing trick, not a real strategy. They may work for a little while, but in the long run they're bad…" The reasons Siemasko gives for her stance include the annoyance factor, they can destroy your brand, they aren't mobile-friendly, and they are detrimental to user experience (UX).
Pop-ups are a trick, not a #strategy… @emmafayes
Click To Tweet
Your website pop-up strategy is bad: Web designer and digital marketer, Patrick Antinozzi, says "100 engaged followers [are] far more valuable than 10,000 followers who just don't care." In the end, though, Antinozzi says there are situations where pop-ups could be acceptable, BUT always "put your visitor's experience above everything else."
Put visitor #UX above everything else… @pattitudez
Click To Tweet
SumoMe analyzed over 1.75 billion pop-ups and crunched the data. The bottom line for the study is that "Pop-ups aren't dead." But they don't seem to be exactly hot as a rocket either.
Here are some of the conversion rate stats uncovered in the research:
The top 10% of the pop-ups analyzed delivered a 9.28% conversion rate
The average conversion rate for all pop-ups in the study was 3.09%
Only 3% of sites ever pull better than 11% conversions
Given those numbers, the most telling question any ecommerce or lead generation site owner needs to ask (after determining the present conversion rate) is this: "Will a single digit uptick in my email opt-in conversion rate be sufficient reason for me to annoy my visitors and risk driving them away?"
Jon MacDonald and his team at The Good make an excellent point in their humorous short video about pop-ups: Brands wouldn't get in the way of the customer's shopping experience in the store, why do it online?

If You Must Use Email Pop-Ups – At Least Consider These Tips
I asked Neil Patel about his take on the idea that email subscribers originating from an email pop-up box are far less productive than subscriptions obtained without a pop-up.
Neil's quick response was, "We are seeing more opt-ins from pop-ups and our engagement levels are just as high. What affects engagement isn't the pop-up, but more so the messaging within the pop-up and the first email you send."
For Patel, it's not whether you use pop-ups that counts, but HOW you use pop-ups. And one place most marketers agree a pop-up sure can't hurt is upon the exit. If the visitor is about to leave anyway, why not try a pattern interruption tactic and offer a pop-up?
Your #messaging is critical when using pop-ups… @neilpatel
Click To Tweet
One SumoMe study took that thought a bit further. They uncovered eight elements that can contribute to pop-up success. While the researchers didn't limit their observations to pop-ups asking for an email subscription, each of them can be understood in that context.
Here are those results, with my comments on how they pertain to email pop-up strategy:
1. Context is critical. Make sure that the page the pop-up appears on and the copy in the pop-up contain content relative to one another. The Good, for example, offers a free Stuck Score evaluation that benchmarks key conversion areas on your website. I'm pretty sure they're not planning to do this, but if a visitor had just finished reading an Insights article on conversion optimization, that could be an excellent time for a minimally obtrusive pop-up to offer that free evaluation in exchange for the visitor's email address. [Editor's note: we're not :)]
2. Don't hammer the guest with a pop-up immediately. Think strategically. Give guests time to browse. Make sure that, when you do offer a pop-up, the context is proper. "Timing and context go hand-in-hand," says SumoMe. It's important that you know where the visitor is and when to make the offer.
The timing of #email pop-ups is critical… @SumoMe
Click To Tweet
3. Be clear about what you're offering. The headline is crucial. Don't be vague. Instead of "Sign up Now for Amazing Stuff," say "Get This $1,249 Evaluation Free." Here's a pop-up from Quick Sprout (see below). Notice how Patel makes sure you understand the value of getting on his subscriber list.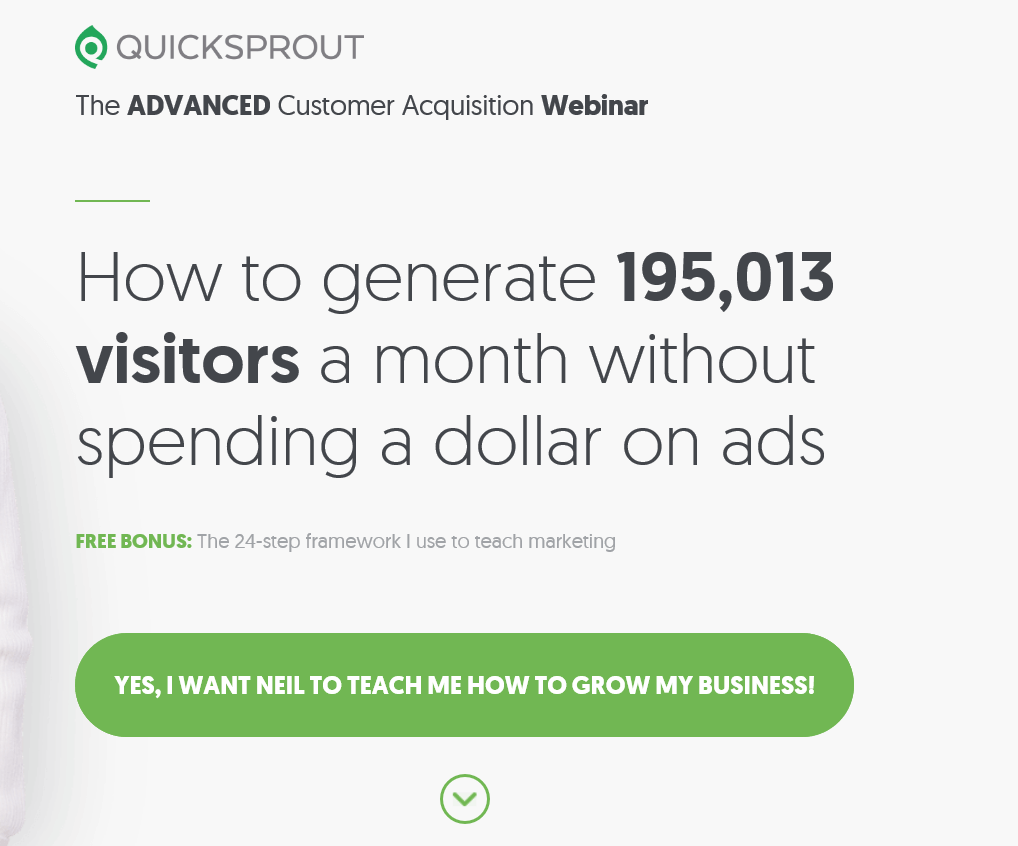 4. Showing some personality can help soften the irritation and help you connect to your readers. Danielle LaPorte sprinkles personality on every inch of her personal development website, including her pop-ups. Messages include, "I have something for you," "Get Liberated," and "Fight for Your Joy."


5. Make sure your pop-up offers something of value. Better yet, make sure your pop-up offers something way more valuable than the irritation it creates. ModCloth.com, for instance, provides a $20 discount on a $100 order for shoppers willing to part with an email address. Be sure to test your strategy, though, to make sure you're gaining enough in sales to make up for your giveaways.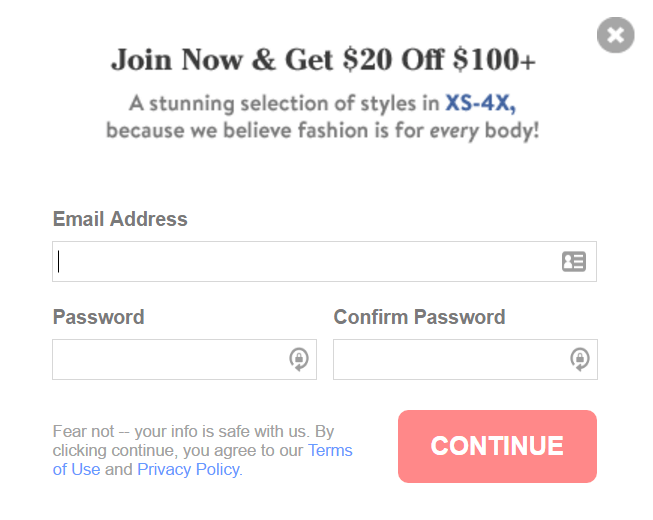 6. Be considerate in the timing and frequency of pop-ups. Correctly configured, you can choose to avoid showing the same pop-up to the same visitor time after time. You can also stop showing the pop-up once that visitor has responded to it. If the guest clears the pop-up, then let it stay cleared. Don't bug your peeps.
7. Match the call to action (CTA) on your sign-up button to the offer presented. Back to The Good's Stuck Score™ evaluation offer. If The Good chose to offer a pop-up, it would be odd for the CTA button to say "Subscribe." A better CTA would be something like "Get Your Free Stuck Score!" Never confuse your visitors. Tell them exactly what to expect and how to get it.
8. Exit pop-ups should offer exceptional value. While many ecommerce or lead generation sites choose to use pop-ups only when a visitor is ready to exit, there's always a risk the guest will be so offended by the move he or she will vow to NEVER RETURN. The better the offer you present, the less chance that will happen. It may even be something came up suddenly and the visitor intends to return. An exceptional offer may either retain attention long enough to capture the email address or provide plenty of reason to bookmark your site and make a point of coming back.
There's one more consideration you'll find being widely discussed, most of the time erroneously. The headlines say "Google is Getting Ready to Penalize Pop-Ups." But that's not true.
Google announced a plan to improve mobile user experience by devaluing sites that show certain kinds of pop-ups at certain times. You can see examples of the types of "interstitials" they are talking about and how to make sure your content is Google-compliant by studying that announcement here: Helping Mobile Users.
The Hated Email Pop-Up – Wrapping Up the Story
I still don't like pop-ups, but I do believe I'll test them on my newly designed Roadturn site. The subscription rate with the current sidebar opt-in is dismal. Could pop-ups give me more traction? I believe that's possible. It's certainly worth a test.
Does that mean visitors will soon be greeted with an immediate email subscription pop-up, then be bombarded constantly while on the site with repeated requests and offers?
Definitely not.
But a pop-up showing up once someone has read the first half of an article? That could be absolutely appropriate and may even be seen as a valuable addition to the site rather than as an intrusion.
Like The Good often says, the only way to know for sure is to test.
Subscribe to our newsletter, Good Question, to get insights like this sent straight to your inbox every week.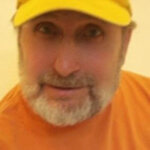 About the Author
Don Sturgill helps small businesses compete online by combining the right content with effective email marketing. You can find him on Twitter at @donsturgill or on his website.