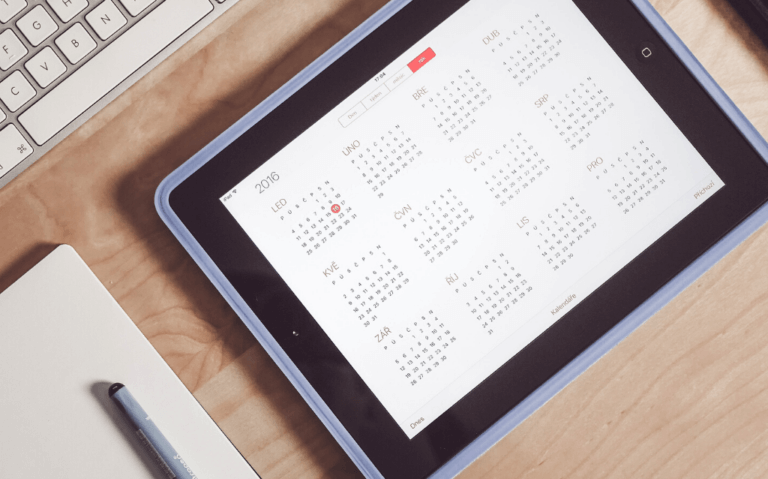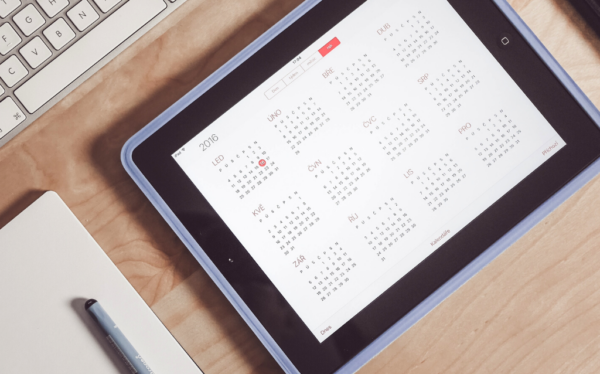 Conversion Rate Optimization
How Estimated Delivery Dates (EDDs) Enhance User Experience and Drive Transactions for Ecommerce Brands
Adding estimated delivery dates to your PDP enhances user experience. Today we look at examples of brands leveraging this technique.
It takes around 50 milliseconds (0.05 seconds) for users to form an opinion about your site, determining whether they stay or leave. So the best way to rid your website of snap negative judgments is to improve the user experience.
To enhance user experience, you must continuously test to keep what works and improve (or throw away) what doesn't.
You can achieve big results through small iterative tests, such as a 24.43% increase in conversion rates.
Today, we'll examine a specific area for testing, the Product Detail Page (PDP), to improve the user experience by adding estimated delivery dates.
One way to serve the user & increase conversions: Estimated Delivery Dates
Estimated Delivery Dates (EDD) predict when a product will arrive at the customer's specified address, and showcasing them on your PDPs can turn customer frustration into satisfaction.
In fact, three-fourths or 75.1% of shoppers indicated that putting an EDD on the product page or in the cart positively influences their decision to buy an item.
Baymard Institute's checkout usability study showed that what users care about isn't "shipping speed" but rather the specific date of delivery, like "when will I receive my order?"
But unfortunately, their research found that 40% of major US ecommerce checkouts show shipping speeds instead of delivery dates. Showing only general shipping speeds exposes a more business-centric than a customer-centric dynamic because it emphasizes the company's efficiency and operations over the customer's specific needs.
While some customers may find general shipping speeds useful, it doesn't account for:
The customer's urgent need
Their specific location
Their availability to receive the product
By providing specific delivery dates, the company shows it values the customer's time and understands their specific requirements, putting a premium on customer satisfaction.
Adding EDDs to PDPs is beneficial to ecommerce companies for a few other reasons:
Minimizing customer anxieties: Providing customers with an estimated delivery date helps them plan their purchases and reduces the uncertainty and anxiety they may feel about when they will receive their order.
Reducing customer support inquiries: Offering an estimated delivery date can reduce the number of customer support inquiries about order status and delivery, freeing up resources to focus on other areas.
Improving customer planning: Customers can make better purchasing decisions with an estimated delivery date, especially if they need the product for a specific event or deadline.
Enhancing customer satisfaction: By providing accurate and reliable delivery information, businesses can improve customer satisfaction and increase the likelihood of repeat business.
Notice how every benefit mentions the word "customer." Adding EDDs to PDPs puts the customer's needs at the center (something that can improve your bottom line in the long run).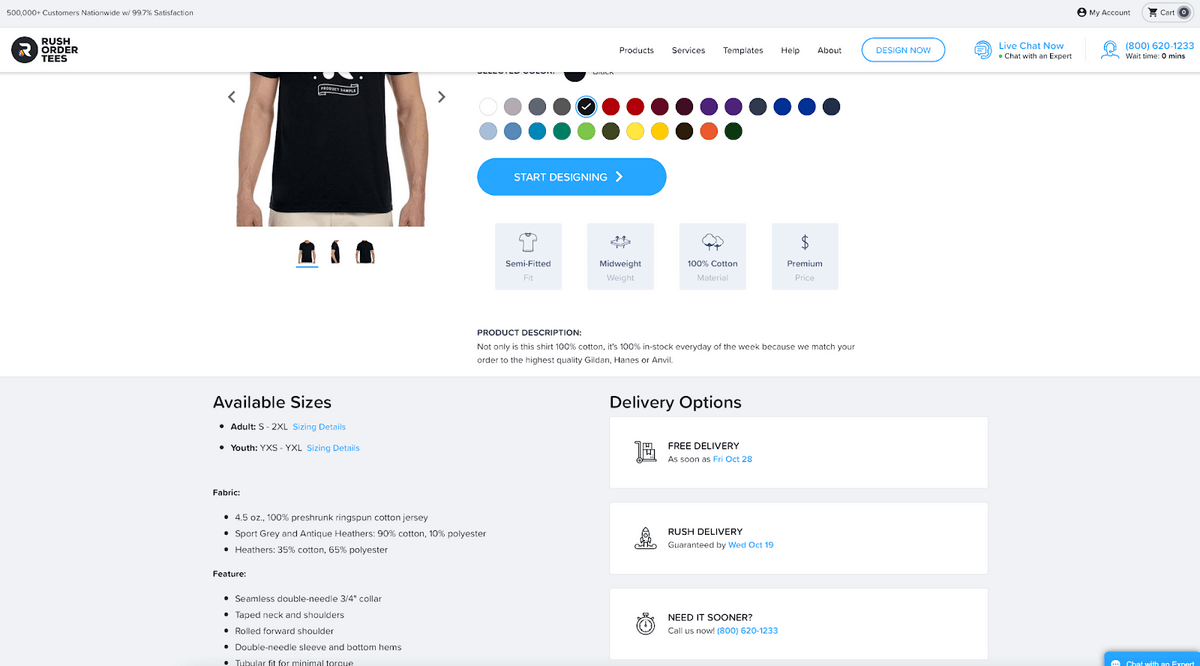 An example of Estimated Delivery Dates on Rush Order Tees' website. Notice the "Delivery Options" box in the bottom right corner.
There are two ways to display EDDs, and these methods aren't made equal. For example, our analysis revealed that offering vague delivery times like 2-3 days offered little benefit to the user, but specific dates like "Tuesday, March 17th" were more helpful in providing an accurate and reliable delivery expectation, thereby improving the overall customer experience and satisfaction.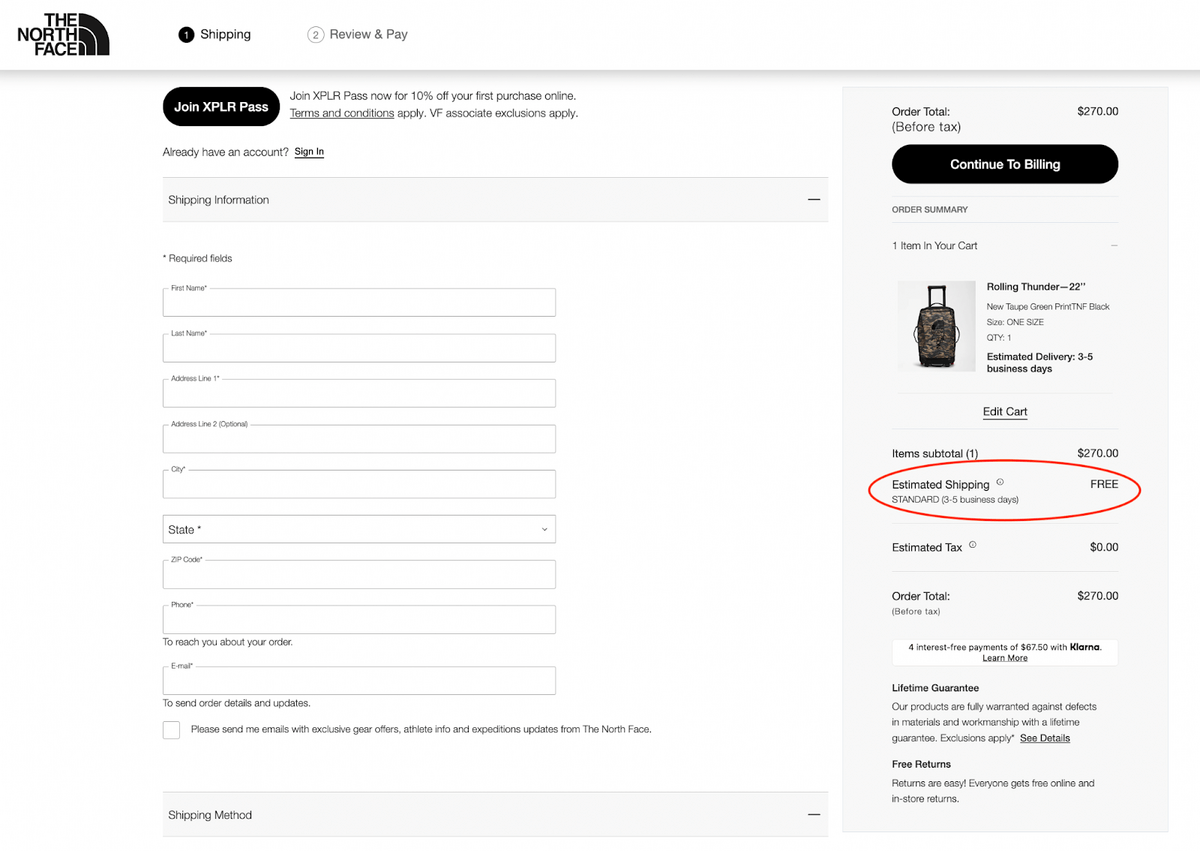 The North Face's checkout page only offers a vague shipping time of 3-5 days. We've found this does little to improve customer satisfaction and purchase rates.
The North Face's checkout page is not only nonspecific but also reveals the delivery information after the customer clicks "checkout." We recommend displaying EDD information on PDPs earlier in the shopping journey to encourage transactions as soon as possible.
Tips for displaying delivery date on your ecommerce website
Time is money, and your customers want to know when their purchases will arrive on their doorstep. Displaying delivery dates on your ecommerce website doesn't have to be a guessing game–with these tips, you can give your customers the clarity they crave and deserve.
Specific dates can reduce your abandoned cart rate
As we mentioned, get as specific as possible with shipping dates on both PDPs and checkout pages.
You can do this in a few ways. First, you can list the date the item will arrive instead of giving a nonspecific range. "Standard Shipping 3-5 Business Days" becomes "Standard Shipping: Arrives by February 24."
Or add a zip code search option where users can type in their location, and your website provides estimated delivery dates. For example, Nike does this on its website by prompting users to enter their zip code for delivery estimates.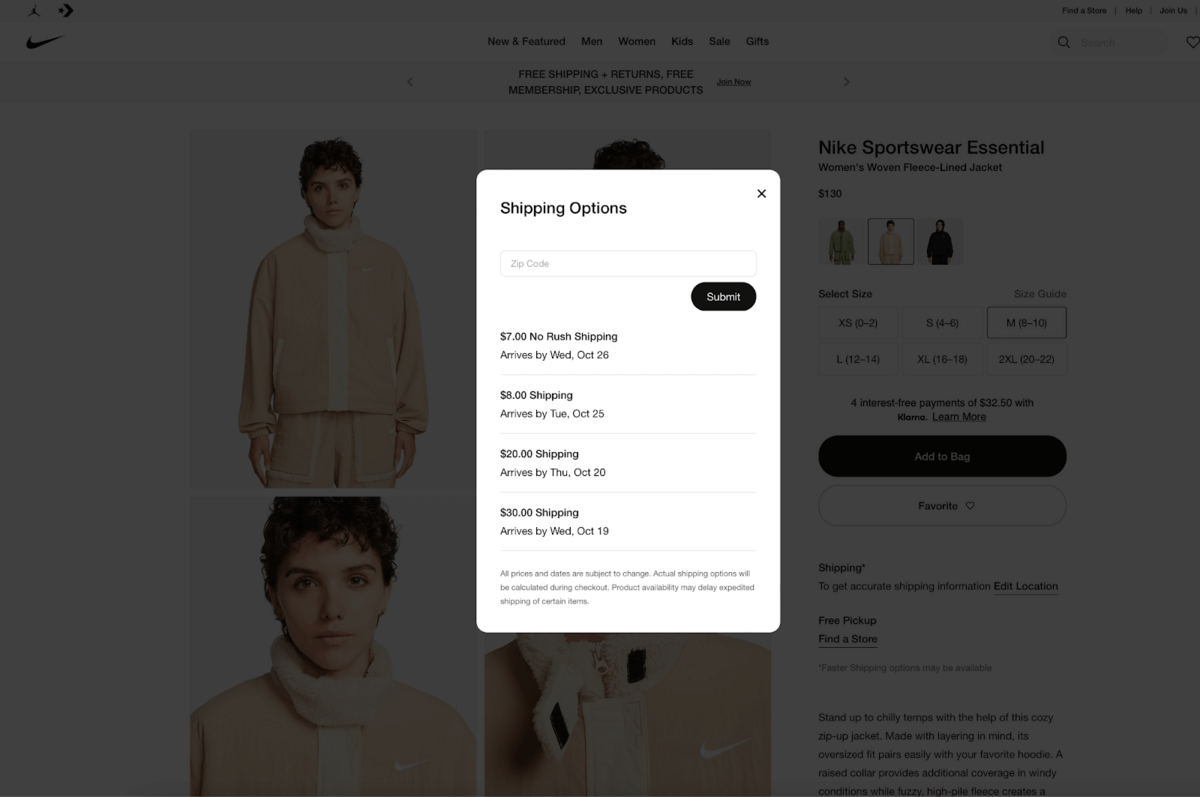 Nike's shipping options modal prompts users to enter zip codes for personalized delivery estimates.
Displaying early in the journey improves the user experience
Set delivery expectations as soon as possible in the customer journey to reel your customers in.
We've found exposing EDDs early in the shopping journey, like on PDPs or even category pages, helps set clear expectations for the delivery process.
For example, if a customer wants their product by June 1st and sees your website offers shipping by May 31st, they'll be more inclined to purchase the item from you than to shop around for another competitor.
This also has the added benefit of reducing cart abandonment because they're less likely to leave an item behind if they know when they can expect to receive them.
Providing EDDs builds trust by demonstrating that your company has a reliable delivery process in place.
Tweak delivery date placements
The way you present the EDDs can influence customer buying decisions. A clean and visually appealing EDD presentation simplifies the delivery process and mitigates confusion.
For example, Shirt Max offers a zip code field as a sidebar on its website, providing users with delivery estimates based on when they place their order.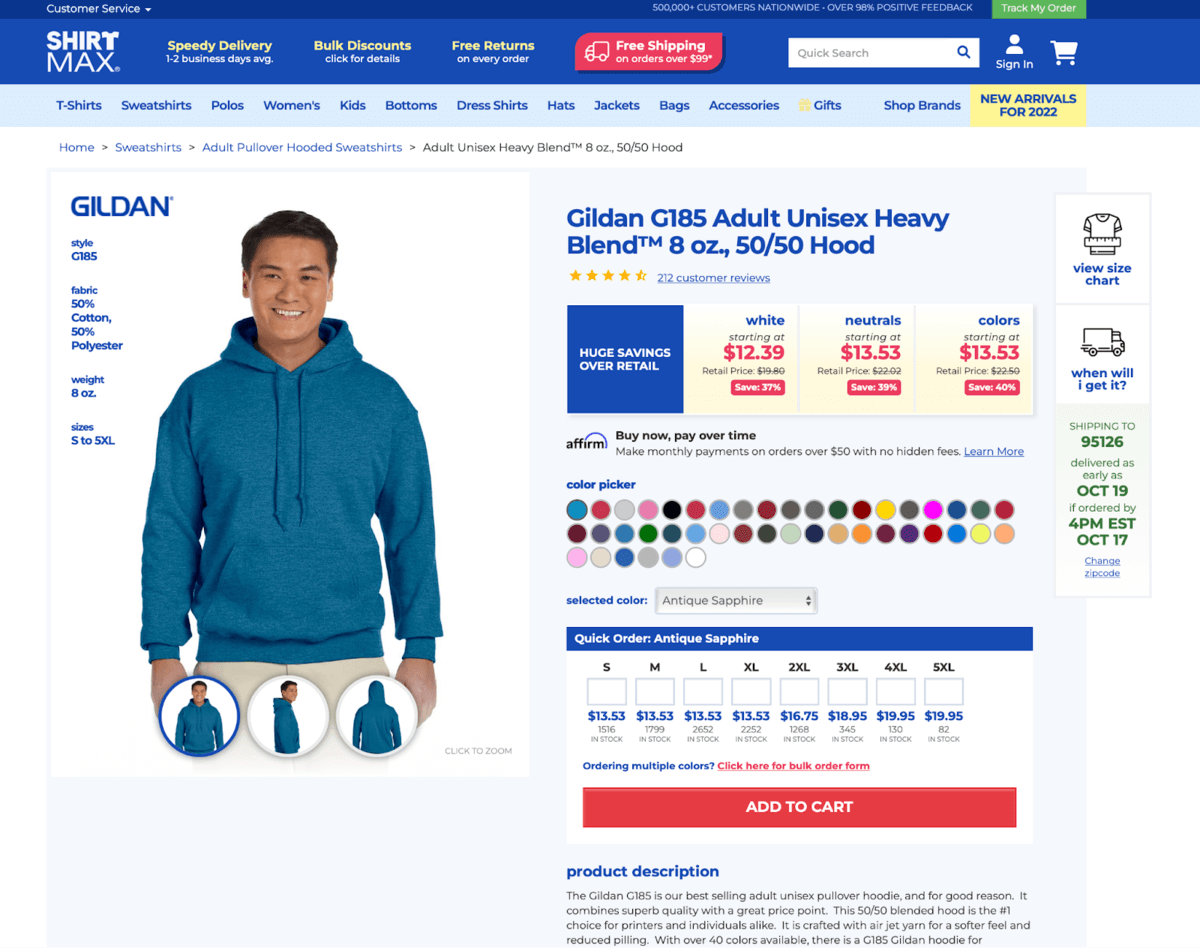 An example of Shirt Max's PDP.
Play around with the location, like putting it in a sidebar or conspicuously adding it underneath the "Add to Cart" button.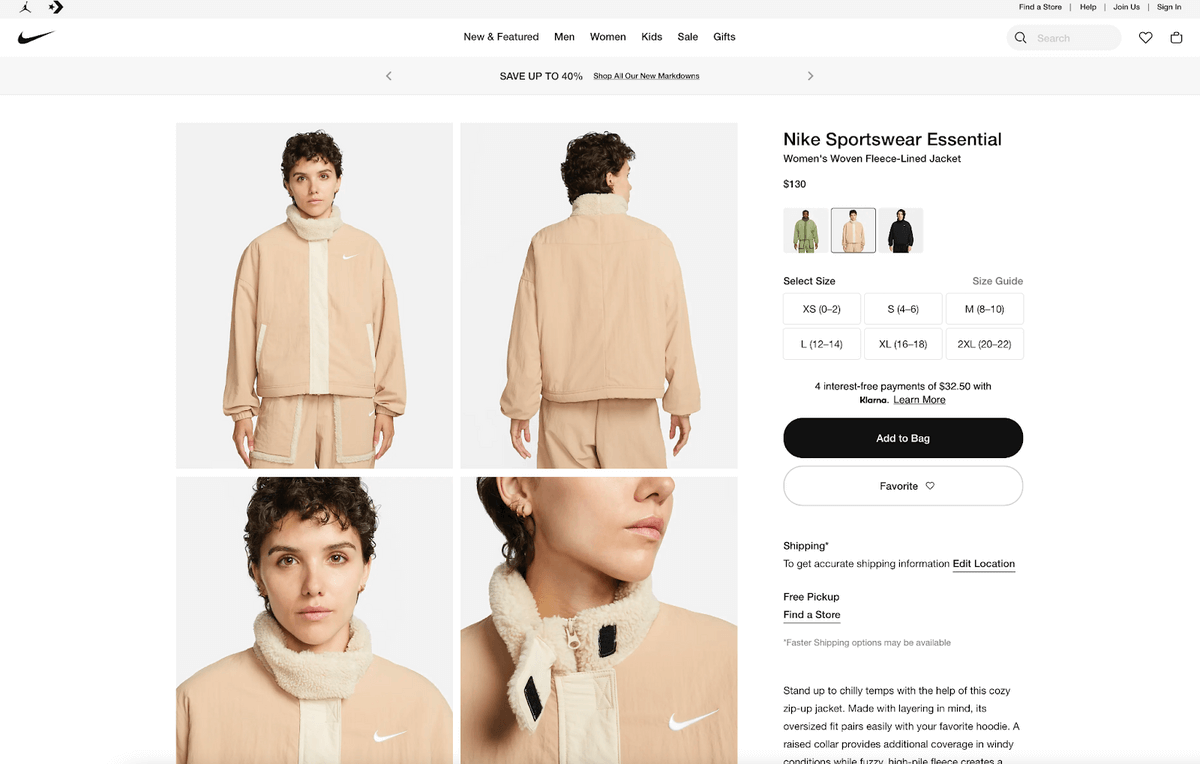 Nike places their EDDs underneath the Add to Bag button.
Other companies add it next to the product overview section, like on Custom Ink's PDP.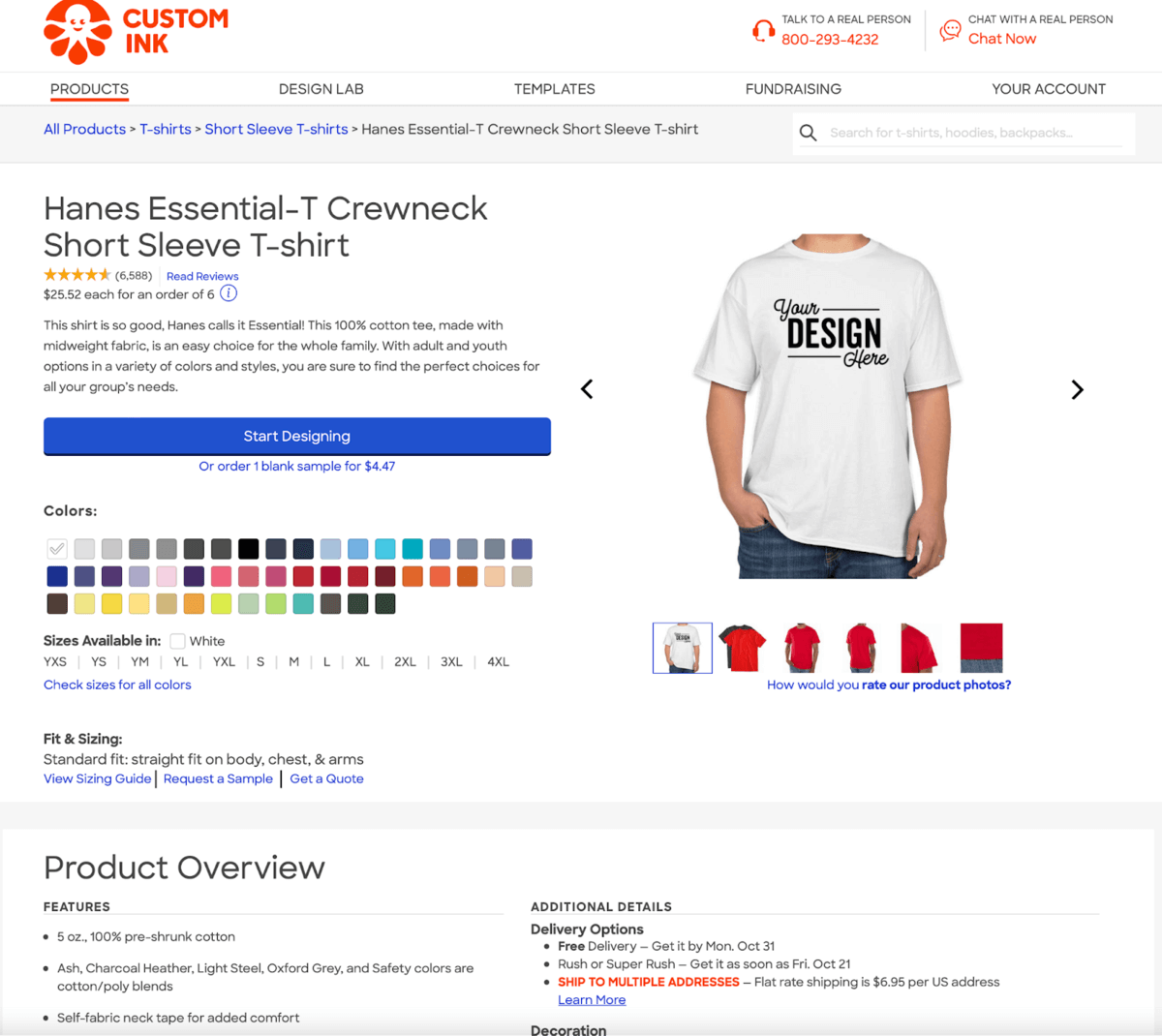 There's no right or wrong answer but only what works best for your customers. Optimizing where you place your delivery box and its style will require iterative testing.
---
Everything You Need To Know About Building A Product Page That Converts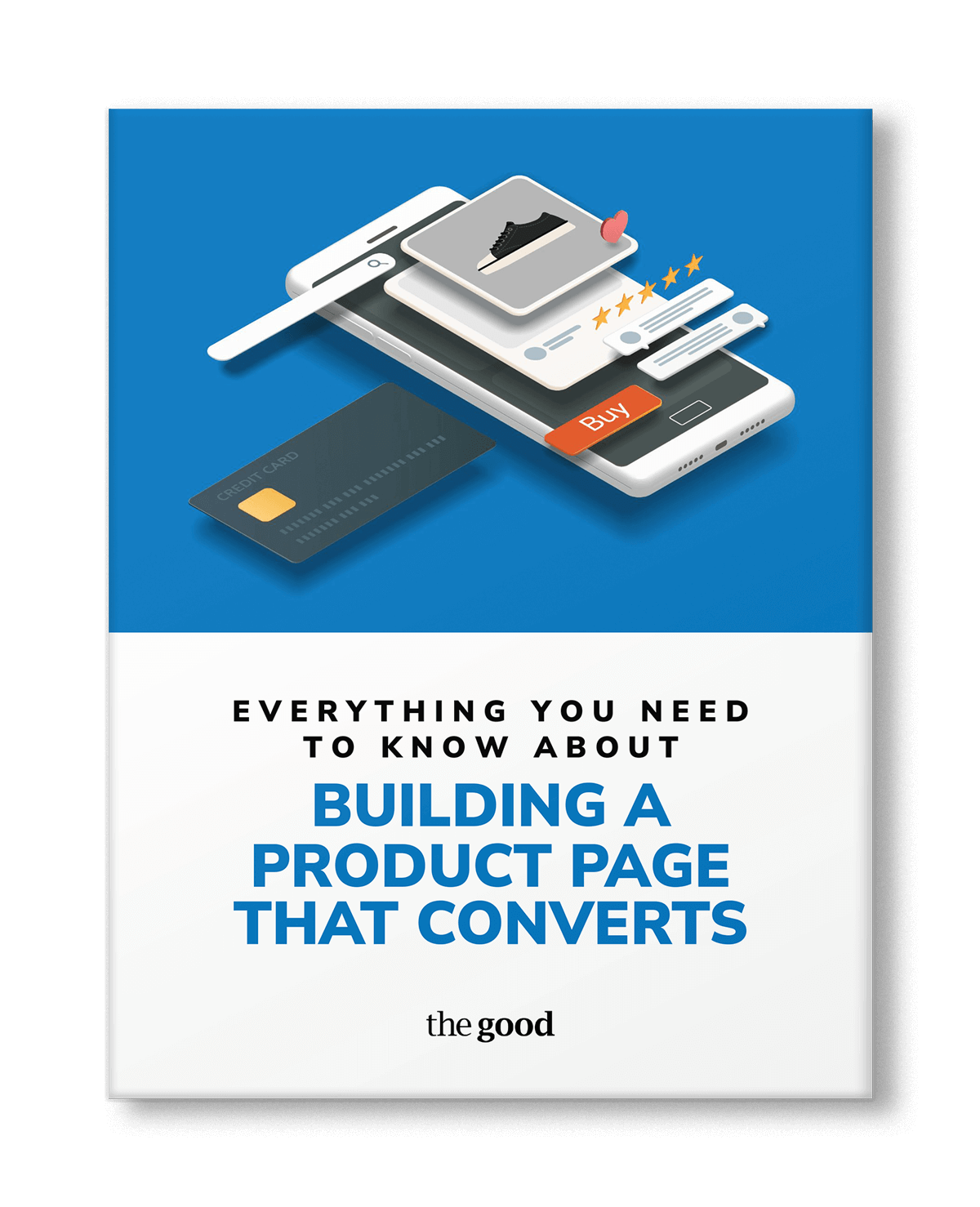 Make your delivery dates dynamic based on zip code
You can also tweak how you want to present the EDD information. Some companies use more business-centric language in their EDD approach, while others offer a more user-centric approach by adding zip code-specific estimates.
Urban Outfitters saves the user's current location to provide Estimated Delivery Dates and allows users to edit their location using a popup that provides shipping method information.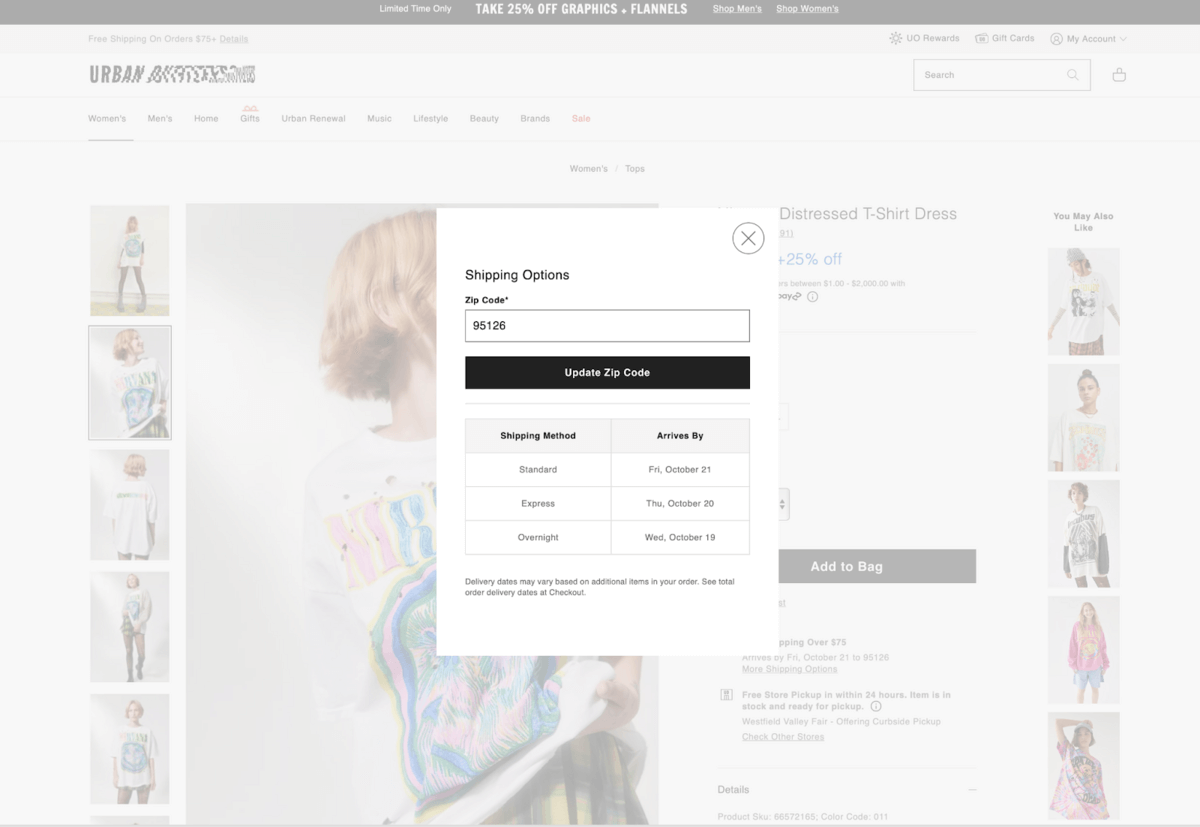 Urban Outfitters tailors its shipping estimator to the customer's location and to the desired shipping method.
Rush Order Tees' PDPs use customer-centric delivery times in its PDP description area.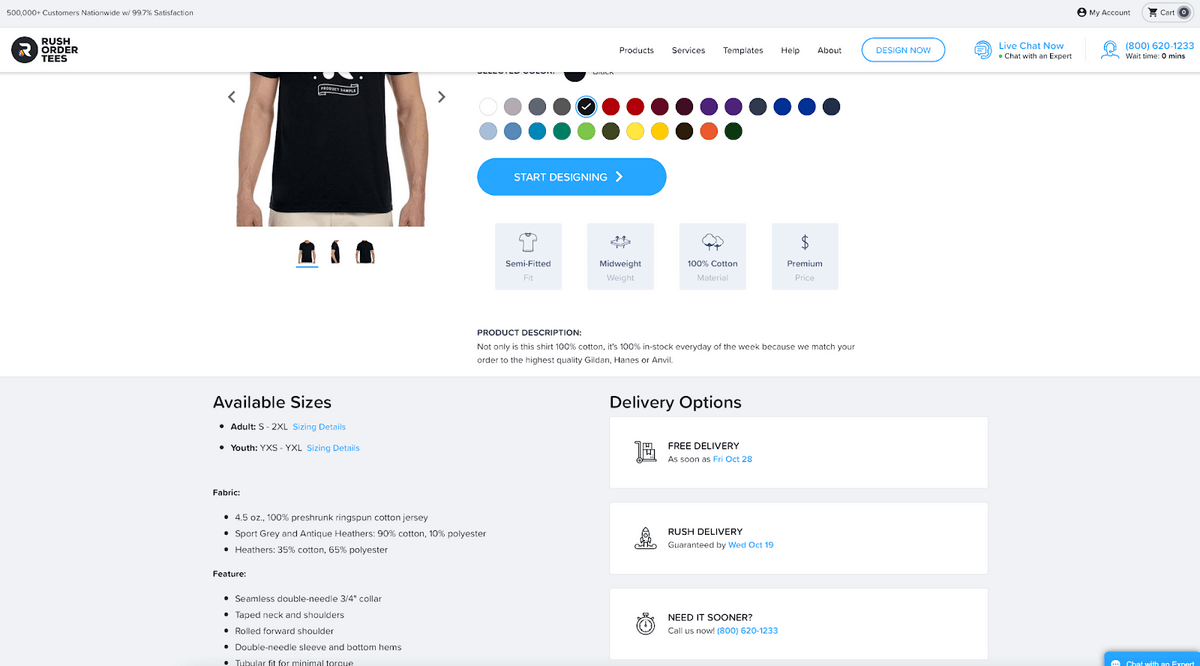 Notice how Rush Order Tees offers a specific date on its PDP, an example of a customer-centric approach.
Zip code-specific estimates add a personalized touch that will positively influence customer buying decisions.
Best-in-class examples of ecommerce brands displaying estimated delivery dates on their PDP
Many ecommerce brands incorporate EDDs into their PDPs, creating a transparent and customer-centric shopping experience.
These examples demonstrate the many ways you can display Estimated Delivery Dates.
Michaels: Delivery Estimator
Michaels, a well-known home decorating store, offers products from furniture to decor to art supplies.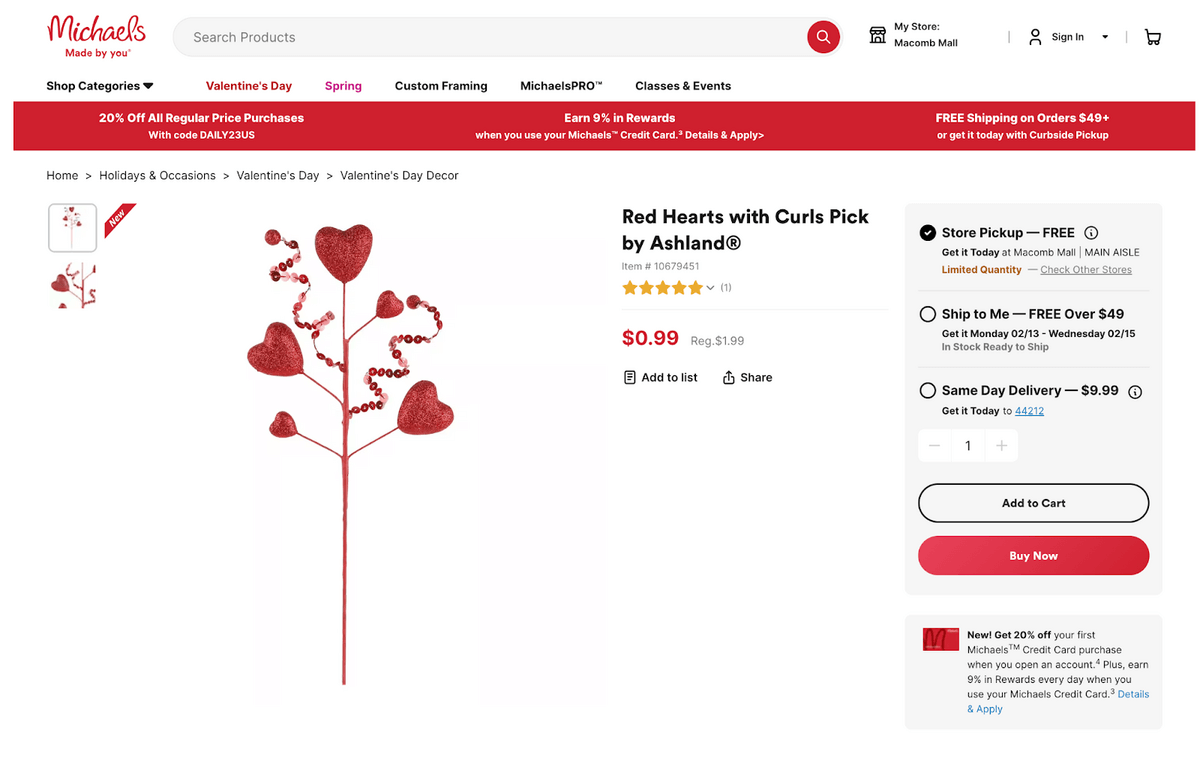 Why is this effective?
Offering multiple shipping options (Store Pickup, Ship to Me, and Same Day) on the PDP gives customers the power and flexibility to choose the best option.
Store Pickup allows customers to save on shipping costs and pick up their purchase as soon as they need from the nearest store.
Ship to Me gives customers the convenience of having their purchase delivered to their doorstep on a set day.
Same Day Delivery provides a quick solution for customers who need their purchase urgently.
Michaels also displays the shipping options as soon in the checkout as possible and places them strategically above the Add to Cart button.
The EDD's visibility can act as an urgency motivator for customers: encouraging them to complete their purchase and act quickly, as they can see their item will arrive within a specific time frame.
Instead of Michaels saying, "Arrives in 3-5 business days" (a more business-centric approach), they give a date range, so customers know exactly when the product(s) will arrive.
Urban Outfitters: Shipping Method Options
Urban Outfitters is a lifestyle retailer that offers a unique mix of fashion and home goods, catering to a youthful, creative customer base.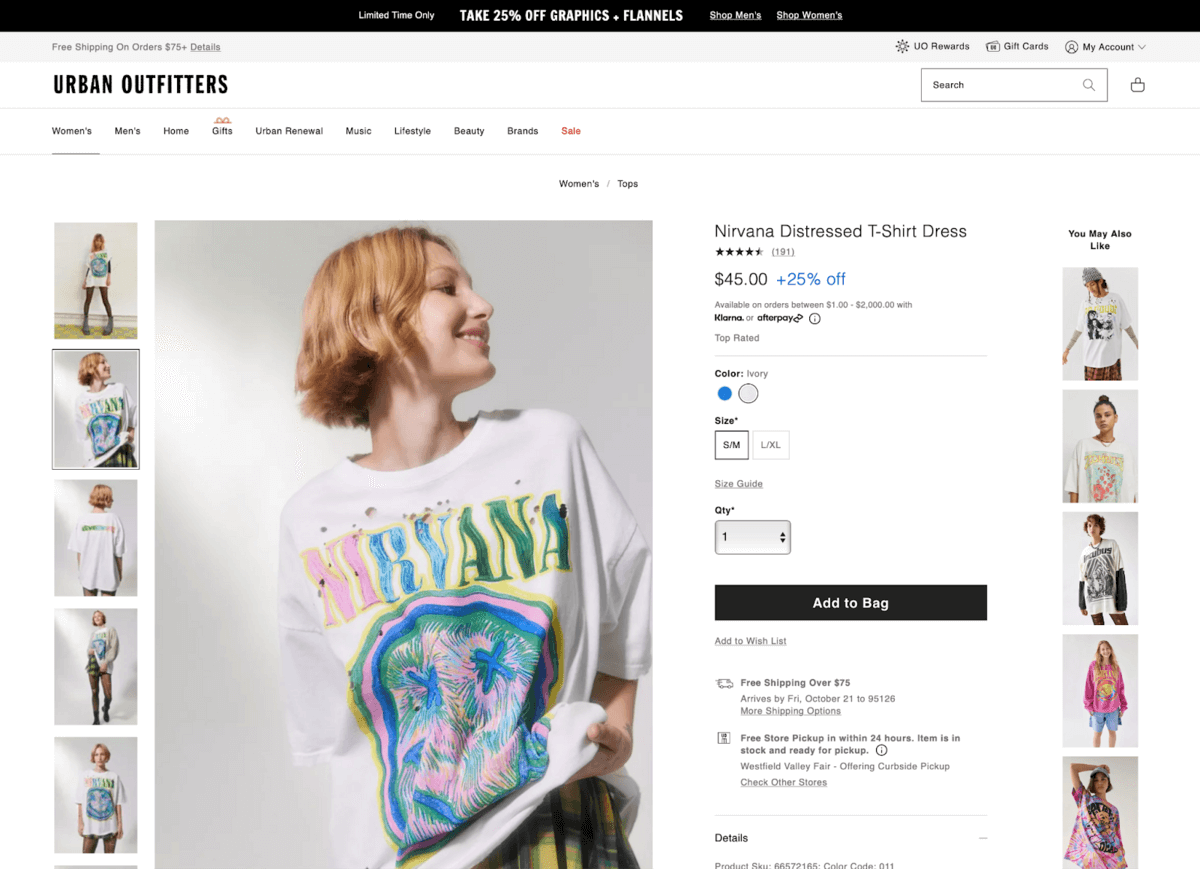 Why is this effective?
Like Michaels, its PDP features the EDD right underneath the Add to Bag button, placing it directly in the line of sight to checkout. Customers will see when the item will arrive, but Urban Outfitters does something more interesting.
When customers click "More Shipping Options," a popup appears for them to type in their zip code, and the algorithm will generate estimated arrival dates depending on the shipping method.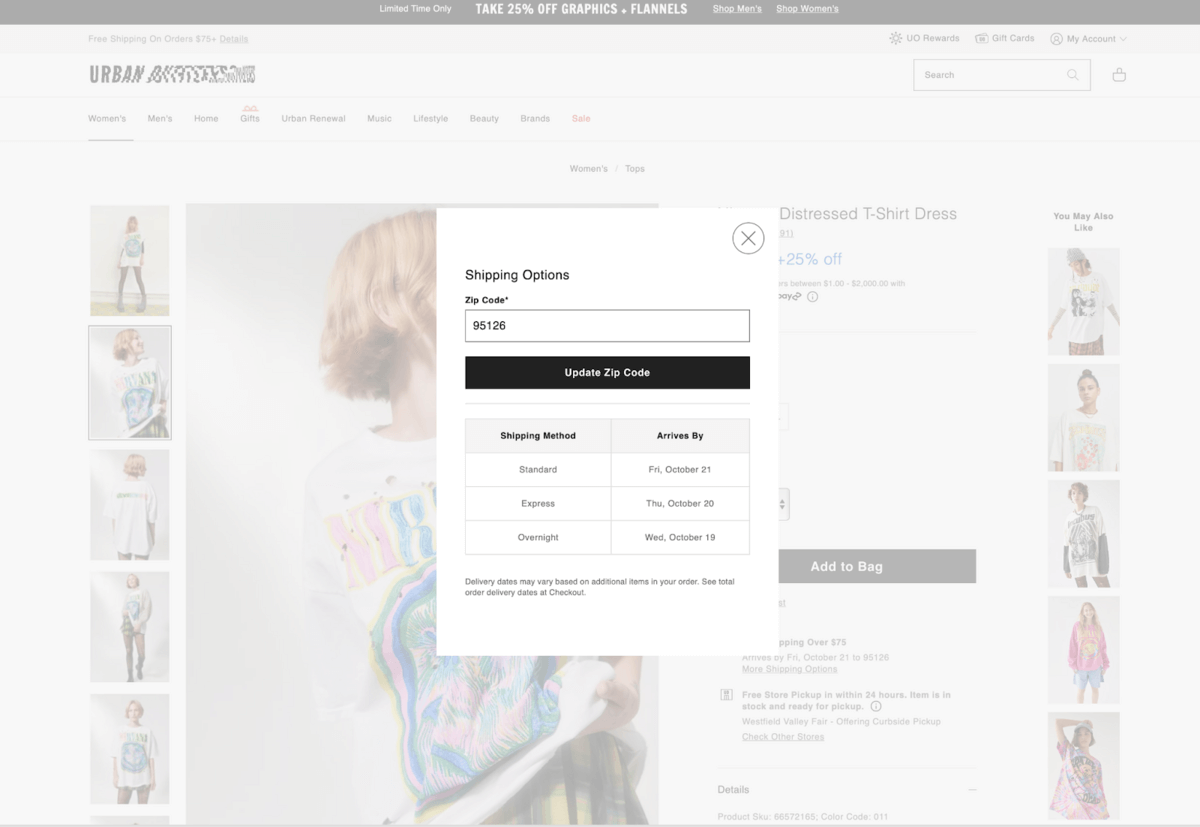 This clever shipping estimator personalizes the checkout experience by accurately estimating when customers will receive an item depending on their location. As a result, customers who need an item quicker can select the shipping method that best meets their needs.
Providing this level of detail, customers can better plan and manage their expectations, leading to a more positive shopping experience and a higher likelihood of making a purchase.
Nordstrom: Zip Code Prompter
Nordstrom is an American luxury department store chain offering fashion clothing, footwear, beauty products, home décor, and more.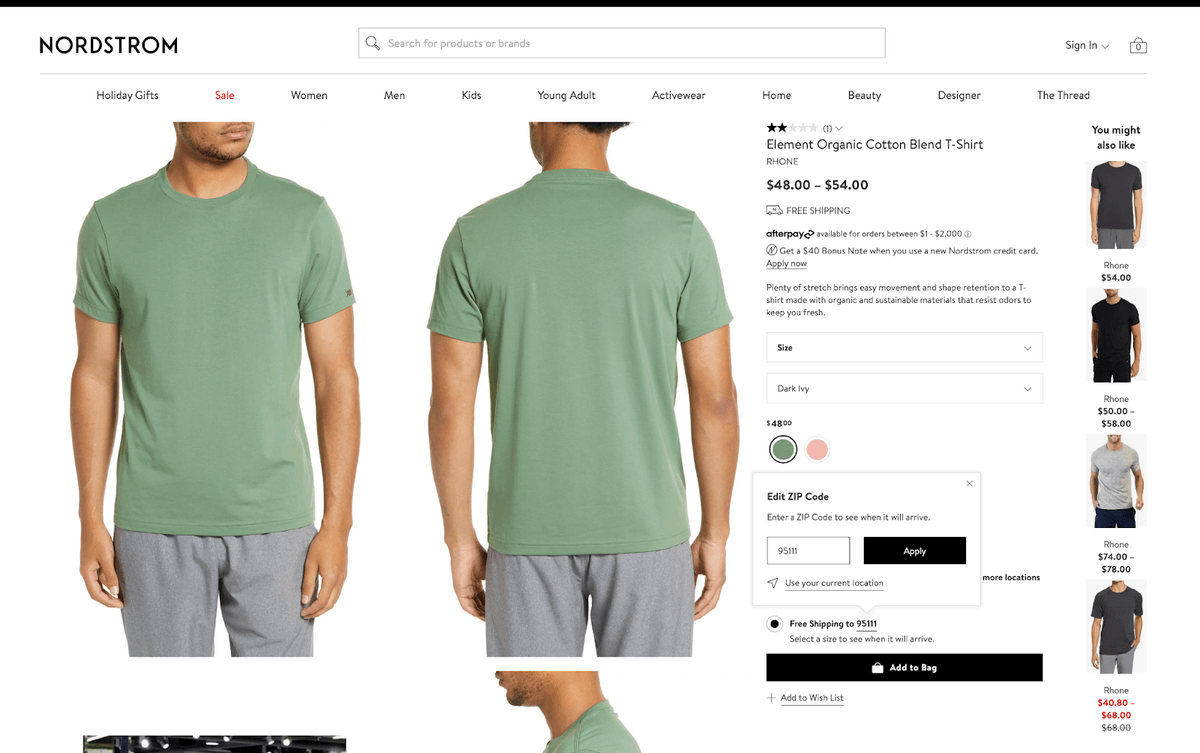 Why is this effective?
Just like Urban Outfitters, its shipping estimator is prominently displayed right below the Add to Cart button. Nordstrom prompts users to enter their zip code so it can provide accurate inventory and delivery estimations.
Whether a customer wants to find out if a product is in store for pickup or to estimate their delivery dates, offering this delivery estimator through a zip code prompter reduces shipping anxieties because customers aren't left wondering when their product will arrive.
Optimizing your site for conversions and user experience
Improving the user experience should be an ecommerce website's North Star. One specific area to focus on is the Product Detail Page (PDP) by adding estimated delivery dates (EDD) to enhance customer satisfaction and increase conversions.
By adding Estimated Delivery Dates to your PDPs, you will:
Minimize customer anxieties
Reducing customer support inquiries
Improve customer planning
Enhance customer satisfaction
All of which center around your customer, the heart of your business. The delivery date should be as specific as possible, displayed early in the customer journey, and presented in a clean and visually appealing manner, whether in a sidebar, under the "Add to Cart" button, or next to the product overview section. By putting the customer's needs at the center, businesses can build trust and improve their bottom line in the long run.
Subscribe to our newsletter to get more just like it, sent straight to your inbox every week.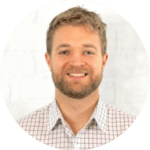 About the Author
Adam Perkiomaki
Adam is a CRO Strategist at The Good. He is an experienced professional with a diverse skillset across industries. Adam leverages his UX research skills to drive results for clients.