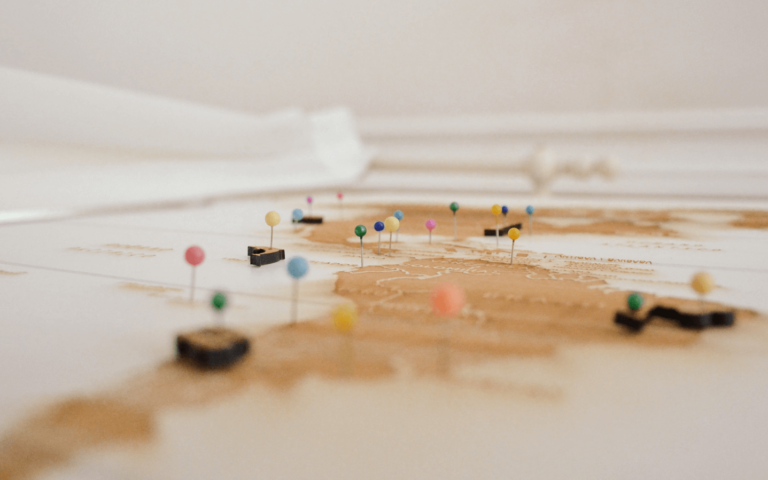 Data & Analytics
How to Launch a Successful Cross-Border Ecommerce Strategy
Cross-border ecommerce is becoming an essential element to growing and scaling an ecommerce business. This Insight takes a closer look at why that is.
Cross-border ecommerce is the key to exponential growth for online businesses. After you've spent years establishing an ecommerce business in a regional or national market, it may be time to consider expanding your business into different countries. Over the last several years, cross-border ecommerce sales have skyrocketed due to an increased demand for foreign goods, and a rising middle class, particularly in Asia-Pacific (APAC) countries.
Here's the thing: we see a lot of ecommerce businesses that are eager to launch their cross-border sales efforts, but want to ensure that they're on firm footing before making a deeper commitment.
In this article, we'll highlight the benefits of cross-border ecommerce and outline the steps you should take to capture your share of the international market. We've created a checklist to help develop your strategy by determining which countries or regions best fit the target audience for your products, then reaching those new prospects with offers that will turn them into your newest customers.
Why is Cross-Border Ecommerce is Essential for Your Business
According to a study conducted by Visa, 90 percent of ecommerce leaders queried said an international ecommerce presence will be essential to their company's success by 2024.
Two-thirds of those not yet selling in foreign markets are planning to launch an international sales effort "in the near future." Surprisingly, only about one-third of respondents said that they feel fully prepared to handle international transactions today.
These are all indicators that the opportunity for growth in international selling is vast, but underserved. There's still time for savvy ecommerce sellers to carve out a piece of the global ecommerce pie before their competitors are even at the table. If you aren't already looking to start selling in foreign markets, now is the time.
Here are three economic indicators that seem to confirm Visa's predictions:
1. Ecommerce spending in foreign countries is on the rise
The United States isn't the only country experiencing a boom in ecommerce sales. Forrester Research estimates ecommerce retail sales in APAC (Asia-Pacific) countries will hit $2.5 trillion by 2023. In contrast, U.S. online retail sales totaled under $600 billion in 2019 and are not expected to exceed $7.5 billion in 2023. That means companies selling only to consumers in the U.S. are missing out on the lion's share of the market.
Why are consumers in foreign countries outspending the United States? Here are a few of the reasons for the rapid expansion of foreign markets:
The access to and demand for internet-enabled devices is immense
The middle class is expanding in APAC countries and incomes are rising
Many foreign governments are encouraging globalization and international trade
More people are becoming able—both technologically and financially—to shop online, and the ability to secure fair prices on items that may not even be available locally is attracting those new shoppers in growing numbers. Areas where options were once severely limited are now seeing choices open up to an unprecedented degree.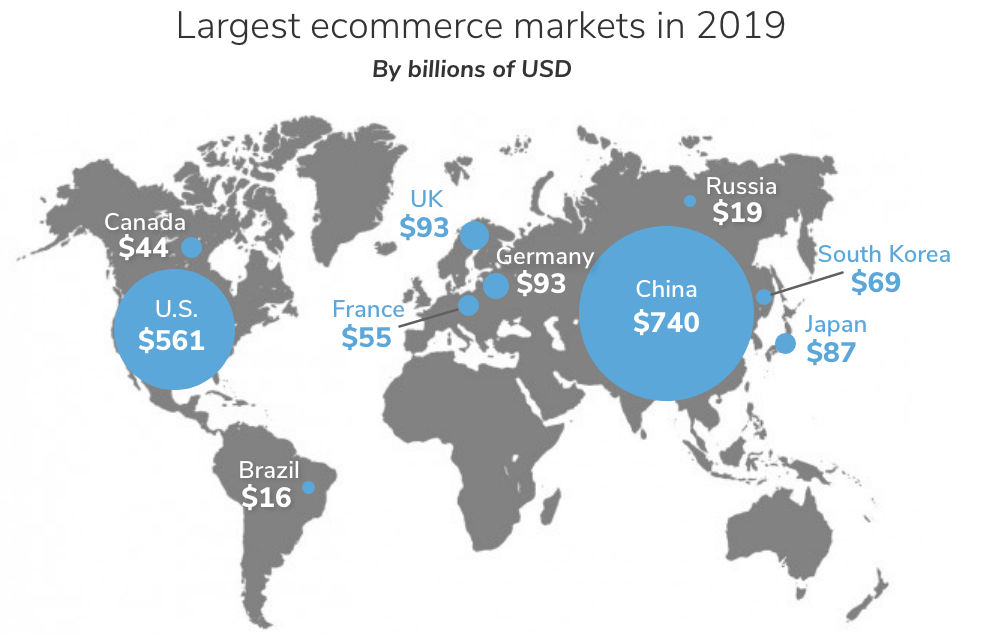 2. Rising income in foreign countries has increased demand for imported goods
Shoppers aren't just going online to find the same things available to them already. They're seeking out imported goods previously available only to a fortunate few. In 2018, 93 percent of consumers in the U.S. purchased a product online. During the same period, though, fewer than 74 percent of Chinese consumers engaged in an ecommerce transaction. When you consider that the Chinese population is more than four times greater than the United States, the implications are impressive. Statista projects Chinese ecommerce sales to surpass one trillion dollars in 2022.
China isn't the only expanding market for ecommerce, though. The chart below from eShopWorld identifies opportunities in areas not yet "saturated by international retail players." The display is sorted by the compound annual growth rate (CAGR) of ecommerce sales. Note that India leads the pack for emerging markets. In 2018, the active ecommerce penetration in that market stood at just 28 percent of the almost 1.4 billion population.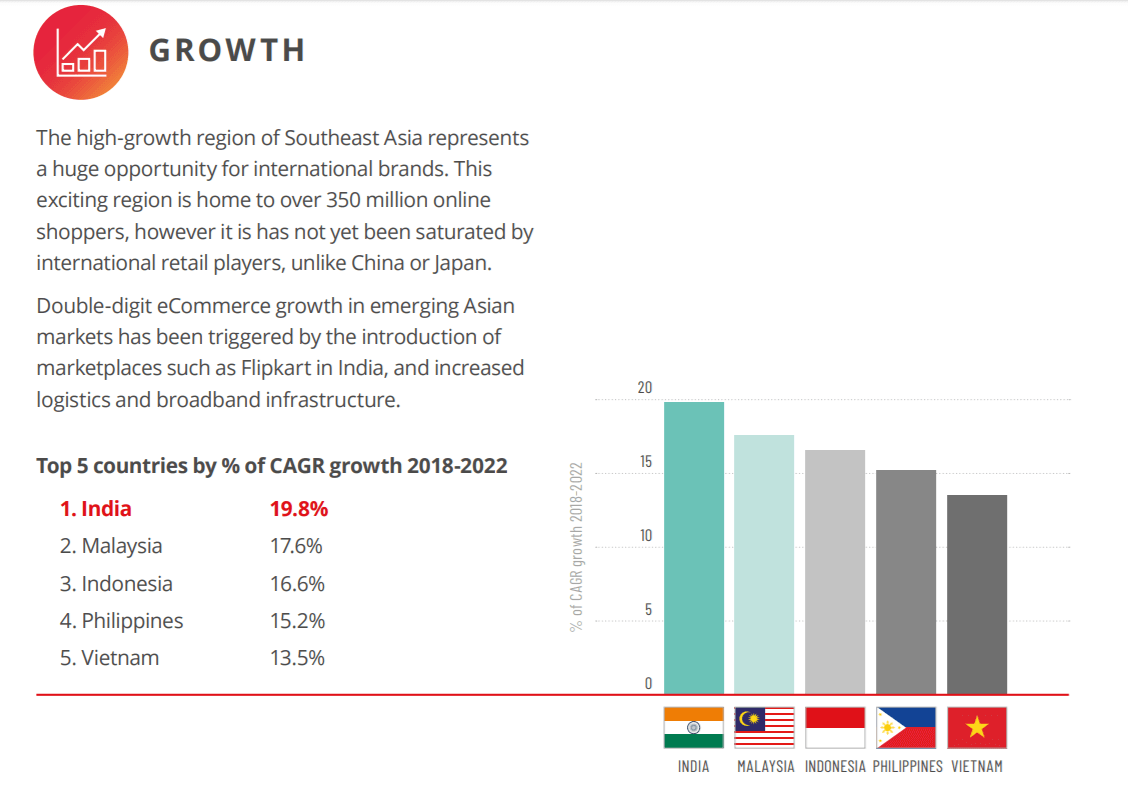 3. Buy now pay later options are helping people finance purchases
Coresight Research stated that buy now pay later (BNPL) services are "poised to disrupt the ecommerce market." Companies like Afterpay, Affirm, and Laybuy are making it even simpler for consumers to take part in cross-border ecommerce by providing alternative payment methods to consumers. Shoppers can make several payments on goods instead of needing to pay the total amount at the time of purchase.
A 2018 study by the Australian Securities and Investment Commission (ASIC) found that BNPL purchases in their country and grown from about 400,000 during 2015 to over two million by the end of 2018. When Australian consumers were asked about their reasons for using BNPL, 81 percent said BNPL allows them to purchase items they normally couldn't afford to buy in one payment, 70 percent said BNPL allows them to be more spontaneous in their spending, and 55% said BNPL allows them to spend less by taking advantage of lower prices.
Demographic data from ASIC (see the graph below) put the 34 years and younger group as especially attracted to the BNPL option. That data was also confirmed by the Coresight study, where members of the Millenial and Gen Z cohort are at the top of the list in terms of usage of BNPL services.
Ecommerce sellers concerned about the added cost of providing BNPL options generally find that the boost in both conversion rate and average order value more than make up for the fees charged by the payment platforms.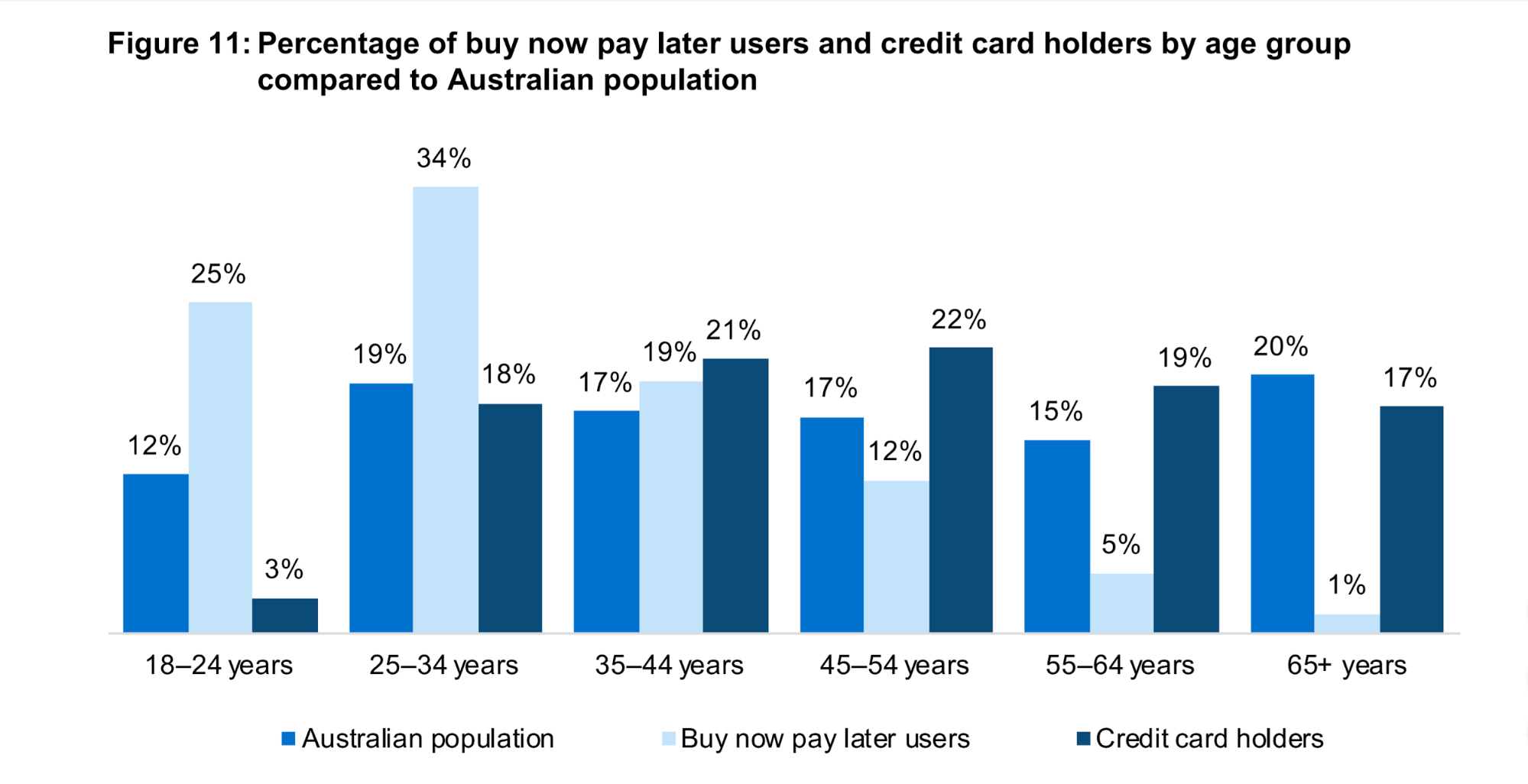 Steps to Succeeding in Cross-Border Ecommerce
Given the considerable opportunity cross-border ecommerce already provides online sellers and the forecast data saying the global market will continue to skyrocket upwards, what's stopping more companies from participating in international expansion?
Caution is certainly a factor holding many back, but the number one excuse we hear is "I'm not sure how to get started." There's no doubt that engaging in cross-border ecommerce takes specialized information and insight that can be difficult to collect and confusing to understand, but not acting on it could mean you miss out on an opportunity that will position your business for exponential growth.
To kickstart the cross-border ecommerce conversation and get your team thinking about the possibilities, we've prepared the following list of steps to follow. Use them as a framework to draft your own international ecommerce strategy.
Now is the time. Here's how we recommend you get your company started with venturing into cross-border ecommerce:
1. Identify and sort potential markets for your products
Begin by searching for emerging markets abroad that fit your products and audience. List the countries you think would be the best fit. It's wiser to expand country-by-country or region-by-region than to try to sell everywhere at once.
A good place to begin is by examining the country commercial guides on export.gov. Once you've located areas with a proven demand for your product, assess the culture, climate, and competition in those particular markets.
Export.gov also provides exceptional information on how to find new overseas buyers or discover new markets by examining your current trade patterns. It's a source no ecommerce company should overlook.
Subscribe to our newsletter to get more just like it, sent straight to your inbox every week.
2. Check for product restrictions in the foreign markets you're interested in
An important, yet often overlooked, aspect of cross-border ecommerce is how to identify and comply with the various restrictions placed on the selling and distribution of certain products in foreign markets.
You'll need to determine what can and cannot be sold in the countries you're interested in expanded into. There may be a huge market for your goods, but if regulations forbid or restrict those products from being sold, you'll need to consider your options. Note that there's a difference between a "prohibited product" (no sales allowed) and product restrictions (certain criteria must be met).
Guidelines on products like weapons, drugs, and foods seem evident, but some countries place restrictions on items like batteries, fur, helmets, seeds, and tobacco products. Remember, there are two ends to every transaction: the company the products are shipped from (export) and the country the products are shipped to (import).
3. Determine a pricing and tax strategy that fits the market you want to reach
Regardless of where you choose to expand your business internationally, you'll have to deal with regional tax regulations. Taxes on cross-border ecommerce operations can be intricate and cumbersome, so it's important to take tax requirements and potential effects on your business into account as you prepare your expansion strategy.
There'll be more considerations for pricing than just tax, though. You'll need to factor in freight costs, in-country distribution costs, insurance, sales commissions, and more. The primary elements affecting the price you set are the total costs that you'll incur getting the product sold and delivered, the market demand in the country you're selling to, and the going price your competitors are setting for similar products. Also remember, you'll need to display the cost of each item in local currency. Make sure your website is capable of providing that information automatically for foreign users.
4. Consider partnering with a third-party logistics service
Managing fulfillment for international orders can quickly get complicated and steal the focus away from your domestic business. Third-party logistics (3PL) services can relieve much of the stress and maybe even save you some money. How cost-effective would it be, for example, to import products from China to your storage facility in the United States, then export those goods to India? Partnering with a 3PL provider can enable you to concentrate on attracting buyers and getting them through check-out.
Once you've envisioned how your ecommerce website can leverage the internet to attract buyers overseas, the fulfillment picture changes. It's one thing to deliver an order to a customer in San Francisco, but quite another to get your goods quickly and efficiently to a buyer in Singapore. Working with a third-party fulfillment company can help simplify your shipping operations.
Look for differences in features like volume shipping discounts, delivery timeframes, and the possibility of inventory reception and storage when you compare your options. A qualified third-party shipper can also provide accurate answers to questions about taxes, tariffs, and product restrictions.
5. Outsource your support services as needed
When scaling your business into the international market, it's crucial that you have a qualified customer support team to meet the increased demand for support from your prospects and customers.
Your own experience proves how important it is to feel the person on the other end of the phone understands your problem or question and will work with you to create a solution or provide the correct answer.
When you call customer service and discover there's a language barrier or other confusing situation (unusual background noise, for instance), your level of trust quickly diminishes and you're prone to doubt the agent can help you at all. Frustrated customers can get your business off to a horrible start and maybe even torpedo your expansion effort.
Outsourcing customer service work can help reduce overhead expenses for your business and allow you to stay lean while continuing to expand into foreign markets. By providing customer support in the languages of the people you serve, you'll remove a primary barrier to customer satisfaction immediately.
6. Conduct user testing and user experience research in your desired market
Never assume the same user experience that works well in your home country will make sense to foreign users. Before launching your brand in a foreign market, it's essential that you perform user testing with your target segment in that country. You want to understand how they use your site and how they react to your site. Your aim is to provide straightforward navigation to help them find, compare, and buy your products.
Amazon is a great example of why it's vital to research your target market before moving forward with a launch. Amazon quietly entered the Chinese market in the early 2000's and operated in fierce competition alongside APAC ecommerce giants Alibaba, and JD. In early 2019, Amazon had to shutter operations in China simply because they couldn't compete with the rising popularity of competing ecommerce marketplaces that the Chinese population was more familiar with.
An ecommerce website that makes perfect sense to you and your team may be unnecessarily confusing to others. Conducting usability testing as early-on in the process as possible will help illuminate the issues that otherwise may not have been caught by your in-house designers.
7. Create a repeatable rollout strategy
When launching your business in a foreign market, you can save time and money by following a repeatable rollout strategy. Every region you target will require much of the same effort. There's no reason to have to reinvent the wheel for each market you want to move into. The particulars will change, but the fundamentals stay the same.
The steps we've suggested here are the foundation of that launch template, and the lessons you learn along the way will fill it in. Make sure to document your efforts in a cohesive and coherent manner. You can use this information repeatedly as you find new opportunities internationally that you'd like to explore.
Your rollout plan will include detailed guidance on third-party help availability, how to devise a pricing strategy, complying with local government restrictions and laws, finding in-country partners, and much more. Everything involved in getting your business launched cross-border should be included in this rollout plan. It will go a long way towards making future expansions easier.
Cross-Border Ecommerce: Now's the Time to Act
Cross-border ecommerce can be a tricky but highly lucrative business pursuit if executed properly. If you're convinced of the opportunities provided by the growing global desire for international goods, use the guidelines we've suggested above to kickstart the development of your business expansion strategy.
Here's the thing: if you're seriously considering a shift into cross-border ecommerce, you'll need to make some critical considerations about the overall user experience of your online store. Should you modify your site to meet the needs of consumers in foreign markets, or should you create a separate site that acts independently from your current one? At the core of this decision, you should always make sure your site is optimized to provide users a frictionless experience.
At The Good, we strive to improve conversion rates for ecommerce businesses by developing user-focused shopping experiences. The principles of ecommerce conversion rate optimization work in every country, though the way those principles are applied can vary widely. Fitting your ecommerce presence to the needs and expectations of prospects⁠—wherever they are⁠—is essential to cross-border ecommerce success.
If you're interested in learning how to optimize your website before launching in a foreign market, we suggest signing up for a free landing page assessment. In the assessment we'll take an in-depth look through one key page of site and make actionable recommendations for how you can begin to improve it.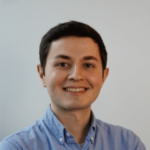 About the Author
Rudy Klobas
Rudy Klobas regularly works to produce insightful, informative content and copywriting designed to help ecommerce leaders increase conversions.