The Good Resources
Helpful resources to improve your conversion rates
Free Whitepapers
Our growing library of in-depth resources for increasing conversions.
Calculators
Discover the impact that conversion rate optimization
could have on your revenue.
Calculate How an Increased Conversion Rate Can Impact Your Website
---
What does an increase in conversion rate mean for your website's revenue?
---
Show Me
Calculate the ROI of Decreased Funnel or Cart Abandonment Rate
---
What does your increase in revenue look like if you can decrease the drop-off or abandonment rate on your checkout page?
Show Me
Stop Marketing, Start Selling
---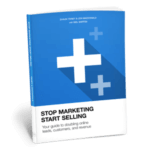 Most websites are underperforming.
Customers get frustrated. Leads get left behind. Subscribers cancel.
We've solved these problems so many times we wrote the book on it.
---
Get the Book
Email Course:
Websites That Convert
---
A free step-by-step email course to making your website convert.
The strategies and tactics outlined in the guide will show you how to better drive conversions by helping them get what they want quickly and easily.
Delivered over the course of a week in bite-sized chunks for daily learning.
---
Send me the course