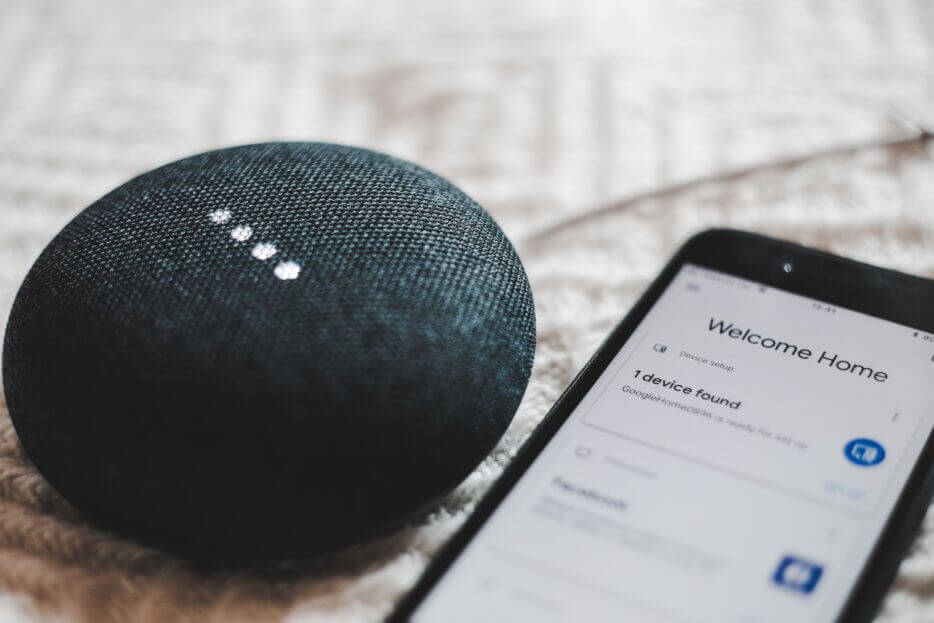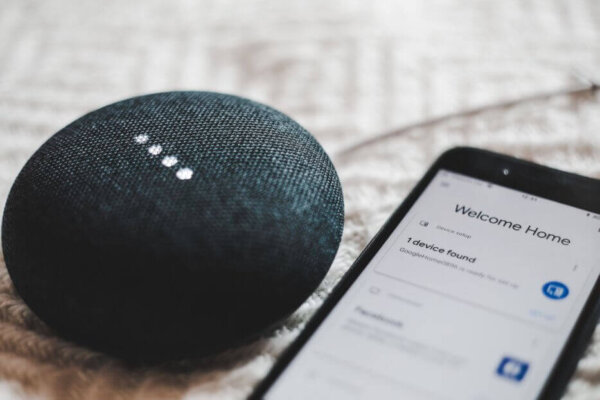 Conversion Rate Optimization
Voice Search Optimization: 4 Key Ways to Drive Greater Conversions
Use these four actionable steps to optimize your site for voice search and attract more high intent traffic that converts better.
Chances are, you talk to voice assistants on a daily basis. You may rely on them to get you to meetings on time, remind you to get the milk, or tell you when your favorite team is playing next.
But did you know a growing number of consumers use voice assistants to find products like yours?
If you're not already optimizing your site for this growing technology, you could be missing out on big-time sales while other brands capture the voice search market share.
Updating your site to meet the requirements of voice search is an essential part of conversion rate optimization.
The good news is, it's not too late to get in the game. Now is the time to start researching and experimenting with site content and design to meet the needs of the growing number of voice searchers.
In this article, we'll dive deep into voice search technology and provide you with the tools you need to get started with voice search optimization.
What Is Voice Search Optimization?
Whether you use a device in your home (think Alexa or Google Home) or your smartphone, you've probably used your own voice to search for information on the Internet.
So how is using your voice to search any different from searching by typing into a search box?
To enable voice search, engines go beyond just scanning for keywords. Voice assistants like Siri and Alexa leverage conversational artificial intelligence (AI) to help deliver the right results at the right time.
When you ask a question, the digital assistants scour the Internet's "knowledge graph" and its own specific knowledge bank
As voice search tech has grown increasingly more intelligent, users have gotten, well… more conversational. That is, they no longer speak the way they would write in a text search.
For example, a search for "women's clothing stores in southwest Portland" has become "where can I get a new skirt?"—no location or retailer details needed.
Why Should Retailers Care About Voice Search?
To meet the needs of evolving voice tech, retailers need to take a fresh look at their approach to voice search optimization.
Fifty-one percent of consumers use voice assistants (such as Alexa) today, and 81 percent use voice search on their smartphones.
However, most of these searches are for information—not products.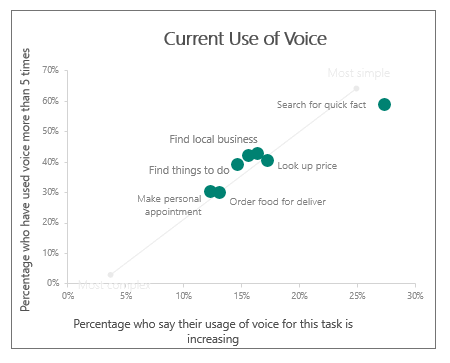 Voice searches are generally centered around finding information–not products. Image source: Intelligent Search Strategies for Better Conversions in 2019 presentation from Microsoft.
In fact, research shows that a whopping 70 percent of consumers are not using voice search to find product information or make a purchase.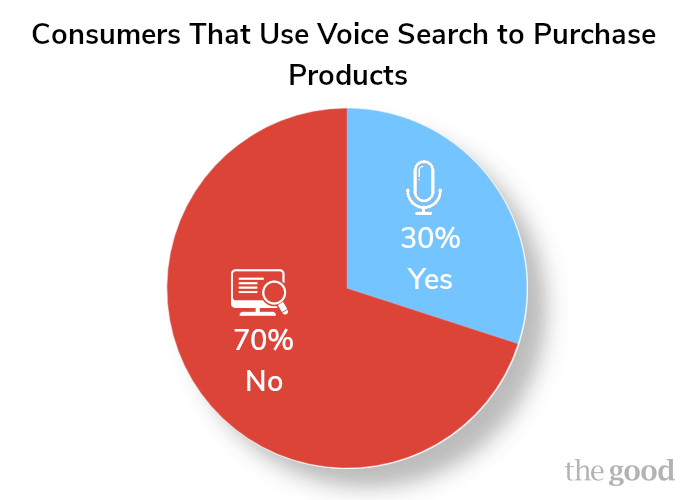 Why? Because consumers don't trust product search results.
And when it comes to connecting your brand to a customer, trust is everything.
You want to stand out, whether it's through text search or voice search. In order to do so, you need to deliver the information your customers need so they don't go elsewhere.
That's why, as voice search gets smarter, it's critical that digital assistants be able to access your brand's information. This allows you to float to the top of the listings and vie for that featured snippet position.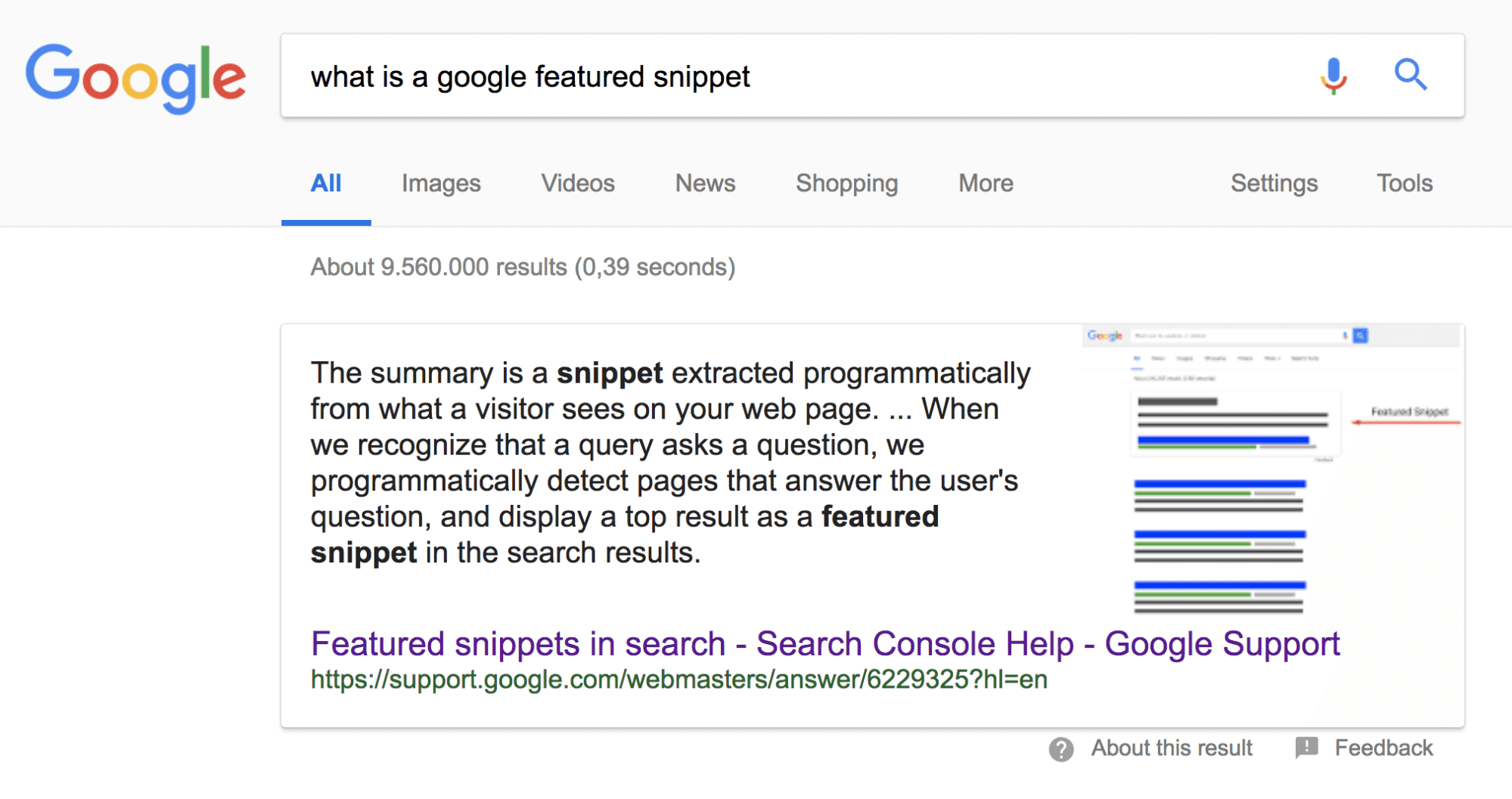 Featured snippets are the holy grail of voice search optimization. Here you can see the definition of a featured snippet—in featured snippet format
Now, before you tackle any big changes to your website, you'll want to get a better understanding of your prospects and customers. Ask yourself:
How old are most visitors to my site? Research shows that primary users of mobile voice assistants are under 30. If your target market is retirees, you may not want to spend a lot of time optimizing for voice search.
Are my visitors mostly local or remote? This will help determine your SEO strategy. Have you ever asked, "where can I get near me?" This is where you want your local business to stand out. See Strategy 3 below.
Am I selling high-value items, such as cars? If so, voice assistant technology is not quite there yet and is better suited to lower value goods–at least for the time being. You may want to take a lighter approach to voice search optimization, and just tackle the low-hanging fruit for now.
Answering these questions will help you tailor your approach to voice search optimization.
So, how do you get there?
Let's take a look at four steps you can take to optimize your ecommerce site for voice search.
Step 1: Know the Questions Your Customers Are Asking
By now you probably have a good understanding of who your best prospects are. But do you know what questions they're asking?
Remember, this goes beyond knowing what search terms they are using. You need to really understand the actual questions they are asking when they speak to their voice assistants.
These questions are likely conversational in tone and longer than conventional text searches, such as "which frame shop is open this weekend?" or "where can I get Speedo swim goggles for kids?"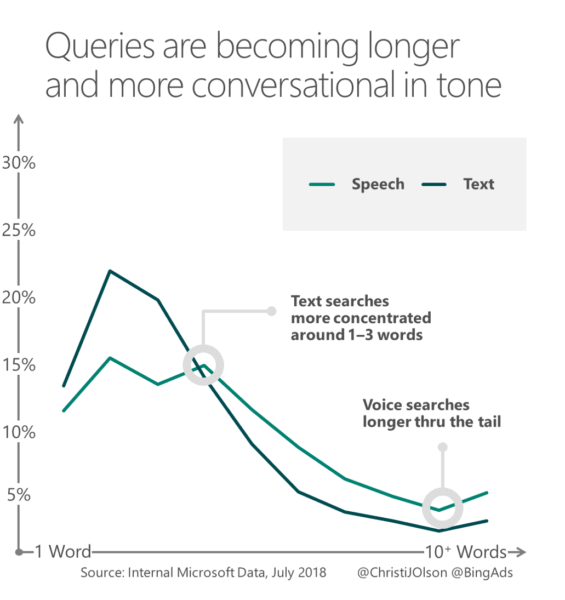 Voice searches are more conversational and tend to be longer. Image source
Talk to your customer service team to find out what questions they are getting from visitors. Determine the problems they are coming to you to solve, and–most important–figure out what specific questions they are asking you to answer.
If you know which keywords your visitors are searching on, but are not sure the questions they may be asking, try a tool like Answer the Public, which takes your keyword and shows you a bunch of questions visitors are asking around that keyword.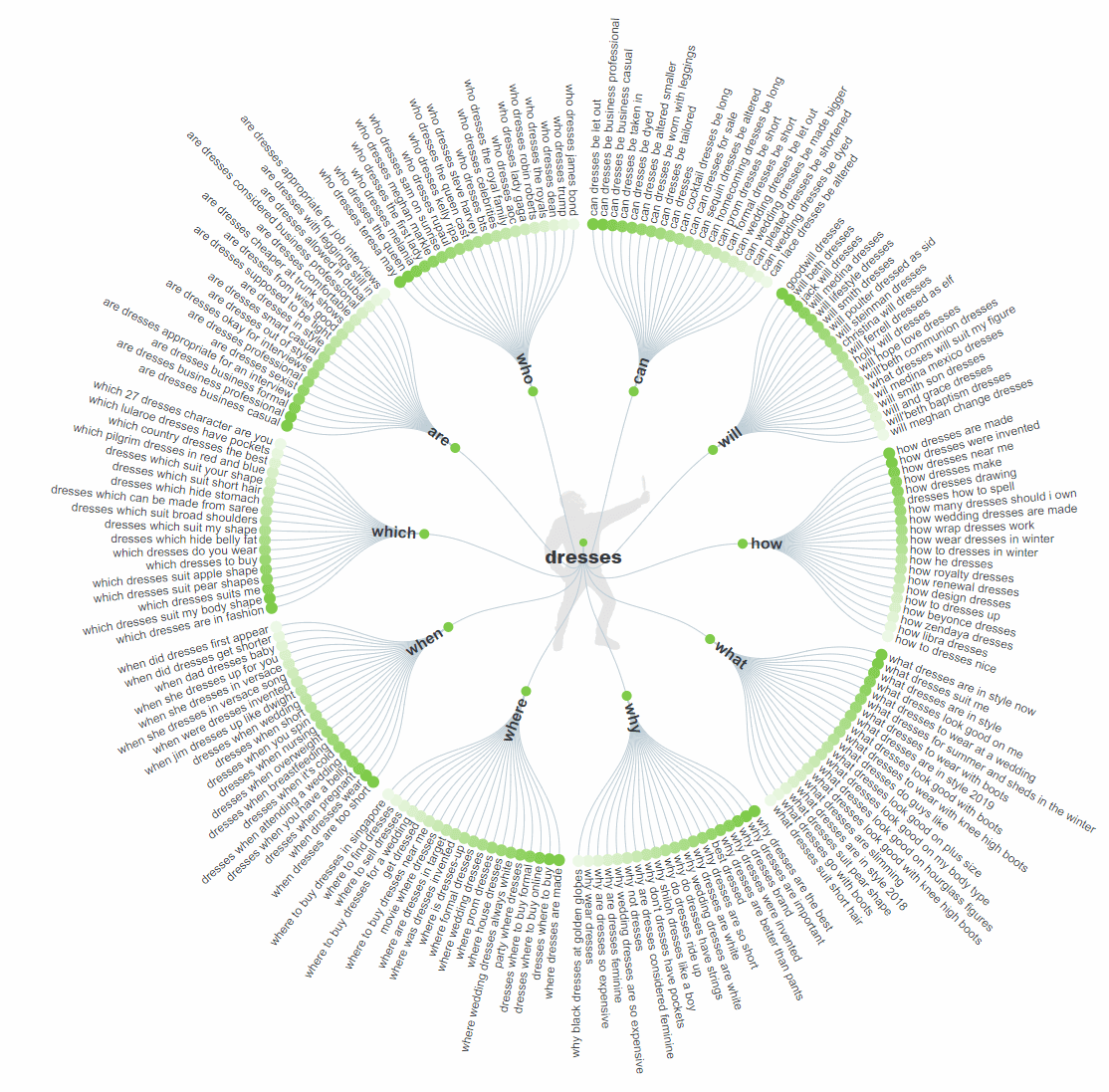 In this example, a search for the keywords "dresses" in the Answer the Public tool returns dozens of questions around that theme.
If you know what your customers are looking to you to provide, you can get a pretty good idea of the types of conversational questions they're asking.
Once you determine the specific questions your prospects are asking, you can even interpret their intent and where they are in the sales funnel.
The questions customers are asking often indicate their level of intent. Image source
It's a good idea to map the questions your top prospects are asking to the points along the buyer's journey. This will ensure that when you get to the next step, you can tailor your content to be available via voice search for buyers at every stage.
Step 2: Improve Your Content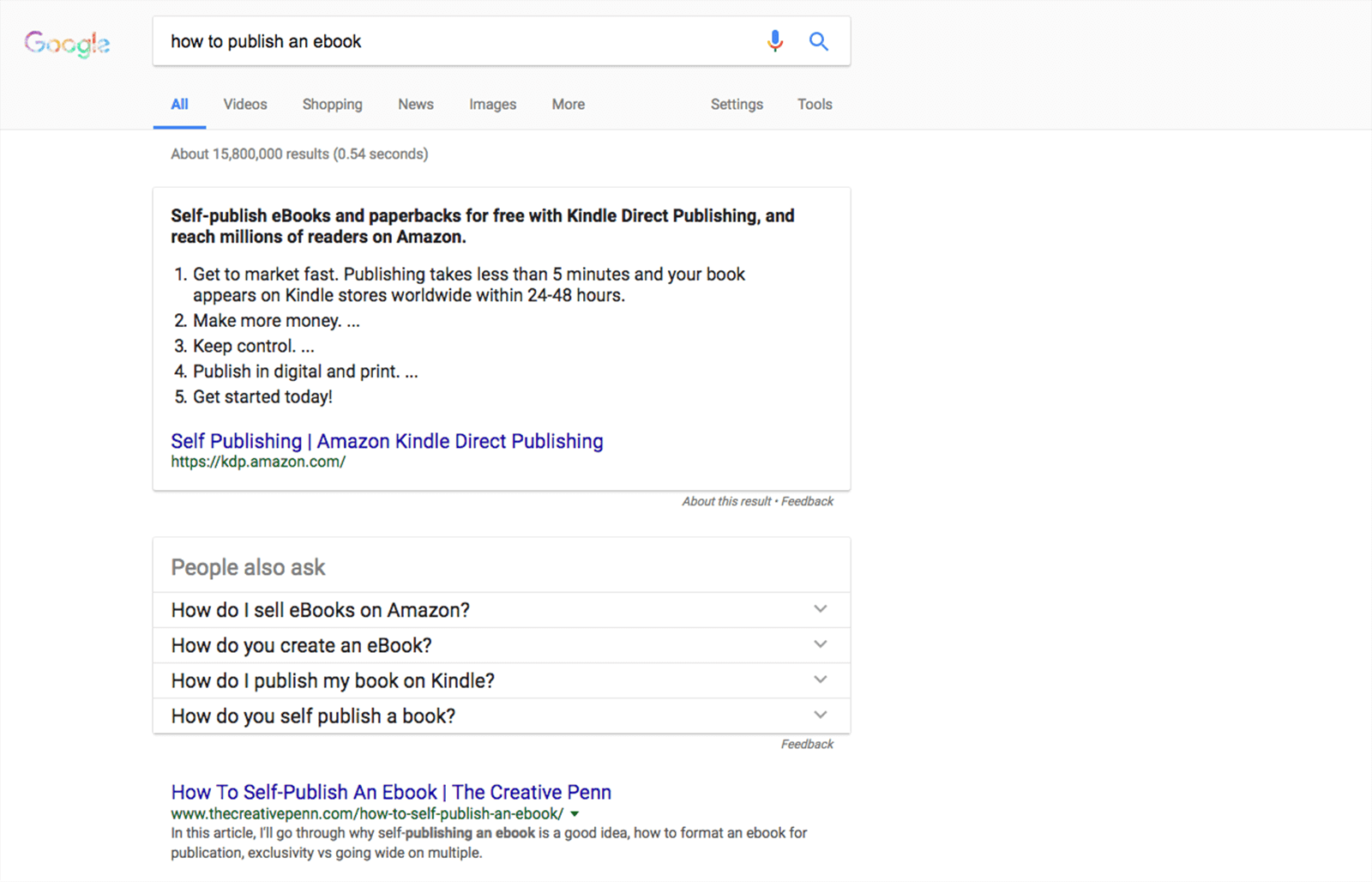 A voice search for how to publish an ebook displays the featured snippet shown here. Amazon has secured that coveted top spot, also known as "position zero.
There are two general types of snippets: non-featured and featured.
Non-featured snippets
Non-featured snippets include:
Rich answer snippets (quick facts, such as "how big is Earth?");
Knowledge graphs (usually a gallery of photos, such as "rides at Disneyland");
Rich snippets (snippets about products or businesses, including reviews, product availability, pricing, and photos (see Step 3: Optimize Your Business Listing)
Featured snippets
The holy grail of voice search results is becoming the featured snippet in Google. This is the result that Google reads aloud when you ask your voice assistant a question.
Featured snippets are what most businesses strive for when it comes to voice search optimization. There are several types of featured snippets, including:
Paragraph – descriptive answers to questions
Numbered list – process steps, recipes
Bulleted list – "best of" lists, ranked items, feature lists
Table – prices, rates, statistics
YouTube – videos
So how do you vie for that top featured snippet spot in Google? Here are a few places you can improve your content to catch the eye of voice tech:
Blog page
If your company has a blog, try incorporating the questions your users are asking into posts to get the attention of voice assistants. Don't just drop keywords into the header or body; integrate the text of the actual question into the post.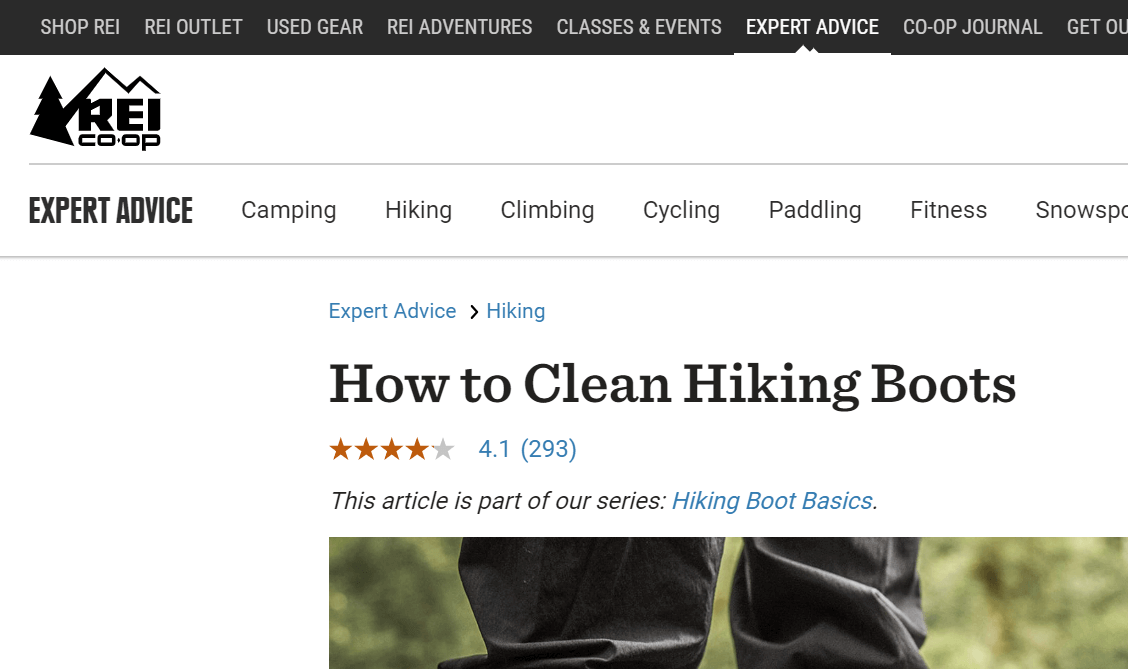 REI does a good job of asking common customer questions around the types of products they sell.
For example, if your prospects are asking "how to clean hiking boots," and you sell outdoor gear, consider creating a blog post around this topic using these specific words.
Be sure to feature the question in the header, and introduce the answer in the first paragraph.
Informational page
You can also create different types of pages that will serve the purpose of answering questions users commonly ask their voice assistants. Now that you've mapped your prospects' questions to the points along the buyer's journey, you should have a good idea of the answers you need to provide.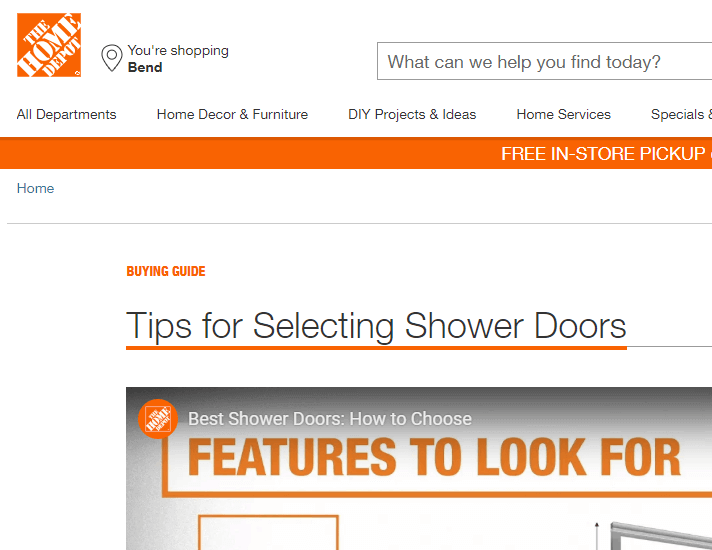 Home Depot features many informational pages like this one on their website.
Let's say you sell salsa, and your best prospects often ask "how many calories are in salsa?" on a regular basis. Consider adding a "nutrition facts" page for your product that answers the specific question, so your brand pops to the top of the search results.
Content is king
Benu Aggarwal of Milestone, Inc., suggests that 80% of the content you create for the various stages in the buyer's journey should be informational, as these feed the snippets.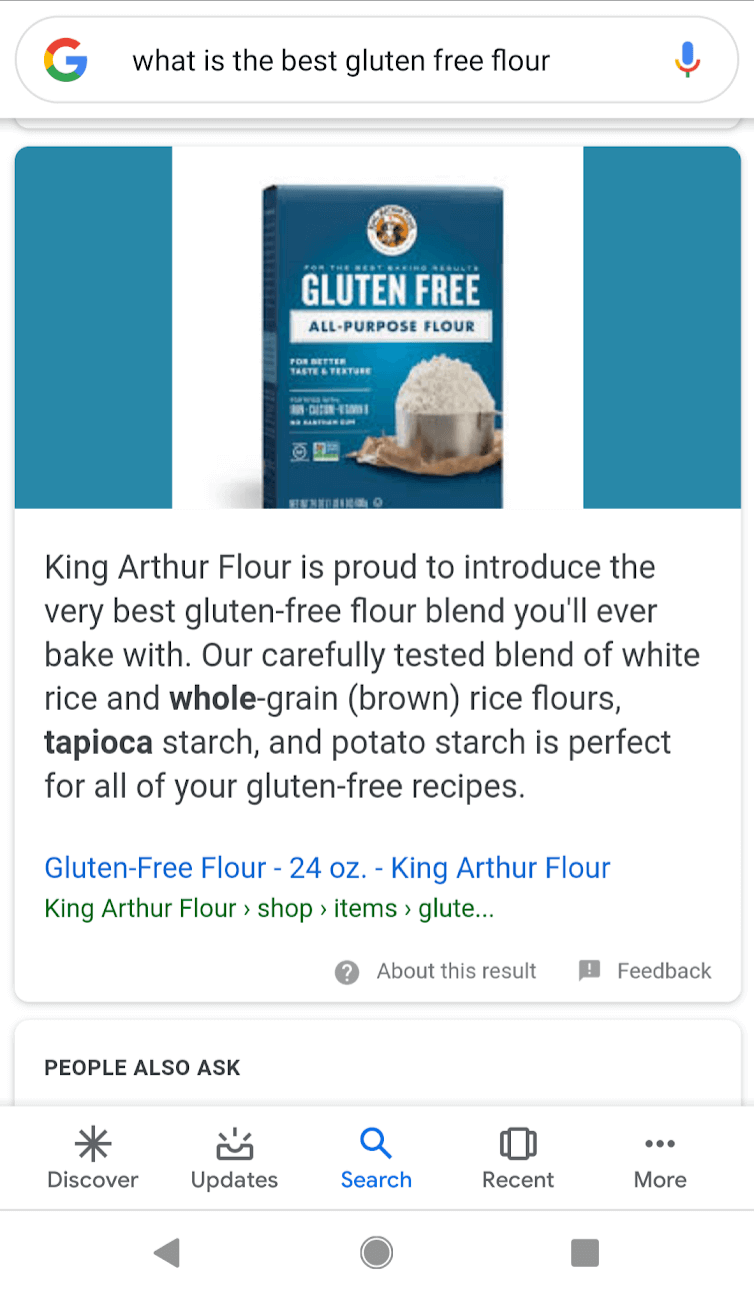 King Arthur Flour has done a good job of beefing up their product description to nab that featured snippet spot.
Aggarwal suggests these different content types to increase your relevance in voice search results:
Informational intent (guides, how-tos, etc.)
Navigational intent (store locations, services, press releases, customer service info)
Transactional intent (videos, product information, comparisons, product stories)
The bottom line: Use content to prove you are the authority on your product, and gain the trust of your prospects.
Step 3: Optimize Your Business Listings
When is the last time you looked at the schema markup, or structured data, for your site?
While this type of metadata is not the most glamorous part of site optimization, it can provide the edge over your competition that you need when it comes to voice search, and get you a spot in a non-featured snippet.
Schema for voice search works behind the scenes in your source code to tell Google what your site is all about, including contact information, hours, and business ratings. This enables Google to find the most relevant option for a given search.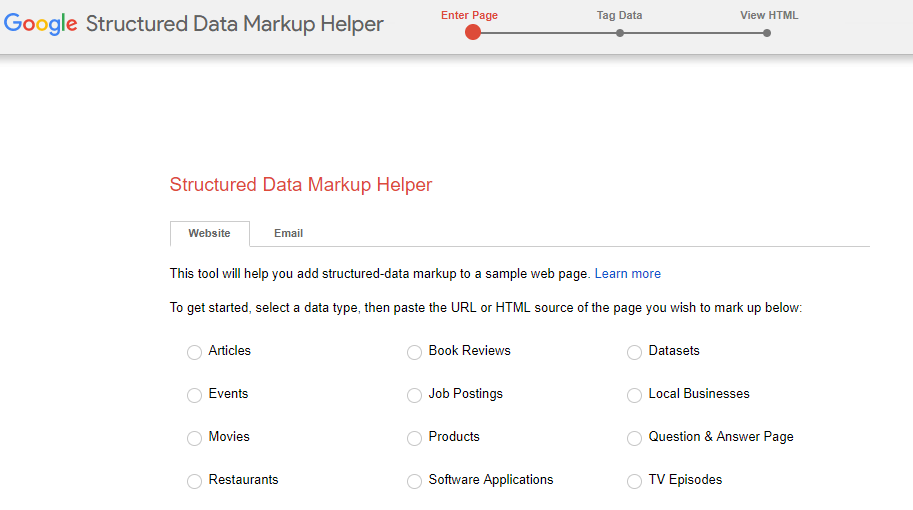 Google's Structured Data Markup Helper can walk you through the structured data markup process.
Schema is key to getting into top results and snippets for voice searches, and will help improve your website rank. It will also help you reinforce your digital footprint and help drive conversions, both online and offline (for local customers).
Here is an example of a rich snippet for a beauty product, including reviews and ratings. Check out SchemaApp.com to learn how to implement schema for your own business.
Next, you'll want to claim your Google My Business listing, as well as those on Apple Maps, Bing, and Yelp.
Voice assistant technology uses the location of users to deliver relevant results. Updating your listing will allow you to rise to the top when, for example, a local user asks "where can I buy a new drill?"
Be sure to craft an introduction in your business listing that will catch the eye of voice assistants by including answers to the questions your prospects are asking.
Step 4: Improve Your Site Speed and Usability
Once you've got prospects to your site, you don't want to lose them because a page loads painfully slowly, or your design is not mobile responsive.
As attention spans get shorter and shorter, you want your site to be lightning fast. Google also favors websites that load quickly. You'll want your site to load in 3-5 seconds–the faster, the better.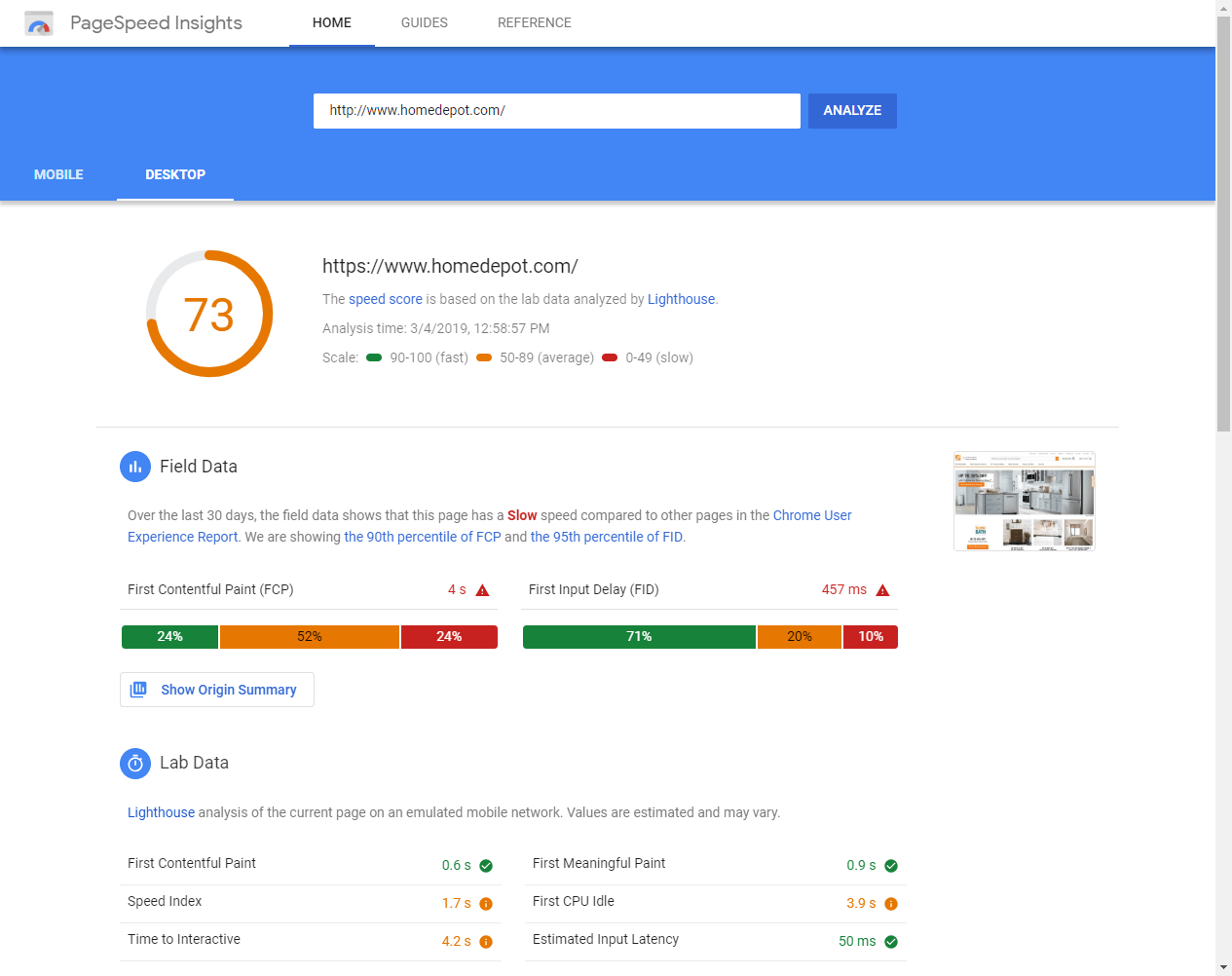 Home Depot's speed score for desktop site users is shown above. You can test out your own site's speed here.
You'll also want to ensure your site is mobile-friendly. What's the use of having content optimized for voice assistants if your users can't view your website without scrolling left and right, or zooming in to read about your business?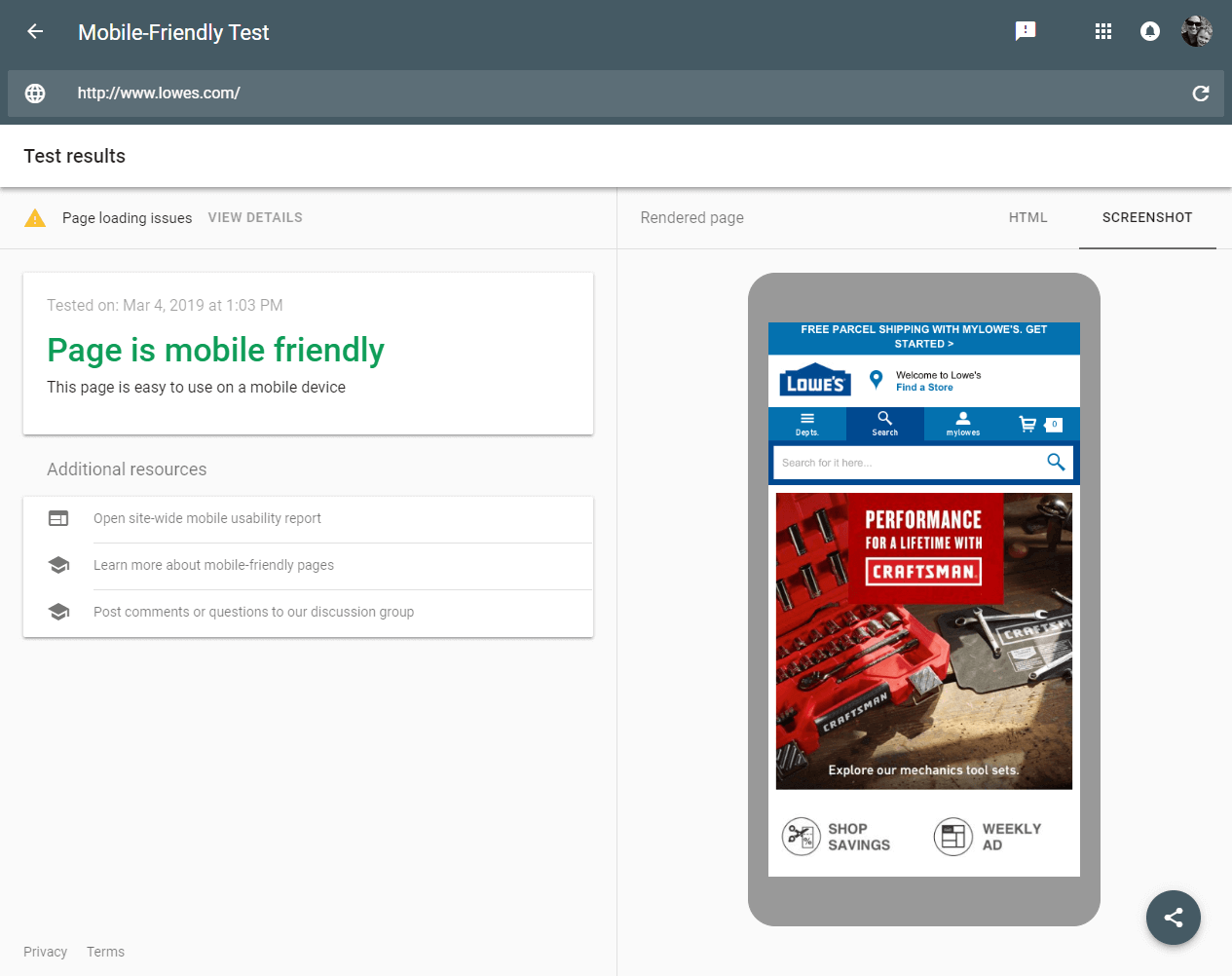 Lowe's mobile responsiveness result is shown above. You can test the mobile responsiveness of your site here.
And of course, your site needs to flow well, from the first visit to final purchase. When a user clicks on your site, is the path to a sale intuitive and free of roadblocks?
Optimizing for voice search doesn't end at drawing your visitors in; you'll need to guide them along the way to completing their journey. Take a look at your analytics and see where the stuck points are–then, fix them.
If you're looking for better results from your website but don't know where to start, check out our free Stuck Score™ to rate your site's performance in seven key areas.
The Future is Here, and It's Hands-Free
Gone are the days of typing out search queries in text boxes. Voice search and AI-enabled voice assistants are here and are integrating into our lives at an alarming rate.
As people begin to learn more about these tools, they are becoming more experimental with their search queries.
At the same time, Amazon, Google, Microsoft, and others are creating new and better features that capitalize on AI and voice technology to serve users better.
Is your ecommerce business adapting to the changing search landscape?
If you're ready to join the voice optimization revolution, here are your action items:
Know the questions your customers are asking, and create the content that helps them answer those questions.
Ensure your site's schema and business listing are up to date and as complete as possible.
Check the speed, mobile responsiveness, and design of your site to ensure visitors don't leave as soon as they arrive.
Follow the steps above, and you can be sure your site will soon float to the top of the voice search results.
As always, if you're having trouble getting started with optimizing your site for voice search, The Good is here to help.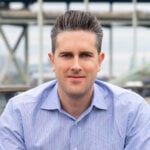 About the Author
Jon MacDonald
Jon MacDonald is founder and President of The Good, a conversion rate optimization firm that has achieved results for some of the largest online brands including Adobe, Nike, Xerox, Verizon, Intel and more. Jon regularly contributes content on conversion optimization to publications like Entrepreneur and Inc. He knows how to get visitors to take action.