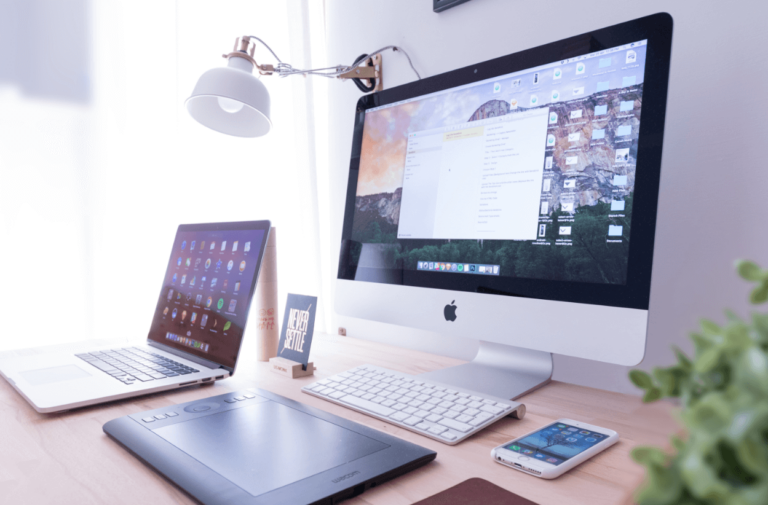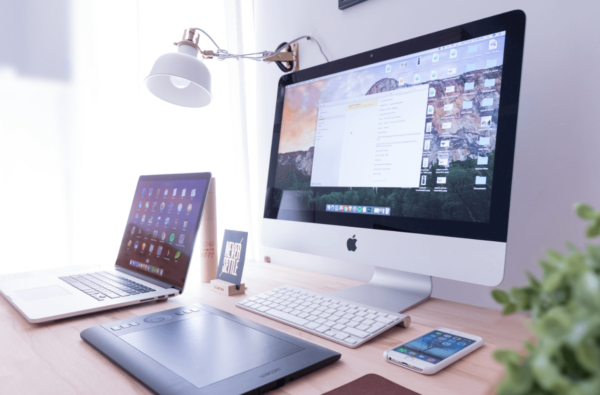 Customer Experience
Usability Audits 101: Why and How They're Crucial for Ecommerce
Learn how usability audits can uncover points of friction in your ecommerce customer journey and in turn convert more visitors into buyers.
There are plenty of potential sticking points that can affect the online shopping journey. Without knowing where and why users are dropping off, it's near impossible to fix.
Sure, you might be able to see that shoppers are exiting at the point of checkout, but it could be for any number of reasons. Maybe their preferred payment method wasn't an option, maybe the checkout form was too long and arduous and they were crunched for time, or maybe the page just took too long to load.
Usability audits uncover these points of friction and provide suggestions for improving the user flow and the overall customer experience.
What are usability audits for ecommerce?
Usability audits (also known as UX audits) evaluate a digital product or asset to find pain points for the customer that are hindering conversions. In the case of ecommerce, they evaluate the shopping journey and the on-site customer flow, identifying areas of improvement through data-backed insights.
For example, a usability audit of your online store might reveal that users don't have enough information about shipping, they struggle to find the exact product they're looking for, or there isn't enough social proof to convince them to purchase. Without knowing these issues, there's no way for you to tackle them, leading to missed conversions and unhappy shoppers.
What does a UX audit include?
The moving parts of a usability audit can vary based on who is conducting the audit and how much of a deep dive you want to do. If you're keen to just surface usability issues at checkout, for example, the audit process will be slightly different to a 4-6 week in-depth audit that assesses every step users take on your site.
As an example, at The Good our extensive usability audits include:
A complete funnel evaluation: we look at data about where, when, and why visitors leave your site, key metrics like AOV and revenue trends, your landing pages and their accompanying conversion rates, cart abandonment rates, demographic trends, and product trends. No stone is left unturned.
A 360-degree conversion analysis: we use heatmaps, user testing, session recordings, customer interviews, and surveys to identify friction at every stage of the buying journey–including your homepage, navigation, category pages, product pages, checkout, order fulfillment, and even post-purchase activities.
A detailed 60-100 page UX audit report: we pack our findings into a data-backed report that offers suggestions for improvements and answers key questions you might have about the user journey. It often includes post-purchase engagement opportunities, ongoing A/B testing plans, and best practice examples from leading ecommerce sites.
A value-packed presentation and audit review: we share the analysis results and discuss your options moving forward so you can uncover quick wins and implement long-term growth strategies.
As well as tracking the usability of your website or online store, a decent usability audit will also dig into the fringes of the customer journey. This includes monitoring your customer acquisition channels, encouraging repeat purchases, and optimizing the post-purchase process to instill customer loyalty.
Analytics is just one part of the puzzle. While they provide real-life data you can draw from, they often don't give any insight into the emotional side of the customer journey. This is why we include moderated and unmoderated live user testing with video recordings and customer interviews to understand how consumers interact with your site in ways that analytics can't.
Timing is everything: when to invest in a usability audit
Usability audits can uncover improvements wherever your business is at. If you're just starting out it can create rock-solid foundations for you to build on; if you've been in the game for a while, it can identify areas for improvement that can nudge up your conversion rates so they're in line with your business goals.
Think of it as a health check that can be carried out at any stage of your brand's lifecycle to highlight performance issues and speed up growth.
With this in mind, there are three key milestones that often warrant a usability audit, if not just to check you're on the right track:
After a website or store redesign to see if you're placing usability above aesthetics
When you're planning a new functionality to check it is in line with your customer's needs and behaviors
When validating a new design before it hits the development stage
"To me, the audit is a no-brainer for the vast majority of sites. It's a really robust process that doesn't take long, and you're going to learn something really valuable," says Mark Jacobs, the Director of Digital Optimization at Mercy Corps.
How long does a usability audit take?
How long is a piece of string? The correct answer here is that it depends. You can run a surface-level usability audit in a matter of days, or you can theoretically run a continuous audit for months or even years.
Our usability audits at The Good typically take 3-4 weeks to conduct, leading to a two-hour UX review session. Once we've run you through our presentation and findings, we send out a digital copy of the report that you can go through in your own time.
A valuable investment: how a usability audit can impact your business
Similar to other data-focused audits, usability audits use empirical research methods to uncover findings and offer heuristic evaluations and recommendations to enhance the customer journey. As a result, the biggest impact an audit should have on your business is increased conversion rates. The more you understand where the sticking points are, the easier it is to fix them and create a well-oiled buying journey.
The pros of a user experience audit benefit both the customer and your business:
Improved functionality which increases customer satisfaction
Less customer frustration and confusion, leading to higher conversion rates
Data-driven decisions that lower acquisition costs and increase CLV
Detailed insights into customer needs that increase long-term loyalty
On top of these benefits, a usability audit can help you answer important questions about your business that will strengthen other activities, like marketing and product development. It can help you figure out what's working and what's not, which metrics are most important, what has already been tried and the impact it had.
Perhaps the biggest impact on your business, though, is the potential ROI. Even a minuscule increase in conversion rate can have a significant impact on sales for a large organization. For example, a modest improvement from 3.1% to 3.6% for a site with $20,000,000 annual online sales will yield over $3,200,000 in extra sales every year. In fact, according to research, UX design investments reap a 9,900% ROI. 
For men's skincare brand Tiege Hanley, a usability audit helped prepare them for their upcoming web design project. They wanted the new branding to be an improvement not a setback, so they called on The Good to figure out if it was user friendly or not.
"We were aware that there were user experience issues on the site and that they were causing some friction in the purchase experience," says Jay Evans, Tiege Hanley's Ecommerce Manager. "We wanted to hear from an unbiased outside source what some of those pain points and areas of friction might be, so that we could ultimately improve our conversion rate, especially in high-visbility, high-impact areas."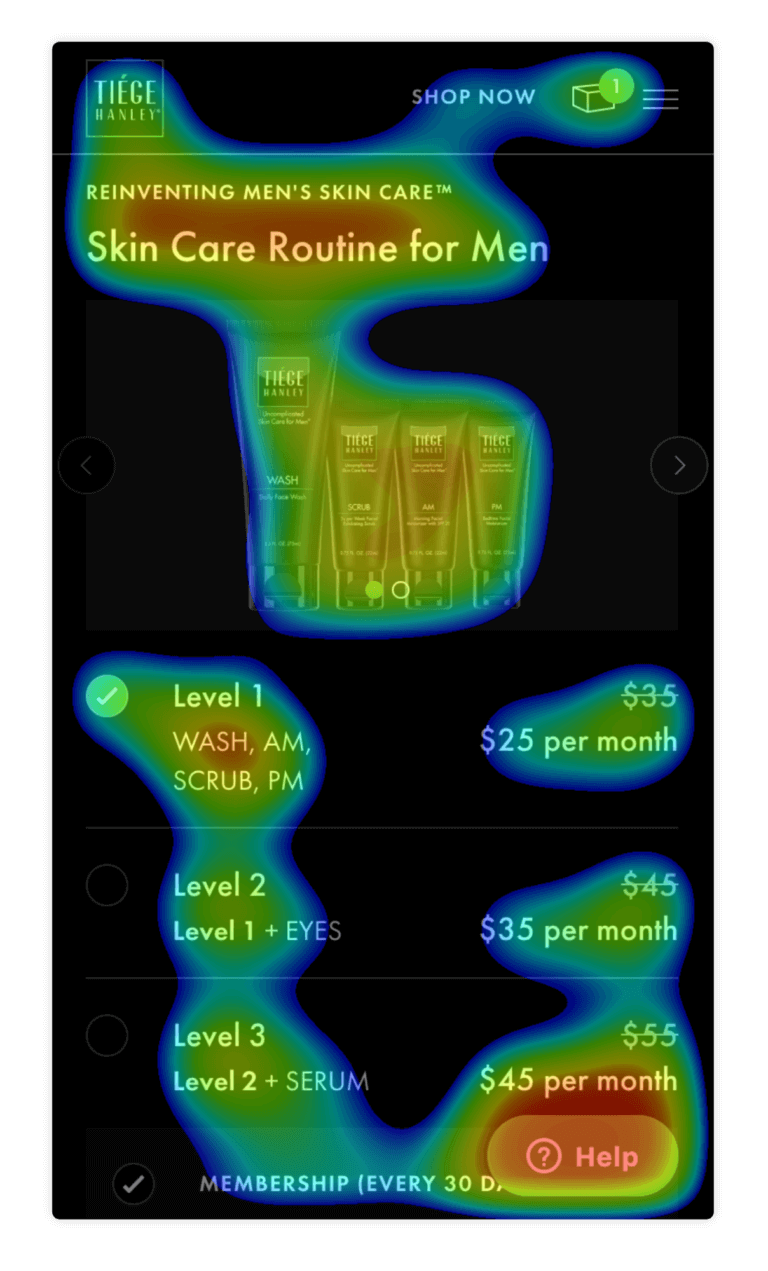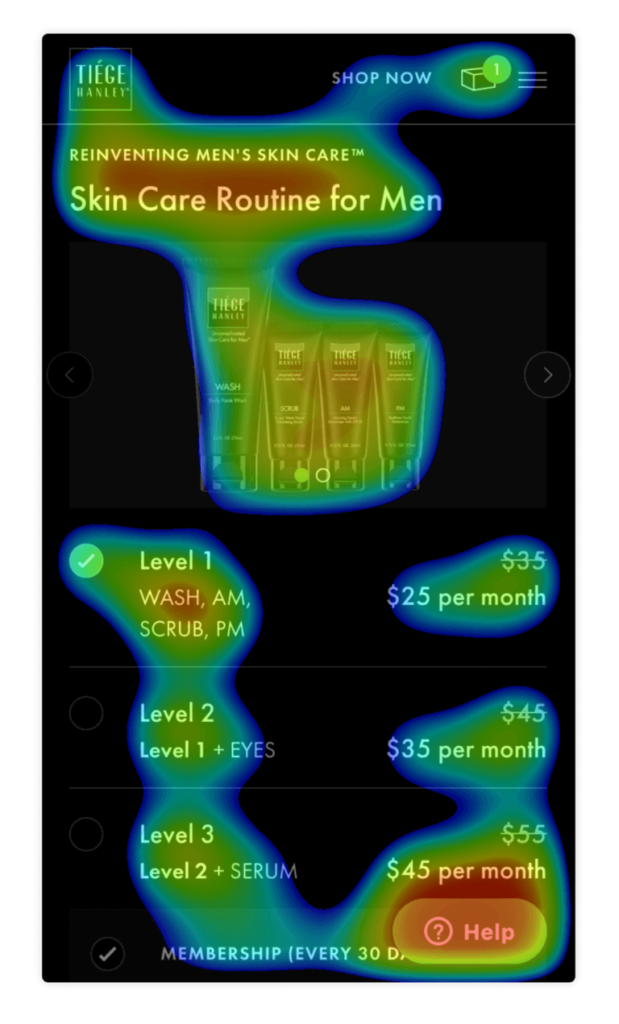 Through qualitative and quantitative user research methods, including remote user testing and heatmapping, we were able to design optimized wireframes that would provide the best purchasing experience.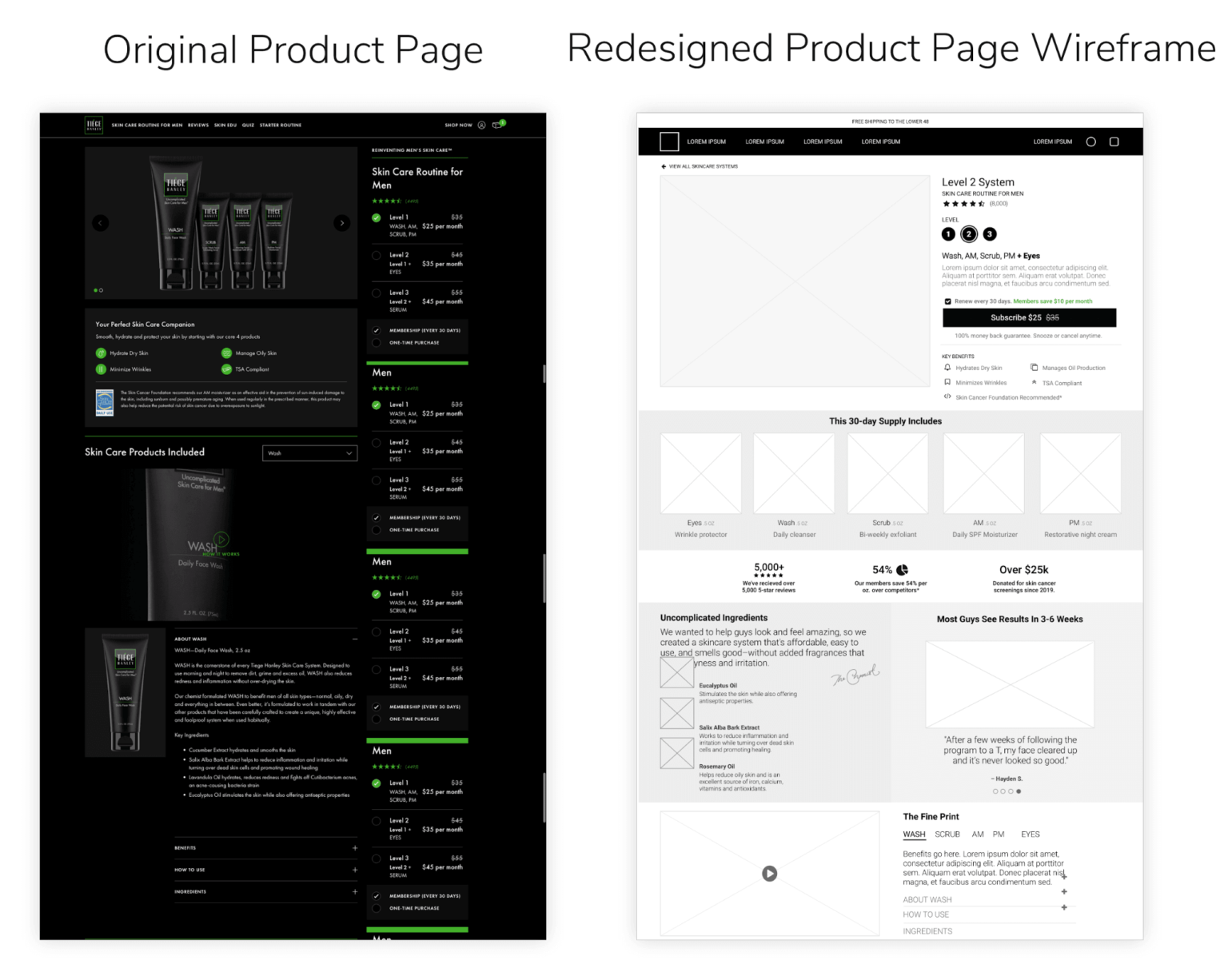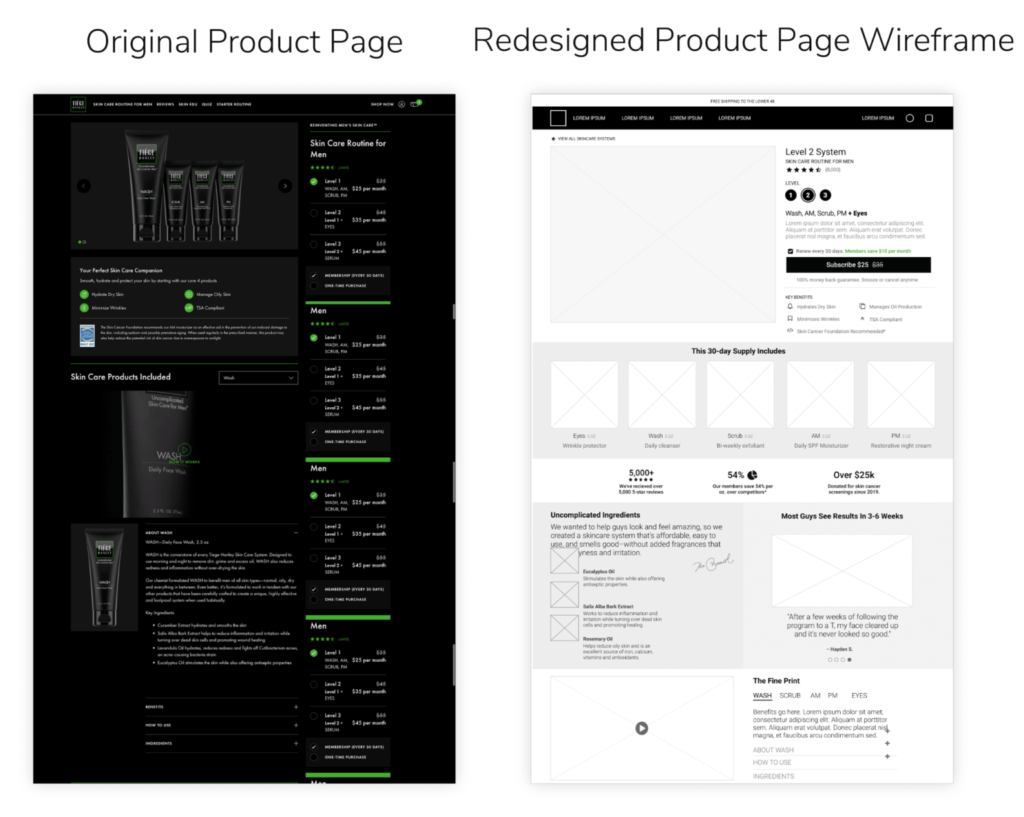 5 types of usability testing tools you'll need
Tools are the backbone of a usability audit because they help you drill into analytics and access insights that are either too time-consuming or not possible to generate manually. Here are some of the usability tools you might need to get started:
Start with a website usability audit checklist
The first steps of a usability audit can feel overwhelming, especially if you haven't harnessed the expertise of a CRO agency. However, there are some things you'll need to get together regardless of whether you're doing the audit yourself or hiring help.
Conduct a walkthrough: one of the best ways to start a usability audit is to walk through the buying journey as if you were a customer. Note down any sticking points or areas that might cause confusion
Access website and mobile analytics: your analytics will give insights into visitor trends. Through Google Analytics, you can drill down into traffic source, traffic flows, and trends, but you can also use more advanced tools to get more detailed user flows
Gather your ecommerce metrics and sales figures: you'll also need access to key metrics like cart abandonment rate, conversions, and repeat purchases to identify areas for improvement specifically within the buying process
Interview stakeholders and customers: talking to the people who matter will give you an insight into user behavior. As well as asking customers for their experiences on your site, you can also talk to internal stakeholders–like product owners and developers–to determine what they'd like to get out of the audit
Run usability tests: pair this information with data collected from heatmap tools and user testing software to get an all-encompassing view of the experience visitors have on your site
Identify patterns and trends: the initial goal of your audit should be to identify patterns or trends within your metrics, sales figures, and analytics. You can then pair this with qualitative data, like customer surveys and heatmap results. For example, you might find your analytics show a sharp drop-off at checkout, while your heatmaps show that customers struggle to make it to the end of the payment form
Create a list of improvements: as you work through the data you have, you can start to build a list of suggestions that will improve your efforts. This will act as your plan for moving forward
Working through this checklist will give you the foundations of a good usability audit, but working with a dedicated expert with lots of CRO experience under their belt is a good bet if you want to access detailed insights to make informed decisions.
Looking at your metrics and analytics is one thing, but analyzing them and making suggestions for improvements means understanding exactly what that data means and how it looks over a longer period of time.
Our Comprehensive Conversion Audit uncovers key points of friction throughout the sales cycle and explores the behavior of your target audience as they move through your site. We then use this detailed data to suggest improvements and optimizations that will dramatically increase conversions and create a far better customer experience.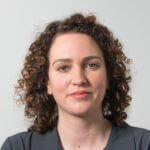 About the Author
Natalie Thomas
Natalie Thomas is the Director of CRO & UX Strategy at The Good. She works alongside ecommerce and lead generation brands every day to produce sustainable, long term growth strategies.