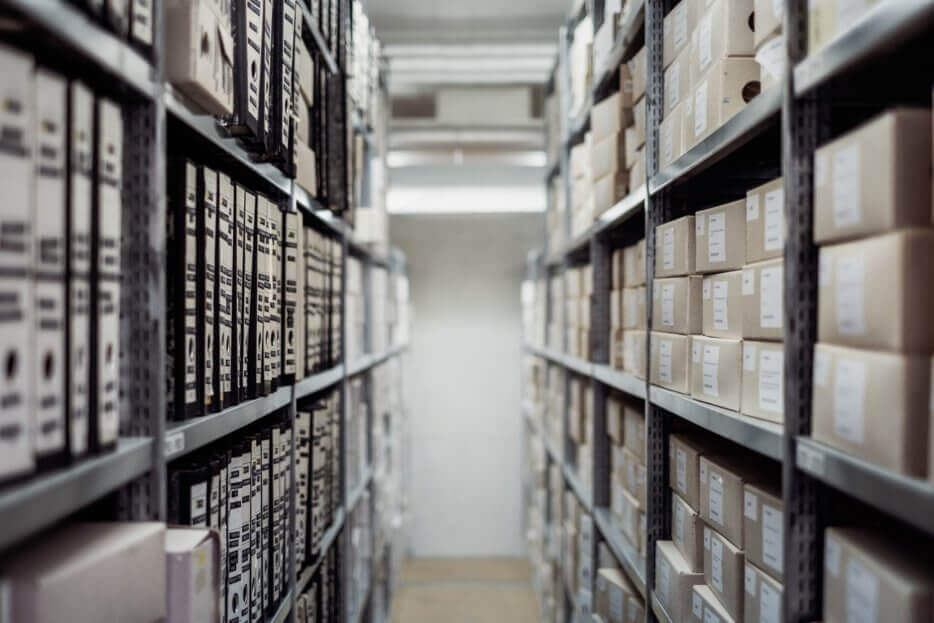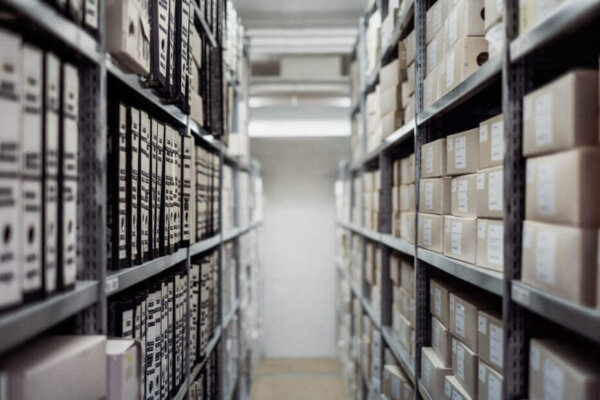 Customer Acquisition
How to Rescue Out-of-Stock Revenue and Grow Your Ecommerce Business
Going out-of-stock can leave potential customers with a bad user experience and lead to missed sales. Use these steps to rescue out-of-stock revenue.
If there's one ecommerce truism, it's this: You can't sell products you don't have. This is why out-of-stock products are the worst-case scenario for some ecommerce brands.
Stockouts are frustrating for businesses and customers alike. Both sides lose when an item isn't in stock.
For the business, it's like completing the perfect pass, only to watch the receiver drop the ball before crossing the goal line. The customer was ready to buy. Your marketing and conversion optimization worked, but you failed to manage your operations.
Your customers lose too. You're leaving your customers with a negative impression of your brand and ruining the reputation you've built as being a reliable company to purchase from.
The average out-of-stock rate for ecommerce businesses is about 8%, and it rises to 10% for promotional or discounted items. But it wouldn't be that high if every ecommerce business had an effective strategy for dealing with out-of-stock events.
In 2021, out-of-stock products were top of mind for retailers because of a global shipping crisis. 38.8% of small businesses have experienced supply chain delays due to the pandemic. As of October 2021, approximately 200,000 shipping containers remain unloaded on the west coast of the U.S. due to pandemic-related gridlock. COVID-19 has disrupted the entire global supply chain, including manufacturing, transportation, and last-mile logistics.
But out-of-stock events aren't limited to global pandemics. They can happen at any time for a variety of reasons.
In this article, we'll help you understand stockouts and how they affect your business and explain what causes them. We'll also explain how to avoid out-of-stock items where possible and recover from them when they happen.
What is a Stockout?
A stockout (or an out-of-stock event) is when a specific item is unavailable at the point of purchase when a customer is ready to buy.
Stockouts shouldn't be confused with general product unavailability, which is when demand for a product is so high that all retailers run out. Out-of-stock events refer to instances where one retailer in particular struggles with supply chain issues or poor inventory management.
A study by the IHL Group found that retailers miss out on nearly $1 trillion in sales per year because of out-of-stock items ($144.9 billion in North America alone). Shoppers encounter out-of-stock events as often as every third shopping trip.
According to research by Adobe, shoppers saw over 2 billion out-of-stock messages online in October 2021. Electronics suffer the highest out-of-stock levels, followed by jewelry, apparel, home and garden, and pet products.
What Causes Stockouts?
Before we can talk about minimizing and fixing your out-of-stock events, it's important to understand why they happen.
Inaccurate item counts
A common reason retailers are out-of-stock is when there's a disparity between the amount of inventory a business thinks it has and the amount it actually has. The website thinks there's one more item on the shelf, but when the picker arrives to grab it, he finds that section empty.
What causes these inaccuracies?
Human error – Someone miscounted at some point. This is common during busy seasons or when items are transferred to/from fulfillment houses.
Technical errors – Software caused an error at some point, perhaps due to a synchronization delay or data center downtime.
Shrinkage – This refers to product lost due to theft or damage.
Poor demand forecasting
In some cases, out of stock events are caused by unexpected surges in demand. As a retailer, it's your job to anticipate these surges and order/create products as necessary. This is especially important for your most popular SKUs.
Poor cash flow management
If you don't have enough cash to replenish your inventory, you simply can't buy it. This is a significant problem that deserves your immediate attention. You might need some outside funding or better payment terms with your vendors.
Logistics challenges
Unless you are dropshipping, you can't stock products if they never physically arrive at your facility or your fulfillment house. Your shippers and vendors could fail to send your products on time. Or they might send the wrong products, creating delays and logistics headaches.
In many cases, inventory management issues due to logistical problems are outside of your control, such as the current supply chain crisis. If your products are sitting on one of those unloaded containers, your inventory is unreachable.
Poor stock replenishment
Stock replenishment is the practice of ensuring that you always have products to sell to customers. Someone in your organization (it may be you) needs to track the inventory, compare it to your demand forecasting, and order more as needed. 70% to 90% of stockouts are caused by poor shelf replenishment practices.
Careful attention to stock replenishment is especially important in the era of omnichannel selling, where you need to track inventory across multiple platforms.
How Do Customers Perceive Out-of-Stock Events?
The best way to answer this question is with empathy. You've been on the receiving end of stockouts before. You need something, and you need it now… but finding it in-stock turns out to be a tough proposition.
How did you deal with the situation?
Did you find the product at another store and buy it there?
Did you backorder the item, settling for getting it later?
Did you decide you could live without the item after all?
Did you switch to a replacement product that could fill the gap?
Which did you choose? And how did you react?
Did you leave a negative review for the store?
Did you rant and rave a bit before calming down?
Did you swear to never shop with that seller again?
Did you take it in stride and not let it get to you?
Nobody likes stockouts. At best, they are disappointing to the eager buyer. At worst, they hurt sales and create irate customers. It doesn't have to be that way, though. There are a variety of effective ways to deal with out-of-stock products that increase revenue and boost customer satisfaction.
How to Avoid Stockouts in Ecommerce
Like many challenges in ecommerce, it's easier to take proactive steps to avoid stock outs, rather than respond to them when they occur. Let's go over some ways you can avoid out-of-stock events.
Step 1: Anticipate your demand accurately
Obviously you can't see the future, but it's critically important that you forecast your inventory needs correctly. 73% of retailers struggle with this, but you must figure it out.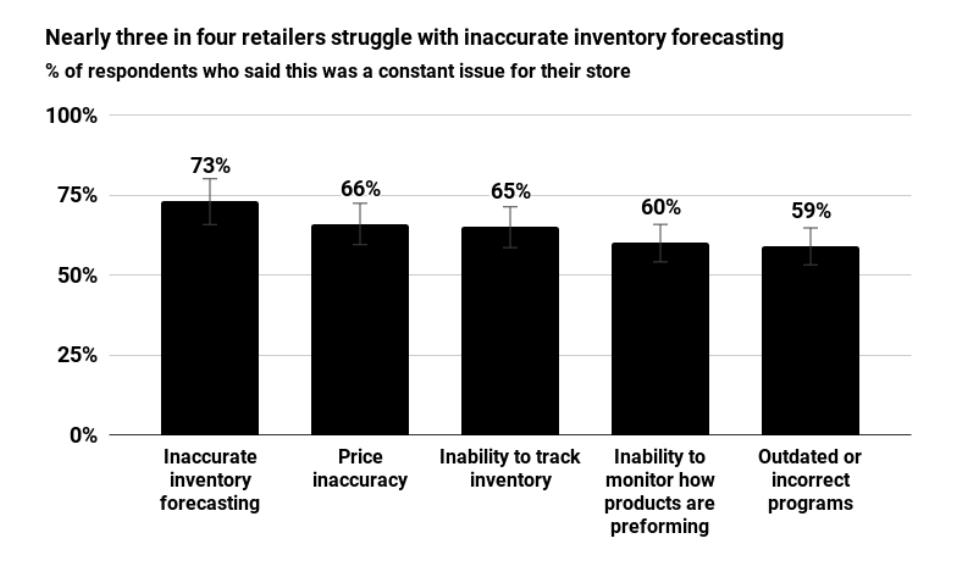 Image: Supply Chain Dive
Anticipating demand starts by recognizing events that would create sudden surges. The end-of-the-year holidays are obviously important, but if you review your sales data carefully, you will probably notice spikes with predictable causes. For instance, a shoe store undoubtedly notices a bump in sandals sales at the beginning of summer.
Furthermore, it's important to get a firm grasp of your lead time. Lead time is the delay between placing an order and receiving it. This value is different for every product and supplier, so you'll want to ask detailed questions and then measure what actually happens. If a supplier can't meet their delivery estimates, consider looking elsewhere.


Image: Corporate Finance Institute
Step 2: Reconcile inaccurate inventory counts
Syncing your inventory requires two things: Reliable technology to manage your numbers and clear, simple processes for humans to follow.
Don't be cheap with your inventory management software. Use tech that integrates with everywhere you sell (your ecommerce store, your Amazon store, your POS system, etc.) and your warehouse or fulfillment center.
Then create procedures for your team to follow that expect human error. New stock should be counted twice, organized immediately, and labeled appropriately. Coach your team to look out for stock discrepancies so they can bring the matter to your attention immediately.
Subscribe to our newsletter to get more just like it, sent straight to your inbox every week.
Step 3: Consider your safety stock carefully
Safety stock is the additional quantity of a product you keep on hand to prevent an out-of-stock situation. Basically, this stock is insurance against a surge in demand as it reduces the likelihood that you'll run out of something before you can replenish your inventory.
Let's say you are an ecommerce retailer for musical instruments and you sell 200 guitars every month. While it's reasonable to purchase two hundred guitars every month, you will want to have some extra on hand to account for sudden demand peaks. You might, for instance, plan to keep 225 guitars on hand at all times. (This is a very basic example. There are several theories of calculating safety stock.)
Step 4: Automate stock replenishment
An easy way to keep your inventory levels up is to automate the process. Create an automated workflow that places an order for more products once you reach a certain level.
Radio-frequency identification (RFID) technology is helpful here. According to RFID Journal, retailers can improve inventory accuracy by 30% and reduce out-of-stock situations by 50% with automation with RFID tech. It allows you to track entire shipments, find items quickly, reduce cycle count time, and auto-reorder products when they get low.
Step 5: Partner with backup suppliers
Your suppliers can have stockouts too. Your manufacturers can experience their own delays. When there's a supply chain crunch, everyone feels it. So it's a good idea to have backups in place in case one of your preferred partners can't meet their obligations, especially for your most popular products.
Furthermore, consider keeping a dropshipping partner on standby. If your preferred supplier drops the ball, you can send your orders to the dropshipper for them to fulfill.
Step 6: Account for logistical problems
As a retailer, you don't have much control over how your suppliers ship products to you. The best thing you can do is make yourself aware of the logistics process so you can respond in the case of problems.
Work with suppliers and logistics partners that offer advanced shipping notifications. These notifications keep you abreast of your shipment's position and timing, providing they offer notifications at every touch point. If you don't see your order moving through their usual process, you can make inquiries or plan for delays.
For example, these are some advanced shipping notifications from Infoplus, a warehouse inventory management application. Notice how every shipment is tracked throughout the entire journey so the ecommerce business knows

How to Recover From Out-of-Stock Events
The good news about stockouts is they are 100% predictable. Stockouts will happen. Your strategy for responding to them will determine what happens next.
Here are some common ways brands handle stockouts:
Take the order anyway, then alert the customer about delayed delivery
Pull the out-of-stock item from the catalog until it is back-in-stock
Let the customer know the item is out-of-stock, and suggest related items
Take a backorder from the customer and ship when the item is available
Offer to alert the customer when the item is back-in-stock
Do nothing… Just ship the item when you get it and hope nobody notices
All these tactics for handling stockouts mean well, but the most effective method involves a few of these and some extras. With a few steps, you can make sure you're keeping many of those potential customers engaged, and turning a potential negative situation into a positive customer experience.
1. Don't delete out-of-stock product pages from your website
Removing and then re-adding a product on your ecommerce website when it's out-of-stock can be detrimental to your SEO. Deleting a page that has backlinks or receives organic traffic could cost you valuable link equity, and will likely end up sending potential customers to a 404 page.
Additionally, redirecting out-of-stock pages to the homepage of your website is another common mistake. This creates a user experience headache for customers and hinders your ability to collect the user's information to send out a back-in-stock notification.
Overstock does this perfectly. Notice how they leave the page intact, but add a clear "out of stock" label beneath the product's price where shoppers are guaranteed to look.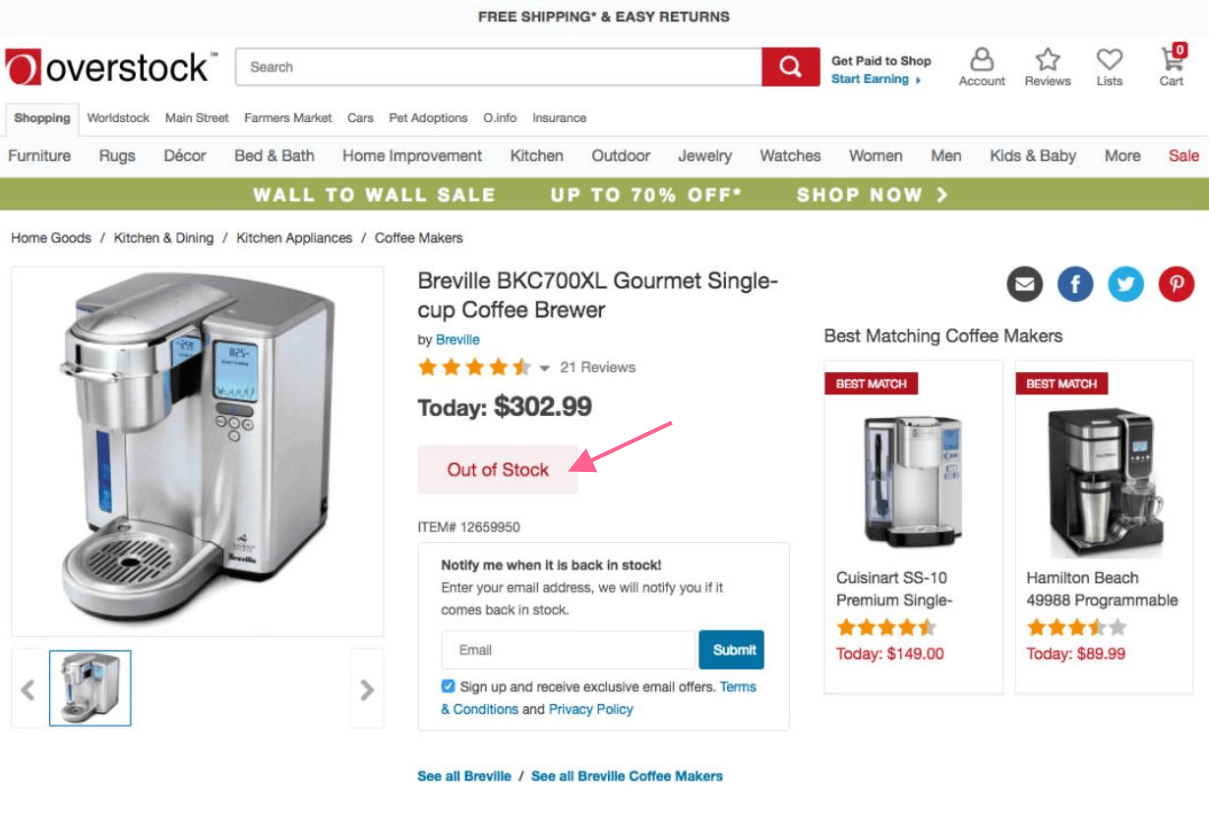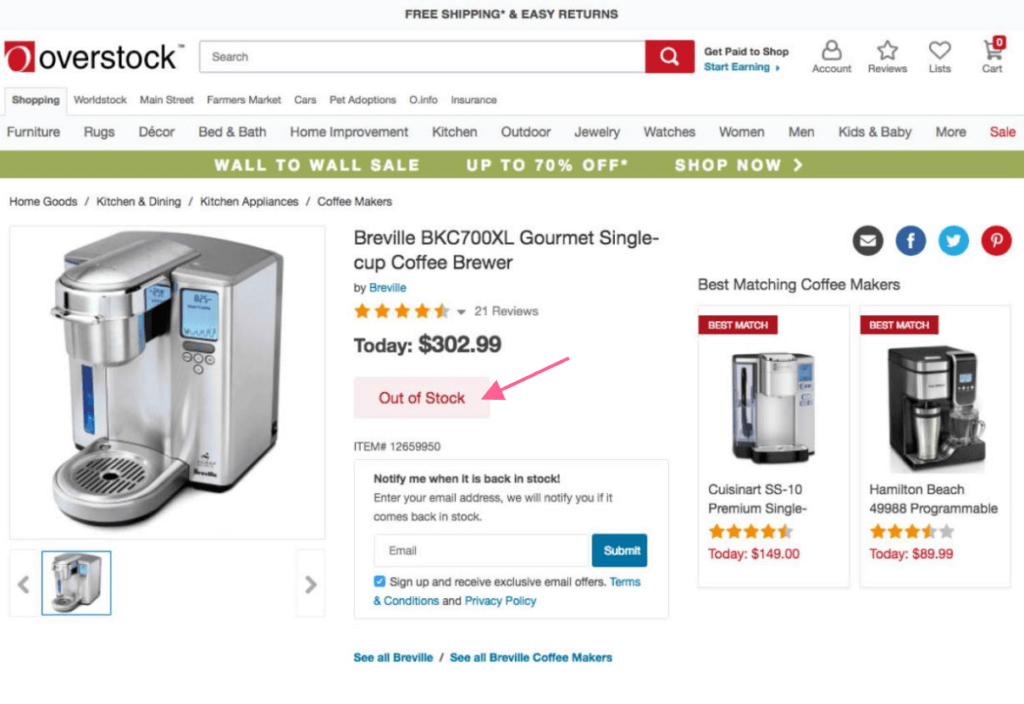 2. Collect an email for when it's back-in-stock
Replace your Add-to-Cart CTA with clear and positive notification text. Consider A/B testing specific CTA language to see what resonates most with your customers. With permission, you can also use this email for subsequent promotions and other brand emails.
Buck Mason is a great example of how you can collect a customer's email for the purpose of sending a back-in-stock notification, without being intrusive. If you click on an item that's currently out-of-stock, the "Add-to-Cart" CTA immediately changes to read, "Notify me when available." It's a simple and effective way to elevate the user-experience of your site and keep customers happy.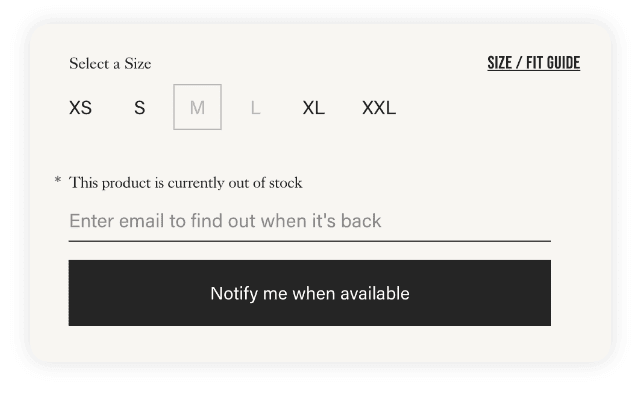 We like Ellysage's take on this as well. They ask you to select a specific size for your notification, probably in case one size returns to stock faster than others.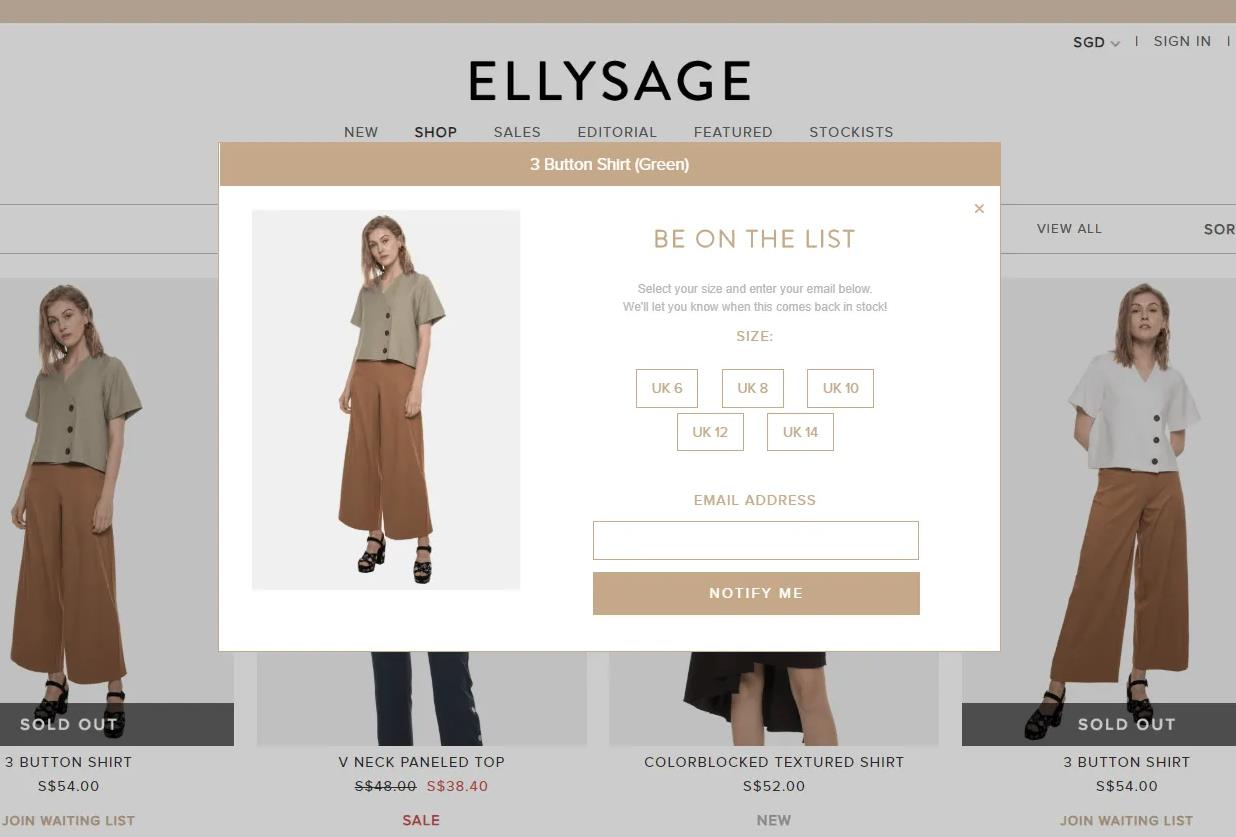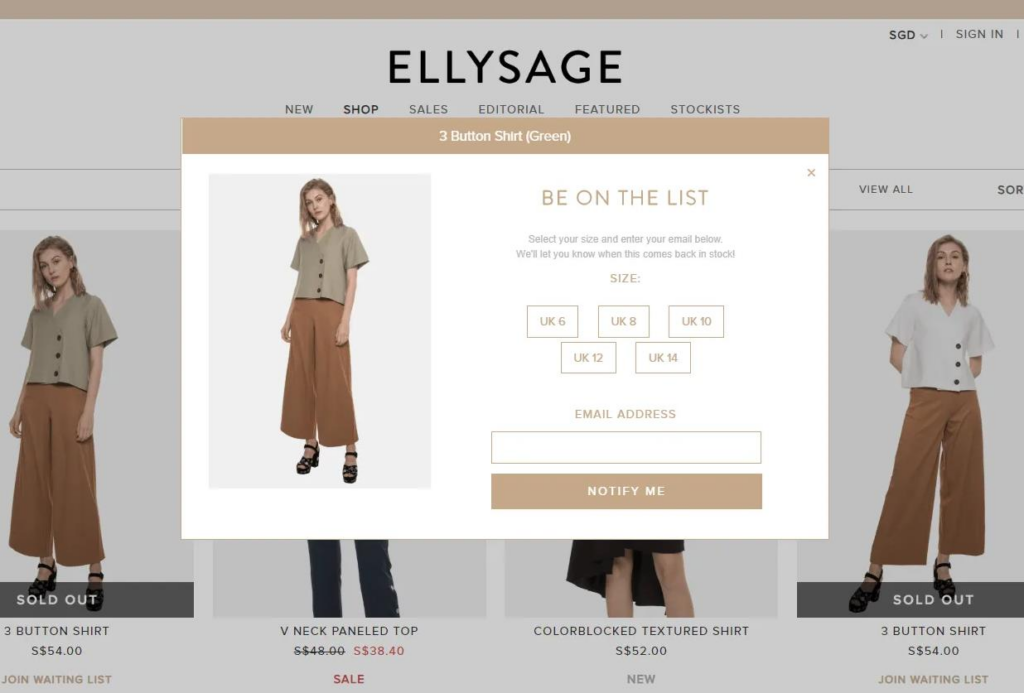 When we worked with Snow Peak, we discovered a major problem: Due to high demand for their products, their site was consistently showing items as out-of-stock. Customers were frustrated and routinely deserting their orders. All-in-all, their conversion rate was low.
As part of our Conversion Growth Program™, we gave Snow Peak customers a way to get notified when items returned to stock, putting them first in line to be able to purchase, and turning out-of-stock items into future revenue. This resulted in a 108% conversion rate increase.
"I think the high demand for our product makes it go out of stock a lot," says brand manager Russell Borne. "And what we've been able to implement with The Good was a feature to allow the customer to say 'notify me when this is back in stock' and that has been one of the most effective ways to grow revenue."
3. Be clear about the expected return date
If you are able to provide an expected date of return, it can help to give your consumers more to consider when browsing your site. This is most helpful when you have shorter out-of-stock windows as it will capture visitors who are willing to wait a little bit, but is also helpful for longer wait times in order to show goodwill and build trust.
This product page is upfront and honest with customers about when the item will come back in stock. These notices, however simple, reassure customers that they won't be waiting for an indefinite amount of time if they place an order.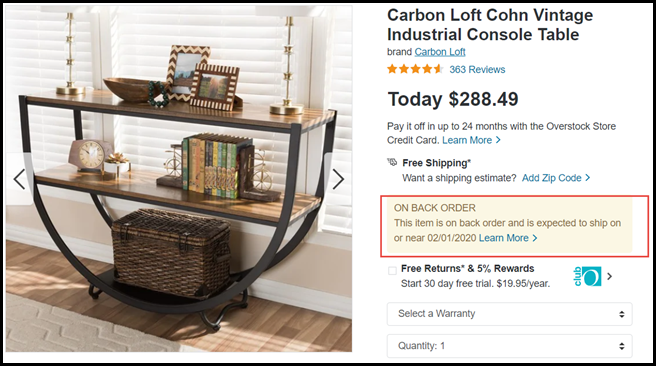 4. Share related products
At this point on your product page, it can be an effective tactic to share related products. This will capture sales from consumers who are less concerned with some of the details of the out-of-stock product. Related products not only help you save a sale when something is out-of-stock, but they can help increase your average order value.
That Overstock page we showed you also includes a smart related products section below the out-of-stock item.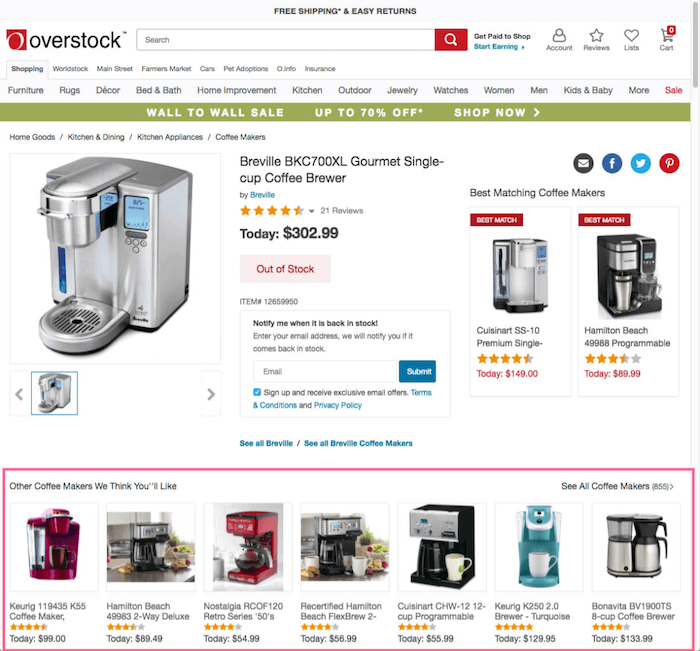 5. Utilize back-in-stock emails
Once you have their email address, your key tool to recover revenue from out-of-stock items is the "back in stock" notification. Customers who've opted to receive a back-in-stock notification are more likely to convert.
Your overall site wide conversion rate might be 2% but when you're emailing those who've already expressed an interest in the product, that conversion rate increases significantly.
Relate to the customer immediately. Sincerely apologize for the inconvenience. Make it absolutely clear that you appreciate the business. Include the brand and product in the email subject line. In the body of the email, we recommend including an image and mentioning the brand and product name again.
You can also include a reminder of why they are receiving the email, clearly explain that it's back-in-stock, and include a very clear CTA that brings them to the exact product in the store.
This Homage email is a perfect example. They remind the customer of the item they saved, show a picture of it, and offer a clear call-to-action.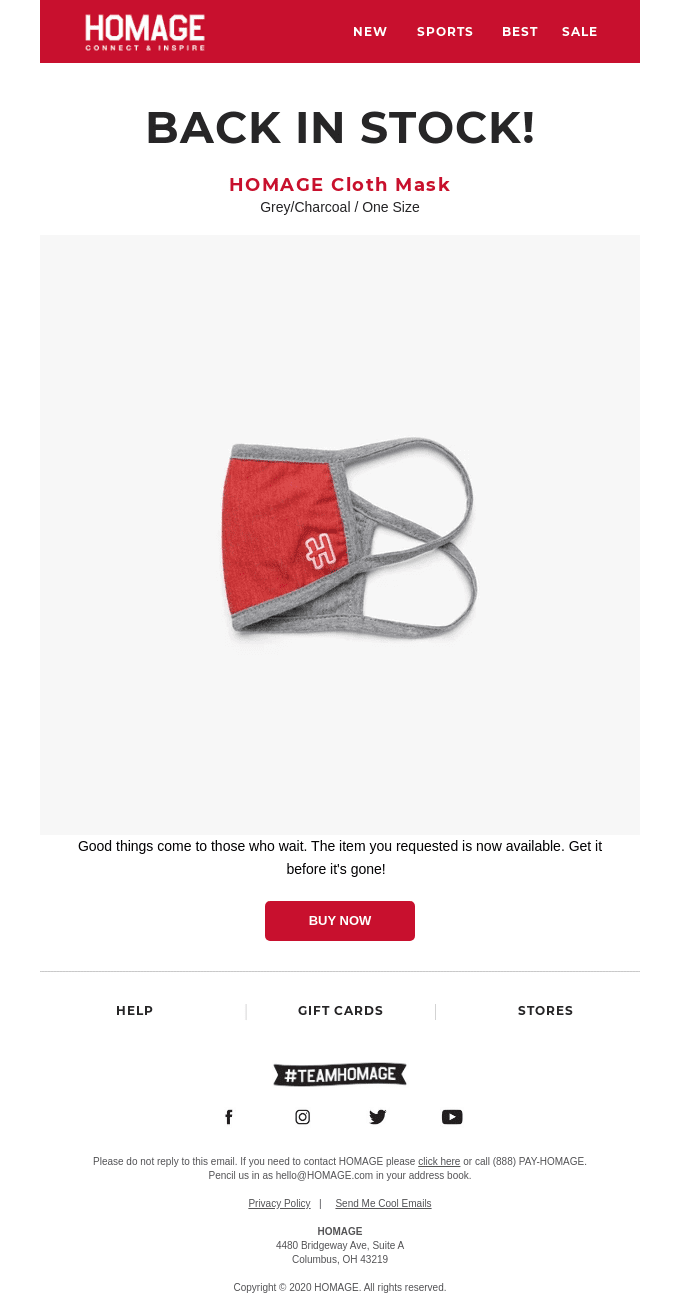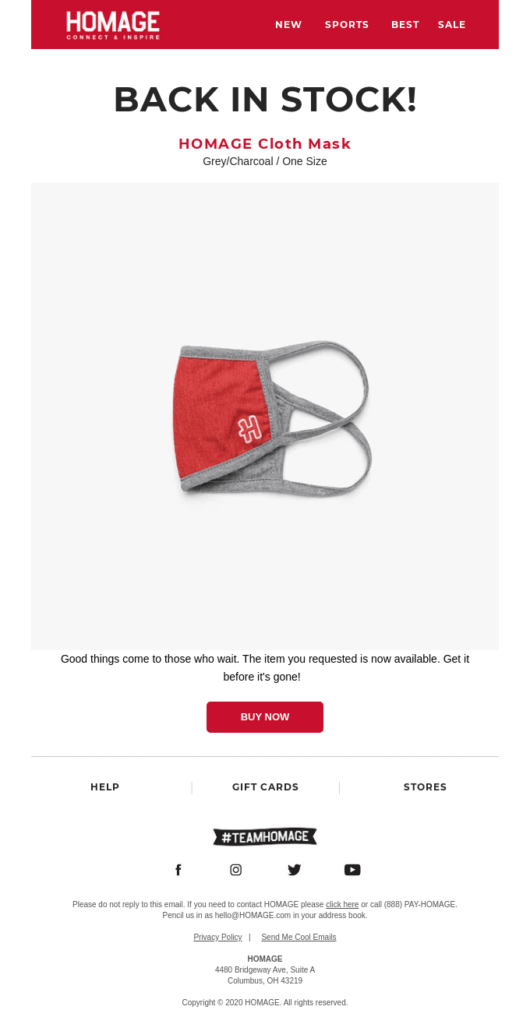 6. Utilize SMS and push alerts
SMS text is quickly becoming one of the most effective ways to reach customers on their mobile devices. Providing customers with the option to input their mobile number instead of an email address may be an even more impactful way to notify customers that an item is back-in-stock.
Research shows that SMS open rates reach as high as 98%, compared to average 20% of email communications. Additionally, it only takes around 90 seconds for a person to respond to a text message and 90 minutes to respond to an email.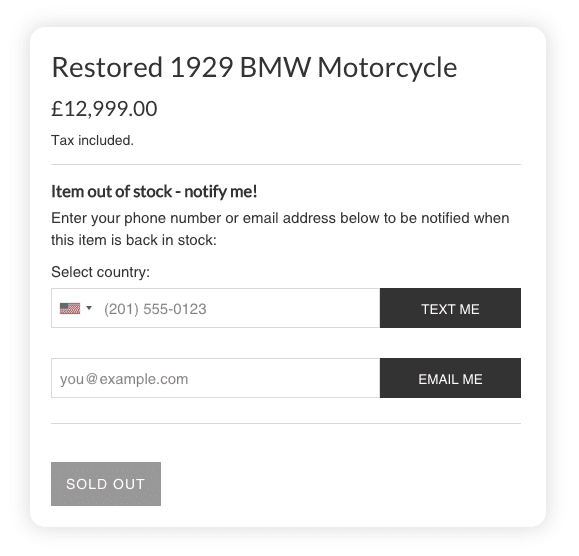 7. Make it personal
One final step you can take that may potentially improve your conversion rate further is to personalize the back-in-stock email. If you can, collect the user's email address and their name so you can send them a more personalized email when the item does get restocked. If the user has an account with your website, include saved items in the back-in-stock email to increase the likelihood that they'll click-through on the email and return to your site.
Huckberry gives customers a way to add out-of-stock items to their wish list. Once those items are replenished, they receive an automated email notification.

8. Consider bonuses for out-of-stock items
You can include bonuses on orders of out-of-stock items. Free shipping, a discount coupon, or similar offers can help drive those conversions. Additionally, offering something "extra" to your users will increase their motivation to sign-up for a back-in-stock notification.
Make sure to include these bonuses in your back-in-stock emails. Include a bit of scarcity/urgency to convince buyers to purchase right away.
9. Find your own innovative solution
Sometimes the solution to stockouts must be more clever than simply getting more product or prompting the customer to buy later. You may need to dig through your analytics to find the root of the problem and an innovative solution.
A great example is our experience with Fully. As the world transitioned to work-from-home in 2020, sales boomed and they had a problem keeping their products in stock, especially their iconic standing desk that requires a longer lead time than usual.
We boosted Fully's conversion rate by nearly 6% (a 75:1 return on investment) by adjusting their product filters. The new filtering structure helped users become more familiar with the brand and find additional products that meet their needs, rather than defaulting to the flagship product.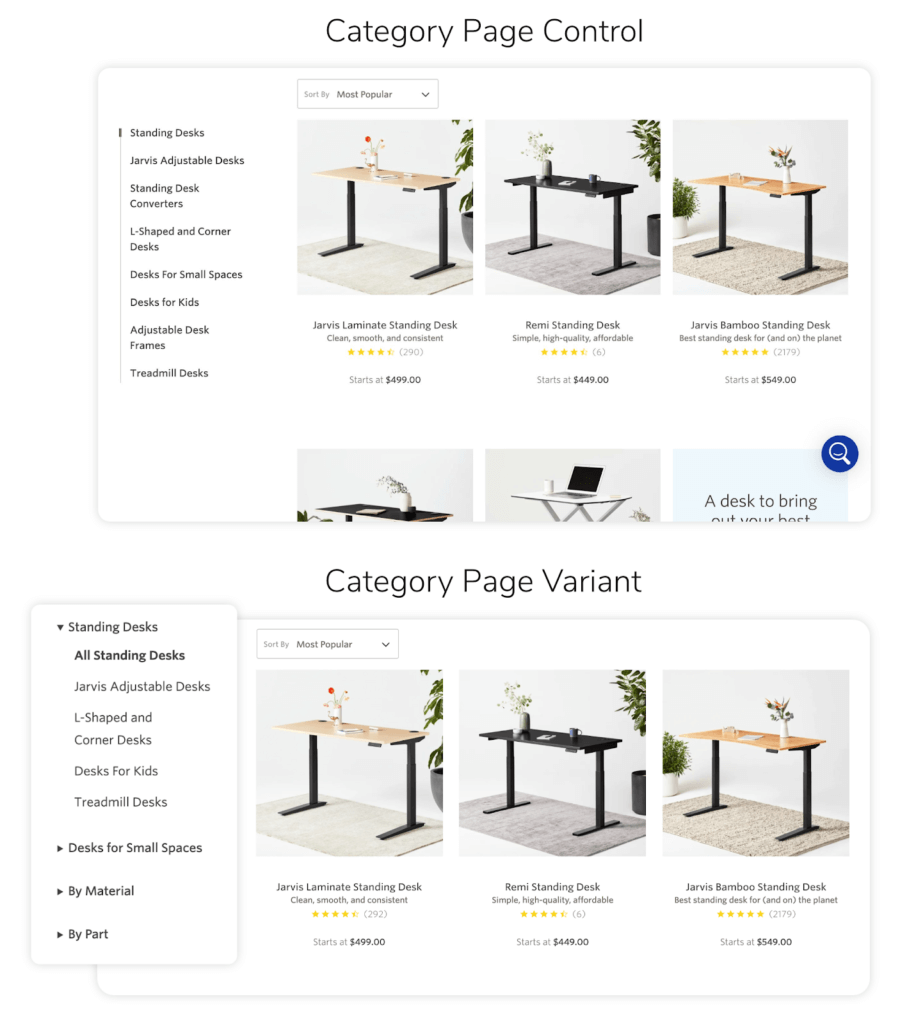 Going Beyond to Keep their Business
Stockouts are painful events for retailers and customers. The retailer fails to make an otherwise guaranteed sale and the customer has a poor experience. Out-of-stock items are simply a lose-lose for everyone. Nobody wins.
As a retailer, it's your job to avoid stockouts as much as you can. But when they happen (and they inevitably will), you'll need to reframe your response in order to recover those sales and create a positive experience for your customers.
If you are experiencing ecommerce challenges beyond out-of-stock issues, make sure to sign up for our newsletter. We'll send you weekly ecommerce insights to help grow your business.
Subscribe to our newsletter to get more just like it, sent straight to your inbox every week.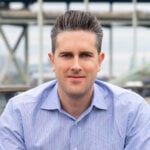 About the Author
Jon MacDonald
Jon MacDonald is founder and President of The Good, a conversion rate optimization firm that has achieved results for some of the largest online brands including Adobe, Nike, Xerox, Verizon, Intel and more. Jon regularly contributes content on conversion optimization to publications like Entrepreneur and Inc. He knows how to get visitors to take action.