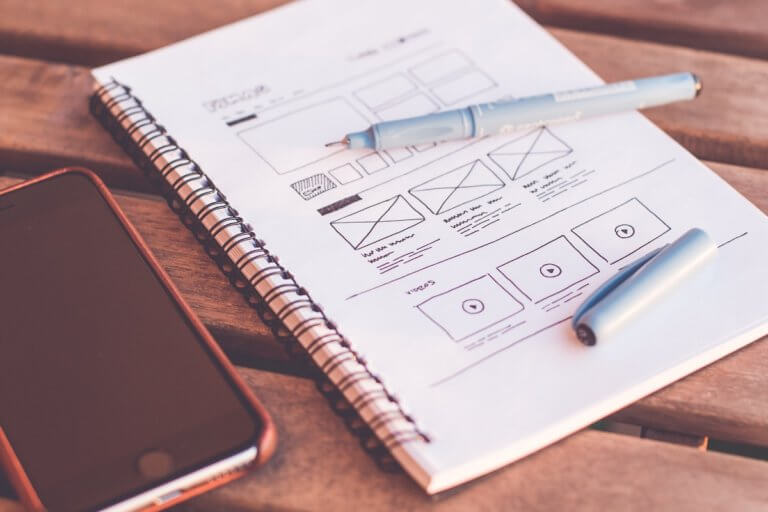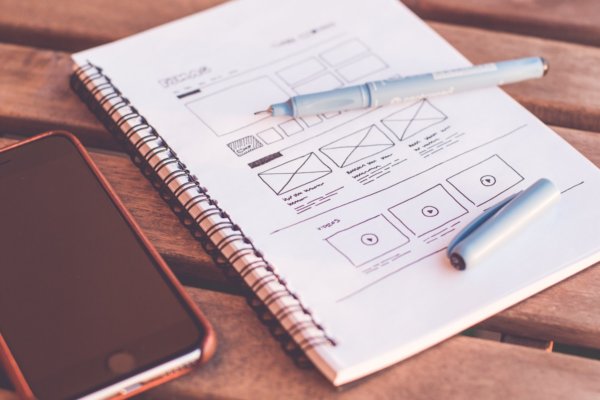 Conversion Rate Optimization
Do I Need a Full Scale Redesign or Optimization? 
If you're thinking about redesigning your site, here's how to tell if you need a complete overhaul or if an optimization strategy is right for you.
We've lost count of the number of brands who have come to us after a website redesign that didn't fix their conversion problems.
Brands often look at lackluster site performance and jump to the conclusion that they need a complete site redesign. They blame everything – the site, the host, even Shopify – except the main issue: that the customer is frustrated with the onsite experience.
In reality, customers don't really care if you have a cool and trendy website. They just want the best and most seamless research and purchase experience.
If you're thinking about redesigning your site, consider whether you really need a complete overhaul or if an optimization strategy is a better option.
Improve 10% of your site for a 90% increase in performance
Linguist George Kingsley Zipf proposed a theory that by focusing on 10% of something can improve the other 90%.
This law says you can improve 90% of your site performance, usability, and conversion-related issues by improving the user experience of just 10% of the site. Finding those hidden conversion blockers on a few pages can transform the user experience and jumpstart conversions.
On most sites, there are a few pages or a few template pages that contribute the majority of the revenue.
While site redesigns impact everything, they often end up contributing very little to sales and conversions despite you having spent a ton of time on it. Instead, Zipf's law suggests that you pick out and fix your top product landing pages and make them better rather than trying to do everything at once with an entire site redesign.
When does it make sense to focus on conversion rate optimization?
In short: almost always!
As you can imagine, we're big believers in always focusing on conversion rate optimization. A simple increase of 1% can make a huge difference to your bottom line. At the very least, you should be tracking and reviewing site traffic, top content, page views, heatmaps, clickmaps, online revenue, and overall conversion rate.
You can have the best design in the world, but if your conversion rate is low, you won't get the results you want. For this reason, it almost always makes sense to start with CRO. If you noticed that your conversion rates are diminishing, the answer isn't a big overhaul or a fancy design.
The answer is testing and optimization so you can ask yourself:
Why have my conversion rates plummeted?
What problems are consumers facing?
How can I get my conversion rate back to normal (or higher)?
If you want to grow your traffic, improve customer experience, increase the performance of each page, and generate more revenue, CRO is the solution.
Subscribe to our newsletter, Good Question, to get insights like this sent straight to your inbox every week.
When does it make sense to do a redesign?
Redesigning a website from scratch is time-consuming and often comes with large upfront costs. It can feel good to have a makeover, but if you don't put in the legwork beforehand you can end up building a site on assumptions and gut feelings rather than real insights.
As well as being time-consuming and costly, a complete redesign can negatively impact your online presence if you get it wrong. If you persevere without considering your goals, you might not end up with the results you were hoping for.
That being said, there are some occasions when a site redesign is necessary:
1. When you rebrand
Rebranding your company will require a website redesign to match your new logo, colors, and messaging.
Patagonia's rebrand put its content and purpose-driven initiatives at the forefront, which required a complete site redesign to reflect this change.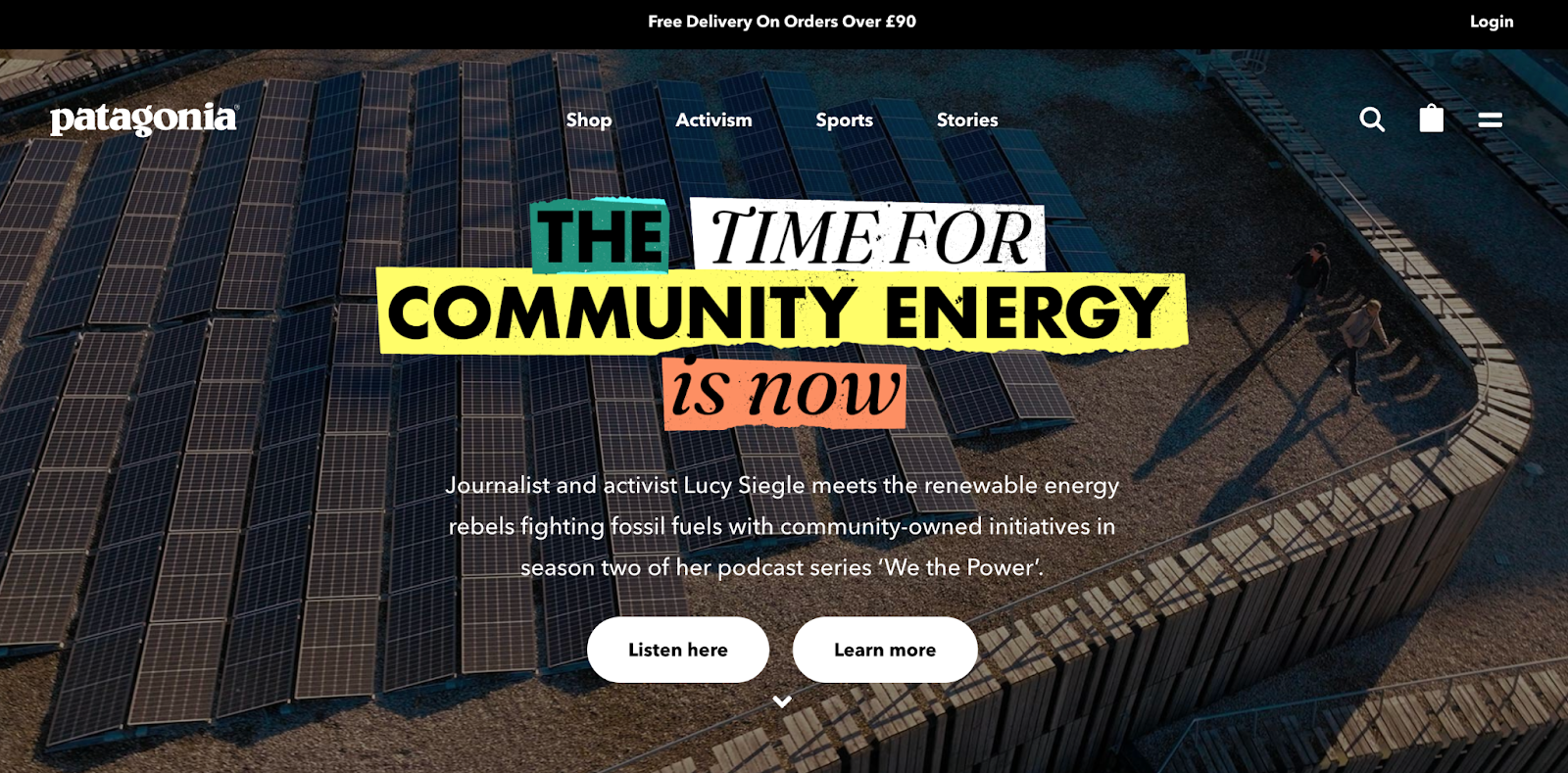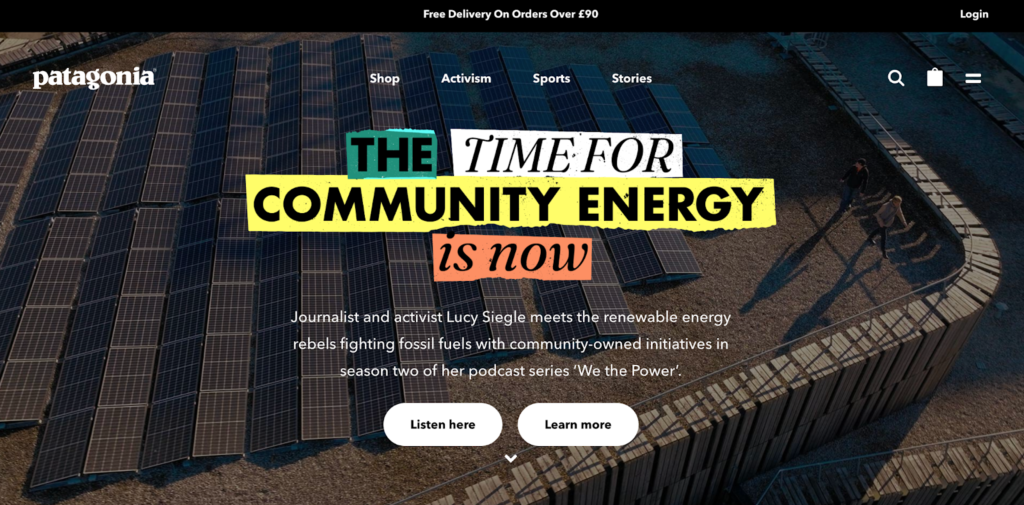 2. When your target market changes
If you've noticed a change in your best customers or you want to attract a new market segment, a website redesign can help you appeal to those people.
Airbnb redesigned their website when they realized the priorities of their customers had changed. Travelers wanted "homes around the world" rather than just a place to stay while away. Airbnb created an entire new brand and website to reflect this change.
3. When your tech stack is holding you back
Technology is changing all the time and it's easy to go from forward-thinking to behind the times in a matter of months. If your tech stack is holding you back, it might be time for a website redesign that incorporates new software and the latest offerings.
1-800-Flowers is one of the earliest ecommerce brands in the US. When new technologies emerged, the brand redesigned their site to add voice tech and chatbots to make the shopping experience easier.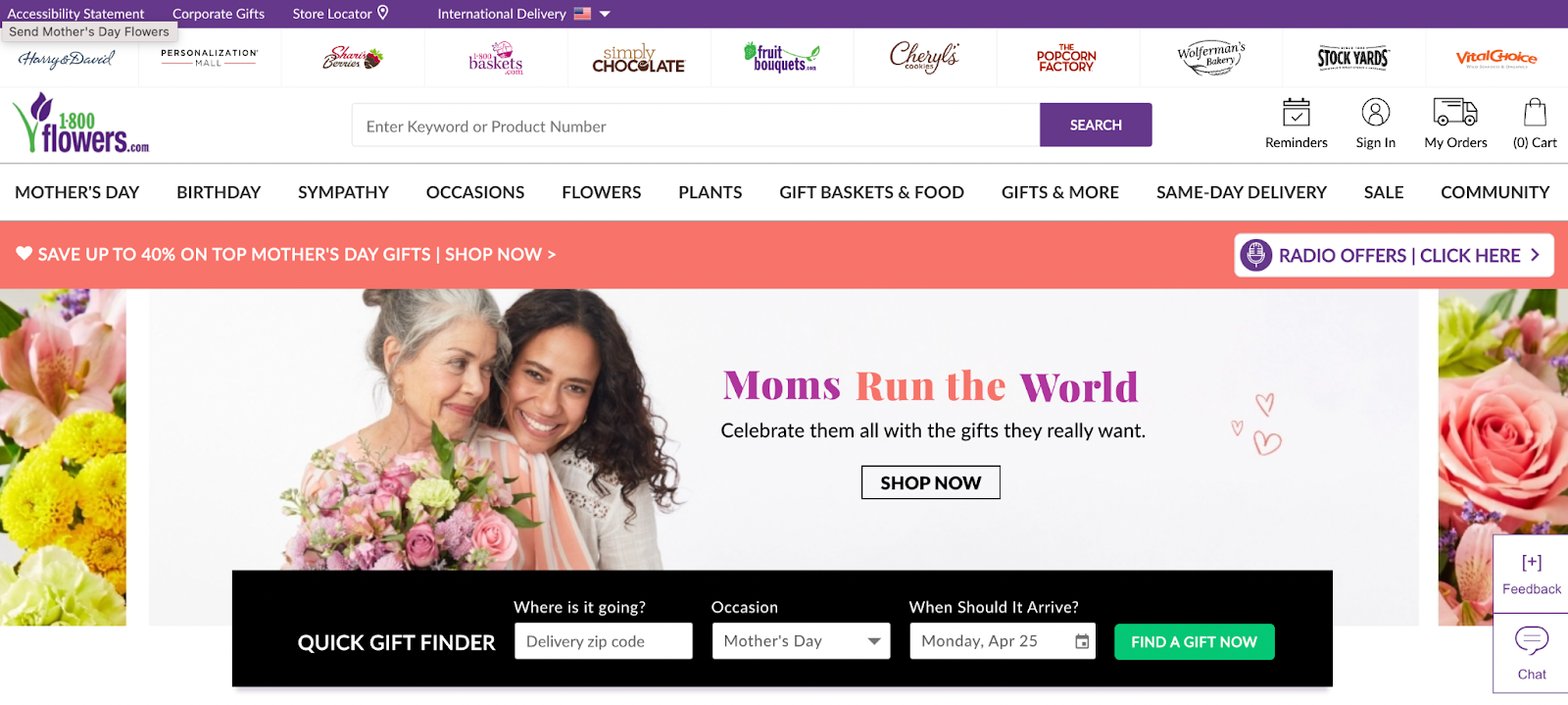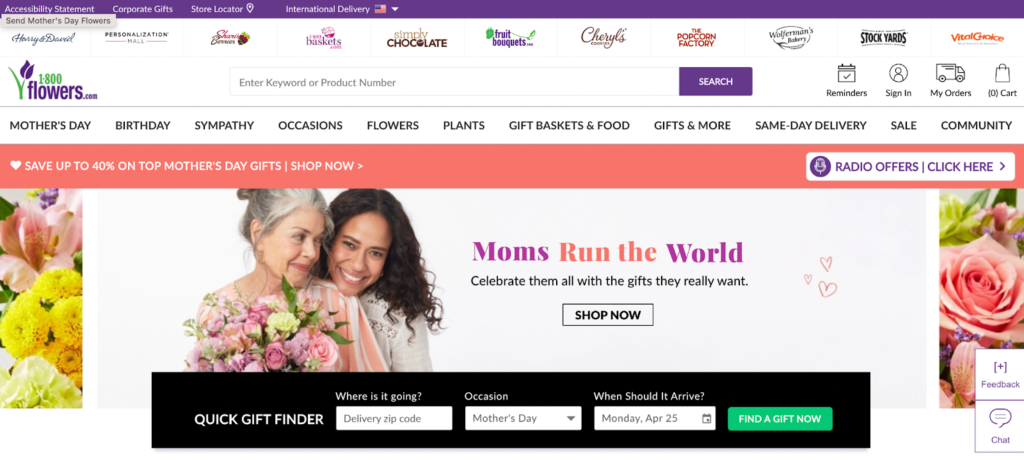 CRO vs a full scale redesign: which one should you choose?
No matter how many times you redesign your site, it's never going to boost sales until you understand your customers and align with their goals.
A redesign is a one-time thing, while CRO is iterative. Imagine you want to renovate your house. You can either raze it to the ground and build it from scratch or you can go from room to room making each one to your liking.
The former is a huge time-suck and incredibly disruptive, while the second option lets you enjoy your house while renovating and ultimately ends in the same way: with a redesigned house. It can be more cost-effective too. You don't have to take out a huge loan or come up with a big upfront sum. Instead, you can essentially "pay as you go".
We've found the initial reaction to an iterative approach is "won't this cost more and take longer?".
In our experience, no, it won't cost more. However, you should be prepared to take your original lump-sum budget you were going to spend on a redesign and spread it out over a longer period of time while you iterate.
The resulting short and quick iteration sprints – each followed by additional user testing – will greatly decrease the time it takes to start seeing meaningful results over an alternative redesign. Even better, you'll see greater return on investment from your spend.
Winner on cost: CRO
Winner on time: CRO
Winner on ROI: CRO
When Tiege Hanley came to us wanting to improve their user experience, we directed them towards our Comprehensive Conversion Audit. Initially, the brand was planning an entire site redesign and simply wanted reassurance that their new website would be an improvement, not a setback.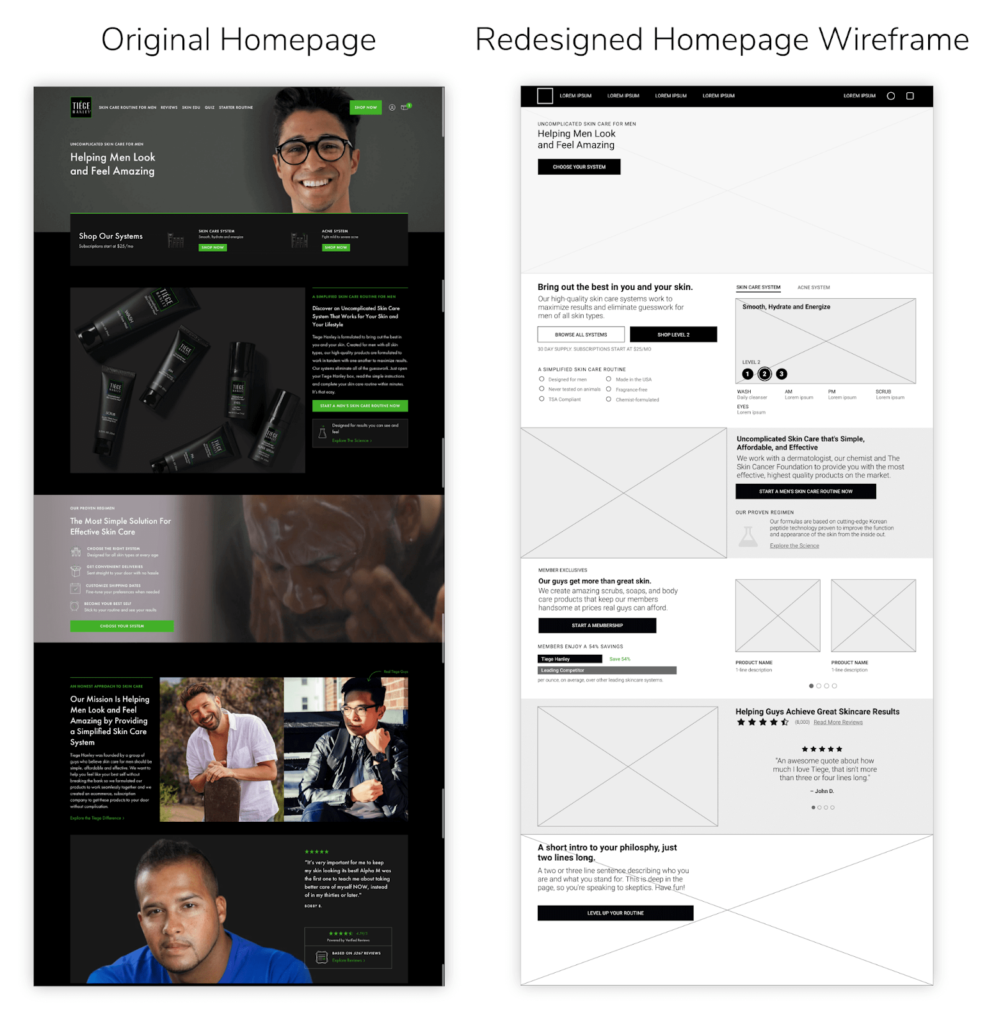 We carried out qualitative and quantitative research to identify conversion blockers that we could fix and used the findings to develop wireframes for two key pages on their site: the homepage and the product category page. The pain points we found early-on reduced the chance of their conversion rate being negatively impacted after the launch of the new site.
How to explain to leadership why optimization makes more sense
Putting forward a case for CRO to leadership can be tricky.
Site redesigns have a big, tangible end goal that often justifies their expense, even if they don't improve overall conversion rates. Someone selling a redesign to the CFO can explain it in an easy-to-understand way: "we're going to redesign our site". Simple.
The outcome is that when someone visits the domain name, there will be a new site in the same way that if your car broke down, you might buy a new one. It's easy to picture because you have a tangible, real-life thing at the end of the process. The CFO understands that there will be a new website that will last five or 10 years and they can amortize that capital expense check.
It can be harder to sell the idea of spending money over a period of time iterating and testing, especially if there's no physical end result like a pretty new website. We recently had a lead come through that really wanted to move forward with our Conversion Growth Program™ but accountants in the head office couldn't decide if it was a capital expense or not.
The biggest thing to focus on is the results.
While you might not have a brand new shiny website to show off, you will have the numbers to back you up.
Iterating and running a conversion optimization strategy might not be glamorous at the outset, but over time you can show head office and leadership the results that it's generating. Imagine telling your boss that you can get more conversions and more sales without spending a huge chunk of money upfront and disrupting your website for weeks or months – it's a win-win situation.
With a few tweaks, Swiss Gear increased its year-on-year revenue by 132%, baseball brand Easton improved revenue by 240%, and Snow Peak increased revenue by 149% without a single big redesign in sight.
Fix conversion issues with an iterative approach
A site redesign should always be the last resort, never the first option.
Don't rely on the blind faith of an expensive redesign to magically deliver revenue. Instead, take small, iterative, and well-tested steps to improve conversion rates and the user experience across your site.
Remember, improving just 10% of your site can increase the performance across the rest of it. CRO is the perfect way to find out exactly what your customers want and provide them with an experience they love that keeps them coming back for more.
Subscribe to our newsletter, Good Question, to get insights like this sent straight to your inbox every week.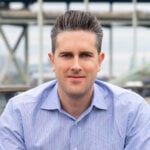 About the Author
Jon MacDonald is founder and President of The Good, a conversion rate optimization firm that has achieved results for some of the largest online brands including Adobe, Nike, Xerox, Verizon, Intel and more. Jon regularly contributes content on conversion optimization to publications like Entrepreneur and Inc. He knows how to get visitors to take action.