Have you ever been in a conversation where you knew the other person really wasn't paying attention? Better yet, have you ever been in a conversation where you've lost interest, and you wish the other person would just stop talking and leave?
What happened there?
Where's the disconnect?
Typically, it's one of two things:
You're distracted by something else
You have no interest in what the other person is talking about
The same thing happens on your website. That's why it's not as effective as it could be.
In this article, let's talk about how a certain attitude towards website design could be the key to seeing a spike in B2B conversions over the next quarter.
Visitors to your lead-generation or ecommerce website are like yellow nuggets in a mountain stream. Some of them could be gold.
Let's find out how to keep more of that gold.
Fact: A MarketingProfs report revealed that before finalizing a product purchase, 94% of B2B buyers research online.
B2B Website Design vs. B2C Website Design – What's the difference?
Typically, B2B clients point to an existing site they like and say, "Make ours like that."
Websites are like "one size fits all" ballcaps: they really don't "fit all." The best ones come with an adjustable band that can deliver the optimum fit.
Your site must fit you and your primary audience.
That said, there are some things all lead-generation or ecommerce websites have in common. Let's first look at the similarities.
Resource: Customer Needs: The Key to Website Effectiveness
Best practices for effective B2B websites – points in common with B2C
Every business website should cover the fundamental bases of effective ecommerce website design. That's not an arbitrary or subjective opinion. Study after study confirms that website effectiveness (i.e. conversions generated) is directly related to website design.
Of those who visit your website and find it lacking, only 12% will come back
Click To Tweet
For instance, here's a short list of pertinent statistics:
Visitors expect website pages to load in their browsers within two seconds.
Click To Tweet
Accordingly, website design factors that can draw visitors in and get them to stay long enough to evaluate your offer(s) include considerations like these:
Your site must load quickly. Every second of delay sends more and more potential customers or clients to your competition.
Your user interface must be simple and easy to figure out. Visitors have a low tolerance for complexity when browsing.
Your content must attract the right visitors and give those in your desired audience a reason to dig deeper.
You must provide a clear path for visitors to travel while exploring your website. Menus and page links must be apparent. Search should be easy to operate.
Your products or services must be clearly described. The more you can allow your visitors to virtually experience and interact with your offers, the higher your conversion rate.
B2B lead-generation and ecommerce websites live or die based on user experience (UX). Your products may be exceptional and your offers extraordinary – if nobody sees them, though, your business will starve.
B2B lead-generation and ecommerce websites live or die based on user experience (UX)
Click To Tweet
Just like their brick and mortar counterparts, websites must draw visitors and convert them into paying customers.
FACT: Psychologists say it takes someone about half a second to form their initial opinion of you. Best practice is to make several things glaringly obvious to your virtual visitors: who your site is for, what your site offers that person, and what they should do next to gain the benefits you promise.
B2B website design practices – special considerations
While B2B and B2C website design practices hold much in common, there are notable differences to be considered.
Those differences, of course, center on the needs and preferences of the desired audience. Here are the most typical differentiators:
The B2B journey from awareness to interest to purchase tends to be a longer path than that of the B2C journey. Consequently, B2B sites will necessarily need to provide more in-depth information (white papers, for instance) and access to staff.
B2B products and services often come at a considerably higher price point than the products and services on B2C sites. Here, again, the buying journey isn't likely to be short. The purchase will normally require individual configurations, and the final price will often require negotiations.
B2C websites typically want to build quick interest and secure the sale during the visit. B2B sites are more focused on developing the relationship than on getting the sale. B2B business normally isn't consummated on the site; B2C is.
In order to recognize and facilitate those differences, B2B websites will require site designers to take off the B2C hat and don the B2B hat.
Let's look at some of the ways B2B and B2C website design best practices differ.
Resource: Why Website Goals Are Key to Effective Growth
B2B Website Design – Examples of B2B Best Practices
This won't be an exhaustive list, since your needs will reflect your business and the needs in your niche. These are some of the B2B design practices we've implemented with our clients at The Good:
B2B website copy can often include technical jargon B2C websites couldn't get away with. Stakeholders within the industry are normally more jargon-savvy than consumers. You won't have to explain yourself as much to industry insiders. Technical specifications that may confuse consumers may be required data for your B2B customers.
B2B websites normally require a professional tone and appearance. B2C websites can be more personable and light. B2B sites want to be respected in the industry. B2C sites want to be liked and talked about by consumers.
B2B websites must consider the needs and questions of everyone from multiple stakeholders within the company. The final decision is often made by a group. B2C websites tend to be more one-one-one, with the purchase or pass decision in one person's hands.
B2B marketing is heavy on case studies, sales calls, networking at events, webinars, white papers and such. B2C marketing more often looks to social media and blogs to engage the prospect.
B2B sales often lead to extended live conversations across a number of departments. B2C sales normally take place virtually. Help, if needed at all, can be via online chat and will take a few minutes instead of a few months (for example) of direct communication.
There are times when we sit down with a client and go over these differences and can almost literally see the lights come on.
A website is not just a website.
Your lead-generation or ecommerce site is the online face of your company. You will, in large part, be judged by your presentation there.
Let's look at some strategic considerations.
B2B Website Design – Strategic Considerations
We began by comparing conversations you've probably had in person with conversations occurring virtually with your website visitors.
Let's take that a little bit further.
Your attention level is somewhat governed by how important you deem the exchange of information.
If you're on the way from the airport to your hotel, and the cab driver begins to chit-chat about his upcoming vacation, you probably won't be as attentive as you will be when you sit with a group of company representatives the next morning to finalize a sales agreement.
Just as you reserve your most careful attention and diligent efforts for the most demanding situations, your website should know how to determine which visitors are genuine prospects and which are not.
How does a website do that?
The best-kept secret in digital marketing
It's one of the best-kept secrets of digital marketing, and it hinges on a concept many website managers find difficult to accept: the idea isn't to draw the most traffic, it's to draw the right traffic.
To do that, you first determine the type of content and messaging your most-desired customers or clients will find relevant. You then design the sales path to lead those prospects from point to point while building desire and interest along the way.
Let's look at an example from the field of medicine. Note the difference between the menu items of a surgeon (B2C) and a medical equipment company (B2B) in the screenshots below.
Surgeon to patients – how a B2C site uses focused messaging and website design
The message Dr. Higgins, a general surgeon, focuses on is "special care" and specifically breast care for women. Further down on the home page, you'll find a breast care awareness pink ribbon and a photo of the doctor wearing a white lab coat and smiling warmly.
A sub-menu under the About tab is titled "Gratitudes." On that page, Dr. Higgins presents notes from patients who appreciate the kind and professional care he's provided for them. They range from breast cancer patients to hernia repair patients. Dr. Higgins prides himself in taking time to listen to patients, and they appreciate his concern.
If you search on the term "thank you doctor," you'll find this website placing in the first few results. That's impressive, considering the number of physicians with websites in the USA.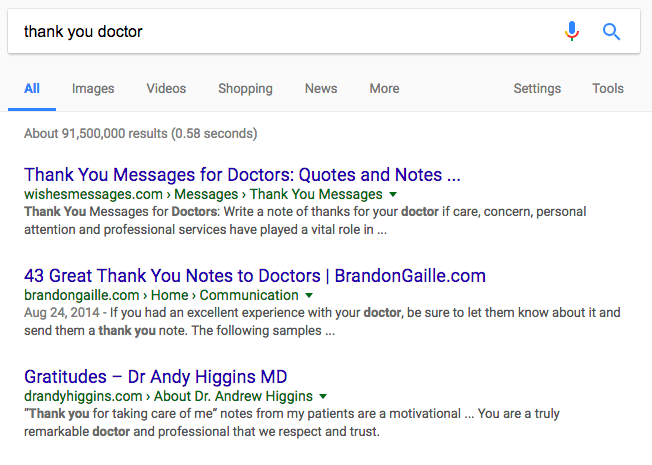 Medical equipment company to physicians – how a B2B website differs from B2C
McKesson is a major supplier of medical equipment. Search on "surgical supplies for physicians," and they will place towards the top of the search results.
Note how the content on the site determines which keywords and phrases the search engines identify as relative to that website. This is the first wave of prospect identification. A woman seeking a consult for a troubling mammogram would not be likely to click on the McKesson link, but she would be attracted to a breast care physician with rave reviews like Dr. Higgins.
Click on McKesson's Browse tab, and you'll find these submenu items: Providers, Pharmacies, Health Plans, and Manufacturers.
Click on the Our Services tab for Dr. Higgins, and you'll see Breast Care and General Surgery.
Take it a step deeper to look at McKesson's information for providers, and the categories expand to explain how their services help medical practices increase revenue, lower costs, and simplify regulatory requirements – all B2B issues.
Go deeper on Dr. Higgins' site to find pre-op and post-op instructions, a video on how to perform a breast self-exam, and insurance info – all B2C issues.
You probably aren't a surgeon or a medical supplier. These examples, though, apply across the spectrum of industries and niches.
The best website design is the one that speaks most directly to the intended audience and provides the information they need to make a purchasing decision.
That is the crux of effective design – whether B2B or B2C.
Resource: 4 Keys to a Successful Website Redesign
Virtually Meet with Your B2B Prospects
We decided to not turn this into a "10 Best Practices for Effective B2B Website Design" article because there are no 10 best practices.
There are, however, innumerable touch points you have with your ideal customer or client. From the headlines you choose to the supporting documents you make available, one aim should always be in mind: How can I have the most valuable virtual meeting possible with those who qualify as genuine prospects for my goods and services?
We did talk about special considerations for B2B website design, and we did talk about best practices – but those were only suggestions and observations. The only way to know for sure which website design practices are best for you is to put your company on one side of the equation, your ideal prospects on the other, and draw a straight line between the two.
One way to get started is by taking advantage a special tool we offer at The Good. It will enable you to score your website and discover the "Stuck Points™" keeping you from conversions. You can use that unique assessment tool free by clicking here: Get Your Stuck Score™.
One more tip: Before undertaking any website design or redesign project, always test to determine which messaging and illustrations are working well and which are not. Conduct usability studies to determine what works best for your audience – that is seldom the same as what works best for you.