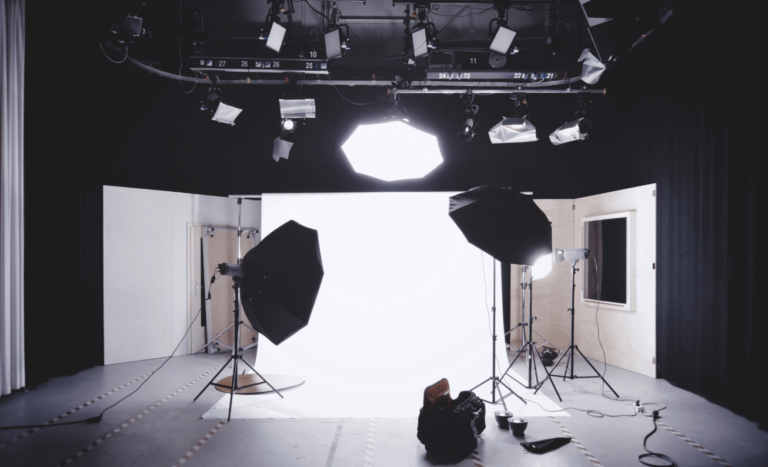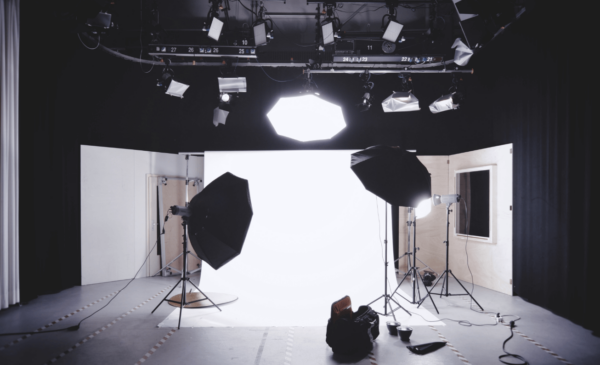 Conversion Rate Optimization
10 Practical Product Image Tactics to Increase Conversions
A good product image on a website helps your consumers decide whether to place an order and tells them what to expect when it arrives in the mail.
By now it's no secret that visual marketing is an essential piece to building a brand online. The old adage that a picture is worth a thousand words continues to hold true even today, and for ecommerce brands especially, high-quality visual content like product images can make or break their online presence and customer experience.
Across most online platforms, high-quality imagery has consistently proven to boost engagement, establish credibility, and most importantly, improve conversion rates. It doesn't matter how smooth and frictionless your user experience design is, if you have poor-quality product images it's bound to have a negative impact on your bottom-line.
In this Insight, we're focusing on the value of having high-quality product images, as well as 10 tactics you can use to improve the imagery that your business uses.
Here's Why Product Images Are So Important
To set the stage about product images in general, here are a few of the most pertinent research findings:
Only 0.52 percent of consumers want to see a single product photo, 33.16 percent prefer to see multiple photos, and about 60 percent prefer images that will enable them to have a 360º view of the product.
Customers cite "Product received looks different" for 22 percent of online product returns.
Consumers are 85 percent more likely to buy a product after viewing a product video.
If you're an ecommerce business owner or manager, you should be well aware of the increasing standards for product photography. Making your product photos stand out is one way to help relieve one of the primary barriers ecommerce businesses face: people want to know exactly what they're buying.
If done properly, your product images can help shoppers get a better virtual "feel" for the items you offer. The more comfortable prospects feel about the products they're browsing, the more likely they'll be to follow through with their purchase, and less likely they'll be to return the item they bought.
Products with accurate, clear, suitable photos show higher conversion rates, draw more interest from users, and get more social media shares than products with low-resolution photos (or no product photos at all). People love the visual capabilities of online shopping. Give them what they're looking for.
10 Tactics for Effectively Improving Your Product Images
Let's be honest, it shouldn't be very difficult to convince your team that high-quality images essential to a good user experience, but actually creating visual content that motivates visitors to buy is a different story.
To establish a baseline for what good product images should look like, we compiled research and examples from clients of our own, as well as from leading ecommerce brands that inspire us. These field-proven tactics will hopefully help you determine your site's position in relation to that baseline.
Here are the ten fundamentals that every ecommerce marketer or manager should know about creating high-quality product imagery:
1. Provide all necessary viewing angles.
This seems like an obvious one, but it's surprising how often we see high-traffic ecommerce sites that only provide their users with one or two product angles. To avoid confusion with the scale of a product, it's always good practice to include a product image that indicates how large or small the product may be. Here's a great example from a past client of ours, Baron Fig (see screenshot below). For the premium-priced products that they sell, it's essential that they provide users with different angles of the product so they can envision themselves using it.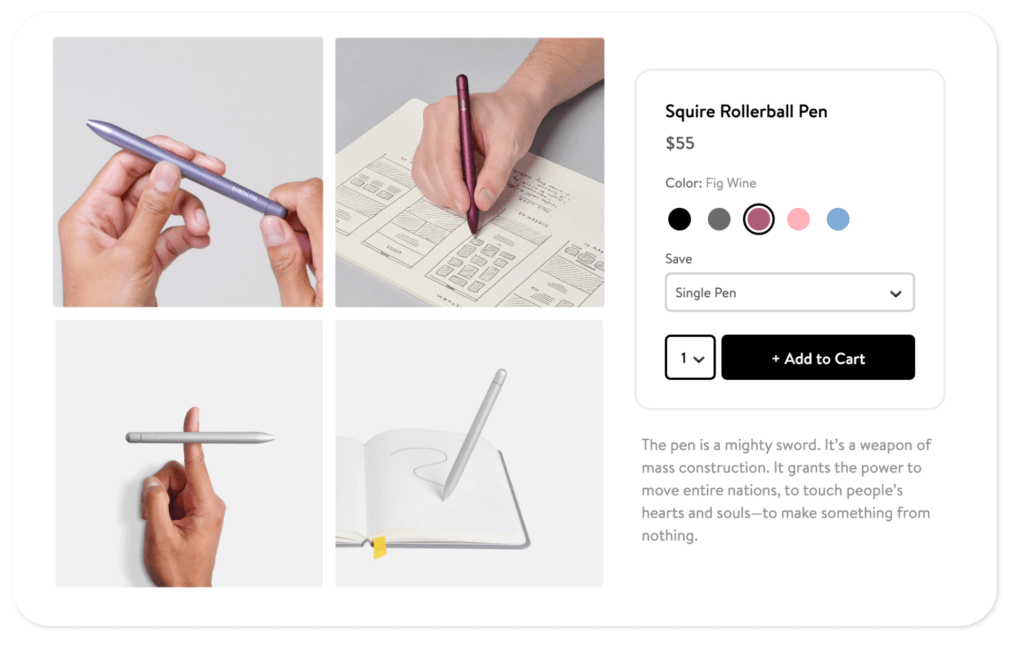 Imagine you're shopping at local department store for a specific product… what are you going to look for? At a minimum, show every important detail and aspect of your item. Leave anything out, and you'll be losing sales.
Guaranteed.
2. Show the shopper a product image for each color or style you offer.
Don't just tell them "also available in red, blue, and green," give them a photo of the item in each color. There's nothing worse than having a product with 3-4 color variations, but the product images are only showing one color. Backpacks.com is a great example of a company with thousands of SKUs in their inventory, but still take the time to carefully photograph each individual item. This allows users to see every angle of the product, from every color option available. It's a simple value-add for your product detail page that will definitely have an impact on your customer's decision to purchase.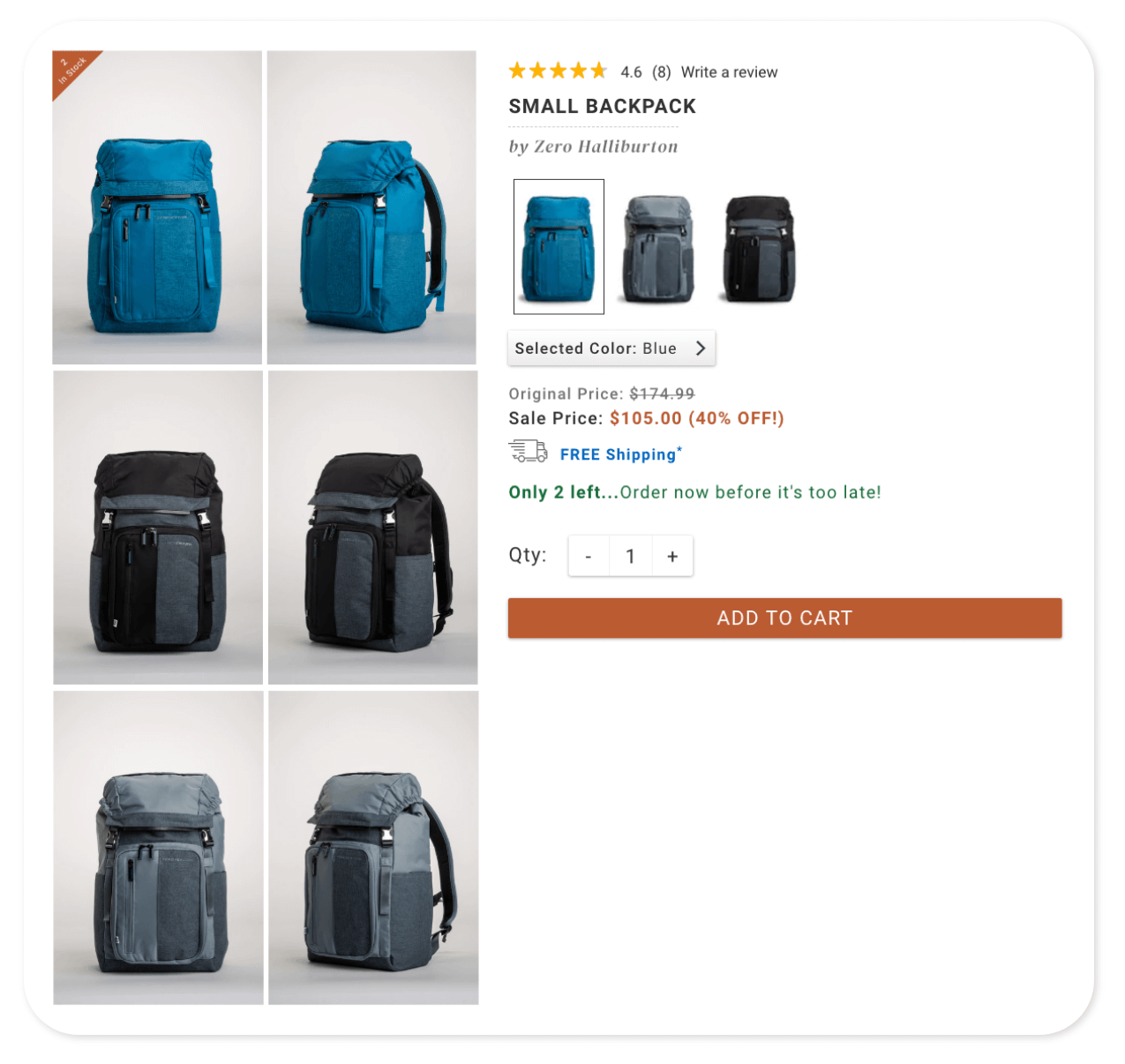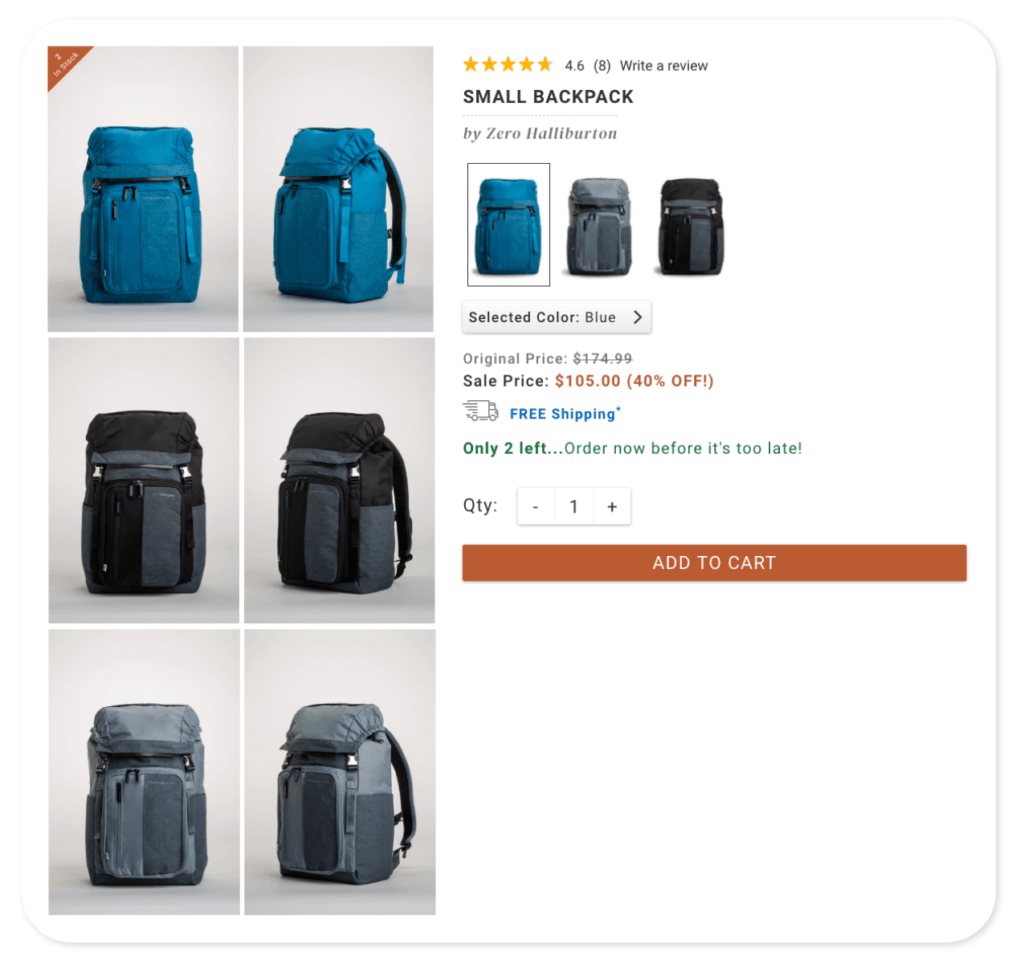 3. Give the shopper a way to zoom in on any part of the product.
Providing your shoppers with an image zoom feature is essential for any ecommerce website. Users will almost always mouse over a product image to see if they can get a more detailed view of it, and if you don't offer that functionality, they'll be left unsatisfied. 
This is where having high-resolution product images is especially important. You want your users to be able to zoom in on a product without compromising the quality of the image. For particulars, check the plugin specifications or the platform you're hosting your ecommerce store on.
4. Observe the basics of branding and consistency.
Despite every product image on your site being different, it's also important that you maintain a consistent style and design for each photo. Use the same background, modeling, lighting, and image placement strategy (for instance) throughout your ecommerce website. 
Consistency provides a comfortable, safe, professional feeling. Inconsistency can be distracting and unsettling. Unless distracting and unsettling are the qualities you want to brand, stay consistent.
5. Hire a professional product photographer or agency.
Make sure the individual or company you find is skilled at product photography and understands the goals you have for the brand visuals. Quality always matters over quantity, so don't settle for a low-resolution photo of your product that you took in-house. 
Hiring a professional product photographer or company is low-hanging fruit for any ecommerce business. It won't break your budget, and it's guaranteed to yield positive results.
6. Leverage social media content for product images.
Many ecommerce brands relying heavily on their social media presence to generate excitement about new products and establish credibility with their target audience. If you regularly have customers (or paid brand ambassadors) posting photos of your products on social media, you may be able to repurpose that content on your product details page. Brands like Glossier use content from their customers to showcase how a product looks and feels (see screenshot below).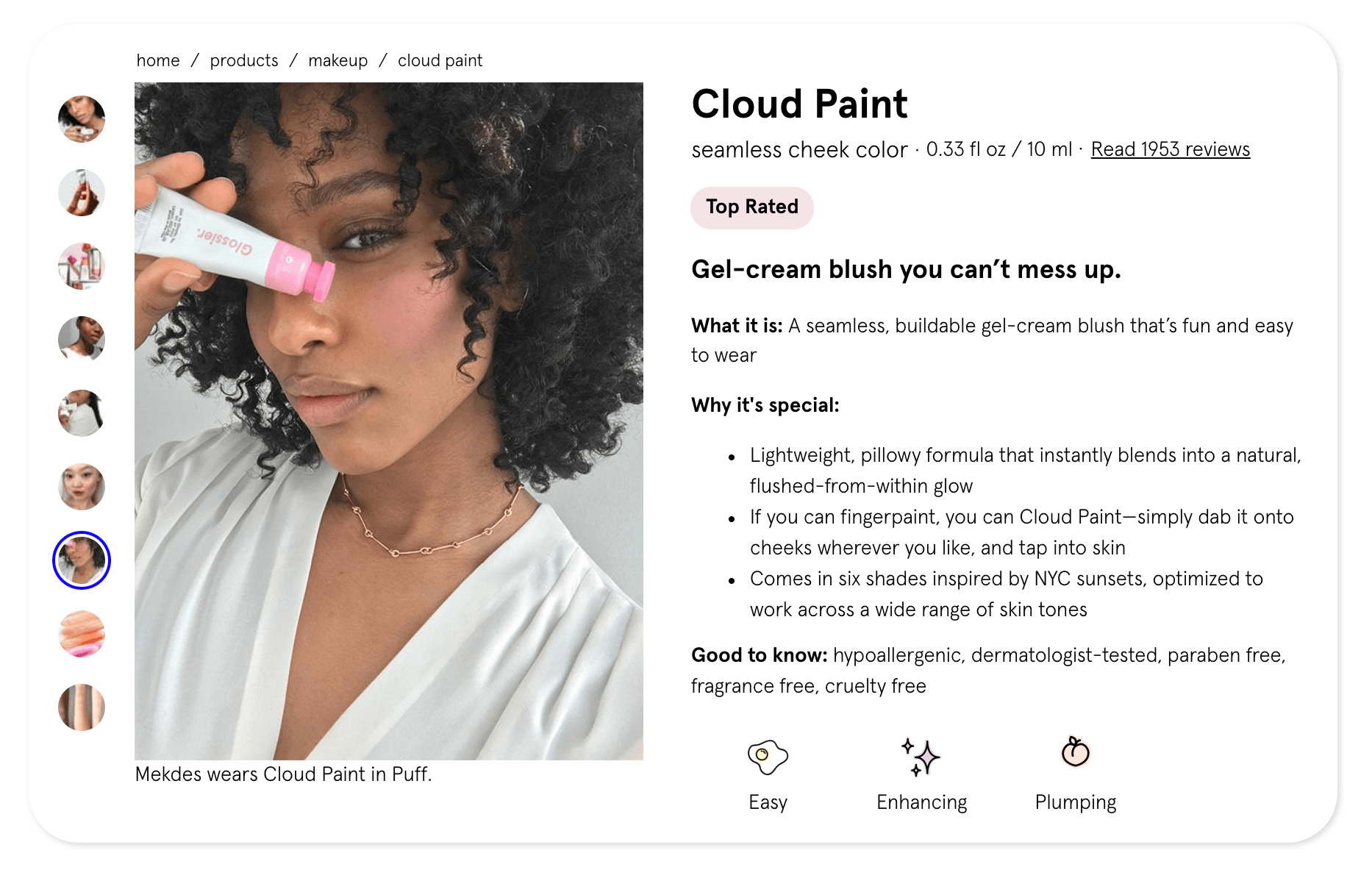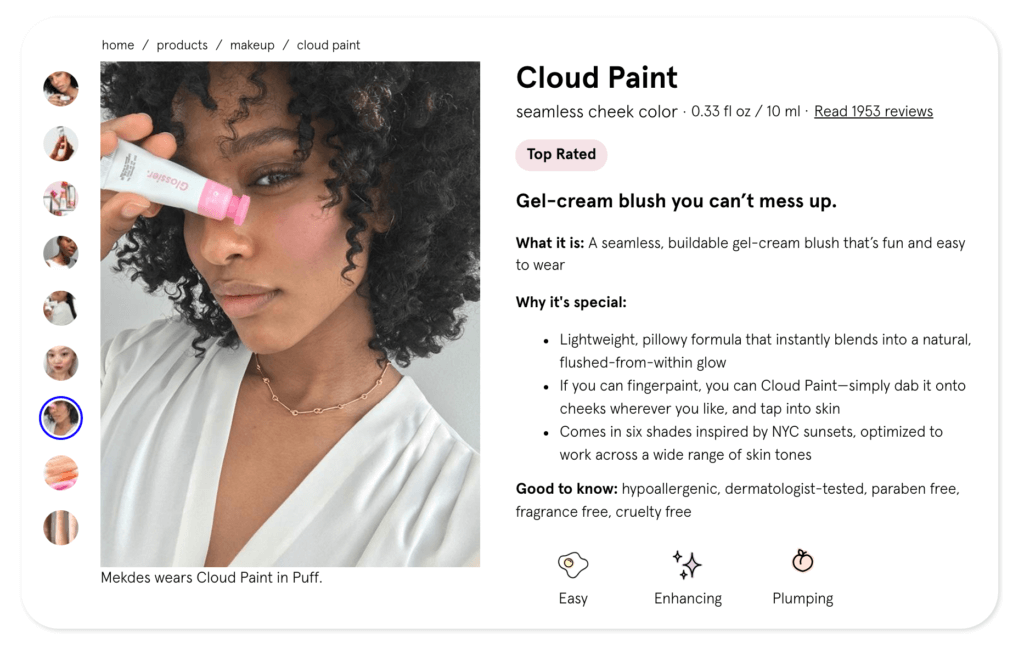 7. Keep an eye on image file size and resulting website performance.
Make sure your architecture and tactics support your image strategy. There's a constant dance between page load time and image load that must be recognized, monitored, and maintained. 
Your photographer isn't likely to be the best source of site performance information. Rather, you'll want your website developers and SEO manager to work with the photographer to make sure resolution and size requirements are satisfied. If your site bogs down because your image sizes are too large, you'll lose traffic. That's a guarantee.
In terms of file type, JPG is the most common digital image file format online. It is widely supported by all ecommerce platforms (Shopify, Woo Commerce, Big Commerce, etc) and offers a small file size with a broad color range.
8. Observe the basics of image SEO.
The better the meta description you supply for search engines like Google, the more search engine optimization bang you'll get. Missing this small, but critical point can cause you to miss out on sales. 
The data is also important for visually impaired shoppers. They may not be able to see your images clearly, so they depend on your metadata to tell them what those images are and what they look like. Beyond alt text and title text, you'll also want to consider your strategy for using captions with your photos.
9. Consider using 360° viewing options, or a high-resolution product video.
If you want to go above and beyond the baseline for good product images, give your customers a complete virtual view of the product through 360° product photography. If you don't feel comfortable handling this technology on your own, there are a multitude of companies that specialize in 360° product photography, so if you have it in the budget it's worth considering. 
Product videos or GIFs are another option to consider if you want to increase the conversion rate of your product pages. Video drives a 157 percent increase in organic traffic from SERPs, and is guaranteed to improve conversions for your site. If you have the resources available to make this happen, it'll more than pay off for you in the long term. In addition to showing a variety of high-quality product photos, Comfort-T uses a high-resolution product video that even gives you the option to pause it. It's a simple upgrade to the product page that offers a great deal of value to the user.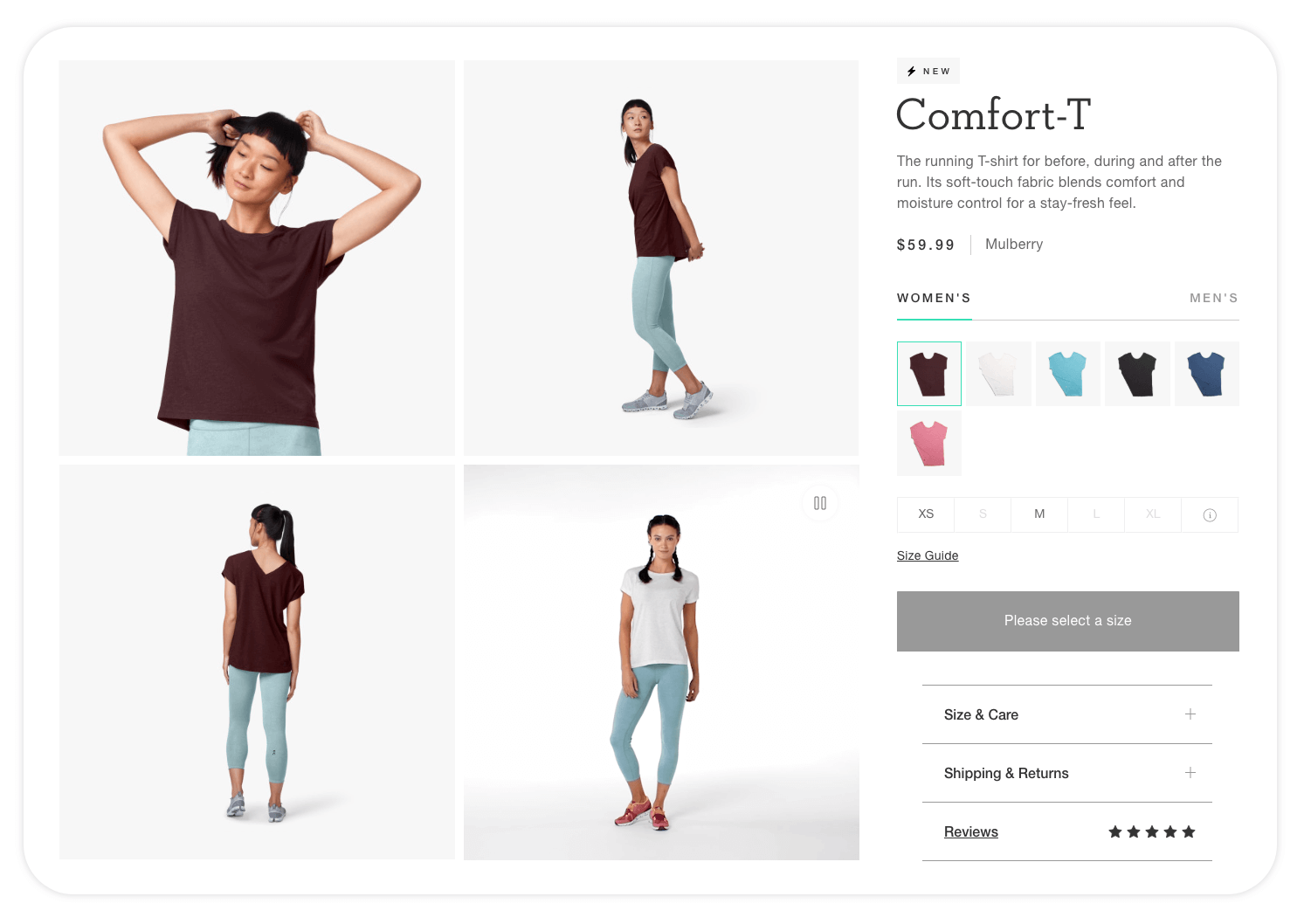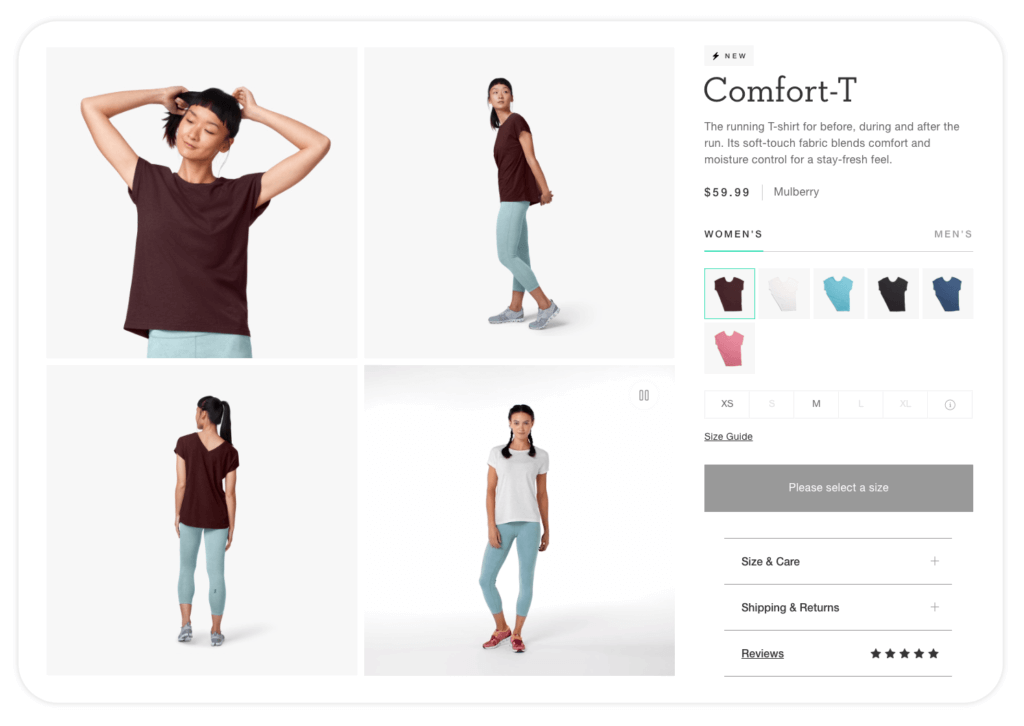 10. Our final best practice tip for ecommerce product images is one that often goes overlooked, sometimes resulting in significant cost and anguish.
No matter where you get your photographs and illustrations, make sure you have a clear and absolute right to use them.
We've spoken with clients who think taking a screenshot means you have ownership of an image. We've also advised to clients who believe "royalty free" means unfettered rights to an image. Companies of all sizes have found themselves in trouble because of image rights issues, so it's extremely important that you make sure your company is licensed to legally use the images it has.
Get The Most Value From Your Product Images
Every page on your ecommerce website should have a single purpose. And every component on that page should help establish that purpose. The images on a product page will necessarily be different than the images on a category page. Remember, you are helping the shopper move along the sales path. Each view and each click is another step along that path.
Online shoppers will depend on the information you provide – both your words and your images – to help them decide whether or not to place the order.
If you're an ecommerce business owner looking to optimize your website for a better conversion rate, it may be time to consider hiring a specialist that can help your company achieve its conversion goals. At The Good, we work with brands of all sizes (enterprise to SMB) to help convert more of their website visitors into buyers. If you're interested in learning more about how we can help you, sign-up for a free landing page assessment where we'll review your website and identify specific areas that could benefit from optimization. 
Resource: 17 Product Detail Page Best Practices That Will Boost Conversions
Want a free landing page teardown?
We'll provide a data-driven critique of the usability and effectiveness of your site free of charge.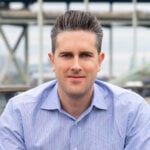 About the Author
Jon MacDonald
Jon MacDonald is founder and President of The Good, a conversion rate optimization firm that has achieved results for some of the largest online brands including Adobe, Nike, Xerox, Verizon, Intel and more. Jon regularly contributes content on conversion optimization to publications like Entrepreneur and Inc. He knows how to get visitors to take action.