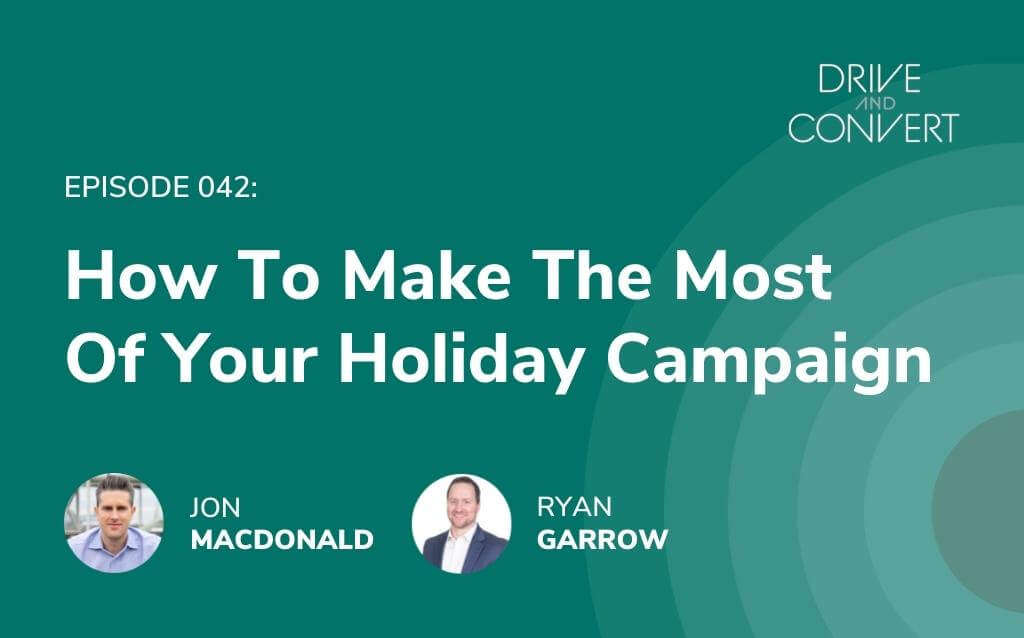 Drive & Convert
Drive and Convert (Ep. 042): How To Make The Most Of Your Holiday Campaign
Believe or not, the 2021 holiday season is right around the corner, and it's shaping up to be another big year for ecommerce brands. Ryan and Jon sat down to share strategies for helping you make the most of the extra attention.
Listen to this episode:
About This Episode:
Believe or not, the 2021 holiday season is right around the corner, and it's shaping up to be another big year for ecommerce brands. Hopefully your preparation is well underway, but there is still time to take steps that will help you make the most of the extra attention and higher purchase intent.
In this episode, Ryan and Jon talk about what brands should be doing NOW to set themselves up for a successful holiday campaign. You'll have a playbook for locking down everything from traffic generation to conversion optimization and post-purchase support.
Listen to the full episode if you want to learn:
What you should be doing NOW to make the most of BFCM
How to come up with a compelling offer
Why holiday shoppers are different from your usual customers
Why personalization might not skyrocket your sales, but segmentation could
How to use cross-sells, upsells, and post purchase offers to maximize AOV
If you have questions, ideas, or feedback to share, hit us up on Twitter. We're @jonmacdonald and @ryangarrow.
Episode Transcript:
Announcer:
You're listening to Drive and Convert, a podcast about helping online brands to build a better e-commerce growth engine with Jon MacDonald and Ryan Garrow.
Ryan Garrow:
Jon, it is going to be over a 100 degrees here in Portland very you soon, as in tomorrow and through the weekend and that's hot in Oregon. We're not built for this here but we generally suffer through a few days a year, but leading into this week, I'm all confused because your team has been talking nonstop about Black Friday, Cyber Monday, and the holidays coming up. And when it's a 100 degrees, you can't think about times in Oregon when it's going to be 35 degrees and raining and dark outside. It still feels like it's forever away, at least when I'm sweating all over the place in Oregon. But the thoughts have sparked a topic that I love getting into the minutiae, going into holiday season, helping companies think through and prepare for it because every holiday is so much different than the previous one and I'm sure this is going to be no different.
And so specifically when we're looking at that Cyber 5 weekend, how should e-commerce leaders, whether that's the business owner or the marketing teams at companies, how should they be looking at their approach to conversion optimization and attacking that traffic coming to their site differently? Because, it is a very weird … I'll just say unique, not even necessarily weird. We've seen it so many times in our space, but it's unique traffic every year and this year may be even more unique than others, but what do companies need to be thinking through? That's what I'm excited to get educated by you on.
Jon Macdonald:
The reason we've been talking about this so much, even though it's the… That heat of summer is because you need to start now. The reality is if you're not starting to think about optimizing your site, you're not planning for your promotional activities. You're not thinking about your budgeting for what you're going to spend to continue to drive traffic and awareness during that time period. You're about to be behind and you can really set yourself up for success by optimizing your site now. Knowing that you're going to see a surge in traffic over that, as you called it Cyber five or just the holiday shopping season in general, so pretty much November and December.
Ryan Garrow:
It surprises me to know and as I talk to business owners and marketing teams constantly, like today was a great example. Talked to a pretty large pet products company that sold at Petco Chewy. They sold direct to consumer, multi-million dollar direct to consumer business as well. And I was like, "Well, what are you doing for holidays?" "I mean the same thing we've probably done the last few years. It seems to work. So we're just going to roll with it, I guess, unless you get inside the ads account and tell me different." I'm like, "I think I'm going to be telling you different." But their entire plan was, "Well, we did last year, it worked. Let's do it again." I'm like, "Oh, that is probably a recipe for disaster in unique times like we're looking at now."
Jon Macdonald:
I'm always surprised when I hear that. It's one thing to talk about the driving the traffic aspect and this year with Facebook costing so much more and is it sustainable to continue to drive traffic for … A lot of brands it's not, or they need help from somebody like you to come in and really show them the light, because they're going to continue doing what they've been doing when the game has changed for them. And what I always find interesting is so many brands continue to just throw money down a drain and follow what they've done in the past as opposed to being willing to pivot a little bit and one of those pivots they should take is to optimize their site. Once they drive traffic, the best way to increase your return on ad spend is to really convert higher. It's going to have a pretty effect on that once you get in.
I do find it interesting that a lot of brands aren't, A, they're not thinking about planning already. And B, the ones that are, aren't thinking, in my biased opinion of course, thinking about optimizing their site as part of that plan, which really should be happening.
Ryan Garrow:
I'm excited to hear some of this feedback from you and help guide these companies because it's needed for sure, just based on the conversations I had today. We know a lot of things happen going at holidays, like code freezes. Once you get to be on a certain date, most companies are not willing to touch the site for fear of breaking something which I think is very logical, but in preparation for this Black Friday, Cyber Monday weekend kicks off the holiday season as far as most people's promotional period. Are you telling companies that they need to be looking at different designs or special holiday landing pages? Now, do they simplify the design? Do they put a bunch of holiday crap all over the site to make it snow [inaudible 00:04:34] I mean, how much of that do you allow? I guess the good clients versus as you're advising some companies like those dancing snowmen distraction.
Jon Macdonald:
The reality is if you're trying to be cute with it, it's probably not going to work. That's a good line to really be drawing in the snow. I was going to say sand, but it's seasonal here. What we typically advise people is right now you need to be collecting data, understanding where people are dropping off, all the high level optimization data. Make sure that you are… That you're tracking the right items because once all of this traffic hits and you're in a code freeze, you want to have that tracking in place so that you can continue to learn. That you'll still learn so much from that high traffic time. Even if you're not doing testing or making changes during that timeframe. There's a lot of other data looking at analytics, of course, but also heat mapping and click tracking, all that stuff could still be running.
And you could really make some good decisions in coming into January once you have more data than you're ever going to have on users of your site and the actions you're taking. So first thing I would recommend is make sure you have all the right data in place. Second thing I would recommend is be running A/B test now and get really quick iterative tests happening and run those tests now through. You've got three, four months at most. So start running over the next three months. And by the time November hits, you should be making some final decisions about exactly what to change on your site.
Now, do I recommend you do anything with holiday focused landing pages, et cetera. I think that you're going to have to have an offer. I'm not suggesting a discount, but you're going to do… You're likely going to do some type of offer,
Ryan Garrow:
Mm-hmm
Jon Macdonald:
And if you do an offer, you probably should have a landing page dedicated to that offer that you can drive traffic to. And that's where I would toss this question back to you. Do you recommend that your customers have specific campaigns running around holidays? And if they do, would you recommend they send them to a specific landing page? Because if so then of course you want to optimize that page before you start spending and driving a ton of traffic to it.
Ryan Garrow:
I mean, the simple answer for most companies on the planet is, you're probably not ready to execute specific landing pages for promotions.
Jon Macdonald:
Mm-hmm
Ryan Garrow:
Majority of companies. But even the larger companies that have a lot of resources, they're sophisticated enough to treat different types of traffic and different types of personas with different offers.
Jon Macdonald:
Mm
Ryan Garrow:
And so you probably, I mean the… We get approached a lot of time for partnerships with a lot of these landing page creation. And everybody's… I keep getting questions about it. Do you do landing page creation? In e-com, your landing page most often is your product page.
Jon Macdonald:
Mm-hmm
Ryan Garrow:
It's most of your new to file, new people to find you are going to go to a product page. You don't need a landing page for that because you already have. We need to do is be doing CRO and improving your product page is because that's where the most of your new traffic is going to come from. People that know about you are going to go to homepage. They're going to Google the category and find your brand category page up there. So I think for most companies, it's a waste of time and energy but a lot of companies are going to do it. But if you're going to do it, I would test it.
Exactly
Jon Macdonald:
Way before.
Ryan Garrow:
That's exactly it, I think if you can run some testing on these items. And if you're like, "Hey, I don't know what promotion's going to resonate the best, et cetera." Well, great survey, ask your top customers. You have them, now's the time
Jon Macdonald:
Mm-hmm
Ryan Garrow:
Email them, send them a survey. Be like, "Hey, you know what? We're talking about running some promotions for holiday season. Want to know what would interest you the most?" You'd be surprised a lot of people will respond
Even doing this, the Instagram story it's not scientific necessarily, but the Instagram story things. My wife's done multiple of those with her customers.
Jon Macdonald:
Mm-hmm
Ryan Garrow:
Easy
Jon Macdonald:
Yeah
Ryan Garrow:
What promotion you like? A or B
Jon Macdonald:
Yep. And it works well. And you know, you're getting immediate client feedback. So I think those are all great options.
Ryan Garrow:
And often you're going to have the opportunity to run multiple promotions. During the holiday period. And so if you have five promotions you like, and you can rank them based on the benefit to the company, but also customer preference. You can change them out at different time periods. Because you've got, I mean, geez, Black Friday,
Jon Macdonald:
Mm-hmm
Ryan Garrow:
Cyber Monday, Cyber week, Green Monday, free shipping Friday. It doesn't end throughout the holiday season of just crazy stupid days that us e-commerce people have created.
Jon Macdonald:
We're the hallmark of e-com that's for sure.
Ryan Garrow:
The punchline of all this is you're not going to be changing the site or making decisions. You're testing brand new things the week before cyber Monday or Black Friday, if you are, you've got big problems and you should just stop. But be testing now and you can even do promotional periods right now. There's nothing saying you can't test promos in September. You just run them.
Jon Macdonald:
That's true
Ryan Garrow:
See what people do
Jon Macdonald:
Yeah, why not?
Ryan Garrow:
People to get mad about a promotional or giveaway or some kind of free shipping offer, so do it. That's generally my rule of thumb too. When in doubt, just do it and just make sure you watch it close enough so it's not going to break the company.
Jon Macdonald:
Yep. I love it
Ryan Garrow:
I get in trouble for that sometimes, but it's my default. Just do it, then we'll figure it out as we go
Jon Macdonald:
Ryan always moving fast and breaking things.
Ryan Garrow:
Move fast, break things, because you're going to get the right answer much quicker that way, generally.
Jon Macdonald:
Love it.
Ryan Garrow:
Okay. Do you add gifting officer offers or messages to align with shopper intent? We know based on the traffic coming in, they're going to attend different things so, do you match that up?
Jon Macdonald:
I think as much as you can but most brands aren't at that level, as you were mentioning earlier about even just landing pages. I would say most brands aren't at the level where you need to align things or do a personalization to that level I'll say. And personalization is something that we used to hear a lot more about it was probably five years ago. Everybody was like "This is the next wave. It's personalization." Well, the reality was the data that most marketers have is not that great. It's okay, but it's not good enough to really personalize a full experience on and the reality is most people aren't coming back to your site every single day to where you can personalize to a level of a face, Instagram, whatever
Ryan Garrow:
Mm-hmm
Jon Macdonald:
You really need to have that much data to personalize effectively. And I think a lot of brands found out that it really just falls flat. I think what's going to happen over holidays, you're going to get a lot of new to file customers and a lot of new to file traffic and maybe some repeat folks but there in intent is going to change dramatically. They're now shopping for gifts, not for themselves. They're now really looking to shop and buy, they have money to spend as opposed to them maybe just browsing year round. It's really something to keep in mind of the in shopper intent's going to change, but I don't know that it's going to make a whole lot of sense to try to personalize around that just because it's the holiday.
Ryan Garrow:
And I think if you are going to change certain offers, I mean, we know for sure you're not going to give everybody 10% off for giving you an email. If this is your first podcast, you got to go listen to 40 episodes before this, but you are not giving everybody a 10% discount or giving them the wheel to spin. But we do know that there generally are different levels of intent based on where you enter the site. If you're on a product page coming from shopping versus a category page versus homepage, if you're going to do anything, would you advocate testing something like that before you're in holiday?
Jon Macdonald:
You definitely can. And I think that, that type of segmentation can work extremely well. I mean, we're always segmenting and when we run tests, like what ad campaign did they click on? What pages did they come into first, et cetera. I think that falls short of personalization but you can definitely use it to customize the experience a little bit, but that's… To me it's not full personalization.
Ryan Garrow:
For sure not, it's not saying, "Hey, this user is Ryan or Jon, and they're going to see this offer." I mean, there's software systems that will pull your [inaudible 00:12:41] and do that for you. If you have it you're probably already using it and this is moot for you.
Jon Macdonald:
Yeah
Ryan Garrow:
And other people probably don't have the technology to execute full personalization.
Jon Macdonald:
Exactly
Speaker 1:
You're listening to Drive and Convert the podcast focused on e-commerce growth. Your hosts are Jon MacDonald, founder of The Good, a conversion rate optimization agency that works with e-commerce brands to help convert more of their visitors into buyers and Ryan Garrow of Logical Position, the digital marketing agency offering paper click management, search and, and optimization and website design services to brands of all sizes. If you find this podcast helpful, please help us out by leaving a review on apple podcasts and sharing it with a friend or colleague. Thank you.
Ryan Garrow:
I guess taking the next step on that, is there a better time to present, cross sell up sales.
Speaker 1:
Mm-hmm
Ryan Garrow:
Or post purchase offers through… In this time period are those generally better here? Or is it the same as every time during the year?
Jon Macdonald:
I think it's the same as every time in the year. But I think the intent, as I mentioned earlier is really going to drive where you do those. So cross sales and upsell should be something that you're thinking about year round, but post purchase, you should be thinking about running post purchase campaigns. But I think the content needs to change now. What do I mean by that? Well, normally you would be thinking about post purchase in terms of the person who bought is the person who's going to use the product.
Ryan Garrow:
Mm-hmm
Jon Macdonald:
Now you need to be thinking about, "Hey, I'm sending a post purchase campaign and the person receiving this is very likely or may not have as much care about my brand after they've sent the gift." What do you do? Do you say, "Hey, if you run a whole segmentation for people who bought it as a gift, what's the best way to do that?"
In checkout have a box that says this is a gift and I want to include a gift note.
Ryan Garrow:
Mm-hmm
Jon Macdonald:
And then you're collecting so much more data and you can follow up with them and say, "Hey, you sent a gift, thank you so much. Appreciate it. If you'd like to do something for yourself, here's a little bonus." You can now start following up with them around that type of language, which is going to resonate a lot more than, "How many times do you buy a gift for somebody?" And then that brand keeps emailing you as if you want their products. And you're like "That wasn't for me, that was for my friend who really loves that product. But I don't like your product, I'm not into that." It's really something to be thinking about there.
I once bought something, a product for a niece of mine who rides horses and I went on a website, bought a product and then now they're sending… They continue to send me products as if I own and ride horses. I'm like, "I'm six foot seven, no horse wants me on top I promise you that" On top of that I haven't rid a horse in decades so I don't know. I think, it doesn't resonate in the same way, I'm just going to mark it as spam, ignored it, unsubscribe. Where now if they were like, "Hey, there's another holiday coming up, you bought last year. Maybe you'd be interested in these new products that all of the people who ride horses are into right now." That could be something to be thinking about.
Ryan Garrow:
A lot of brands discount the value of gifters in their email nurturing because they look at holiday customers and like, "we're just going to throw them in the same bucket and just nurture like they did with you." But I go back to a company we've worked with of years ago that had still, one of the most sophisticated marketing stacks we've been around Harry and David did amazing things in knowing that, "Hey, this group of people buying in this time period is almost always a gifter." We know exactly the math of how, when we can email them in the future to bring them back to by gifts again. And so if you do have this group of people that are generally gifters, the lifetime value can be extremely high, actually many times higher than other times during the year, if you're very good at messaging future gifts. Like if you're buying mom something during holiday, you got a mother's day, you've got all kinds of opportunities in the future.
Jon Macdonald:
That's amazing. And I think that's where the segmentation can really come in and just paying attention to the data, but you have to be collecting that data before the events happen. And that's why it's… Now's the time to get your data right. So that post holiday, you have that data to work with.
Ryan Garrow:
You use the word data a lot and you know exactly what you mean when you say collect the data. But for some people that's like, I got analytics, there's my data. What are you capturing during this season? And then what are some of the things you're going to use that data for moving forward to make your business better?
Jon Macdonald:
I think the first things you should be doing is make sure you have all the right events set up in Google analytics, so that you can now track what people are doing in aggregate on your site. Also, make sure that you are going into the timeline view and you are making notes for every campaign you're running over holiday. You know when you sent emails, if you see a spike happen one day, you know what led to that spike.
Ryan Garrow:
That is one of the most underutilized aspects of Google analytics. And it is one of the most important that I just blows me away that, that's never done.
Jon Macdonald:
How are you ever answering a question about what happened three months ago? Let alone three weeks ago in marketing, it just moves too quickly, right?
Ryan Garrow:
Mm-hmm
Jon Macdonald:
So you need that log, but you have to make sure you go in and you put the extra effort to do that. The other things I would start doing is install Hotjar and set up heat maps on all of your pages. You're likely get such a volume of traffic that it's going to be more than you typically would see, and that's going to lead to better data. What I mean by that is you'll have a more statistically relevant heat maps and click maps. You can all do session recordings, so then you can find out, "Hey, I want to segment my audience, but everybody who dropped off in checkout and watched some of the session recordings," Now, it doesn't let you see anything personally identifiable, but it does let you see, "Hey, this is the confusions they were having, this is where they dropped off." Those are challenges that you're going to have such a nice sample size of that you can go back in January and fix.
I hear every January, the regret from brands who say, "Oh man, we did not have as good of a holiday as I wanted. We made these huge estimates and guesses at the beginning of the year and put all our faith in end of the year in Q4. And it didn't… We didn't hit our numbers, but I have idea why, and I don't know what to do to start fixing it now or to make up for it." And the first question is always, "Well, what went wrong?" When they're like, you just don't know because you don't have any of the engagement data. The second thing really is based on the intent.
So where are landing on your site? What pages are they exiting on? All of that can be really helpful. And then be thinking about what type of other data, first party data you'd like to collect. What is first party data? What is data that you own that then you can start segmenting? Things like, could you have a quiz on your site and now for those users who buy, you can store what their answers were to the quiz. Maybe it's a product finder or it's a gift finder, how much did you want to spend? I want to spend up to a $100. This gift is for a female, that has these hobbies, whatever it might be. Just as an example. Now you can start having that data. If you're storing it appropriately and start sending campaign flows to everybody who wants to spend a $100 on a gift for a female.
Great, now you can start really sending some targeted emails after the holidays even the remaining part of the holidays. When it's really going to need to have a relevant message to cut through the noise of email marketing over that month, when emails just ramped up and you're unlikely to really be seen and read unless it's super relevant.
Ryan Garrow:
Mm-hmm
Jon Macdonald:
I think those are all things you need to be paying attention to. I mentioned earlier, "Hey, you could just have a simple checkbox. This is a gift in checkout." And if it's a gift, now you have an extra segmentation point and you know what the intent was well out of our… Let's just use a number here out of a 1000 people who purchased last month, 500 said that they bought this as a gift. I know that 50% of the people that come over holiday are gift buyers.
Now you have a lot more data, just like you were saying with Harry and David, you don't have to have a massive tool set to do these things. You just got to be smart about what's the single questions here and there that you want to ask and you want to store that data. Then you can start using tools like Klaviyo to start in appropriate emails that are segmented because you're warehousing all this data.
Ryan Garrow:
Mm-hmm
Jon Macdonald:
So when I talk about data, it's engagement data of how people are using your site and the actions they're taking, but it's also the first party customer data. What questions can you ask and own so that you have of that data and that you can make decisions on it later?
Ryan Garrow:
Mm-hmm. I challenge most brands every time somebody buys something, can you get a little more information out from them? Far enough down the trent the conversion path like, "Hey, they're just going to click a box, some sort some way." I saw a really good one the other day going totally blank on what site it was, but it was just a really simple in the flows getting… I was buying something for my wife or kids or something as we were going through the flow. And I was like, they just asked this blah, blah, blah. Clicked it and moved on. It was phenomenally done, I'll have to find it and send it over to you, because I thought it was just really cool and how it flowed through.
But testing those things before holiday to know that you're not going to just tank your… See out your conversion rate, trying to get some extra piece of data because it's not worth your ruining conversion rate, but people that are committed to buy from you usually don't have a problem giving you a little bit more information. They already trust you for that
Jon Macdonald:
Especially if it's relevant to them. And that's where the quiz phenomenon right now is working really well. It used to only be for cosmetic, like helping you find the right shade, right product for you, et cetera. That was the big play for quizzes. But now they're getting much better. Especially as there's retailers who have hundreds of products that… And a lot of customization opportunities, a quiz can really help people boil this down to a handful of options. And when I'm buying a gift, the last thing I want to do is have to really guess what somebody's going to like. I'd rather answer a few questions and I'll happily give up that information in order to get a better gift giving experience in the end.
Ryan Garrow:
Now I know what it was. As you talk through that, Nordstrom did a phenomenal job on their anniversary sale this year
Jon Macdonald:
Mm-hmm
Ryan Garrow:
In collecting data from my wife around fit as you could see models doing different things, but just even helping people pick the right product. If you're attaching that to the person that's going through this process, if you log on like you have an app.
Jon Macdonald:
Mm-hmm
Ryan Garrow:
which Nordstrom does my wife shops on it. You're collecting a bunch of data from my wife about her fit or what types of clothes she likes, logging all of it as first party data, which is just ridiculously valuable. I mean, having an app is just…
Jon Macdonald:
Mm-hmm
Ryan Garrow:
Disgustingly valuable.
Jon Macdonald:
Well Nordstrom does this extremely well and few people know Nordstrom has a whole innovation lab for e-com internal [crosstalk 00:24:09] does. Yes, that does nothing but these things and does an extremely good job with it. I mean they were producing case study videos on the work they were doing for years ago. I remember seeing one where, when the very first iPads came out. They gave all of the eyewear, like sunglasses boots that they have on iPad and you could sit there and try on different sunglasses even once they didn't have in stock using this app. And it was like before anyone else was doing this there was Warby Parker, those type of guys that are all doing it now, but Nordstrom was doing this years ago. That's the type of stuff where they're really staying ahead of that. And I think they're really good about being disarming with it.
Ryan Garrow:
Mm-hmm
Jon Macdonald:
Where Amazon's very in your face that like we're collecting all this data. We're going to show you these relevant products, but even just saying, "Hey, this is my fit, I know I'm looking at this size of product." Well, I'm going to show you models in that size.
Ryan Garrow:
Mm-hmm
Jon Macdonald:
Pretty simple, but it works really well. And it makes a more customizable experience.
Ryan Garrow:
Yep. Especially [inaudible 00:25:14] when you have all these free returns and you can order 20 things and return 15 of them.
Jon Macdonald:
Oh!
Ryan Garrow:
Don't envy their return products department.
Jon Macdonald:
Okay. So, you get through holiday and you're going to look back at all this data that you've collected
Ryan Garrow:
Mm-hmm
Jon Macdonald:
Which you've basically explained really well and what I need to be getting, what am I going to be keeping in mind? Not only that I'm collecting, but as I'm looking back at all of this stuff
I think the first things you should be looking at is where did you leave money on the table? If you did not hit your goals or you felt like you should have seen in a better return on your ad spend and efforts and better conversion rates, the number one question I get is around regret, that's why didn't we hit these things and that's where I would start, is diving into the data. What went wrong? Where did people drop off? Was it a site error? I get that question a lot, maybe our site broke. We think there was a problem with the site and that's why these couple of days were the dips in sales. And it's like, how do you know? Until you get in, you start diving into the data. You really don't know.
I think when you look back, you really need to keep in mind that while you may have lost out some opportunity you still have a good path forward and using… Don't just throw that data out and be like, "Okay, now we're moving forward. And we're just going to overhaul our entire site." And just like maybe out with the bath water, as they say. Instead, look at that data and say, "Okay, while we didn't hit our numbers, we did collect a lot of great things here that we can use to improve coming up. And we're going to learn our lesson and we're going to work on this in Q1 so that when Q4 hits again, we're in a much better position."
And that's the mindset that needs to be taken here is not necessarily "Well the world's ending because we didn't hit our numbers." It's actually, we set ourselves up for success on collecting all this data. That's worth something. Let's fix the problems that we found and if you take that methodology, you will have a much better year coming up where you won't have to rely on Black Friday, Cyber Monday as much a challenge in general is just that folks rely on that week. Way too much.
Ryan Garrow:
And if you have the data, it allows you to talk to somebody like Jon, to help you analyze it. Because some companies are going to have all this data and not even know what to do with it, but if you don't have it, having somebody like Jon analyze it, it's not going to be any good because you don't have the data.
Jon Macdonald:
Or you're going to have to start collecting it from scratch and that just takes a little bit longer. It definitely is not as advantageous as coming… Brands who come to us with data, we're able to move the needle much quicker because we don't have to put all that stuff in motion first.
Ryan Garrow:
And I would challenge brands too, that hit your numbers. Why didn't you do more?
Jon Macdonald:
Mm-hmm
Ryan Garrow:
There's no scenario in which you get through the holiday and like "No reason to look back, we're good." If you want to keep winning, which I do, it's always looking back saying, "Okay, great. We did great. Why did we not do even better? What was holding us back? And how can we continue to remove interference until I have all of the traffic in 100% conversion rate, I can do better."
Jon Macdonald:
Ryan, you can come sell for The Good anytime you'd like.
Ryan Garrow:
I think we do. You sell for me, I sell for you. It's great. Make each other look good. Thank you Jon. I've I've learned a lot about… And even just learning more data points that I'm actually not collecting myself, but to tell other people as they prepare to talk to you for different things. But any final parting words for people as they prepare for getting ready for conversion rate increases during holiday season?
Jon Macdonald:
I think a lot of folks get overwhelmed with the holiday season. I think it's just taking a step back starting now and you won't be hair on fire come October, which is when everybody kind of just… Unfortunately it's a little too late at that point
Ryan Garrow:
Avoid that chaos of the first week of November when people realize it's holiday, it's every year. But thank you, Jon. Appreciate it
Jon Macdonald:
Yes. One year we will get through to folks.
Ryan Garrow:
We will someday.
Jon Macdonald:
Thank you Ryan
Ryan Garrow:
Thanks.
Announcer:
Thanks for listening to Drive and Convert with Jon MacDonald and Ryan Garrow. To keep up to date with new episodes, you could subscribe at www.driveandconvert.com.
About the Author
James Sowers
James Sowers is the Director of The Good Ventures. He has more than a decade of experience helping software and ecommerce companies accelerate their growth and improve their customer experience.