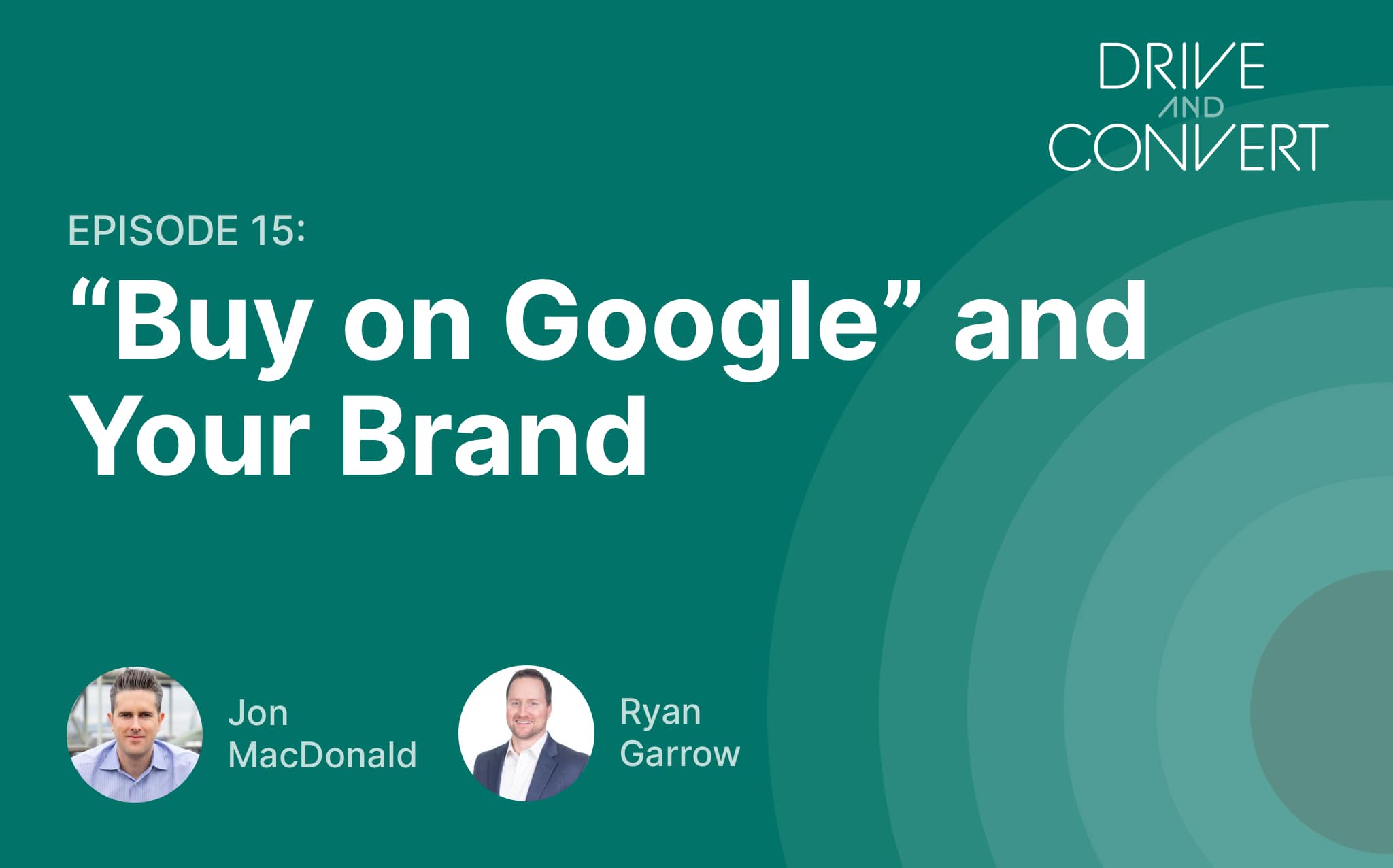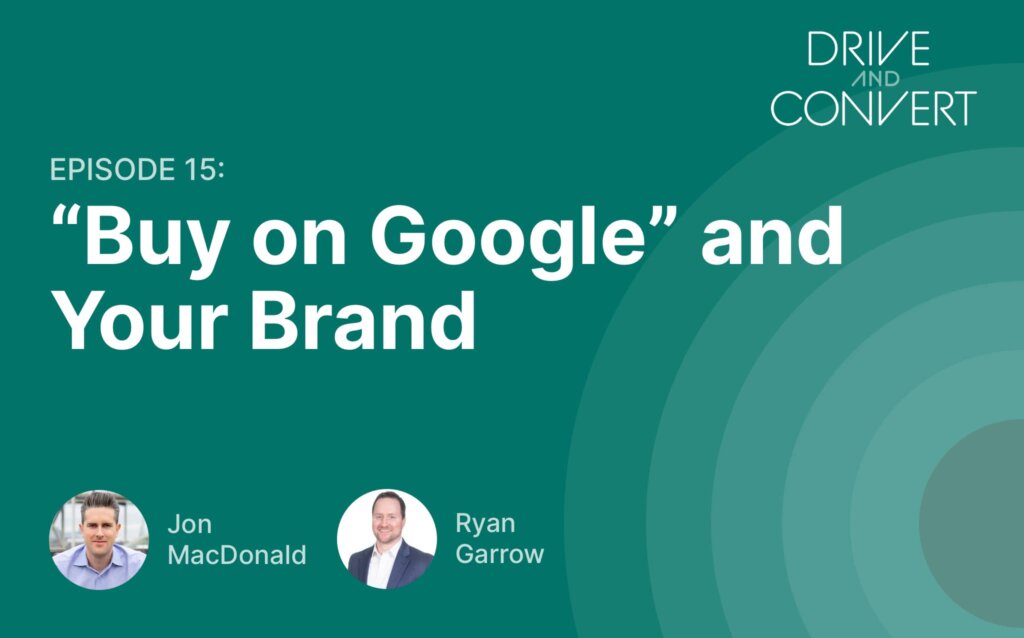 Drive & Convert
Drive and Convert (Ep. 015): Buy on Google and Your Brand
Google recently dropped all commission fees on their "Buy on Google" platform.
Listen to this episode:
About This Episode:
Google recently dropped all commission fees on their "Buy on Google" platform. On the surface-level this seems like a very intriguing offer. But Ryan here is to explain why "Buy on Google" may not be the best thing for your brand.
Episode Transcript:
Jon:
Ryan, a few days ago, I sent you an article I read about Google's Buy on Google program and how they were dropping all commission fees for their sellers as part of the program. Now, to me, this seemed like a pretty good deal. Who doesn't like freeways to sell products and utilize a huge platform with lots of awareness like Google search? At least that was my take, but when I asked you about it, you said, and I'll quote, hopefully this is okay, "That product was dead in the water before this change. Some merchants will of course test it, but it will compete for ad presence with their regular Google ads." Honestly, this was not what I was expecting to hear from you at all.
I was really interested in connecting with you a bit more about this and just seeing your thoughts on it and getting some more information about the program out and seeing where and when it makes sense for all of our eCommerce listeners to take advantage of it. I guess just to jump right in, Ryan, on a high level, just so we're on the same page, what exactly is Buy on Google?
Ryan:
Buy on Google is the little colorful shopping cart icon that shows up in Google shopping. When you start filtering and sorting, you actually transact on Google and then the merchant fulfills it. It's basically a Google trying to be this marketplace saying, "Oh, we can trust Google because I'm buying it here." It's a shopping ad set that you're able to get when you push your inventory into Google and say, "Yes, I'm willing to sell this on Google."
Previously, there were commissioned tiers to sell different products. It ranged somewhere from five to, I think, 12%. It was a 12% number that Google [inaudible 00:02:07] because it was less than that Amazon 15%. That came out, man, I want to say maybe three, four years ago, maybe in an alpha-beta four years ago. I think it did cause some Amazon changes within their system on what they were going to be charging to try to have more parody with the Buy on Google scenario. Yeah. It was basically give Google the commission that you would maybe be paying Amazon and we'll push your product out there. There's no advertising costs. Google's the one putting it out there and then you just get the sale and give commission to Google.
Jon:
They're trying to create a marketplace without really holding any inventory or doing any fulfillment. They literally just take the money, take their cut and send everything over to the retailer?
Ryan:
Yeah. From a high level, it sounds like a great idea like, "Okay. I have all of this work. I'm spending all this money in Google ads and shopping and I've got agency fees or employee costs or my time in it. Now, I can just go to Google and you're just going to take a commission and it's a fixed cost, so I don't have to worry about what my return on Google shopping is." That theory sounds phenomenal. There's not many business owners are going to be like, "Yeah. Here, take my products. Sell them for me. I now know that I'm only going to be paying 12% of my revenue for my advertising cost." There's no scenario in which that doesn't sound like a good idea.
Jon:
That definitely makes sense. How does Buy on Google differ from Google Shopping? This is a complete novice asking that question.
Ryan:
It's part of Google Shopping. You only see the Buy on Google when you're in the Google Shopping tab within Google space. It used to be a little more prevalent on the first page of Google, but I believe it's only showing now in the Google Shopping tab. It's one of the filters you can put on there.
Jon:
Okay. Then, really Google Shopping is getting your listing of products up there. Some of them will take you to the retailer. Some of them will just take your money on Google.
Ryan:
Yes. It's always interesting. Google's, as we know, a for profit company. They want to make money. When they came out with this program, it obviously sounded great to business owners, but it immediately put up some flags on our team internally to say, "Okay. Google needs to reward shareholders for their investment and needs to make money to afford employees," and all the things they do around the world that are very good and positive, including paying people. If Google is going to take 12% of the revenue for a sale and not charge for any clicks to the merchant that's selling that, in theory, Google's not going to be willing to lose money by showing those products at 12% when they know from a click cost, they're getting a 20% or a five X return for the merchant.
Jon:
I see. Yeah.
Ryan:
Google's got a lot of very smart people and they do say that they are out for the good, and they will do things to just benefit people. Period. There is an opportunity maybe that they're willing to take less money, but that's not always the case. You just have to start investigating. That's why I challenge every merchant to do with any product in Google is test and measure and see if it does actually make sense for your brand.
Jon:
Spoken after my own heart there, test and measure.
Ryan:
Yes.
Jon:
I've had an impact, Ryan. I appreciate it. Let me ask you this then. If they're not doing any commission anymore, then how are they going to make any money and how could any brand really think that Google is going to list this above their ads?
Ryan:
It's a great question. That's why it's surprising that Google made this move, especially when they just released earnings when we're doing this podcast yesterday where they had the first time that their revenue dropped in a quarter. I don't know how long, if ever, that Google being willing to give up money. When that happens, it's telling us internally logical position that, "Okay. Something wasn't going the direction that Google thought it was going to be going." Either we're in the process potentially of just sunsetting this or moving it to a place where it's not going to be necessarily a focus of Google because if there's no revenue coming in, how are you going to support it internally?
You can't dedicate a bunch of employees necessarily longterm to a product that makes no money. It's either a stepping stone into something different, or they're taking steps to buy some market share to a degree and try to get people using it in broad adoption so that they can monetize it later. We don't necessarily know where they're going because they won't necessarily tell us this despite our levels of… I actually asked the question. I was interviewing, I think the global partner strategy person for Shopping. He's a big guy in the Shopping space. We were talking about the free and fast program that's recently come out and I brought it up and he's like, "I answered something, but not how you want it. Then, we can't have this in the interview because I'm not authorized to speak on it."
Awesome. Thanks. It's a big unknown. I know that if Google is not making money on it generally, it's not going to be something that I, as a brand, am going to get really excited about and try to push all of my eggs into that basket for my personal brand. I might test it. Again, test and measure, see what it does, but my hopes are not high. Also, my hopes are not high, but just because of the nature of the Buy on Google and the data we've seen in it. A logical position… One of the companies I talk about often, I won't mention them by name, but they started working with us in May of 2020 after they had not been doing any paid search with an agency. They had been using Buy on Google with another agency that recommended that this was the greatest thing for them.
This sells B2B kind of like distributor cleaning products, just all things businesses need. They have something in the neighborhood of hundreds of thousands of skews. Most of their sales come from Walmart or Amazon, at least, they did at the time. We looked at Buy on Google and they did about $34,000 a month on average. That was over the previous six months, and they paid Google and this agency somewhere around between four and $5,000 for that batch of sales, $34,000 worth.
Jon:
It seems like a good [inaudible 00:08:20], if you will?
Ryan:
Yeah. It wasn't terrible by any means. I said, "Okay. Well, that's not bad, but based on what we see, I believe you're limiting yourself on the potential that our website only did, I believe $16,000 in revenue in the month of April." Their web sales, just if it evaporated tomorrow, not a big deal. I said, "Okay. Look, I think you're being limited here. Give us three months to test this and see what we can do." This was in the very end of April. They said, "Okay. Fine. We're going to fire the agency we've been working with, but it's going to take two weeks. You're going to actually officially be able to kick off mid-May. But in the meantime that first two weeks of May, we're going to just push all our products into the merchant center and flip a very basic shopping campaign on based on just… We don't know anything. We're just going to have the products in there. Just see what happens."
I said, "Okay. Great. Can't hurt anything while we're building it out." The data, when we're on a test and measure here, Jon, the data in the month of May, half of this was just that are basic campaign. Half was us getting ramped up. Their sales went from the site in April, $16,000 to $192,000.
Jon:
Now, that's a return on investment.
Ryan:
They only spent 2,500 bucks in Shopping in the month of May to generate an additional… What is that? $176,000? The crazy thing we saw and it surprises a lot of companies, but shopping has an effect on lots of areas of your site, not just what you're going to see in analytics on Google Shopping. That $2,500 generated Google Analytics last non-direct attribution, $115,000. The organic traffic on the site went from $10,000 in April to $45,000 in May. They weren't even doing any SEO. There was a halo effect on other things that Google Shopping does because you click to a site on Google Shopping, go back and do more research. Then, you're going to come back through other channels. Direct traffic was way up. Email was way up. Social was even up and they don't even do much on social.
The Buy on Google doesn't allow for that because you're buying on Google. You're not even going to the website. You don't have the ability to buy other products. We know as well, based on our research and expertise within the Google Shopping space, over 50% of the time, people click on our product to go to a site and they're going to buy something else entirely. You get to the site and you start shopping. You see the data when somebody interacts with product suggestions on a site, time on site goes up dramatically. Conversion rate goes up on dramatically by clicking that suggested product, or you might also like type products. Everything gets better. They've committed to shopping the site. Maybe you can challenge me in that in some other arena, but all you want is a traffic from Google Shopping to get to the site because everything looks better from an analytics perspective.
When you don't have that because of the Buy on Google not sending people to the site, you lose all of that. When I'm seeing Google give something for free, red flags and lights and flashes of all kinds of go off in my head saying, "Okay. Either something wasn't working for Google on this. They just need to get it out there more for adoption to try to take a last gasp for effort, or are they going to try to get companies to forget about sending traffic to the site to try to convince them that Buy on Google is the only thing to be doing?" It's just interesting to say the least.
Also, if you have the product in Buy on Google and also in Google Shopping, you don't get to show in both ad sets, so it's not giving you extra inventory. It's a replacement, which also tells me if it's now free, how… Yeah. Google's not bad by any means. I think Google's great company. I'm very honored to be partnered with them at the level we are. I know that they're not going to give up all their revenue from Google Shopping.
Jon:
Right? Well, there's something else they're getting there in terms of… It's like the old adage about Facebook. If you're not paying for it, you're the product.
Ryan:
Yeah.
Jon:
There's something here that makes me think that they're interested in the consumer data.
Ryan:
Yeah. They want some data, and how much are they willing to pay for that? If they have 100% of all merchants adopt that immediately because it's free, they're not willing to take a $10 billion hit in Q3 probably to see some data.
Jon:
Not after Q2.
Ryan:
Because Google already has more data than they know what do it through a degree. Again, interesting. You need to watch it, test and measure it, but often it does not make a lot of sense to utilize the Buy on Google for most eCommerce companies.
Jon:
Is there anything else you feel like eCommerce brands should know about Buy on Google?
Ryan:
If you put this on your site and you're also running Google Shopping, we've got some merchants that spend north of $10 million a year on Google. When they came to us, they're shopping… Overall, they were using Buy on Google and Google Shopping and their shopping traffic was down 40% year over year including Buy on Google. Then, they couldn't figure it out. They came to us that find out about this. They had some prior relationships with us from other companies, the eComm team that had started working with them. They brought us on and we were able to uncover that when they had flipped on Buy on Google, that's the key thing that happened to drive the volume down. They thought they were going to be adding ad sets, adding all this additional stuff, and it was going to fix their marketing costs because the numbers looked great. When they flipped it on, everything went down and the agency they had been working with just said, "Well, it's just because the market's down or your prices are too high," or they had all these excuses that just didn't necessarily hold water when we started looking at the data.
It's not easy to analyze Buy on Google and what the impact on your business, because the transaction is not happening on your website. You don't see that in Google Analytics. There's a lot of matchup data. There's a lot of filtering and analysis you have to do that is very complex to actually see the impact. When I say test and measure, you're going to actually have to do a lot of work on that measuring to figure out what the impact actually is. You have to look at skew data to see, "Okay. This product, I started showing in Buy on Google. What was the impact of overall sales in taking some of my offline data?" Because the Buy on Google's not going to show up in Analytics. What does that look like?
When we put it here, we started seeing what's the impressions of Google Shopping that I lost? If I lost again, easy math, a thousand impressions and 10 sales on Google Shopping when I flipped on the Buy on Google, did I get more than 10 purchases of that specific product? Probably need more than that because the halo effect of Google Shopping of my organic traffic getting more searches and clicks and purchases because of my shopping investment, that goes away. You got to take in the fact, the halo effect. Go in paranoid like I do with most things. I'll go in paranoid to start and say, "Okay. If my business is not going to go to the direction I want to, where am I going to see it? What levers am I going to need to push and pull quickly and uncover some changes?"
Jon:
Is that paranoid why you live on a farm and all that acreage?
Ryan:
No. I also have four small kids and you need room to run. We're very blessed in COVID time to have all that room.
Jon:
You had said at some point, as we were having this conversation a few days ago, that larger merchants will usually lose volume when they have both ads and shopping actions. Is that summarizing what you were talking about a second ago?
Ryan:
Generally, yeah. It's simply because you can't show both ad sets. Playing out the conspiracy theorist in me saying, "Okay. Google's… Previously, they were going to get 12% from your Buy on Google, but they knew they were getting 20% with people clicking on ads to your site, they're probably going to take the 20% margin that they were getting on click and not show the Buy on Google." Buy on Google, you don't get any search queries, so we don't actually know what you were showing for. What we were seeing often was that it was cannibalizing brand terms and taking some of the easy stuff that you were probably getting at less than 12% cost already. Not that it's bad, but even smart shopping to a degree, take some of those easy layup searches and shows a pretty strong ROI.
But a lot of that was brand that maybe you could have been getting a better return on ad spend with a more complex shopping structure. That's where you can't see the data from a search query perspective, so you have to see it from a transaction perspective. You're never going to get really apples to apples, but when you're comparing it volume loss of sales or volume increase based on skew, you'll want to hopefully have a lot of that data you can be pulling. If you have smart campaigns running currently on Shopping, you're probably not a large merchant. If you are a large merchant, we should chat. Smart campaigns are quite limiting to your scale, but if you have smart shopping and then you do Buy on Google as well, you have zero data in both of those.
You're just going to be able to measure total site sales and maybe they do increase, but could they have gone higher if you went just to a manual shopping campaign structure and didn't do either smart shopping or Buy on Google. It's a difficult analysis, but it's something that all brands spending over 10,000 a month on Google should probably be doing. If you're doing spending money on Google Shopping and also doing Buy on Google, you need to be doing some deep analysis of what that looks like because I would venture, I guess when you flipped Buy on Google on, you probably lost some volume because of that transit. People not being able to shop the site and add different complimentary products.
Jon:
Right.
Ryan:
Buy on Google doesn't do that. They don't know what the complimentary products would be, but if you work with Jon who's going to help you figure out some of those things that are going to help your conversion rate to help your AOV, you can only do that on your site.
Jon:
Right. Yeah. That's been my rub with Google Shopping and I guess Buy on Google, more specifically is that you have very little control and you lose the contact information for the buyer. This leads me to my next question, which was I had mentioned there was an article in Forbes that kick started this whole conversation. That article says something along the lines of Google just updates eCommerce game to attract more sellers, but it's still not enough to compete with Amazon. What stuck out there was not that it's not enough to compete with Amazon, but this has been viewed as a play to compete with Amazon. Do you agree that this is a play to compete with Amazon?
Ryan:
Well, Google and Amazon has been competing for over a decade. I don't think it's a new thing for Google to try to test waters to create more of a marketplace. It just makes sense. With over 50% of all eComm transactions happening on Amazon, there is a risk to Google on ads that people could be just moving stores to Amazon and not paying for traffic on Google. That is a potential that Google is probably well aware of, probably not giving them any insight they don't already have.
Jon:
But I was wondering with that approach also, they're willing to offer this for free almost as like gut punch to Amazon in that, "Hey, we'll keep the customer data and the sale. We'll give that commission up to increase the volume and steal basically the revenue away from Amazon," almost as a way as a retaliation. I'm sure Google would never say this, but for Amazon launching on platform ads, which kind of hurt… I'm sure hurt some volume on Google.
Ryan:
I don't necessarily think that if you are selling online, you're not aware of Google or this was what was going to all of a sudden, get you to start working with Google to a degree. I think that there is some of that there like, "Hey, we want to try to get more merchants and more data," but I don't think that that was necessarily the play for Google that they're trying to use this to be the marketplace or take down Amazon at all. Then, probably trying to get new data to see, "Oh, if it is free, what is that doing to our margin? What is that doing to the volume of people buying on Google? Does that give us the ability to push into a marketplace?"
The fact that they're integrating with PayPal, the fact they're integrating with Shopify Pay is pretty big. Letting people pay with those things, so it does seem that there is a marketplace potential here and it may be if we play this out, I'm guessing that Google is taking some margin from PayPal and Shopify Pay if people are using those for the transaction.
Jon:
I see.
Ryan:
Google's Pay could be as a merchant processor at the end of the day because they already have Google Pay. If they're making enough money on the processing fees, maybe they don't need to charge for a marketplace listing.
Jon:
That's a great way. I hadn't thought about that, but that's a great way for them to increase the volume there, which probably makes their cost cheaper to process those overall because of the larger volumes. Yeah. That's a great idea there in terms of how this makes sense for them. That leads me to my next thought, which is that Google has really tried several ways to take a piece of the eCommerce pie in the past few years. Right? We talked about Google Pay for instance, right? But I don't see a whole lot of eCommerce brands taking advantage of it or really making it a priority to support all these things. Do you have a feeling that Google will ever become a really large player in the actual eCommerce space besides driving traffic?
Ryan:
I would never bet against Google.
Jon:
That's fair.
Ryan:
They have a tremendous amount of intelligent people and more data in the eCommerce space than almost any other company [inaudible 00:22:14] in Amazon just control it. I think there's so much value to owning the customer experience for brands that as a brand owner myself, I do have an Amazon storefront. I do advertise on Google. I do have my own website. I look at Amazon as a retailer because it's their customer. It's not a me customer. For me, the more people that I can get my product into their hands through Amazon, the more likely they are to become a loyal advocate brand fan for my brand and maybe they'll buy from my site. Maybe they'll follow me on social and I can get new products into them, but I know it's Amazon's customer and Google can send traffic to my site.
I have a lot of affinity for that because they're willing to share all of that customer data with me and not own it. It's difficult for me to be able to give up my customer and sacrifice that data and potential relationship and experience that I know I want my customer to have on my site to ever be like, "Okay. I'll never drive traffic to my site. I'll just let the transaction happen all over the place with everybody else's system."
Jon:
Government antitrust interviewing aside with all these big tech companies recently. I've always wondered why Google didn't just buy Shopify before it went public or by big commerce before it goes public. I could see a massive antitrust issue there perhaps where they own the entire ecosystem, but I also think that for them to really get a piece of this pie in the longterm in terms of on the transaction side, I almost see that that's going to have to be a requirement and we'll see what happens, but it would be interesting for them to take a play there.
Ryan:
Yeah. I think it's going to be easier for a Shopify to move into a marketplace than it is for Google to move into a web ecosystem that you can't get out of, but there's potential that Amazon gets broken up. As big as it is, maybe they have to uncouple their fulfillment and let everybody on the planet use Amazon fulfillment or Amazon becomes just the marketplace. I foresee that as potential. I know that Shopify is moving into logistics. They're going to start fulfilling orders for their merchants. There's a lot of frenemies in the digital marketing space. You and I partner with companies that we technically can compete with on certain areas as well. It's not uncommon and it's going to be to fascinating next few years to see how a lot of this is going to shake out.
Jon:
Yeah. Not really on topic, but I do see that if Shopify starts fulfilling, that's a huge win for Amazon because they can go back and say, "Well, we're not on it. There's no antitrust issues here," that Shopify fulfills and they do two days. Walmart now does one day. What's the problem? You could definitely see that argument.
Ryan:
Yeah. I think Walmart, we need… I didn't mention. You brought up Walmart. I think they have more distribution than even Amazon. Amazon has for their FDA, I think something in the neighborhood of 77 locations around the country. Walmart's got, I don't know how many thousands of stores, but a lot of them and Shopify has all this data around all of these merchants that a lot of them sell the same thing. If you've got the same skew at Shopify system, they know where you're located. They know where you're shipping from. In theory, Shopify could start selling that particular product and saying, "Hey, merchant X, Y, Z, you have it listed for 50. We know that we can sell it for 45. Do you want to take 45 and ship it to somebody?"
Yeah. Most merchants are going to be like, "Yeah. I'll take that. You're going to share this customer data with me." Kind of like the dealer network. Do you remember Shopatron? I think it's now Kibo or something like that. The dealer or the manufacturer sells it and the dealer fulfills it. That's for sure within the realm of possibility within the next couple of years.
Jon:
Yeah. Wow. This has been fascinating. Thank you once again for educating me on this. You're always so knowledgeable on what's happening in the Google ecosystem, not only because you guys are such great partners with them at that scale, but also that you dive really deep into this personally as a store owner and somebody who helps clients. I really appreciate your time on this today and looking forward to the next conversation, Ryan.
Ryan:
Yeah. Me too. Thanks, Jon. I appreciate the time and the good questions.
About the Author
Jon MacDonald
Jon MacDonald is founder and President of The Good, a conversion rate optimization firm that has achieved results for some of the largest online brands including Adobe, Nike, Xerox, Verizon, Intel and more. Jon regularly contributes content on conversion optimization to publications like Entrepreneur and Inc. He knows how to get visitors to take action.