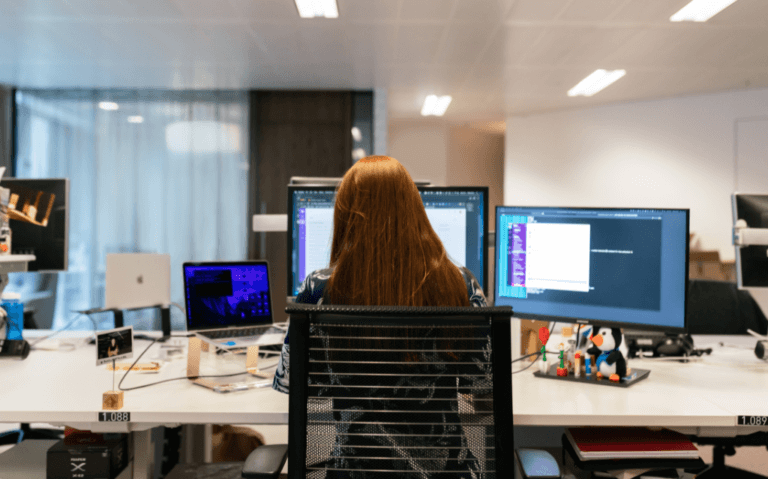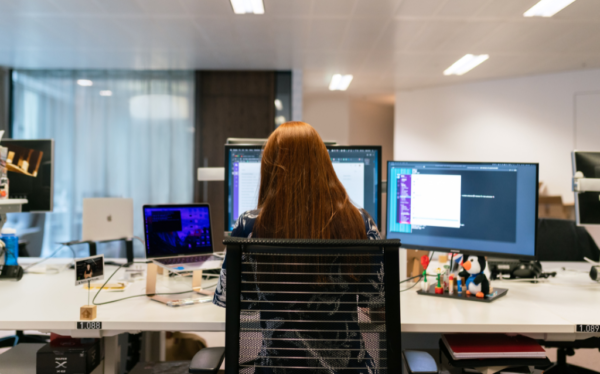 Customer Experience
11 Examples of the Best Onboarding Experiences in SaaS to Inspire Your Own
Most onboarding experiences can make or break a product. Here are examples of great onboarding experiences, including key tips like tailoring your flow to individual needs, creating quick wins, and pushing value.
The onboarding process is make or break for your product. With so much competition, you can't afford to confuse users even for a second. In fact, 74% of potential customers will switch to another solution if the onboarding process is complicated, while 86% will stick around for the long haul if they have an enjoyable onboarding experience and get continuous education.
Your goal might be to get someone to click the "sign up" button, but what then? Making sure the next steps are easy and insightful can do wonders for your business. A really good onboarding experience can:
Increase retention by helping new users quickly understand the value of your product
Improve customer satisfaction by reducing friction and confusion
Increase conversion rates by converting free trial users into paying customers
Improve product feedback by gaining insight into how users interact with your product
The basics of great user onboarding experiences
What does an excellent user onboarding experience look like? This is tricky because the experience will vary depending on your user base and their needs. For example, a 10-strong team signing up for a predictive analytics tool is going to look a lot different from a one-person company signing up for a notetaking app.
It depends on the savviness of the user, too. Someone who has less tech know-how might need more hand-holding, while someone already comfortable with complex systems might want to skip parts of the process.
That being said, while we can't map out an exact blueprint for every single user onboarding flow, there are some commonalities to bear in mind:
Put the user first: The best user onboarding experiences focus on the needs of each individual user and what they need to know to get started. It might be tempting to show off your awesome product features, but now's the time to be humble and empathic.
Promote user action: Quick wins are a must in any onboarding experience. Focus on getting new signups to complete small actions quickly so they start to feel comfortable using the tool ASAP.
Push the value: Your onboarding experience should highlight the value of your product and why it's different from similar ones out there. Ideally, you want to help the user gain value as soon as possible—this will ensure they keep coming back.
Collect feedback: A good onboarding experience should meet the needs of the user. Track and measure how successful your process is by seeing how many people stick around and asking new signups for their feedback. You can use this to tweak and improve the process.
Take it slowly: The last thing you want to do is information dump everything onto new signups. Avoid overwhelming by trickling out information and allowing users to go at their own pace.
11 best user onboarding examples and what you can learn from them
1. Canva – Let users choose their adventure
Tailoring your user onboarding flow to the unique needs of each user will increase loyalty—and usage. No one wants to walk through a demo that's not relevant to them. Canva navigates this perfectly by asking new signups what they plan to use the tool for. The answer they choose then guides the rest of the onboarding experience.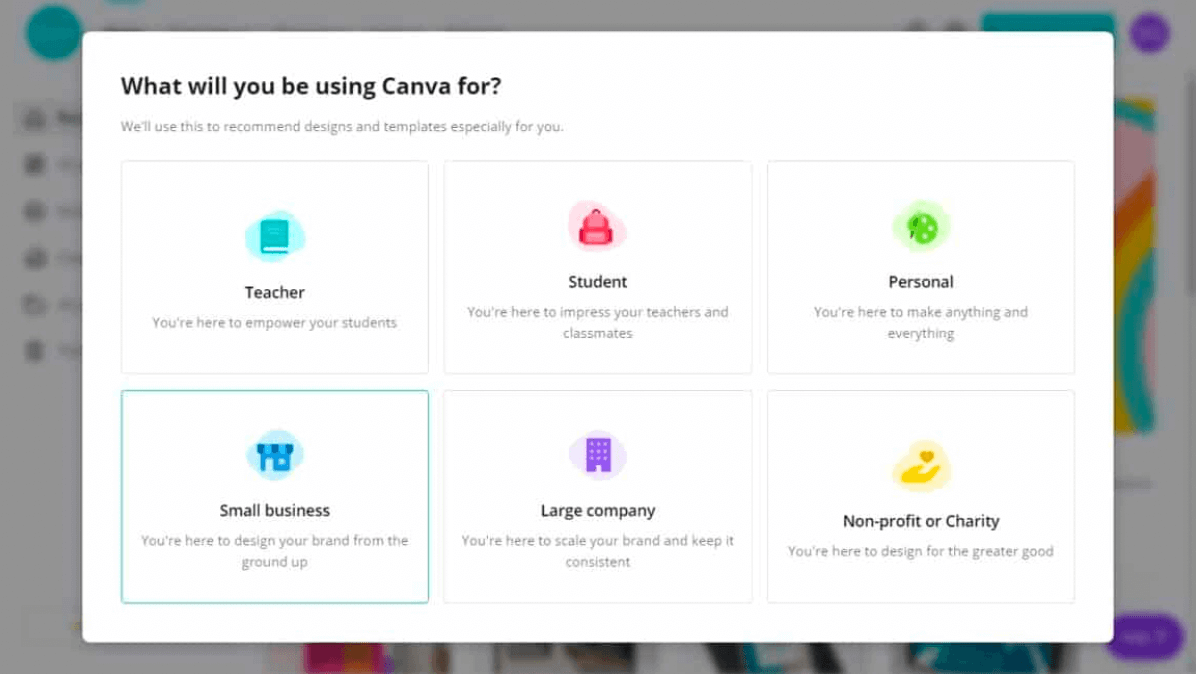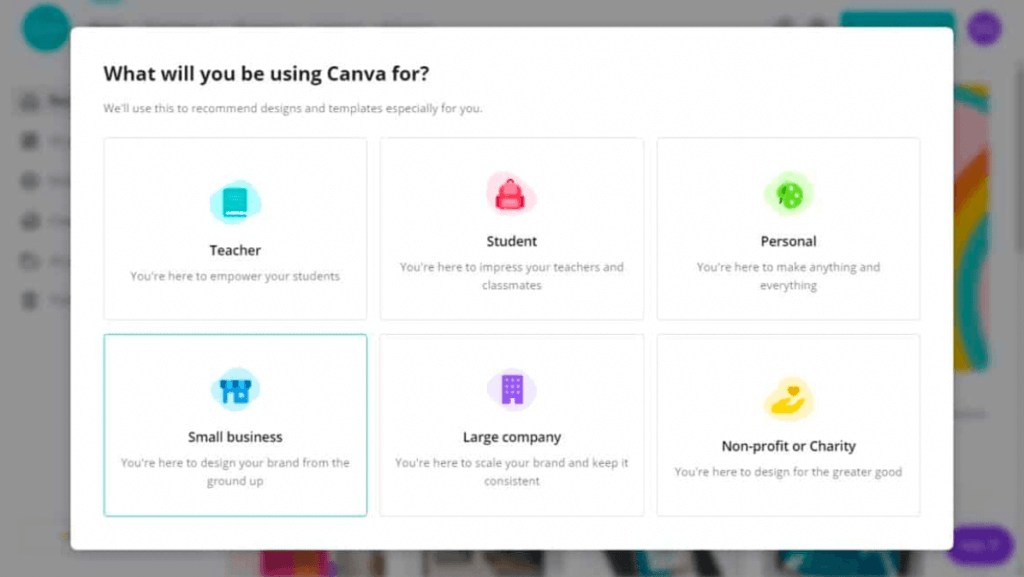 💡What we can learn from Canva's onboarding experience: Put users in charge of their own destiny. Not only does this create a highly-relevant process for new signups, but it also gives you more information about how people are using your product.
2. Asana – Personalize the experience
Someone has just chosen to use your product over the thousands of others out there—that's huge. Now it's time to make them feel special. Asana does this by asking a handful of questions about the new user and then helping them set up a new project based on their actual needs. This means new signups are ready to hit the ground running as soon as they finish onboarding.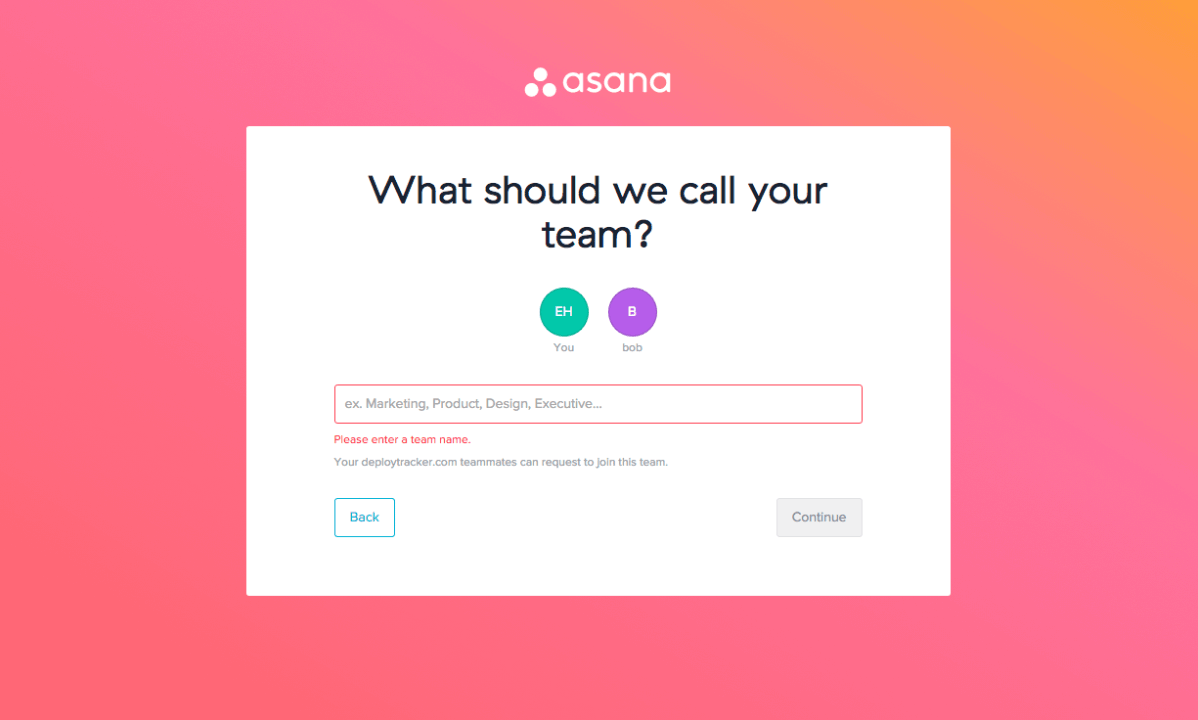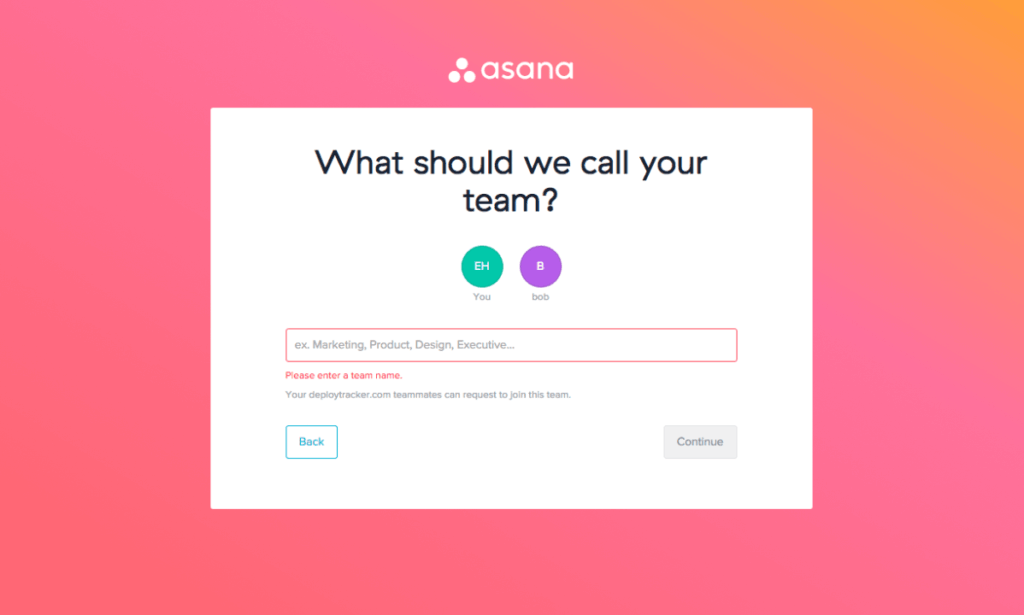 💡What we can learn from Asana's onboarding experience: Get to know your users and help them get started as quickly as possible. This sets them up for a series of quick wins that will increase the chances of ongoing satisfaction and loyalty.
3. HubSpot – Incorporate a user checklist
Signing up for a new tool can be overwhelming. There's so much to learn and users can often feel like they're a long way from where they need to be when they get started. HubSpot reduces the overwhelm by providing a very clear user checklist. New signups can work their way through the checklist at their own pace, but they can always see what's up next and how many more items there are to tick off.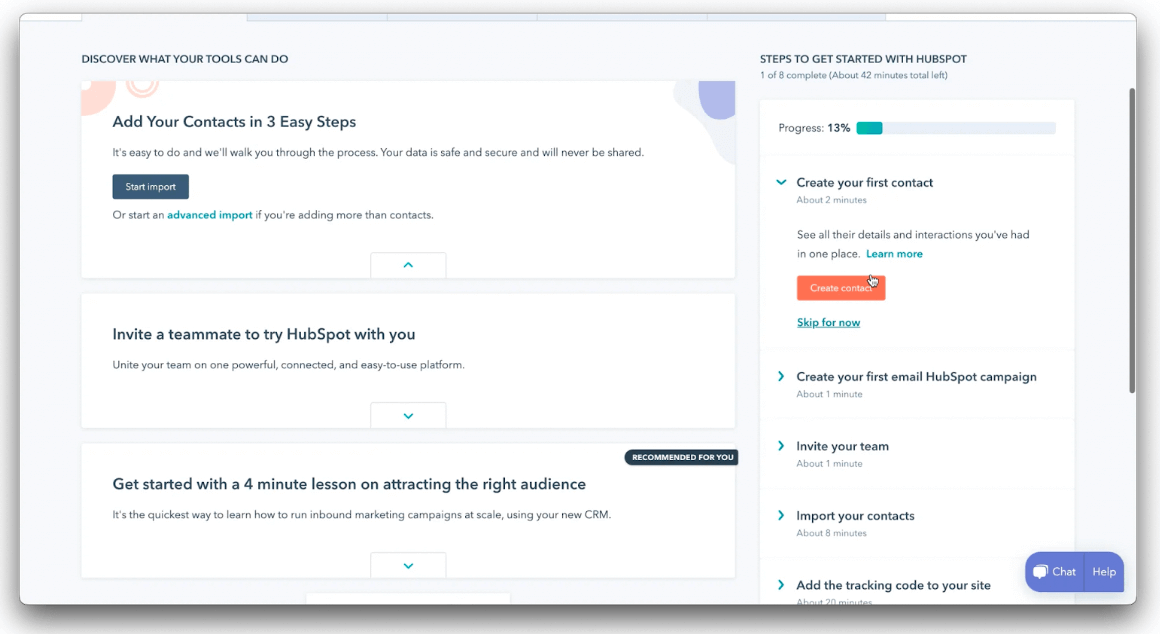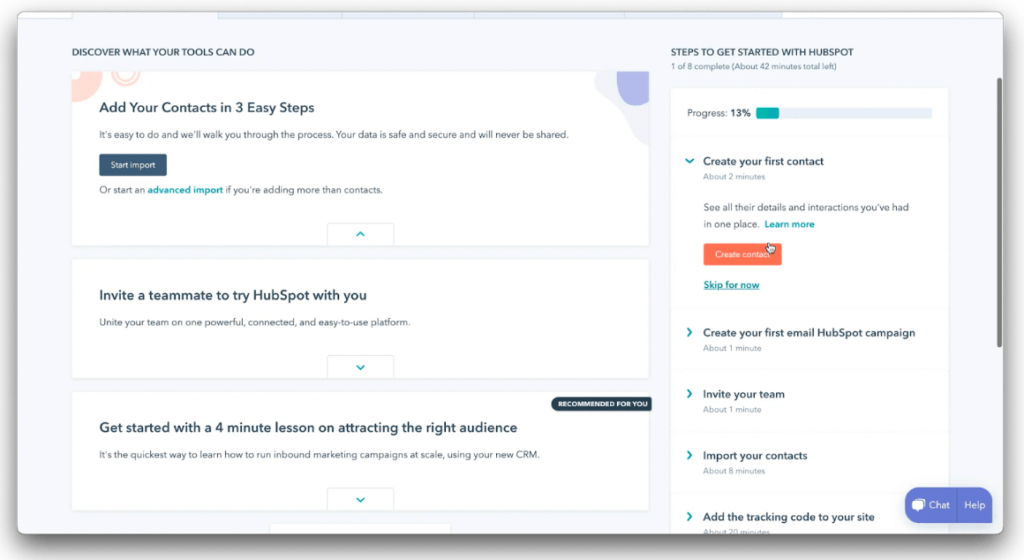 💡What we can learn from HubSpot's onboarding experience: Create a checklist that users can work through at their own pace. Make sure each item provides a quick win so that new signups feel confident moving on to the next step.
4. Toggl – Create bitesize tours
75% of people believe video is the best way to learn how a product works. But dumping all the information a new user needs to know in one long video is a surefire way to overwhelm—who really wants to sit through an hour-long video that may or may not even be relevant to their needs? Toggl addresses this by implementing a series of bitesize videos that cover each feature.
At the end of the video series, users get positive reinforcement from Toggle and encouragement to continue using the tool.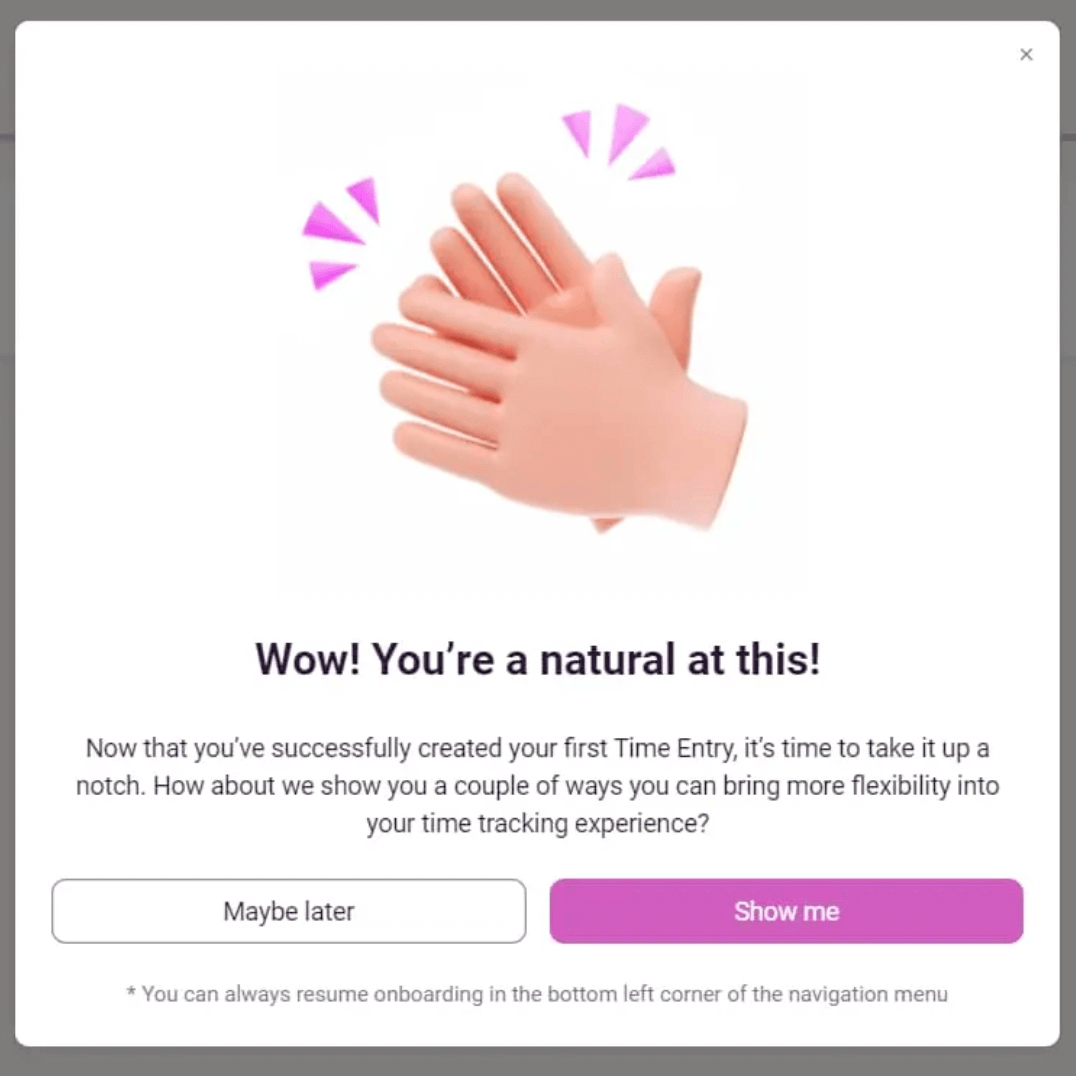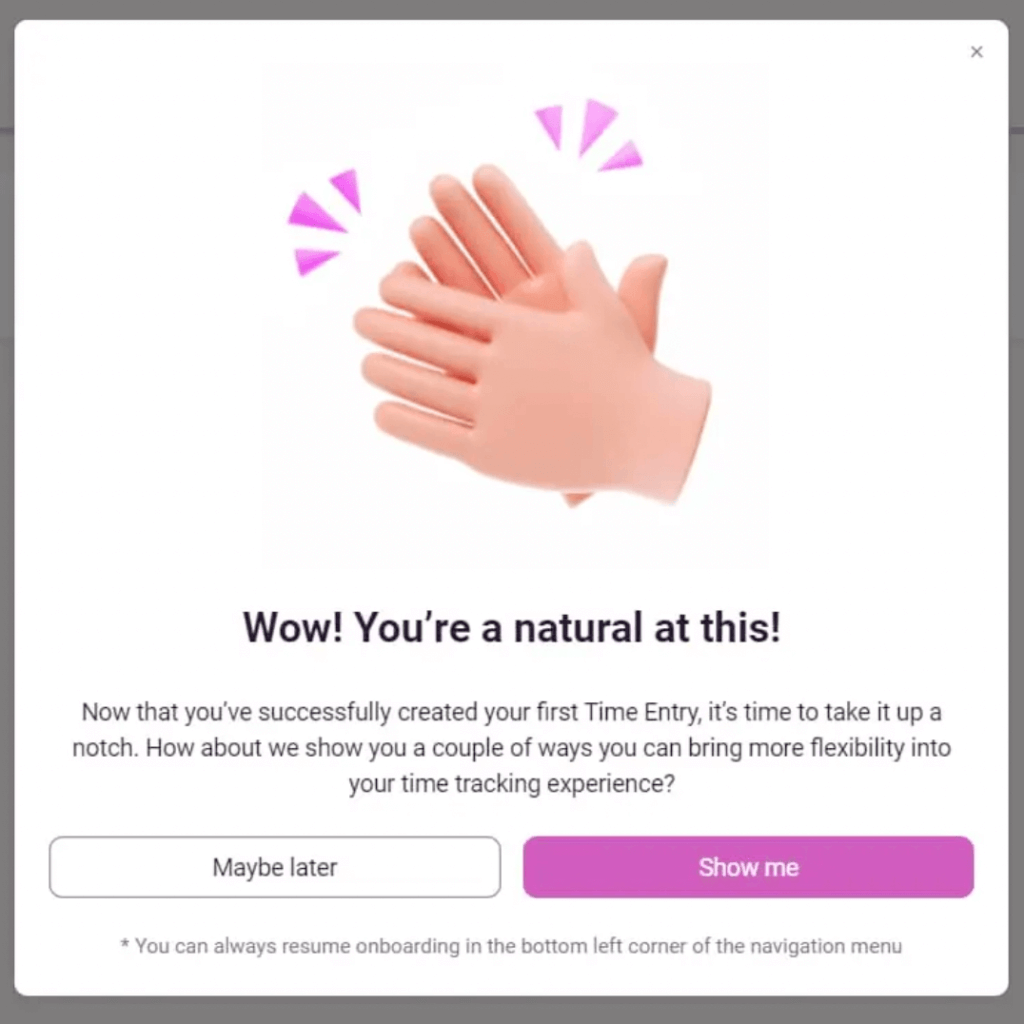 💡What we can learn from Toggl's onboarding experience: Give new users small chunks of information at a time and provide positive reinforcement every time they take the next step.
5. StoryChief – Combine user testimonials with a product tour
There's nothing quite like a bit of social proof to reassure people they're making the right decision. StoryChief weaves testimonials into its onboarding process to give new users peace of mind and increase the chances of conversion. The onboarding process itself consists of an in-depth walkthrough video and a user checklist to get new signups started.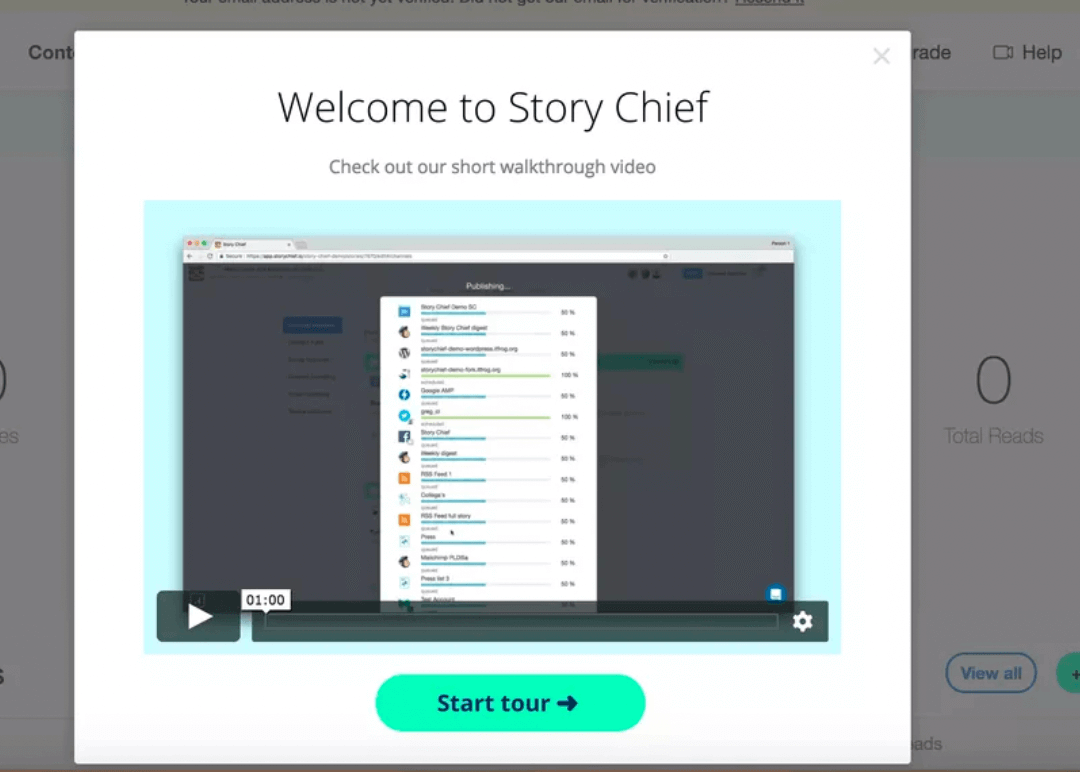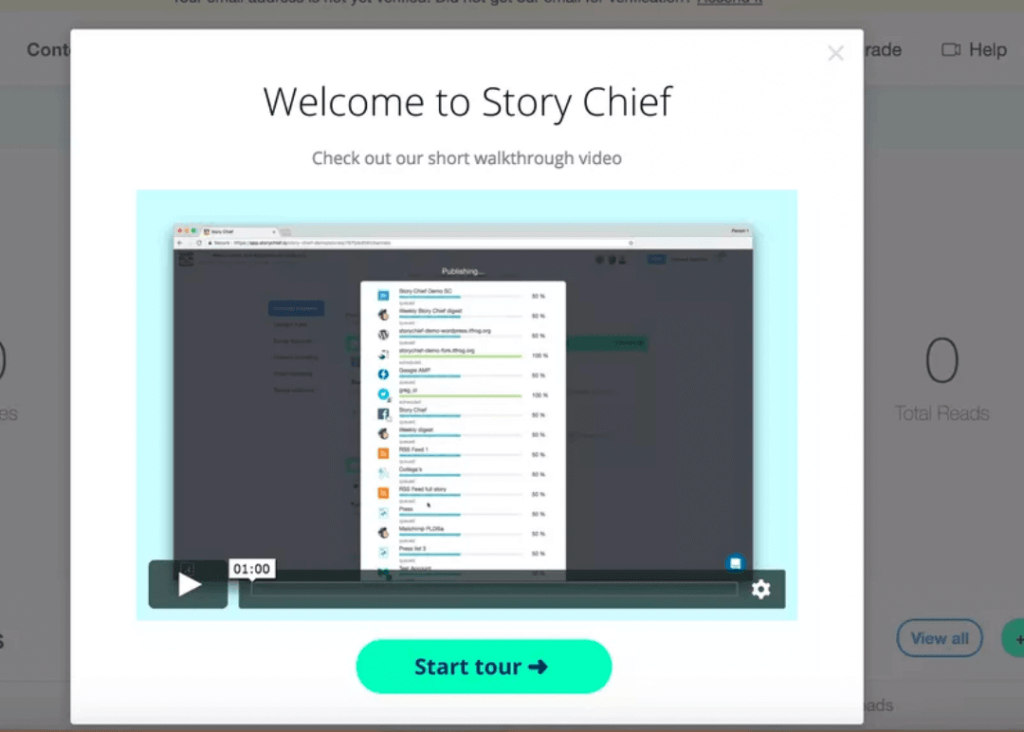 💡What we can learn from StoryChief's onboarding experience: Don't underestimate the power of social proof. Incorporate customer testimonials, reviews, and case studies into your onboarding process to give new users the confidence to continue.
6. Notion – Create an interactive walkthrough
Notion has a mind-boggling number of use cases it can be tricky to condense all the possibilities into one simple onboarding process. To tackle this, the tool has created an interactive product walkthrough that lets users pick and choose what information they want to learn first.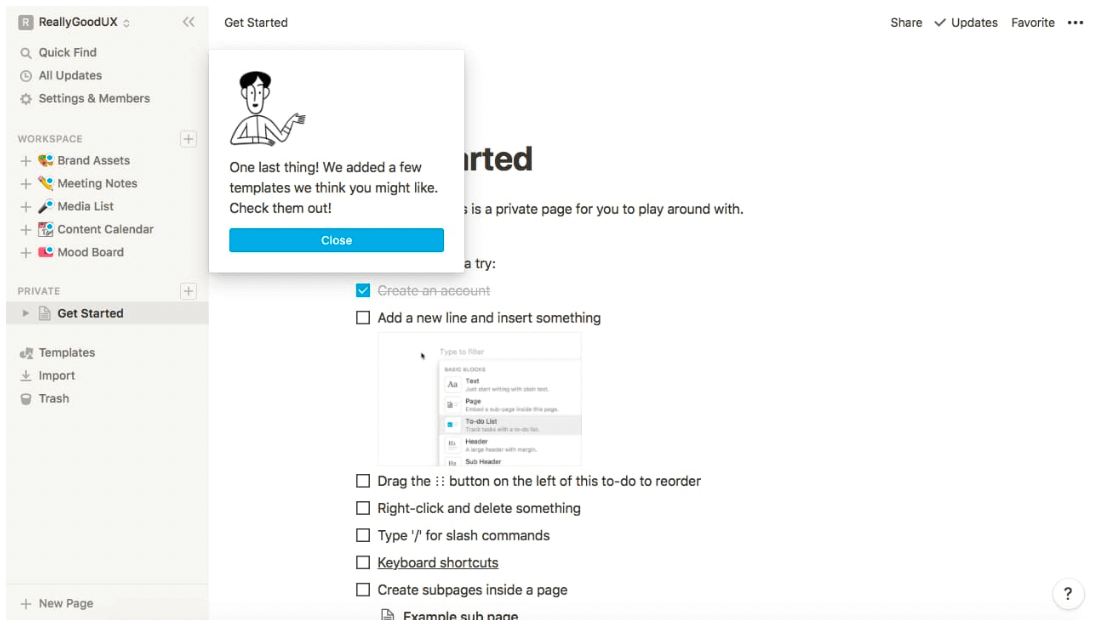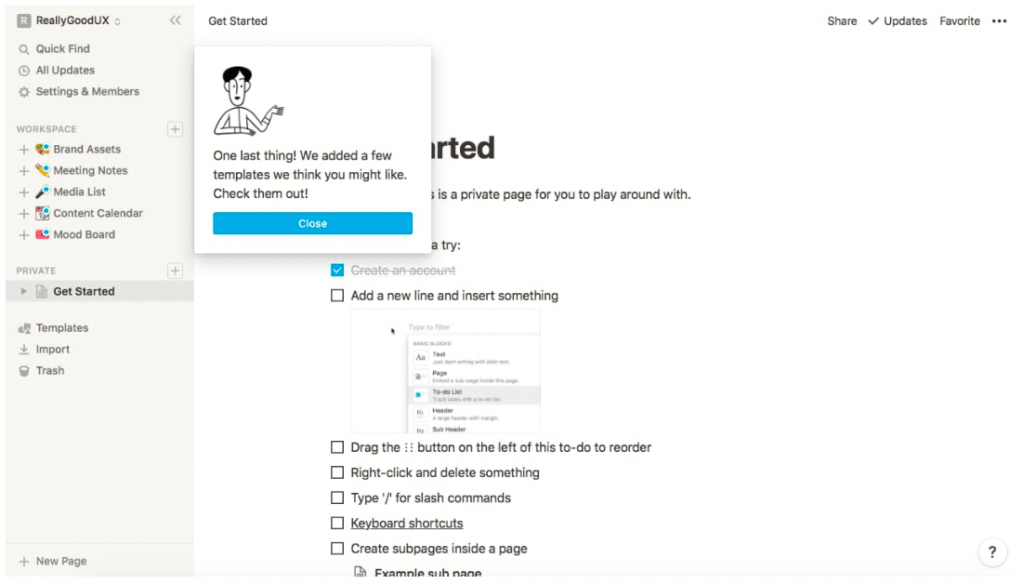 💡What we can learn from Notion's onboarding experience: Don't try and cram every use case into your onboarding process. Instead, give new signups the option to choose which product features are most important to them and encourage them to take action with interactive to-dos.
7. Webflow – Use tooltips to grab user attention
The backend of a tool often looks very different from the shiny landing page where a user signed up. There might be a ton of features, lots of tabs, or a new system waiting to be learned. Webflow does a great job of directing eyeballs to specific parts of its dashboard with popup tooltips. These are small, effective ways to grab attention and divulge snippets of information quickly.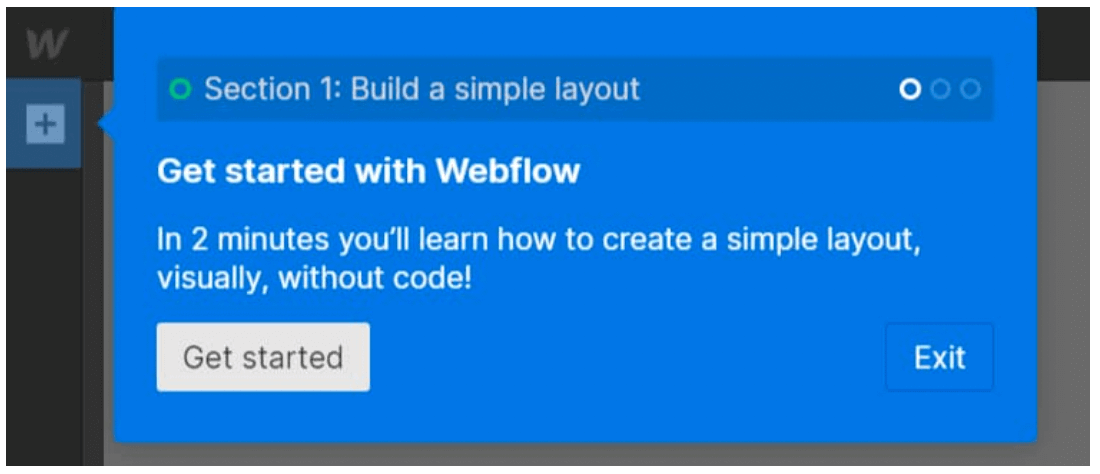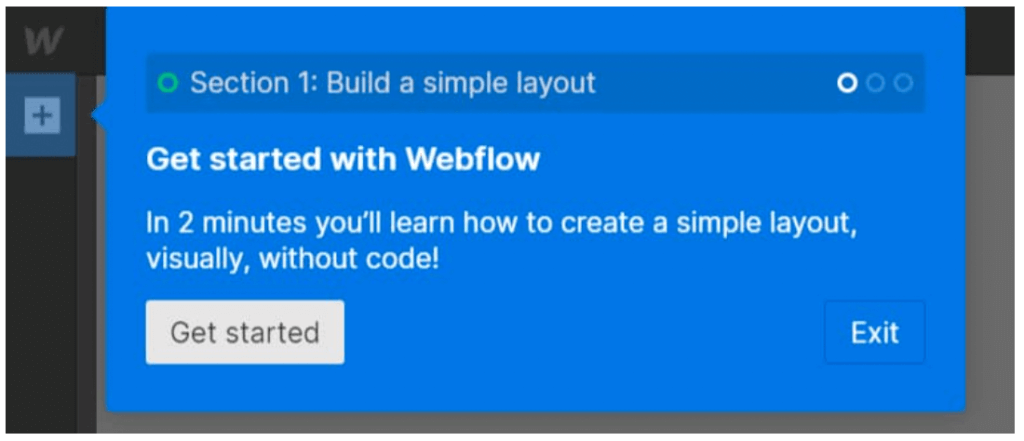 💡What we can learn from Webflow's onboarding experience: Use visual design cues like tooltips to direct users to important parts of your product. This will help them focus on core features and avoid getting overwhelmed by too much information at once.
Subscribe to our newsletter, Good Question, to get insights like this sent straight to your inbox every week.
8. Wealthfront – Display the benefits of sticking around
It's incredibly powerful to visualize a before and after, especially for users who might be skeptical about what they can get out of your product. Investment app Wealthfront deals with this through interactive graphs that allow new signups to see what the results of their investments might look like in months and years. There's no better incentive to stick around than actually seeing how much you can make if you stay, right?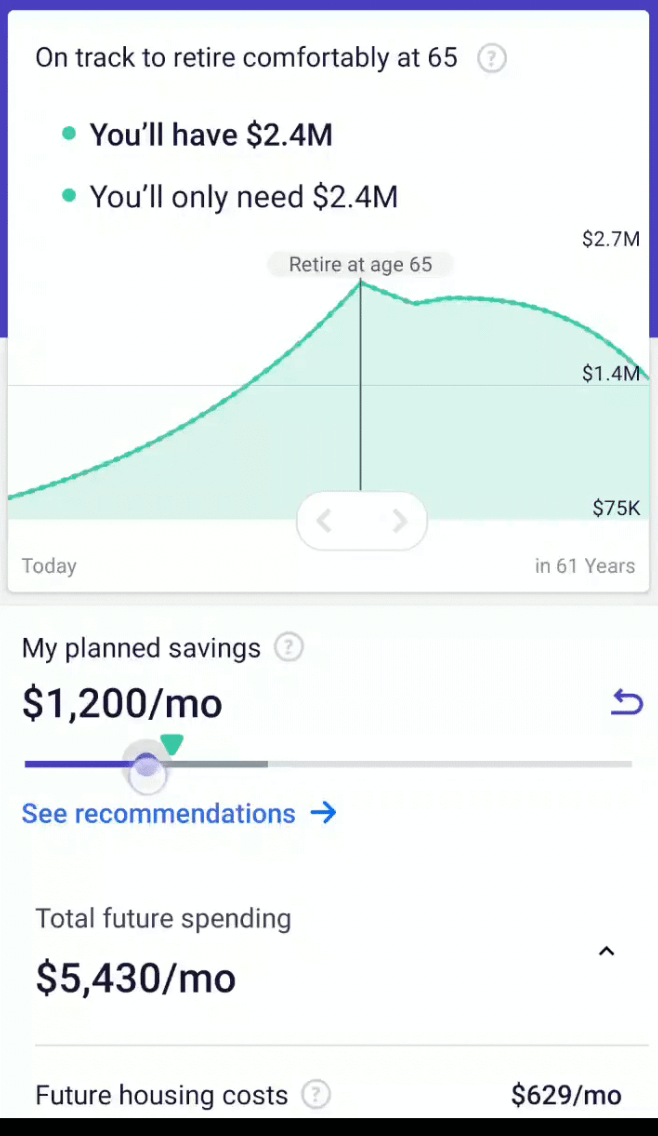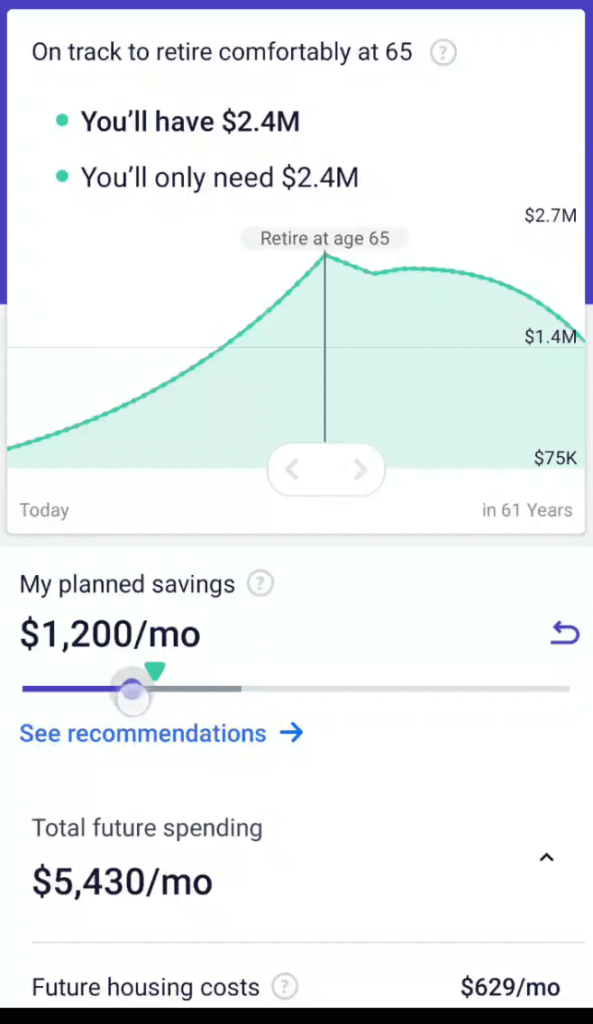 💡What we can learn from Wealthfront's onboarding experience: Help first-time users visualize their progress and what outcomes they might be able to achieve if they continue to use your tool. Graphs are a great way to do this, but you might also showcase relevant case studies or implement some kind of calculator.
9. Moosend – Provide a step-by-step guide
Being able to see the next steps can give new users the motivation to continue the onboarding process. Moosend does this through an automated series of emails that take new signups on a journey. Users can see what steps they still need to take at the top of each email and a clear call-to-action (CTA) makes it easy for them to put what they've learned into action as soon as possible.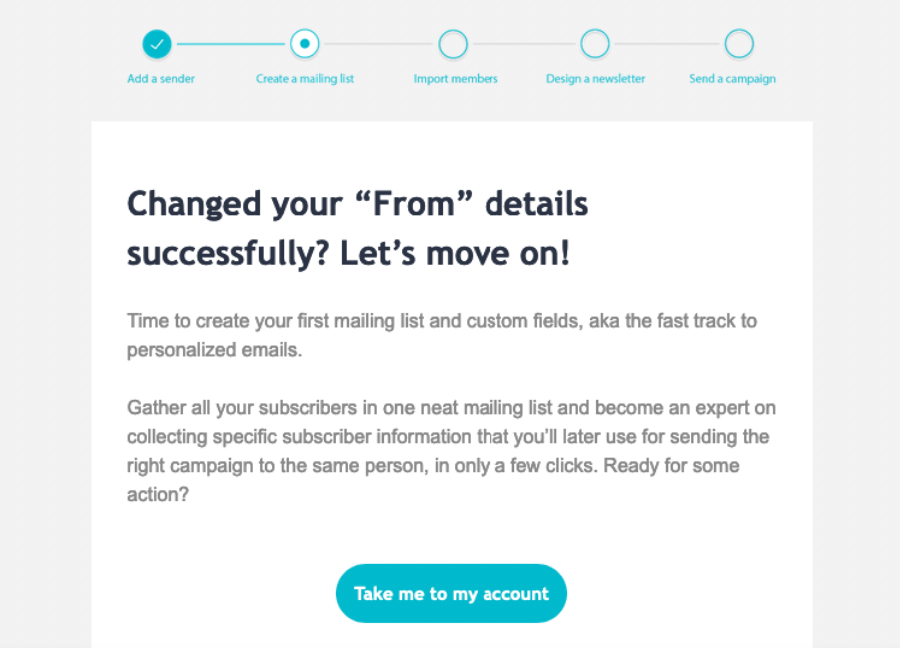 💡What we can learn from Moosend's onboarding experience: Reach users where they're already hanging out—their inboxes. Send a series of step-by-step emails that introduce new signups to different features and how they can get the most of out them ASAP.
10. Trello – Use your tool to help onboard users
There's no better way to show what your tool is capable of than by letting new users see it in action. Trello's onboarding process is collated in a Welcome Board that uses—you guessed it—Trello. Users can test out key features in a live example while they learn about the product at the same time.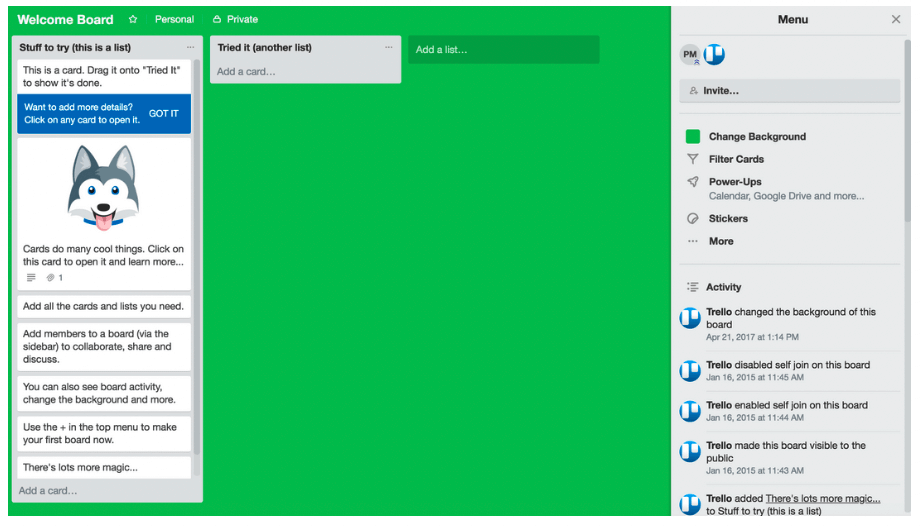 💡What we can learn from Trello's onboarding experience: Show your tool in action by including it in the onboarding process. Give new signups the chance to play around with the features in a live example.
11. Process place – Get users started with templates
Blank page syndrome is real. Process Place avoids putting its new users through this by showcasing a handful of templates they can get started with. Users can browse a library of ready-made templates they can edit and use straight away without figuring out how to use the tool from scratch.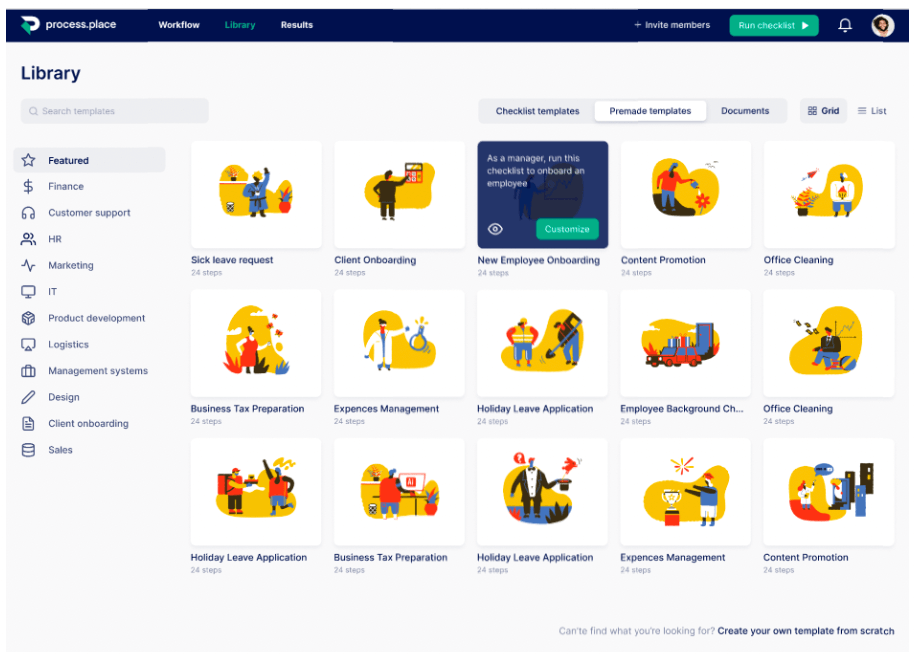 💡What we can learn from Process Place's onboarding experience: Provide a collection of templates that not only show users how they can use your tool, but that also allow new signups to get started straight away.
The key components of the best onboarding examples
While the onboarding experiences we've mentioned here are all very different in their own ways, there are some crucial elements they all have in common:
They show users the main benefits of a product and how they can be achieved
They provide personalized experiences through interactive walkthroughs, detailed signup forms, and "choose your adventure" style guides
They show new users the main features of a product and how to use them
They aim to get users started straight away
4 tips to level up your onboarding experience
Your onboarding process is fluid. The needs of your user base will change over time, and it's important that you listen to their feedback if you want to continue to improve the experience. If your churn rates are through the roof, adoption rates are at rock bottom, and you're watching new users disappear into the ether, follow these tips.
1. Take stock of user goals
It can be tempting to bombard new users with all the amazing features of your tool, but you should aim to provide the quickest route to value for each user. Consider what their goals are and make sure your onboarding process is aligned with those. For example, if a new user of your project management tool wants to gain transparency across their team, the onboarding process should show them how to do that before it does anything else.
2. Leverage UI tactics
Make use of UI techniques, like tooltips or a modal window to gently guide users through the onboarding process. They can help grab user attention without overwhelming them with too much information.
3. Segment users
Not every user will have the same needs, but there's a good chance there will be groups of users who have similar goals. Gain insight into your new users, identify patterns, and create onboarding flows for each of the user personas you've identified.
4. Test, tweak, and track
No onboarding experience gets it right the first time. Just like your users are learning how to use your product, you're also learning how they use it. The more clarity you get on challenges, use cases, and goals, the easier it'll be to create a slick onboarding experience. Continuously test different journeys, tweak steps based on user feedback, and don't forget to track everything you do to see what works and what doesn't.
Onboarding FAQs
What is user onboarding?
The user onboarding process welcomes new users to your product and shows them how it works. The goal of an onboarding experience is to showcase the value of your product and what it can achieve for new signups as quickly as possible. This will increase retention rates and long-term loyalty.
Why is user onboarding important?
The user onboarding process is often the first point of contact you have with new users, which means it's your one chance to make a good first impression. Get it right, and it can lead to increased usage rate, higher retention, and long-term customer satisfaction.
What makes a good user onboarding experience?
A positive onboarding experience should take the individual needs of each new signup into account. It should get them to their "a-ha!" moment as quickly as possible and give them the chance to explore your product at their own pace.
Surprise and delight to improve retention after onboarding
Building a user-centric onboarding experience is only one piece of the puzzle. Once a user is signed up (or subscribed), your job is to discourage cancellation by delivering a seamless experience that continues to surprise and delight.
If you aren't sure how to do it on your own, get in touch.
We worked with a major media organization, The Telegraph, to reduce same-day cancellations by 30% while improving subscriber quality and increasing acquisition rates.
We'd love to talk to you about how we can help you do the same.
Looking for a CRO action plan?
Our Conversion Growth Assessment™ is designed to give you a step-by-step playbook for improving your site's sales performance.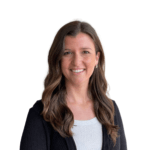 About the Author
Caroline Appert is the Director of Marketing at The Good. She has proven success in crafting marketing strategies and executing revenue-boosting campaigns for companies in a diverse set of industries.