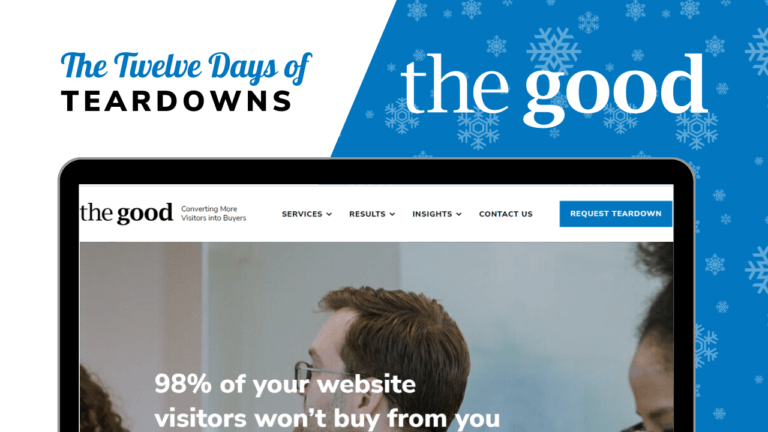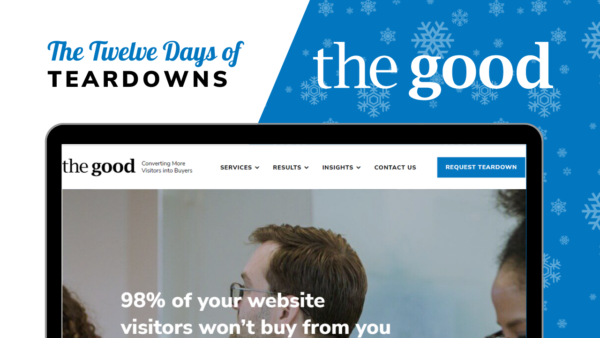 Conversion Rate Optimization
12 Website Reviews By Experts in Conversion Optimization
We're recapping our 12 days of teardowns campaign. Explore this year's conversion-focused website reviews and actionable advice.
Each year, The Good celebrates the holiday season by recording free, conversion-focused website reviews for twelve lucky brands.
Our team of expert conversion strategists teams up to offer actionable advice for the brand and viewers. Each business day we share one of those reviews.
No sales pitch. No obligations.
This year's edition was especially insightful, so let's take a look at the highlights.
Peloton: Total body workouts with immersive technology
To kick things off, Jon and James turn the spotlight on Peloton, an interactive fitness platform with live and on-demand studio classes.
Known for their high-end stationary bikes, we've been impressed by the growth of Peloton and the strength of the brand/community their team has created.
The expansion into running, rowing, and resistance training has been a masterclass in innovation.
Williams-Sonoma: A specialty brand's comprehensive product page
Maggie and Caroline dive into a product page from Williams-Sonoma, the premier specialty retailer of home goods.
Their beautiful kitchenware and furniture look like they've sprung from the pages of magazines, but we want to know if the customer experience delivers a similar impression.
Ulta: Look good and feel good with this beauty brand
Katy and Maggie take a look at Ulta, a top beauty retailer. With plenty of loyal customers (including some of our team!), Ulta is poised to generate lots of traffic to their site.
The brand houses a huge product catalog and upon review of its homepage, we were surprised to see a hidden menu navigation. Search is great, but if shoppers don't know exactly what they need, this could be a sticking point in the customer journey.
SeatGeek: An online ticket platform with effective design
Perfect for two sports fans, James and Jon review SeatGeek, an online ticket platform and search engine.
We've been working with the Portland Timbers soccer team (who use SeatGeek), so this was a great opportunity to get into the mindset of prospective fans and think about what questions they might be asking when trying to find an event that fits their schedule.
Their minimalist design was impressive, but there's always room for improvement.
Tula: Probiotic skincare's flagship product
Caroline and Katie explore the product page of Tula, a skincare brand that cares about more than just beauty.
The company boasts clean and effective skincare products built with probiotic extracts and superfoods.
We reviewed the product page for one of their best sellers and came up with a few test ideas they could try (hint: one of them involves a sticky-add-to-cart).
Chewy: For all the fur-parents
Jon and James take some time to review Chewy, a brand that delivers pet happiness with free shipping on over 500 brands of pet food and goodies.
We're a team of animal lovers (you'd just have to see our Slack channels to know it), so we were curious to see how we could help them improve the customer journey.
Dick's Sporting Goods: Gear and goods for an active lifestyle
Katie and Juliana look at Dick's Sporting Goods, an authentic full-line sporting goods retailer offering brand-name sports equipment.
Multiple pop-ups right after landing on the site create a less-than-ideal customer experience. The immediate disruption to the shopping experience likely halts shoppers before they even get started.
Costco: A members-only store with a loyal following
Maggie and Natalie review Costco, a well-known membership-only store with bulk discounts.
Chock-full of deals, we have some ideas for how they can better organize their website.
From having a hierarchy in the navigation to the arrangement of categories, our team offers some thoughts on how Costco can make small changes that have a huge impact.
OURA: Stylish wearable technology
Katie and Adam review Oura, the company behind the viral Oura Ring. They specialize in wearable technology that tracks your "sleep, activity, and recovery in style."
The Oura site delivers a clear path to purchase with strong calls to action. However, the design of the site is as dynamic as the product itself and causes some delays in the customer journey.
Our expert conversion strategists dig into it during their review and share some ideas for improvement.
Papier: Specialty paper products and great navigation
Juliana and Katie take a look at Papier, an ecommerce business that specializes in customized stationery.
Our team was raving about Papier's on-site experience a few weeks ago, so today we decided to review the experience in more detail.
Highlights include a "featured favorites" area and well-organized navigation but of course, our strategists found opportunities to decrease bounce and increase conversions.
Kylie Cosmetics: Viral celebrity beauty brand
Sumita and Juliana are exploring Kylie Cosmetics, a celebrity beauty brand that started off selling lip kits but has grown to offer clean and vegan skincare options.
Filled with beautiful banners, along with well-placed CTA buttons, Kylie Cosmetics puts you in the mood to shop.
But how can their site improve? Adding product quality as a differentiator was one of the suggestions from our experts.
The RealReal: The luxury resale platform that gets it right
For our last installment in the series, Caroline and Natalie look at The RealReal, a trusted online selling platform where members can buy and sell luxury goods.
We saved The RealReal's website review for last because the brand does a lot right.
Our team points out the "stealable" user experiences as they take a look at a product page from the brand. The comparative shopping experience and easy path to purchase are just two of the highlights.
Of course, as we've mentioned time and time again in this series, there is always room to optimize. There are a few tips in particular that our experts have for increasing customer trust.
Thanks for joining us on this year's Twelve Days of Teardowns!
This is always a highlight of the year for our team. Reviewing sites is a way to get inspired and keep our optimization skills sharp. We hope that it also gave you some actionable tips for your own site.
Improving your site's user experience almost always results in a better conversion rate, average order value, and return on ad spend.
The challenge that most brands have is that, because they work on their site every day, it can be hard to look at their buying experience objectively.
If you'd like our team of conversion optimization experts to review your site, take a look at our Conversion Growth Assessment™.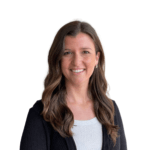 About the Author
Caroline Appert is the Director of Marketing at The Good. She has proven success in crafting marketing strategies and executing revenue-boosting campaigns for companies in a diverse set of industries.