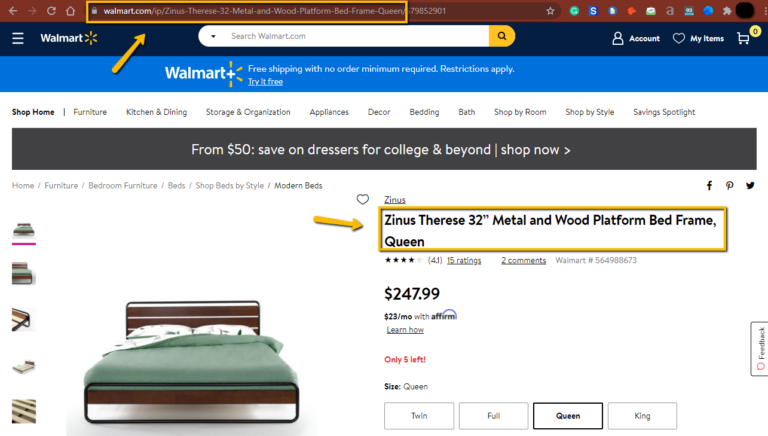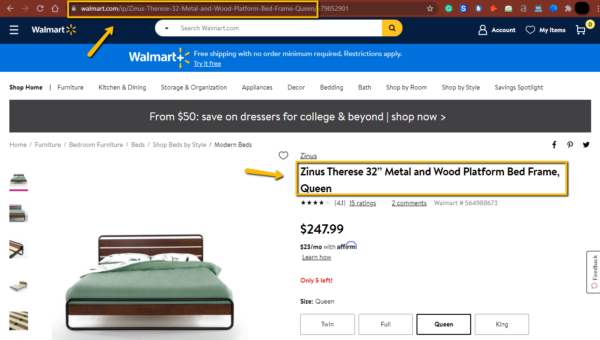 Customer Acquisition
Inside Walmart's SEO Strategy That Drives $53 Billion A Year In E-commerce Sales
In 2021, Walmart reached $43B USD in Ecommerce sales, a more than 70% increase year-over-year. We'll show you how they used replicable SEO strategies to get there.
Key Takeaways
By the end of this article, you should have the knowledge and resources to "check the box" in these areas…
Organize your site structure in a format that make it easier for Google to crawl and rank your pages
How to attract high authority backlinks that boost your site's reputation and help you climb the rankings
How to create custom landing pages to take advantage of industry trends and consumer preferences to increase traffic and sales
Anyone who knows Walmart certainly knows it for its $370 billion brick-and-mortar empire.
But in the last few years, the company has begun to move away from its brick-and-mortar roots to reach online customers. As a result, they've started to expand their third-party partners, growing from fewer than 7,000 sellers in early 2017 to about 80,000 online merchants currently.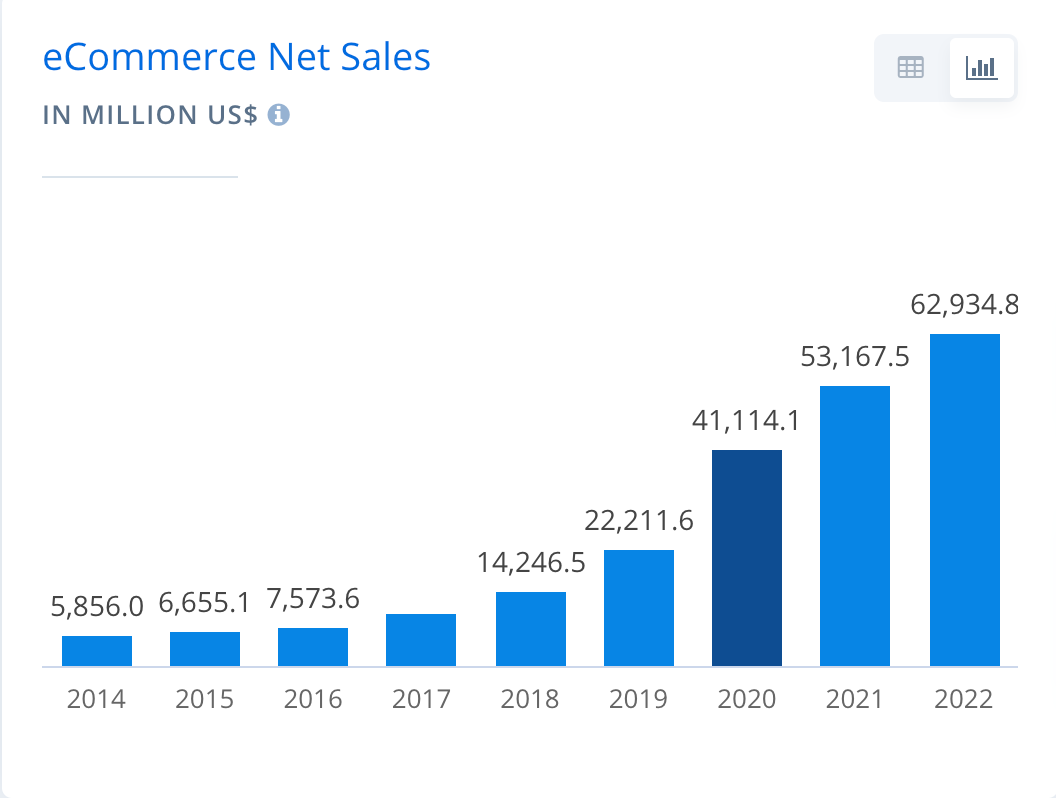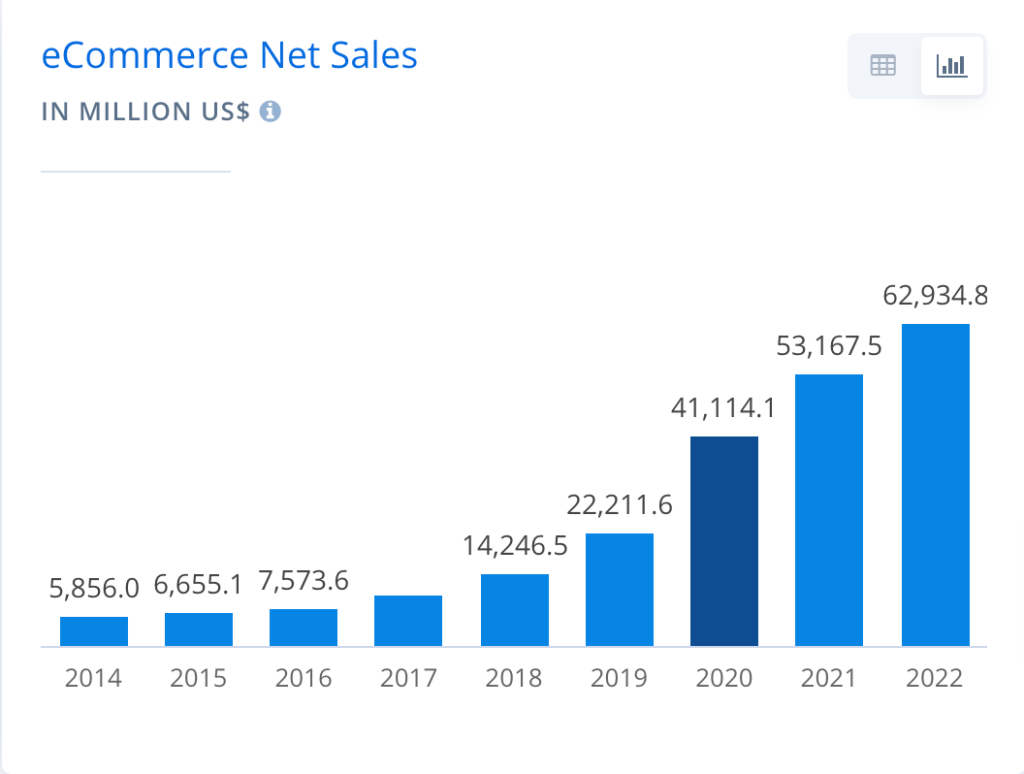 That's nothing compared to Amazon's 1.9 million active third-party sellers. Still, it puts Walmart at the top of a whopping $53 billion e-commerce revenue–and it is expected to reach $63 billion by 2022.
In this article, you will learn the SEO strategies Walmart has used to grow its e-commerce revenue by 10x in less than ten years. 
Leveraging SEO Taxonomy to Manage Over 50 Million Landing Pages
E-commerce sites are known for having an ocean of products, each falling under a sub-category which itself is under a category. And each of these products has a dedicated landing page to enhance the buyer experience.
So, if a site has over 4 million products listed, that means there are up to 4 million pages on the site. While this can be beneficial and great in terms of product catalog, it can break your business, especially if all these pages are not organized into silos.
And that's where the SEO taxonomy comes in.
Taxonomy is an SEO technique that allows you to monitor how your site is structured from a Category & Tag perspective.
An excellent SEO taxonomy guides visitors to zero in on specific products and gives search engine spiders a clear understanding of your site.
More importantly, taxonomy is very useful in case your product pages are likely to expire. For example, you have an e-commerce store, and your products are constantly changing (varying).
In this scenario, without taxonomy, you will optimize your pages, although they will no longer be there after a few times. And worse, the product pages under the same category will compete against each other on Google for the same keyword. So if you sell "car accessories," every page will tend to rank for the same keyword.
However, with SEO taxonomy, each page can rank for the product's name (car tire, car brake, car wheel, etc.), and the keyword "car accessories" is only optimized for the category page.
Interesting, isn't it?
With its millions of pages and products, Walmart has employed this strategy to perfection to organize the way its products are organized. This way, both visitors and search engine spiders can easily navigate their site.
Walmart leverages SEO taxonomy to create a parent-child relationship between the different pages.
Here's why.
Walmart.com has more than 50 million pages on its website. Visitors can't go through all of them, or at least it will be difficult for them to do so.
Creating a parent-child relationship between different pages has allowed Walmart to give visitors a clear view of where to find what they need. And search engines can easily navigate their way around to match searchers with the best results on the SERP.
So here's what it looks like.
Walmart's site is structured into two main landing pages: Pick up & Delivery and Walmart.com.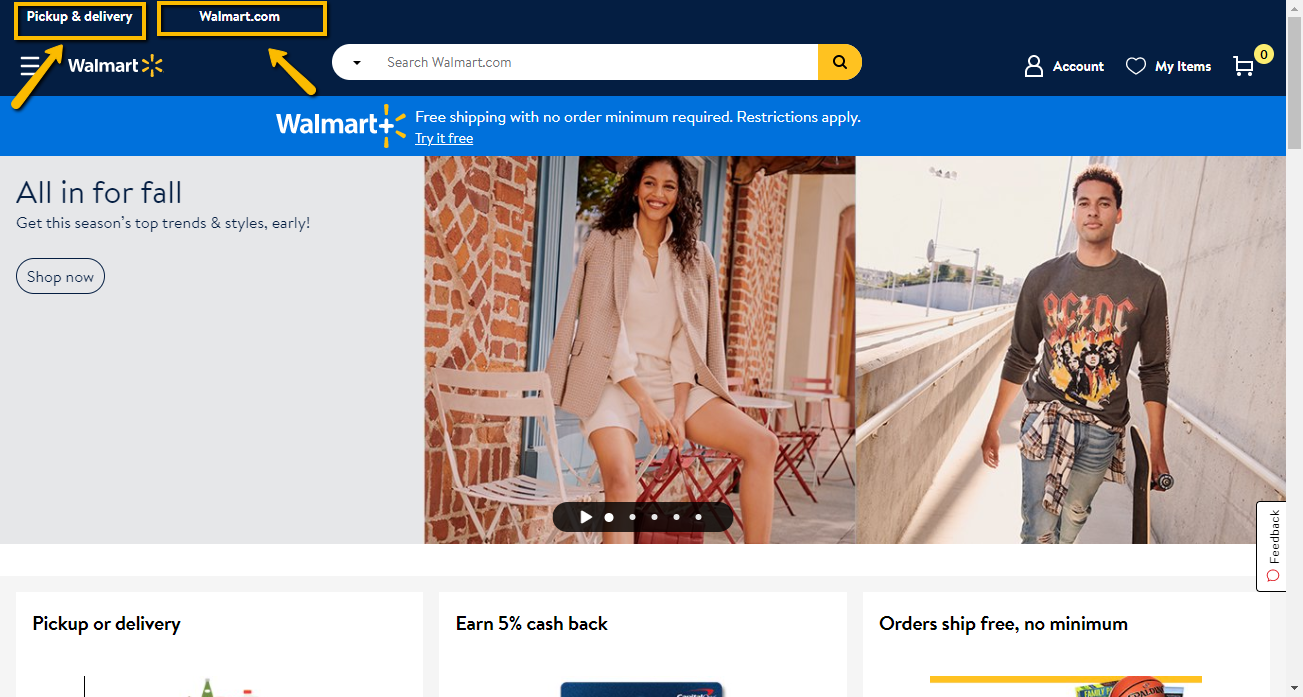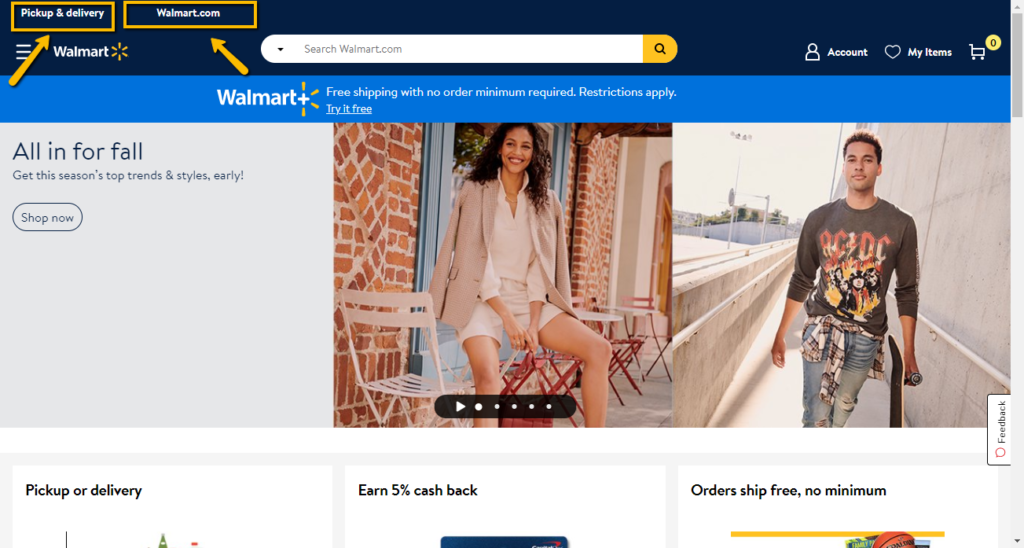 The Pickup & Delivery parent landing page is dedicated to food and grocery products, and the Walmart.com's parent landing page is for other types of products such as furniture, outdoor products, etc.
Walmart efficiently structures the product pages from these two landing pages, giving the website a perfect architecture and making it easy to target specific niches. Let's break down the architecture of each landing page.
Walmart: Pickup & Delivery
The Pickup & Delivery landing page showcases the products on the spot, and it does not require much navigation. Nevertheless, the items are well categorized. For example, you can see the products organized into categories like "Cereals & Breakfast Foods", "Sliced Bread."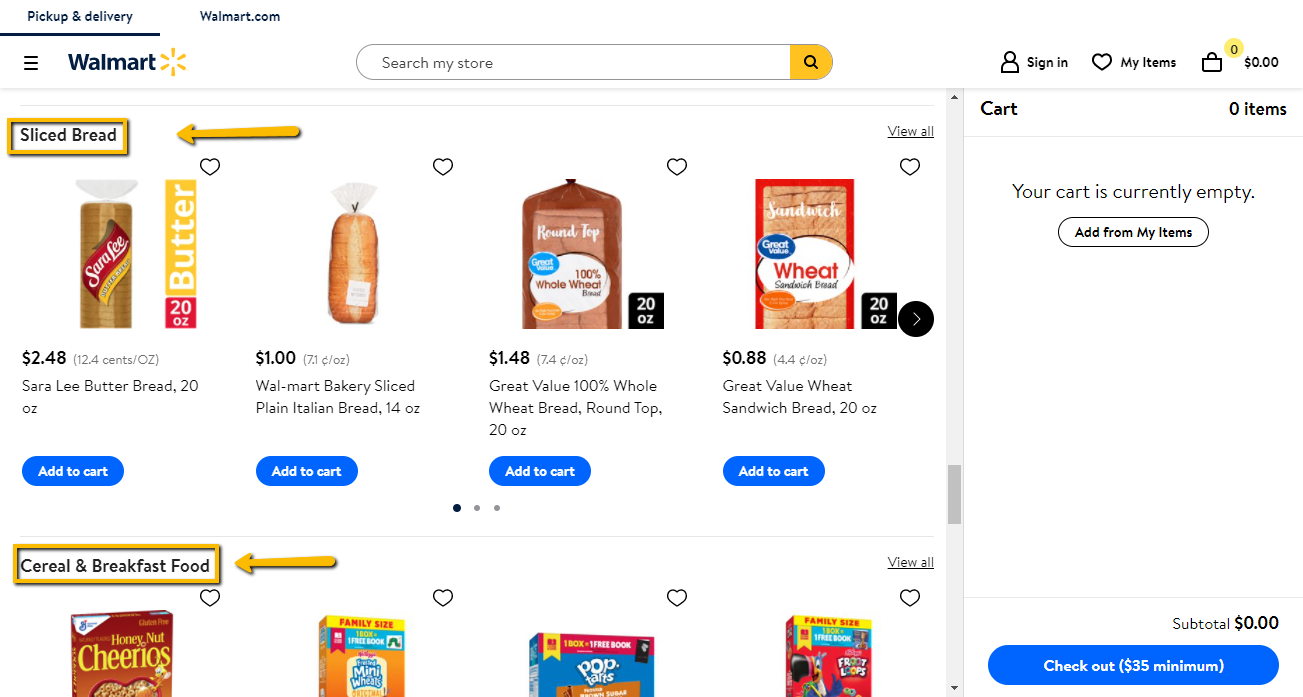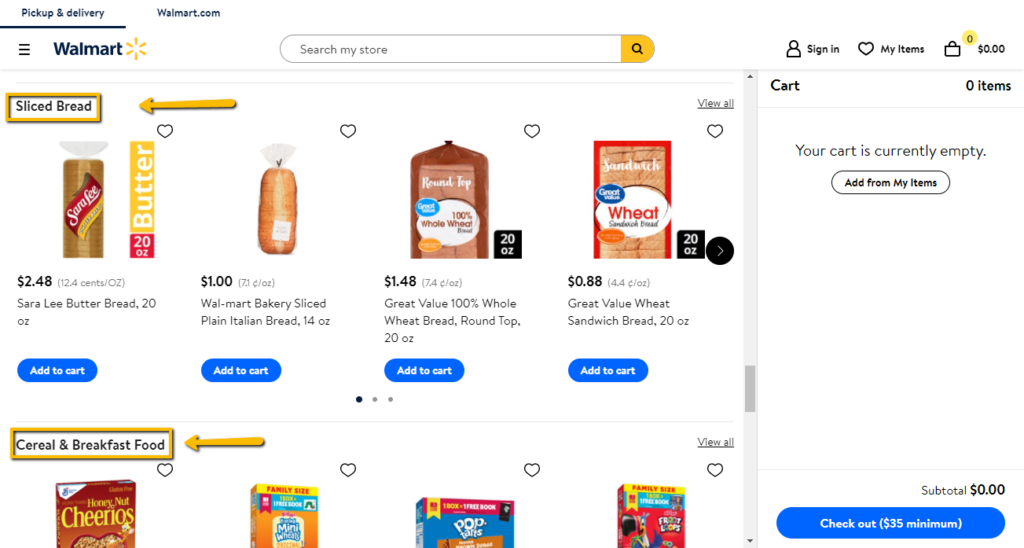 Viewers can hit the "view all" button to see all the products in the category. Also, there are categories of personalized suggestions from Walmart, such as "Best Sellers in Your Area."
But the most interesting part is the relationship that is created between the category page and the child pages. The category page ranks for the keyword "groceries."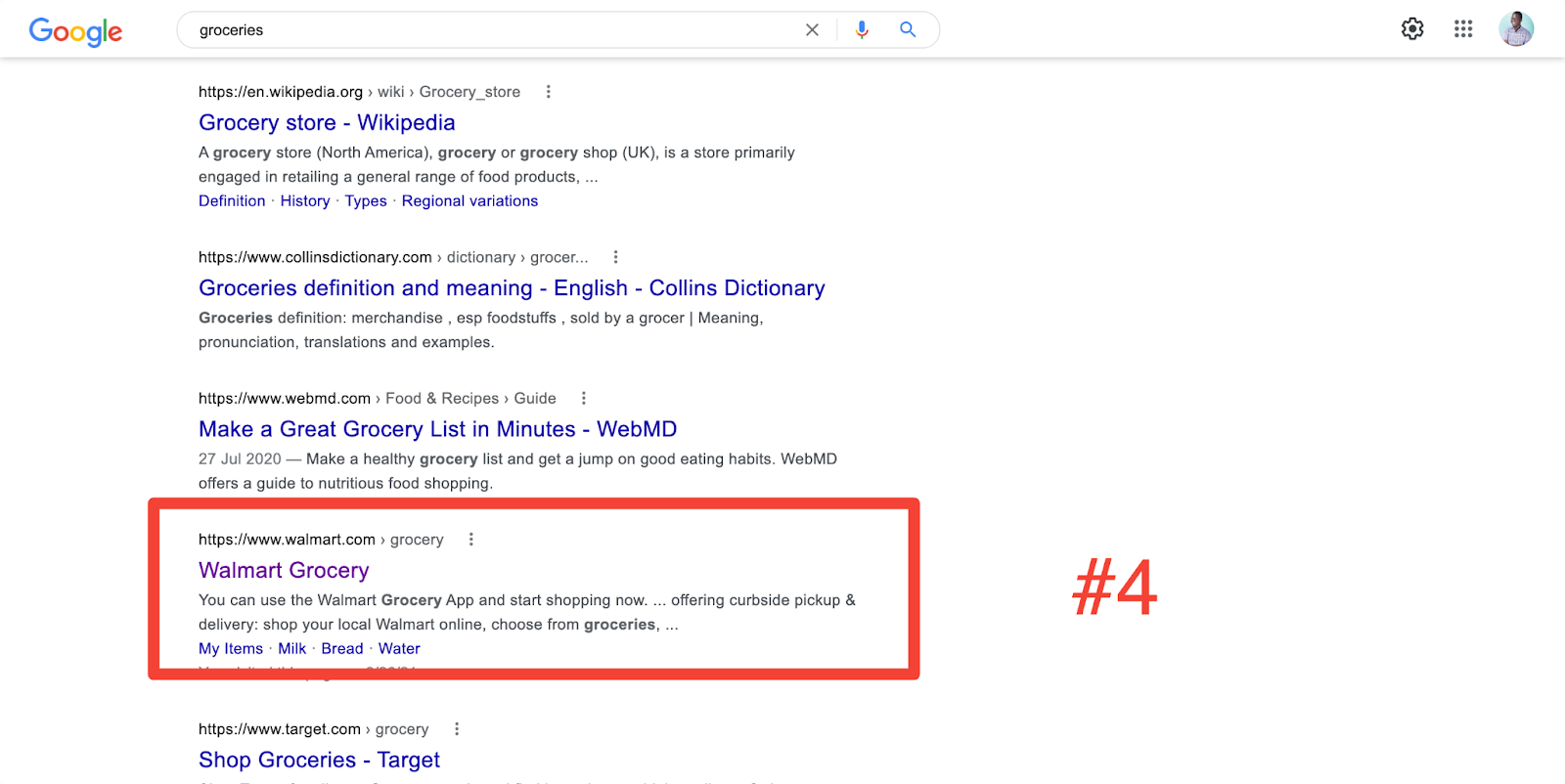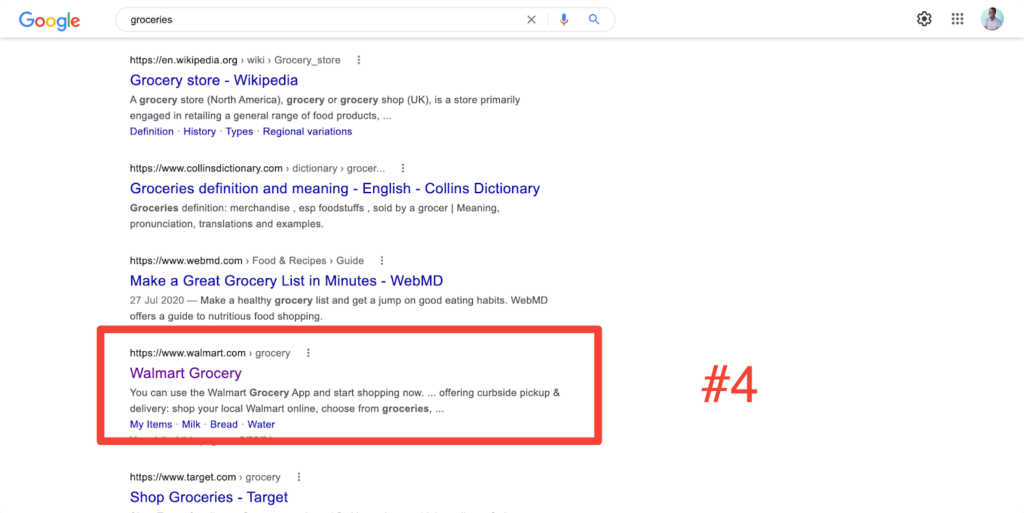 But for each product falling in this category, Walmart uses a URL pattern to redirect users.
Here is the common pattern: walmart.com/grocery/ip/ + product name
Example: https://www.walmart.com/grocery/ip/Little-Debbie-Oatmeal-Creme-Pies-12-ct-16-2-oz


By doing so, Walmart clearly indicates to Google that the children's pages do not compete against them and that the grocery category is the umbrella category for all these product pages.
From an SEO perspective, this makes it easy to target relevant keywords and boost conversion on each product landing page. 
As a result, each child landing page performs equally well in the SERPs as the parent page.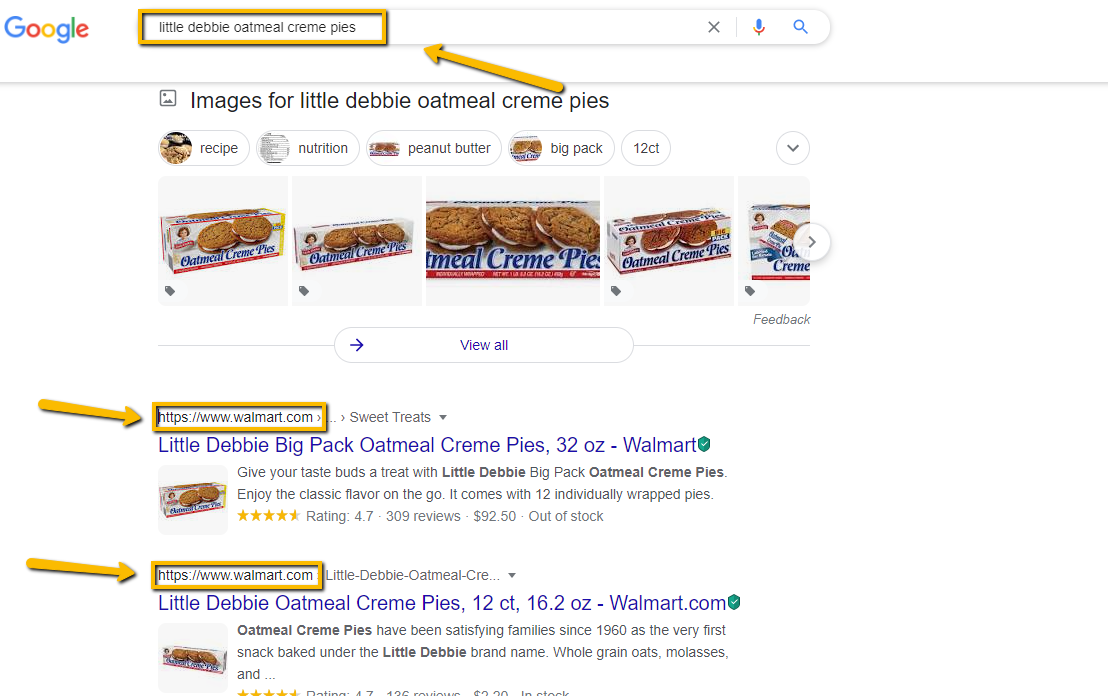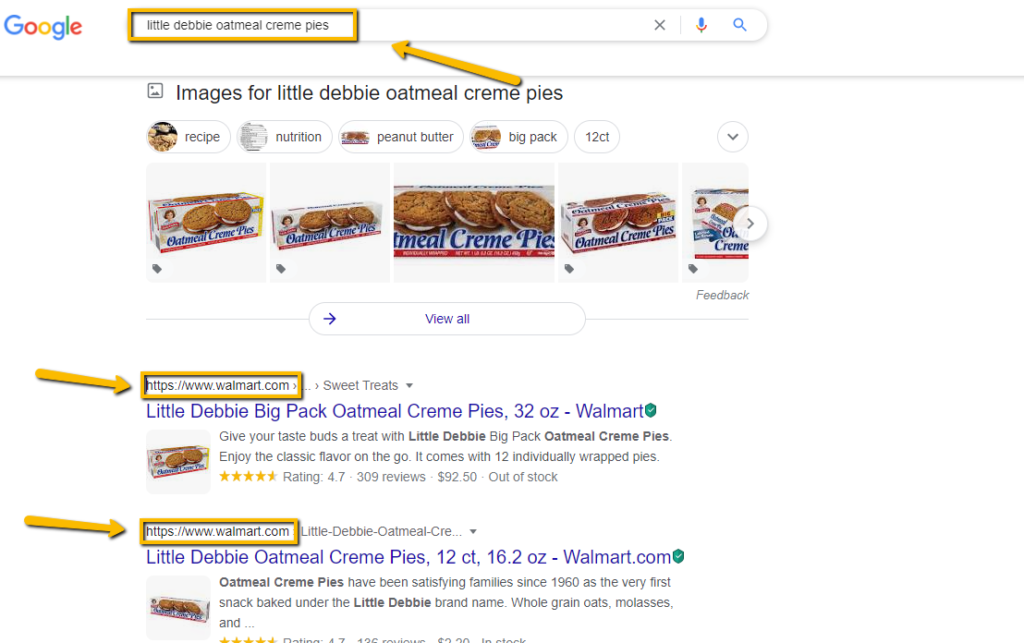 Walmart: Walmart.com
Walmart is doing its biggest categorization job on the walmart.com homepage. This home page leads to all the products and services available at Walmart.
The Walmart.com home page is therefore the parent page for many departments, which are "parent" category pages that redirect either to other subcategories or to simple product pages. So the taxonomy is a bit more intricate here.
At a glance, here are the categories of this home page.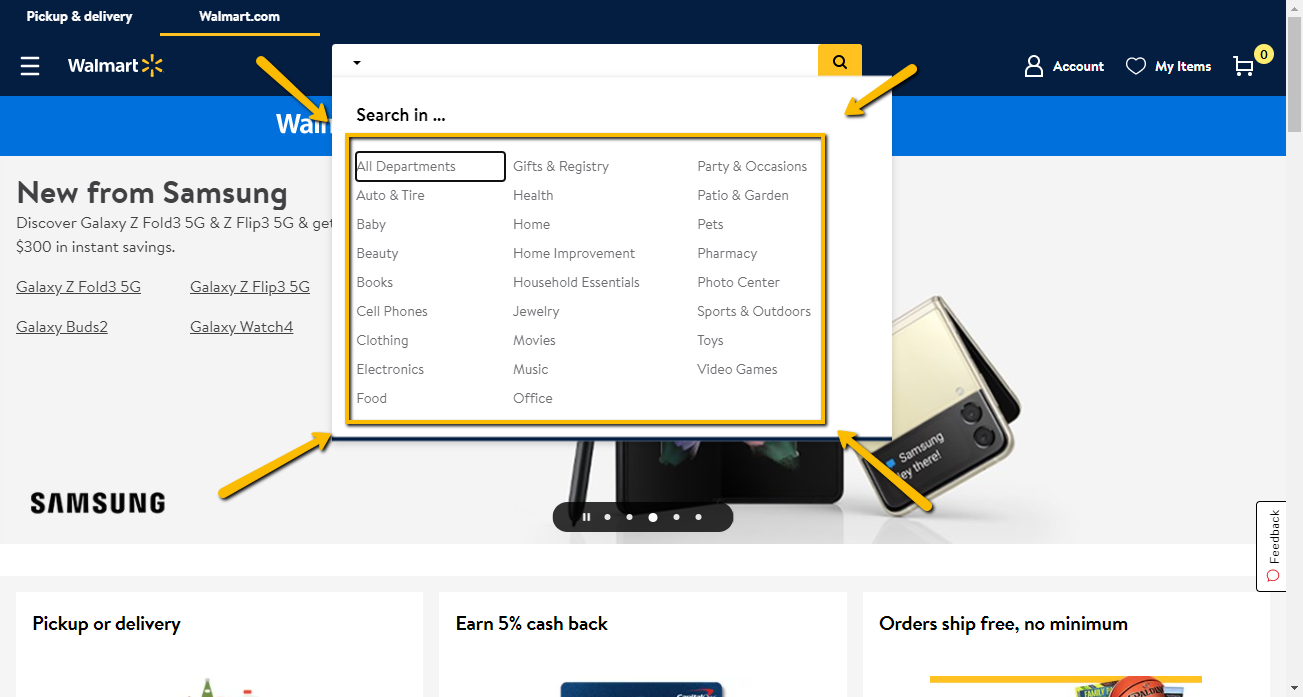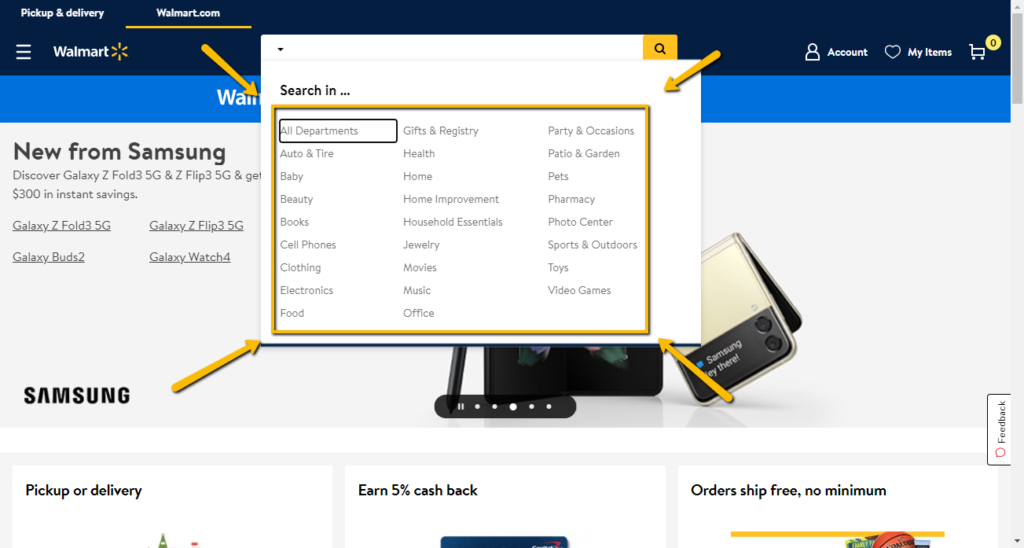 Now, let's go back to the landing page structure and take the architecture from departments all the way down to product pages to understand it better.
First, departments lead to categories, and categories lead to either products or sub-categories.
In other words, things get more and more specific as you dig down to the product of your choice. Since it's always best to use examples, let's take the "Home" department as an example.
This department redirects to several other categories. For example, we have Furniture, Decor, Bath, Kitchen, etc., as shown in the screenshot below.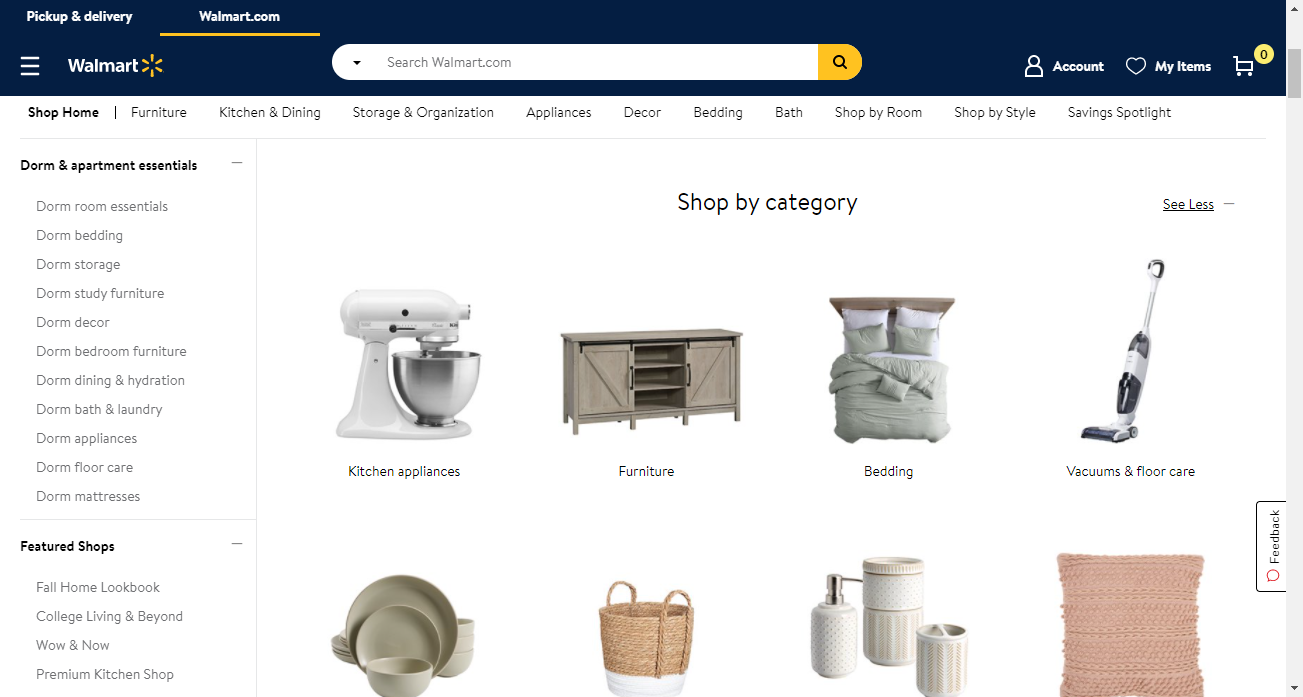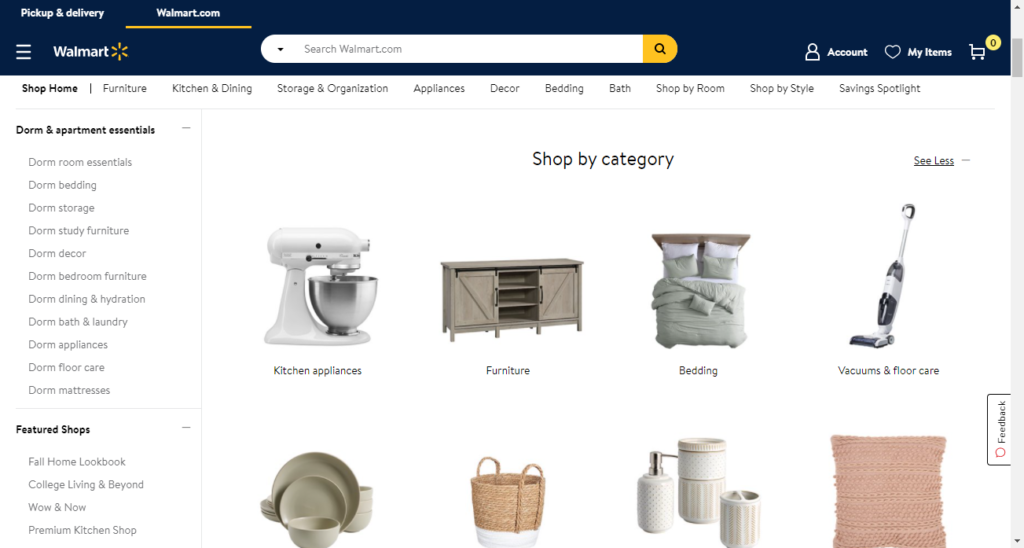 Then, when you click on Furniture, you are presented with some other categories of furniture items, sub-categories, if you will. This is where things get even more specific. Here you will find sub-categories such as Office Chairs, Desks, Beds, Mattresses, etc.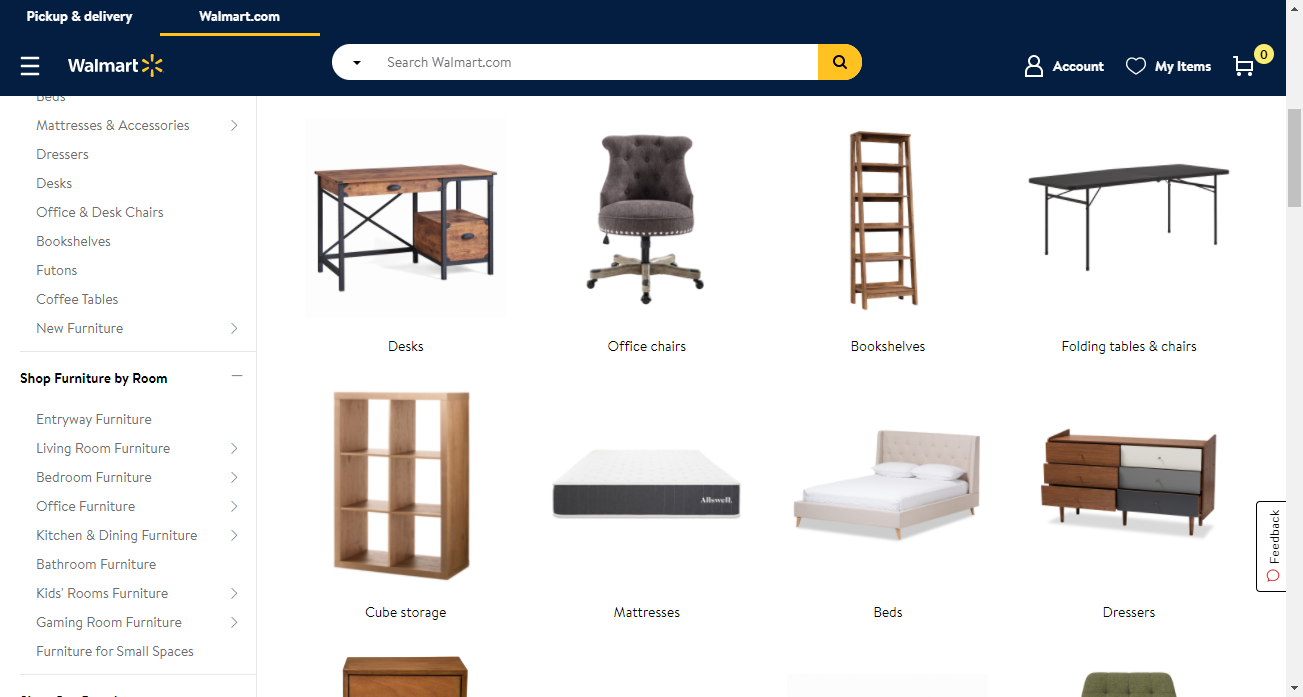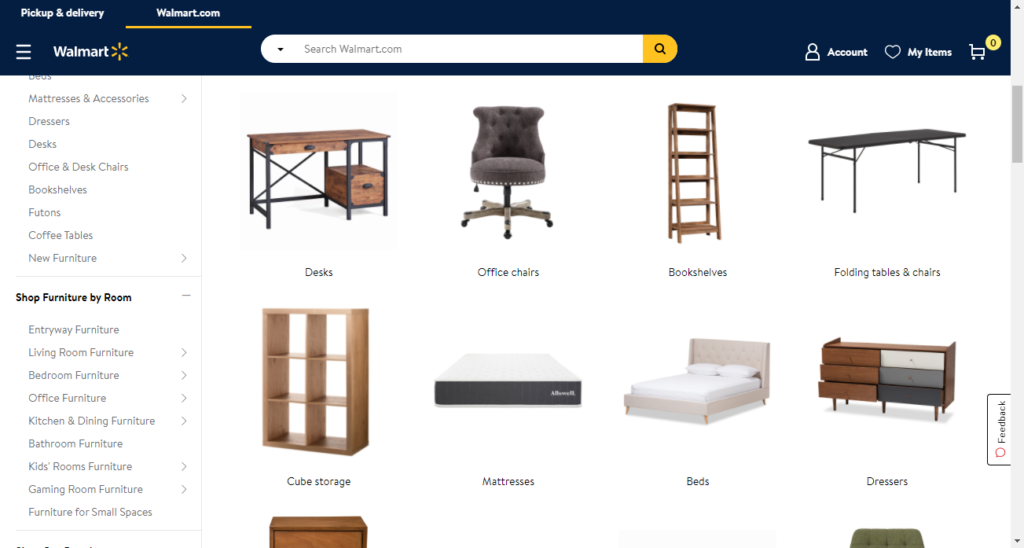 Now, when you select an item, the different products are presented to you. For example, when you choose Beds.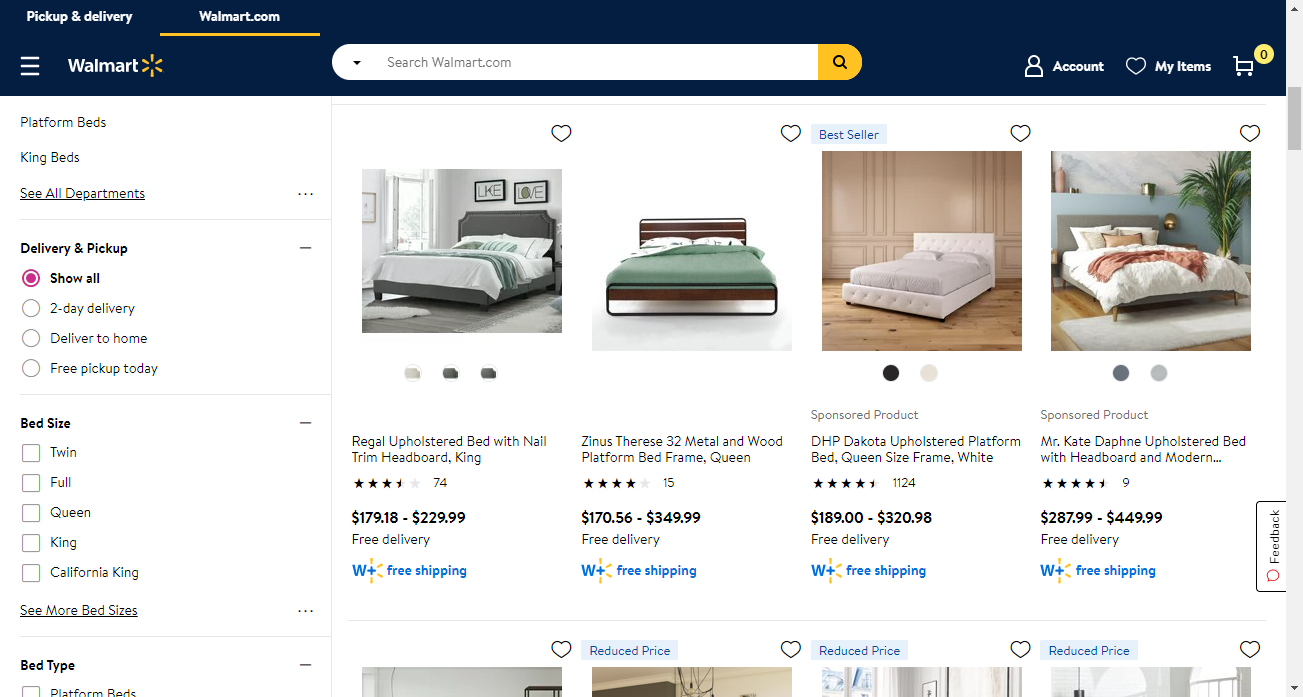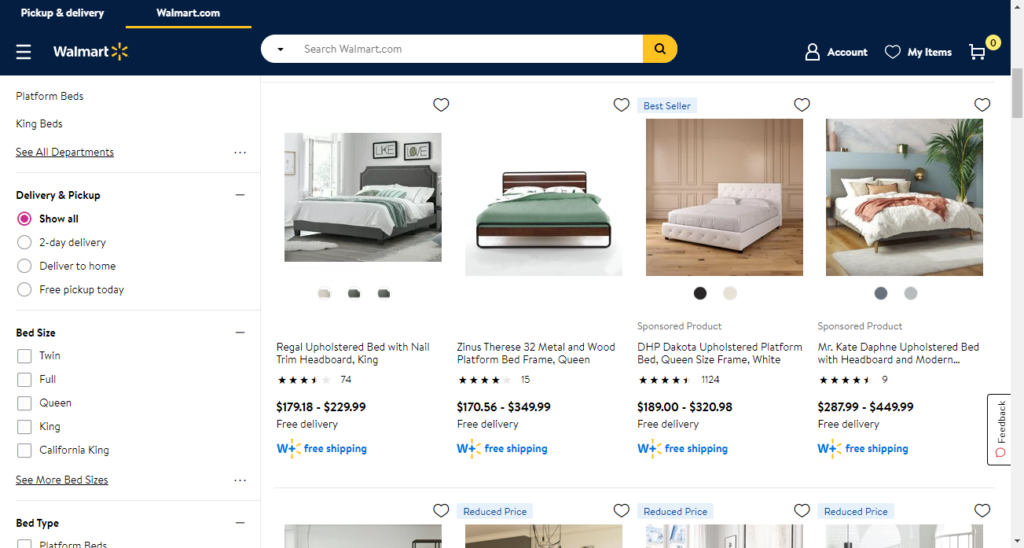 You can also choose to be more specific in the type of bed you want. In fact, it is all based on user intent.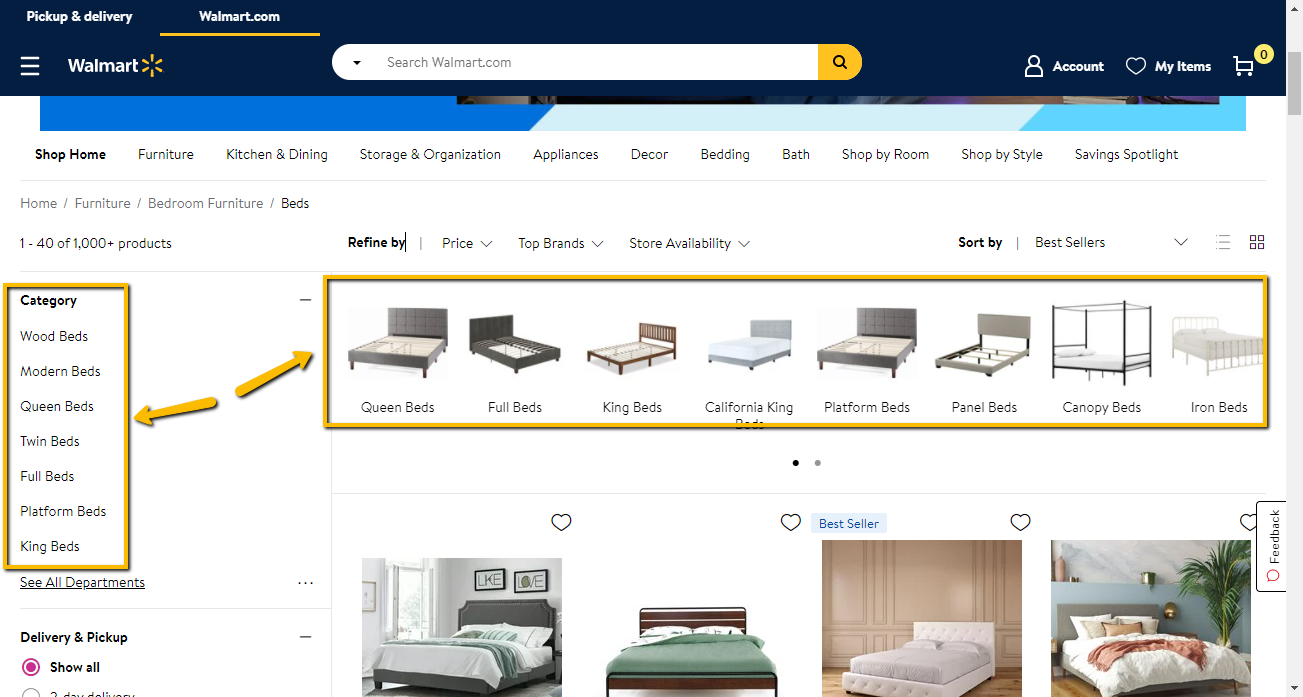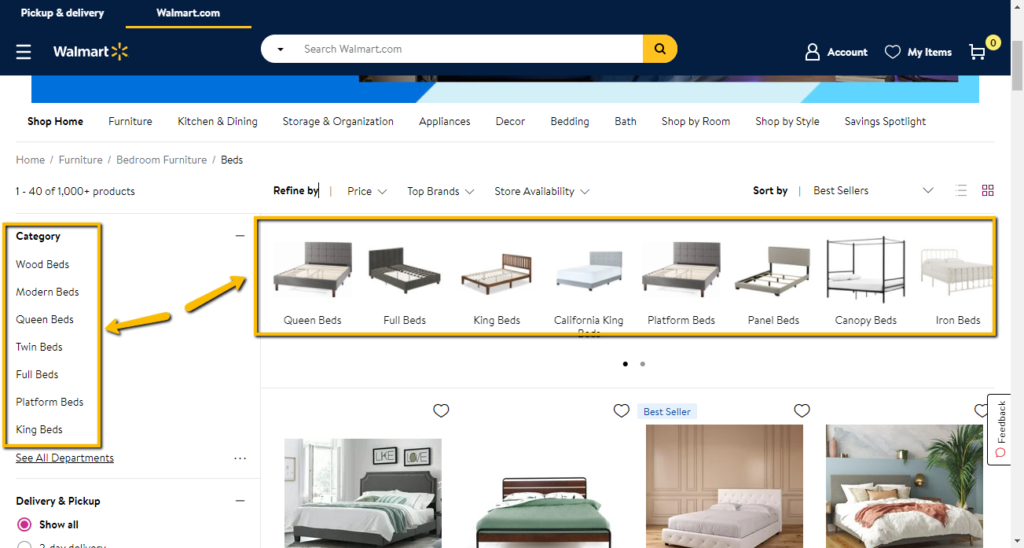 Also, another interesting note, as you might expect, the URL slug evolves as you drill on the different pages.
Here's what the "Beds" sub-category URL looks like: www.walmart.com/browse/home/beds. 
So this falls under the following pattern: www.walmart.com/browse/department/sub-category/.  
But this pattern changes automatically when you click on a product. Instead of a link like www.walmart.com/browse/department/sub-category/product-name/, Walmart changes the game and generates a product-centric URL link.
Well, is this a smart hack? Yes.  Backlinko has observed that when it comes to page URLs, the shorter, the better. Better yet, the more keyword-focused and SEO-friendly they are, the better. 
So by doing this, Walmart ensures that each product page is SEO friendly and ranks well in the SERPs for relevant keywords.
Let's try the Therese bed from Zinus and see the results.
First, the product page.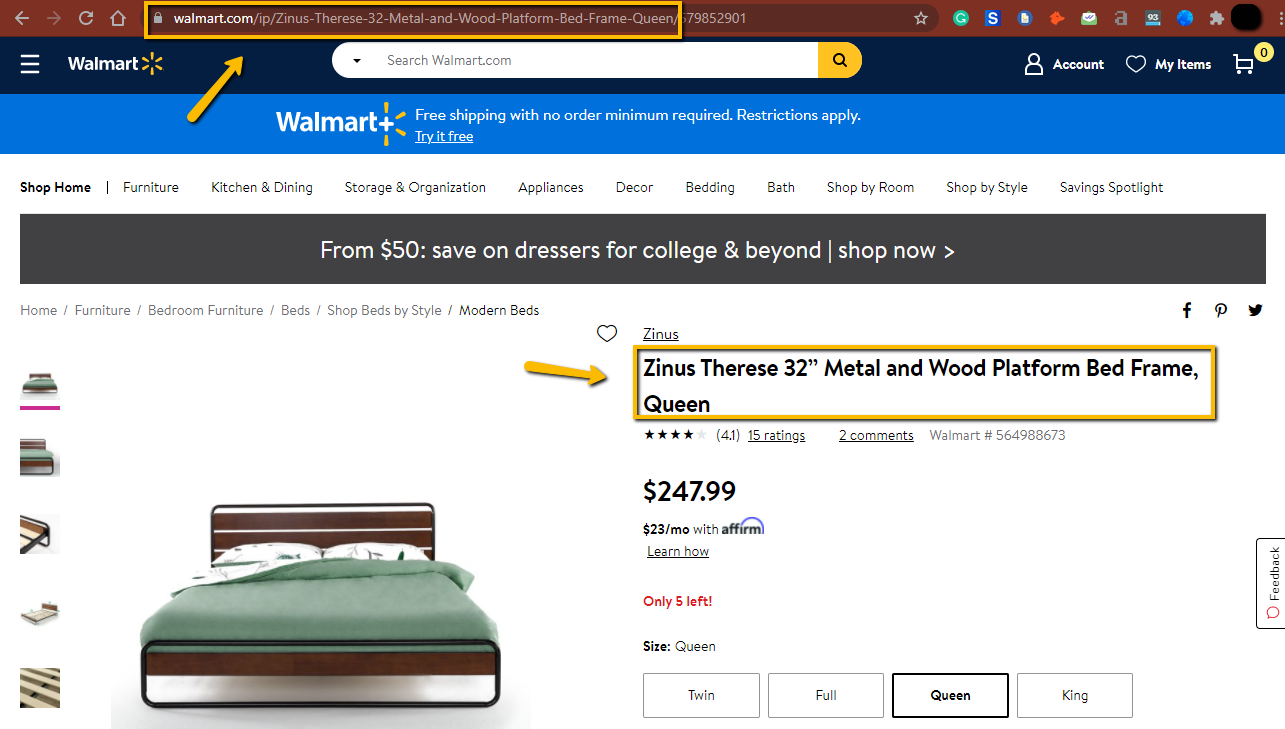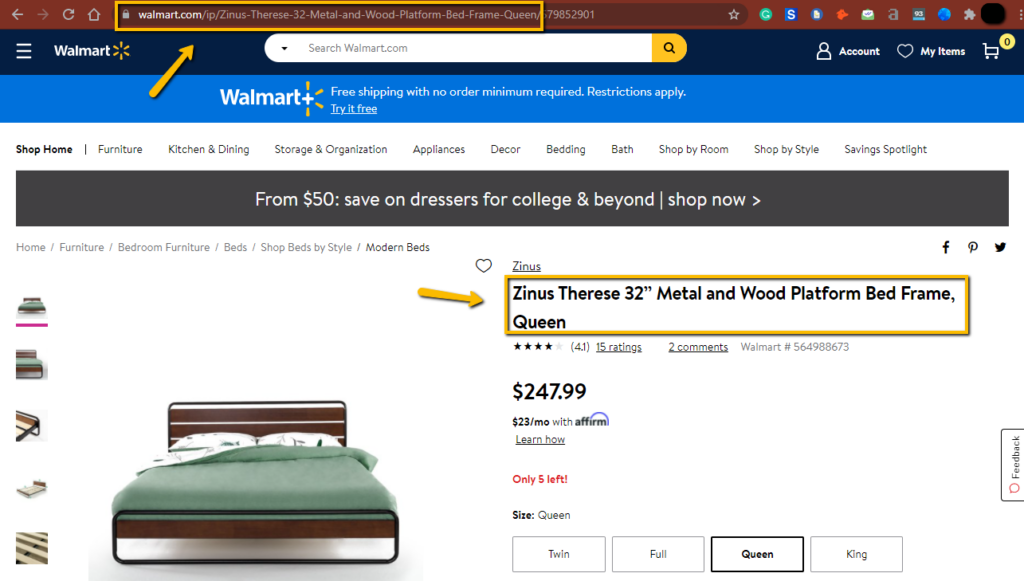 Then on the SERP.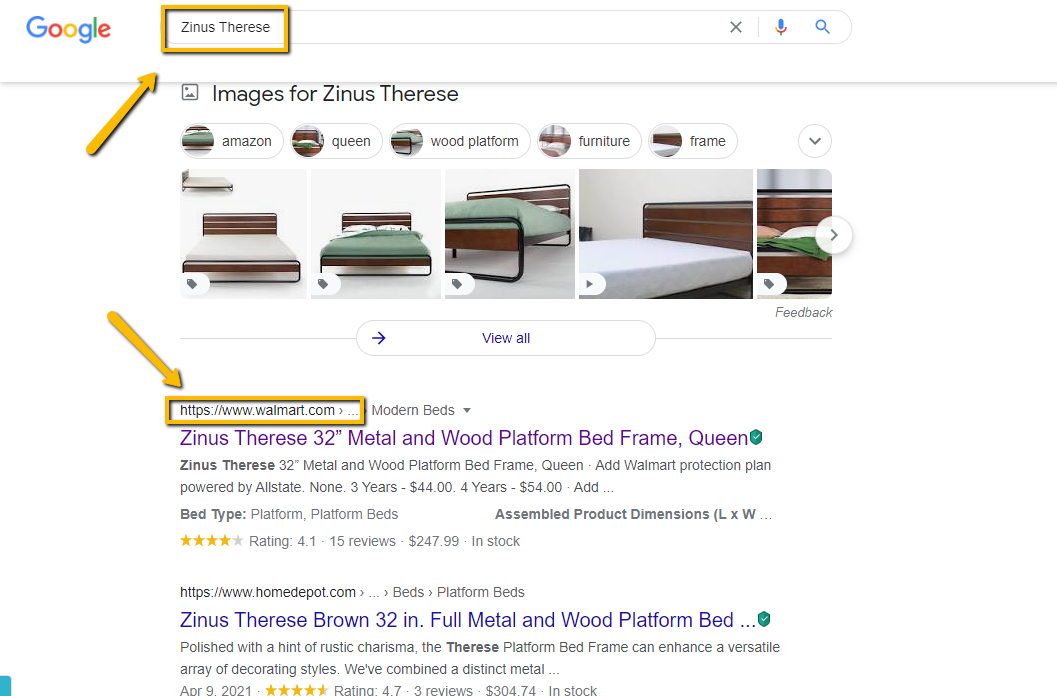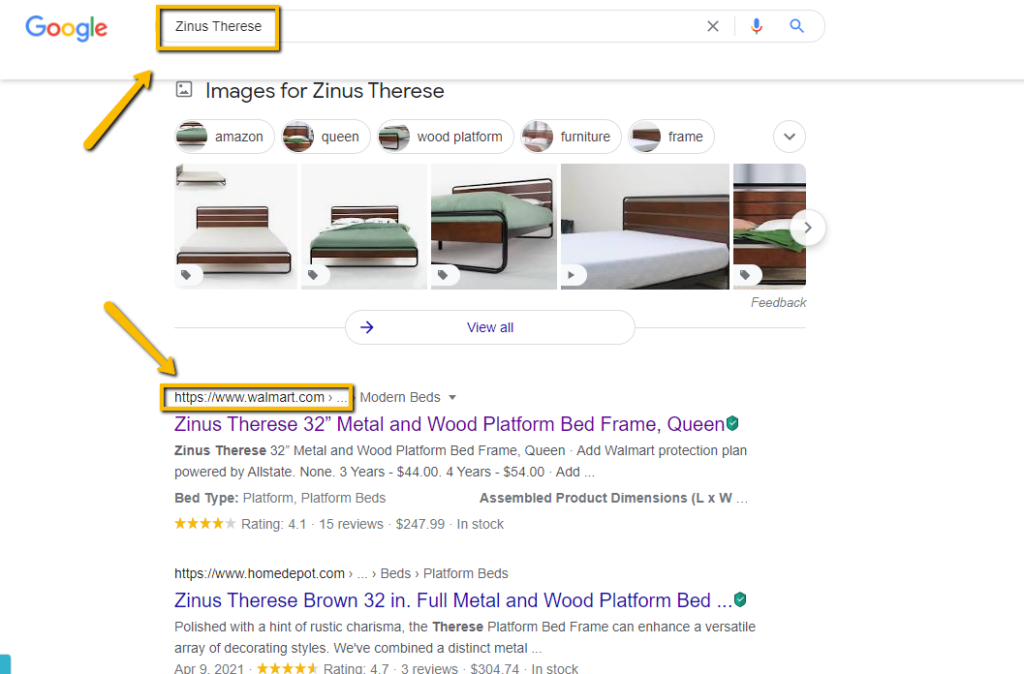 Walmart ranks number 2, right after Amazon.
Using A Scalable Metadata Formula to Rank and Convert
Given that Walmart has over 50 million pages, you'd agree that it's impossible to create metadata for each of these pages.
So, one of the strategies Walmart has adopted to create SEO-friendly pages is the use of replicable metadata.
As you already know, www.walmart.com has two parent pages that embody sub-categories and pages. For the sake of clarity, let's say that for each parent page, Walmart uses specific metadata.
For example, let's go to the Pickup & Delivery parent page and choose the product "Fairlife Milk." The metadata can't be seen directly, so we'll inspect the page. Here is the result.

Meta title: <title>Walmart Grocery – Fairlife Milk 52 fl oz – Lactose Free Reduced Fat 2% Milk</title>
Meta description: <meta name="description" content="Shop Walmart's selection online anytime, anywhere. You can use the Walmart Grocery App and start shopping now. Choose a convenient pickup or delivery time, and we'll do the shopping for you.">
Now, let's change to another product of the same category and see what happens. The Fresh, Green Bell Pepper, for example. Here is what the inspection page shows us.

Meta title: <title>Walmart Grocery – Fresh, Green Bell Pepper, 1 Each</title>
Meta description: <meta name="description" content="Shop Walmart's selection online anytime, anywhere. You can use the Walmart Grocery App and start shopping now. Choose a convenient pickup or delivery time, and we'll do the shopping for you.">
The "Walmart Grocery" title hasn't changed, the metadata hasn't changed, but the product name, au contraire, is the only element that changes. This is what I mean when I talk about using metadata at scale.
Walmart designs a workable metadata format and implements it across all pages that are under the same parent page while only changing key product information.
But let's go to the other parent page (Walmart dot com) so that we do not draw a quick conclusion.
Here, for the Kent 26 In. Seachange M Bicycle, for example, here is what the page inspection shows.

Meta title: <title>Kent 26 In. Seachange M Bicycle – Walmart.com – Walmart.com</title>
Meta description is: <meta name="description" content="Free 2-day shipping. Buy Kent 26 In. Seachange M Bicycle at Walmart.com">
They use the same metadata pattern for all products in the other categories of the same parent page—for example, the ASUS VivoBook F512 from the electronics category.

Meta title: <title>ASUS VivoBook F512 15.6″FHD, AMD Ryzen™ 3 3250U, AMD Radeon Vega 3 Graphics, 4GB RAM, 128G SSD, Slate Gray, Windows 10 Home in S Mode, F512DA-WB31 – Walmart.com – Walmart.com<title>
Meta description: <meta name="description" content="Free 2-day shipping. Buy ASUS VivoBook F512 15.6&quot;FHD, AMD Ryzen™ 3 3250U, AMD Radeon Vega 3 Graphics, 4GB RAM, 128G SSD, Slate Gray, Windows 10 Home in S Mode, F512DA-WB31 at Walmart.com">
So we can say that Walmart uses the same scalable metadata here too.
As you can see, the pattern is the same for all the child pages of the same category.
On the Pickup & Delivery parent page, the pattern is as follows:
Meta title: <title> Walmart Grocery – Product name </title>
Meta description: <meta name="description" content="Shop Walmart's selection online anytime, anywhere. You can use the Walmart Grocery App and start shopping now. Choose a convenient pickup or delivery time and we'll do the shopping for you.">
And in the walmart.com parent page, the pattern is as follows:
Meta title: <title>Product name – Walmart.com – Walmart.com</title>
Meta description: <meta name="description" content="Free 2-day shipping. Buy + Product name + at Walmart.com">
The result? Hundreds of millions of traffic and a colossal backlink profile.
Building A Huge Backlink Profile
Let's face it, making good use of the SEO taxonomy is not enough to make your site gain a top spot in the SERPs. You'll need a whole bunch of other SEO strategies before you get there. And backlinks are one of them.
Indeed, by giving your site a backlink, other sites give you a vote of confidence and give you a good reputation in the eyes of search engines. Moreover, according to Ahrefs, backlinks are the most important ranking factor Google considers.
Walmart's backlink profile is one of the best out there, and not just in e-commerce. Walmart has 209 million scary backlinks from 243,000 referring domains.


That's a backlink empire many of Walmart's competitors spend hard times fighting–most of them ultimately still end up eaten up on the SERP. Obviously, Walmart has not built this backlink profile overnight. It took a long-term investment and excellent SEO strategy.
So let's break down Walmart's backlink strategy so you can see it in action.
First of all, Walmart.com is undoubtedly a beast made of keywords. The site ranks for 32.9 million keywords and gets a whopping 245.3 million visitors each month.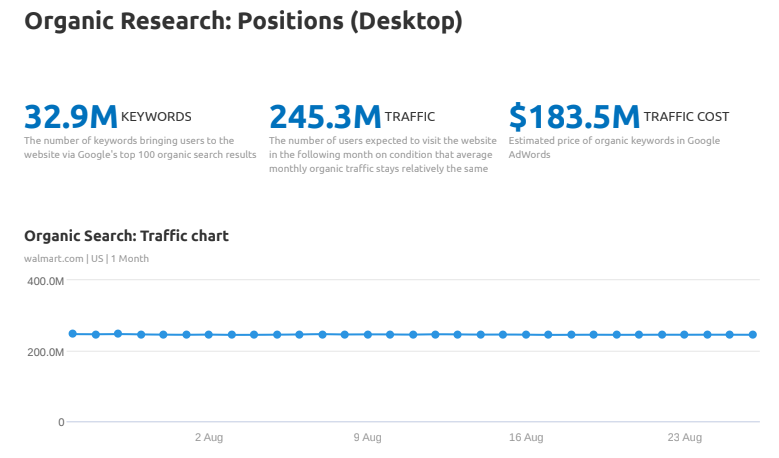 The Walmart team does an excellent job of targeting high-volume keywords and optimizing their site to rank on the first page of Google for those keywords. You should also notice that the majority of these keywords also have high intent. This is the perfect combination because it gets them breathtaking traffic but also a high conversion rate.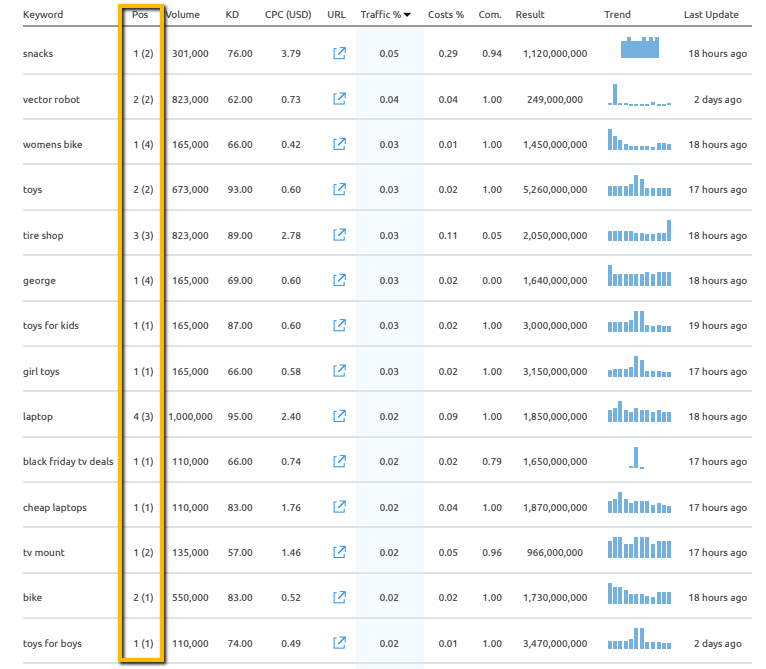 The result?
A boatload of products ranking at the top of search results and getting lots of mentions and positive reviews. In terms of numbers, that's 209 million backlinks from 243K referring domains–that's an SEO feat.
Here is how most of the companies Walmart outsells are performing, backlink-wise.

And while eBay appears to have the edge when it comes to backlinks, Walmart still eats it up for the amount of traffic it gets.


Secondly, Walmart does a great job of consistently gaining more backlinks. Even more interesting is the quality of backlinks they receive. Most of the backlinks the company receives are do-follow backlinks, which is pretty awesome in SEO terms.


Walmart also engages in a constant quest for new backlinks. This allows them to stay on top of their game and balance losing backlinks and getting new ones. Overall, Walmart is getting more backlinks than it is losing. And this allows the company to stay and remain at the top of the SERPs.

And most of these links come from high DA sites. See for yourself.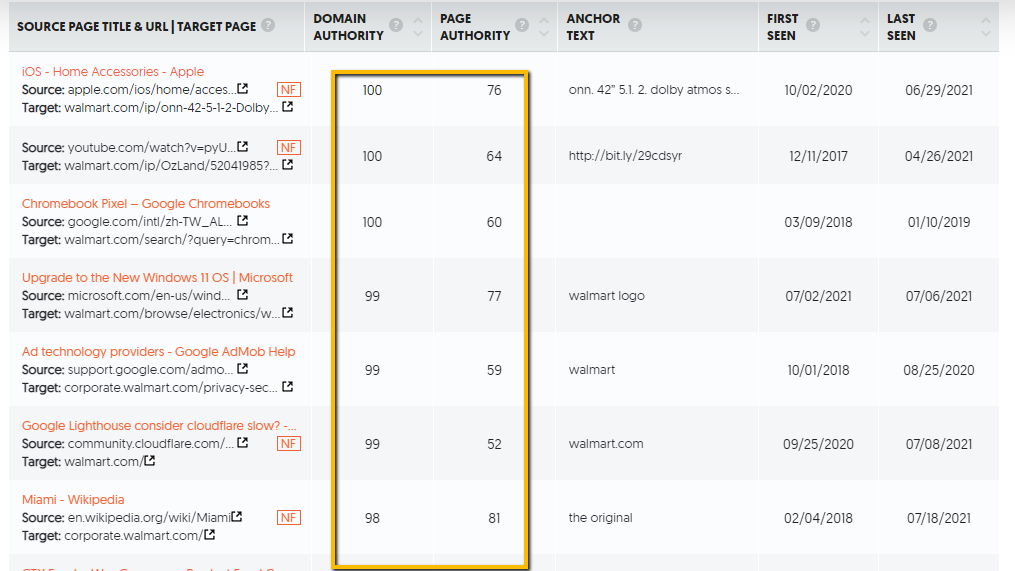 Besides, Walmart's efforts to get backlinks are also supported by the brands behind the products on Walmart's website.
Each brand does its best to get its product to the top of the SERPs. This explains the many low DA backlinks on the pages.
But Walmart itself targets and receives backlinks from high DA companies (like Apple, YouTube, and Google) with relevant anchor text, as the screenshot above shows.

Now, even though SEO is a huge contributor to Walmart's e-commerce success, it's not the only strategy the company leverages. There is also the way Walmart reacts to trends.
Leveraging Trends by Creating Landing Pages for In-demand Items
If you are from planet Earth, chances are you know what Covid-19 is.
While many companies have been forced out of business, companies like video conferencing company  Zoom and Walmart have capitalized on the trend to add billions of dollars to their annual revenue. 
Yes, that's what you read. Billions.
Here's a detailed look at how Walmart has capitalized on the COVID trend.
The rush to find solutions to combat the coronavirus has created a massive demand for self-protection items such as masks, disinfectant gels, etc., and especially the vaccine.
Walmart took advantage of this high demand to create an SEO-optimized landing page that drives traffic for keywords related to the Covid-19 vaccine. Here is the landing page.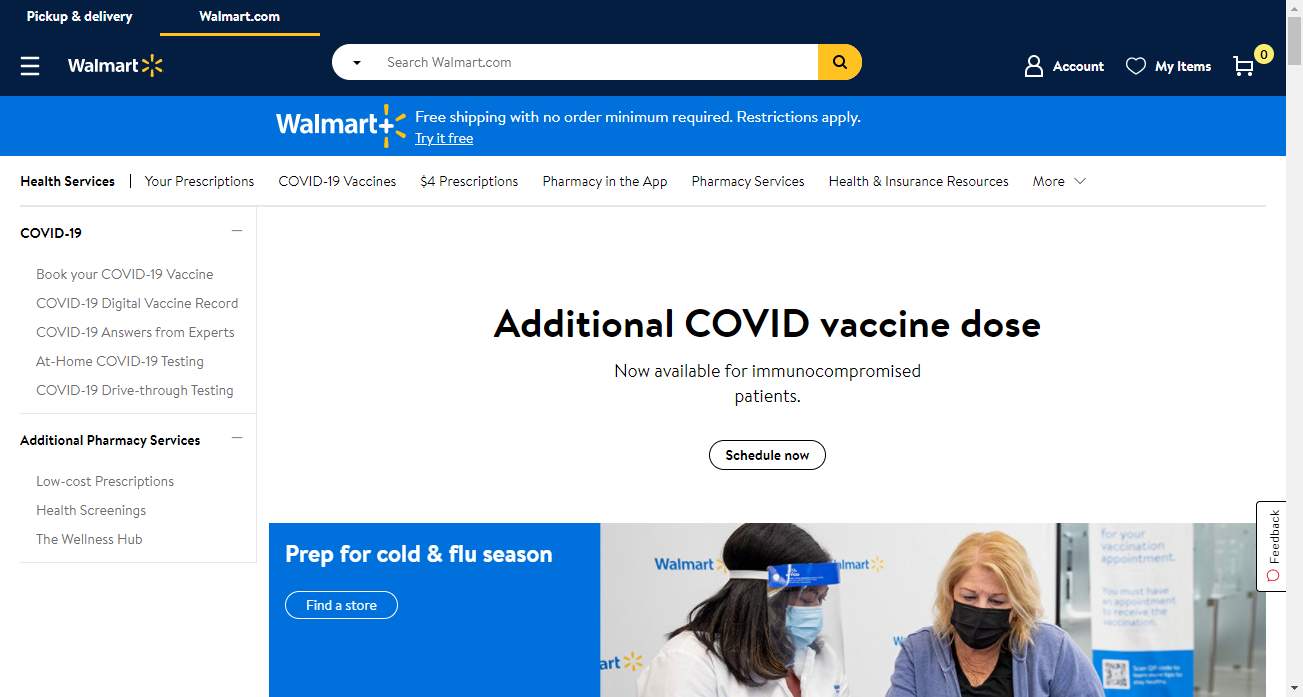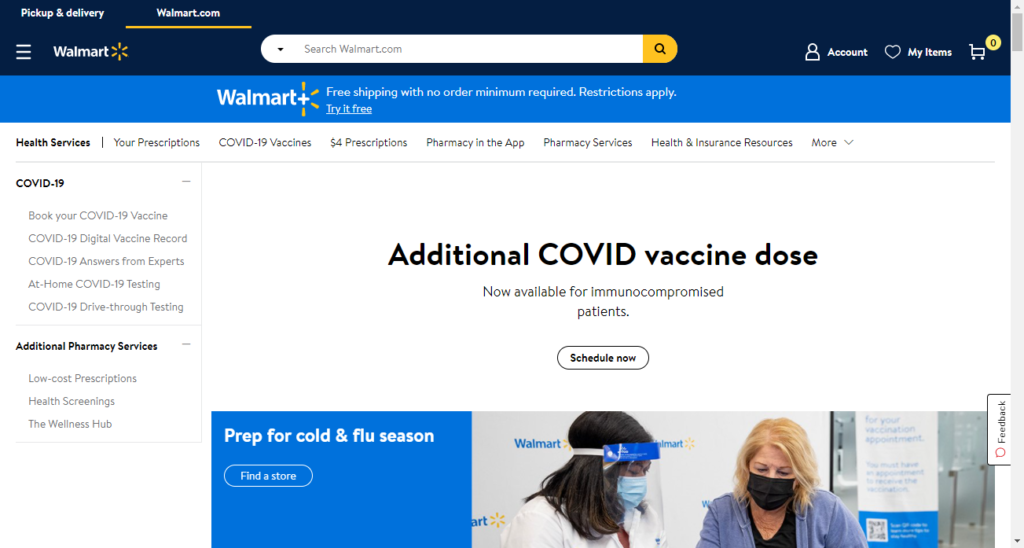 Now here are the results this landing page alone gets.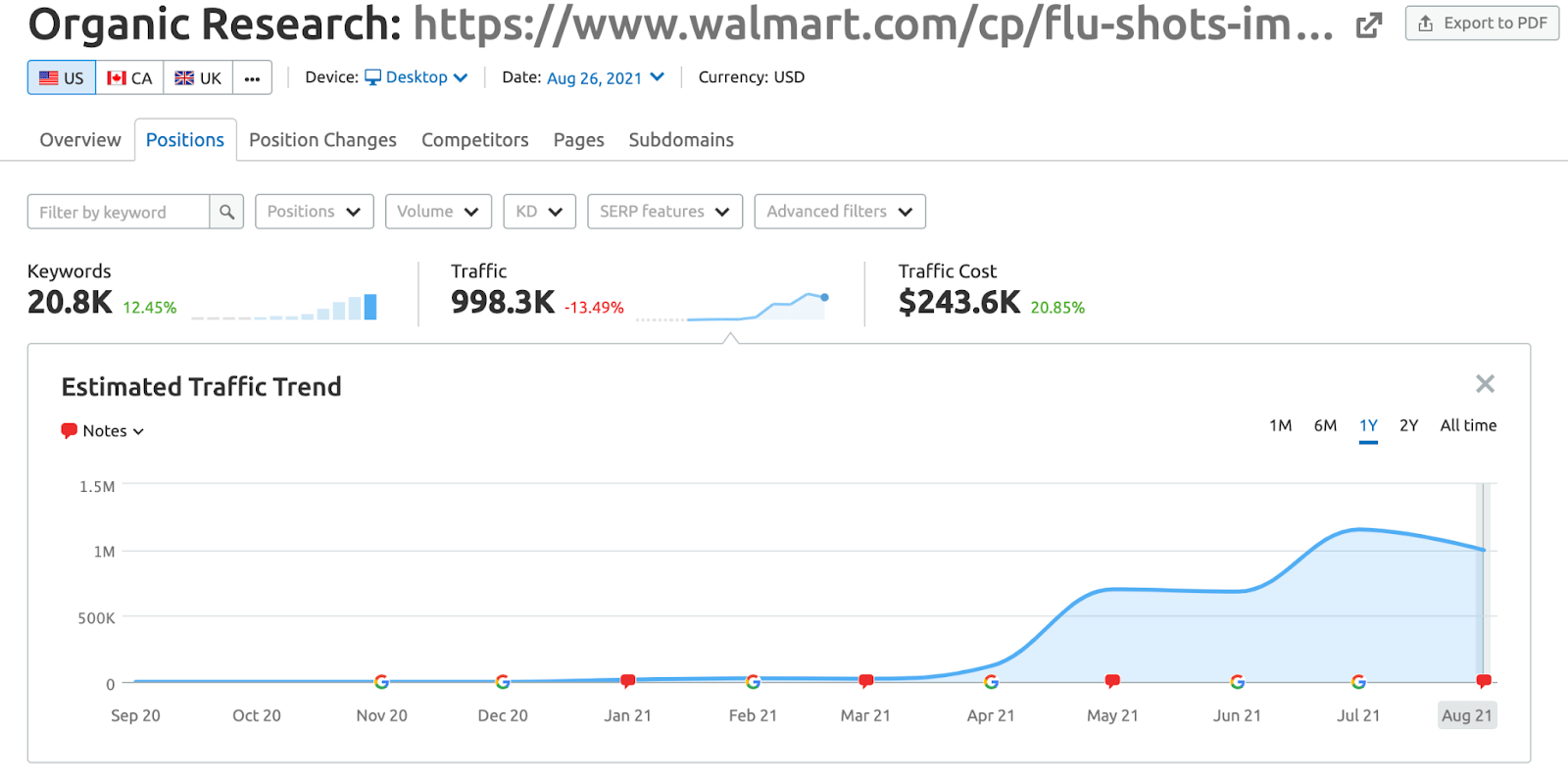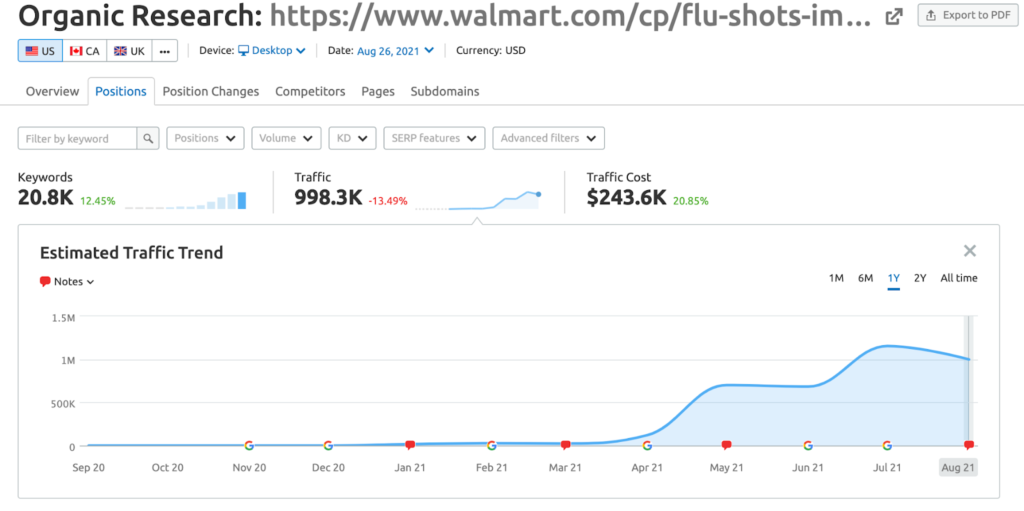 Walmart ranks for 20K+ different keywords and gains 1 million free traffic by reacting to this trend.
How?
The company relies on excellent landing page design and copy to rank for thousands of keywords and attract millions of visitors.
After analyzing the landing page, we found that it targets relevant keywords related to the coronavirus and answers all the questions people may have before deciding to get vaccinated.
Let's break down the main elements for the sake of clarification.
Design and copy: Walmart uses a unique method to present its services. The homepage looks more like an online consultation page than an e-commerce site selling sensitive services.
That landing page is designed to build trust and redirect people to Walmart pharmacies or to purchase the vaccine online. In addition, it is the parent of many child pages.
For example, there are pages like "Book your COVID-19 vaccine", "COVID-19 expert answers", "COVID-19 home test", etc. Moreover, they describe the different types of vaccines available by age and the extra pharmaceutical products and services offered by the company.
FAQ and Q&A: This accounts for nearly 50% of the content on the landing page. Walmart has a unique FAQ section on its page. This is entirely understandable since they are selling a trendy yet sensitive service. People will need answers to many questions before making a decision.
But as you know, Walmart doesn't let anything slip through the cracks. These questions also cover seasonal diseases such as flu.
Not only that, but the FAQ also helps to meet the search intent and boost the page's conversion rate.
Overall, based on the trend, Walmart optimizes the landing page and aligns it with all the relevant keywords that people might use on the SERP. In addition, it uses SEO taxonomy and on-page SEO to create a parent-child relationship between the pages related to the trend.
As a result, they get millions of website visits every month.
Building Paid Ads At Scale
Walmart does a great job of generating traffic organically. It's true and it pays off. But part of their strategy also consists of investing in paid traffic.
Their ads perform very well and are responsible for a lot of their traffic. Walmart gets 9.3 million paid monthly visits worldwide, 7.4 million of which are in the US.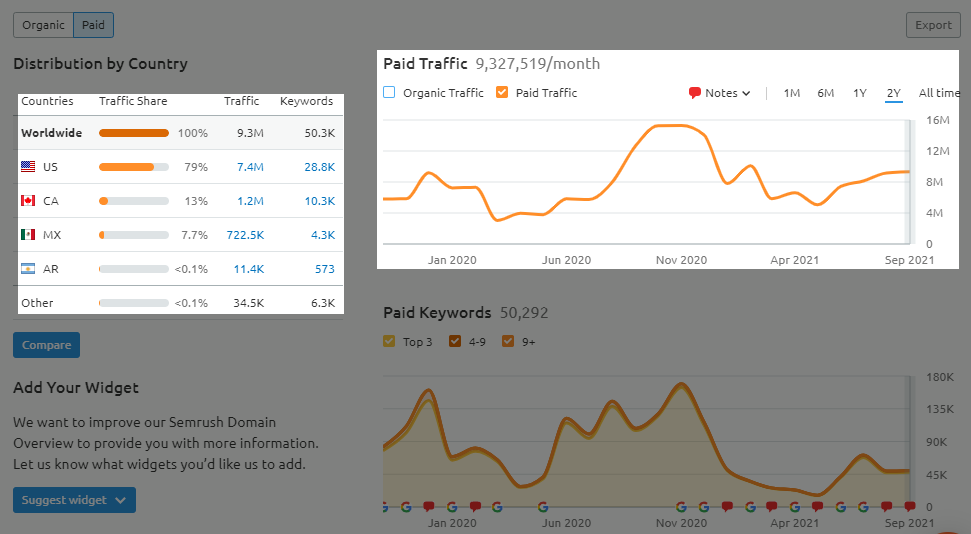 Walmart templatizes its ad copy based on the parent landing pages, Pickup & Delivery, and Walmart.com. They replicate the exact ad copy but target different keywords. Here is a library of Walmart's ad copy and the number of keywords each ad gets.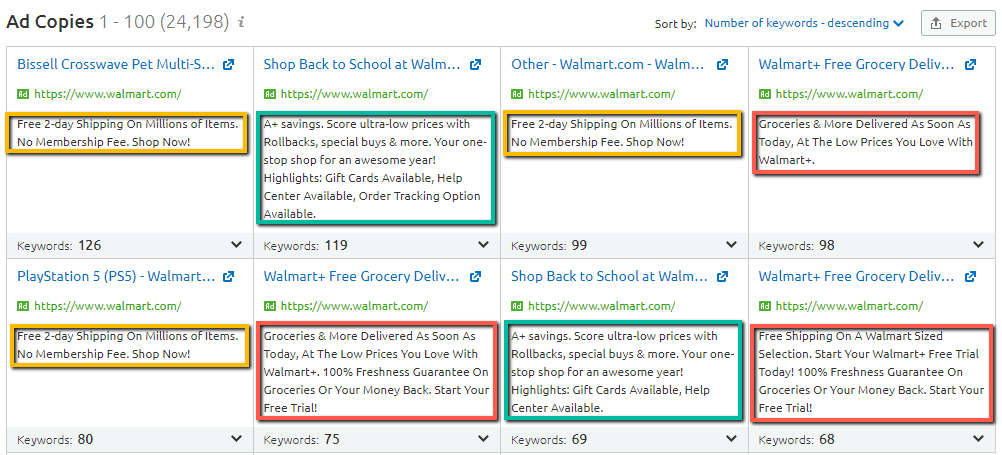 This allows them to target over 50K paid keywords, and they all bring a good deal of the overall paid traffic. Here is a screenshot to give you an idea of how the paid traffic is distributed between the many keywords.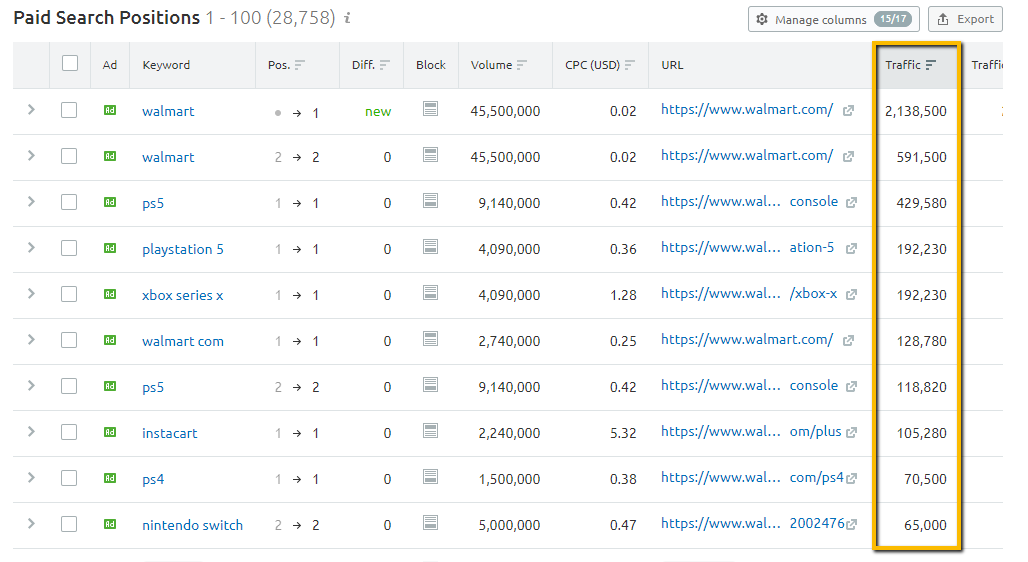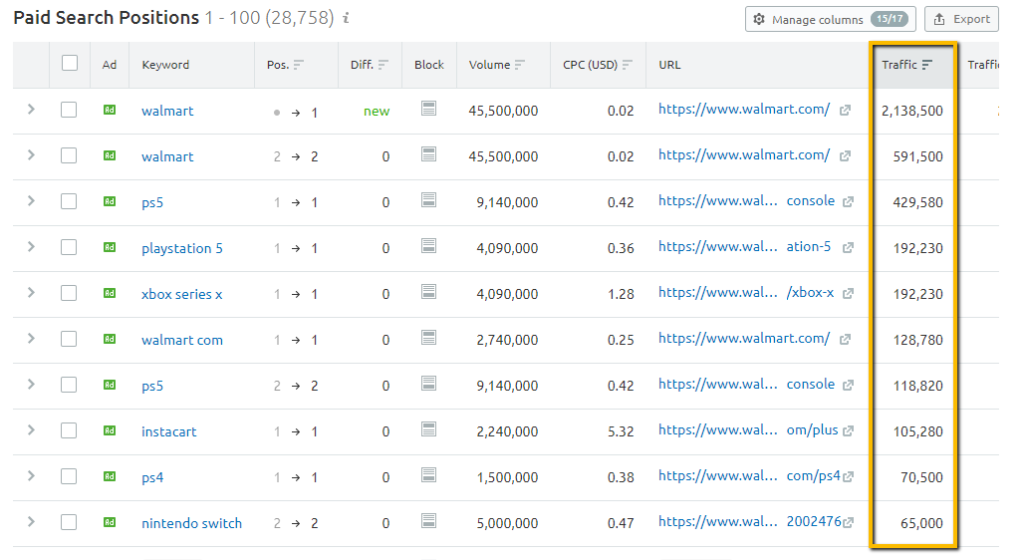 Wrap-up
Bottom line. Walmart designs both customer and SEO-friendly pages to beat most competitors. Creating millions of high-performing pages shouldn't be complex – Walmart says it even better. The last thing any e-commerce business wants is for their visitors or potential customers to get lost browsing their site, and they can all learn from Walmart. 
Design your website for humans and search engines
If you are an e-commerce, you need to leverage taxonomy to organize your product pages to be easy to navigate. Also, this will prevent your pages from competing against each other on search engines.

Many think that you have to choose between the algorithm and the visitors when it comes to SEO. But just like Walmart, you can create pages that respect both.

Don't let trends slip through your legs. Embrace them.
Be on the lookout for the latest trends. As an e-commerce business, the more trendy and focused you are on high-demand products, the more you will sell.

Build once, scale forever
Chances are your e-commerce stores include thousands of products, or at least that's your goal. Maybe more? Either way, you need to build systems at scale. Random things will bring you $100k in sales. But only systems will get you 7, 8, or even nine figures.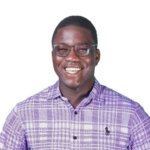 About the Author
Ernest is the founder of Nerdy Joe, an email and content marketing agency for SaaS businesses. He occasionally contributes to our Ecommerce Insights blog and has worked with brands like Hunter.io, ButterCMS, Vidico, Appsumo, etc.