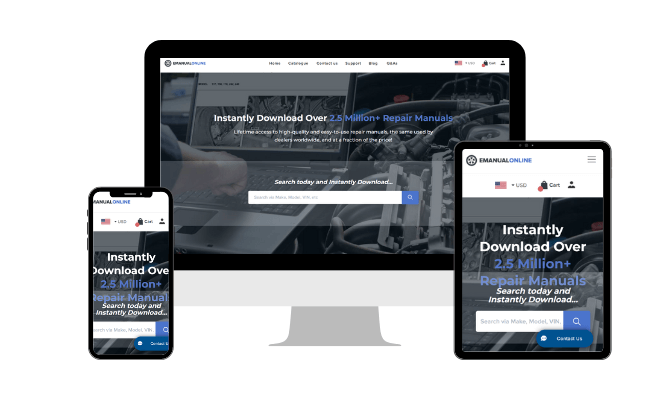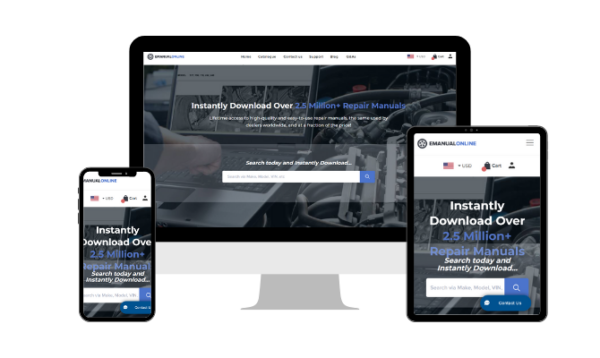 Conversion Rate Optimization
Being Bold Brings Big Benefits (like a £530K increase in annualized revenue)
How eManualOnline embraced a spirit of experimentation by working with The Good for a 50% win rate and a 9:1 ROI.
Every successful leader embraces experiments in the face of unknown outcomes. This fearlessness is innate for Chad Shen-Ina, owner of eManualOnline, who isn't afraid to challenge the status quo when it's not working.
Chad's focused goals and flexible mindset made for an easy partnership as we developed a strategy and tackled each goal head-on.
Find out how Chad Ina's fearless approach with The Good helped eManualOnline achieve impressive results like:
A 50% win rate
£530K annualized revenue gains
9:1 ROI
An industry leader
Trusted for over 15 years by over a million sellers, eManualOnline offers over 2.5 million digital repair manuals for download, making it the largest repair manual database online.
Their site boasts an impressive catalog across all industries, including automotive, household electronics, construction equipment, and more.
And not only professionals can purchase their manuals. eManualOnline is for everyone curios about repair, whether you're a professional mechanic, a repair shop, or someone who loves a good DIY project.
eManualOnline has a long-standing commitment to providing quality manuals with quality service at a reasonable price, something they've maintained through all of their years of service.
From simple tweaks to bold reworks of complex elements
Goals provide the foundation of any meaningful experimentation. When goals are set, they become the guiding force driving us toward success. Unclear goals and lack of direction lead to failed projects and wasted time.
Fortunately for us, eManualOnline shared many goals that helped shape our testing approach. These included:
Finding high-priority improvement areas with analytics data
Increasing conversion rates, a common goal among our clients
Increasing directional guidance: Finding ways to guide users to the most relevant products pages in as little time as possible
Simplifying the purchase process
Minimizing the clicks to checkout
Improving side and top navigation for user intent
Conducting a site-wide audit illuminated 3 key challenges
After establishing specific goals, we conducted an audit of eManualOnline to identify any areas of friction and improvements.
Using both qualitative and quantitative data provided insights into not only how customers interact on the site but why these interactions occur.
Our team gathered insights from this research, which illuminated 3 key challenges.
We reviewed heat maps and session recordings of customers scrolling up and down category pages, revealing a potential need for better filtering options and content hierarchy.
User testing revealed that users weren't sure how eManualOnline delivers their product. Mixed messages throughout the site made customers wary and untrusting of the website.
For example, various locations mentioned mixed delivery methods: DVDs, downloads, links, and emails. Users were likely to lose confidence if delivery methods were unclear.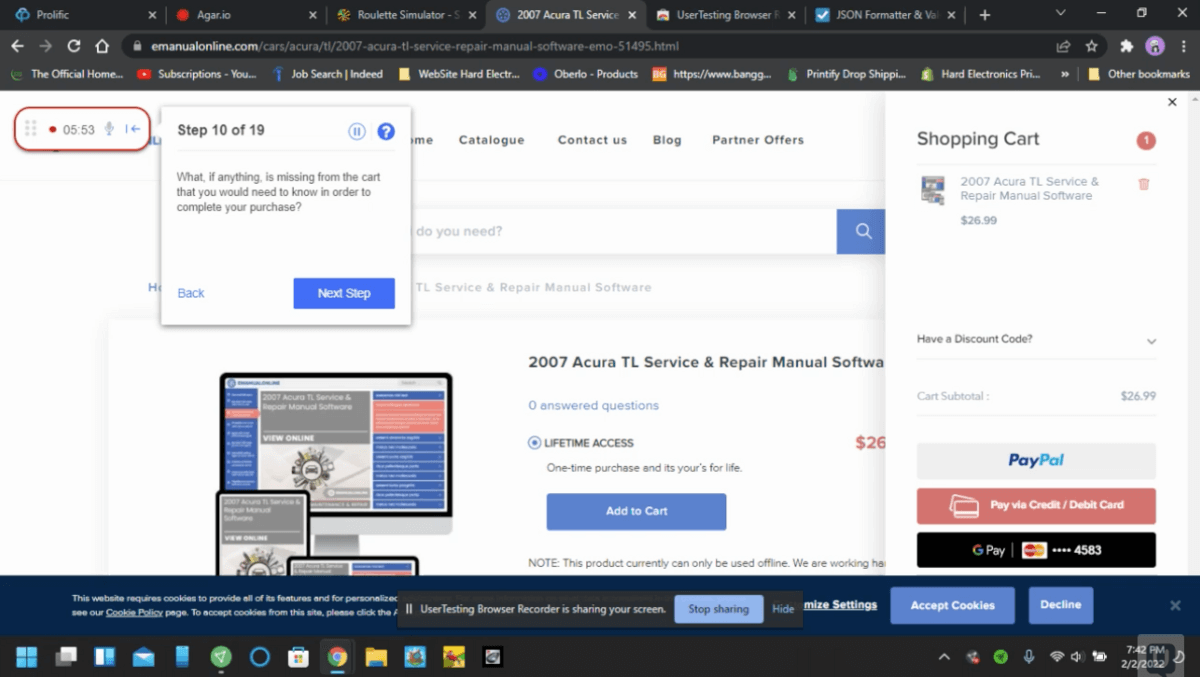 Additional session recordings showed that users landing from ads were likely to bounce, but those that engaged had a higher than typical likelihood to use breadcrumbs.
This indicated that the products they were seeing might not match their needs. So, while users were bouncing, they would likely be willing to dig deeper into the site, given the right pathway.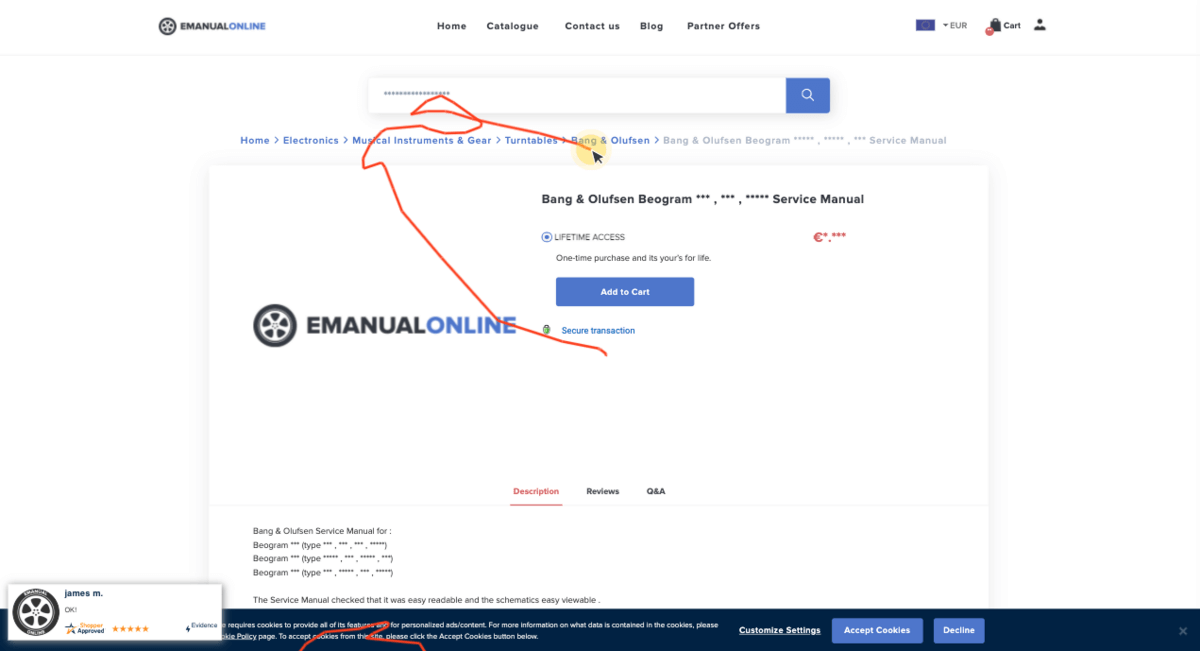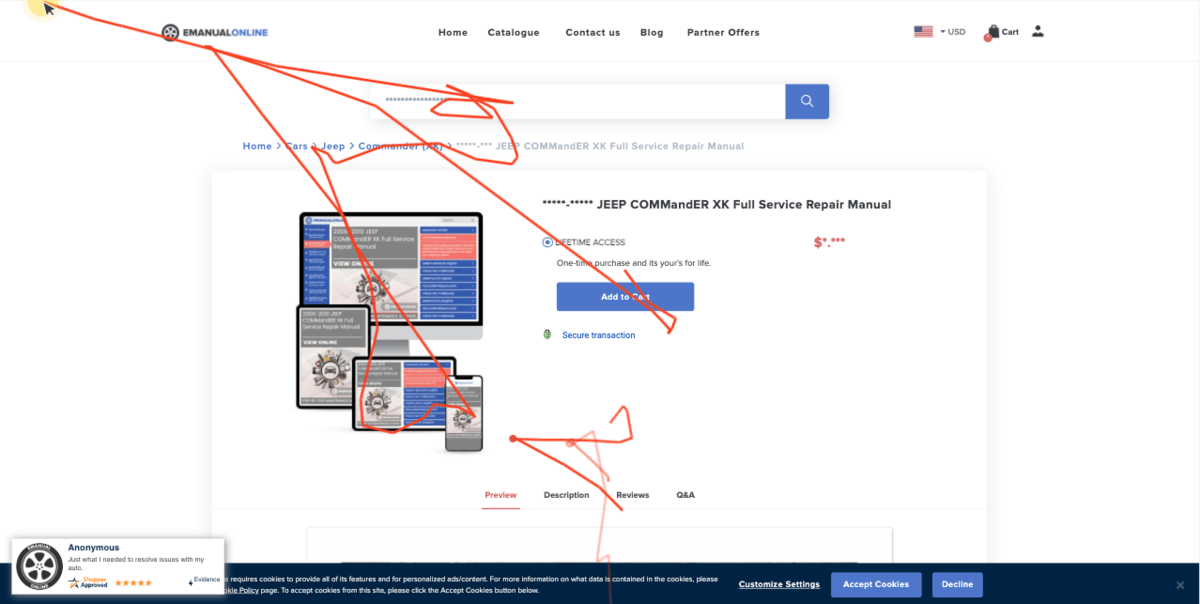 Once we identified these challenges, we explored competitive and comparative examples to draw inspiration for our A/B testing strategy and find ways to maximize paid traffic from ads.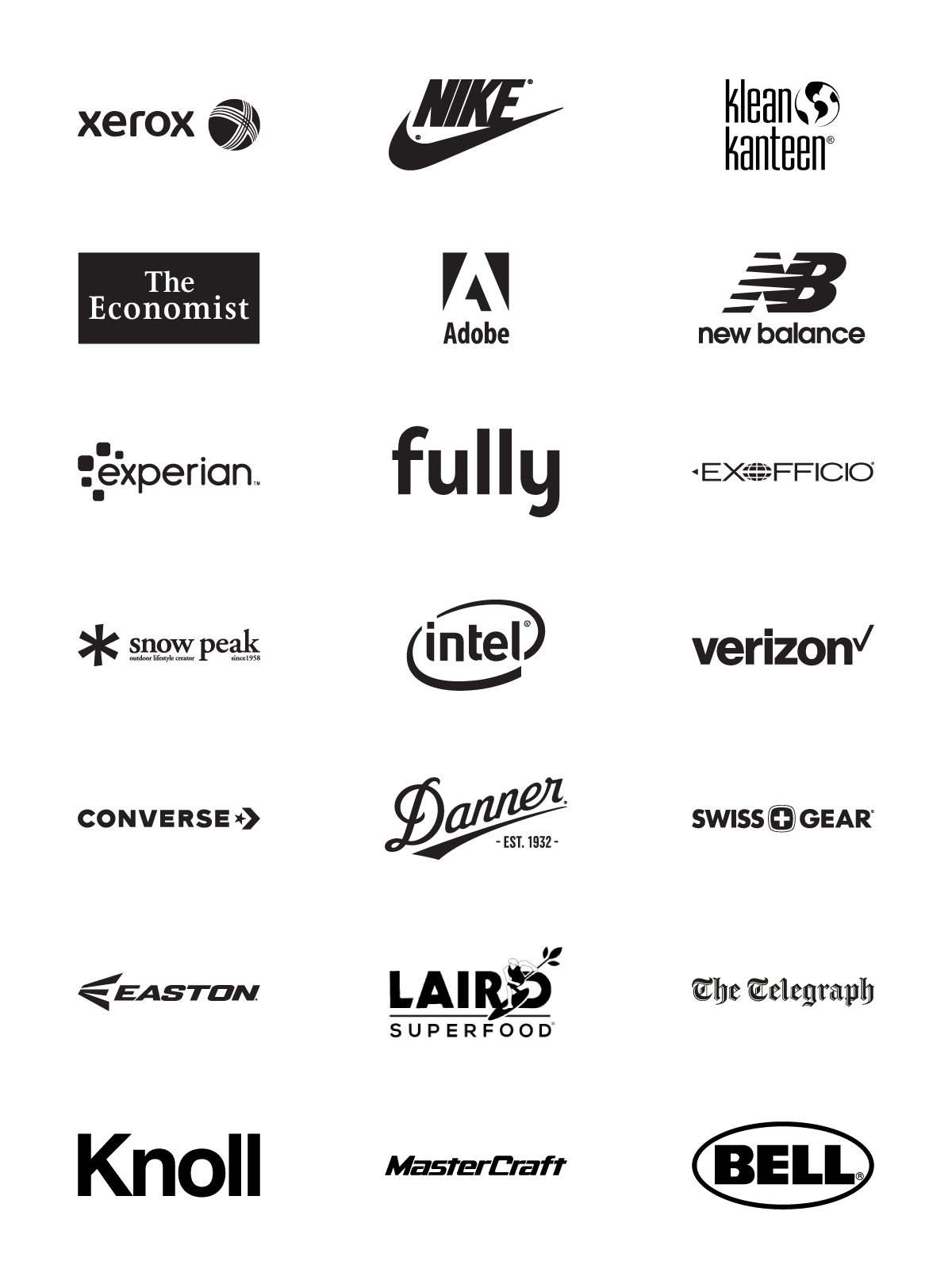 For example, we noticed that Target uses promoted filters on their collections pages to encourage users to filter for the most relevant results for their needs.
We hypothesized that emphasizing the number of results and rearranging content on the page encourages users to filter more narrowly, leading to a reduction in the time it takes to find what they need. For example, placing categories above the fold than placing product tiles below the fold.

Next, we found inspiration from Etsy's PDP (product detail pages), which displays icons with a description to clearly communicate that the product is a digital download.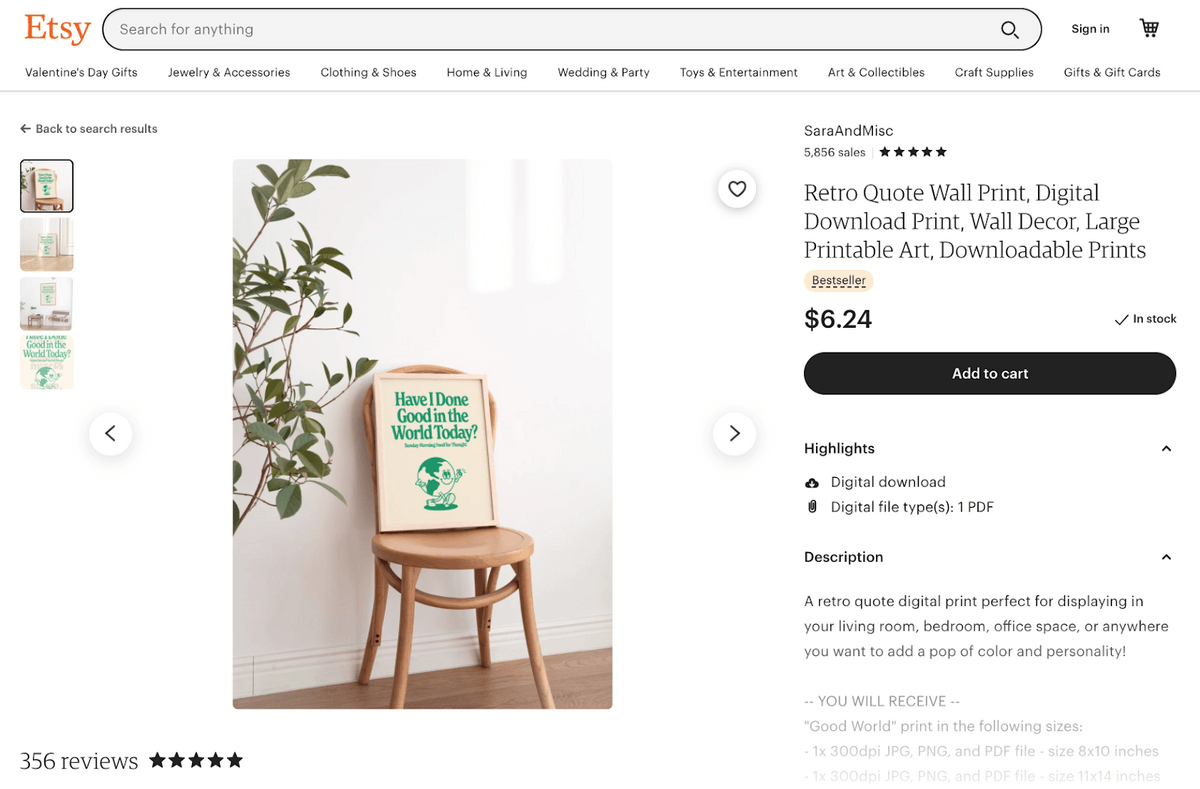 And finally, we drew additional inspiration from Etsy's product pages. We found they offer related searches and categories to entice users to stay on the site rather than navigating off-site to comparison shop.

Putting our research-backed ideas to the test
We used the above research and examples to inspire our testing strategy and devise hypotheses to tackle eManualOnline's challenges, resulting in great wins and conversion rate increases.
1. Category page filters
When we first tested the category pages, we found users were hit with content fatigue, unsure of where to go and what to do next.
Although users found what they wanted using the side filters, heatmaps, and session recordings revealed users constantly scrolling up and down on category pages, potentially indicating a need for better filtering options and content hierarchy.
Our hypothesis? Simplifying the content in the side filters will increase usability and increase transactions.
Our results? We A/B tested 1 variant against the control. Variant 1 removed superfluous categories from the sidebar.
Overall, variant 1 had a 10.84% advantage over the control at 98% statistical significance.
Our learnings? Simplifying the sidebar with fewer extraneous options improved usability and increased conversions.
2. Offline download delivery priming
Our user testing reveals users were confused about how eManualOnline delivers the manuals, as some are digital downloads and others are physical editions.
Because of the mixed delivery method messages throughout the site, customers felt a lack of trust when confronted with the website.
Our hypothesis? Highlighting delivery methods will clarify any confusion and increase transactions.
Our results? We A/B tested 2 variants: variant 1, the control, and variant 2, making delivery methods clear at various touchpoints.
Variant 2 showed a 14% lift over the control, with an overall lift in per-session value of 13% at 99% statistical significance.
Our learnings? Clarifying access methods for offline downloads results in stronger purchase intent.
3. Promoted categories – Collections pages
During our session recordings, we found users willing to navigate through breadcrumbs, but a still-high bounce rate on product pages, which left room for ad spend improvements.
Our hypothesis? Adding navigational elements to the collections page would encourage deeper page depth from paid ads, decrease bounce rates, and lead to increased transactions.
Our results? We A/B tested 2 variants: variant 1, the control, and variant 2, which added promoted category pills to collections pages.
Variant 2 showed a 23.72% lift over the control, with an overall life in per-session value of 23.73% at 98% statistical significance.
Our learnings? Promoting categories and using category pills helps users find the best fit products and leads to an overall increase in conversions.
When another challenge struck, The Good was there
When challenges arise (and they always do), it's always good to have a helpful friend. That's something eManualOnline found when Google's algorithm change removed them from Google Shopping.
Their products are downloads and not physical goods, so Google removed eManualOnline. This change presented a major challenge because, like many businesses, a significant portion of revenue could be attributed to Google Shopping.
But, even though their site went through a stressful event, they recovered some of their revenue through the Conversion Growth Program™ improvements from The Good.
Working together led to over £500,000 in revenue gains
While eManualOnline was on the Conversion Growth Program™, we had a 50% win rate on our testing.
Because of their willingness to try new things in lieu of the familiar, we were able to make both bold changes and small tweaks, which yielded large dividends of £530K in annualized revenue gains.
Experimentation is an active science that, when successful, can lead to extraordinary things.
Now It's Your Turn
We leverage data to increase ecommerce conversion rates for leading brands. Let's talk about putting our data-backed design to work for you, too.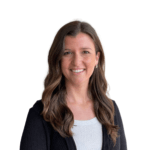 About the Author
Caroline Appert
Caroline Appert is the Director of Marketing at The Good. She has proven success in crafting marketing strategies and executing revenue-boosting campaigns for companies in a diverse set of industries.