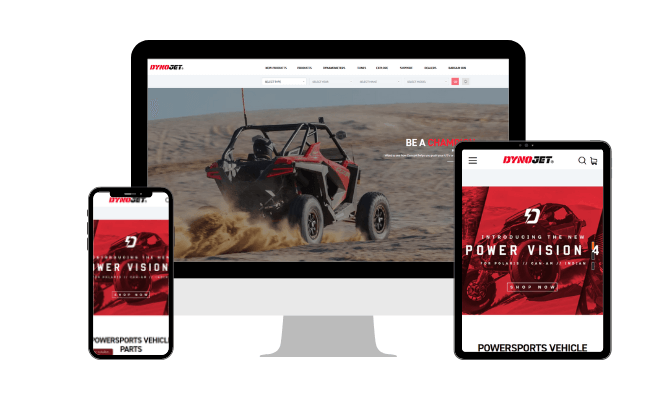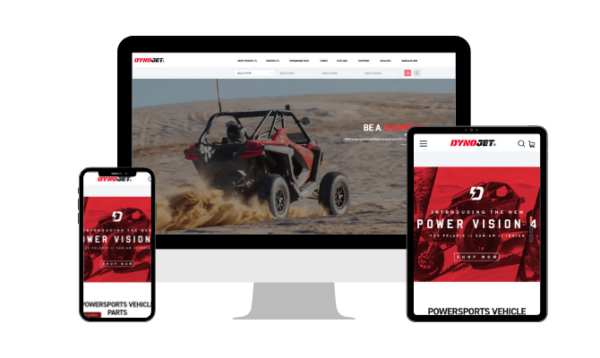 Conversion Rate Optimization
How Removing Assumptions and Bringing in an Outside Perspective Led to Over $5 Million in Annualized Revenue Gains
Read about the successful partnership of CRO expertise and industry knowledge between The Good and Dynojet.
"Data over rhetoric" is the motto of Jackson Esselman, Vice President of Marketing and Ecommerce for Dynojet Research. He understands the importance of creativity, but it's the data that makes an impact—if it's used correctly.
Dynojet sells parts for power sports vehicles, including dynamometers for measuring automobile horsepower and power sports applications. Essentially, products that drive more performance out of power sports products.
In a satisfying reflection of the products they sell, Jackson and the Dynojet team were keen to drive more performance from the brand's website. They were struggling to shake off internal assumptions—a curse of being "too involved"—which is where Jackson's motto originates from.
"I try to be very cognizant of leading with data over rhetoric," says Jackson. "I like blue, you like red. Doesn't really matter. What does the consumer like?".
Jackson is a self-proclaimed "bridger". He's an advocate for bridging the gap between creativity and data. With a rich background in big media that focused on high-level intangibles, he suddenly found himself in a position where he could drive quantifiable results.
"In the ecommerce world, we now have digital tools that allow us to measure each step of the customer's journey and understand what works and what doesn't," he says. But even with a million software tools available, it's still a tall order to understand the data and what consumers are actually saying based on their behavior.
It was this struggle that pushed Dynojet to find a CRO partner.
From the outside, it looked like the team had it all together. They'd already installed heat mapping software, and the dev team was monitoring customer behavior. But there was one small problem: They didn't know what to do with that information. The Dynojet team didn't have the bandwidth, internal knowledge, or business acumen to properly articulate or even measure consumer behavior, let alone understand what to do with the results.
"This is where The Good helped us understand and articulate what initiatives or what action needed to be driven out of the insights," says Jackson. "We were struggling to understand the customer journey and how we could refine that journey to reduce roadblocks to conversion."
Leaving assumptions behind: Focusing on the data with the support of experts
It's easy to make assumptions when you've worked with a brand for so long. You know who your customers are and you know the products inside out, so why wouldn't you know how to drive conversions? This is the trap that Jackson almost fell into.
But he knew that to put data first, he had to leave all assumptions behind. "So many times we would bring thoughts or ideas as the brand to the table," he says. "And we might A/B test that theory and find that the opposite is actually true."
It's hard to push aside assumptions, especially when you're constantly told to benchmark your brand against key competitors and follow industry best practices. But that's exactly what working with The Good helped with.
"Over the last year of working with The Good, the key output has been data-driven insights. It really drives a lot of our discussions and our decisions as an organization and an executive team. We've learned to use data as the focal point of decision-making rather than my opinion, your opinion, or anecdotal evidence," says Jackson.
Some of the smallest changes led to the biggest wins—a consequence of leaving assumptions behind and accepting that the data knows best.
Unlocking a wealth of experience and an outside perspective to drive huge gains
When asked why he chose to work with a CRO agency instead of hiring in-house, Jackson's answer was simple:
"I don't think a brand can hire an individual that has the wealth of knowledge that an agency has."
Jackson Esselman, Vice President of Marketing and Ecommerce, Dynojet Research
It's the same reason Dynojet used a paid search agency instead of hiring in-house. The Conversion Growth Program™ allowed Jackson to work with CRO experts who could implement key wins from the large number of brands they'd partnered with. At The Good, we've collectively worked with hundreds of ecommerce brands and can bring that rich perspective to every company we work with.
We carried out a number of different tests and variations on the Dynojet website that wouldn't just give us data, but also the context to go with it. In one winning test, we increased conversion rates by 37.30% by placing an Add to Cart button at the top of the page. We wanted to test whether moving the checkout button would encourage shoppers to purchase based on data from Clickmaps that showed visitors were hesitant to proceed to checkout.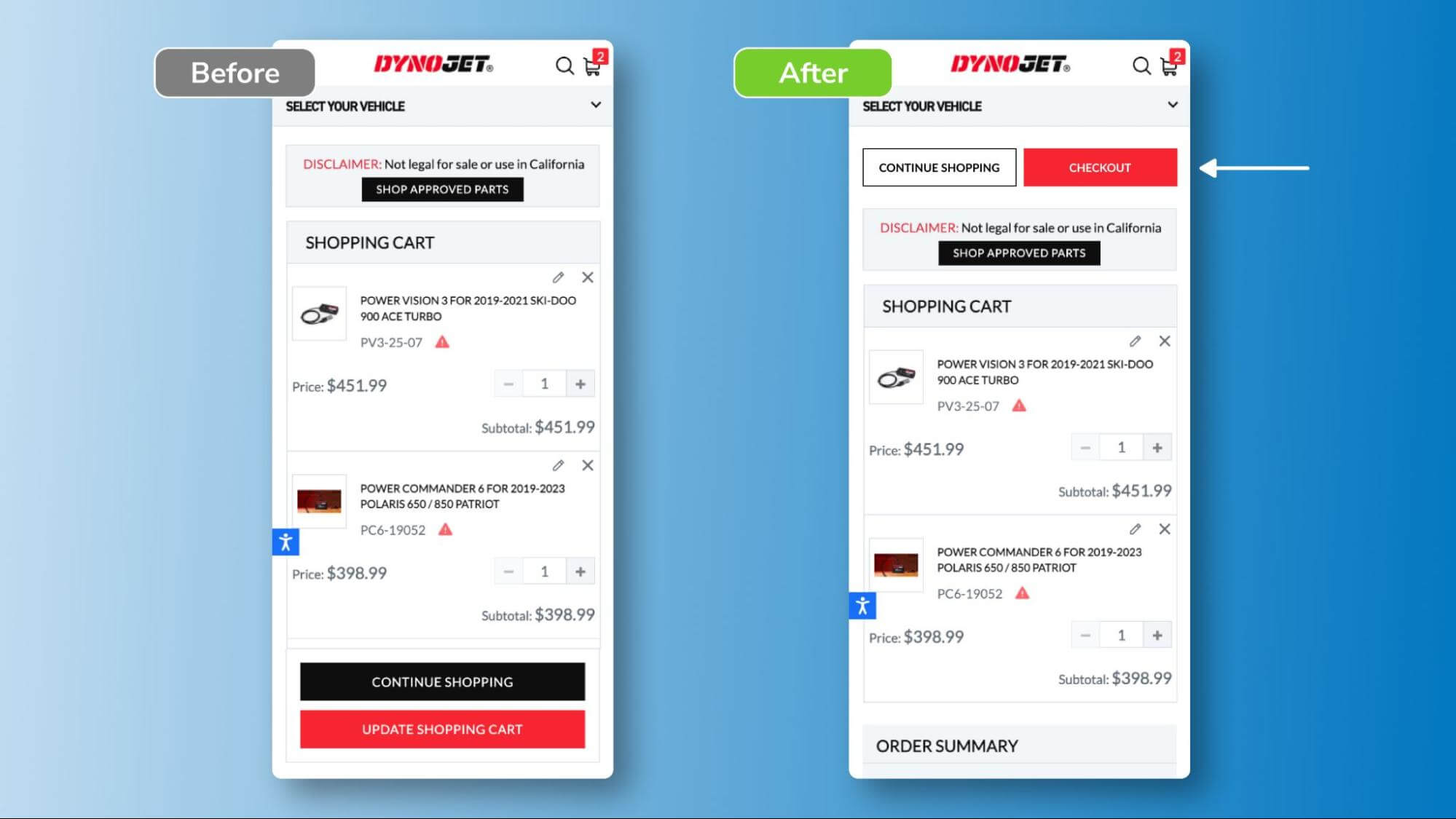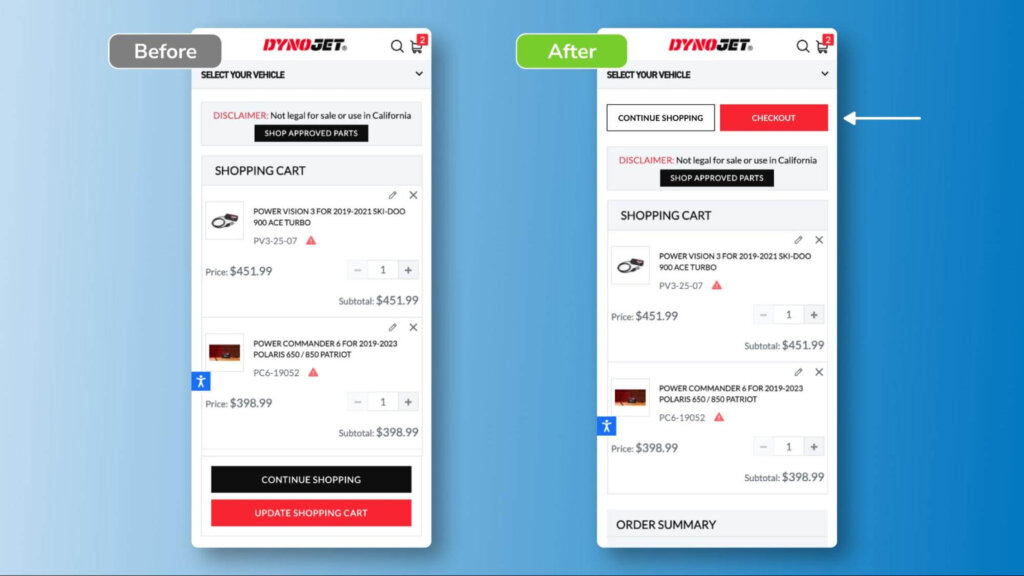 This simple change also led to an increase in visits to checkout and, ultimately, more revenue.
In another test, we made the vehicle search feature more visible on product pages which led to a 31.25% lift in conversion rate over the control variation.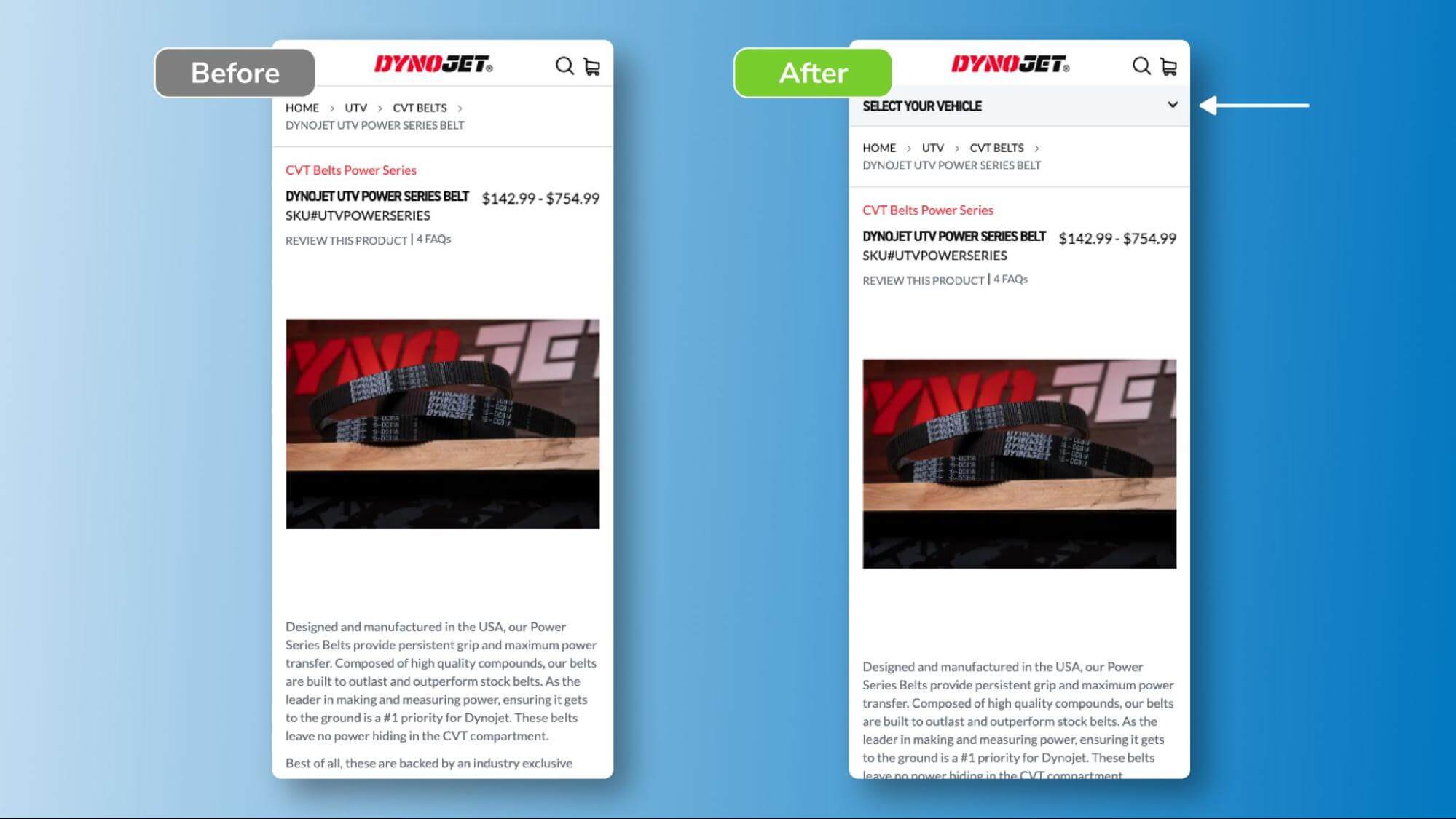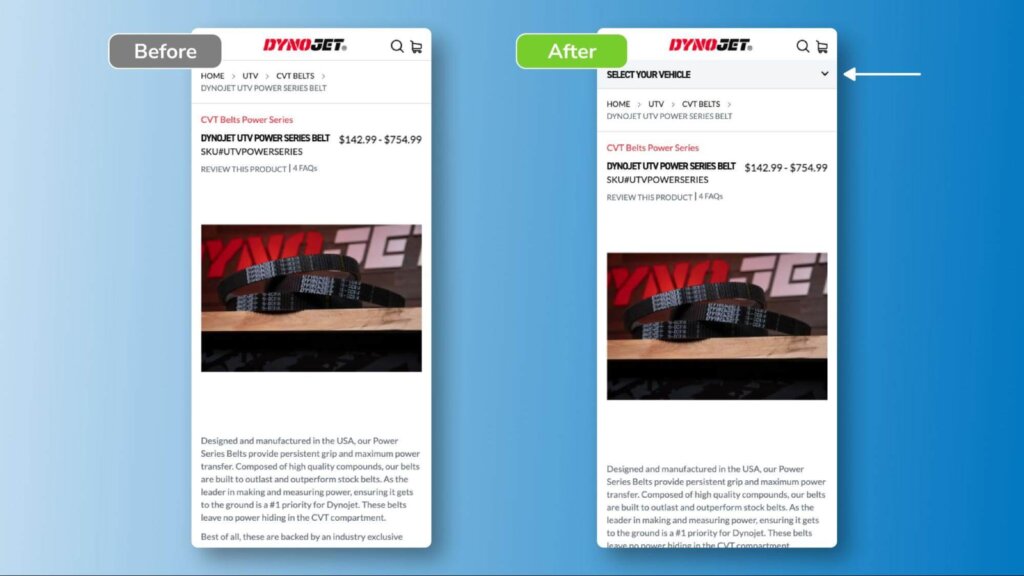 These small but impactful changes add up when they're implemented across the site, leading to a cumulative increase in conversions, sales, and revenue.
To put that into context, here are some of the high-level results our partnership has generated so far:
22 completed tests with a 50% win rate
$5,225,489 in Annualized Revenue Gain
42:1 ROI
"Our investment with The Good has returned 42 times in the annualized revenue based on the experiments we've done together," says Jackson. "If you sat in front of a board and said I can 42x the ROI, you'd get a green light every time. Working with The Good was absolutely worth it."
Fostering a respectful, business-savvy relationship through transparency and experimentation
The numbers speak for themselves, but we've been fortunate enough to have a positive impact on other areas of Dynojet's business too. We bring the unique and varied experience of a strategic partner, offering a full team in place of one new hire.
We're strategists, designers, UX researchers, CRO pros, and so much more—we're growth partners. Having access to knowledge across clients and years of industry experience was incredibly valuable for the small Dynojet team, but it was our ability to work together—to combine Jackson's extensive knowledge of the industry with our CRO expertise—that made the partnership so successful.
"It really is about the people that you work with," says Jackson. "People want to work with friendly, open, high-energy people, and The Good has absolutely been a great example of that. The team was extremely knowledgeable, extremely transparent, and very open to experimentation. And I think those are the key pieces to choosing a CRO partner."
Success comes from a level of trust from both sides and the ability to navigate the challenges, the wins, and the losses together.
"It's very easy for a brand to try and dictate the conversation. But we navigated those challenges very seamlessly with The Good, with open minds, and really came to some conclusive results that generated substantial revenue. It was a very respectful and business-savvy relationship."
Jackson Esselman, Vice President of Marketing and Ecommerce, Dynojet Research
Shedding assumptions and leaning into an expert partnership has given legs to Jackson's motto, "data over rhetoric". The Dynojet team had the data, they just didn't know what to do with it. Now, they can be absolutely certain that the decisions they're making are based on substantial facts, not rhetoric.
Now It's Your Turn
We leverage data to increase ecommerce conversion rates for leading brands. Let's talk about putting our data-backed design to work for you, too.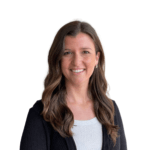 About the Author
Caroline Appert
Caroline Appert is the Director of Marketing at The Good. She has proven success in crafting marketing strategies and executing revenue-boosting campaigns for companies in a diverse set of industries.