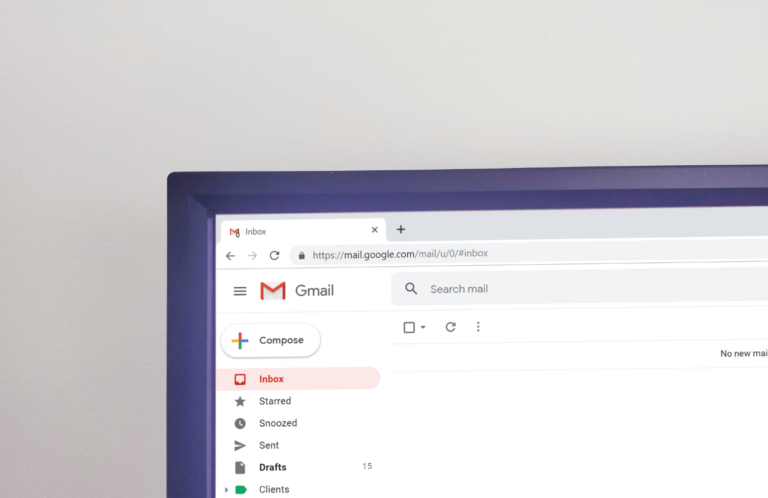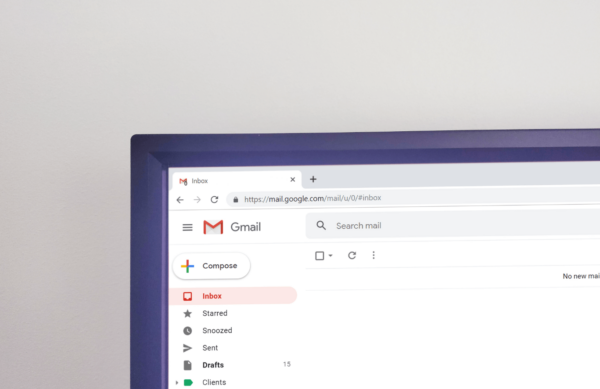 Customer Acquisition
How DTC Marketing Can Build Engagement in the Inbox (Rather than Unsubscribes)
What are the key ingredients of a successful ecommerce marketing email? Kristen LaFrance takes a closer look at how you can build a strong marketing email that doesn't detract from your brand experience.
I wrote a piece on DTC email marketing that gained over 50,000 impressions and 4,000 engagements on Twitter. These numbers shocked me, too. One day, I had 3 notifications on Twitter, the next I woke up with over 300 notifications and 200 new followers. 
Here's what happened: In the span of 65 days, Bombas sent me 24 DTC marketing emails. 23 out of those 24 were 100% product or sales based emails.
For reference: that's roughly one product email every 2.5 days for 2 months straight. In total, I opened 3 emails (<15% open rate) and clicked on 1.
When I looked at these numbers, it absolutely floored me.
How can a brand as successful and widely known as Bombas still be treating this valuable channel with such little regard to the consumers on the receiving end?
That question, I found, is a pressing one in the DTC space.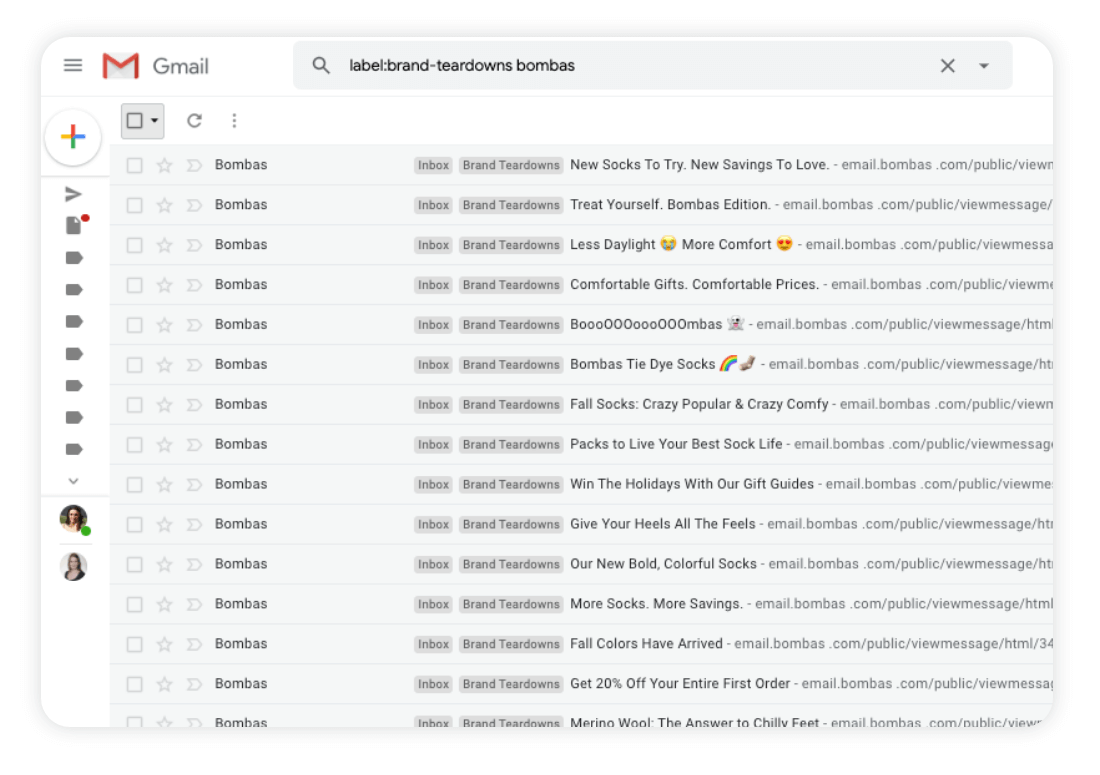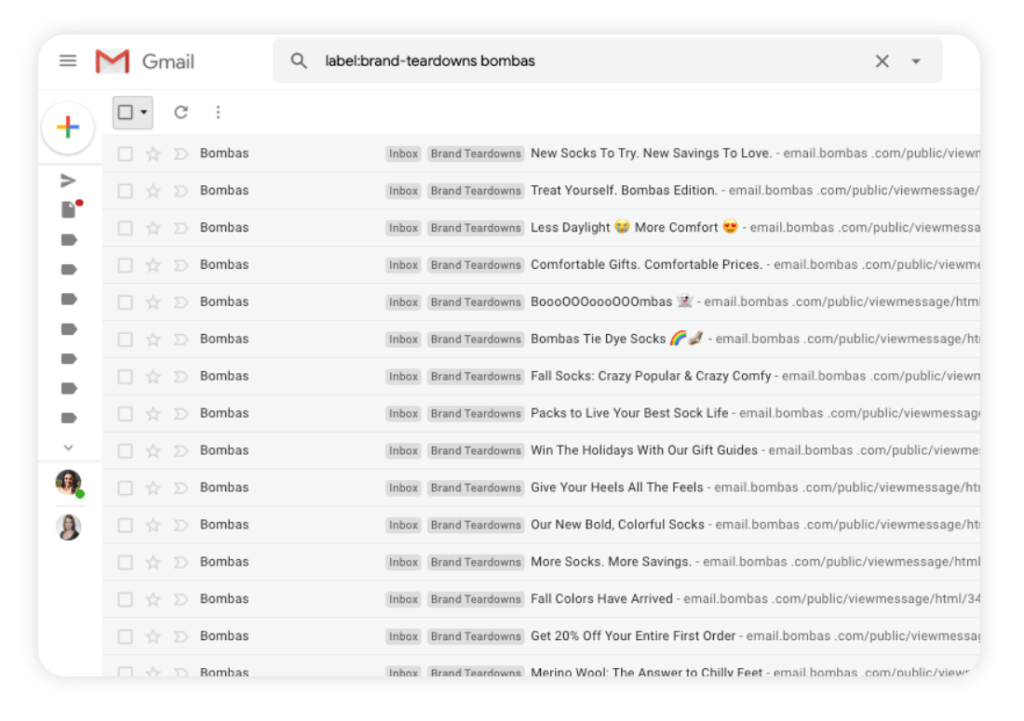 As a benchmark, email marketing should be driving around 20-30% of your total revenue. And as you continue to scale, that is going to turn into a multi-million dollar, revenue-driving asset.
Hence why I am so adamant that this channel deserves a lot more attention from DTC brands.
This topic poses more divisive questions for DTC marketing: Can we use email marketing in a way that's actually driving acquisition and retention on a large-scale? Can we email customers in a way that actually results in a positive experience?
Today, we're digging into these questions.
So why does this matter? Isn't email dead anyways?
So here's the thing with email: experts have been saying "email is dying" for years now. But lo and behold, it's still one of the largest revenue drivers for DTC brands.
According to Campaign Monitor: For every $1 spent, email marketing generates $38 in ROI.
No matter how we slice it, email isn't going away anytime soon.
And even though years of spammy email marketing has left us all a bit numb in the inbox, it still gives you the space to get your ideas and content to your customers with limited competition for your messaging.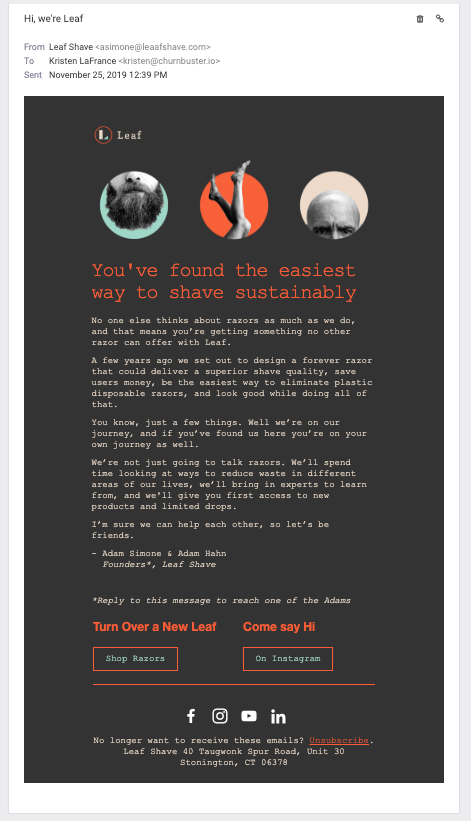 Where social media surrounds your posts and ads with competing voices on all sides, email is a lot cleaner, clearer and more direct.
Consumers are less distracted when reading emails than when scrolling through social media. Where a branding misstep on Instagram can be quickly bypassed, bad messaging and a flawed approach in the inbox is extraordinarily glaring.
When done poorly, email can totally wreck a customer's experience with a brand. After all, no one likes being spammed, and it's so, so easy for an email channel to get spammy.
Instead, we need to think about email as a key channel for building up brand equity with potential customers, even if the immediate sales results aren't always clear.
In my podcast interview with Allen Burt, he put it this way:
"One of the beauties of… email marketing is it actually makes the other stuff you're doing, your performance marketing, etc. more effective. So if you put somebody into an email flow that's really high value content, even though they don't buy off of that email flow, guess what? They're going to be 10 times more likely to buy on that next ad because now they've engaged with your brand…"
So the work you do in your customer's inbox is foundational for the work you do everywhere else. Focus on engagement, and give them good reasons to open your emails every time.
Let's get to the how.
Subscribe to our newsletter, Good Question, to get insights like this sent straight to your inbox every week.
DTC marketing should respect the customer's inbox
So why was Bombas' treatment of my inbox so bad? Why did it drive such a lively conversation?
Well, for one, it completely changed the way that I interacted with a brand and my view of them as a whole. It drove me away from engaging with their content and their products.
And ultimately, it led to a complete severing of relationship. And a bad taste in my mouth.
I actually wanted to buy Bombas socks when I signed up. I've heard great things about the product. But the constant selling and hammering of my inbox led me to question the integrity of the brand itself.
And in these times, brand integrity one of the biggest drivers of acquisition and retention.
So how do we fix this? How do we actually respect the inbox and make email a positive experience for our customers?
Protect your list and focus on engagement.
Here's the problem we're facing now: Most DTC marketing is sending 1 or 2 email blasts per week, with no real understanding of how the people within that list are engaging with those emails. 
If someone hasn't engaged with your emails or your brand, and you're *still* sending them 1-2 emails/week days, you're actually just spamming them.
Like my case with Bombas, this kills any brand equity that customer may have had when they initially signed up for your emails. And consumers get pretty annoyed by it.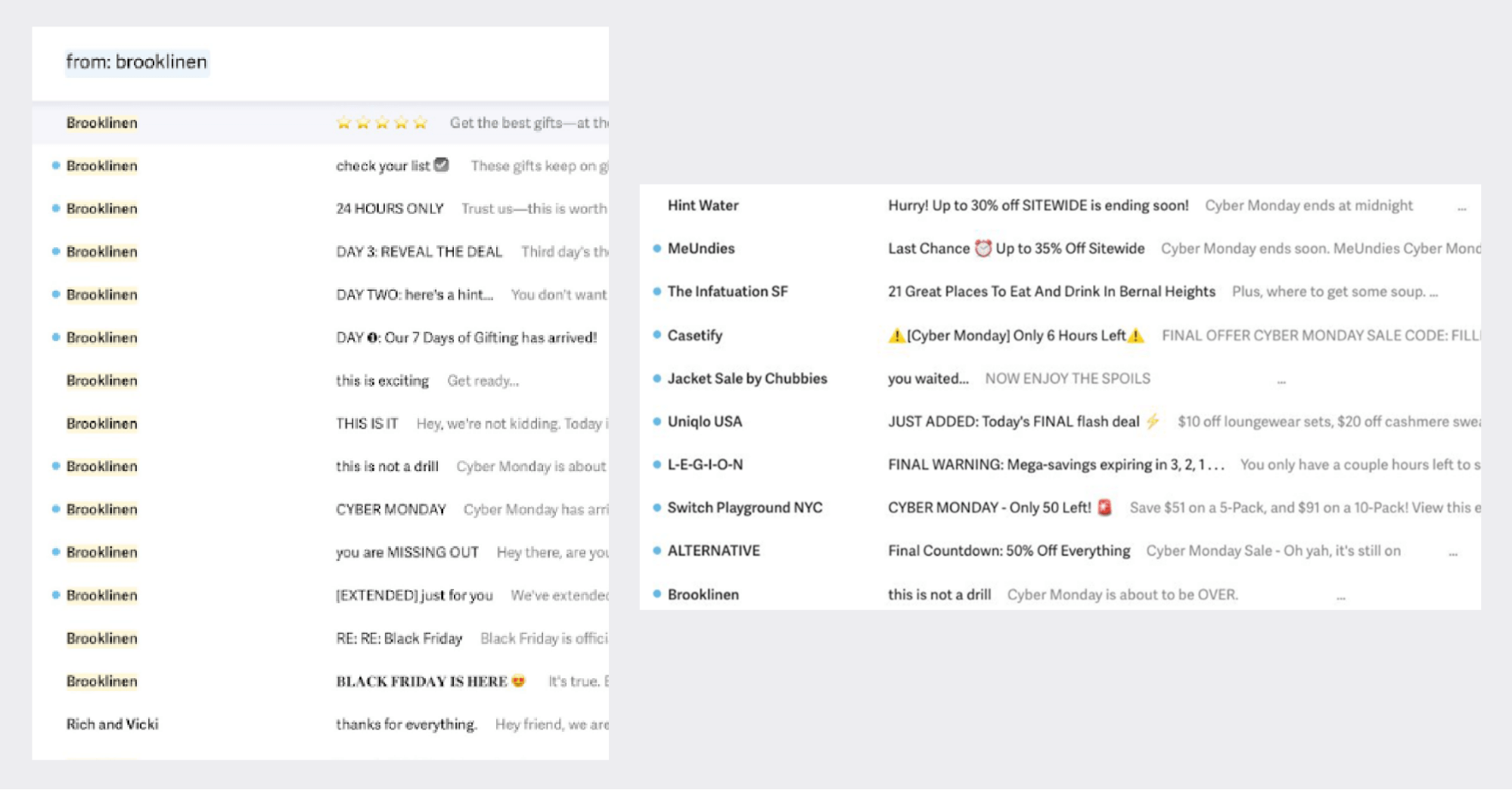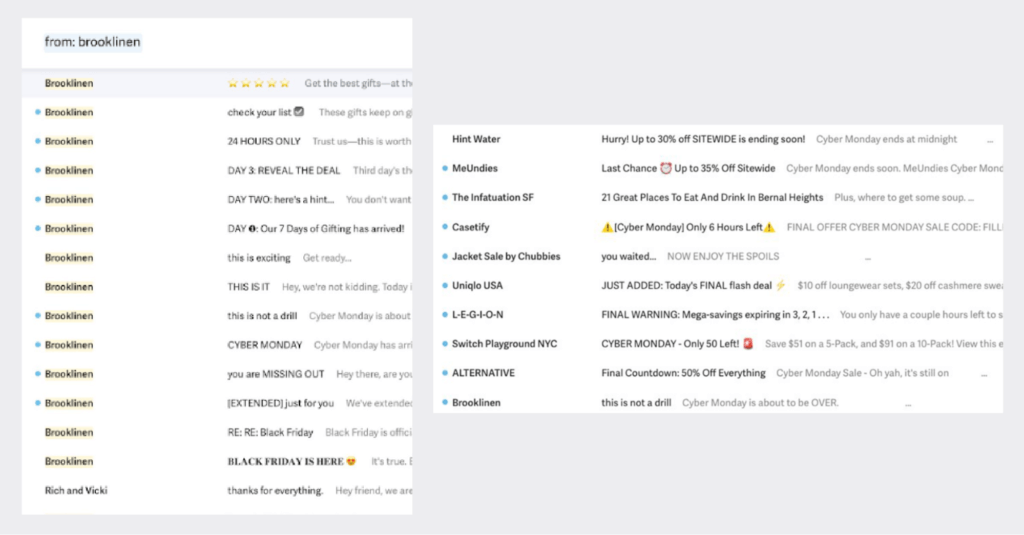 A closer look at those screenshots explains Nik and Blake's reactions: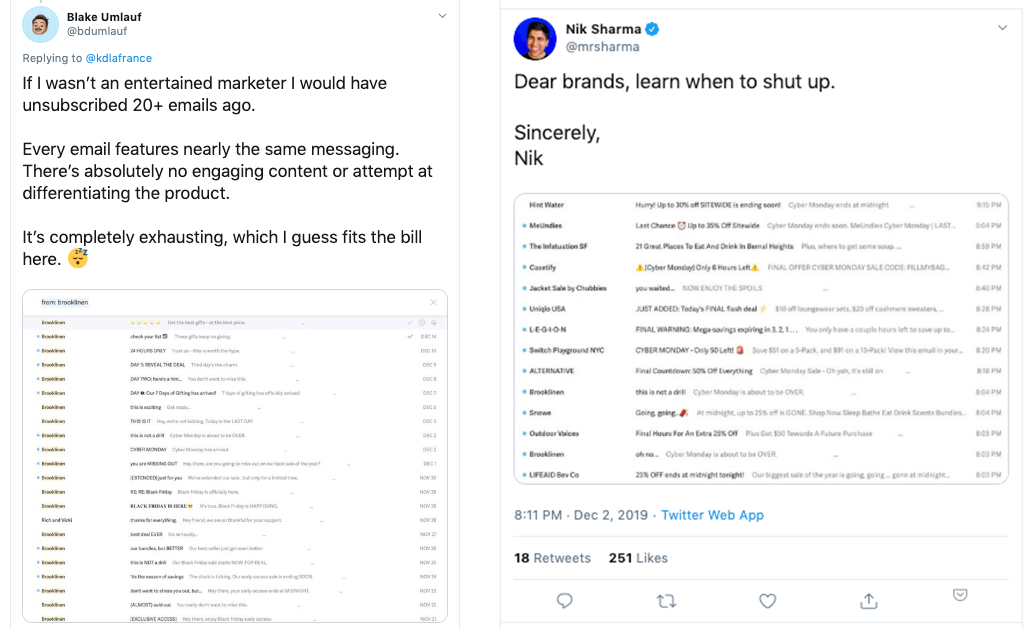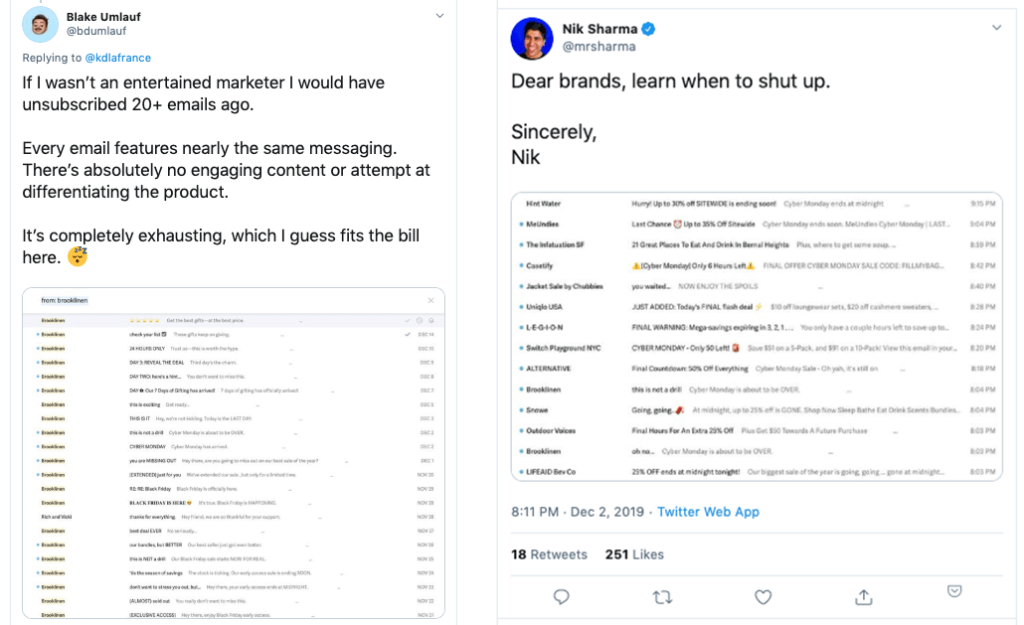 The solution to this is one can make DTC brands weary. When we're held to consistent metric reporting and pressure to drive sales, the idea of scaling back on such a profitable channel sounds terrifying.
But ultimately, sending fewer, better-timed emails is what we have to do.
Val Geisler, Founder of Fix My Churn and email conversion strategist explains:
"Having emails based on time (Day 1, Day 5, etc.) is a good foundational move. It allows you to get something in place and something is better than nothing.

However, if you truly want to do email *right* and use it to make your customers feel seen and heard (which is what all humans want, by the way), you have to send emails based on engagement with your brand, not just time.

Engagement-driven emails are the right message at the right time and they work harder for you than time-based emails. Every email send is taking up precious inbox real estate. You can either be seen as a nuisance or a timely message. How do you want your customers to see you?"
And if you're thinking that this is something consumers don't actually notice, let me tell you a story.
A friend of mine (let's call him Thomas) purchased his wife a Christmas gift from Outdoor Voices. Normally, Outdoor Voices is known for their exceptional work on customer experience and retention. But even this DTC all-star fell short here.
After "Thomas" made his purchase, he received multiple emails from the brand that weren't very applicable to his customer journey.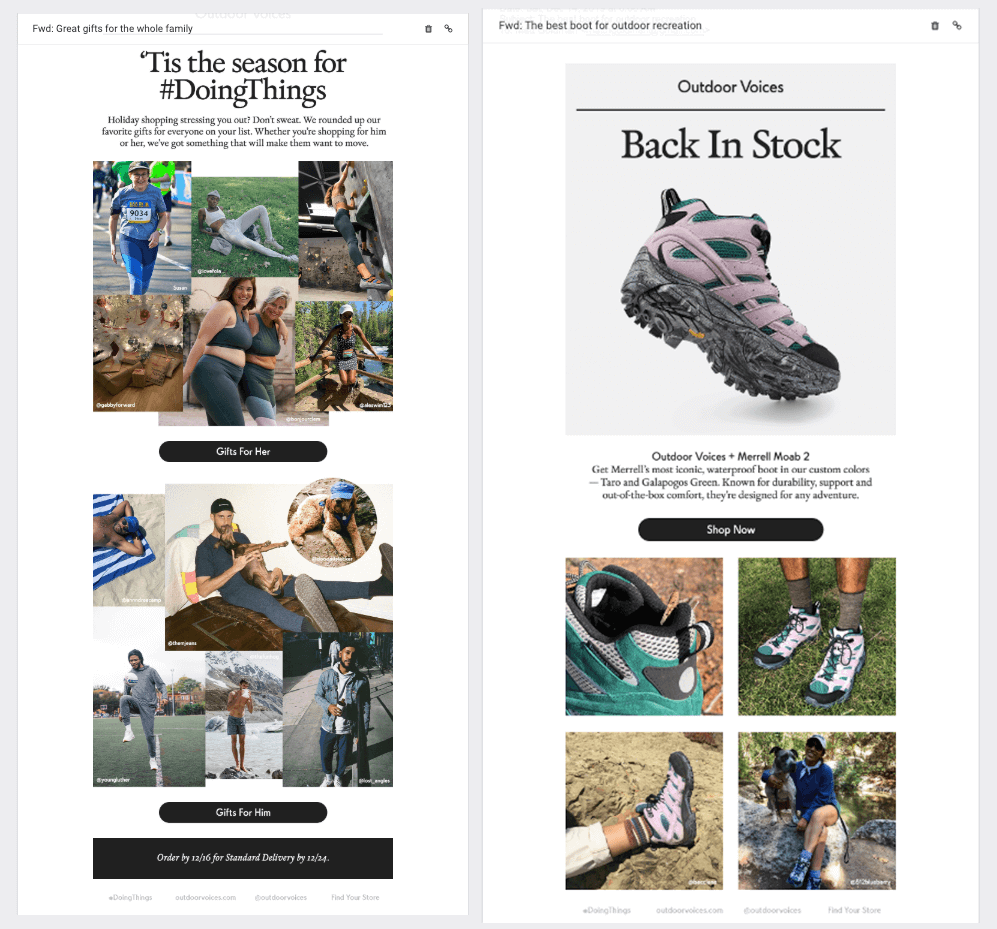 5 days post-purchase (and 5 non-relatable emails later), Thomas chose to unsubscribe. Here's the page he was directed to: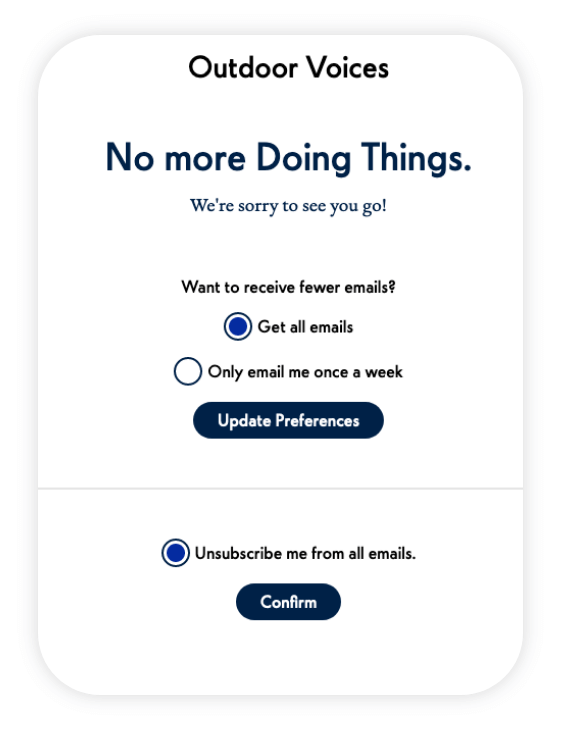 Here's what's wrong with this. The only options for Thomas are to receive all emails (in which he's already discovered is way too much for him), weekly emails, or no emails at all.
Thomas: "If they had an option for 'email me only the really good stuff (about once a quarter)', I probably would have chosen that and felt better about it + ordered more in the future.
But now I've mentally written them off and moved on. No opportunity for them to build brand excitement/loyalty. They yelled at me too much before I cared, and now they don't have a chance at winning me over"
So yes, consumers notice. It happens quickly and subtly, but disrespecting an inbox leads to unrecoverable relationships. We need to protect our lists like the million dollar asset they are.
How to do more with less DTC marketing
Instead of hitting your customer's over and over with time-based emails, you need to target customers with content that's based on their needs.
A customer's needs in the inbox isn't based on demographic information. It's all about the customer journey and how that specific customer is interacting with your brand.
Allen Burt:
"We find a lot of brands they think of like conversion and making a sale it's like flat thing. It's like this one time thing and you're like, press the button one time the customer does it, like you throw the customer at the site and they buy. But it's not this flat, one time purchase decision. It's really a culmination of multiple, sometimes dozens of interactions with your brand that drive them to a decision.
So the more that you think about this as an actual journey, the more you then relax and say, okay, wait, it's not this flat thing we'd like throw at the wall and it buys or doesn't, it's this journey that we need to create steps for each stage along the way that's going to nudge the person to that next stage."
AKA: Not every email has to be a sales email.
Let's look at some examples:
1. Outdoor Voices
Like Thomas said, had there been a more applicable option to his customer journey, he may have stayed on as a subscriber.

There's just too much of a general brush over the whole channel. If a customer named "Thomas" buys a woman's piece of clothing 2 weeks before Christmas, there are steps you can take to ensure the follow-up actually makes sense for him.

Now, we don't have to assume this is a gift purchase, but we can have our systems question it. After purchase, maybe Outdoor Voices should have sent pre-qualifying content that gives them a better idea of the type of customer Thomas was.

What if they wrote a blog on How to Wrap your Gift using the Outdoor Voices Packaging and included it in the gift guide email we saw above? Suddenly, it goes from non-applicable, to applicable.
And then, what if Thomas clicked on that post?
Now, Outdoor Voices' would know what kind of customer this is, where his brand affinity stands, and how to best serve him in the future.
i.e. Two days after Christmas, OV sends Thomas a survey– "did they love your gift? You nailed Christmas, didn't you!?"
Now they've unlocked a whole new conversation.
2. Allbirds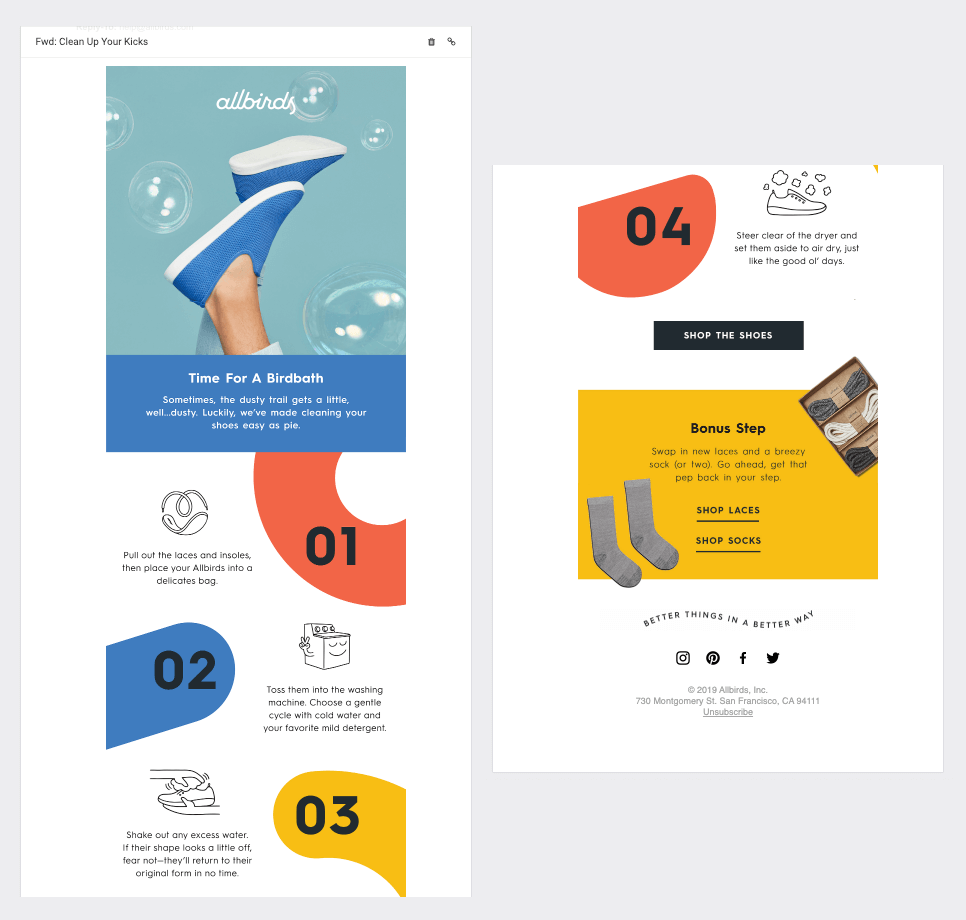 The simplicity of this email is really amazing. It's a quick, valuable how-to that you can scan in seconds.
The upsell is really clever here as well. At this point in their journey, the customer has already bought a pair of shoes, so the focus here is on complementary products to improve their experience with the items they just bought.
Alicia Thomas, Customer Marketing at Crayon, speaks to why this email was such a positive touchpoint for her:
"By truly being helpful, Allbirds turned what could have been yet another sales email into a truly delightful experience. A great example of how a brand can continue to propel brand affinity post purchase."
3. August Teas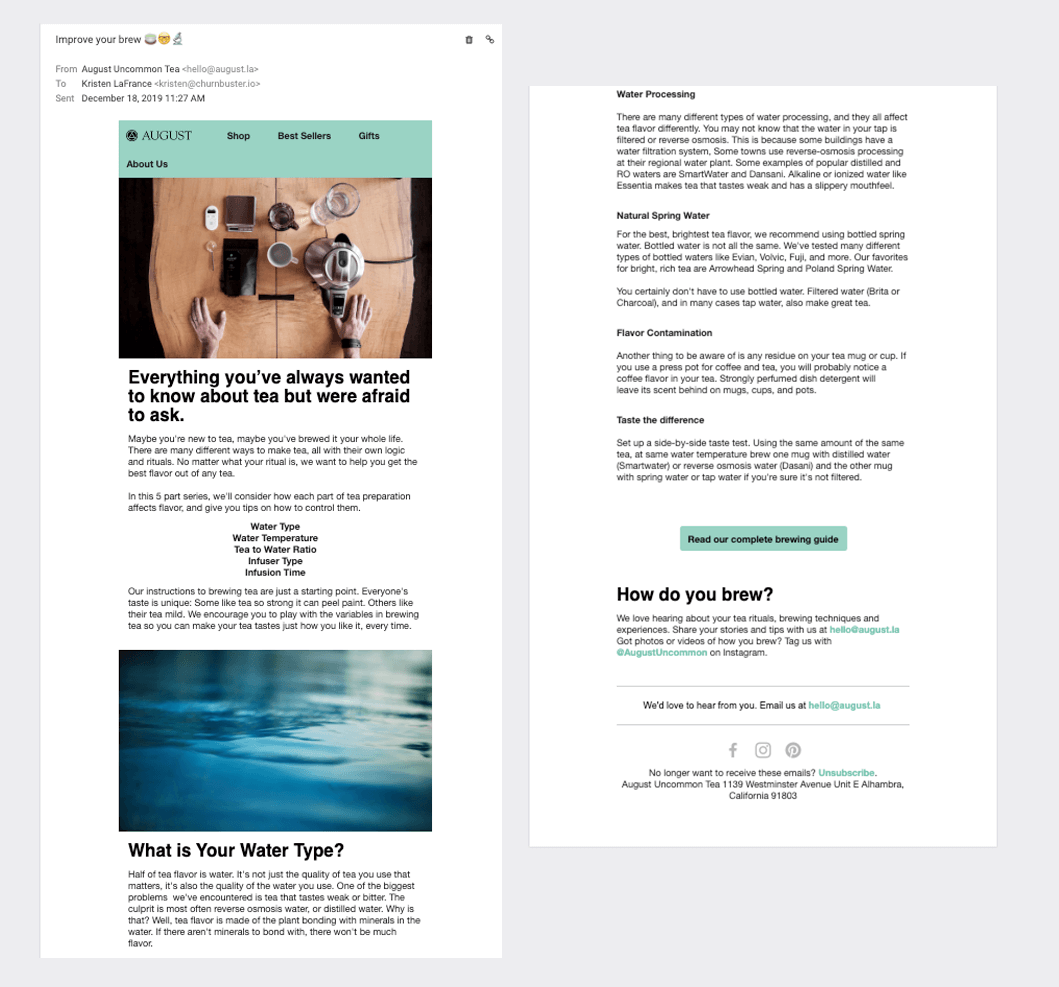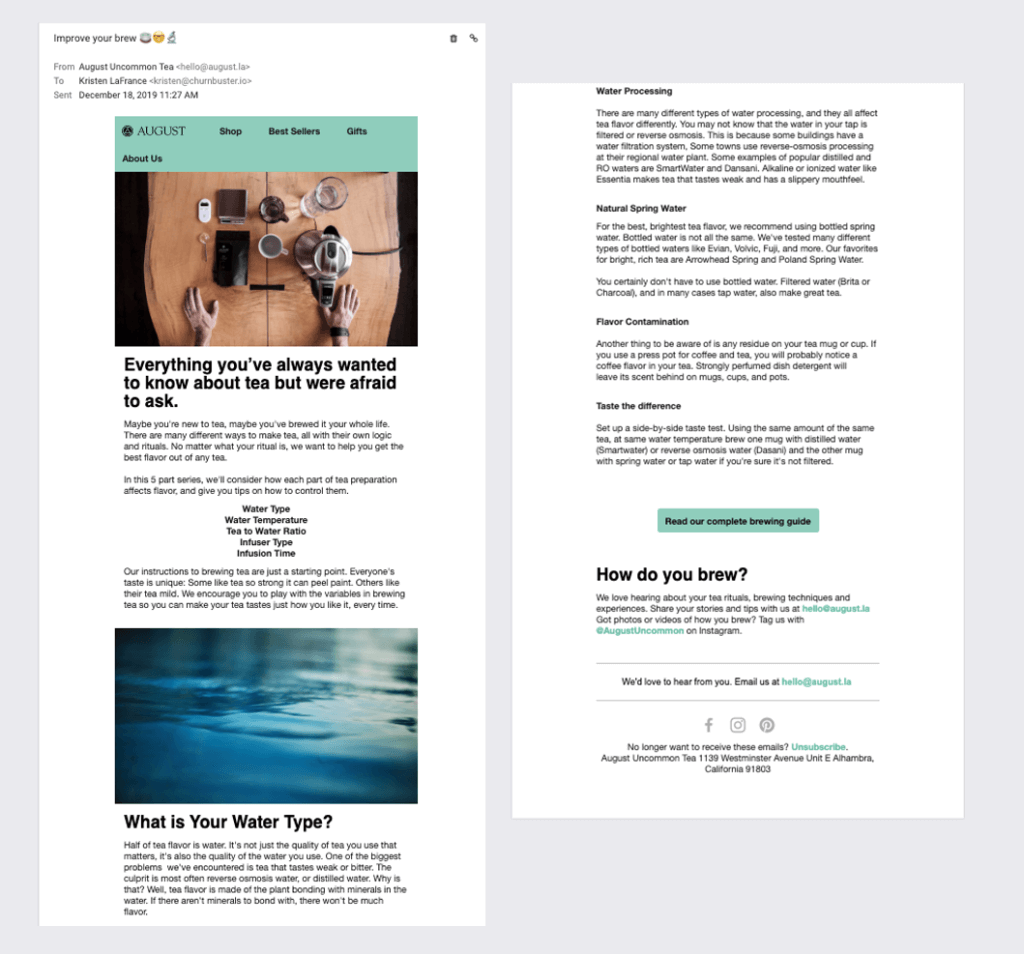 The great thing about this email is that they get that you've already bought from them. Rather than jumping directly into pushing another sale, August Uncommon Tea takes the time to explore ways that customers can get the absolute best experience from the product.
I love the way they present the information. Even though it's pretty high-level stuff (I don't know about you, but I've never made tea using bottled water), they keep it friendly with a starting headline that suggests that their advice is applicable for people across a range of interests and experience levels.
It's just a quick, clean, simple message, that provides real value and delivers on the value proposition suggested by the subject line.
4. Blume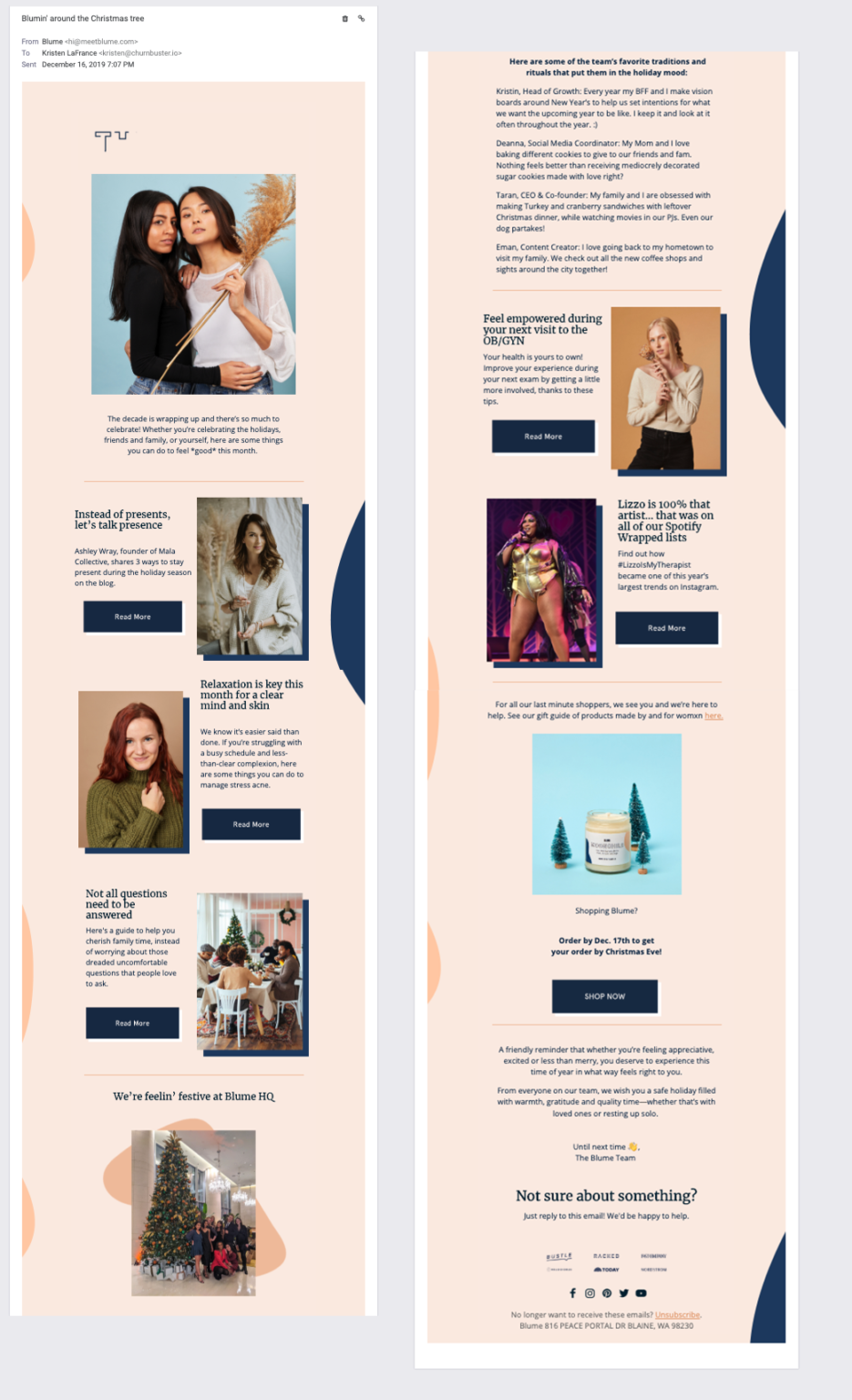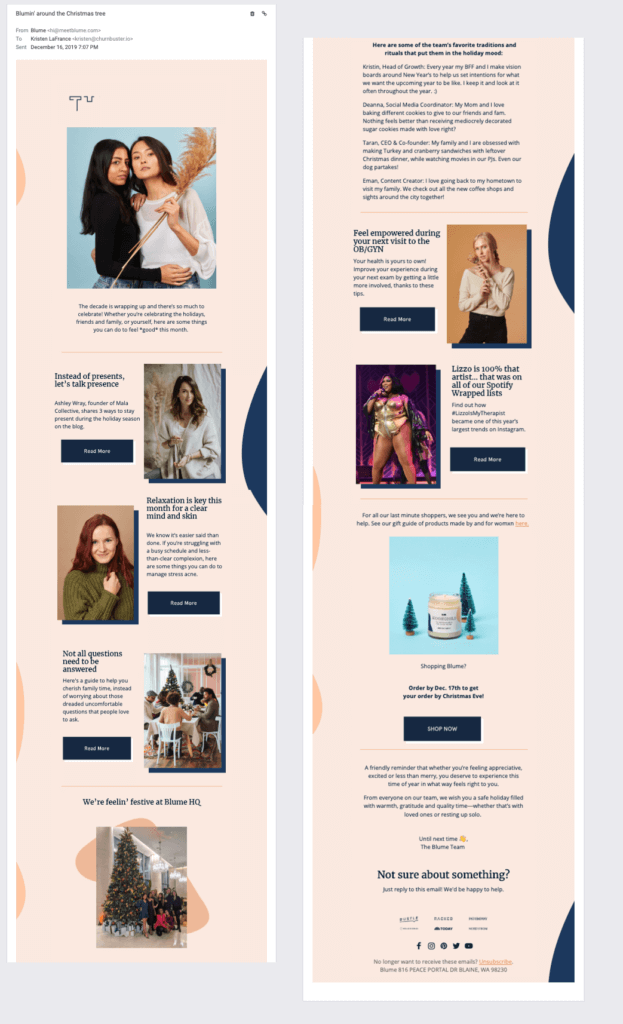 So Blume's design work is amazing, which is always a great place to start. This newsletter is just a pleasure to look at the whole way through.
The messaging here is really friendly and personal- it brings the values of the brand to the forefront from the very beginning. There's a consistent focus on well-being around the holiday season, with just a single sales call. Everything here is about providing value and building that sense of community and culture.
They make a point of ending on a warm personal note that comes back to the fact that the holidays aren't always easy. It feels really authentic, and reinforces the broader self-care message of the brand.
These emails all look and feel really different, but they share one major commonality: The sole purpose of the email is NOT sales.
Now, I want to note that sales can and oftentimes DO happen from content like this. The products are still present in the email, the brand aesthetic is consistent, and customers can easily convert if they want. The opportunity still exists.
However, the main goal of these emails isn't necessarily to sell another product. It's to build brand affinity, brand trust, and most importantly, share really valuable information that connects on a level beyond the products themselves.
Onwards and Upwards (hopefully)
I hope this breakdown helps illustrate how thin the line between engagement and spam can be for DTC marketing.
Spam is overly general, consistent without being focused. Engagement looks at customers' specific needs and builds a better journey for them.
Spam is focused only on the sale. Engagement puts the relationship first.
For many customers, email will be one of the most consistent touch points with your brand both pre and post-purchase. Both as an acquisition approach and as a retention tool, email is central to creating a meaningful, holistic customer experience.
Email lists are an incredible asset for DTC brands. So ask yourself, how do we make sure we protect them?
Focus on engagement, personalize the experiences, think about customer journeys, and most of all, defend the relationships that are being built through this channel.
---
If you're interested in more of this type of content, subscribe to Kristen's DTC newsletter. Subscribers get first access to my deepest brand breakdowns, exclusive interviews, and cutest dog pictures. Join her DTC crew here.
Subscribe to our newsletter, Good Question, to get insights like this sent straight to your inbox every week.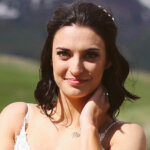 About the Author
Kristen LaFrance, Head of Community and Growth @ Churn Buster, and host of the Playing for Keeps podcast. Kristen has worked with hundreds of top companies (including ButcherBox, MeUndies, and LOLA) to improve MRR and build deeper connections with their customers.