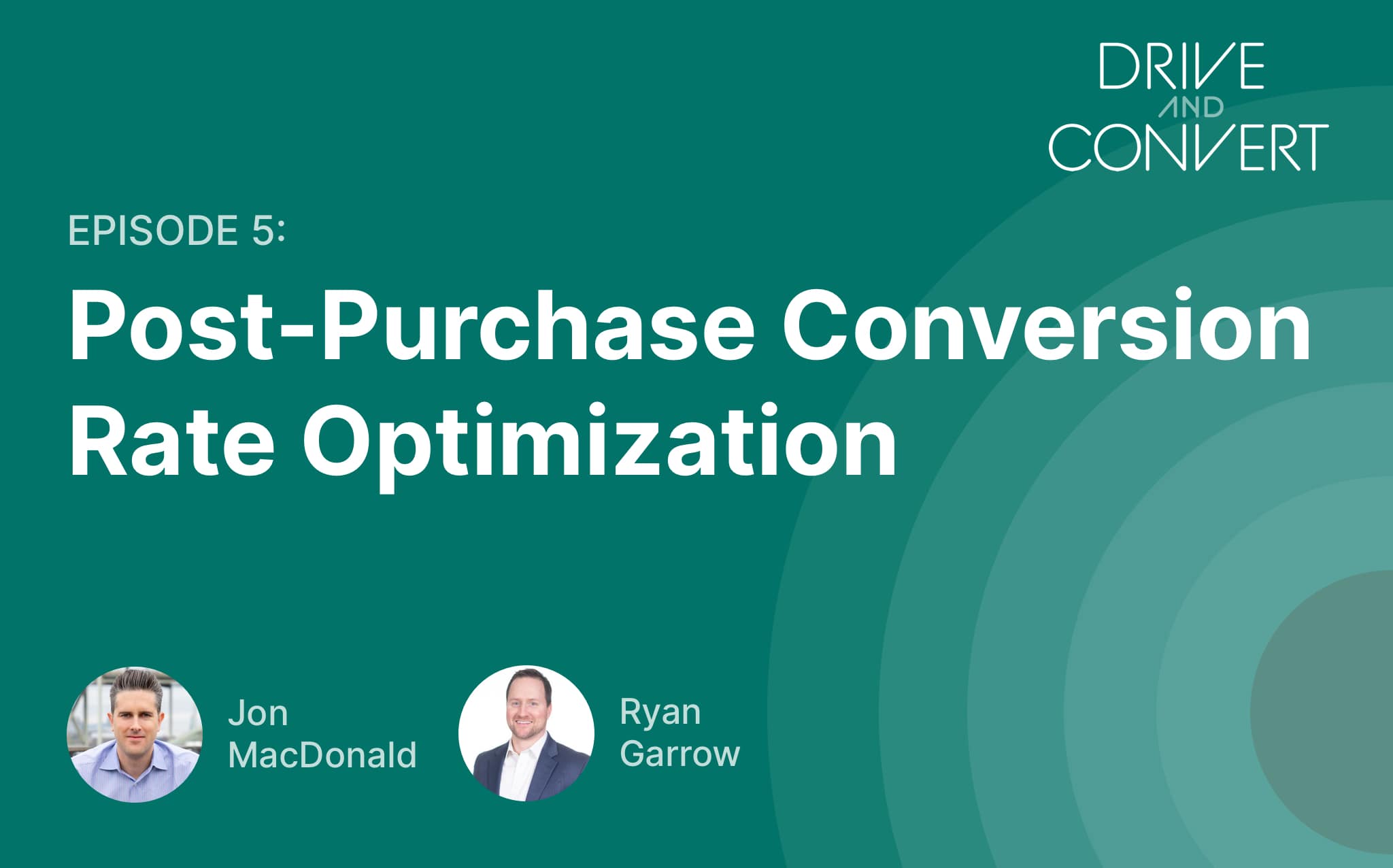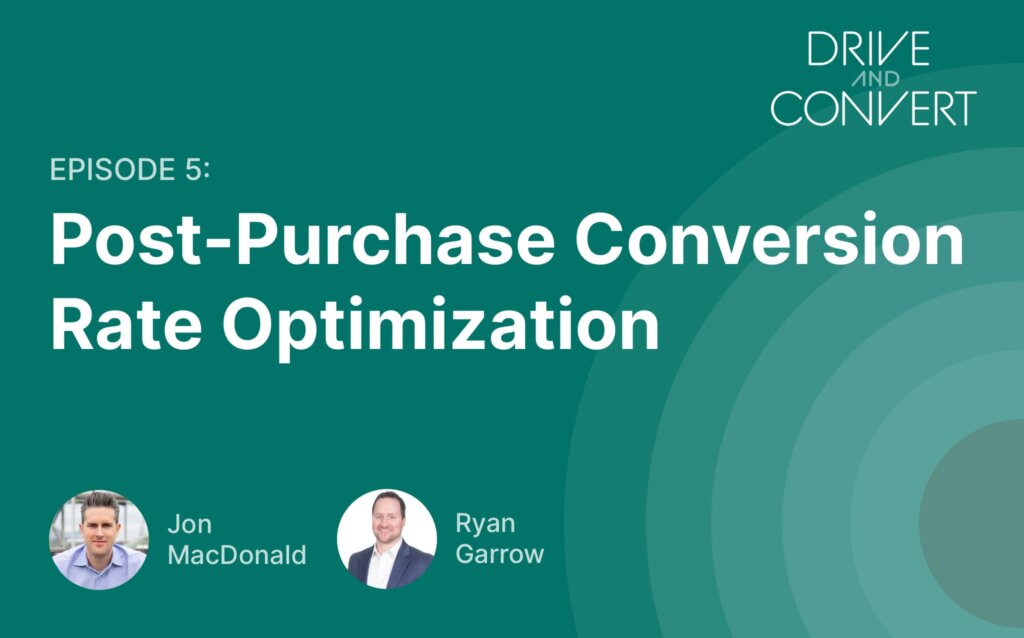 Drive & Convert
Drive and Convert (Ep. 005): Post-Purchase CRO
What's the optimal strategy for re-engaging customers after they've completed a purchase? Find out in the fifth episode of the Drive and Convert podcast.
Listen to this episode:
About This Episode:
In this episode of Drive and Convert, Jon MacDonald dives into why Conversion Rate Optimization doesn't stop after the purchase, and the different points after-purchase that you need to optimize in order to drive higher revenues.
Subscribe To The Show:
Episode Transcript:
Ryan:
Jon, today, I really want to move our focus to an area that I think many companies and individuals would not normally think of conversion rate optimization and the impact it can have. I'm talking about post-purchase. Most people generally would assume that once a purchase happens on the website, CRO has done its job, time to move to the next person on the site and get them to convert. But, because I know you, I'm aware that CRO doesn't stop at the purchase. There's a lot more to be done. Can you explain to people, that maybe aren't aware of post-purchase conversion rate optimization, what they need to be thinking about, what they need to be doing, and why it even exists after they've already taken the sale, done what you wanted them to do originally?

Jon:
Right, and I think that's an important point there, Ryan, which is that most people think that conversion optimization stops as soon as you get someone to purchase. I think that's really shortsighted and it's a big problem because so much of the consumer experience and getting people to purchase a second time, is all about what happens when they purchase that first time. So, if you get them to convert, your job's not done. At that point… you got to think of this like a marathon. You just ran a marathon. Most people who are seasoned marathon runners, they get through that finish line. They have a process they still go through to cool down, protect their body, recover a little bit. It's the same thing here. After you've-

Ryan:
… And I just go drink beer.

Jon:
… Right, exactly, and that's why you don't run marathons.

Ryan:
That's why I don't.

Jon:
Learned that lesson the hard way, huh?

Ryan:
Uh-huh (affirmative), I did.

Jon:
Yeah, so exactly, this is it, where we can't just stop and drink a beer. You've got to go through a follow-up process here that can really, really have a massive impact on your overall metrics of your site and success and revenue, and even your conversion rate, because most people don't think about that. But overall, your conversion rate should go up with repeat customers. There's a handful of things you should be thinking about that I think we should talk about today. There's a bunch of different points after purchase that can have an impact with conversion rate optimization, and if you optimize these points, you will see higher revenues.

Ryan:
Okay, so somebody's purchased on my site or client's site. Action's done. Does post-purchase conversion rate start after the product arrives, or where's the first point that we can be making an impact to improve conversion rates in the future?

Jon:
In the cart. It starts right then. As soon as somebody completes the order, gives you their payment, what happens?

Jon:
Most of the time, people aren't really considering the first step, which is a thank you page. What is the content that you're putting on there? Now, there are ways to, even on that thank you page, influence so many extra metrics. You can influence your average order value on that thank you page. There's some great tools out there right now. One of my favorites is a company called CartHook. CartHook has a tool, where you put it onto your thank you page, and it actually shows you complimentary products to what you bought and says, "Do you want to add it to the order?" You're doing an upsell after the purchase. You already got them to commit, and maybe they're thinking, "I bought those shoes, maybe I'll add a pair of socks. Why not?"

Ryan:
Now is that in addition to maybe also having upsell in the shopping cart, or do you usually recommend just get them to commit to something and then try to upsell them later?

Jon:
Right. I think that's a big mistake people make is to do the upsells in the cart. I don't think that's serving the consumers' needs, because serving the consumers' needs is helping them complete that checkout as quickly and easily as possible. You want to get that conversion. That's most important, obviously. So, after you've completed that sale, then, go back and do the upsells. Now, that doesn't mean you're not doing upsells throughout the funnel and throughout the product detail page or categories, things of that sort, right, complimentary products. But I don't think you should be doing it in the cart. That's when you just closed the transaction, at that point.

Jon:
A lot of people like to think of it like retail, where you're at a grocery store and they have all the candy bars and magazines, and you're just standing there in line. It's not like that because online, you shouldn't be waiting around at the checkout. Those items are there at the grocery store line because you're waiting for the person in front of you. You're likely bored, and they're capturing your attention. It's a captive market. Well, when you're in the cart and you're checking out online, you just have one goal, and that's to get it done. So, anything you put in the way there is actually going to become a distraction and annoying for the consumer. Not something where, "You're entertaining me with the latest gossip about celebrities for five minutes while I'm waiting for the family in front of me that's scanning 300 items at the grocery store."

Ryan:
Oh, you follow me at the grocery store, huh Jon?"

Jon:
Exactly. I got one kid. I can't imagine having a whole family like yourself. I think the first step is definitely in-cart, on that thank you page. Pay attention to the messaging. You can run a lot of A/B tests on the messaging alone and see what resonates. But also, adding a tool like CartHook, where you're figuring out all of these additional metrics and how to increase things like customer lifetime value, average order value. All of that kind of even goes back into your ROAS, your return on ad spend. If you start thinking about it this way, the higher your average order value, the higher your return on ad spend.

Ryan:
Mm-hmm (affirmative). Now, in addition to something like a CartHook offering up some complimentary products, is there any kind of messaging or kind of like, "Hey, I really want to make them feel good about what they just did. They spent money with me…" because most companies are like, "Hey, thanks. We'll be emailing you a confirmation," and that's pretty much the thank you page. Do you recommend adding more to that, or is it just kind of just get the products in front of them, get them in and out type thing?

Jon:
Well, we've actually run some tests, where brands who already participate in like 1% For Good or some of these other donation or charity causes, at that point, and reemphasizing that on the thank you page. Like, "Thank you for your purchase. Did you know part of your purchase is going to these great causes?" So, what's happening there is you're actually just making somebody feel even better. You're reassuring them about their purchase. I think that's really important there, is the reassurance. I don't know about you, but sometime… like, I bought a new car six months ago now, maybe. There's nothing like the joy of driving the new car home. But then you're sitting at home and you're like, "I'm a little guilty. I feel guilty. I bought a new car today." You know what I mean?

It's that thing where it's like, "I just dropped a lot of money on this." Yeah, it's awesome, but at the same time, I could have got a used car that had a hundred thousand miles on it and would have got me from A to B. It's the same thing when you buy online. You need to reassure people that… they probably didn't need what they bought from you. Maybe they had some need around it. But if you did a great job with your marketing sales and every everything else but your customer experience, you helped them see the benefit of a product that maybe had a little more cost to it than what they were planning to spend, but there's some value there for them. Sometimes that's just the emotional value. But, at the same time, reassurance is really key on that thank you page.

Ryan:
Got it. Okay, so we've got the thank you page dialed, we've got some upsells potential there, we've told them that they're amazing and they bought from an awesome company. Now, how do I go about encouraging future business from this customer of mine?

Jon:
Well, I think the first thing that really needs to be paid attention here is that what happens in email post-purchase. Now, most people don't think about this when they're optimizing a site. They usually just leave it to whatever the defaults are. So, if they're using Shopify, it will automatically send out some emails, depending on what email provider, using like a Klaviyo or something like that. It will have some of these built-ins with some best practices. But this is a ripe opportunity for optimization that most people are not thinking about.

Jon:
I always say there's five emails that should be sent out after a purchase. It's a huge opportunity if you're missing any of these five. Now, the easiest one, and the first, is always confirmation email. The order went through, all is well, it's received, we'll be shipping it on this date or soon. Just confirming everything's gone well, it's gone through. Just send them an email, and that email should go out immediately. There's no reason to hold on to it, even if you don't have a shipping date yet. It doesn't need to have tracking information in this email. It's just, "Hey, you know what, we have your money, your order, here's your receipt," right?
Jon:
That's a good opportunity, at that point… I've seen this done very well, and I don't know what the tool is, but I should definitely look into that. I've seen this done so well, where they even do the upsell in that email. This happened to me last week. I bought some lights for my yard, solar lights, and to light up what's been real… we live in Portland. It's super dark here this time of year for long hours of the day. So, I'm driving home and it's dark in my driveway. Well, what I did, I went and I got some solar lights. Yeah, probably not the best for how dark it is here, but we'll move on from that. In the cart, it said, "Hey, you bought a certain number of these, did you want to add more?" That was a great in-cart experience and I decided not to do it. But then, I got the email right away. In that email, it said, "Hey, if you change your mind, you have four hours from when this email is sent to add a few more before we're going to start packing up your order, and you'll have to just place another order." And it said, "Click here to add four more, eight more or twelve more." It even had a discount on them. I thought that was really interesting. I wanted to see it, what would happen, just from a research standpoint, so I added four more to my order. It was great. It just took me right back to a page on the site that said, "Thanks, Jon. Here's your order number. We added four more to it. Your new total is X."

Ryan:
And you got a discount on it, on adding the four more.

Jon:
Well, it was because they didn't add any more for shipping those extra four, right?

Ryan:
Mm-hmm (affirmative).

Jon:
So, it wasn't a percentage off. It was saying, "Hey, we'll add these, but we won't charge you more to ship them."

Ryan:
Got it.

Jon:
Now, you could do a whole bunch of different items around discounting. We should definitely talk about discounting today, a little bit there. But I think the point here was, is that they had a captive audience. I'm going to look at my receipt email. Most people do.

Ryan:
Yep.

Jon:
It should be a highly opened email. So, it's a great captive audience and a great opportunity to do an upsell that nobody really thinks about.

Ryan:
No, yeah, and I can easily see how… you didn't take the complimentary products, but maybe you suggest something maybe even more different in the email, but offer a discount. Like, "Hey, add this in and we'll give you 10% off, and just include it in the order and it'll go out at the same time," or something.

Jon:
Right. And you think about it, it's a free cost of sale at that point for the retailers. So, there's really no additional cost in sending that email. You're already going to send the receipt. Email is super cheap as is anyways. But you don't have to advertise to them. You're not remarketing. You're not doing any of that that could add the extra cost.

Jon:
Okay. So, we have confirmation email. The second email is shipping confirmation. Once the order has shipped, let the consumer know immediately. "Your order has shipped. It's on its way. Here's the tracking number, and it should be there within this date range or on this specific day." Now, even if the tracking number is not available in UPS or FedEx or whatever at this point, because those can take 12 hours or 24 hours to show up in there, you can always just say, "Hey, this link won't show any results for X amount of time." But you should give them that right away because they're going to reference that, perhaps, throughout the order process or while they're waiting for the order. But I think it's a great opportunity just to confirm things have been shipped, all is still well, it's going to be there.

Jon:
It's a great opportunity, at that point, to also offer any resources. So, you can say, "Hey, you bought these solar lights. Let me include a video…" and this is exactly what they did for me. They included a video that showed me how to put them together, in that shipping confirmation.

Ryan:
Hmm.

Jon:
So now, I had something to kind of tease me a little bit until the products arrived. I thought it was super interesting because, not only was I just getting that shipping information, which normally I would just look at, but archive and save in case it didn't arrive, but I actually went through and reengaged with the brand by watching an installation video, which is a great opportunity. Now, when I get the product, immediately I can open the box and start using it. Right?

Ryan:
Oh, yeah.

Jon:
That's a much better experience. So, we've got confirmation email, shipping confirmation email, and the third email I always recommend is a customer service email. What do I mean by that? Well, this is just a check-in email. This should be a couple of days after the product was supposed to arrive. What should happen here is it should say something like, "Did you receive the product? Was everything okay? If not, just reply to this email and let us know." Pretty simple, right?

Ryan:
Mm-hmm (affirmative).

Jon:
It's a just let them know you're there, that they have a channel if there's an issue. And what you're going to do here, is you're going to prevent a negative online review. Because if they have a problem, they're not going to go online and vent. They're going to say, "Oh, you know what, I got that email from them. I'll reply to that email and try to figure this out." And then, you have an opportunity to turn a bad situation into a good one very quickly. You're preemptively handling that situation by just letting them know you're there. And if there's no problems at all, it's still awesome just to know that that brand is available for you and that they're there.

Jon:
I often recommend, have this email either go out the day the product should arrive, and you can say something like, "Your product should be arriving today. Let us know if you have any problems," and things of that sort. It's also another opportunity to send some more resources. If you want to link to more stuff up on your site, or there's… we worked with a company that sells tents. They did a really good job with this. It's like how to set up your tent, right?

Ryan:
Mm-hmm (affirmative).

Jon:
Because a lot of people struggle with that. They've gotten a lot easier over the years, but it's still something that required a little bit of knowledge. So, we've got confirmation emails, shipping confirmation, customer service, and then the fourth email I always recommend is please leave a review. This is a review request. Now, this should definitely go out a couple of days, maybe even a week, after they've gotten the product. The idea here is just make it so simple for them. There's a couple of tools that make this super easy. Shopper Approved. It does this extremely well. It's a reviews platform, where they just send out an email that asks for the review, and then it has five stars in the review, and it says, "Click the star that you want to rate."

Ryan:
Yeah, I've actually done that before and didn't even know I was giving a review.

Jon:
Right. It's one click.

Ryan:
It's phenomenally simple. Me, as an online marketer, I'm in it all day every day. Then I got a review email from one of the companies I bought from, and it was Shopper Approved. Blew me away. Like, "Wow. I actually just accidentally gave a five star review." I was going to give it anyway, but it was like, "Wow, that was ridiculously simple."

Jon:
Yeah, and that's exactly what it's about here, is just make it quick, make it easy, but ask for the review. Most people, at this point, don't ask for a review. They're asking for a review on their website, which I can promise you, nobody is going back to a website, from finding that product detail page for the product they purchased, and giving it a review. It's a huge red flag and perhaps we should do another episode, Ryan, on product reviews, because it's a huge red flag for consumer trust.

Jon:
If you see, on a product detail page, that you can leave a review, that tells me that there are so many unverified reviews on there. I don't trust what's being said anymore because the manufacturer or retailer could just be sending their entire family to that page. I want to know that they're actually verified reviews from people that have purchased and that's the only reviews that are in that mix. The best way to do that is just ask for it via email after the purchase. It's going to be a verified review. That also, and you probably know more about this though, Ryan, but that also allows you, if they're all verified, to have the star ratings show up on your product detail page listings in Google search results.

Ryan:
Yeah, exactly. You need to have a review aggregator that's approved by Google that's looked at their system and said, "Yes, you're actually getting legitimate reviews." I know there's some plugins on a lot of eCom platforms that allow people to just leave reviews on the site, like you said, and it doesn't build trust. Those can't be sent to Google. So, if your website is, "Hey, I got a place to get reviews. I've got 500 wonderful reviews on my website. How come Google is not allowing me to send them?" It's because you haven't used one of the 30, I believe, companies that are approved to send those reviews to ours, and Google trusts that they're legitimate.

Jon:
Now, you're not gaming the system, so that's helpful. So, five emails. Confirmation email after purchase, shipping confirmation, customer service, leave a review, and then the fifth is just add them to your general email marketing sends. So, whatever that next email marketing send is, just add them. Now, here's the thing. If you're going to send an email every day, or even every week, the cadence can't be the same as somebody who clearly signed up for your marketing emails on your site. Now, I'm suggesting sending them marketing emails, but maybe it's once a month. It's just some way to stay in front of them, and these emails should be more helpful. They shouldn't be, "Here's the big promotion we're running right now." It should be something like, "Hey, Valentine's Day is coming up. Have you thought about ordering by X date to ensure that you'll have it in time?"

Ryan:
And so on this, real quick though, you would, in theory, keep them out of your marketing emails until they get to this point. You don't want to automatically, you purchased, you're in my marketing email, and you're going to get a marketing email in the middle of this cadence of emails. Like, you don't want, "Oh, shipping confirmation." "Oh…" two hours later you got the marketing email.

Jon:
That's exactly right. I think that's extremely important that even if they signed up… okay, this isn't a tactic I recommend. You know I rail on this all the time. But even if you had a pop-up, and you offered a discount to sign up for the marketing emails on your site before they made a purchase, you need to hold those emails a reasonable amount of time, maybe a day or two, to see if they made a purchase right away. There's so many of these tools, like Klaviyo, that make that pretty easy to do, where you can just add an exception real quick to hold them until the next email blast or something. But I would wait for them to at least complete that purchase. If they complete the purchase, then don't send a marketing email until they've gotten the other four emails.

Ryan:
All right, so we've got an email cadence. We've got in-cart right after the purchase. Some of the things you can do on the thank you page. We touched on this a little bit, in the process of going through there, but in addition to CartHook and maybe the email platform you're using, are there any other CRO tools people can be utilizing or looking at when they're trying to improve post-purchase conversion rates?

Jon:
Well, I think that it's not as data-focused on tracking every click and movement at that point. So, it's less about the toolsets here. It's more about that customer experience. Email is going to be your biggest toolset here. Yes, there's a lot of stuff you can do to run tests and see how much people are engaging with that thank you page, and there's tools like CartHook and several competitors to them, but I don't think that being as data heavy at this part of the process is going to be very beneficial.

Ryan:
Got it. And a lot of that is going to be measured by lifetime value of your customers. Are they increasing or not? So, if your lifetime value was $500 and then you implemented a bunch of these things Jon's talked about, did it move to $700 or $800 over a course of the time period that you're outlining?

Jon:
Right. And there's really three kind of goals that you should have from doing this, and three metrics that you should be tracking by optimizing post-purchase. The first is that customer lifetime value, of course. We want to see that go up over time. What influences that? A return purchase. Did you give them such a good customer experience that they came back and purchased again? Another thing is number of reviews. That's a great one because people are only going to leave a review if they're satisfied or if they're deeply unsatisfied, right? That kind of mushy middle there, nobody really leaves a review, typically. That's why you very rarely will see like a three star review. You're going to see a five or a one, or a four, sometimes people don't like to give five unless… they reserve that for the one time a year. Maybe it's between four and one, but you see very few in between, typically. Then the third metric, besides those, that you should be thinking about is just your conversion. Your conversion rate overall should go up because of those repeat customers, in the sense that if you get more people to come back and purchase again, you should see your conversion rates go up because it's going to be an easier purchase, you're going to have more sales. So, it kind of feeds itself in this cycle.

Ryan:
Got it. So it's post-purchase conversion rates not something I've normally thought about, or even associate with typical CRO and what you're doing with customer testing and heat mapping and all these wonderful things you do onsite. Now, is generally post-purchase CRO a part of an overall CRO strategy or do you kind of separate them into like, get the purchase CRO and then post-purchase CRO?

Jon:
That's a great question. Now, my initial thought on that is that it is something that is built into what we do at The Good, and it should be part of a full conversion optimization. But it is a graduate level step. What I mean by that is if you haven't gotten into college and completed those courses of just getting the conversion, then there's no reason to focus on post-purchase yet. So, you really want to have a good customer experience up to that point, and then you can start working on post-purchase optimization. But it is an overall part of the CRO picture, and it really should be.

Ryan:
Now, one easy way to increase your conversion rate is to throw a bunch of discounts out, obviously. If people save money, of course they're going to buy more, generally. But how do you, or do you, recommend any discounting post-purchase? I kind of mentioned like, "Oh maybe I would throw a 10% discount out for complimentary products in an email." But that may be a bad idea. I don't know.

Jon:
Well, I'm not a proponent of doing discounts on a site at all. I really believe discounting is not optimization. I call it margin drain, because that's really what it is. Now, can you get more sales through discounting? People love a discount. It does work, but I'm not a proponent of it. I don't think you should be testing discounts, testing promotions in that way. There's a lot of other ways to be doing promotions that aren't just a straight up discount. And the reason is, and I say this all the time, once you bring a new-to-file customer in through a discount, your brand is forever a discount brand in the eyes of that consumer. And it's just not going to change. That means, every time you do a purchase in the future, you're going to have to offer a discount. It's just what's going to be expected. They're never going to want to pay retail price because that's not what the expectation is.

Jon:
But there are ways around this that are still intriguing offers that aren't discounts. We actually have an article up on our site. We'll have our producer put it in the show notes. But there's an article that we have up on The Good that's something like 90 or 100 different types of offers that you can do that aren't discounts.

Ryan:
Oh wow.

Jon:
There's just an unlimited number up there, it seems like. Now, things like buy one, get one, bundling. I mentioned, just earlier, how the company got me by saying, "Hey, we'll add four more to your order without charging you more for shipping." So, you can do things like shipping promotions. Free shipping should be something that you're considering. If not, look at a better fulfillment partner, perhaps, but there's a lot of options out there. That you're allowing people to upgrade their shipping speed.

Ryan:
Yeah so, one final point, I think, in the post-purchase thing. Something you and I do a lot of between our organizations is referrals. I'm always referring business over to Jon and Jon's very good at referring business to us. But in the eCommerce space, very rarely do I get asked to refer somebody else. I just bought this product. I'm really excited about it. I mean, more than likely, I'm going to be willing to refer, but very rarely do I get asked about it. And a lot of times it's… there may be a loyalty program system out there that does some of this, but what do you suggest companies do to increase some of that potential for referral?

Jon:
Just ask. I think, as you mentioned, so few do, and there's… most eCommerce managers are spending all this effort and money in affiliate programs, where they're getting people to recommend their product in exchange for an affiliate fee. But they ignore the power that people who actually buy can have. And I think that's a mistake. They really should be thinking a lot about how can we just get somebody who purchased, and is happy with that purchase, to be a referral source? One of the things you can do is, in that email chain that I mentioned of those five emails, instead of asking for a review, you could ask for a referral at that point, right? You could mix it up and do a 25% you're asking for referrals, 75% you're asking for a review, however that mix is that you'd like. There's a lot of options there. But the reality is, is all you have to do is ask, and it should cost you nothing at that point. You could offer them a gift in exchange for making a referral, something of that sort, or have a loyalty program that you're doing. There's some great tools out there. I'm a huge fan of one called Smile, smile.io. Smile.io, however you want to pronounce it. But there's a handful of these out there that do a really good job with the loyalty programs. And one of those is asking for referrals and doing it at the right step in the process. Just so few people do it that it blows my mind.

Ryan:
Is there a right or a wrong way to ask for that referral? Is there a way that it can make people mad, or there's a way that you've seen that's been very successful in that email chain of asking for one?

Jon:
The first thing I would do is offer them something of value to share. So, instead of the overt, "Just click here to publish to your Facebook a, "I just bought this product, you should too," or something that is super cheesy and very pushy. That's the mistake I see, typically. And most people aren't going to do that. But if you make it something that is really useful, like, "Hey, I just bought this tent from this company, and here's a video on how to set up a tent, or a trick on how to set up a tent, perhaps, that would make your life easier if you camp too." So you say, "Okay, well, share that out," perhaps with this referral code, something of that sort. And you can offer people a discount.

Jon:
Now, a lot of times… I do this a lot. If I really like something and I'm recommending it to somebody, I'll say, "You know what, I know I get a discount on that. Why don't I just make the introduction and then I know you'll get a discount." So it's, "Offer 10% off to your friends," or whatever that might be. Or, "Use this code and your friends get free shipping," or, "They get a free gift if you refer them." It doesn't, again, have to be a percentage off. But I think there's a lot of options there and a lot of offers that could be mixed in. It just requires a little bit of thought and creativity instead of doing the lazy thing that every eCom site's doing, and either not asking or just saying, "Hey, use this code and give it to your friends for a percentage off."

Ryan:
Got it. So, just kind of make it a little more fun or exciting, or not just the basic "give me a code."

Jon:
Right, exactly.

Ryan:
Well, that's awesome. Okay. So, we've got a lot of potential for increasing conversion rates from thank you pages to emails to referrals to countless different things. Thank you, Jon, for downloading all of that education on us. I think there's just a ton in there that I'm actually going to start implementing on some of my brands. Anything else you want to leave us with?

Jon:
No, I think that the first thing to think about is getting that conversion. After that, there's so much more opportunity to go that most people don't pay attention to. I think it's really important that they take that extra step. I appreciate you bringing this topic to the table and us discussing it today. Hopefully it's a value for folks.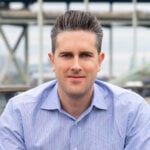 About the Author
Jon MacDonald
Jon MacDonald is founder and President of The Good, a conversion rate optimization firm that has achieved results for some of the largest online brands including Adobe, Nike, Xerox, Verizon, Intel and more. Jon regularly contributes content on conversion optimization to publications like Entrepreneur and Inc. He knows how to get visitors to take action.