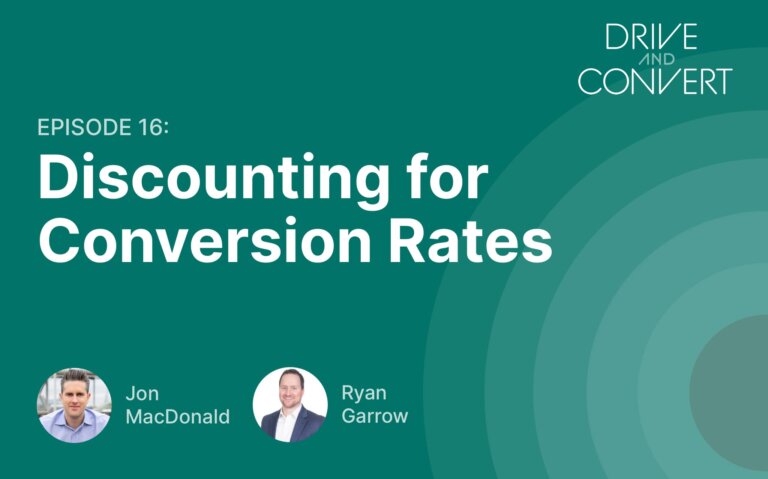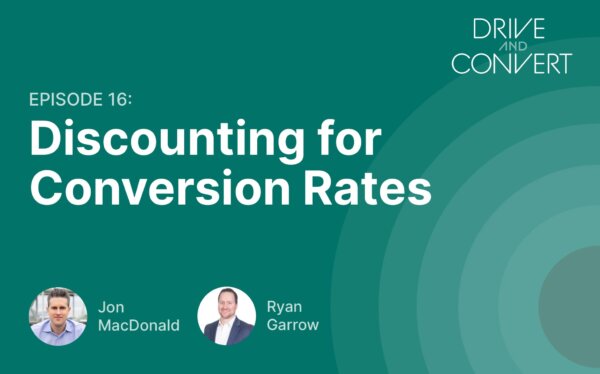 Drive & Convert
Drive and Convert (Ep. 016): Discounting for Conversion Rates
So many Ecommerce stores offer discounts. Should you?
Listen to this episode:
About This Episode:
So many Ecommerce stores offer discounts. Should you? Today Jon breaks down why discounts are probably doing more harm than good for your brand, and offers some better alternatives.
Resource mentioned:
The Essential Guide to Ecommerce Sales Promotions [78 Tactics]
Episode Transcript:
Ryan Garrow:
Jon, I come across this all the time, and I found myself accidentally suggesting these things to maybe my wife's business or some friend's businesses. When it comes to conversion rates on websites, one of the easiest ways to increase an e-commerce site's sales rate is to offer discounts on products or site-wide. I see it all the time, and I know you have your favorite email popups for 10% discounts and your Reelio spin for discounts on every Shopify site on the planet two years ago.
When you see all these discounts out there, it gets stuck in the back of all these e-commerce marketer's minds that it must be a good thing to do. And I think some companies get addicted to it. In fact, one of my wife's favorite stores is Michaels, it's a craft store, and I get the wonderful job of picking up her orders on the way home from the office. And as I'm looking at these receipts, as I'm picking it up, there is not an order she puts in online for store pickup that doesn't have some crazy discount codes.
It's at least 40% on every order that Michaels is giving away on these orders. And that blows me away how they must have a lot of false front on their pricing to be able to do that and that limits what they can do outside of direct consumer marketing like in Google Ads or things like that. But Jon, technically these discounts increase conversion rates and may, in fact, be increasing new-to-file customers in their database. Given those two metrics, why does a brand need to be careful if they're using discounts on their site?
Jon MacDonald:
Well, I think there's a couple of things to be thinking about here, first of which is that discounting is not conversion optimization. It's margin drain. These brands who are engaging in discounting, what they're really setting themselves up for is to always be a discount brand in the eyes of their consumers. And just like you're saying with Michaels, your wife is never going to pay retail price at Michaels. She always knows there's a discount code or some special that they're running.
Once you dig that hole, it's so hard to climb out of it. It really just becomes impossible. Once you're a discount brand in the eyes of the consumer, you forever are going to be a discount brand. It's just not something that you can easily really recover from. And I think a good way to think about this is the real estate market. A good realtor will tell you, or almost any realtor will tell you, that every house on the block, no matter how ugly, will sell at the right price.
And so my point of view on this is that if you have to discount that severely, you likely just have a pricing problem or you have a product problem. And most people try to solve those by just severely discounting, or what they try to do is to get those new-to-file customers in by offering an initial discount. And those just become really, really complicated to recover from.
Ryan Garrow:
Now, are you saying that 10% sales or sales throughout the year are bad across the board, or does it occasionally make sense to have a sale of some sort?
Jon MacDonald:
Well, let's talk about what sales are, because I think there's a ton of ways to drive e-commerce revenue without using discounts. A sale could be anything that is different than just a discount, right? So you could do different types of promotions. So you could do buy one, get one. In essence, you're basically giving somebody a free product, but you're not calling it a percent off. You could say something like buy three of these, you get the fourth free, something like that. And that also helps you get your average order value up.
And yes, you end up eating some margin there. It's a psychological shift from offering a dollar or a percentage off and instead, helping you to look at other metrics. Same thing with something like free gift with purchase, right? So if you purchase something… You could always say, "Buy this and we'll give you X product for free," or you could say something like, "If you spend X dollars, you get this product for free." There are other ways to do that. I mean, you could do free shipping, which is essentially a discount.
I mean, it's almost an expectation anymore in e-commerce, but it could be looked at as a discount, or you could even do if you spend over $50, you get the free shipping. You could look at free returns. I think a lot of people are interested in making sure that they can return their item without having a charge there. This list could go on and on, and you could do loyalty programs. You could do urgency by saying there's limited quantities. You could give a money back guarantee or some type of service guarantee of we'll make it right.
There's a lot of other things you can do to incentivize purchase that is not a dollar or a percentage off, and I think too many people get lazy and just go straight to that as the original tactic.
Ryan Garrow:
So from a broad stroke over-simplification, try generally to avoid any kind of dollar discount or percent discounts as a standard practice with your site. Are you saying that necessarily like a Veteran's Day 10% off discount would not necessarily be a great thing or tied to a certain event randomly throughout the year?
Jon MacDonald:
Again, I wouldn't do a percentage off or a dollar. I think there's a lot of other things you could do.
Ryan Garrow:
Okay.
Jon MacDonald:
Right? So all those things I listed, you could say, "Hey, if you're a veteran, we do these special things for veterans." It doesn't have to be a percentage off. Free shipping for all veterans this weekend, or we're doing free shipping just because it's Veteran's Day. So there's a lot of other ways you could get urgency and have people to want to take action.
And that's really all we're looking to do with a discount is to create urgency where somebody is interested in the product, but they need to be moved to actually converting, and you want to give them that little extra push. Most people, it's just commonplace or perhaps this laziness, I'm not sure, but we see it so much and it's where people just immediately go to that discount.
Ryan Garrow:
I think it's the easy button.
Jon MacDonald:
Right.
Ryan Garrow:
Even me in strategizing with my wife's retail storefront and her e-commerce site, she's getting more involved in e-com and is trying to figure it out. And so we're like, "Hey, let's do a 10% off sale for this event." She did this event for I want to say 15 online retailers, and it was a great success, but one of the requirements is everybody's got to have some kind of promo to draw in all of your followers on Instagram to this event. And 100% of them did a percentage off discount.
Jon MacDonald:
Yeah, exactly.
Ryan Garrow:
And I advocated for that. So I failed you, Jon.
Jon MacDonald:
Well, that's why we're educating you today, Ryan.
Ryan Garrow:
Okay, so percentage off, dollar discounts, bad. Getting a little more outside the box, creative thinking and how can you incentivize. With other methods, it may in effect just be a discount. It's just presented in a different way like BOGO or free gift with purchase. Free shipping is probably not necessarily an incentive anymore for most companies, but depending on what you sell. There is a unique one that just came up with my wife and I yesterday, abandonment emails with discounts. So you've abandoned the cart, almost every site…
Shopify, in fact, has it built in. You can do abandonment emails. You don't have to sign up for any kind of email plan. They'll send it out because they know abandonment emails work. A lot of companies give percentages off. My wife was telling me that she leaves things in the cart on purpose for a day or two to see if she gets an email.
Jon MacDonald:
Right, and that's the problem right there, Ryan. Right? I think it's because we now know and we've been trained on a couple of different things. The first is that we're likely to get an abandonment email, so we might as well wait because I'm not in a huge hurry. So you're not creating that urgency by offering the discount. And two, you know how you're in checkout and you see that little coupon code field? What's the first thing we do?
Ryan Garrow:
Oh man.
Jon MacDonald:
We go to Google, right? You search for discount plus company name or website, and you see what comes up. How many thousands of sites out there now that are affiliate sites that list these discount codes that they find? And there's whole apps based around this. PayPal just bought Honey, which is a plugin for your browser that goes out and searches for all these and makes that easy for you. And PayPal loves it and Honey loves it because they get a commission on each of those.
The reality is there's a whole economy based around discounting. If that doesn't tell you there's a problem, I don't know what would.
Ryan Garrow:
Oh, for sure. Okay. We all agreed now we're not discounting percentages off, dollars off. Okay? So you've seen almost everything under the sun for increasing conversion rates with some sort of incentive. What would you rank as probably where somebody should start? If they're going to break themselves from this percentage off drug that they've been feasting on for the last five years of their e-commerce career, what steps should they take to start weaning themselves off of that? And how can they test and measure and show results outside of that?
Because many times as marketers, we're scared almost to stop doing something that's been working for the last five years because these numbers we're reporting up the chain, we don't want to risk that and the new customers or things like that. So how do we take baby steps?
Jon MacDonald:
First thing you should do is have one-time use discount codes, and that really helps prevent the issue of your discount codes ending up on these aggregate sites that people are just going to search for. The second thing you should do is hide the coupon code field behind a text link in your checkout. So instead of just having the field open and showing, you actually have to say, "Have a discount code," and then you click on that and then it opens a field.
The reason is we've done tons of A/B tests on this and the psychology behind showing an empty discount field make somebody want to go find it, because not only they're like, "Oh, well, it's here and it's empty. I need to fill that with the discount because I'm not getting the best deal." The other thing you could do is just have discounts that work based on a link. So if you email someone a discount, then only click on that link and then it automatically does it for them and it's not a discount code field in the cart at all, even behind a link like, have a discount code.
So there are some things you can be doing there. Also, immediately just look at your promotions calendar over the next three or six months and just say, "Okay, which of these can and should be changed to different types of promotions?" I think that almost every brand has done some type of discounting, right? And not to the extreme that Michaels has where… Same thing with like Bed, Bath and Beyond where I'm not going there unless I have one of their spam mailers out of my paper mailbox that I'd never checked.
And unless I go there and I have that that says I'm getting $20 off or whatever. And it's interesting. I haven't been to that store in quite some time, but the last time I was there, I remember I walked up to the counter and I was like, "Oh, I had that coupon at home and I didn't bring it," even though I didn't. I just said that because I know they have them, and they're like, "Oh, no problem. We have it right here," and they pulled it out from next to the register and just scanned it for me. And I was like, "Wow, okay. How many people are saying the same thing I just said?"
They all know they're going to give me a discount. And it's just not a really good situation. You want to break that cycle and really look at what you're planning upcoming six months ideally and then just start weaning yourself off of it over the next six to 12 months.
Ryan Garrow:
We can't all be the biggest brands in our industry. And so as we look at our competitors and see discount codes, discounts happening, especially on Google Shopping where I spend most of my time and strategy, it's you get that wonderful little button that says, "20% off discount until January 7th," or something like that. It's actually good to have that there because your click-through rate increases. So you have to just be aware that you're not going to have that anymore, but there's different things you can put into that field to get there. And overall price is generally a better principle in Google Shopping.
Jon MacDonald:
Well, that's exactly it. I mean, part of the algorithm with Google shopping, correct me if I'm wrong, is price, right? So why hide all that behind a discount? If you're going to offer the discount anyways and make it super easy for people to get it, just cut your price. And there's a lot of ways you can show that people are getting money off without having to have a discount code.
So on your product detail page where you have the price, show three things, the strike-through price, so the original price with a strike through and then the new price next to it, and then show them how much money you're getting off, and then show them what the discount percentage is as well. So you're basically just showing them, this is what our price is off of the MSRP or whatever, and then they feel like they're getting a good deal.
Ryan Garrow:
Does this change it all in a MAP industry? I feel like that industry is a little interesting when you're all competing at the exact same price point, and then there's a little gray areas around discounts because you can't necessarily do BOGO discounts on Google Ads necessarily, at least on shopping ads.
Jon MacDonald:
Right. Yeah, I think it becomes a little more complicated to show how to communicate that, and that's why I always say, just have your best price available. Now, if it's a MAP pricing situation, which the manufacturer is requiring a certain price to be listed, you can do what Best Buy does, which is, shows the best price in cart. That's how they get around that, right? It's not a discount code. They just say, "See price in cart." Now, there's some psychological play there in the terms of once it's in your cart, you kind of feel like, "Okay, I'll just move forward."
So they're pushing you that next step down the funnel. But I can't tell you the number of times I've went to BestBuy.com, added something to my cart, and abandoned it. I can't imagine what their abandon cart rate is, but that's obviously not a metric they're that concerned about with this model. But I think they're kind of stuck in a bad spot by their manufacturers of how do you have to list the price. And if the only way you can show that price is in cart, then, okay. If that's the best thing you can do, then I would highly recommend that.
Ryan Garrow:
If you're going to do that, don't make people log in to see it in your cart.
Jon MacDonald:
Right.
Ryan Garrow:
That's a failure, because I've been to those sites. They're like, add to cart for price. I'm like, I try to add it and they want my email and all this information before I can get to the cart. And I'm like, I'm not doing it. Sorry.
Jon MacDonald:
Yeah. Well, if you're going to do that, there's other ways you can do this. You could have loyalty programs. Then if you're going to make people log in to see what their price would be, you could put it behind it a loyalty program, for instance. That's where you're going to be able to say, "Okay, we're not giving you just a percentage off here. We're saying that as a loyal member, on every purchase you get X percentage off." Right? And at that point, it's a different psychological trigger because at any point, they're a loyal customer now, right?
There's an argument to be had. I saw a great article on LinkedIn today that somebody was posting about the argument that consumers fall in love with the loyalty program, not with the brand. Same thing here…
Ryan Garrow:
Really?
Jon MacDonald:
Yeah. You start thinking about airlines and sky miles. I'm on Delta. I'm loyal to Delta because I've tons of miles there, and I'll pay a little bit more. But I'm falling in love with gaming the sky miles system the best that I can there, right, in terms of how do I get as many points that I can. I have the credit card that's associated with it. I'll try to fly them. But if they're like $400 more to fly someplace… There's a threshold in there. It's a lot less than that.
But if there's a threshold for me, I'll fly a different airline, and then I'll say, "Okay. Well, first of all, who's the partner that I can fly so I still get the miles? And then if that doesn't work, then who's my second choice airline that is a non-partner that I can get miles from that I can also use?" So then you start gaming the system around the loyalty program instead of having loyalty towards the brand.
Ryan Garrow:
Yup, I would agree. I do that myself. But there is value to obviously loyalty programs.
Jon MacDonald:
Of course.
Ryan Garrow:
Is it generally a simplification of it to keep them from trying to game it and just make it like, "Hey, I'm a loyal customer," or how do you take that next step then, I guess? I don't want to dive too much into loyalty, but you also don't want to just move your discounts and your pricing issues from one place to another, right?
Jon MacDonald:
Yeah. Well, let's just talk about the best loyalty program in e-commerce. What do you think that is?
Ryan Garrow:
I mean, the one I use the most is probably Starbucks. They keep changing it, so I'm less excited about it.
Jon MacDonald:
Yup. That's a good one. I'm talking about Amazon, right? If you think about the best loyalty program that there is right now, Starbucks aside, because I love that too. I get a free coffee a week essentially, so I love it. And they do a good job of not discounting. It's for the loyalty program, right? It is essentially a discount, but now I'm earning that discount. And so they're increasing their customer lifetime value. But if you look at Amazon, I think they do a really good job. Now, generally they compete on price to some degree, but not always.
They also compete on speed, right? And so what I mean by that is best testament to this is Walmart. Everyone thinks Walmart's coming out with Walmart Plus here very quickly. Now, that's the rumor on the street right now, which is going to be their same type of Amazon Prime, where it gives you free shipping in a fast speed by paying a yearly fee. Well, this is just like the Costco model. Costco makes more money on the yearly membership than they do on the margins of their products. And so I think that's a really interesting model.
People don't go to Costco because Costco is running massive discounts. They just have low prices. And, of course, you're buying in bulk, so you're upping your lifetime value and your average order value, and you're paying for that privilege. So it's a win-win on revenue for them. But most brands aren't going to make that commitment, and most brands don't want to start out by doing that. But I think if you start a brand by doing that upfront, then you're going to be in a much better position.
And I think it's still something every brand can do and should start thinking about.
Ryan Garrow:
No, I would fully agree, and I have to start rethinking some of my easy button discount suggestions now for even my own brands. All right. Any final points on discount? Obviously we're not using percentages off or dollar discounts. We're getting a little more creative and actually maybe not pushing the easy button. Do you believe in regular annual events in online marketing? Like Nordstrom has their yearly sale, their half yearly sale, and that's pretty much all they get.
And I have a lot of clients that do friends and family sales every month of the year or something like that.
Jon MacDonald:
Yeah. Look, I think that those types of promotions work really well and that's what those are. They're different types of promotions, right? I think if we could be thinking about this as a holistic kind of overarching topic for today, it's less about using discounts or the negativity of discounts. It's really about how to move from discounts into promotions, right? And so tattooing promotions to regular intervals, like the Nordstrom anniversary sale, or looking at holiday-based promotions, or any of those types of things.
I think that a promotions calendar is necessary for any brand. I'm not saying don't do promotions. I'm saying don't step down to the easy button of a discount. Now, I do think the only time that a discount makes sense for a brand is if you're okay breaking even on the initial sale to get that customer in, but you know you're going to have a massive lifetime value for that customer. And only then is it probably okay to start doing discount and understand they're always going to want to pay that discounted price. So only offer a discount that you can sustain forever.
And at that point, maybe this works, but I have yet to see a brand that has pulled that off effectively and done it extremely well. But that's the only instance I've really seen discounting work well.
Ryan Garrow:
Got it. So if I'm selling a product and I know once they buy one, I'm going to sell a hundred of them over the next three years to this one person. And I can replicate that.
Jon MacDonald:
Exactly. You know who's really good at this? It's Quip, Q-U-I-P, toothbrushes, right? What they do is you buy the Quip toothbrush and they include inside the first order, in the box is a little code on a piece of paper that you then go to the website, you type in that code when you're ready to refill the brush head, and they mail you another brush head and a battery for free. But it's a onetime thing, right? And what they're doing there is getting you in the habit of going back to them to get that product, and you're starting the habit.
And so that's where I think something like that can work extremely well for offering a discount. They tell you upfront that it includes a free brush head replacement. We'll ship you your first battery and brush head replacement. They're very open about that. And it works extremely well for them, because they're forming the habit of, now I have a second pressure head, so I'm not going to just throw the whole thing away.
I have the free brush head, even if I was like, "Yeah, the product's okay. It's not as good as the Sonicare maybe, but you know what? I have a free brush head. I'll go ahead and get that and stick with it." And by that point, you're, you're in it, right? You're going to do it again.
Ryan Garrow:
You're talking about maybe from a marketing perspective, you invest to get the new customer. Once you have them, your next order somehow is going to be discounted through email or something. Did you just get them in the habit? Like, "Hey, your second order is X because it's the second order," but you set that expectation upfront?
Jon MacDonald:
Right, because you know you're going to have a high lifetime value from them and you're just helping move that further along, meaning the habit that comes with somebody having a high lifetime value.
Ryan Garrow:
Got it, Because you wouldn't want your normal email cadence to be, "Hey, here's your coupon code. Come back and buy from us," because now they're going to expect that that happens all the time almost.
Jon MacDonald:
Exactly. And again, this is not a dollar off or a percentage off. In reality, it's costing Quip the same amount of money as if they did that, but they're being really smart with that investment.
Ryan Garrow:
Lots to ponder through and lots of brain synopsis to start reconnecting in different ways so I can solve problems better. Jon, I appreciate the challenge as e-commerce marketers to not do the easy button and start getting a little more creative and maybe better for the brand long-term.
Jon MacDonald:
Yeah. And if anybody is really interested in this topic, just go to thegood.com, click the little magnifying glass in the top right, which is our site search, just type in discount and you'll come up with a ton of articles that have… There's an article 78 ways to do promotions without discounting up there. There's a lot more ideas than what we've covered today that we can't possibly get to in a 30 minute episode, but I want to make sure people know that that's a great resource for this as well.
Ryan Garrow:
Yes. You can spend hours learning from Jon on his website. Go there, but make sure you've built some bandwidth in after you go there to read all of the stuff you find. Thank you, Jon. I appreciate your time.
Jon MacDonald:
Thanks, Ryan.
About the Author
Jon MacDonald is founder and President of The Good, a conversion rate optimization firm that has achieved results for some of the largest online brands including Adobe, Nike, Xerox, Verizon, Intel and more. Jon regularly contributes content on conversion optimization to publications like Entrepreneur and Inc. He knows how to get visitors to take action.